It sometimes feels as if advocates and opponents of minimum wage hikes are talking in different universes. In large part, that stems from completely opposite interpretations of the balance of the academic literature on the subject.
Research on the minimum wage in the U.S. has been extensive, yet one can read Paul Krugman claiming "There's just no evidence that raising the minimum wage costs jobs, at least when the starting point is as low as it is in modern America," right through to other academics concluding "There is considerable support for the competitive market hypothesis that an effective minimum wage would result in lower employment."
Which view better reflects our understanding? In a new working paper, economists David Neumark and Peter Shirley assemble the entire set of published papers that examine the impact of minimum wage hikes on employment outcomes at the state and local level in the U.S. since 1992. Contacting the researchers who wrote the papers, they identify those researchers' "core" or preferred results in each case whenever possible, using the gathered estimates to summarize the last three decades of research.
Their conclusions, contrary to what you might read in the rest of the media, are clear:
The overwhelming majority of papers analyzing the U.S. estimate a negative effect on employment of minimum wage hikes (79.3 percent of them). In fact more than half of all papers have a negative impact that is statistically significant at the 10% level or more.
The negative impact is stronger for teens, young adults, and less‐​educated workers, and especially strong for directly affected workers (those who see their wage rate increase automatically through the policy.)
There is no evidence of these impacts becoming less negative in studies from more recent years.
Studies that look at the impact of minimum wage hikes on low‐​wage industries (rather than population groups) are less likely to find a negative impact on employment. But these are less good at identifying the impact of a wage floor hike on low‐​wage workers as a group, because the proportion of workers directly affected is obviously smaller, and the employment results may reflect employers substituting low‐​skilled labor for higher‐​skilled labor.
Neumark and Shirley summarize their findings by saying: "our evidence indicates that concluding that the body of research evidence fails to find disemployment effects of minimum wages requires discarding or ignoring most of the evidence."
Next time someone says "there's no evidence the minimum wage costs jobs or hours," point them in the direction of this paper, or indeed the Cato Policy Analysis of University of California, San Diego economist Jeffrey Clemens, who concluded that the "new conventional wisdom misreads the totality of recent evidence for the negative effects of minimum wages. Several strands of research arrive regularly at the conclusion that high minimum wages reduce opportunities for disadvantaged individuals."
—
Cato scholars have also written on the economic arguments used to justify a $15 federal minimum wage, the particular risks of hiking minimum wages during this pandemic, and why there is no free lunch where minimum wage hikes are concerned (even if employment does not fall).
Ep. 4 – From Cradle to Grave [6/7]. Milton Friedman's Free to Choose (1980)
February 9, 2021
President Biden c/o The White House
1600 Pennsylvania Avenue NW
Washington, DC 20500
Dear Mr. President,
Thank you for taking time to have your office try and get a pulse on what is going on out here in the country.
I read this article on January 15, 2021 about your announcement the previous night concerning your first proposal to Congress. Biden's $1.9 Trillion COVID Relief Package Includes More Stimulus Checks, State Government Bailout, $15 Federal Minimum Wage
I wanted to let you know what I think about the minimum wage increase you have proposed for the whole country and I wanted to quote Milton Friedman who you are familiar with and you made it clear in July that you didn't care for his views! Let me challenge you to take a closer look at what he had to say!
All too often, the policy debates of today are simply refights of the battles of yesteryear. As a result, old arguments often retain a striking relevance.
In February 1973, economist Milton Friedman gave an interview to Playboy magazine. It was a wide ranging interview, covering topics from monetary policy to political philosophy. Friedman was an economist with a rare gift for translating technical arguments into clear prose (as you will find in his books Capitalism and Freedom and Free to Choose). His remarks on the minimum wage, as given in that interview, are startlingly contemporary.
PLAYBOY: But you prefer the laissez-faire—free-enterprise—approach.
FRIEDMAN: Generally. Because I think the government solution to a problem is usually as bad as the problem and very often makes the problem worse. Take, for example, the minimum wage, which has the effect of making the poor people at the bottom of the wage scale—those it was designed to help—worse off than before.

PLAYBOY: How so?
FRIEDMAN: If you really want to get a feeling about the minimum wage, there's nothing more instructive than going to the Congressional documents to read the proposals to raise the minimum wage and see who testifies. You very seldom find poor people testifying in favor of the minimum wage. The people who do are those who receive or pay wages much higher than the minimum. Frequently Northern textile manufacturers. John F. Kennedy, when he was in Congress, said explicitly that he was testifying in favor of a rise in the minimum wage because he wanted protection for the New England textile industry against competition from the so-called cheap labor of the South. But now look at it from the point of that cheap labor. If a high minimum wage makes unfeasible an otherwise feasible venture in the South, are people in the South benefited or harmed? Clearly harmed, because jobs otherwise available for them are no longer available. A minimum-wage law is, in reality, a law that makes it illegal for an employer to hire a person with limited skills.

PLAYBOY: Isn't it, rather, a law that requires employers to pay a fair and livable wage?
FRIEDMAN: How is a person better off unemployed at a dollar sixty an hour than employed at a dollar fifty? No hours a week at a dollar sixty comes to nothing. Let's suppose there's a teenager whom you as an employer would be perfectly willing to hire for a dollar fifty an hour. But the law says, no, it's illegal for you to hire him at a dollar fifty an hour. You must hire him at a dollar sixty. Now, if you hire him at a dollar sixty, you're really engaging in an act of charity. You're paying a dollar fifty for his services and you're giving him a gift of 10 cents. That's something few employers, quite naturally, are willing to do or can afford to do without being put out of business by less generous competitors. As a result, the effect of a minimum-wage law is to produce unemployment among people with low skills. And who are the people with low skills? In the main, they tend to be teenagers and blacks, and women who have no special skills or have been out of the labor force and are coming back. This is why there are abnormally high unemployment rates among these groups.
_____________
Thank you so much for your time. I know how valuable it is. I also appreciate the fine family that you have and your commitment as a father and a husband.
Sincerely,
Everette Hatcher III, 13900 Cottontail Lane, Alexander, AR 72002, ph 501-920-5733
Williams with Sowell – Minimum Wage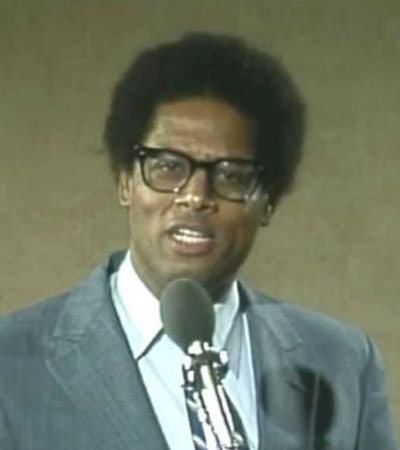 Thomas Sowell – Reducing Black Unemployment
—-
Ronald Reagan with Milton Friedman
Milton Friedman The Power of the Market 2-5