—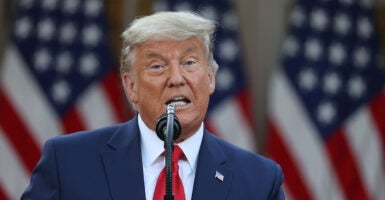 The Trump campaign announced Wednesday that it's filing a petition seeking election recounts in two Wisconsin counties.
The campaign said it paid $3 million to the state to cover the cost of the recounts.
In a statement, the Trump campaign said that the petition calls for recounts in Milwaukee and Dane counties, citing what it says are "illegally altered absentee ballots, illegally issued absentee ballots, and illegal advice given by government officials allowing Wisconsin's voter-ID laws to be circumvented."
The website for the Milwaukee Election Commission reported that former Vice President Joe Biden received 194,661 votes in heavily Democratic Milwaukee, while President Donald Trump drew 48,414.
The left is actively working to undermine the integrity of our elections. Read the plan to stop them now. Learn more now >>
In Dane County—which includes Madison, the state capital and home to the flagship campus of the state university system—Biden drew 260,157 votes, while Trump received 78,789 votes, according to the county clerk's website.
The Milwaukee Journal Sentinel reported that canvasses of the votes by Wisconsin's 72 counties showed Biden won Wisconsin by 20,608 votes out of about 3.29 million votes cast, for a margin of just 0.7%. Wisconsin's winner will get the state's 10 electoral votes.
"The people of Wisconsin deserve to know whether their election processes worked in a legal and transparent way," Jim Troupis, counsel to the campaign, said in the Wednesday statement.
"Regrettably, the integrity of the election resultscannot be trusted without a recount in these two counties and uniform enforcement of Wisconsin absentee-ballot requirements. We will not know the true results of the election until only the legal ballots cast are counted."
According to the Trump campaign, "municipal clerks across Wisconsin issued absentee ballots to voters without requiring an application, in direct conflict with Wisconsin's absentee-voting safeguards."
The campaign maintains that "Wisconsin law expressly requires that absentee ballots may not be issued without receiving a written application requesting the ballot," adding:
Despite this clear mandatory requirement, clerks uniformly issued absentee ballots without collecting a written application from persons who requested absentee ballots in person during the two-week in-person absentee-voting period that ran from October 20, 2020, through November 1, 2020.
The campaign added that "[i]n clear abuse of Wisconsin's provision to issue ballots to indefinitely confined voters without requiring them to present voter identification, some Democrat county clerks illegally advised voters to illegally mischaracterize that they were indefinitely confined to circumvent Wisconsin voter-ID law," adding:
Those claiming to be "indefinitely confined" rose from 72,000 in 2019 to more than 240,000 at the time of the November 3, 2020, election. A substantial number of those claiming that status were sent and then returned ballots without proper identification and without otherwise meeting the requirements for that status.
In a statement Wednesday, Meagan Wolfe of the Wisconsin Elections Commission said that the recount request "appears, upon facial review, to meet all of the requirements in pairing with the payment that was received late yesterday."
"We understand the eyes of the world will be on these Wisconsin counties over the next few weeks," she said. "We remain committed to providing information about the process and assisting our county clerks by providing facts on the mechanics of a recount and status updates."
The Biden campaign dismissed the likelihood that the partial recount would change the outcome in Wisconsin. "A cherry-picked and selective recounting of Milwaukee and Dane County will not change these results," Biden campaign spokesman Nate Evans said in a statement.
But Troupis said the Trump campaign won't relent on its demand for clarity on what occurred in Wisconsin.
"We will not stop fighting for transparency and integrity in our electoral process to ensure that all Americans can trust the results of a free and fair election in Wisconsin and across the country," he said.
John Fund
Voter Fraud is real and can affect the outcome of close elections!!!
May 17, 2013 at 2:58 pm
A guilty plea in a Kansas City, Missouri, voter fraud case this week illustrates something the U.S. Supreme Court pointed out when it upheld Indiana's voter ID law in 2008:
[F]lagrant examples of [voter] fraud…have been documented throughout this Nation's history [and] occasional examples have surfaced in recent years that…demonstrate that not only is the risk of voter fraud real but that it could affect the outcome of a close election.
On Monday, John C. Moretina pleaded guilty to a federal felony count of voter fraud in the August 2010 Democratic primary in Missouri's 40th legislative district. Moretina falsely claimed he was living in the 40th district just so he could vote in the primary. This is a Democratic district where the winner of the primary, John J. Rizzo, was highly likely to become the district representative in the state house and, in fact, was elected. But Rizzo beat his Democratic opponent, Will Royster, by only one vote: 664 to 663.
Moretina did not inform the court whom he voted for, but since he is Rizzo's uncle, it is not too much of a stretch to guess that he gave his nephew the winning margin of victory. Moreover, there were also allegations that Moretina's wife fraudulently voted in this primary election as well, although she was not charged.
What is undeniable is that, as the Kansas City Star says, "the wrong candidate was declared [the] winner of the 2010 Democratic primary."
Some opponents of voter ID mistakenly claim that this fraud shows that "stricter voter ID" requirements are not needed because voter ID would not have stopped this fraud. While no one claims that voter ID is a solution to all types of voter fraud, it is one of the critical steps that should be taken by states to improve the integrity of the election process.
As John Fund and I outlined in our book Who's Counting? How Fraudsters and Bureaucrats Put Your Vote at Risk and as the Supreme Court said, voter fraud is real, and it can change the outcome of a close election. It certainly changed the outcome of this state legislative race in Missouri.
Related posts: