—
—
I firmly believe that the states who were controlled by Republican legislatures such as Georgia, Pennsylvania, Wisconsin, Michigan, and Arizona were stolen by Biden supporters who forged signatures on mail-in ballots and if we could examine those ballots this would be easily proved. Sadly many of these states like Georgia had stupid governors and Secretary of States who dropped the strict comparisons of signatures and in Georgia in the past 3.2% of the mail-in ballots had been rejected  according to Newt on Hannity last night but this year over 4 times as many were sent in and only 0.3% were rejected!
However, this article below about Sidney Powell and the computer doesn't past the smell test!
'So much evidence I feel like it's coming in through a fire hose'
An attorney helping President Trump challenge the results of the 2020 election says she's astonished by the amount of evidence of vote fraud that took place, alleging "millions of votes" were shifted to Democrat Joe Biden by software specifically designed to benefit the Democratic nominee.
"President Trump won by not just hundreds of thousands of votes, but by millions of votes that were shifted by this software that was designed expressly for that purpose," attorney Sidney Powell told Maria Bartiromo on "Sunday Morning Futures" on the Fox Business Network.
"We have sworn witness testimony of why the software was designed. It was designed to rig elections," Powell said of the Smartmatic software in Dominion voting machines.
"They did this on purpose, it was calculated, they've done it before. We have evidence from 2016 in California, we have so much evidence I feel like it's coming in through a fire hose," Powell continued.
Bartiromo wondered: "You have a very small timeframe here, the elections are supposed to be certified in early December. Do you believe that you can present this to the courts and be successful within just this couple of weeks?"
"First of all, I never say anything I can't prove. Secondly, the evidence is coming in so fast I can't even process it all," Powell responded.
"This is a massive election fraud, and I'm very concerned it involved not only Dominion and its Smartmatic software, but that the software essentially was used by other elections machines also. It's the software that was the problem. Even their own manual explains how votes can be wiped away. It's like drag and drop Trump votes to a separate folder and then delete that folder."
"It's absolutely brazen how people bought the system, and why they bought the system. In fact, every state that bought Dominion for sure should have a criminal investigation or at least a serious investigation of the officers in the states who bought the software. We've even got some evidence of kickbacks essentially."
Powell named names, including Peter Neffenger, the former administrator of the Transportation Security Administration under Barack Obama.
Advertisement – story continues below
Powell said Neffenger is "president and on the board of directors of Smartmatic. And it just so happens he's on Mr. Biden's presidential transition team, that's going to be non-existent, because we're fixing to overturn the results of the election in multiple states."
"He was fully briefed on it. He saw it happen in other countries it was exported internationally for profit by people that are behind Smartmatic and Dominion."
Powell also said the CIA must have known about the problem with the voting machines, and she called for the immediate firing of CIA Director Gina Haspel.
"It's really an insidious, corrupt system and I can't tell you how livid I am with our government for not paying attention to complaints, even brought by Democrats," Powell said. "Nobody in our government has paid any attention to it which makes me wonder if the CIA has used it for its own benefit in different places. And why Gina Haspel is still there in the CIA is beyond my comprehension. She should be fired immediately."
Meanwhile, President Trump remained steadfast on Sunday in his refusal to concede the election in any way to Biden.
"He only won in the eyes of the FAKE NEWS MEDIA," Trump tweeted. "I concede NOTHING! We have a long way to go. This was a RIGGED ELECTION!"
POLITICSANALYSIS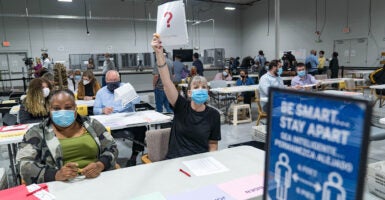 Georgia is on America's mind. At 11:59 p.m. Wednesday, the state is supposed to complete its recount of votes in the presidential election.
Brant Frost V, second vice chairman of Georgia's Republican Party, joins the show to explain the state's recount process and why he is suspicious of the recount in Fulton County, which includes the city of Atlanta. Frost also describes his own experience as a poll watcher and why Georgia appears to be turning a little more blue with each election.
We also cover these stories:
Twitter CEO Jack Dorsey and Facebook CEO Mark Zuckerberg testify before the Senate Judiciary Committee.
Scott Atlas, a top adviser to President Donald Trump on the coronavirus, counsels families to gather for Thanksgiving if they can.
Joe Biden identifies who some of his top White House officials would be if he is inaugurated as the 46th president of the United States.
Listen to the podcast below or read the lightly edited transcript.
The left is actively working to undermine the integrity of our elections. Read the plan to stop them now. Learn more now >>
"The Daily Signal Podcast" is available on Ricochet, Apple Podcasts, Pippa, Google Play, and Stitcher. All of our podcasts may be found at DailySignal.com/podcasts. If you like what you hear, please leave a review. You also may leave us a message at 202-608-6205 or write us at letters@dailysignal.com.
Virginia Allen: I am joined by Brant Frost, the second vice chair of Georgia's Republican Party. Brant, welcome to "The Daily Signal Podcast."
Brant Frost: Thank you very much.
Allen: Brant, Georgia is on the minds right now of many Americans. And over the past several days, Georgia has been going through a recount of presidential election votes. And as of right now, The Associated Press reports that former Vice President Joe Biden is winning Georgia by only about 14,000 votes. And that's out of about 5 million votes in total from Georgia.
So, both President [Donald] Trump and the Republican Party requested that there be a recount in the state because it is so close. And you actually have been really, really involved in Georgia state politics for a long time. Probably a decade, correct?
Frost: Yes. That is correct. Mainly since 2008 when I turned 18.
Allen: OK. Right as soon as you could, you jumped in. So tell us a little bit just about how common this is, to see a recount in Georgia. Is this something that's happened before where we've seen calls for a presidential recount in the state of Georgia?
Frost: No, this is very unusual. This is also the first time we're using our new paper ballot system. Since 2001, when we began the transition over, we have only used electronic voting with no paper ballots, unless you were voting absentee by mail. This is the first time we're using our new paper ballots for voting in elections.
And so this is also the first time we're having a recount in a presidential election in Georgia as well. A lot of firsts in this year. Also, the first time we've ever had two Senate elections at the same time as well that both went to runoffs. So it's definitely a year of firsts in Georgia, as in America.
Allen: It is. It's a big year in the state of Georgia.
You mentioned that transition of going from electronic to paper ballots. Dominion Voting Systems is the new kind of organization group that Georgia tasked, essentially, with handling the election process, as far as implementing those new machines.
What do you know about Dominion Voting Systems? We're hearing a lot about maybe how they're not credible. Are you very familiar with them and with the states that have formerly used them?
Frost: I am not. So, unlike some other folks, I'm not going to pretend to be an expert and talk at length about it. So I can't speak to that other than to say that in our own county where I was one of the [people] observing the electoral process of doing a recanvass—which I should point out is different than a recount.
A recanvass is what most people think when they think [of] the word recount. During recanvass, a particular race goes, and in this case, the presidential election, and all the paper ballots that were cast before Election Day and on Election Day are counted. And just that one race, just a single race is counted.
The amount of time it would take to recount every single race or recanvass every single race would just be enormous.
So one race is chosen, in this case the presidential election, for obvious reasons. And each ballot is counted by hand. And you have tables set up in a room with two people at each table. And they will count the votes.
First they will separate them out. They take a big stack. They know how many votes are in the box. Then they'll separate them by candidate they voted for. Then they will count them out.
Each group will be counted and the amount written down. And if all those numbers put together of votes for Biden, Trump, [Jo] Jorgensen, write-in, and indeterminate votes, if those numbers equal to the amount that was on the box originally, then that is considered a successful recanvass.
In Coweta County with over 77,000 votes, it was determined that every single vote cast President Trump indicated by machine was also indicated by a hand count, 51,501 votes, both machine and human count. For Joe Biden, the same was correct.
However, he added one vote because one Joe Biden voter who apparently did not realize that Joseph R. Biden was Joe Biden wrote in the name Joe Biden for his absentee ballot. So the election review board determined that his vote should count as a Joe Biden vote.
And the ballot review board consists of one Republican and one Democrat representative, which I appointed the Republican representatives since I'm the chairman of the county party here.
So we did not find a problem with the scanners indicating a massive shift, or indeed any kind of shift whatever, in our county. But I can't speak to other counties. And I certainly can't speak to the ethics of the people who run the Fulton County board of elections, for example.
Allen: Sure, sure. So, Coweta County, where you live and where you were participating in that recount, is, gosh, about little less than an hour south, southwest of the city of Atlanta. So tell me a little bit more about that experience. You were there helping to do the recanvassing on both Friday and Saturday.
We've heard a lot during this kind of poll-watching scenario as it's played out with mail-in votes that people have complained about not being able to get close enough to actually see the ballots. Was everyone who you were there with able to be close to see the ballots and to all agree, Democrat and Republican, "Yes, this vote is for this individual"?
Frost: Well, the county employees who are poll workers who have been pulled in for this special task, they actually count the votes.
Typically, you will find a fairly even mix of Republican volunteers and Democrat volunteers who are poll workers, but they're not chosen based on their party. But there's a good chance that one of them is a Republican.
What you have is you take a typical room of about 10 tables. Depending on the county, there will be either one or two people observing, allowed to walk around and see the process. Realistically, you can't stand at one table for very long without missing what's going on at other tables.
Some people might think it makes more sense to have one observer per counting table watching the process, but the limits that were imposed, and it varies from county to county, were one person for every five tables. And that's what we had.
You have a room with eight tables, two people counting at each table, and two representatives from both parties are allowed to walk around the floor where the tables are, walk around the floor and stop at places. They're not allowed to speak to the counters and disrupt their count, but they are allowed to watch what's going on and keep their own count if they wish.
We also have a lot of observers who are permitted to stand at the back of the room, but they really can't see anything from there. So basically, each party is permitted two people for every five tables.
Allen: It sounds like Coweta County is a great model for the rest of the state. You all have really done this quite well. It sounds very organized.
Have you been hearing from other counties in Georgia? Have they experienced a similar smooth process or have there been complaints?
Frost: The recanvass did not indicate any major shift in votes, except for in Floyd County where a computer card was found with some votes from a precinct, which had previously not been counted.
When the voting machines in each precinct print out a ballot, you type it in on a screen, you type in your choices, the ballot is printed, and then you scan it through a scanner, and then the ballot goes through. And on the other side, you have a big box, which is locked. Well, they don't open up the box and count the ballots. They take the result of the little scanner, so like a USB drive.
Well, one of those drives in Floyd County, and of course it's not a drive, but I just use that an example, was missed. When they brought in the precinct results, each precinct brought in their box and their little chips and draws, one was left, [it] had just been not uploaded.
So that recanvass found those extra votes and it added about 2,600 votes to the total statewide. And we think about two-thirds of them were for President Trump.
Now, if this election were like Florida with a 600-vote margin, that would have been enough to flip the election in President Trump's favor. But of course, when the margins [are] more than 10,000, that's not going to be the case.
But other than that one example, we did not see any major shifts. However, the issue really does not come down to a statewide problem. It comes down to one or two and really about six counties that are all Democrat, all large, all urban.
In particular, one county where there have been very credible accusations that Republican poll watchers at the Fulton County board of elections where they were counting votes were told to go home at a big arena, because it's a huge process in Fulton County, that's Atlanta, Georgia. They were told to go home and they were going to start in the morning.
So, the Republican observers went home at about 10 p.m. And then shortly thereafter, Fulton County started counting their votes again with no Republicans present and then kept counting until about 1 a.m.
So, if there was any kind of illegal voting or any kind of fraudulent ballots being counted, that would certainly have been a time when we just don't know what was happening. And no Republicans were permitted to be there. No one apparently thought to call them to tell them to come back.
Now, Fulton County is an overwhelmingly Democrat county run top to bottom by Democrats. The Democrats' well-known respect for the integrity of elections can be demonstrated in that they were so distressed over the 2016 election results, though curiously not distressed over the 1960 election results.
And of course we all know very well, the Democrats are well-known pensioned for fair and equitable elections in big cities like New York and Chicago and where the dead will not only rise again at the second coming, but they rise every four years and vote Democrat.
Allen: It's certainly problematic when we begin to see the number of deceased individuals who are still on those voter rolls in, like you say, a lot of these big cities.
Now, I want to ask a little bit more about this Atlanta situation. Was there any explanation given by the mayor of Atlanta, by those that were in charge overseeing that polling location, as to how this error was made, that Republicans were sent home and then still ballots were continued to be counted late into the night?
Frost: Everyone has an excuse. I don't know if it's a good one, but everyone has an excuse. Every child caught with their hand in the cookie jar has a good reason, or at least a reason why they were doing it. Whether or not anyone believes them and it saves them from punishment is another matter altogether.
There have been multiple explanations and so it's hard to say which one is the correct one. There's talk about a major water leakage, a pipe burst. There's talk about how the secretary of state and others were asking for them to continue the count, because after all, 10 p.m. is rather early to stop counting votes, particularly in an election as close as this and with Georgia being a swing state.
So there were calls for them to come back … and at least a plausible deniability situation where under such a stressful situation, someone can always claim that, "Well, I just forgot," or, "It slipped through the cracks to remind everybody to come back." So it's very difficult to prove malice of intent.
Allen: Sure, sure. So, do you foresee any situation where all other Georgia counties [are] given the green light, but Fulton County, that Atlanta county, has said, "Let's double check this and let's recount this county one more time"? Or is that probably not possible?
Frost: Unfortunately, today it is very difficult, as in previous times, to, after the fact, detect voter fraud and malfeasance for the simple fact that a ballot cannot be pulled out of the stack once it's stuck into it.
In other words, you may have an illegally cast vote or 1,000 of them, but to look at them, they don't look any different than any other ballot. They do not have a person's name on them. They do not have a bright neon sticker that says, "Hey, I'm a fake vote." They look like anyone else's vote. And it is impossible to identify them once they'd been cast in with all the legitimate votes.
Allen: Let's talk just for a moment about Georgia as a whole. I lived in Georgia for a number of years. Went to high school there. And back in 2010, 2011, Georgia really was a solidly red, conservative state.
So, Brant, what has happened? As someone who's been so involved in Georgia politics and policy for so long, what has happened in your state to where now it's definitely solidly a swing state?
Frost: You have to remember that the Democrat Party in Georgia had been living off the residual effects of over 100 years of domination in our state politics. We hadn't had a Republican governor since 1872. So by the 1990s, there was a definite shift beginning in Georgia politics.
And starting in 1992, the Republicans had a major surge with every two years, we gained substantially in the state Legislature. We gained congressional delegations. We took control of the majority of the Congress from Georgia in 1994. And we came very close to winning the governor's race in 1994.
And as a result, the Republicans continued to build up and gain in strength and momentum. And the Democrats, without a strong grassroots base, because they'd been in power for so long it had atrophied, they hadn't felt the need to have one. As a result, the Republicans in 2002, in a big upset, won the governor's race.
Many people expected Republicans to be competitive in 2006 for the governor's race, in 1998, but we lost in '98. And in 2002, it was thought that Gov. Roy Barnes was too hard to beat, but Sonny Perdue, who is now agricultural secretary in the Trump Administration, actually defeated, in a big upset, Gov. Barnes.
And ever since 2002, the Republican Party has been very strong in Georgia, has dominated statewide politics, won every governor's race, won every Senate election, and won every constitutional officer starting in 2010.
But that obscured … two major factors: Lack of funding and resources for the Democrats and the fact that the Obama presidency destroyed most of the Democrat Party in the South.
Across the South, you saw from states like Arkansas and Oklahoma to West Virginia and Kentucky, Democrat candidates going down to the seat largely as a result of the unpopularity of the Obama administration.
So when you consider that from 2008 to 2016, Republicans had great years in Georgia, you have to realize that that was during the Obama presidency and the fact that the Democrat Party had no real operation capable of contesting Georgia.
But starting in 2013, the Democrats began to rebuild their effort. Stacey Abrams was a major leader in that effort. And since 2013, they have spent seven years rebuilding. And to today, we now find ourselves in a situation where they're able to compete with us.
Georgia's demographics are largely the same as they were four years ago. In fact, exit poll data indicates that on key levels, it's almost exactly the same. The difference is that the Democrat Party is more well-equipped, better funded, and able to compete.
And they also believe they can win in Georgia. Four years ago, they saw Georgia as a possible bonus, but they didn't see it as a major target state like they did this year.
The Republican Party, until recently, has also not been as prepared as it might be, largely due to the fact that the Democrats appeared to be weak. So why do you have to train extra hard to fight an opponent who seems weak and easy to defeat?
Fortunately, last year, when I was elected vice chairman, we also elected a new chairman, David Shafer, former state senator and former executive director of the Georgia Republican Party, under whose leadership we have been able to basically accomplish the work of about four years in less than 18 months.
And since he was elected, we've trained over 13,000 volunteers, we've held voter drives around the state, we've knocked on over a million, I believe it's over 2 million doors now, and we've made millions of phone calls.
This is more than any the Republican Party has done in Georgia in any two presidential elections combined, going back for many cycles. So we have been very encouraged to see the outpouring of support since the November election right here.
You would think people would be discouraged, but actually it's caused people to sign up and volunteer and to do their part because there is so much that we have seen in the last few weeks with Democrats talking about moving to Georgia that has inspired Republicans to become more active and to do more because you saw so many Republicans feel that Georgia was a safe state and they took it for granted.
Not our leadership, but just a rank-and-file Republican who might have, if they lived in Florida or Ohio, have gone out and volunteered, maybe knocked on some doors or made some calls. But because they felt they were in a safe red state, they did not do what they could have done.
The scales have fallen from people's eyes. They now realize they have to fight because Georgia is a swing state, as much as Florida ever was.
Indeed, if you look at the results, Georgia was much closer than Florida or Ohio. So in some ways, Florida is now a pink state leaning red and Ohio is a red state, but North Carolina and Georgia are swing states. So we have to take that into consideration.
But we are prepared to meet the challenge. We have thousands of people all over the country who are offering to come on their own expense to volunteer to help in these efforts in Georgia, in the upcoming runoffs. So we're very encouraged.
And I think it's important for people to realize that the differences in Georgia are not so much due to changes in demographics, although we have seen some of that, but mainly due to the fact that up until recently only one political party was actually playing to win and the other party did not have the resources to compete, much like a major athletic event where you have two teams at a baseball or basketball game.
And in a major sporting event, one team is obviously better funded, has better players, has the resources to hire the best coaches and such, and they're going to roll over their opponents because they simply are outclassing them.
Now that the two parties are much more evenly classed, you see Georgia being what it truly is, a competitive state.
Allen: Brant, we just so appreciate your time today. It's just fascinating to hear some of this history and get into a little bit of just the details of what is happening on the ground in Georgia, what you're seeing, what you've experienced. Thank you so much for joining the show.
Frost: Thank you.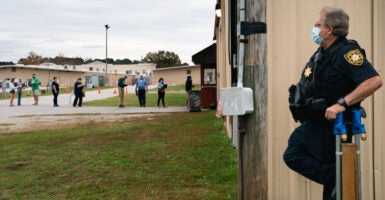 Celebrities and politicians urging people to visit Georgia and falsely claim residency for the sole purpose of voting in two critical U.S. Senate runoff elections Jan. 5 are advocating criminal actions and should be ashamed of themselves. This call for voter fraud should be rejected.
The Georgia runoff elections are extraordinarily important because they will determine which political party controls the U.S. Senate.
Results of the Nov. 3 election gave Republicans 50 seats in the 100-member Senate and gave Democrats 48. If Republicans win one of the Georgia seats Jan. 5, they will hold a 51-49 majority in the Senate; if the GOP wins both seats, it will hold a 52-48 majority.
But if Democrats win both Georgia races, the Senate will be split 50-50 between the two parties. Assuming that President Donald Trump's lawsuits fail and he is replaced by Joe Biden as president Jan. 20, Kamala Harris will be vice president and can break the 50-50 tie in the Senate to give Democrats majority control of the chamber by the slimmest possible margin.
The left is actively working to undermine the integrity of our elections. Read the plan to stop them now. Learn more now >>
Multiple candidates ran for the two Senate seats representing Georgia, preventing any candidate from gaining a majority. As a result, Georgia law requires the top two candidates for each seat to face each other in runoff elections to be held Jan. 5.
It is a felony for people to visit Georgia and falsely claim to be residents just so they can vote. Millions of us have visited states on vacation or business, but that doesn't make us residents entitled to vote there.
Georgia Code §21-2-561 states that providing false information when you are registering to vote is a felony. So is voting by an "unqualified elector" under §21-2-571. So if you register to vote when you know that your assertion of residency is false, and then you vote or even just attempt to vote Jan. 5 knowing you are not a qualified voter of the state, you have violated both of these state criminal statutes.
The punishment for this illegal activity under Georgia law is a minimum of one year and a maximum of up to 10 years in prison and as much as a $100,000 fine. Georgia obviously takes this crime very seriously.
No matter how interested nonresidents of Georgia are in that state's crucial election, they should not listen to the ill-informed, manipulative, and reckless tweets and calls for them to break the law and pretend to be Georgia residents just so they can vote in the two Senate races.
This call for illegal voting—coming primarily from Democrats—is a basic betrayal of the democratic process. Everyone who urges or participates in this criminal activity should be ashamed of themselves and deserves to be criticized, no matter who they are and which party they favor.
Fox News reports, for example, that in a now-deleted tweet, New Yorker journalist Eric Levitz wrote: "These run-offs will decide which party controls the Senate and thus, whether we'll have any hope for a large stimulus/climate bill. If you have the means and fervor to make a temporary move to GA, believe anyone who registers by Dec 7 can vote in these elections."
Former Democratic presidential candidate Andrew Yang also tweeted that he and his wife are moving to Georgia to help the two Democratic contenders.
In the Nov. 3 election in Georgia, Republican Sen. David Perdue received 49.71% of the vote and Democratic challenger Jon Ossoff received 47.96%, forcing them into a runoff.
The other Senate race on the ballot Nov. 3 was a special election. Republican Sen. Johnny Isakson retired in 2018, before the end of his term. Republican Kelly Loeffler was appointed by Gov. Brian Kemp to fill the seat until the special election.
She and Rep. Doug Collins split the Republican vote Nov. 3; Loeffler received 25.9% and Collins got 19.95%. Democrat Raphael Warnock got the highest vote total, with 32.91%. Therefore, the two top vote-getters, Loeffler and Warnock, will be in the Jan. 5 runoff election.
Dec. 7 is the deadline to register to vote in Georgia for the Jan. 5 election for any residents of the state who have not already registered, including voters who have just moved to Georgia. But under the Georgia Election Code, §21-2-217, you have to be an actual resident of the state to vote, not just a visitor.
Georgia law says that a voter cannot be in the state "for temporary purposes only without the intention of making [Georgia] such person's permanent place of abode." In other words, if you head to Georgia for the primary purpose of helping the candidates in the special election with no intention of actually staying in the state and living there, you are not eligible to register or vote.
Those who think they can get around this requirement by simply lying and asserting their intention to make Georgia their permanent abode should beware. Under the law, county registrars are given the authority to consider a long list of other factors that may contradict the "applicant's expressed intent."
These factors include an individual's "business pursuits, employment, income sources, residence for income tax purposes … leaseholds, sites of personal and real property owned by the applicant, motor vehicle and other personal property registration, and other such factors that registrars may reasonably deem necessary to determine" the applicant's legal residence for voting purposes.
And it is not just registrars. Under Georgia law, §21-2-230, any registered voter can challenge the eligibility of any other registrant in his or her county or municipality. So there is an entire army of grassroots Georgia voters out there who can be, and should be, on the lookout for out-of-staters registering to vote who falsely claim to live in their neighborhoods and their communities.
The Jan. 5 Senate races in Georgia are understandably capturing national attention, and both Republicans and Democrats are mounting major efforts to win the seats. That's how democracy is supposed to work. But having out-of-state voters visit a state for a few weeks to masquerade as Georgia residents is not a democratic exercise—it's a crime.
Anyone who visits Georgia temporarily and falsely claims to be a resident cheats the real residents of the state—no matter which side of the political aisle they favor—by interfering in their choice of who should represent them in Congress. There's no justification for that, no matter how passionate you are about the outcome of an election.
Vote in your own home state when elections are held—not in the home state of others.
Originally published by Fox News
<img class="i-amphtml-blurry-placeholder" src="data:;base64,
(CNN)There seemed to be one safe bet when it came to the 2020 election results: Democrats would easily hold on to their majority in the House of Representatives. Not only that, but the conventional wisdom held that Democrats would pick up more than the 235 seats they won in the 2018 midterm elections.
While Democrats will have a majority next Congress, Republicans vastly outperformed expectations and nearly pulled off an election shocker.
As of this writing, CNN has projected that Democrats have won in 219 seats. Republicans have been projected the winners in 203 seats. There are 13 races outstanding, per CNN projections.
Of those 13, the Democratic candidates lead in a mere two of them. (One of these 13 is going to a runoff, where the Republicans are heavily favored to win.)
In other words, if every one of those 13 seats went to the party leading in them right now, Democrats would have 221 seats to the Republicans' 214 seats in the next Congress.
Talk about a fairly close call for Democrats.
Now, Democrats may end up winning a few of the seats where they are currently trailing, but chances are they will end up at or south of 225 seats.
Compare that to what most quantitative forecasters who look at a slew of indicators predicted. Jack Kersting came the closest at 238 seats. FiveThirtyEight clocked in at 239 seats. The Economist modelpredicted that Democrats would win a median of 244 seats in their simulations.
While much attention was paid to the polling misses on the presidential level, they were more accurate by comparison. In the presidential race, the final polling averages got every state right, except for Florida and North Carolina.
Indeed, the forecasts for the presidential race were considerably better than for the House races. The race raters at the Crystal Ball, for example, got every state but North Carolina correct on the presidential level.
Any sort of shy Trump vote was far smaller than a potential shy House Republican vote.
Of course, the value of quantitative forecasts is that they don't just provide one number. They provide the probability of different outcomes occurring.
In that regard, the Republican performance is even more astounding.
The Economist said there was less than a 1-in-100 chance Democrats would have 221 seats or fewer in the next Congress. The chance they would get 225 seats or fewer was 1-in-100.
FiveThirtyEight's forecast gave Republicans a realistic, but still fairly low shot of what seems to have happened. The chance Democrats would earn 221 seats or fewer was approximately 1-in-17, while the chance they'd have 225 seats or fewer was approximately 1-in-10.
I should note that 1-in-10 probabilities happen all the time. There's a reason something is a 1-in-10 chance and not 0%. That said, Republicans simply did better than what folks thought.
A large part of what happened was that the national political environment was more friendly to Republicans than what polls suggested. The final average of generic congressional ballot polls had Democrats ahead by 7 points nationally. Democrats are only ahead by 2 points in the national House vote right now. That may end up closer to 3 points once the votes are all tallied.
A 4- or 5-point miss is considerable.
If Democrats had done 5 points better in every race than they currently are doing, they'd be ahead in 239 seats. That, of course, is right in line with the forecasts.
A lot of these quantitative forecasts also rely upon House ratings from groups like the Cook Political Report, Inside Elections and The Crystal Ball.
These too seemed to undersell Republican chances. Take the Cook Political Report ratings, which have historically been very good.
As of this writing, Republicans are leading in 27 of the 27 seats the Cook Political Report deemed toss-up before the election. They are ahead in all 26 of the seats that were deemed either leaning or likely Republican. Republicans are also leading in 7 of the 36 seats that were either leaning or likely to be taken by the Democrats.
That is, Republicans not only pretty much swept the tossups, but they marched into Democratic territory as well.
The Crystal Ball, which bravely has no tossups in its final rating, had Democrats net gaining 10 House seats. It will actually be the Republicans who will likely net gain 10 seats or more.
The end result of which is that Republicans are much closer to a House majority than we believed they would be after 2020 and have put themselves in a strong position heading into the 2022 midterms.
The Democrats majority is shrinking and three dozen races have yet to be called
House Speaker Nancy Pelosi's majority has shrunk in House, a shock to Democrats and pollsters who were projecting the California Democrat would expand her caucus after Tuesday's election.
Democrats were optimistic they could flip roughly 10 seats but their expansion efforts came up short, especially in Texas, and they ended up losing seats in Flordia, Oklahoma, Minnesota and elsewhere.
DEM CAUCUS ERUPTS AS MEMBERS SAY PARTY'S LEFTWARD DRIFT HURT MODERATES IN ELECTION
As of 3 p.m. on Friday, Democrats had won 212 seats compared to Republicans' 194. Another 29 races have yet to be called. Democrats had a net loss of four seats.
Outstanding races are in New York, California, Pennsylvania, Illinois, Utah, Arizona, and elsewhere. When all those votes are counted, Republicans are optimistic their numbers could swell to 208 and beyond, according to the National Republican Congressional Committee.
What's known is that Republicans have flipped at least seven seats from blue to red and an eighth seat in Michigan that was most recently occupied by a Libertarian. Here's a snapshot of the GOP victories:
GOP gains in the House
–In Florida, Republican candidate Carlos Gimenez defeated freshman Democratic Rep. Debbie Mucarsel-Powell in the 26th district. Republican Maria Elvira Salazar defeated freshman Democratic Rep. Donna Shalala in the 27th district.
–In Oklahoma, Republican Stephanie Bice unseated freshman Democratic Rep. Kendra Horn. Horn flipped the seat from red to blue last cycle.
— In South Carolina, freshman congressman Democrat Joe Cunningham was projected to lose his reelection to state GOP Rep. Nancy Mace, flipping South Carolina's 1st District back to red.
— In Minnesota, Republican Michelle Fischbach ousted longtime Democratic Rep. Collin Peterson, toppling the powerful chairman of the House Agriculture Committee in the most pro-Trump district held by a Democrat.
— In New Mexico, Republican Yvette Herrell defeated freshman Rep. Xochitl Torres Small, a freshman Democrat who flipped the 2nd Congressional seat from red to blue in 2018.
— In Iowa's First Congressional District, Republican state representative and former TV news anchor Ashley Hinson defeated Democratic incumbent Abby Finkenauer.
– In West Michigan, Republican Peter Meijer, an Iraq war veteran whose grandfather started Meijer superstores, defeated Democrat Hillary Scholten, a former Department of Justice and nonprofit lawyer. The Third Congressional District was open after Rep. Justin Amash, a Republican-turned-Libertarian, did not seek reelection.
CLICK HERE TO VIEW HOUSE RESULTS
Republicans say more victories are on the horizon
.
Party officials are most optimistic about reclaiming two seats in New York that Democrats flipped in 2018. Votes are still being counted but Republican Nicole Malliotakis has a notable lead over freshman Rep. Max Rose in the Staten Island-Brooklyn district. And former GOP Rep. Claudia Tenney was also ahead in the 22nd District seat she lost two years ago to Rep. Anthony Brindisi.
Democrats have gained two open seats in North Carolina thanks to redrawn congressional maps that favored them and will welcome Deborah Ross and Kathy Manning to their caucus in January.
And Democrats flipped Georgia's 7th Congressional District held by retiring Rep. Rob Woodall, R-Ga. Democrat Carolyn Bourdeaux beat GOP candidate Rich McCormick in the suburban Atlanta district, the Associated Press called on Friday.
That means Democrats so far have a net loss of four seats in the House.
WHERE THINGS STAND: BATTLE FOR THE SENATE
Democrats think they can hold onto many close races that have not been called and have two other possible pick-up opportunities by defeating Rep. Jeff Van Drew in New Jersey and Rep. Mike Garcia in California.
On a call Thursday afternoon with Democratic House members, Rep. Cheri Bustos, head of the Democratic Congressional Campaign Committee (DCCC), expressed frustration with the polling and election forecasts that all pointed to House Democrats expanding their majority.
"I'm furious," Bustos told her colleagues, according to a source familiar with the call. "Something went wrong here across the entire political world. Our polls, Senate polls, Gov polls, presidential polls, Republican polls, public polls, turnout modeling, and prognosticators all pointed to one political environment – that environment never materialized."
I have written about the tremendous increase in the food stamp program the last 9 years before and that means that both President Obama and Bush were guilty of not trying to slow down it's growth. Furthermore, Republicans have been some of the biggest supporters of the food stamp program. Milton Friedman had a good solution to help end the welfare state and wish more people would pay attention to it.   Growing government also encourages waste and hurt growth but more importantly it causes people to become dependent on the government as this article and cartoon below show.
My great fear is that the "social capital" of self reliance in America will slowly disappear and that the United States will turn into a European-style welfare state.
That's the message in the famous "riding in the wagon" cartoons that went viral and became the most-viewed post on this blog.
Well, this Glenn McCoy cartoon has a similar theme.
The only thing I would change is that the rat would become a "pro-government voter" or "left-wing voter" instead of an "Obama voter." Just like I wasn't satisfied with an otherwise very good Chuck Asay cartoon showing the struggle between producers and moochers.
That's for two reasons. First, I'm not partisan. My goal is to spread a message of liberty, not encourage people to vote for or against any candidate.
Second, I've been very critical of Obama, but I was also very critical of Bush. Indeed, Bush was a bigger spender than Obama! And Clinton was quite good, so party labels often don't matter.
But I'm getting wonky. Enjoy the cartoon and feel free to share it widely.
Eight Reasons Why Big Government Hurts Economic Growth
Uploaded on Aug 17, 2009
This Center for Freedom and Prosperity Foundation video analyzes how excessive government spending undermines economic performance. While acknowledging that a very modest level of government spending on things such as "public goods" can facilitate growth, the video outlines eight different ways that that big government hinders prosperity. This video focuses on theory and will be augmented by a second video looking at the empirical evidence favoring smaller government.
Related posts: