—
—
—
On Saturday April 18, 2020 at 6pm in London and noon in Arkansas, I had a chance to ask Ricky Gervais a question on his Twitter Live broadcast which was "Is Tony a Nihilist?" At the 20:51 mark Ricky answers my question. Below is the video:

—
—
Part 1 "Why have integrity in Godless Darwinian Universe where Might makes Right?"
Part 2 "My April 14, 2016 Letter to Ricky mentioned Book of Ecclesiastes and the Meaninglessness of Life"
Part 3 Letter about Brandon Burlsworth concerning suffering and pain and evil in the world. "Why didn't Jesus save her [from cancer]?" (Tony's 10 year old nephew George in episode 2)
Part 4 Letter on Solomon on Death Tony in episode one, "It should be everyone's moral duty to kill themselves."
Part 5 Letter on subject of Learning in Ecclesiastes "I don't read books of fiction but mainly science and philosophy"
Part 6 Letter on Luxuries in Ecclesiastes Part 6, The Music of AFTERLIFE (Part A)
Part 7 Letter on Labor in Ecclesiastes My Letter to Ricky on Easter in 2017 concerning Book of Ecclesiastes and the legacy of a person's life work
Part 8 Letter on Liquor in Ecclesiastes Tony's late wife Lisa told him, "Don't get drunk all the time alright? It will only make you feel worse in the log run!"
Part 9 Letter on Laughter in Ecclesiastes , I said of laughter, "It is foolishness;" and of mirth, "What does it accomplish?" Ecclesiastes 2:2
Part 10 Final letter to Ricky on Ladies in Ecclesiastes "I gathered a chorus of singers to entertain me with song, and—most exquisite of all pleasures— voluptuous maidens for my bed…behold, all was vanity and a striving after wind, and there was nothing to be gained under the sun" Ecclesiastes 2:8-11.
Part 11 Letter about Daniel Stanhope and optimistic humanism "If man has been kicked up out of that which is only impersonal by chance , then those things that make him man-hope of purpose and significance, love, motions of morality and rationality, beauty and verbal communication-are ultimately unfulfillable and thus meaningless." (Francis Schaeffer)
Part 12 Letter on how pursuit of God is only way to get Satisfaction Dan Jarrell "[In Ecclesiastes] if one seeks satisfaction they will never find it. In fact, every pleasure will be fleeting and can not be sustained, BUT IF ONE SEEKS GOD THEN ONE FINDS SATISFACTION"
April 21, 2020
Ricky Gervais
Dear Ricky,
Just like yesterday and the day before and the day before that I wanted to write this open letter to you to comment on some of your episodes in season one of AFTER LIFE, and then I wanted to pass along some evidence that indicates the Bible is historically accurate.
For both Tony and Solomon life UNDER THE SUN dictates that both animals and humans are controlled by time and chance and "men and animals both breathe the same air, and both die. So mankind has no real advantage over the beasts"
Tony loves his dog Brandi and considers her a member of the family, and actually values her life over his at one point in AFTER LIFE. Genesis teaches us that mankind was created special by God and is to rule over the animals, but when you shut God out of the picture and turn to Darwin's evolution then we are all equal to the animals.
(Charles Darwin)
Chance and time plus matter (us) has determined the past and it will determine the future.By the way, what are the ingredients that make evolution work? George Wald – "Time is the Hero."
Jacques Monod – "Pure chance, absolutely free but blind, is at the root of the stupendous edifice of evolution."
Solomon when he shuts God out and looks at life UNDER THE SUN then expresses the view of a humanist who believes that history is not heading somewhere with a purpose but is guided by pure chance, absolutely free but blind. Ecclesiastes 9:10-12 Whatsoever thy hand findeth to do, do it with thy might; for there is no work, nor device, nor knowledge, nor wisdom, in the grave, whither thou goest.11 I returned, and saw under the sun, that the race is not to the swift, nor the battle to the strong, neither yet bread to the wise, nor yet riches to men of understanding, nor yet favour to men of skill; but time and chance happeneth to them all.12 For man also knoweth not his time: as the fishes that are taken in an evil net, and as the birds that are caught in the snare; so are the sons of men snared in an evil time, when it falleth suddenly upon them.
Observing life UNDER THE SUN leads Solomon to conclude in ECCLESIASTES that man has no advantage over the animals. "For men and animals both breathe the same air, and both die. So mankind has no real advantage over the beasts; what an absurdity!" Ecclesiastes 3:18-19
_____________________
–

In the beginning of episode 2 Tony is in the bath tub with a razor to his wrist and his hungry dog Brandi walks up and he asks her "Are you hungry?" And she responds with a sad sound.
Tony, "If you could open a tin I would be dead now but you can't can you because you are useless. Who is useless? You are. You are useless. Good girl."
Solomon realizes that the earth and moon will go on existing when we are no more and that really we have no advantage over the animals in that respect that we both die. It is ironic that Tony is saved by an animal.
"KING SOLOMON: Ecclesiastes 1:2-11;3:18-19 (Living Bible): 2 In my opinion, nothing is worthwhile; everything is futile. 3-7 For what does a man get for all his hard work?Generations come and go, but it makes no difference.[b] The sun rises and sets and hurries around to rise again. The wind blows south and north, here and there, twisting back and forth, getting nowhere.* The rivers run into the sea, but the sea is never full, and the water returns again to the rivers and flows again to the sea . .everything is unutterably weary and tiresome. No matter how much we see, we are never satisfied; no matter how much we hear, we are not content. History merely repeats itself…For men and animals both breathe the same air, and both die. So mankind has no real advantage over the beasts; what an absurdity!"

On April 9, 2020 on your Twitter Live broadcast you noted something that I later verified when I read, "One of the world's largest populations of tigers exists not in the wild—but in captivity in the United States. With an estimated 5,000 tigers, the U.S. captive tiger population exceeds the approximately 3,200 tigers in the wild." This is a sad fact and like you I am advocate of rescue animals. Our rescue dog Lucille is part dachshund and part yorkie and brings so much love to our home. We have had a long process of helping her to overcome hiding for long periods of time. Evidently her previous owner must have beaten her.
As a Justice of the Peace in Saline County in Arkansas I have recently voted to appropriate $25,000 to Saline County Humane Society & $15,000 to the Hot Springs Village Animal Welfare League, and this has always been a top priority with me while I have been in office and I have been a volunteer for the Saline County Humane Society.
Are animals equal to humans or are we created special by God to rule over the animals?
(James D. Watson below)
James D. Watson comments:
Been reading DNA:The Secret of Life by James D. Watson and now I am happy to report that I have finished it. I would like to quote from it on page 386:
We must not forget that human brain function remains a million miles removed from that of a mouse. No rodent, whether from the mountains or the prairies, has yet produced a major work of art. It nevertheless remains worthwhile
to bear in mind that most sobering lesson of the Human Genome Project: our genome and the mouse's are strikingly similar. The basic genetic software governing both mice and men has not changed much over the 75 million years
of evolution since our lineages separated.
Dr. John J. Shea appeared on the TV series APE MAN with Walter Cronkite back in the 1990's and claimed that there is only a degree of difference between monkeys and humans and not a categorical difference. After that program aired I had the opportunity to correspond with Dr. Shea and he was kind enough to send me a two page response to my questions. (This correspondence took place back in 1994 and 1995 and in 1995 I also got to correspond with Carl Sagan.)
Dr. Shea also suggested that I read SHADOWS OF FORGOTTEN ANCESTORS by Carl Sagan and his wife Ann Druyan, and I did so. Here are my thoughts on the question.
2573 × 1815Images may be subject to copyright. Learn More
_
First, only humans lie in the sense we are held morally responsible. Sagan wrote, "Deception in the social relations of animals…is an emerging and productive topic in biology…" (p. 379). This may be true, but are animals responsible to God? I think not. Romans 3:23 teaches that "All MEN have sinned and fall short of the glory of God." Animals may deceive but they are not morally responsible.
Second, only men feel guilt. Sagan refers briefly to the fact that men feel guilt (p. 4.14), but he does not spend a lot of time on this. Romans 1:19 asserts, "For that which is known about God is evident to them and made plain in their inner consciousness, because God has show it to them" (Amplified Bible). Here Sagan turns to Thomas Henry Huxley who he quotes:
On all sides, I shall hear the cry–"We are men and women, not a mere better sort of apes, a little longer in the leg, more compact in the foot, and bigger in brain than your brutal Chimpanzees and Gorillas. The power of knowledge–the conscience of good and evil--the pitiful tenderness of human affections, raise us out of all real fellowship with the brutes, however, closely they may seem to approximate us."
To this I can reply that the exclamation would be just and would be most just and would have my entire sympathy, if it were only relevant. But, it is not I who seek to base Man's dignity upon this great toe, or insinuate that we are lost if an Ape has a hippocampus minor (in its brain). On the contrary, I have done my best to sweep away this vanity…
WHY DID SAGAN AND HUXLEY FACE SUCH A LARGE CHORUS THAT WAS OBJECTING TO THIS VIEW THAT WE DON'T HAVE A GOD-GIVEN CONSCIENCE? The answer is very simple and it deals with the consequences of Social Darwinism. Chuck Colson said that Larry King was not very impressed with his long talk on the historical accuracy of the scriptures, but when he touched on this subject things got interesting:
Larry King invited me to dinner. "I don't believe in God," Larry told me straight out. "But tell me why you believe." I responded, "Have you seen Woody Allen's movie CRIMES AND MISDEMEANORS?
Yes, he loved it, in fact. It's about a doctor who is haunted by GUILT after hiring a killer to murder his mistress. His Jewish father has taught him that God will surely bring justice. In the end the doctor suppresses his GUILT, convincing himself that LIFE IS AN DARWINIAN STRUGGLE WHERE ONLY THE RUTHLESS SURVIVE.
I asked Larry, "Is that our only choice–to be tormented by GUILT or else kill our conscience? Larry, how do you deal with your conscience?" He dropped his fork. I said, "What do you do with the GUILT that is in here? What do you do with what you know you have done wrong?
Then he was ready to listen. I went on and shared with him from Romans which teaches about the voice of conscience that God has given us.
__________
John J. Shea pictured below
__
Thomas Henry Huxley
Chuck Colson pictured below:
Chuck Colson below saying nice things about the 100th anniversary of Francis Schaeffer's birth
Third, men have a longing for significance which expresses itself most clearly in the fear of non being.
Fourth, I would point to the fact that only people worship.
Fifth, men are not satisfied unless they have their spiritual needs met. Carl Sagan quotes the poet Walt Whitman, "Not one (animal) is dissatisfied…Not one is respectable or unhappy over the whole earth…" Sagan comments, "On this basis of the evidence presented in this book, we doubt if any of Whitman's six purported differences between other animals and humans is true…" (p. 389).
I read Sagan's book cover to cover and made over 15 pages of notes, and I have yet to find any of the "evidence" that Sagan speaks of on page 389. I find the comments of NOAM CHOMSKY more logical. He calls animal language an "evolutionary miracle" akin to "finding an island of humans who could be taught to fly."
I like Francis Schaeffer's term "Mannishness" of man. He defines it as those aspects of man, such as significance, love, rationality and the fear of non being, which mark him off from animals and machines and give evidence of his being created in the image of a personal God.
(Francis Schaeffer pictured)
The scientist Blaise Pascal is quoted by Sagan on page 364 and then Sagan notes, "Most of the philosophers adjudged great in the history of western thought held that humans are fundamentally different from other animals…"
As you know Pascal was the inventor of the barometer and he lived from 1623 to 1662. Pascal also observed, "There is a God-shaped vacuum in the heart of every man,and only God can fill it."
What is the solution? "For God so loved the world that He gave his one and only Son, that whoever believes in him should not perish but have eternal life" (John 3:16). The scriptural directive is not for us to work harder to achieve God's favor (Romans 3:20), but to accept God's mercy through our repentance and receiving Christ as a free gift (Ephesians 2:8-10).
Ken Edwards comments:
ON RELIGION, I don't have a belief; I hesitate to say I am an atheist as it sounds too positive and puts me in the Dawkins camp; my reasoning is that I don't see anything in what we know about the universe and the way it operates any need to invoke anybody who changes things from time to time; once a rule had been set up it continued to operate for the last 13.7 billion years; as a biologist, having lived through Darwinism and the DNA revolution, it is now so clear to me that EVOLUTION and natural selection is a perfectly adequate explanation for the diversity of living form that we have; they clearly all share the same kind of information system and metabolic system; I don't see any need to invoke a GOD who is active, nor have I had any direct personal experience which I could say was religious; how it was all set up, what created it in the first place, whether there are parallel universes, I don't know, but I am not a believer; in my childhood I used to go to CHURCH; my parents came from different denominations, my mother was a Methodist and my father Church of England; they couldn't agree on where to go to church so didn't go very often, but insisted that I did; I was CONFIRMED and was a believer for a time; gradually came to my present views in my mid-twenties, but I may be wrong;
Is evolution true? Let me share with you a portion of a message on Evolution by my former pastor Adrian Rogers:
Ronald Reagan meeting with Adrian Rogers at White House
LOOK AT WHAT GOD'S WORD SAYS I N GENESIS CHAPTER 1 VERSE 26, "AND GOD SAID, LET US MAKE MAN IN OUR IMAGE, AFTER OUR LIKENESS: AND LET THEM HAVE DOMINION…" NOW, LET ME TALK TO YOU ABOUT THREE THINGS. FIRST OF ALL, "THE CREATION OF MAN AND THE ANIMALS," "THE CREATION OF MAN AND THE ANIMALS." MAN AND THE ANIMALS WERE CREATED BY ALMIGHTY GOD. AND THEY WERE CREATED AT, BASICALLY, THE SAME TIME. THE BIBLE DOES NOT TEACH EVOLUTION. "WELL," YOU SAY, "PASTOR, WHAT ABOUT ALL THESE PRIMITIVE HALF-HUMANS, AND HALF-MEN THAT WE'VE SEEN IN THE TEXTBOOKS WHAT ABOUT ALL OF THAT–THESE, THESE CREATURES IN THE MUSEUMS, THESE, THESE MEN ON THEIR WAY UP. WELL, DEAR FRIEND THAT IS WHAT IS IN SOMEBODY'S IMAGINATION. THESE ARE NOT PICTURES OF ACTUAL BEINGS. THESE ARE THE CREATION OF SOMEBODY'S IMAGINATION! FOR EXAMPLE, UHM, THE SCOPES TRIAL WAS HELD HERE IN TENNESSEE, THE FAMOUS MONKEY TRIAL, BACK IN NINETEEN AND TWENTY-FIVE. AND PEOPLE ARE STILL LAUGHING ABOUT 'BOUT THAT BECAUSE, UH, THEY SAY THAT,
UH, WILLIAM JENNINGS BRYAN, WHO WAS THE GREAT, UH, BELIEVER IN THE WORD OF GOD, ARGUED WITH CLARENCE DARROW ABOUT EVOLUTION, AND SO FORTH. AND DARROW, WHO WAS A VERY CUNNING, AND A VERY SHREWD, AND A VERY BRILLIANT LAWYER, ARGUED WITH THE GREAT, UH, CHRISTIAN, WILLIAM JENNINGS BRYAN.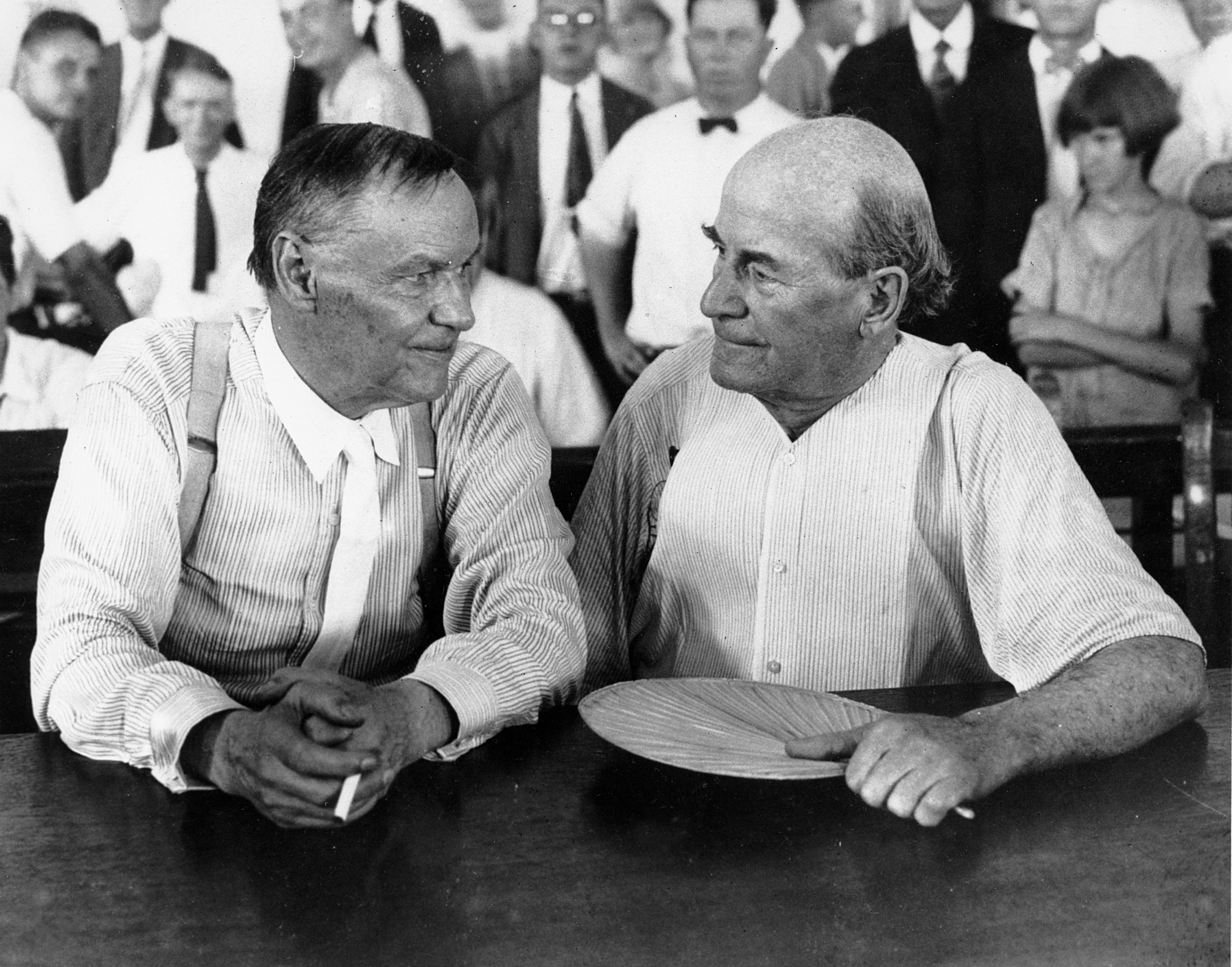 AND ONE OF THE THINGS THAT DARROW DID WAS TO BRING IN FOR EVIDENCE FOR EVOLUTION A, A, UH, REPLICA OF A PREHISTORIC MAN, PAINTINGS AND ALL. HIS NAME WAS "NEBRASKA MAN." AND "NEBRASKA MAN" WAS THOUGHT TO BE ONE MILLION YEARS OLD. AND HE SAID, "WHAT ARE YOU GONNA DO, BRYAN, ABOUT 'NEBRASKA MAN'?" "WELL,'? HE SAID, "I, I JUST THINK WE NEED MORE EVIDENCE. I DON'T THINK YOU HAVE ENOUGH EVIDENCE TO PROVE THAT 'NEBRASKA MAN', THIS HALF MAN, HALF APE EVER EXISTED." WELL, UH, THE SCIENTISTS, THEMSELVES, DID SOME MORE WORK ON "NEBRASKA MAN", AND DO YOU KNOW WHAT THEY FOUND OUT? HUH, HUH. THEY FOUND OUT THAT THE MAN WHO, UH, WHO DISCOVERED "NEBRASKA MAN", A MAN NAMED MR. COOK, HAD REALLY DISCOVERED A TOOTH. I DIDN'T SAY "TEETH", I SAID "TOOTH." AND OUT OF ONE TOOTH, THEY CREATED AN ENTIRE RACE OF PEOPLE–MALE AND FEMALE–DREW PICTURES OF THEM, AND THERE THEY WERE. AND, GAVE AN AGE AND A DATE. BUT, FRIEND, YOU HAVEN' HEARD THE PUNCH LINE. LATER ON THEY FOUND THE ENTIRE SKELETON, AND IT WAS THE PIG, THE TOOTH OF A PIG. AND OUT OF THE TOOTH OF A PIG,
1024 × 795Images may be subject to copyright. Learn More
CLARENCE DARROW, THE GREAT, BRILLIANT LAWYER CAME INTO THE COURTROOM AND HELD UP A WHOLE RACE OF MEN. AND SAID, "THIS IS PROOF OF EVOLUTION." "WELL," YOU SAY, "YES, UH, THIS THAT'S, THAT DOESN'T DISPROVE THAT EVOLUTION IS TRUE. IT JUST PROVES THEY MADE A MISTAKE IN THAT PARTICULAR AREA." WHEN I WAS IN SCHOOL, WE STUDIED, IN MY BIOLOGY CLASSES, "THE PILTDOWN MAN."
UH, HE WAS SUPPOSED TO HAVE BEEN DISCOVERED BY CHARLES DAWSON. AND WHAT CHARLES DAWSON REALLY HAD IN THIS SUPPOSED APE-MAN, HE HAD, UH, UH, A JAW THAT HAD TWO MOLARS IN IT, AND PART OF A SKULL. HE FOUND IT IN A GRAVEL PIT IN PILTDOWN, ENGLAND. AND HE PRESENTED THAT. THEY, THEY, THEY HAD A WHOLE RACE OF MEN THAT THEY DESCRIBED AFTER THAT. LATER ON IT WAS SHOWN TO BE A HOAX. AND IN 1956, THE READERS DIGEST HAD AN ARTICLE–I HAVE IT SOMEWHERE IN MY FILES–CALLED "THE GREAT PILTDOWN HOAX!" WHAT HAD HAPPENED IS THIS: THAT UHW, IT, THE, THE JAWBONE THAT THEY FOUND WAS THE JAWBONE OF AN APE. HE WAS ONLY FIFTY YEARS OLD. SOMEONE HAD FILED HIS TEETH DOWN, AND DISCOLORED THEM WITH CHEMICALS. AND HID THEM THERE IN PILTDOWN, HOPING THAT IT WOULD BE DISCOVERED. IT WAS A JOKE, A COLOSSAL JOKE! BUT, MY DEAR FRIEND, THE POINT I WANT TO MAKE IS THIS: THAT THE SCIENTISTS BOUGHT INTO IT LOCK, STOCK, AND BARREL, AND DEVELOPED A WHOLE RACE OUT OF IT! NOW, THESE ARE ONLY TWO EXAMPLES. BUT I JUST USED THEM AS EXAMPLES TO SHOW HOW EAGER MEN ARE TO MAKE MONKEYS OF THEMSELVES. HOW EAGER!
___
This might interest you that good friend in Little Rock Craig Carney had an uncle named Warren Carney and Warren was born in 1917 and he was the last living witness of the Scopes Monkey trial but he died in June of 2015. His father took him to the trial every day since they lived in Dayton and it was the biggest happening in the town's history. Also I attended the funeral of Dr. Robert G. Lee (1886-1978) at Bellevue Baptist in Memphis and he is the minister who presided over William Jennings Bryan's funeral in 1925. I have posted Dr. Lee's mostfamous sermonPAYDAY SOME DAY o
Is the Bible historically accurate? Here are some of the posts I have done in the past on the subject: 1. The Babylonian Chronicle, of Nebuchadnezzars Siege of Jerusalem, 2. Hezekiah's Siloam Tunnel Inscription. 3. Taylor Prism (Sennacherib Hexagonal Prism), 4. Biblical Cities Attested Archaeologically. 5. The Discovery of the Hittites, 6.Shishak Smiting His Captives, 7. Moabite Stone, 8. Black Obelisk of Shalmaneser III, 9A Verification of places in Gospel of John and Book of Acts., 9B Discovery of Ebla Tablets. 10. Cyrus Cylinder, 11. Puru "The lot of Yahali" 9th Century B.C.E., 12. The Uzziah Tablet Inscription, 13. The Pilate Inscription, 14. Caiaphas Ossuary, 14 B Pontius Pilate Part 2, 14c. Three greatest American Archaeologists moved to accept Bible's accuracy through archaeology.,
The answer to find meaning in life is found in putting your faith and trust in Jesus Christ. The Bible is true from cover to cover and can be trusted.
Thank you again for your time and I know how busy you are.
Sincerely,
Everette Hatcher, everettehatcher@gmail.com, http://www.thedailyhatch.org, cell ph 501-920-5733, 13900 Cottontail Lane, Alexander, AR 72002
Part 13 Letter to Stephen Hawking on Solomon realizing he will die just as a dog will die "For men and animals both breathe the same air, and both die. So mankind has no real advantage over the beasts; what an absurdity!" Ecclesiastes
Part 14 Letter to Stephen Hawking on 3 conclusions of humanism and Bertrand Russell destruction of optimistic humanism. "That Man is the product of causes which had no prevision of the end they were achieving; that his origin, his growth, his hopes and fears, his loves and his beliefs, are but the outcome of accidental collocations of atoms—no philosophy which rejects them can hope to stand. Only within the scaffolding of these truths, only on the firm foundation of unyielding despair, can the soul's habitation henceforth be safely built."(Bertrand Russell, Free Man's Worship)
Part 15 Letter to Stephen Hawking on Leonardo da Vinci and Solomon and Meaningless of life "I hate life. As far as I can see, what happens on earth is a bad business. It's smoke—and spitting into the wind" Ecclesiastes Book of Ecclesiastes Part 15 "I hate life. As far as I can see, what happens on earth is a bad business. It's smoke—and spitting into the wind" Ecclesiastes 2:17
Part 16 Letter to Stephen Hawking on Solomon's longing for death but still fear of death and 5 conclusions of humanism on life UNDER THE SUN. Francis Schaeffer "Life is just a series of continual and unending cycles and man is stuck in the middle of the cycle. Youth, old age, Death. Does Solomon at this point embrace nihilism? Yes!!! He exclaims that the hates life (Ecclesiastes 2:17), he longs for death (4:2-3) Yet he stills has a fear of death (2:14-16)"
—