_
Bill Maher and Richard Dawkins
__
__
__
Francis and Edith Schaeffer at their home in Switzerland with some visiting friends
__
Schaeffer with his wife Edith in Switzerland.
Richard Dawkins and John Lennox
_
_
January 22, 2019
Richard Dawkins c/o Richard Dawkins Foundation,
Washington, DC 20005
Dear Mr. Dawkins,
i have enjoyed reading about a dozen of your books and some of the most intriguing were The God Delusion, An Appetite for Wonder: The Making of a Scientist, and Brief Candle in the Dark: My Life in Science.
I wanted to comment on something you wrote in 2010 in the Gaurdian Newspaper:
Even if Hitler had been an atheist–as Joseph Stalin more surely was–how dare Ratzinger suggest that atheism has any connection whatsoever with their horrific deeds? Any more than Hitler and Stalin's non-belief in leprechauns or unicorns. … There is no logical pathway from atheism to wickedness.
Leading atheists are arguing that Adolf Hitler and his Nazi regime were theist and specifically Christian.
Christopher Hitchens in God Is Not Great depicts Hitler as a pagan polytheist — not exactly a conventional theist but still a theist. Atheist websites routinely claim that Hitler was a Christian because he was born Catholic, he never publicly renounced his Catholicism, and he wrote in Mein Kampf, "By defending myself against the Jew, I am fighting for the work of the Lord." Atheist writer Sam Harris writes that "the Holocaust marked the culmination of…two hundred years of Christian fulminating against the Jews" and therefore "knowingly or not, the Nazis were agents of religion."
How persuasive are these claims? My New York Timesbestseller What's So Great About Christianity has the full story and the requisite citations but here's the condensed version. Hitler was born Catholic just as Stalin was born into the Russian Orthodox Church and Mao was raised as a Buddhist. These facts prove nothing as many people reject their religious upbringing, as these three men did. From an early age, historian Allan Bullock writes, Hitler "had no time at all for Catholic teaching, regarding it as a religion fit only for slaves and detesting its ethics."
How then do we account for Hitler's claim that in carrying out his anti-Semitic program he was an instrument of divine providence? During his ascent to power, Hitler needed the support of the German people — both the Bavarian Catholics and the Prussian Lutherans — and to secure this he occasionally used rhetoric such as "I am doing the Lord's work." To claim that this rhetoric makes Hitler a Christian is to confuse political opportunism with personal conviction. Hitler himself says in Mein Kampf that his public statements should be understood as propaganda that bears no relation to the truth but is designed to sway the masses.
The Nazi idea of an Aryan Christ who uses the sword to cleanse the earth of the Jews — what historians call "Aryan Christianity" — was obviously a radical departure from the traditional Christian understanding and was condemned as such by Pope Pius XI at the time. Moreover, Hitler's anti-Semitism was not religious, it was racial. Jews were targeted not because of their religion — indeed many German Jews were completely secular in their way of life — but because of their racial identity. This was an ethnic and not a religious designation. Hitler's anti-Semitism was secular.
Hitler's Table Talk, a revealing collection of the Fuhrer's private opinions, assembled by a close aide during the war years, shows Hitler to be rabidly anti-religious. He called Christianity one of the great "scourges" of history, and said of the Germans, "Let's be the only people who are immunized against this disease." He promised that "through the peasantry we shall be able to destroy Christianity." In fact, he blamed the Jews for inventing Christianity. He also condemned Christianity for its opposition to evolution.
Hitler reserved special scorn for the Christian values of equality and compassion, which he identified with weakness. Hitler's leading advisers like Goebbels, Himmler, Heydrich and Bormann were atheists who hated religion and sought to eradicate its influence in Germany.
In his multi-volume history of the Third Reich, historian Richard Evans writes that "the Nazis regarded the churches as the strongest and toughest reservoirs of ideological opposition to the principles they believed in." Once Hitler and the Nazis came to power, they launched a ruthless drive to subdue and weaken the Christian churches in Germany .
Recognizing the absurdity of equating Nazism with Christianity, Christopher Hitchens seeks to push Hitler into the religious camp by portraying his ideology as a "quasi-pagan phenomenon." Hitler may have been a polytheist who worshipped the pagan gods, Hitchens suggests, but polytheism is still theism. This argument fails to distinguish between ancient paganism and modern paganism. It's true that Hitler and the Nazis drew heavily on ancient archetypes — mainly Nordic and Teutonic legends — to give their vision a mystical aura. But this was secular mysticism, not religious mysticism.
The ancient Germanic peoples truly believed in the pagan gods. Hitler and the Nazis, however, relied on ancient myths in the modern form given to them by Nietzsche and Wagner. For Nietzsche and Wagner, there was no question of the ancient myths being true. Wagner no more believed in the Norse god Wotan than Nietzsche believed in Apollo. For Hitler and the Nazis, the ancient myths were valuable because they could give depth and significance to a secular racial conception of the world.
In his multi-volume history of the Third Reich, historian Richard Evans writes that "the Nazis regarded the churches as the strongest and toughest reservoirs of ideological opposition to the principles they believed in." Once Hitler and the Nazis came to power, they launched a ruthless drive to subdue and weaken the Christian churches in Germany. Evans points out that after 1937 the policies of Hitler's government became increasingly anti-religious.
The Nazis stopped celebrating Christmas, and the Hitler Youth recited a prayer thanking the Fuhrer rather than God for their blessings. Clergy regarded as "troublemakers" were ordered not to preach, hundreds of them were imprisoned, and many were simply murdered. Churches were under constant Gestapo surveillance. The Nazis closed religious schools, forced Christian organizations to disband, dismissed civil servants who were practicing Christians, confiscated church property, and censored religious newspapers. Poor Sam Harris cannot explain how an ideology that Hitler and his associates perceived as a repudiation of Christianity can be portrayed as a "culmination" of Christianity.
If Nazism represented the culmination of anything, it was that of the nineteenth-century and early-twentieth century ideology of social Darwinism. Read historian Richard Weikart's revealing study, From Darwin to Hitler. As Weikart documents, both Hitler and Himmler were admirers of Darwin and often spoke of their role as enacting a "law of nature" that guaranteed the "elimination of the unfit." Weikart argues that Hitler himself "drew upon a bountiful fund of social Darwinist thought to construct his own racist philosophy" and concludes that while Darwinism is not a "sufficient" intellectual explanation for Nazism, it is a "necessary" one. Without Darwinism, quite possibly there would not have been Nazism.
The Nazis also drew on the philosopher Friedrich Nietzsche, adapting his atheist philosophy to their crude purposes.Nietzsche's vision of the ubermensch and his elevation of a new ethic "beyond good and evil" were avidly embraced by Nazi propagandists. Nietzsche's "will to power" almost became a Nazi recruitment slogan. I am not for a moment suggesting that Darwin or Nietzsche would have approved of Hitler's ideas. But Hitler and his henchmen approved of Darwin's and Nietzsche's ideas. Harris simply ignores the evidence of the Nazis' sympathies for Darwin, Nietzsche, and atheism. So what sense can we make of his claim that the leading Nazis were "knowingly or unknowingly" agents of religion? Clearly, it is nonsense.
So in addition to the mountain of corpses that the God-hating regimes of Stalin, Mao, Pot Pot and others have produced, we must add the body count of the God-hating Nazi regime. The Nazis, like the Communists, deliberately targeted the churches and the believers because they wanted to create a new man and a new utopia freed from the shackles of traditional religion and traditional morality. In an earlier blog, I asked what is atheism's contribution to civilization? One answer to that question: Genocide.
—
Weikart summarizes the seven major aspects of Nazi ideology that were heavily influenced by Darwinism, but on which churchian anti-Judaism had no influence:
Nazi eugenics policies, which led to the compulsory sterilization of 200,000 disabled people, forced abortions for the disabled, and in 1939 killing the disabled (about 200,000 disabled people were murdered).
The drive for population expansion (Darwin claimed in Descent of Man that the birthrate should not be limited, because a higher birthrate was advantageous for evolution). Hitler often expressed the same view.
The need for living space or Lebensraum (this was one cause of World War II, not just a minor feature). Hitler often expressed the need for living space in evolutionary terms.
Racial inequality—Darwin and Haeckel argued for human inequality on the basis of Darwinian evolution.
Anti-Marxism—the leading German Darwinist Haeckel argued that Darwinism disproved Marxism.
History as a racial struggle for existence.
The evolution of moral traits—Hitler believed that Jews had evolved bad moral traits, while Aryans had evolved good moral traits.
Below is a piece of that evidence given by Francis Schaeffer concerning the accuracy of the Bible.
TRUTH AND HISTORY (chapter 5 of WHATEVER HAPPENED TO THE HUMAN RACE?, under footnote #94)
So the story goes on. We have stopped at only a few incidents in the sweep back to the year 1000 B.C. What we hope has emerged from this is a sense of the historical reliability of the Bible's text. When the Bible refers to historical incidents, it is speaking about the same sort of "history" that historians examine elsewhere in other cultures and periods. This borne out by the fact that some of the incidents, some of the individuals, and some of the places have been confirmed by archaeological discoveries in the past hundred years has swept away the possibility of a naive skepticism about the Bible's history. And what is particularly striking is that the tide has built up concerning the time before the year 1000 B.C. Our knowledge about the years 2500 B.C. to 1000 B.C. has vastly increased through discoveries sometimes of whole libraries and even of hitherto unknown people and languages.
There was a time, for example, when the Hittite people, referred to in the early parts of the Bible, were treated as fictitious by critical scholars. Then came the discoveries after 1906 at Boghaz Koi (Boghaz-koy) which not only gave us the certainty of their existence but stacks of details from their own archives!

The answer to find meaning in life is found in putting your faith and trust in Jesus Christ. The Bible is true from cover to cover and can be trusted.
Thank you again for your time and I know how busy you are.
Everette Hatcher, everettehatcher@gmail.com, http://www.thedailyhatch.org, cell ph 501-920-5733, Box 23416, LittleRock, AR 72221, United States

_
Dawkins, Hitchens, Dennett, Harris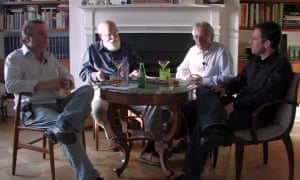 Canary Islands 2014: Harold Kroto and Richard Dawkins
__
Francis Schaeffer pictured below:
—
The Basis of Human Dignity by Francis Schaeffer
Richard Dawkins, founder of the Richard Dawkins Foundation for Reason and Science. Credit: Don Arnold Getty Images
—
Francis Schaeffer in 1984
Christian Manifesto by Francis Schaeffer
Francis Schaeffer in 1982
—-
Whatever Happened to the Human Race? Episode 1
—
—
–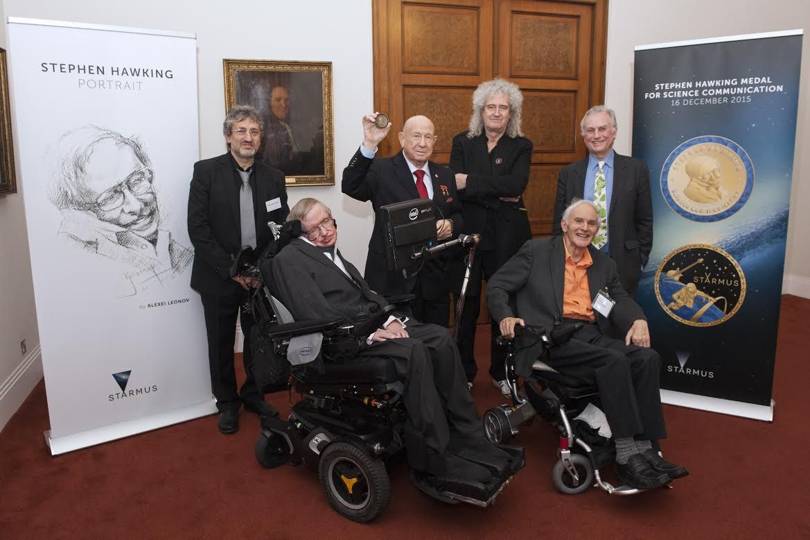 Garik Israelian, Stephen Hawking, Alexey Leonov, Brian May, Richard Dawkins and Harry Kroto
—-
—-
—-
—
Featured artist is Nick Hallett
Shana Moulton & Nick Hallett Stage An Opera | ART21 "New York Close Up"
Nick Hallett was born in 1974 in Boston, and lives and works in Brooklyn, New York. A composer and vocalist, Hallett works in the overlapping worlds of music, visual art, and performance. He draws on a wide range of seemingly contrasting musical genres—from indie rock to early Romantic to electronica to opera—to create arrangements that deploy the voice as an instrument. Hallett's first opera, Whispering Pines 10, was composed in collaboration with Shana Moulton. This and his second opera, To Music, are created for multimedia environments, part of Hallett's cultivation of connections between the music and visual-art worlds.
Links:
Artist's website
Artist on Facebook
@nick_hallett on Instagram
@NickHallett on Twitter
—-
Related posts:
On November 21, 2014 I received a letter from Nobel Laureate Harry Kroto and it said: …Please click on this URL http://vimeo.com/26991975 and you will hear what far smarter people than I have to say on this matter. I agree with them. Harry Kroto _________________ Below you have picture of 1996 Chemistry Nobel Prize Winner […]
The Beatles were "inspired by the musique concrète of German composer and early electronic music pioneer Karlheinz Stockhausen…" as SCOTT THILL has asserted. Francis Schaeffer noted that ideas of "Non-resolution" and "Fragmentation" came down German and French streams with the influence of Beethoven's last Quartets and then the influence of Debussy and later Schoenberg's non-resolution which is in total contrast […]
_______ On November 21, 2014 I received a letter from Nobel Laureate Harry Kroto and it said: …Please click on this URL http://vimeo.com/26991975 and you will hear what far smarter people than I have to say on this matter. I agree with them. Harry Kroto _________________ Below you have picture of 1996 Chemistry Nobel Prize […]
On November 21, 2014 I received a letter from Nobel Laureate Harry Kroto and it said: …Please click on this URL http://vimeo.com/26991975 and you will hear what far smarter people than I have to say on this matter. I agree with them. Harry Kroto ____________________ Below you have picture of 1996 Chemistry Nobel Prize Winner Dr. […]