_
_
__
__
_
_
HowShouldWeThenLive Episode 4
_
_
_
__
_
This outline below is one that I have found very helpful. It is by Tony Bartolucci
How Shall We Then Live?
Francis Schaeffer
Began: June, 2006 | Finished November: 2006
VIII. Chapter Eight: The Breakdown in Philosophy and Science
A. The Legacy of Plato
A.N. Whitehead believed that all of European history is a footnote on Plato. That might go too far,
but Plato did affirm that if there are no absolutes, then the particulars in life have no meaning. The
universal, or absolute, is that under which all the particulars fit, they give unity and meaning to the
whole.
B. Jean-Paul Sartre (1905-80) – French Existentialist
He believed that a finite point is absurd if you have no infinite reference point. Example is morals:
With no absolute point of reference there is no standard for right or wrong.
We also need absolutes if we are to have meaning in ourselves, as human beings. We must also have
absolutes if we are to have a solid epistemology.
C. Non-Christian Philosophers From the Time of the Greeks Until the Modern Period had
Three Things in Common
They were rationalists. They believed that man can begin with himself and find ultimate answers.
Second, they took reason seriously. They believed that reason was a valid proof instrument. They
thought in terms of antithesis/contrast (Eg. A is A and A is not non-A). Third, they were optimistic.
They believed that a utopia of sorts can be universally reached by reason (Star-Trek ideal).
D. Three Shifts Came Afterward (Shifts in Science; Philosophy; Theology)
1. Science
Shifted from modern science (which rested on a Christian worldview), to what Schaeffer calls
"modern, modern science." Science went from an open system to closed. God was left out. With
no place for God, eventually there was no place for man (he was just another part of the machine).
Prior to this scientism, cause and effect were applied to physics, astronomy and chemistry. Now they
are applied to psychology and sociology. Everything is mechanical, cause-and-effect. God died and
so did man.
a. Lyell (1797-1882), Darwin and Huxley
Lyell (uniformity in a closed system) and Darwin (origins in a closed system). Huxley popularized
Darwin's ideals. It was Herbert Spencer who coined the phrase, "survival of the fittest."
b. Connection to Nazi Germany
Henreich Himmler (1900-`1945) took Spencer's "survival of the fittest" and applied it to the
Germany. Hitler believed that Christianity and its concept of love should be replaced with "the ethic
of strength over weakness" (page 170).
Part of the problem in Germany at this time was the rise of liberal theology, which has adopted
rationalism in theological terminology (closed system).
2. Philosophy
a. The Older Non-Christian Philosophers
There was a search for true meaning in rationalism, but this search left philosopher after philosopher
short. One would come along and say "here is a circle which will give a unified and true knowledge
of what reality really is:" . Another would come along and cross that circle out q and say, "No,
here is the circle:" . Then another would come along, cross out that circle q, and say: "You are
all wrong, here is the circle:" . On and on it went. The older philosophers didn't find the circle, but
they were optimistic that someone would. "Then the line of crossed-out circles was broken, and a
drastic shift came. It is this shift that causes modern man to be modern man." [page 171]
(1) Rene' Descarte (1596-1650) – "I think therefore I am"
Many believe Descarte was the first of the modern philosophers, but Schaeffer disagrees, feeling he
should be the last of the old guard for two reasons: 1) He remained confident that by rationalism one
could doubt all notions based on authority and man could start within himself with total sufficiency
("I think therefore I am"). 2) He believe mathematics would provide a unity for all kinds of
investigations. So, he was yet optimistic. The shift to pessimism came in the next century.
b. Modern Philosophy
Four philosophers marked the shift in thought from optimism to pessimism: Jean-Jacques Rousseau;
Immanuel Kant; Wilhelm Friedrich Hegel; Soren Kierkegaard.
(1) Rousseau (1712-1778) – "Man the noble savage"
Rousseau was a French-speaking Swiss from Geneva. There was a shift in individual things and
ultimate meaning from that of the old guard (humanism of the High-Renaissance):
UNIVERSALS (that which give meaning to the particulars)
PARTICULARS (including each person individually)
To this:
AUTONOMOUS FREEDOM
AUTONOMOUS NATURE
As Schaeffer observes, there was two parts to this new formulation of the old problem. Man was
now viewed as a machine along with everything else in the universe (just another cog or a collection
of molecules among trillions). Starting w/mechanics one always ends w/mechanics. Second,
Rousseau viewed this tension in terms of society, political life, and culture.
For him, primitive man "the noble savage" was superior to modern man. He wrote, "If man is good
by nature, as I believe to have shown him to be, it follows that he stays like that as long as nothing
foreign to him corrupts him." [page 173] In 1749 he had an epiphany of sorts when he concluded that
the Enlightenment, with it's emphasis on reason, had resulted in man losing more than he had gained.
At this time Rousseau gave up faith in progress.
Rousseau and his disciples de-emphasized reason, viewing the restraints of civilization as evil: "Man
was born free but everywhere he is in chains!" [page 173]
The result of making nature the basis of morals influenced civil law: "The Natural Law of
Jurisprudence." Thisis "Law without God." However, nature is cruel as well as non-cruel [page 176]
Negatively, Rousseau's philosophy influenced the French artist Gauguin (1848-1903). In his search
for "freedom" Gauguin deserted his family and moved to Tahiti where he tried to be the noble savage.
He found out that this ideal was an illusion. Afterward, he pained his last work (f. 1898): "Whence
Come We? What Are We? Whither Do We Go? It is a portrait of an old woman dying. When he
finished this work Gauguin tried to commit suicide. He died about five years later.
Another example is Marquis de Sade (1740-1814) from whom we derive the term "sadism." de Sade
knew that if nature was all there is, then what is is right! He wrote: "As nature has made us (men)
the strongest, we can do with her (women) whatever we please." [page 177]
(a) Rousseau's Philosophy Backfires – The Reign of Terror
How would this fit into a society without anarchy? Individual freedom would be reflected in the
"general will" through the social contract. This could even come by force, as the French Revolution
shows. The Reign of Terror was an attempt to purify the general will via the guillotine.
In his book "The Social Contract" (1762) he wrote:
"In order that the social compact may not be an empty formula, it tacitly includes the undertaking,
which alone can give force to the rest, that whoever refuses to obey the general will shall be
compelled to do so by the whole body." This means nothing less than that he will be forced to be
free." [page 174]
Robespierre, the "King of Terror" was a disciple of Rousseau and used this strain of thought to justify
his actions.
(b) Rousseau's Influence Today
In another book, "Confessions," (1782) Rousseau put forth that the best education was the absence
of education. This has influenced our own educational philosophies to this day ("self-expression"
learning, etc.).
Will and Ariel Durant believed Rousseau to be the most important influence on modern thought.
Rousseau's concept of autonomous freedom led to the Bohemian ideal where the noble man is one
who fights against all of society's standards, values, laws. Cf. the Bohemian ideal which marked out
the hippie generation of the 60s.
(c) In England: David Hume (1711-1776)
A contemporary of Rousseau, Hume (in England) also criticized reason as a means of knowledge,
questioning the existence of "cause and effect." He upheld the centrality of human experience and
feeling.
(2) Immanuel Kant (1724-1804)
Wrote: "Critique of Pure Reason" (1781). He worded the problem of is age differently from that of
Rousseau:
NOUMENAL WORLD (the concepts of meaning and value)
PHENOMENAL WORLD (the world that can be measured; the external world of science)
Kant, like Rousseau, could not unify his worldview. There was no way to do this beginning with
man.
(3) Wilhelm Friedrich Hegel (1770-1831)
Hegel understood the need for unity between Kant's two worlds. Hegel emphasized the flow of
history. Quoting Copleston, Schaeffer writes (page 179):
"According to Hegel, the universe is steadily unfolding and so is man's understanding of it. No
single proposition about reality can truly reflect what is the case. Rather, in the heart of the truth
of a given proposition one finds its opposite. This, where recognized, unfolds and stands in
opposition to the theses. Yet there is truth in both thesis and antitheses, and when this is perceived
a synthesisisformed and a new proposition states the truth of the newly recognized situation. But
this in truth is found to contain its own contradiction and the process goes on ad infinitum. Thus
the universe and man's understanding of it unfolds dialectically. In sort the universe with its
consciousness–man–evolves."
Our generation today sees truth in this way, a result of synthesis rather than absolutes. Truth can be
found in the changing flow of history (and opinion), through thesis, antithesis, synthesis. "When this
happens, truth, as people have always thought of truth, has died." [page 179]
(4) Soren Kierkegaard (1813-1855)
Meaning is found apart from reason, as reason will always lead to pessimism. Could be illustrated
like this:
The things that are Hope, meaning, future
Reason Religion or Metaphysics.
Leap of faith
For Kierkegaard, faith is believing in something apart from objective truth.
NONREASON = FAITH/OPTIMISM
REASON = PESSIMISM
c. All of this Leads to our Modern Dilemma:
"In our day, humanistic reason affirms that there is only the cosmic machine, which encompasses
everything, including people. To those who hold this view everything people are or do is explained
by some form of determinism, some type of behaviorism, some kind of reductionism." [Schaeffer,
page 180]
Note Schaeffer's story about hearing a lecture by George Wald, former professor of chemistry at
Harvard. He believed all things are the product of chance. During the lecture, he said, "Four hundred
years ago there was a collection of molecules named Shakespeare which produced Hamlet."
Man, beginning with a proud humanism a few centuries ago, tried to make himself autonomous and
rather than becoming great, he found himself to be nothing more than a collection of molecules!
Out of nothing man has come, nothing man is.
E. The Question of Origins
What was the beginning of everything? There are only four possible answers to this question.
1. Once Absolutely Nothing Existed and Then Something Came to Be
a. Everything Came from Nothing (ex nihilo)
This is philosophically absurd. Therefore, if everything came from something, something has always
existed.
2. Everything Came from Something or Someone
a. Everything Came from a Personal Someone (God)
This is God who providentially guides the universe.
b. Everything Came from an Impersonal Someone
Includes pantheism, deism, gods, a god, a living impersonal force. No providential immanent
guidance in this system.
c. Everything Came from an Impersonal Something
Atheistic Evolution. No guidance in this system other than chance or that which is natural (survival
of the fittest, cause and effect).
(1) Louis Pasteur (1822-1895)
Proved in 1864 that if non-living things were pasteurized, life could not come forth. IOW –
abiogenesis is impossible in a closed system.
F. Summary
From the High (later) Renaissance to today we see an historical journey to despair. This is where
men live today. Man is a machine in a universe of machines. But man cannot live like a machine!
"But even people who believe they are machines cannot live like machines, and thus they must 'leap
upstairs' against their reason and try to find something which gives meaning to life, even though to
do so they have to deny their reason." [page3 182]
Those in the earlier Renaissance would never had settled for this; they would have considered it
intellectual suicide to separate meaning and values from reason.
_
---
__
__
Woman with a Parasol – Madame Monet and Her Son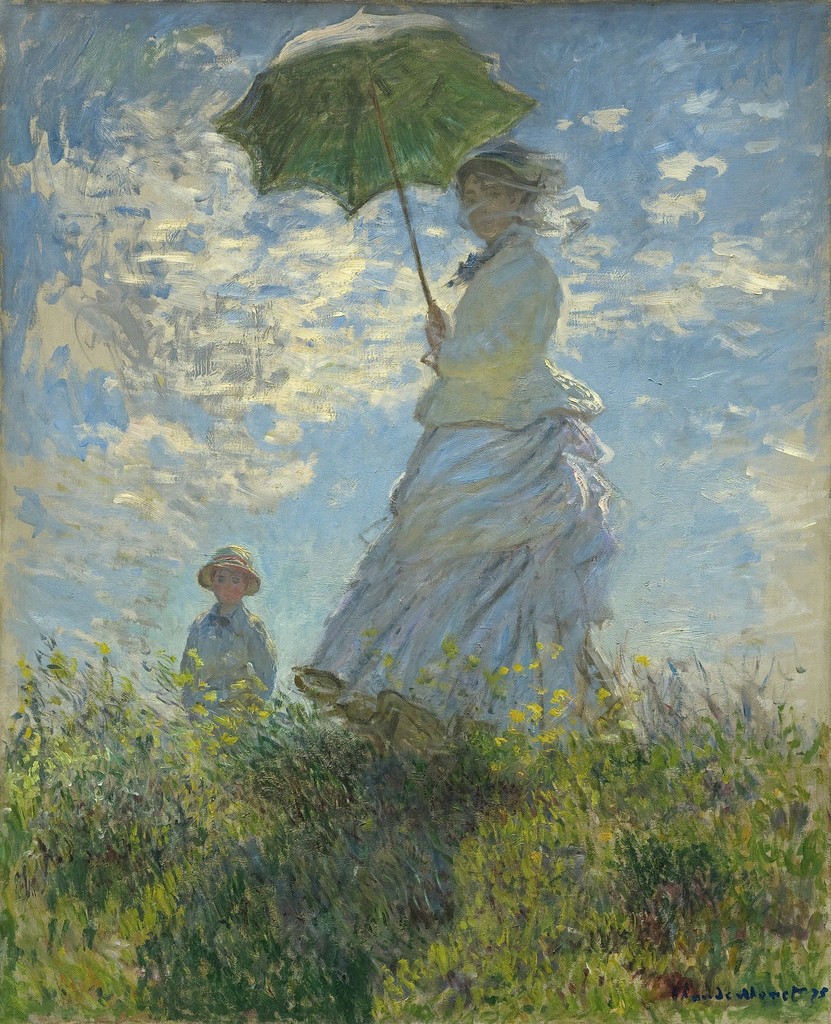 ______________
프란시스 쉐퍼 – 그러면 우리는 어떻게 살 것인가 introduction (Episode 1)
02 How Should We Then Live? (Promo Clip) Dr. Francis Schaeffer
The clip above is from episode 9 THE AGE OF PERSONAL PEACE AND AFFLUENCE
10 Worldview and Truth
In above clip Schaeffer quotes Paul's speech in Greece from Romans 1 (from Episode FINAL CHOICES)
Two Minute Warning: How Then Should We Live?: Francis Schaeffer at 100
A Christian Manifesto Francis Schaeffer
Today I am posting my second post in this series that includes over 50 modern artists that have made a splash. Last time it was
Tracey Emin
of England and today it is Peter Howson of Scotland. Howson has overcome alcoholism in order to continue his painting. Many times in the past great painters and writers have had
their
careers
halted
by the
bottle
in the past.
William Faulkner
,
 Ernest Heminingway
,
 Scott  Fitzgerald
 and 
James Joyce
 are all in the  Woody Allen movie "Midnight in Paris" and they all were alcoholics.  However,
there
is deliverance from
alcoholism
through the power
of Christ
.
_____________
Monet "Poplars on the River"
Van Gogh Self-Portrait with Straw Hat 1887-Metropolitan.jpg
Paul Cezanne
___________
Pierre-Auguste Renoir (1841–1919) French Impressionist painter
__________________
How Should We Then Live – Episode 8 – The Age of Fragmentation
Published on Aug 6, 2015
Francis Schaeffer in the episode, "The Age of Fragmentation," Episode 8 of HOW SHOULD WE THEN  LIVE? noted:
Monet, Renoir,

Camille Pissarro

, Sisley, Degas were following nature as it has been called in their painting they were impressionists.They painted only what their eyes brought them. But was there reality behind the light waves reaching their eyes? After 1885 Monet carried this to its conclusion and reality tended to become a dream. With impressionism the door was open for art to become the vehicle for modern thought. As reality became a dream, impressionism began to fall apart. These men Cezanne, Van Gogh, Gauguin, Seurat, all great post Impressionists felt the problem, felt the loss of meaning. They set out to solve the problem, to find the way back to reality, to the absolute behind the individual things, behind the particulars, ultimately they failed.
I am not saying that these painters were always consciously painting their philosophy of life, but rather in their work as a whole their worldview was often reflected. Cezanne reduced nature to what he considered its basic geometric forms. In this he was searching for an universal which would tie all kinds of individual things in nature together, but this gave a broken fragmented appearance to his pictures.
________________________________
In his bathers there is much freshness, much vitality. An absolute wonder in the balance of the picture as a whole, but he portrayed not only nature but also man himself in fragmented form. 
I want to stress that I am not minimizing these men as men. To read van Gogh's letters is to weep for the pain of this sensitive man. Nor do I minimize their talent as painters. Their work often has great beauty indeed. But their art did become the vehicle of modern man's view of fractured truth and light. As philosophy had moved from unity to fragmentation so did painting. In 1912 Kaczynski wrote an article saying that in so far as the old harmony, that is an unity of knowledge have been lost, that only two possibilities remained: extreme abstraction or extreme naturalism, both he said were equal.
Claude Monet – Grainstacks, end of day, Autumn, 1890
Oscar-Claude Monet (/moʊˈneɪ/; French: [klod mɔnɛ]; 14 November 1840 – 5 December 1926) was a founder of French Impressionist painting, and the most consistent and prolific practitioner of the movement's philosophy of expressing one's perceptions before nature, especially as applied to plein-air landscape painting.[1][2] The term "Impressionism" is derived from the title of his painting Impression, soleil levant (Impression, Sunrise), which was exhibited in 1874 in the first of the independent exhibitions mounted by Monet and his associates as an alternative to the Salon de Paris.
Monet's ambition of documenting the French countryside led him to adopt a method of painting the same scene many times in order to capture the changing of light and the passing of the seasons. From 1883 Monet lived in Giverny, where he purchased a house and property and began a vast landscaping project which included lily ponds that would become the subjects of his best-known works. In 1899 he began painting the water lilies, first in vertical views with a Japanese bridge as a central feature, and later in the series of large-scale paintings that was to occupy him continuously for the next 20 years of his life.
Biography
Birth and childhood
Claude Monet was born on 14 November 1840 on the fifth floor of 45 rue Laffitte, in the 9th arrondissement of Paris.[3] He was the second son of Claude Adolphe Monet and Louise Justine Aubrée Monet, both of them second-generation Parisians. On 20 May 1841, he was baptized in the local parish church, Notre-Dame-de-Lorette, as Oscar-Claude, but his parents called him simply Oscar.[3][4] (He signed his juvenilia "O. Monet".) Despite being baptized Catholic, Monet later became an atheist.[5][6]
In 1845, his family moved to Le Havre in Normandy. His father wanted him to go into the family's ship-chandling and grocery business,[7] but Monet wanted to become an artist. His mother was a singer, and supported Monet's desire for a career in art.[8]
On 1 April 1851, Monet entered Le Havre secondary school of the arts. Locals knew him well for his charcoal caricatures, which he would sell for ten to twenty francs. Monet also undertook his first drawing lessons from Jacques-François Ochard, a former student of Jacques-Louis David. On the beaches of Normandy around 1856 he met fellow artist Eugène Boudin, who became his mentor and taught him to use oil paints. Boudin taught Monet "en plein air" (outdoor) techniques for painting.[9] Both received the influence of Johan Barthold Jongkind.
On 28 January 1857, his mother died. At the age of sixteen, he left school and went to live with his widowed, childless aunt, Marie-Jeanne Lecadre.
Paris and Algeria
When Monet traveled to Paris to visit the Louvre, he witnessed painters copying from the old masters. Having brought his paints and other tools with him, he would instead go and sit by a window and paint what he saw.[10] Monet was in Paris for several years and met other young painters, including Édouard Manet and others who would become friends and fellow Impressionists.
After drawing a low ballot number in March 1861, Monet was drafted into the First Regiment of African Light Cavalry (Chasseurs d'Afrique) in Algeria for a seven-year period of military service. His prosperous father could have purchased Monet's exemption from conscription but declined to do so when his son refused to give up painting. While in Algeria Monet did only a few sketches of casbah scenes, a single landscape, and several portraits of officers, all of which have been lost. In a Le Temps interview of 1900 however he commented that the light and vivid colours of North Africa "contained the germ of my future researches".[11] After about a year of garrison duty in Algiers, Monet contracted typhoid fever and briefly went absent without leave. Following convalescence, Monet's aunt intervened to get him out of the army if he agreed to complete a course at an art school. It is possible that the Dutch painter Johan Barthold Jongkind, whom Monet knew, may have prompted his aunt on this matter.
Disillusioned with the traditional art taught at art schools, in 1862 Monet became a student of Charles Gleyre in Paris, where he met Pierre-Auguste Renoir, Frédéric Bazilleand Alfred Sisley. Together they shared new approaches to art, painting the effects of light en plein air with broken colour and rapid brushstrokes, in what later came to be known as Impressionism.
In January 1865 Monet was working on a version of Le déjeuner sur l'herbe, aiming to present it for hanging at the Salon, which had rejected Manet's Le déjeuner sur l'herbe two years earlier.[13] Monet's painting was very large and could not be completed in time. (It was later cut up, with parts now in different galleries.) Monet submitted instead a painting of Camille or The Woman in the Green Dress (La femme à la robe verte), one of many works using his future wife, Camille Doncieux, as his model. Both this painting and a small landscape were hung.[13] The following year Monet used Camille for his model in Women in the Garden, and On the Bank of the Seine, Bennecourt in 1868. Camille became pregnant and gave birth to their first child, Jean, in 1867.[14] Monet and Camille married on 28 June 1870, just before the outbreak of the Franco-Prussian War,[15] and, after their excursion to London and Zaandam, they moved to Argenteuil, in December 1871. During this time Monet painted various works of modern life. He and Camille lived in poverty for most of this period. Following the successful exhibition of some maritime paintings, and the winning of a silver medal at Le Havre, Monet's paintings were seized by creditors, from whom they were bought back by a shipping merchant, Gaudibert, who was also a patron of Boudin.[13]
Impressionism
From the late 1860s, Monet and other like-minded artists met with rejection from the conservative Académie des Beaux-Arts, which held its annual exhibition at the Salon de Paris. During the latter part of 1873, Monet, Pierre-Auguste Renoir, Camille Pissarro, and Alfred Sisley organized the Société anonyme des artistes peintres, sculpteurs et graveurs(Anonymous Society of Painters, Sculptors, and Engravers) to exhibit their artworks independently. At their first exhibition, held in April 1874, Monet exhibited the work that was to give the group its lasting name. He was inspired by the style and subject matter of previous modern painters Camille Pissarro and Edouard Manet.[16]
Impression, Sunrise was painted in 1872, depicting a Le Havre port landscape. From the painting's title the art critic Louis Leroy, in his review, "L'Exposition des Impressionnistes," which appeared in Le Charivari, coined the term "Impressionism".[17] It was intended as disparagement but the Impressionists appropriated the term for themselves.[18][19]
Franco-Prussian War and Argenteuil
After the outbreak of the Franco-Prussian War (19 July 1870), Monet and his family took refuge in England in September 1870,[20] where he studied the works of John Constable and Joseph Mallord William Turner, both of whose landscapes would serve to inspire Monet's innovations in the study of colour. In the spring of 1871, Monet's works were refused authorisation for inclusion in the Royal Academy exhibition.[15]
In May 1871, he left London to live in Zaandam, in the Netherlands,[15] where he made twenty-five paintings (and the police suspected him of revolutionary activities).[21] He also paid a first visit to nearby Amsterdam. In October or November 1871, he returned to France. From December 1871 to 1878 he lived at Argenteuil, a village on the right bank of the Seine river near Paris, and a popular Sunday-outing destination for Parisians, where he painted some of his best-known works. In 1873, Monet purchased a small boat equipped to be used as a floating studio.[22] From the boat studio Monet painted landscapes and also portraits of Édouard Manet and his wife; Manet in turn depicted Monet painting aboard the boat, accompanied by Camille, in 1874.[22] In 1874, he briefly returned to Holland.[23]
Impressionism
The first Impressionist exhibition was held in 1874 at 35 boulevard des Capucines, Paris, from 15 April to 15 May. The primary purpose of the participants was not so much to promote a new style, but to free themselves from the constraints of the Salon de Paris. The exhibition, open to anyone prepared to pay 60 francs, gave artists the opportunity to show their work without the interference of a jury.[24][25][26]
Renoir chaired the hanging committee and did most of the work himself, as others members failed to present themselves.[24][25]
In addition to Impression: Sunrise (pictured above), Monet presented four oil paintings and seven pastels. Among the paintings he displayed was The Luncheon (1868), which features Camille Doncieux and Jean Monet, and which had been rejected by the Paris Salon of 1870.[27] Also in this exhibition was a painting titled Boulevard des Capucines, a painting of the boulevard done from the photographer Nadar's apartment at no. 35. Monet painted the subject twice, and it is uncertain which of the two pictures, that now in the Pushkin Museum in Moscow, or that in the Nelson-Atkins Museum of Art in Kansas City, was the painting that appeared in the groundbreaking 1874 exhibition, though more recently the Moscow picture has been favoured.[28][29] Altogether, 165 works were exhibited in the exhibition, including 4 oils, 2 pastels and 3 watercolours by Morisot; 6 oils and 1 pastel by Renoir; 10 works by Degas; 5 by Pissarro; 3 by Cézanne; and 3 by Guillaumin. Several works were on loan, including Cézanne's Modern Olympia, Morisot's Hide and Seek (owned by Manet) and 2 landscapes by Sisley that had been purchased by Durand-Ruel.[24][25][26]
The total attendance is estimated at 3500, and some works did sell, though some exhibitors had placed their prices too high. Pissarro was asking 1000 francs for The Orchard and Monet the same for Impression: Sunrise, neither of which sold. Renoir failed to obtain the 500 francs he was asking for La Loge, but later sold it for 450 francs to Père Martin, dealer and supporter of the group.[24][25][26]
Death of Camille
In 1876, Camille Monet became ill with tuberculosis. Their second son, Michel, was born on 17 March 1878. This second child weakened her already fading health. In the summer of that year, the family moved to the village of Vétheuil where they shared a house with the family of Ernest Hoschedé, a wealthy department store owner and patron of the arts. In 1878, Camille Monet was diagnosed with uterine cancer,[37][38][39] and she died on 5 September 1879 at the age of thirty-two.[40][41]
Monet made a study in oils of his dead wife. Many years later, Monet confessed to his friend Georges Clemenceau that his need to analyse colours was both the joy and torment of his life. He explained,
I one day found myself looking at my beloved wife's dead face and just systematically noting the colours according to an automatic reflex!
John Berger describes the work as "a blizzard of white, grey, purplish paint … a terrible blizzard of loss which will forever efface her features. In fact there can be very few death-bed paintings which have been so intensely felt or subjectively expressive."[42]
Vétheuil
After several difficult months following the death of Camille, Monet began to create some of his best paintings of the 19th century. During the early 1880s, Monet painted several groups of landscapes and seascapes in what he considered to be campaigns to document the French countryside. These began to evolve into series of pictures in which he documented the same scene many times in order to capture the changing of light and the passing of the seasons.
Monet's friend Ernest Hoschedé became bankrupt, and left in 1878 for Belgium. After the death of Camille Monet in September 1879, and while Monet continued to live in the house in Vétheuil, Alice Hoschedéhelped Monet to raise his two sons, Jean and Michel. She took them to Paris to live alongside her own six children,[43] Blanche (who married Jean Monet), Germaine, Suzanne, Marthe, Jean-Pierre, and Jacques. In the spring of 1880, Alice Hoschedé and all the children left Paris and rejoined Monet at Vétheuil.[44] In 1881, all of them moved to Poissy, which Monet hated. In April 1883, looking out the window of the little train between Vernon and Gasny, he discovered Giverny in Normandy.[43][45][46] Monet, Alice Hoschedé and the children moved to Vernon, then to the house in Giverny, where he planted a large garden and where he painted for much of the rest of his life. Following the death of her estranged husband, Monet married Alice Hoschedé in 1892.[9]
Giverny
Monet's house and garden
Monet rented and eventually purchased a house and gardens in Giverny. At the beginning of May 1883, Monet and his large family rented the home and 2 acres (0.81 ha) from a local landowner. The house was situated near the main road between the towns of Vernon and Gasny at Giverny. There was a barn that doubled as a painting studio, orchards and a small garden. The house was close enough to the local schools for the children to attend, and the surrounding landscape offered many suitable motifs for Monet's work.
The family worked and built up the gardens, and Monet's fortunes began to change for the better as his dealer, Paul Durand-Ruel, had increasing success in selling his paintings.[47] By November 1890, Monet was prosperous enough to buy the house, the surrounding buildings and the land for his gardens. During the 1890s, Monet built a greenhouse and a second studio, a spacious building well lit with skylights.
Monet wrote daily instructions to his gardener, precise designs and layouts for plantings, and invoices for his floral purchases and his collection of botany books. As Monet's wealth grew, his garden evolved. He remained its architect, even after he hired seven gardeners.[48]
Monet purchased additional land with a water meadow. In 1893 he began a vast landscaping project which included lily ponds that would become the subjects of his best-known works. White water lilies local to France were planted along with imported cultivars from South America and Egypt, resulting in a range of colours including yellow, blue and white lilies that turned pink with age.[49] In 1899 he began painting the water lilies, first in vertical views with a Japanese bridge as a central feature, and later in the series of large-scale paintings that was to occupy him continuously for the next 20 years of his life. This scenery, with its alternating light and mirror-like reflections, became an integral part of his work. By the mid-1910s Monet had achieved:
a completely new, fluid, and somewhat audacious style of painting in which the water-lily pond became the point of departure for an almost abstract art
Last years
Failing sight
Monet's second wife, Alice, died in 1911, and his oldest son Jean, who had married Alice's daughter Blanche, Monet's particular favourite, died in 1914.[9] After Alice died, Blanche looked after and cared for Monet. It was during this time that Monet began to develop the first signs of cataracts.[52]
During World War I, in which his younger son Michel served and his friend and admirer Georges Clemenceau led the French nation, Monet painted a series of weeping willow trees as homage to the French fallen soldiers. In 1923, he underwent two operations to remove his cataracts. The paintings done while the cataracts affected his vision have a general reddish tone, which is characteristic of the vision of cataract victims. It may also be that after surgery he was able to see certain ultravioletwavelengths of light that are normally excluded by the lens of the eye; this may have had an effect on the colours he perceived. After his operations he even repainted some of these paintings, with bluer water lilies than before.[53]
Death
Monet died of lung cancer on 5 December 1926 at the age of 86 and is buried in the Giverny church cemetery.[45] Monet had insisted that the occasion be simple; thus only about fifty people attended the ceremony.[54]
His home, garden, and waterlily pond were bequeathed by his son Michel, his only heir, to the French Academy of Fine Arts (part of the Institut de France) in 1966. Through the Fondation Claude Monet, the house and gardens were opened for visits in 1980, following restoration.[55] In addition to souvenirs of Monet and other objects of his life, the house contains his collection of Japanese woodcut prints. The house and garden, along with the Museum of Impressionism, are major attractions in Giverny, which hosts tourists from all over the world.
Monet's methods
Monet has been described as "the driving force behind Impressionism".[56] Crucial to the art of the Impressionist painters was the understanding of the effects of light on the local colour of objects, and the effects of the juxtaposition of colours with each other.[57] Monet's long career as a painter was spent in the pursuit of this aim.
In 1856, his chance meeting with Eugene Boudin, a painter of small beach scenes, opened his eyes to the possibility of plein-air painting. From that time, with a short interruption for military service, he dedicated himself to searching for new and improved methods of painterly expression. To this end, as a young man, he visited the Paris Salon and familiarised himself with the works of older painters, and made friends with other young artists.[56] The five years that he spent at Argenteuil, spending much time on the River Seine in a little floating studio, were formative in his study of the effects of light and reflections. He began to think in terms of colours and shapes rather than scenes and objects. He used bright colours in dabs and dashes and squiggles of paint. Having rejected the academic teachings of Gleyre's studio, he freed himself from theory, saying "I like to paint as a bird sings."[58]
In 1877 a series of paintings at St-Lazare Station had Monet looking at smoke and steam and the way that they affected colour and visibility, being sometimes opaque and sometimes translucent. He was to further use this study in the painting of the effects of mist and rain on the landscape.[59] The study of the effects of atmosphere was to evolve into a number of series of paintings in which Monet repeatedly painted the same subject in different lights, at different hours of the day, and through the changes of weather and season. This process began in the 1880s and continued until the end of his life in 1926.
His first series exhibited as such was of Haystacks, painted from different points of view and at different times of the day. Fifteen of the paintings were exhibited at the Galerie Durand-Ruel in 1891. In 1892 he produced what is probably his best-known series, twenty-six views of Rouen Cathedral.[57] In these paintings Monet broke with painterly traditions by cropping the subject so that only a portion of the façade is seen on the canvas. The paintings do not focus on the grand Medieval building, but on the play of light and shade across its surface, transforming the solid masonry.[60]
Other series include Poplars, Mornings on the Seine, and the Water Lilies that were painted on his property at Giverny. Between 1883 and 1908, Monet traveled to the Mediterranean, where he painted landmarks, landscapes, and seascapes, including a series of paintings in Venice. In London he painted four series: the Houses of Parliament, London, Charing Cross Bridge, Waterloo Bridge, and Views of Westminster Bridge. Helen Gardner writes:
"Monet, with a scientific precision, has given us an unparalleled and unexcelled record of the passing of time as seen in the movement of light over identical forms."[61]
Fame
In 2004, London, the Parliament, Effects of Sun in the Fog (Londres, le Parlement, trouée de soleil dans le brouillard) (1904), sold for US$20.1 million.[63] In 2006, the journal Proceedings of the Royal Societypublished a paper providing evidence that these were painted in situ at St Thomas' Hospital over the river Thames.[64]
Falaises près de Dieppe (Cliffs near Dieppe) has been stolen on two separate occasions: once in 1998 (in which the museum's curator was convicted of the theft and jailed for five years and two months along with two accomplices) and most recently in August 2007.[65] It was recovered in June 2008.[66]
Monet's Le Pont du chemin de fer à Argenteuil, an 1873 painting of a railway bridge spanning the Seine near Paris, was bought by an anonymous telephone bidder for a record $41.4 million at Christie's auction in New York on 6 May 2008. The previous record for his painting stood at $36.5 million.[67] Just a few weeks later, Le bassin aux nymphéas (from the water lilies series) sold at Christie's 24 June 2008 auction in London, lot 19,[68] for £36,500,000 ($71,892,376.34) (hammer price) or £40,921,250 ($80,451,178) with fees, nearly doubling the record for the artist[69] and representing one of the top 20 highest prices paid for a painting at the time.
In October 2013, Monet's paintings, L'Eglise de Vetheuil and Le Bassin aux Nympheas, became subjects of a legal case in New York against NY-based Vilma Bautista, one-time aide to Imelda Marcos, wife of dictator Ferdinand Marcos,[70] after she sold Le Bassin aux Nympheas for $32 million to a Swiss buyer. The said Monet paintings, along with two others, were acquired by Imelda during her husband's presidency and allegedly bought using the nation's funds. Bautista's lawyer claimed that the aide sold the painting for Imelda but did not have a chance to give her the money. The Philippine government seeks the return of the painting.[70] Le Bassin aux Nympheas, also known as Japanese Footbridge over the Water-Lily Pond at Giverny, is part of Monet's famed Water Lilies series.
See also
Further reading
External links
A list of the Best Painters of all-time in Western Painting, the 101 most important painters of the history of western painting, from 13th century to 21st century
by G. Fernández – theartwolf.com
Although this list stems from a deep study of the painters, their contribution to Western painting, and their influence on later artists; we are aware that objectivity does not exist in Art, so we understand that most readers will not agree 100% with this list. In any case, theartwolf.com assures that this list is only intended as a tribute to painting and the painters who have made it an unforgettable Art
1. PABLO PICASSO (1881-1973) – Picasso is to Art History a giant earthquake with eternal aftermaths. With the possible exception of Michelangelo (who focused his greatest efforts in sculpture and architecture), no other artist had such ambitions at the time of placing his oeuvre in the history of art. Picasso created the avant-garde. Picasso destroyed the avant-garde. He looked back at the masters and surpassed them all. He faced the whole history of art and single-handedly redefined the tortuous relationship between work and spectator
2. GIOTTO DI BONDONE (c.1267-1337) – It has been said that Giotto was the first real painter, like Adam was the first man. We agree with the first part. Giotto continued the Byzantine style of Cimabue and other predecessors, but he earned the right to be included in gold letters in the history of painting when he added a quality unknown to date: emotion
3. LEONARDO DA VINCI (1452-1519) – For better or for worse, Leonardo will be forever known as the author of the most famous painting of all time, the "Gioconda" or "Mona Lisa". But he is more, much more. His humanist, almost scientific gaze, entered the art of the quattrocento and revoluted it with his sfumetto that nobody was ever able to imitate
4. PAUL CÉZANNE (1839-1906) – "Cezanne is the father of us all." This famous quote has been attributed to both Picasso and Matisse, and certainly it does not matter who actually said it, because in either case would be appropriate. While he exhibited with the Impressionist painters, Cézanne left behind the whole group and developed a style of painting never seen so far, which opened the door for the arrival of Cubism and the rest of the vanguards of the twentieth century
5. REMBRANDT VAN RIJN (1606-1669) – The fascinating use of the light and shadows in Rembrandt's works seem to reflect his own life, moving from fame to oblivion. Rembrandt is the great master of Dutch painting, and, along with Velázquez, the main figure of 17th century European Painting. He is, in addition, the great master of the self-portrait of all time, an artist who had never show mercy at the time of depicting himself
6. DIEGO VELÁZQUEZ (1599-1660) – Along with Rembrandt, one of the summits of Baroque painting. But unlike the Dutch artist, the Sevillan painter spent most of his life in the comfortable but rigid courtesan society. Nevertheless, Velázquez was an innovator, a "painter of atmospheres" two centuries before Turner and the Impressionists, which it is shown in his colossal 'royal paintings' ("Meninas", "The Forge of Vulcan"), but also in his small and memorable sketches of the Villa Medici.
7. WASSILY KANDINSKY (1866-1944) – Although the title of "father of abstraction" has been assigned to several artists, from Picasso to Turner, few painters could claim it with as much justice as Kandinsky. Many artists have succeeded in painting emotion, but very few have changed the way we understand art. Wassily Kandinsky is one of them.
8. CLAUDE MONET (1840-1926) – The importance of Monet in the history of art is sometimes "underrated", as Art lovers tend to see only the overwhelming beauty that emanates from his canvases, ignoring the complex technique and composition of the work (a "defect" somehow caused by Monet himself, when he declared that "I do not understand why everyone discusses my art and pretends to understand, as if it were necessary to understand, when it is simply necessary to love"). However, Monet's experiments, including studies on the changes in an object caused by daylight at different times of the day; and the almost abstract quality of his "water lilies", are clearly a prologue to the art of the twentieth century.
9. CARAVAGGIO (1571-1610) – The tough and violent Caravaggio is considered the father of Baroque painting, with his spectacular use of lights and shadows. Caravaggio's chiaroscuro became so famous that many painters started to copy his paintings, creating the 'Caravaggisti' style.
10. JOSEPH MALLORD WILLIAM TURNER (1775-1851) – Turner is the best landscape painter of Western painting. Whereas he had been at his beginnings an academic painter, Turner was slowly but unstoppably evolving towards a free, atmospheric style, sometimes even outlining the abstraction, which was misunderstood and rejected by the same critics who had admired him for decades
11. JAN VAN EYCK (1390-1441) – Van Eyck is the colossal pillar on which rests the whole Flemish paintings from later centuries, the genius of accuracy, thoroughness and perspective, well above any other artist of his time, either Flemish or Italian.
12. ALBRECHT DÜRER (1471-1528) – The real Leonardo da Vinci of Northern European Rennaisance was Albrecht Dürer, a restless and innovative genious, master of drawing and color. He is one of the first artists to represent nature without artifice, either in his painted landscapes or in his drawings of plants and animals
13. JACKSON POLLOCK (1912-1956) – The major figure of American Abstract Expressionism, Pollock created his best works, his famous drips, between 1947 and 1950. After those fascinating years, comparable to Picasso's blue period or van Gogh's final months in Auvers, he abandoned the drip, and his latest works are often bold, unexciting works.
14. MICHELANGELO BUONARROTI (1475-1564) – Some readers will be quite surprised to see the man who is, along with Picasso, the greatest artistic genius of all time, out of the "top ten" of this list, but the fact is that even Michelangelo defined himself as "sculptor", and even his painted masterpiece (the frescoes in the Sistine Chapel) are often defined as 'painted sculptures'. Nevertheless, that unforgettable masterpiece is enough to guarantee him a place of honor in the history of painting
15. PAUL GAUGUIN (1848-1903) – One of the most fascinating figures in the history of painting, his works moved from Impressionism (soon abandoned) to a colorful and vigorous symbolism, as can be seen in his 'Polynesian paintings'. Matisse and Fauvism could not be understood without the works of Paul Gauguin
16. FRANCISCO DE GOYA (1746-1828) – Goya is an enigma. In the whole History of Art few figures are as complex as the artist born in Fuendetodos, Spain. Enterprising and indefinable, a painter with no rival in all his life, Goya was the painter of the Court and the painter of the people. He was a religious painter and a mystical painter. He was the author of the beauty and eroticism of the 'Maja desnuda' and the creator of the explicit horror of 'The Third of May, 1808'. He was an oil painter, a fresco painter, a sketcher and an engraver. And he never stopped his metamorphosis
17. VINCENT VAN GOGH (1853-1890) – Few names in the history of painting are now as famous as Van Gogh, despite the complete neglect he suffered in life. His works, strong and personal, are one of the greatest influences in the twentieth century painting, especially in German Expressionism
18. ÉDOUARD MANET (1832-1883) – Manet was the origin of Impressionism, a revolutionary in a time of great artistic revolutions. His (at the time) quite polemical "Olympia" or "Déjeuner sur l'Herbe" opened the way for the great figures of Impressionism
19. MARK ROTHKO (1903-1970) – The influence of Rothko in the history of painting is yet to be quantified, because the truth is that almost 40 years after his death the influence of Rothko's large, dazzling and emotional masses of color continues to increase in many painters of the 21st century
20. HENRI MATISSE (1869-1954) – Art critics tend to regard Matisse as the greatest exponent of twentieth century painting, only surpassed by Picasso. This is an exaggeration, although the almost pure use of color in some of his works strongly influenced many of the following avant-gardes
21. RAPHAEL (1483-1520) – Equally loved and hated in different eras, no one can doubt that Raphael is one of the greatest geniuses of the Renaissance, with an excellent technique in terms of drawing and color
22. JEAN-MICHEL BASQUIAT (1960-1988) – Basquiat is undoubtedly the most important and famous member of the "graffiti movement" that appeared in the New York scene in the early'80s, an artistic movement whose enormous influence on later painting is still to be measured
23. EDVARD MUNCH (1863-1944) – Modernist in his context, Munch could be also considered the first expressionist painter in history. Works like "The Scream" are vital to understanding the twentieth century painting.
24. TITIAN (c.1476-1576) – After the premature death of Giorgione, Titian became the leading figure of Venetian painting of his time. His use of color and his taste for mythological themes defined the main features of 16th century Venetian Art. His influence on later artists -Rubens, Velázquez…- is extremely important
25. PIET MONDRIAN (1872 -1944) – Along with Kandinsky and Malevich, Mondrian is the leading figure of early abstract painting. After emigrating to New York, Mondrian filled his abstract paintings with a fascinating emotional quality, as we can se in his series of "boogie-woogies" created in the mid-40s
26. PIERO DELLA FRANCESCA (1416-1492) – Despite being one of the most important figures of the quattrocento, the Art of Piero della Francesca has been described as "cold", "hieratic" or even "impersonal". But with the apparition of Berenson and the great historians of his era, like Michel Hérubel -who defended the "metaphysical dimension" of the paintings by Piero-, his precise and detailed Art finally occupied the place that it deserves in the Art history
27. PETER PAUL RUBENS (1577-1640) – Rubens was one of the most prolific painters of all time, thanks in part to the collaboration of his study. Very famous in life, he traveled around Europe to meet orders from very wealthy and important clients. His female nudes are still amazing in our days
28. ANDY WARHOL (1928-1987) – Brilliant and controversial, Warhol is the leading figure of pop-art and one of the icons of contemporary art. His silkscreen series depicting icons of the mass-media (as a reinterpretation of Monet's series of Water lilies or the Rouen Cathedral) are one of the milestones of contemporary Art, with a huge influence in the Art of our days
29. JOAN MIRÓ (1893-1983) – Like most geniuses, Miro is an unclassificable artist. His interest in the world of the unconscious, those hidden in the depths of the mind, link him with Surrealism, but with a personal style, sometimes closer to Fauvism and Expressionism. His most important works are those from the series of "Constellations", created in the early 40s
30. TOMMASO MASACCIO (1401-1428) – Masaccio was one of the first old masters to use the laws of scientific perspective in his works . One of the greatest innovative painters of the Early Renaissance
31. MARC CHAGALL (1887-1985) – Artist of dreams and fantasies, Chagall was for all his life an immigrant fascinated by the lights and colors of the places he visited. Few names from the School of Paris of the early twentieth century have contributed so much -and with such variety of ideas- to change modern Art as this man "impressed by the light," as he defined himself
31. GUSTAVE COURBET (1819-1877) – Leading figure of realism, and a clear precedent for the impressionists, Courbet was one of the greatest revolutionaries, both as an artist and as a social-activist, of the history of painting. Like Rembrandt and other predecessors, Courbet did not seek to create beauty, but believed that beauty is achieved when and artist represents the purest reality without artifice
33. NICOLAS POUSSIN (1594-1665) – The greatest among the great French Baroque painters, Poussin had a vital influence on French painting for many centuries. His use of color is unique among all the painters of his era
34. WILLEM DE KOONING (1904-1997) – After Pollock, the leading figure of abstract expressionism, though one of his greatest contributions was not to feel limited by the abstraction, often resorting to a heartbreaking figurative painting (his series of "Women" are the best example) with a major influence on later artists such as Francis Bacon or Lucian Freud
35. PAUL KLEE (1879-1940) – In a period of artistic revolutions and innovations, few artists were as crucial as Paul Klee. His studies of color, widely taught at the Bauhaus, are unique among all the artists of his time
36. FRANCIS BACON (1909-1992) – Maximum exponent, along with Lucian Freud, of the so-called "School of London", Bacon's style was totally against all canons of painting, not only in those terms related to beauty, but also against the dominance of the Abstract Expressionism of his time
37. GUSTAV KLIMT (1862-1918) – Half way between modernism and symbolism appears the figure of Gustav Klimt, who was also devoted to the industrial arts. His nearly abstract landscapes also make him a forerunner of geometric abstraction
38. EUGÈNE DELACROIX (1798-1863) – Eugène Delacroix is the French romanticism painter "par excellence" and one of the most important names in the European painting of the first half of the 19th century. His famous "Liberty leading the People"also demonstrates the capacity of Painting to become the symbol of an era.
39. PAOLO UCCELLO (1397-1475) – "Solitary, eccentric, melancholic and poor". Giorgio Vasari described with these four words one of the most audacious geniuses of the early Florentine Renaissance, Paolo Uccello.
40. WILLIAM BLAKE (1757-1827) – Revolutionary and mystic, painter and poet, Blake is one of the most fascinating artists of any era. His watercolors, prints and temperas are filled with a wild imagination (almost crazyness), unique among the artists of his era
41. KAZIMIR MALEVICH (1878-1935) – Creator of Suprematism, Malevich will forever be one of the most controversial figures of the history of art among the general public, divided between those who consider him an essential renewal and those who consider that his works based on polygons of pure colors do not deserve to be considered Art
42. ANDREA MANTEGNA (1431-1506) – One of the greatest exponents of the Quattrocento, interested in the human figure, which he often represented under extreme perspectives ("The Dead Christ")
43. JAN VERMEER (1632-1675) – Vermeer was the leading figure of the Delft School, and for sure one of the greatest landscape painters of all time. Works such as "View of the Delft" are considered almost "impressionist" due to the liveliness of his brushwork. He was also a skilled portraitist
44. EL GRECO (1541-1614) – One of the most original and fascinating artists of his era, with a very personal technique that was admired, three centuries later, by the impressionist painters
45. CASPAR DAVID FRIEDRICH (1774-1840) – Leading figure of German Romantic painting, Friedrich is still identified as the painter of landscapes of loneliness and distress, with human figures facing the terrible magnificence of nature.
46. WINSLOW HOMER (1836-1910) – The main figure of American painting of his era, Homer was a breath of fresh air for the American artistic scene, which was "stuck" in academic painting and the more romantic Hudson River School. Homer's loose and lively brushstroke is almost impressionistic .
47. MARCEL DUCHAMP (1887-1968) – One of the major figures of Dadaism and a prototype of "total artist", Duchamp is one of the most important and controversial figures of his era. His contribution to painting is just a small part of his huge contribution to the art world.
48. GIORGIONE (1478-1510) – Like so many other painters who died at young age, Giorgione (1477-1510) makes us wonder what place would his exquisite painting occupy in the history of Art if he had enjoyed a long existence, just like his direct artistic heir – Titian.
49. FRIDA KAHLO (1907-1954) – In recent years, Frida's increasing fame seems to have obscured her importance in Latin American art. On September 17th, 1925, Kahlo was almost killed in a terrible bus accident. She did not died, but the violent crash had terrible sequels, breaking her spinal column, pelvis, and right leg.. After this accident, Kahlo's self-portraits can be considered as quiet but terrible moans
50. HANS HOLBEIN THE YOUNGER (1497-1543) – After Dürer, Holbein is the greatest of the German painters of his time. The fascinating portrait of "The Ambassadors" is still considered one of the most enigmatic paintings of art history
51. EDGAR DEGAS (1834-1917) – Though Degas was not a "pure" impressionist painter, his works shared the ideals of that artistic movement. Degas paintings of young dancers or ballerinas are icons of late 19th century painting
52. FRA ANGELICO (1387-1455) – One of the great colorists from the early Renaissance. Initially trained as an illuminator, he is the author of masterpieces such as "The Annunciation" in the Prado Museum.
53. GEORGES SEURAT (1859-1891) – Georges Seurat is one of the most important post-impressionist painters, and he is considered the creator of the "pointillism", a style of painting in which small distinct points of primary colors create the impression of a wide selection of secondary and intermediate colors.
54. JEAN-ANTOINE WATTEAU (1684-1721) – Watteau is today considered one of the pioneers of rococo. Unfortunately, he died at the height of his powers, as it is evidenced in the great portrait of "Gilles" painted in the year of his death
55. SALVADOR DALÍ (1904-1989) – "I am Surrealism!" shouted Dalí when he was expelled from the surrealist movement by André Breton. Although the quote sounds presumptuous (which was not unusual in Dalí), the fact is that Dalí's paintings are now the most famous images of all the surrealist movement.
56. MAX ERNST (1891-1976) – Halfway between Surrealism and Dadaism appears Max Ernst, important in both movements. Ernst was a brave artistic explorer thanks in part to the support of his wife and patron, Peggy Guggenheim
57. TINTORETTO (1518-1594) – Tintoretto is the most flamboyant of all Venetian masters (not the best, such honour can only be reclaimed by Titian or Giorgione) and his remarkable oeuvre not only closed the Venetian splendour till the apparition of Canaletto and his contemporaries, but also makes him the last of the Cinquecento masters.
58. JASPER JOHNS (born 1930) – The last living legend of the early Pop Art, although he has never considered himself a "pop artist". His most famous works are the series of "Flags" and "Targets".
59. SANDRO BOTTICELLI (1445-1510) – "If Botticelli were alive now he would be working for Vogue", said actor Peter Ustinov. As well as Raphael, Botticelli had been equally loved or hated in different eras, but his use of color is one of the most fascinating among all old masters.
60. DAVID HOCKNEY (born 1937) – David Hockney is one of the living myths of the Pop Art. Born in Great Britain, he moved to California, where he immediately felt identified with the light, the culture and the urban landscape of the 'Golden State'
61. UMBERTO BOCCIONI (1882-1916) – The maximum figure of Italian Futurism, fascinated by the world of the machine, and the movement as a symbol of contemporary times.
62. JOACHIM PATINIR (1480-1524) – Much less technically gifted than other Flemish painters like Memling or van der Weyden, his contribution to the history of art is vital for the incorporation of landscape as a major element in the painting.
63. DUCCIO DA BUONINSEGNA (c.1255/60 – 1318/19) – While in Florence Giotto di Bondone was changing the history of painting, Duccio of Buoninsegna provided a breath of fresh air to the important Sienese School.
64. ROGER VAN DER WEYDEN (1399-1464) – After Van Eyck, the leading exponent of Flemish painting in the fifteenth century; a master of perspective and composition.
65. JOHN CONSTABLE (1776-1837) – John Constable (1776-1837) is, along with Turner, the great figure of English romanticism. But unlike his contemporary, he never left England, and he devoted all his time to represent the life and landscapes of his beloved England.
66. JACQUES-LOUIS DAVID (1748-1825) – David is the summit of neoclassicism, a grandiloquent artist whose compositions seem to reflect his own hectic and revolutionary life.
67. ARSHILLE GORKY (1905-1948) – Armenian-born American painter, Gorky was a surrealist painter and also one of the leaders of abstract expressionism. He was called "the Ingres of the unconscious".
68. HIERONYMUS BOSCH (1450-1516) – An extremely religious man, all works by Bosch are basically moralizing, didactic. The artist sees in the society of his time the triumph of sin, the depravation, and all the things that have caused the fall of the human being from its angelical character; and he wants to warn his contemporaries about the terrible consequences of his impure acts.
69. PIETER BRUEGEL THE ELDER (1528-1569) – Many scholars and art critics claim to have found important similarities between the works by Hyeronimus Bosch and those by Brueghel, but the truth is that the differences between both of them are abysmal. Whereas Bosch's fantasies are born of a deep deception and preoccupation for the human being, with a clearly moralizing message; works by Bruegel are full of irony, and even filled with a love for the rural life, which seems to anticipate the Dutch landscape paintings from the next century.
70. SIMONE MARTINI (1284-1344) – One of the great painters of the Trecento, he was a step further and helped to expand its progress, which culminated in the "International Style".
71. Frederic Edwin Church (1826-1900) – Church represents the culmination of the Hudson River School: he had Cole's love for the landscape, Asher Brown Durand's romantic lyricism, and Albert Bierstadt's grandiloquence, but he was braver and technically more gifted than anyone of them. Church is without any doubt one of the greatest landscape painters of all time, perhaps only surpassed by Turner and some impressionists and postimpressionists like Monet or Cézanne.
72. EDWARD HOPPER (1882-1967) – Hopper is widely known as the painter of urban loneliness. His most famous work, the fabulous "Nighthawks" (1942) has become the symbol of the solitude of the contemporary metropolis, and it is one of the icons of the 20th century Art.
73. LUCIO FONTANA (1899-1968) – Father of the "White Manifesto", in which he stated that "Matter, colour and sound in motion are the phenomena whose simultaneous development makes up the new art". His "Concepts Spatiales" are already icons of the art of the second half of the twentieth century.
74. FRANZ MARC (1880-1916) – After Kandinsky, the great figure of the Expressionist group "The Blue Rider" and one of the most important expressionist painters ever. He died at the height of his artistic powers, when his use of color was even anticipating the later abstraction.
75. PIERRE-AUGUSTE RENOIR (1841-1919) – One of the key figures of Impressionism, he soon left the movement to pursue a more personal, academic painting.
76. JAMES MCNEILL WHISTLER (1834-1903) – Along with Winslow Homer, the great figure of American painting of his time. Whistler was an excellent portraitist, which is shown in the fabulous portrait of his mother, considered one of the great masterpieces of American painting of all time.
77. THEODORE GÉRICAULT (1791-1824) – Key figure in romanticism, revolutionary in his life and works despite his bourgeois origins. In his masterpiece, "The raft of the Medusa", Gericault creates a painting that we can define as "politically incorrect", as it depicts the miseries of a large group of castaways abandoned after the shipwreck of a French naval frigate.
78. WILLIAM HOGARTH (1697-1764) – A list of the great portrait painters of all time should never miss the name of William Hogarth, whose studies and sketches could even qualify as "pre-impressionist".
79. CAMILLE COROT (1796-1875) – One of the great figures of French realism in the 19th century and certainly one of the major influences for the impressionist painters like Monet or Renoir, thanks to his love for "plen-air" painting, emphasizing the use of light.
80. GEORGES BRAQUE (1882-1963) – Along with Picasso and Juan Gris, the main figure of Cubism, the most important of the avant-gardes of the 20th century Art.
81. HANS MEMLING (1435-1494) – Perhaps the most complete and "well-balanced" of all fifteenth century Flemish painters, although he was not as innovative as Van Eyck or van der Weyden.
82. GERHARD RICHTER (born 1932) – One of the most important artists of recent decades, Richter is known either for his fierce and colorful abstractions or his serene landscapes and scenes with candles.
83. AMEDEO MODIGLIANI (1884-1920) – One of the most original portraitists of the history of painting, considered as a "cursed" painter because of his wild life and early death.
84. GEORGES DE LA TOUR (1593-1652) – The influence of Caravaggio is evident in De la Tour, whose use of light and shadows is unique among the painters of the Baroque era.
85. GENTILESCHI, ARTEMISIA (1597-1654) – One of the most gifted artists of the early baroque era, she was the first female painter to become a member of the Accademia di Arte del Disegno in Florence.
86. JEAN FRANÇOIS MILLET (1814-1875) – One of the main figures of the Barbizon School, author of one of the most emotive paintings of the 19th century: The "Angelus".
87. FRANCISCO DE ZURBARÁN (1598-1664) – The closest to Caravaggio of all Spanish Baroque painters, his latest works show a mastery of chiaroscuro without parallel among any other painter of his time.
88. CIMABUE (c.1240-1302) – Although in some of his works Cimabue already represented a visible evolution of the rigid Byzantine art, his greatest contribution to painting was to discover a young talented artist named Giotto (see number 2), who changed forever the Western painting.
89. JAMES ENSOR (1860-1949) – Violent painter whose strong, almost "unfinished" works make him a precursor of Expressionism
90. RENÉ MAGRITTE (1898-1967) – One of the leading figures of surrealism, his apparently simple works are the result of a complex reflection about reality and the world of dreams
91. EL LISSITZKY (1890-1941) – One of the main exponents of Russian avant-garde painting. Influenced by Malevich, he also excelled in graphic design.
92. EGON SCHIELE (1890-1918) – Another "died too young" artist, his strong and ruthless portraits influenced the works of later artists, like Lucian freud or Francis Bacon.
93. DANTE GABRIEL ROSSETTI (1828-1882) – Perhaps the key figure in the pre-Raphaelite movement, Rossetti left the poetry to focus on classic painting with a style that influenced the symbolism.
94. FRANS HALS (c.1580-1666) – One of the most important portraitists ever, his lively brushwork influenced early impressionism.
95. CLAUDE LORRAIN (1600-1682) – His works were a vital influence on many landscape painters for many centuries, both in Europe (Corot, Courbet) and in America (Hudson River School).
96. ROY LICHTENSTEIN (1923-1977) – Along with Andy Warhol, the most famous figure of the American Pop-Art. His works are often related to the style of the comics, though Lichtenstein rejected that idea.
97. GEORGIA O'KEEFE (1887-1986) – A leading figure in the 20th century American Art, O'Keefe single-handedly redefined the Western American painting.
98. GUSTAVE MOREAU (1826-1898) – One of the key figures of symbolism, introverted and mysterious in life, but very free and colorful in his works.
99. GIORGIO DE CHIRICO (1888-1978) – Considered the father of metaphysical painting and a major influence on the Surrealist movement.
100. FERNAND LÉGER (1881-1955) – At first a cubist, Leger was increasingly attracted to the world of machinery and movement, creating works such as "The Discs" (1918).
101. JEAN-AUGUSTE-DOMINIQUE INGRES (1780-1867) – Ingres was the most prominent disciple of the most famous neoclassicist painter, Jacques Louis David, so he should not be considered an innovator. He was, however, a master of classic portrait.
_
Pablo Picasso in 1962
Portrait of Giotto, by Paolo Uccello
Self-portrait of Leonardo da Vinci
Self-portrait of Paul Cézanne
Self-portrait of Rembrandt van Rijn
Wassily Kandinsky
Self-portrait of Claude Monet
Self-portrait of William Turner
Self-portrait of Alberto Durero
Self-portrait of Paul Gauguin
Self-portrait of Vincent van Gogh
Self-portrait of Édouard Manet
Self-portrait of Rafael
Self-portrait of Jean-Michel Basquiat ©Estate of Jean Michel Basquiat
"Self-portrait in hell", by Edvard Munch
Posible self-portrait by Piero della Francesca
Andy Warhol in 1977
Posible self-portrait by Tomasso Masaccio
"The desperate man", self-portrait by Gustave Courbet
Self-portrait by Titian
Self-portrait by Paul Klee
Self-portrait by Francis Bacon ©Estate of Francis Bacon
Self-portrait by Kazimir Malevich
Posible Self-portrait by El Greco
Self-portrait by Caspar David Friedrich
Posible Self-portrait by Giorgione
Self-portrait by Edgar Degas
Self-portrait by Frida Kahlo
Salvador Dalí
Self-portrait by Tintoretto
Self-portrait by Sandro Botticelli
Self-portrait by Umberto Boccioni
Self-portrait by John Constable
Self-portrait by Jacques-Louis David
Self-portrait by El Bosco
Posible Self-portrait by Pieter Brueghel
Lucio Fontana by Lothar Wolleh
Portrait of Franz Marc, by August Macke
Self-portrait by Pierre Auguste Renoir
Self-portrait by William Hogarth
Gerhard Richter in 2005
Amedeo Modigliani
Jean-François Millet
Bust of James Ensor, by Edmond de Valériola
Self-portrait by Egon Schiele
Self-portrait by Artemisia Gentileschi
Fernand Léger, photo by Carl Van Vechten, 1936
_______
__