_
—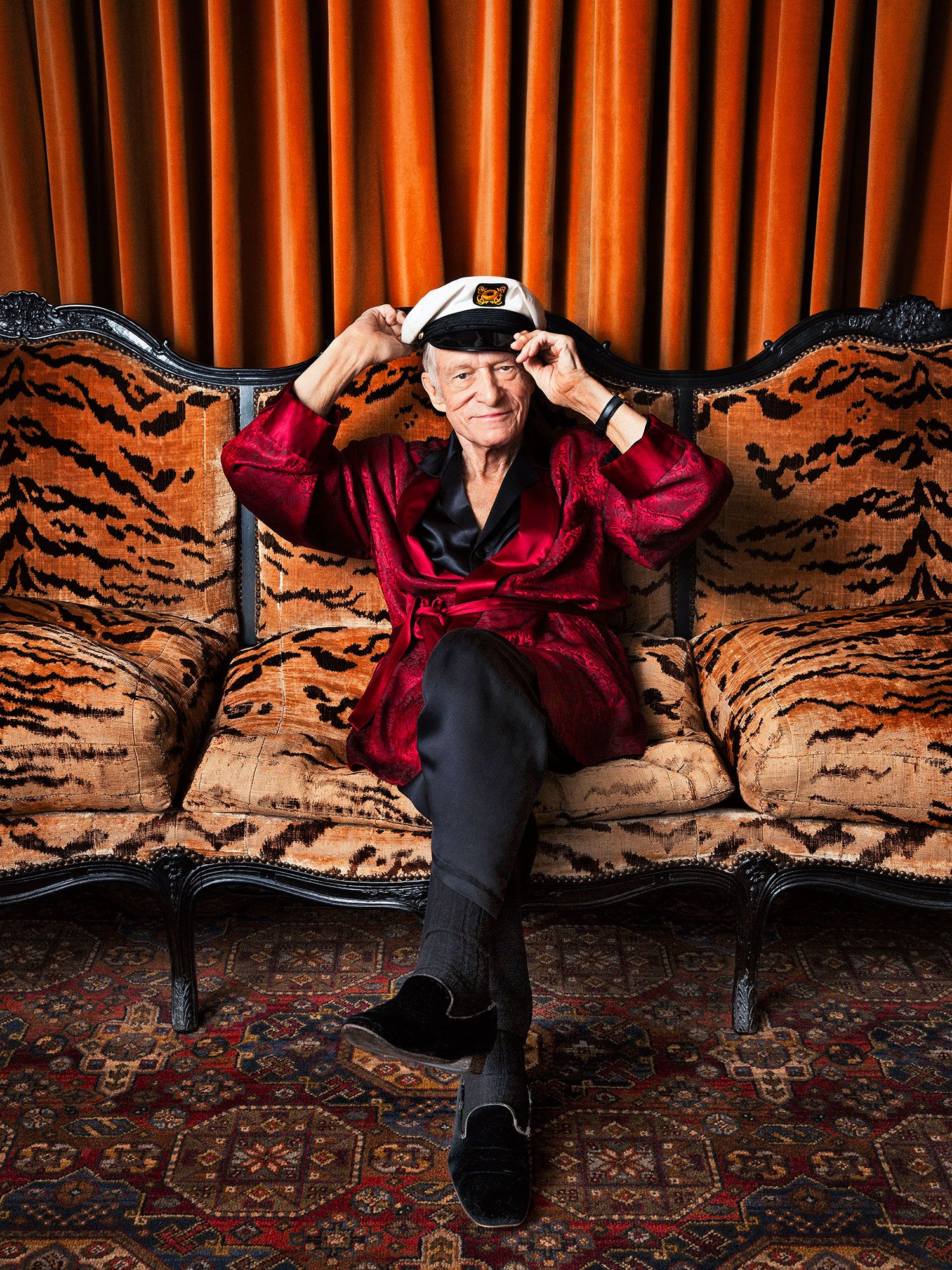 __
__
In this letter below I quoted the sermon outline from Adrian Rogers when I wrote, "Hugh you remind me of Solomon because you are looking for  lasting meaning in your life and you are looking in the same  6 areas that King Solomon did in what I call the 6 big L words. He looked into  learning (1:16-18), laughter, ladies, luxuries,  and liquor (2:1-3, 8, 10, 11), and labor (2:4-6, 18-20)."
Over and over I have read that Hugh Hefner was a modern day King Solomon and Hefner's search for satisfaction was attempted by adding to the number of his sexual experiences.
Ecclesiastes 1:1 – 11
Norm Schwab
June 23, 2013
Solomon has tried it all and nothing satisfies the
cravings of his heart. Solomon does not keep his conclusions
hidden from us. Right up front after the introduction in v.1, we
read, "Vanities of vanities, repeated again. It's all vanity." He
is not referring to pride in one's appearance or talent, standing
in front of a mirror. He is simply saying it's all empty, it's all
meaningless. It is all worthless. And he doubly repeats "vanity"
for emphasis. His emphasis is not needed though, as he is very
clear what degree of emptiness he observes in life.
Solomon's life didn't start out this way. It began with
such promise. Back in I Kings chapter 2, we read that his
father, King David is on his deathbed. David has some final
words of wisdom to pass on to his son, Solomon. V.2: "I am
going the way of the earth, (I am dying). So be strong, show
yourself a man." (This is what David says real strength and a
real man looks like) v.3: "Keep the charge of the Lord your
God and walk in His ways…that you may succeed in all that
you do and wherever you turn." Son, if you want to succeed in
life, this is the key "Obey God, follow God's truth." That is the
way to being a real man, a strong man.
In chapter 3 of I Kings, we read of Solomon doing just
that in following God's law. God appears to Solomon in a
dream and says, "Ask anything you wish me to give you." If I
were Solomon, I might have asked for a thousand more wishes,
but Solomon answered even better, "v.9: "give thy servant an
understanding heart to judge thy people and to discern between
good and evil." Literally Solomon asks for a "hearing heart
that listens to God's voice." He asks for wisdom to apply
God's truth to life, and God gave him that and added to it
wealth and power. Solomon had such a great and promising
start. It says in I Kings 3:3: "Solomon loved the Lord, walked
in the ways of his father…except v.3: he sacrificed and burned
incense on the high places. Exceptions, cultural sins,
compromises will pull us down. Even though Solomon loved
God, there were cracks in his armor. Later in life, those cracks
would split and grow and multiply as he was drawn away from
God's heart by over 700 wives and 300 concubines. Whatever
he wanted he took; sex, drugs, alcohol, building projects, lavish
gardens, parks, wealth upon wealth. Yachts, horses, He made
Bill Gates look like a pauper and Hugh Hefner look like an
alter boy. He discovered it all was empty, meaningless, vanity,
nothing. It took Solomon a lifetime to figure out that what his
dad said to him was correct and he then began to follow God
again.
Frederick Buechner summarizes Solomon's point
when he writes, "If you decide to knock yourself out getting
rich and living up to it, Solomon points out all you have to
show for it in the end is the biggest income tax in town and a
bad liver; and when you finally kick the bucket, the chances are
that your dim-witted heirs will sink the whole thing in a phony
Florida real estate deal or lose it at the track in Saratoga. If you
decide to break your back getting a decent education and end
up a Columbia Ph.D. and an advisor to Presidents, you'll be
just as dead when the time comes as the high school drop-out
who went into sausage stuffing, and you'll be forgotten just
about as soon."
________
Many of the sermons that I heard or read that inspired me to write Hugh Hefner were from this list of gentlemen:  Daniel Akin, Brandon Barnard, Alistair Begg, Matt Chandler, George Critchley,  Darryl Dash, Steve DeWitt, Steve Gaines, Norman L. Geisler, Greg Gillbert, Billy Graham, Mark Henry, Dan Jarrell, Walter C. Kaiser, Jr., R. G. Lee, C.S. Lewis Chris Lewis, Kerry Livgren, Robert Lewis,    Bill Parkinson, Ben Parkinson,Vance Pitman, Nelson Price, Ethan Renoe, Adrian Rogers, Philip Graham Ryken, Francis Schaeffer, Lee Strobel, Bill Wellons, Kirk Wetsell,  Ken Whitten, Ed Young ,  Ravi Zacharias, Tom Zobrist, and Richard Zowie.
I am finishing up today  some letters that I sent to Hugh Hefner that were based primarily on the sermon series BETTER THAN which is a study in the BOOK OF ECCLESIASTES done by our pastors at FELLOWSHIP BIBLE CHURCH in Little Rock in 2016.  I will resume the Hef letters from other sources in my next post.
Our teaching pastors here at FELLOWSHIP BIBLE CHURCH are Mark Henry,
Ben Parkinson
and Brandon Barnard.
Today's letter is based on a sermon by Ben Parkinson.
March 13, 2016
Hugh Hefner
Playboy Mansion  
10236 Charing Cross Road
Los Angeles, CA 90024-1815
Dear Mr. Hefner,
I THOUGHT OF YOU TODAY HUGH WHEN OUR TEACHING PASTOR Ben Parkinson delivered his message  on ECCLESIASTES on the subject of IS JESUS "BETTER THAN" FOR YOU? at our church FELLOWSHIP BIBLE CHURCH. Ben Parkinson talked about how important it is to have someone to share life with.
Lindsay Cronin, EnStars  wrote on Dec 31, 2015:
After marrying Hefner on New Year's Eve 2012, Harris spoke to Huffington Post Live, via Daily Mail, and revealed what marriage meant for her. "For me it meant more security, knowing that I am the one for him," she explained. "Like we were talking about, there are always girls in and out and always the feeling of maybe being replaced… And he made sure I didn't feel that way anymore and that was what the wedding was all about."
_
__
King Solomon wrote the book SONG OF SOLOMON when he was young and involved in his first marriage and it was a great picture of what true love was meant to be. However, later he ended up chasing after foreign women who served false gods and Solomon's life became a mess. As an old man Solomon wrote the Book of Ecclesiastes and he reflects back on many of the mistakes he made in his life.
I am glad that you are living in a relational way with Crystal and that you have someone to share life with, but did you know that God created you that way but God also wants you to have a relationship with Him too. Here is portion from my pastor's message:
What has the Book of Ecclesiastes taught us? Point #1 ALTHOUGH GOD'S GIFTS TO US ARE "BETTER THAN" NOT HAVING THEM, THEY CAN NEVER REPLACE THE GOODNESS OF GOD TO US. 
Because life is about glorifying God we can't ignore him and try to find life in something he has made. These good gifts (LABOR, LADIES, LUXURIES, LEARNING, LAUGHING) God gives us have limits. There is a diminishing return to them that God makes sure are inherent in them so they will never satisfy us if we try to put them on the throne of our hearts instead of God. God loves us too much to let us be satisfied with something less than him, because he is the [only true God] worth worshiping, worth  glorifying, worth living for.
These gifts fail us because we were made to love a relational God.  
_
____
Ecclesiastes 4:9-12
9 Two are better than one, because they have a good reward for their toil. 10 For if they fall, one will lift up his fellow. But woe to him who is alone when he falls and has not another to lift him up! 11 Again, if two lie together, they keep warm, but how can one keep warm alone? 12 And though a man might prevail against one who is alone, two will withstand him—a threefold cord is not quickly broken.
These good gifts (LABOR, LADIES, LUXURIES, LEARNING, LAUGHING) are meant to move us to connect with God in a relational way and not only that but to connect us one to another in a relational way…And so to the degree we have to trade relationships to find greatness in these things that Solomon has been exploring to pursue the most pleasure we can, to pursue the highest level of work we can accomplish, to pursue the greatest wealth we can find, in order to do these things if we had to leave relationships behind, people behind, we will fell the FUTILITY OF THAT, we will feel the FRUSTRATION OF THAT because there are only two things that truly last forever that we can invest in  during this life and that the WORD OF GOD and THE SOULS OF PEOPLE. These are the only two things that will last forever and in the degree we are significant  we are trading the temporal for the eternal. To the degree we are not investing our lives in those two things we feel we are on this treadmill of GROUNDHOG DAY and we feel no matter what we do we are not really making progress in life and we are wasting our time in life. 
___
So Pastor says there are only two things worth putting your time and life into and that is the WORD OF GOD and the SOULS OF PEOPLE. I know HUGH that you don't believe the Bible is true. Below is a piece of that evidence given by Francis Schaeffer  and Dr. C. Everett Koop concerning the accuracy of the Bible.
TRUTH AND HISTORY (chapter 5 of WHATEVER HAPPENED TO THE HUMAN RACE?, under footnote #96)
Francis Schaeffer and his wife Edith seen below
___
Now we should Now we should turn to one of the most spectacular of modern archaeological discoveries, Ebla. While digging on an extensive mound forty-four miles south of Aleppo in Syria in 1974/75, an Italian archaeological expedition came across another of the vast libraries to which we referred earlier. A small room within the palace suddenly yielded up a thousand tablets and fragments, while another not far away a further fourteen thousand. There lay row upon row, just where they had fallen from the burning wooden shelves when the palace was destroyed about 2250 B.C.
What secrets did these tablets reveal? Without wishing to seem unnecessarily repetitive, we can say immediately that Ebla represents yet another discovery from the ancient past which does not make it harder for us to believe the Bible, but quite the opposite. And remember, these tablets date from well before the time of Abraham. The implications of this discovery will not be exhausted by even the turn of this century. The translation and publication of such a vast number of tablets will take years and years. It is important to understand that the information we now have from Ebla does not bear directly upon the Bible. As far as has been discovered, there is no certain reference to individuals mentioned in the Bible, though many names are similar, for example, Ishmael, Israel, and so forth. Biblical place names like Megiddo, Hazor, Lachish are also referred to. What is clear, however, is that certain individuals outside the Bible who previously had been considered fictitious by the critical scholars, simply because of their antiquity, are now quite definitely historic characters.
For example, the Assyrian King Tudiya (approximately 2500 B.C.) had already been known from the Assyrian king list composed about 1000 B.C. His name appeared at the head of the list, but his reality was dismissed by many scholars as "free invention, or a corruption."  In fact, he was very much a real king of Ebla. Thus, the genealogical tradition of the earlier parts of the Assyrian king list has been vindicated. It preserves faithfully, over a period of 1,500 years, the memory of real, early people who were Assyrian rulers. What we must learn from this is that when we find similar material in the Old Testament, such as the genealogical list in Genesis 7 or the patriarchal stories, we should be careful not to reject them out of hand, as the scholars have so often done. We must remember that these ancient cultures were just as capable of recording their histories as we are.
The most important aspect of the Ebla discoveries is undoubtedly their language. This has been found to be ancient West-Semitic language to which such languages as Hebrew, Canaanite, Ugaritic, Aramaic, and Moabite are related. Thus we have now, for the first time, the whole "tradition" of West-Semitic language stretching over 2,500 years–something which was previously true only of Egyptian and Akkadian, to which Babylonian and Assyrian belong.
Up until quite recently, therefore, this meant that scholars could argue that many words which appeared in the Hebrew Old Testament were what they called "late." What they meant by this was that these words indicated a much later authorship than the time stated by the text itself. It would be as if one of us pretended to write a sixteenth-century  book using such modern words as AUTOMOBILE and COMPUTER. In the case of the Pentateuch, for example, this was one of the arguments which led some scholars to suggest that it was not Moses who wrote these books, as the Bible says, but anonymous scribes from approximately 1,000 years later. The discoveries at Ebla have shown that many of these words were not late, but very early. Here is yet another example of a claimed "scientific" approach that merely reflects the philosophical prejudices of the scholars involved.
___
Sincerely,
Everette Hatcher, everettehatcher@gmail.com, http://www.thedailyhatch.org, cell ph 501-920-5733, Box 23416, LittleRock, AR 72221
PS:This was the 25th letter that I have written to you on the subject of Ecclesiastes and comparing you to King Solomon. I hope you have a chance to google HUGH HEFNER ECCLESIASTES and you will see that you are compared to Solomon over and over. Maybe it has to do with the fact that both of you have slept with over 1000 women? Today I pointed out that it is blessing from God to be in a marriage relationship with someone you love and that God not only created you as a relational person so you could share your life with someone but also God wants you to have a relationship with Him!!