_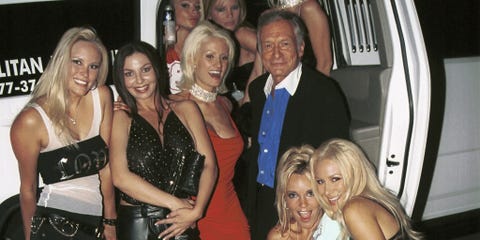 _
__
Over and over I have read that Hugh Hefner was a modern day King Solomon and Hefner's search for satisfaction was attempted by adding to the number of his sexual experiences. Below Dr. Jim Eckman compares Hefner to the Solomon of Ecclesiastes.
Oct 14th, 2017 | By Dr. Jim Eckman | Category: Culture & Wordview, Featured Issues
Over 3,000 years ago, King Solomon wrote poignantly about his life and about the purpose and meaning of life in general "under the sun."  His observations could be an appropriate epitaph for Hugh Hefner, the founder of the Playboy empire:
 1 I said in my heart, "Come now, I will test you with pleasure; enjoy yourself." But behold, this also was vanity. 2 I said of laughter, "It is mad," and of pleasure, "What use is it?" 3 I searched with my heart how to cheer my body with wine—my heart still guiding me with wisdom—and how to lay hold on folly, till I might see what was good for the children of man to do under heaven during the few days of their life.
. . . 10 And whatever my eyes desired I did not keep from them. I kept my heart from no pleasure, for my heart found pleasure in all my toil, and this was my reward for all my toil. 11 Then I considered all that my hands had done and the toil I had expended in doing it, and behold, all was vanity and a striving after wind, and there was nothing to be gained under the sun. [Ecclesiastes 2:1-3, 10-11 (ESV)]
Perhaps as a metaphor for his pleasure-filled life, Hefner paid $75,000 for a crypt next to Marilyn Monroe, where presumably he will be buried.
As one evaluates the legacy of Hugh Hefner, it is difficult to say anything positive about that legacy.  Columnist Tim Morris observes that "Hefner didn't love women [which he claimed].  He lusted for them.  He loved only himself and a hedonistic life that was mostly an adolescent fantasy."  Jill Filipovic of Time argues, "What Hefner and Playboy never did was present women as human, or consider us anything like men.  Hefner made female sex objects more relatable and accessible . . . . Brilliantly, Hefner attached himself to the sexual revolution and the feminist gains that precipitated it.  From his vantage point, publishing a magazine full of naked women was just one part of the new culture of 'free love.'"  In short, he built an empire on male desire!
New York Times columnist Ross Douthat offers the most honest evaluation of Hugh Hefner's legacy I have read.  Permit me extensive quotation from his essay:
"Hef was the grinning pimp of the sexual revolution, with Quaaludes for the ladies and Viagra for himself—a father of smut addictions and eating disorders, abortions and divorce and syphilis, a pretentious huckster who published Updike stories no one read while doing flesh procurement for celebrities, a revolutionary whose revolution chiefly benefitted men much like himself."
"Hef the vanquisher of puritanism, Hef the political progressive, Hef the great businessman and all the rest . . . What a lot of garbage . . . the things that were distinctly Hefnerian, that made him influential and important, were all rotten, and to the extent they were part of stories that people tend to celebrate, they showed the rot in larger things as well."
"The social liberalism he championed was the rotten and self-interested sort, a liberalism of male and upper-class privilege, in which the strong and beautiful and rich take their pleasure at the expense of the vulnerable and poor and not-yet-born."
"And his appreciation of male-female difference was rotten, too—the leering predatory sort of appreciation, the Cosby-Clinton-Trump sort, the sort that nicknames Quaaludes 'thigh openers' and expects the girls to laugh, the sort that prefers breast implants to female intellect and rents the charms of youth to escape the realities of age."
"But in every way that mattered he made those changes worse, our culture coarser and crueler and more sterile than liberalism or feminism or freedom of speech required. And in every way that mattered his life story proved that we were wrong to listen to him, because at the end of the long slide lay only a degraded, priapic senility, or the desperate gaiety of Prince Prospero's court with the Red Death at the door."
"Conservatives should ask how their crusade for faith and family and community ended up so Hefnerian itself—with a conservative news network that seems to have been run on Playboy principles and a conservative party that just elected a playboy as our president."
As many have observed, Hugh Hefner validated the objectification of women.  But he did so by embracing and championing libertinism and materialism which hid the reality of philandering, licentiousness and exploitation–all in the name of freedom!  Hefner viewed himself as a moral revolutionary, one who "opened up the floodgates" of sexual libertinism which Playboy encouraged, commercialized and symbolized.  He thereby transformed American sexual morality by intentionally breaking down the Judeo-Christian sexual ethic that once defined American civilization.
Theologian Albert Mohler maintains that Hefner not only advocated a lifestyle of sexual libertinism but he also advocated a theology.  In an interview, Hefner declared that he was a "spiritual person, but I don't mean that I believe in the supernatural."  He believed in God as creator but not in "the God of the Bible."  He championed that "I urge one and all to live life as if there is no reward in the afterlife and to do it in a moral way that makes it better for you and those around you, and that leaves this world a little better place than when you found it."  Hefner's moral philosophy and "theology" of libertinism and exploitation are now mainstreamed in American culture.  That is his legacy.
Hefner was not a moral revolutionary but a peddler of smut in the name of freedom.  His "freedom" produced bondage and enslavement to a sexual fantasy that has destroyed both men and women.  He died a pathetic, debauched, degraded old man who personified decadence not liberation.
King Solomon concluded his sobering evaluation of life with this observation about death:
3 This is an evil in all that is done under the sun, that the same event happens to all. Also, the hearts of the children of man are full of evil, and madness is in their hearts while they live, and after that they go to the dead.  [Ecclesiastes 9:3 (ESV)]
13 The end of the matter; all has been heard. Fear God and keep his commandments, for this is the whole duty of man. 14 For God will bring every deed into judgment, with every secret thing, whether good or evil.  [Ecclesiastes 12:13-14 (ESV)]
Hugh Hefner has now experienced the great equalizer—death.  He also now realizes that there is a God, the God of the Bible, and he will need to give an account of the life he has lived.  What a tragedy; what a waste!
See Ross Douthat in the New York Times (1 October 2017); Jill Filipovic in www.time.com (30 September 2017); Tim Morris in www.nola.com (2 October 2017); and Albert Mohler in www.albertmohler.com (14 October 2015). PRINT PDF
Many of the sermons that I heard or read that inspired me to write Hugh Hefner were from this list of gentlemen:  Daniel Akin, Brandon Barnard,Matt Chandler, George Critchley,  Darryl Dash, Steve DeWitt, Steve Gaines, Norman L. Geisler, Greg Gillbert, Billy Graham, Mark Henry, Dan Jarrell, Walter C. Kaiser, Jr., R. G. Lee,  C.S. Lewis, Chris Lewis, Kerry Livgren, Robert Lewis,    Bill Parkinson, Ben Parkinson, Blaise Pascal, Vance Pitman, Nelson Price, Ethan Renoe, Adrian Rogers, Philip Graham Ryken, Francis Schaeffer, Lee Strobel, Bill Wellons, Kirk Wetsell,  Ken Whitten, Ed Young ,  Ravi Zacharias, Tom Zobrist, and  Richard Zowie.
In this letter below I quote extensively from an article by Ethan Renoe. I also use quotes from Blaise Pascal and C. S. Lewis.  I also quoted Ravi Zacharias when I wrote, "The key to understanding the Book of Ecclesiastes is the term UNDER THE SUN — What that literally means is you lock God out of a closed system and you are left with only this world of Time plus Chance plus matter."
The Visit of the Queen of Sheba to King Solomon', oil on canvas painting by Edward Poynter, 1890
Hugh Hefner with the movie maker Woody Allen below: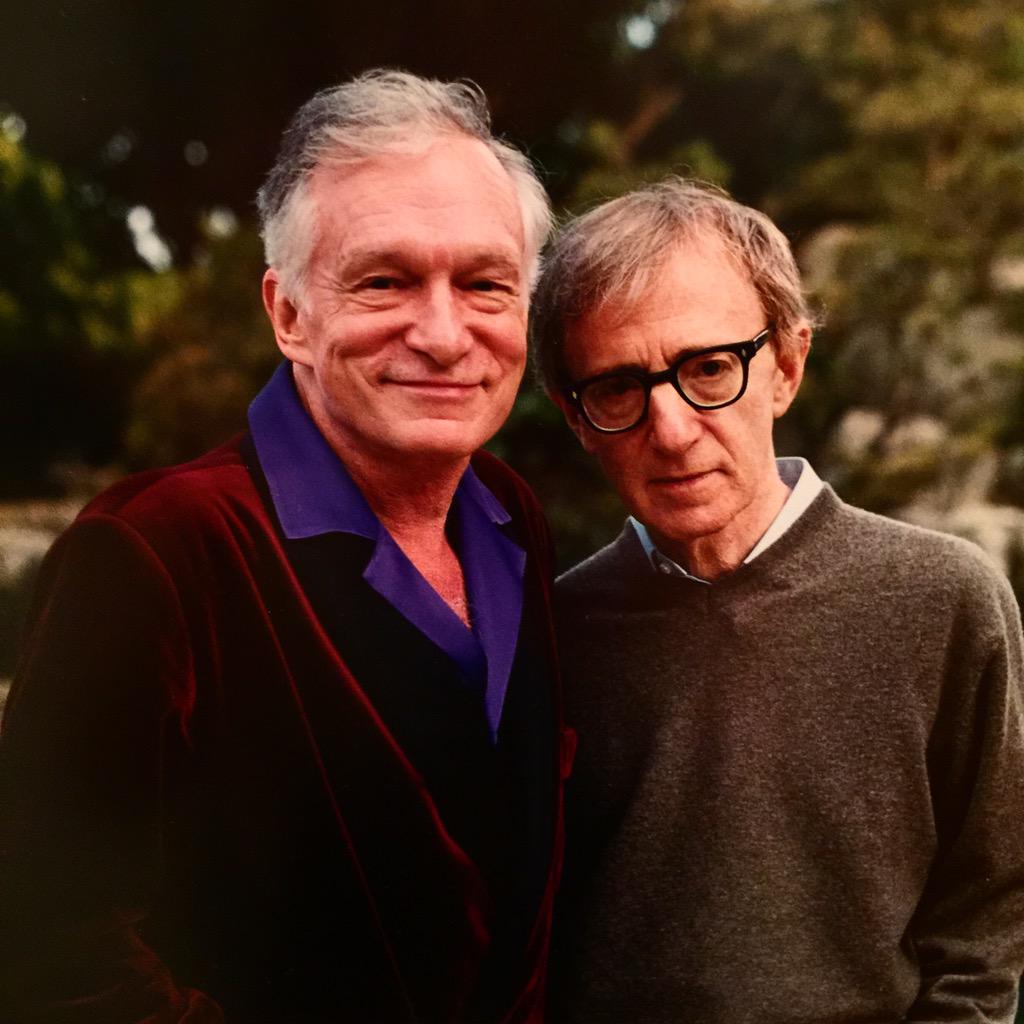 February 8, 2016
Hugh Hefner
Playboy Mansion  
10236 Charing Cross Road
Los Angeles, CA 90024-1815
Dear Mr. Hefner,
You have made it known how much you love your movie nights and also that you are a big fan of Woody Allen movies. I have also seen you talk of your glorious past. However, did you know that you may have overlooked some of the negative things that happened in your past.  On CBS THIS MORNING 4-9-14 you said you don't deserve the label of "womanizer" but you are just a "hopeless romantic." Is this just spinning the past to remove all the negative so you have a golden period? This is what people sometimes call GOLDEN AGE THINKING. People try to either glorify their past in comparison to the present or they try to visualize a time in the past that was golden and they would have been happy in that period.
Marion Cotillard plays Adriana and Owen Wilson plays Gil Pender
Woody Allen's film MIDNIGHT IN PARIS is brilliant and I am sure you enjoyed it HUGH!!!!
__
Later in this letter I share some words from Ethan Renoe and he talks about a summer that he had a lot of great experiences and anytime he thinks back on that  summer his memory is influenced by nostalgia and a longing to go back. He doesn't recall the negative aspects. YOU MY FRIEND CAN NOT GO TO BED WITH 1000 WOMEN WITHOUT BEING A WOMANIZER.
In this series of letters I have written to you I have often compared you to King Solomon who was the 2nd most wise person mentioned in the Bible behind only Jesus. You should find it intriguing that I have noticed that many hundreds of preachers have mentioned you also in comparison to Solomon. In this letter I want to look both at the Woody Allen movie MIDNIGHT IN PARIS and the final conclusion that Solomon gives in the Book of Ecclesiastes.
In MIDNIGHT IN PARIS Gil Pender concludes there is no GOLDEN AGE, but people dream of a GOLDEN AGE because they find the PRESENT AGE unsatisfying. Actually Solomon said a long time ago,  "[God]has placed eternity on the hearts of men." Scientist Blaise Pascal put it this way,  "There is a God-shaped vacuum in the heart of every man which cannot be filled by any created thing, but only by God the Creator, made known through Jesus Christ." No wonder life is unsatisfying to Gil since he is an agnostic that is not seeking a relationship with God. King Solomon wrote 3,000 years ago in the Book of Ecclesiastes that attempting to find satisfaction in life UNDER THE SUN is equal to CHASING THE WIND. Take a look at a portion of an excellent article by Ethan Renoe:
I have this new theory. It's not based in anything really, but tell me if you agree. This post is going to be rather extensive in its scope, as I attempt to critique a Woody Allen film, present a theory on memories, and include a Biblical basis for all of it.
The theory is this: Every time you think back to a memory from your own past, you are not thinking directly back to the event itself; you are thinking of the last time you thought of it. You are recalling the feelings, emotions, and colors present the last time you thought of the previous memory. For example, the summer of 2007 was the greatest time of my life. Every day was painted with scenes from the best romantic comedies, mixed with endless East coast adventures, and wrapped in the blanket of my three best friends and I doing everything together.
Now, for the sake of explanation, let's say I have thought of this summer five times since it happened. By that, I mean I really thought about it and everything that happened over those three months. So, whenever my mind glances in the rear view mirror to that time period, I have to access it through the tunnels of the previous five times I thought of it. In other words, my mind must take a detour through all the times I have recalled it before, rather than taking a highway directly to the events themselves. When this occurs, I also see the summer of '07 through the fog of all the emotions I had the other five times I thought of it. In this situation, the typical emotion held toward that summer is nostalgia and a longing to go back. In reality,I am sure that there were parts of the summer that were not so great, but because of the detours through my other memories, I can't see them now. I am convinced that there were things happening in my life that were not enjoyable, or decisions that did not turn out my way, or some other longings I was entertaining at the time. In this way, the memories only get blurrier and blurrier as an icon from my life of a time when things were perfect.
Woody Allen explored this phenomena in his film Midnight in Paris, and dubbed the occurrence 'Golden Age Thinking.' Now some readers of my blog may see this review as an excuse to talk once more about the dazzling Marion Cotillard.  You would not be wrong. However, Allen presents a few compelling ideas in this piece. Owen Wilson plays Gil; a romantic screenwriter who daydreams about seeing Paris in the 1920's when it is raining. Somehow, he gets his wish when on a walk one night in Paris and a cab full of old-timey people pulls up and invites him in. He enters and is taken back to the time of Hemingway, Dali, Picasso, and Cole Porter. He is in love with the time. Every night, he returns to the enchanted time of the 20's, and every morning returns to his drag of a fiancee. Soon after the time travels begin, he meets the mysteriously beautiful Adriana (Cotillard), the supposed muse of Picasso and Hemingway, and is smitten. After a couple nights spent  wandering in and out of parties and the streets of Paris in the 1920's, Adriana reveals that she would much rather live in the time of la Belle Epoque; about a century earlier. They travel back in time even further, this time by magical horse drawn carriage, to the 1890's. Adriana is overjoyed and wants to stay there rather than in her own time; the 1920's.
One of the main ideas Allen is conveying here is that everyone has a time they view as the 'Golden Age;' the time when nothing was wrong and everything was perfect and alive and beautiful.  Even people living in our own personal golden ages. I'm sure that the Ethan living in the summer of 2007 was longing for some time other than the one he was in then, just as the Ethan writing this now does.
Someone else took note of this empty yearning that every human has, several millennia prior to Woody. The wisest man alive, in fact. I know I have used this scripture before, but that's because I find it so central to the human experience that to overlook it is pure foolishness. Ecclesiastes 3:11 says that "He has placed eternity on the hearts of men." How many of you long for THAT? How many of you have ever said to yourself, "Boy, I wish I could just go back to forever, when everything was good and okay?" We can't even fathom eternity, therefore, we cannot even comprehend longing for it. C.S. Lewis is famously quoted in his short piece "The Weight of Glory" for writing,  "It would seem that our Lord finds our desires, not too strong, but too weak." The kind of desire that each one of us has is placed in us for a reason–not to bring us to satisfaction in the promising, yet empty, objects of the world, but in Him [Jesus] alone! There's a reason that every human being has an unquenchable thirst for another time period, place, or group of friends. We have eternity planted in our hearts. We wants things we can't even comprehend.This is why the past looks perfect to us only from one side, hindsight, and the present is always left unsatisfied…
FRANCIS SCHAEFFER PICTURED BELOW:
Solomon wrote the Book of Ecclesiastes and he penned the words, "[God] has placed eternity on the hearts of men." Solomon is pursuing satisfaction in life UNDER THE SUN in the Book of Ecclesiastes. FRANCIS SCHAEFFER noted that Solomon took a look at the meaning of life on the basis of human life standing alone between birth and death "under the sun." This phrase UNDER THE SUN appears over and over in Ecclesiastes. The Christian Scholar Ravi Zacharias noted, "The key to understanding the Book of Ecclesiastes is the term UNDER THE SUN — What that literally means is you lock God out of a closed system and you are left with only this world of Time plus Chance plus matter." However, even though Solomon is finding all these pursuits are dead ends he also has this eternity that has been placed in his heart.
BLAISE PASCAL pictured below:
Again this brings me back full circle to Pascal. BLAISE PASCAL, a famous French mathematician and philosopher, put it like this: "There is a God-shaped vacuum in the heart of every man which cannot be filled by any created thing, but only by God the Creator, made known through Jesus Christ." That ties in nicely with with Ecclesiastes 3:11  "He has placed eternity on the hearts of men."
Sincerely,
Everette Hatcher, everettehatcher@gmail.com, http://www.thedailyhatch.org, cell ph 501-920-5733, Box 23416, LittleRock, AR 72221
PS: This is the 17th letter I have written to you and again I have taken an aspect of your life and responded with what the Bible has to say on that subject. HUGH you may look back on the 1000 women that you slept with and try to rationalize that you are a HOPELESS ROMANTIC but just like Solomon you must admit that your pursuits at womanizing was like an effort of  CHASING THE WIND. Don't you see that Solomon was an old man when he wrote Ecclesiastes and just like you he had also slept with 1000 women but he had not found satisfaction UNDER THE SUN. In fact he exclaimed, GOD HAS PLACED ETERNITY ON THE HEARTS OF MEN!!!! Don't you think it is time that you take Solomon's advice in the last chapter?  "The end of the matter; all has been heard. Fear God and keep his commandments, for this is the whole duty of man.  For God will bring every deed into judgment, with every secret thing, whether good or evil."