_
Over and over I have read that Hugh Hefner was a modern day King Solomon and Hefner's search for satisfaction was attempted by adding to the number of his sexual experiences.  Tremper Longman noted: 
Well, the readers of the book would remember the story of King Solomon, the king who had it all. He had more wisdom than anyone, more wealth, more pleasure (remember he had hundreds of wives and concubines). He was, speaking anachronistically and a bit flippantly, Bill Gates, Oprah Winfrey, and Hugh Hefner all rolled up into one. But all that wealth, wisdom, and pleasure was not enough for Solomon, who ended his life a sad apostate. The message for the reader of Ecclesiastes, then, is a warning not to live with the illusion that "if I only had more" (money, wisdom, pleasure), then I would be satisfied with life.
Many of the sermons that I heard or read that inspired me to write Hugh Hefner were from this list of gentlemen:  Daniel Akin, Brandon Barnard,Matt Chandler, George Critchley,  Darryl Dash, Steve DeWitt, Steve Gaines, Norman L. Geisler, Greg Gillbert, Billy Graham, Mark Henry, Dan Jarrell, Walter C. Kaiser, Jr., R. G. Lee,  Chris Lewis, Kerry Livgren, Robert Lewis,    Bill Parkinson, Ben Parkinson,Vance Pitman, Nelson Price, Adrian Rogers, Philip Graham Ryken, Francis Schaeffer, Lee Strobel, Bill Wellons, Kirk Wetsell,  Ken Whitten, Ed Young ,  Ravi Zacharias, Tom Zobrist, and Richard Zowie.
__
In this letter I tell the story of Kerry Livgren who had the world at his feet when he was writing hit songs for KANSAS in the 1970's but he found that there was an emptiness in his heart. As a result, he wrote the song DUST IN THE WIND which reached #6 in the pop music charts in 1978. I later saw him on THE 700 CLUB give his testimony how he found peace in Christ. I can think of no other song that ties in better with Ecclesiastes than the song DUST IN THE WIND.
___
_
In this letter below I quoted the sermon outline from Adrian Rogers when I wrote, "Hugh you remind me of Solomon because you are looking for  lasting meaning in your life and you are looking in the same  6 areas that King Solomon did in what I call the 6 big L words. He looked into  learning (1:16-18), laughter, ladies, luxuries,  and liquor (2:1-3, 8, 10, 11), and labor (2:4-6, 18-20)." I also quoted Ravi Zacharias when I wrote, "The key to understanding the Book of Ecclesiastes is the term UNDER THE SUN — What that literally means is you lock God out of a closed system and you are left with only this world of Time plus Chance plus matter."
Plus I quoted Francis Schaeffer's discussion of what Woody Allen said concerning the meaning of life. Allen says that man is left with:
"… alienation, loneliness [and] emptiness verging on madness…." 
This ties in with Ecclesiastes perfectly. 
May 14, 2016
Hugh Hefner
Playboy Mansion  
10236 Charing Cross Road
Los Angeles, CA 90024-1815
Dear Mr. Hefner,
Last week when I wrote you I mentioned that I got to attend the Paul McCartney concert on April 30, 2016 in Little Rock and I really enjoyed the song BLACKBIRD that Paul played.  My family and I really appreciated that  stand that Paul took back in the 1960's by writing that song. I wanted to tell you something that I really appreciate about both your life and also Paul's.  YOU BOTH HAVE ALWAYS STOOD FOR RACIAL EQUALITY!!!!
This week I wanted to talk to you about COMEDY and your personal friend LENNY BRUCE. Lenny Bruce took shots at racists. "Annabelle's gone off and married a New York actor fellow." Governor Faubus at his home would respond, "What is his name?" HARRY BELAFONTE!!! "Italian fellow, huh?" What laughs, and such a wonderful guy to nail, you know. I mean I am in for cruelty when you are making jokes about a guy like that.
I've been accused of bad taste, and I'll go down to my grave accused of it and always by the same people, the ones who eat in restaurants that reserve the right to refuse service to anyone.
_
Lenny Bruce in 1959 on TV with Hugh Hefner
Gov Faubus in 1957 in Little Rock
HUGH, there was a dark side to Lenny's comedy too. Lenny said, "All my humor is based upon destruction and despair. If the whole world were tranquil, without disease and violence, I'd be standing on the breadline right in back of J. Edgar Hoover."
Bob Dylan in his song LENNY BRUCE wrote, "He's on some other shore, he didn't wanna live anymore, Lenny Bruce is dead but he didn't commit any crime, He just had the insight to rip off the lid before its time."    HUGH, do you have the guts to take a long hard look at the big questions before it is your time to pass on and I hope you come up with a positive solution instead of the nihilistic viewpoint that so many others in the secular world embrace. 
Francis Schaeffer quoted your good friend Woody Allen in his book WHATEVER HAPPENED TO THE HUMAN RACE? (co-authored by Dr. C. Everett Koop who I know you respected):
So some humanists act as if they have a great advantage over Christians. They act as if the advance of science and technology and a better understanding of history (through such concepts as the evolutionary theory) have all made the idea of God and Creation quite ridiculous.
This superior attitude, however, is strange because one of the most striking developments in the last half-century is the growth of a profound pessimism among both the well-educated and less-educated people. The thinkers in our society have been admitting for a long time that they have no final answers at all.
Take Woody Allen, for example. Most people know his as a comedian, but he has thought through where mankind stands after the "religious answers" have been abandoned. In an article in Esquire (May 1977), he says that man is left with:
… alienation, loneliness [and] emptiness verging on madness…. The fundamental thing behind all motivation and all activity is the constant struggle against annihilation and against death. It's absolutely stupefying in its terror, and it renders anyone's accomplishments meaningless. As Camus wrote, it's not only that he (the individual) dies, or that man (as a whole) dies, but that you struggle to do a work of art that will last and then you realize that the universe itself is not going to exist after a period of time. Until those issues are resolved within each person – religiously or psychologically or existentially – the social and political issues will never be resolved, except in a slapdash way.
Allen sums up his view in his film Annie Hall with these words: "Life is divided into the horrible and the miserable."
Many would like to dismiss this sort of statement as coming from one who is merely a pessimist by temperament, one who sees life without the benefit of a sense of humor. Woody Allen does not allow us that luxury. He speaks as a human being who has simply looked life in the face and has the courage to say what he sees. If there is no personal God, nothing beyond what our eyes can see and our hands can touch, then Woody Allen is right: life is both meaningless and terrifying. As the famous artist Paul Gauguin wrote on his last painting shortly before he tried to commit suicide: "Whence come we? What are we? Whither do we go?" The answers are nowhere, nothing, and nowhere.
Woody Allen and Hugh Hefner in London
To sum up Schaeffer is saying, "If man has been kicked up out of that which is only impersonal by chance , then those things that make him man-hope of purpose and significance, love, motions of morality and rationality, beauty and verbal communication-are ultimately unfulfillable and thus meaningless." (Francis Schaeffer in THE GOD WHO IS THERE)
HUGH, you have been around the best comics in the world but HAS COMEDY PROVIDED YOU ANY ANSWERS? 3000 years ago Solomon pursued six "L" words in his search for the meaning of life and probing the area of LAUGHTER was one of his first places to start. In Ecclesiastes 2:2 he starts this quest but he concludes it is not productive to be laughing the whole time and not considering the serious issues of life. "I said of laughter, "It is foolishness;" and of mirth, "What does it accomplish?" (2:2).   Then Solomon  asserted the nihilistic statement in Ecclesiastes 2:17: "So I hated life, because the work that is done under the sun was grievous to me. All of it is meaningless, a chasing after the wind."
In the Book of Ecclesiastes what are all of the 6 "L" words that Solomon looked into? He looked into  learning (1:16-18), laughter, ladies, luxuries,  and liquor (2:1-3, 8, 10, 11), and labor (2:4-6, 18-20).
Schaeffer noted that Solomon took a look at the meaning of life on the basis of human life standing alone between birth and death "under the sun." This phrase UNDER THE SUN appears over and over in Ecclesiastes. The Christian Scholar Ravi Zacharias noted, "The key to understanding the Book of Ecclesiastes is the term UNDER THE SUN — What that literally means is you lock God out of a closed system and you are left with only this world of Time plus Chance plus matter." This puts him in the same place that you find yourself. 
You are an atheist and you have a naturalistic materialistic worldview, and this short book of Ecclesiastes should interest you because the wisest man who ever lived in the position of King of Israel came to THREE CONCLUSIONS that will affect you.
FIRST, chance and time have determined the past, and they will determine the future.  (Ecclesiastes 9:11-13)
These two verses below  take the 3 elements mentioned in a naturalistic materialistic worldview (time, chance and matter) and so that is all the unbeliever can find "under the sun" without God in the picture. You will notice that these are the three elements that evolutionists point to also.
Ecclesiastes 9:11-12 is following: I have seen something else under the sun: The race is not to the swift or the battle to the strong, nor does food come to the wise or wealth to the brilliant or favor to the learned; but time and chance happen to them all. Moreover, no one knows when their hour will come: As fish are caught in a cruel net, or birds are taken in a snare, so people are trapped by evil times that fall unexpectedly upon them.
SECOND, Death is the great equalizer (Eccl 3:20, "All go to the same place; all come from dust, and to dust all return.")
THIRD, Power reigns in this life, and the scales are not balanced(Eccl 4:1, 8:15)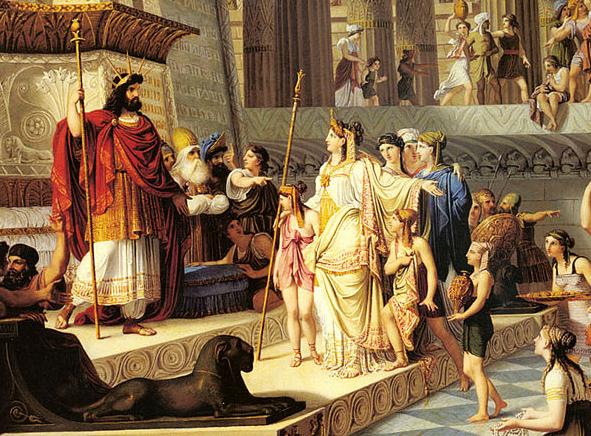 Ecclesiastes 4:1-2: "Next I turned my attention to all the outrageous violence that takes place on this planet—the tears of the victims, no one to comfort them; the iron grip of oppressors, no one to rescue the victims from them." Ecclesiastes 8:14; " Here's something that happens all the time and makes no sense at all: Good people get what's coming to the wicked, and bad people get what's coming to the good. I tell you, this makes no sense. It's smoke."
Solomon had all the resources in the world and he found himself searching for meaning in life and trying to come up with answers concerning the afterlife. However, it seems every door he tries to open is locked. Today men try to find satisfaction in learning, liquor, ladies, luxuries, laughter, and labor and that is exactly what Solomon tried to do too.  None of those were able to "fill the God-sized vacuum in his heart" (quote from famous mathematician and philosopher Blaise Pascal). You have to wait to the last chapter in Ecclesiastes to find what Solomon's final conclusion is.
In 1978 I heard the song "Dust in the Wind" by Kansas when it rose to #6 on the charts. That song told me that Kerry Livgren the writer of that song and a member of Kansas had come to the same conclusion that Solomon had. I remember mentioning to my friends at church that we may soon see some members of Kansas become Christians because their search for the meaning of life had obviously come up empty even though they had risen from being an unknown band to the top of the music business and had all the wealth and fame that came with that. Furthermore, Solomon realized death comes to everyone and there must be something more.
Livgren wrote:
"All we do, crumbles to the ground though we refuse to see, Dust in the Wind, All we are is dust in the wind, Don't hang on, Nothing lasts forever but the Earth and Sky, It slips away, And all your money won't another minute buy."
Take a minute and compare Kerry Livgren's words to that of the late British humanist H.J. Blackham:
"On humanist assumptions, life leads to nothing, and every pretense that it does not is a deceit. If there is a bridge over a gorge which spans only half the distance and ends in mid-air, and if the bridge is crowded with human beings pressing on, one after the other they fall into the abyss. The bridge leads nowhere, and those who are pressing forward to cross it are going nowhere….It does not matter where they think they are going, what preparations for the journey they may have made, how much they may be enjoying it all. The objection merely points out objectively that such a situation is a model of futility"( H. J. Blackham, et al., Objections to Humanism (Riverside, Connecticut: Greenwood Press, 1967).
_____________________________________
The rock group KANSAS
__
Both Kerry Livgren and the bass player DAVE HOPE of Kansas became Christians eventually. Kerry Livgren first tried Eastern Religions and DAVE HOPE had to come out of a heavy drug addiction. I was shocked and elated to see their personal testimony on The 700 Club in 1981 and that same  interview can be seen on youtube today. Livgren lives in Topeka, Kansas today where he teaches "Diggers," a Sunday school class at Topeka Bible Church. DAVE HOPE is the head of Worship, Evangelism and Outreach at Immanuel Anglican Church in Destin, Florida.
YOU believe  three things. FIRST, death is the end and SECOND, chance and time are the only guiding forces in this life.  FINALLY, power reigns in this life and the scales are never balanced. In contrast, DAVE HOPE believes death is not the end and the Christian can  face death and also confront the world knowing that it is not determined by chance and time alone and finally there is a judge who will balance the scales.
Solomon's experiment was a search for meaning to life "under the sun." Then in last few words in the Book of Ecclesiastes he looks above the sun and brings God back into the picture: "The conclusion, when all has been heard, is: Fear God and keep His commandments, because this applies to every person. For God will bring every act to judgment, everything which is hidden, whether it is good or evil."
The answer to find meaning in life is found in putting your faith and trust in Jesus Christ. The Bible is true from cover to cover and can be trusted.
Sincerely,
Everette Hatcher, everettehatcher@gmail.com, http://www.thedailyhatch.org, cell ph 501-920-5733, Box 23416, LittleRock, AR 72221
PS: This is the 35th letter I have written to you and I hope you enjoyed your 90th birthday. However, I was sad when I read about the passing of your brother Keith. I know what a close friend he was of yours.
Related posts:
I started this series on my letters and postcards to Hugh Hefner back in September when I read of the passing of Mr. Hefner. There are many more to come. It is my view that he may have taken time to look at glance at one or two of them since these postcards were short and from one of Hef's favorite […]
I started this series on my letters and postcards to Hugh Hefner back in September when I read of the passing of Mr. Hefner. There are many more to come. It is my view that he may have taken time to look at glance at one or two of them since these postcards were short and from one of Hef's favorite […]
I started this series on my letters and postcards to Hugh Hefner back in September when I read of the passing of Mr. Hefner. There are many more to come. It is my view that he may have taken time to look at glance at one or two of them since these postcards were short and from one of Hef's favorite […]
  I started this series on my letters and postcards to Hugh Hefner back in September when I read of the passing of Mr. Hefner. There are many more to come. It is my view that he may have taken time to look at glance at one or two of them since these postcards were short and from one of Hef's […]
_   I started this series on my letters and postcards to Hugh Hefner back in September when I read of the passing of Mr. Hefner. There are many more to come. It is my view that he may have taken time to look at glance at one or two of them since these postcards were short and from one of […]
_____ I started this series on my letters and postcards to Hugh Hefner back in September when I read of the passing of Mr. Hefner. There are many more to come. It is my view that he may have taken time to look at glance at one or two of them since these postcards were short and from one of Hef's […]
_____ I started this series on my letters and postcards to Hugh Hefner back in September when I read of the passing of Mr. Hefner. There are many more to come. It is my view that he may have taken time to look at glance at one or two of them since these postcards were […]
_____ I started this series on my letters and postcards to Hugh Hefner back in September when I read of the passing of Mr. Hefner. There are many more to come. It is my view that he may have taken time to look at glance at one or two of them since these postcards were […]
|I saw this on the internet on  June 20, 2017   _   Playboy's Hugh Hefner on board a boat with Barbi Benton and friends sporting a striped navy shirt and a pipe in mouth and a real catch in hand during the 70s. ____________________________________ Below is the last letter I ever wrote to Hugh Hefner. […]
I learned yesterday that Hugh Hefner had passed away. Just last year I visited Chicago and drove by his Chicago Playboy Mansion pictured below. ___   Playboy after dark filmed in Chicago Playboy Mansion   During the 1990′s I actually made it a practice to write famous atheists and scientists that were mentioned by Adrian […]
__