Sportscaster Barrett Jones was our speaker yesterday at Little Rock Touchdown Club.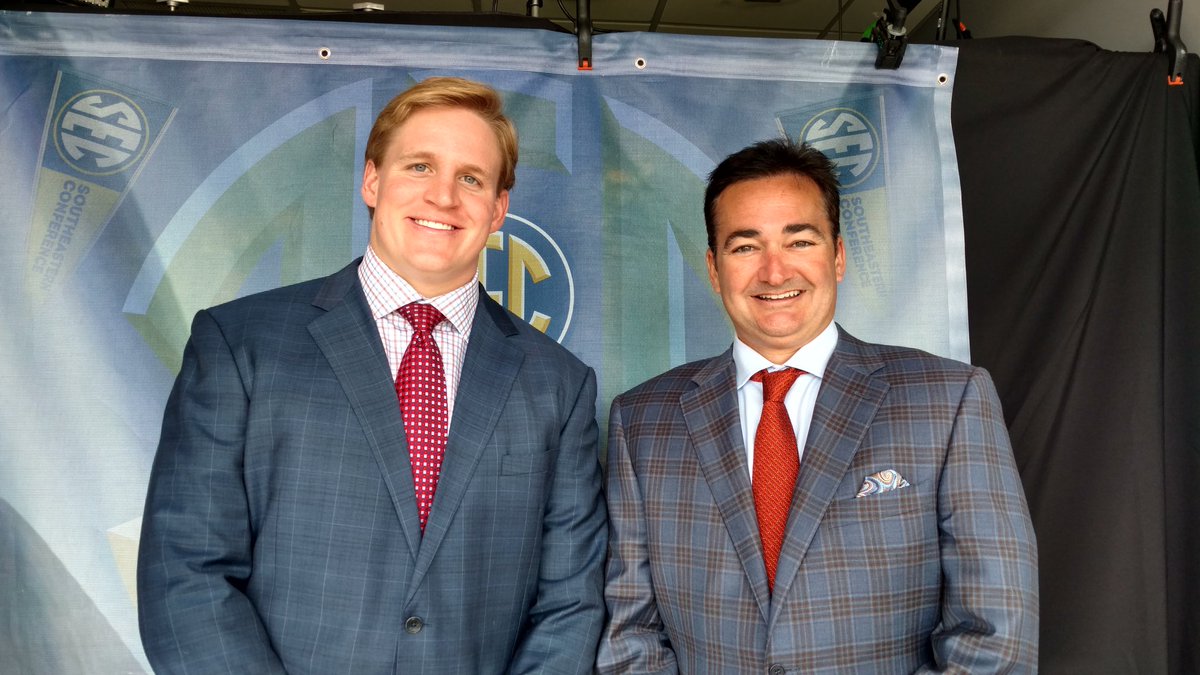 I must say that Barrett Jones was one  of the finest of the 150 speakers we ever had at the Little Rock Touchdown Club, and I have personally heard our other speakers such as Frank Broyles, Vince Dooley, Tom Osborne, Johnny Majors, Pat Summerall, and Mike Ditka speak here. David Bazzel, the founder of the Little Rock Touchdown Club, noted also that Barrett was the youngest speaker in the history of our club too.
Barrett told some very funny stories about his experience at Bama and a recent story about Nick Sabin. I have written on this blog before about Barrett and his Christian testimony. In fact, in his talk yesterday I especially enjoyed this part from the end of his talk:
"I had this dream my whole life of raising up that crystal trophy. You guys know the crystal trophy? It's old now. They give out a waffle cone-looking type thing now. But, I was a big fan of the trophy. I thought it was the greatest trophy in sports.
"I had watched (Texas quarterback) Vince Young, after he beat USC, hold that trophy and let the confetti pour down on him. It kind of always was my dream to do that. So sure enough, as soon as the game was over – I told you I was very analytical – everybody's running in the stands and celebrating and everything. I'm running straight to the podium. I'm getting a good spot on the podium.
"I'm a redshirt freshman. I've got no chance (of holding it) if I'm not strategic about it. So I'm right on the front of the railing. Right behind the captains and coach (Nick) Saban.
So coach Saban holds it and hands it to Rolando (McClain) and whoever the other captains were, and they turn around and the first guy who gets to hold it after the captains is me which looking back, as a redshirt freshman, I was extremely disrespectful. I should have let the seniors do it. But I was thinking, 'This is my dream.' "
"It was a late night. I probably didn't get back to my hotel until about 3 o'clock in the morning. I got back to my room, laid in my bed, and I just had this sense of emptiness in my heart. I didn't understand it. I got on my knees and prayed, and said, 'God, this should be the most exciting night of my life. But I feel empty. Why is that the case?'
"I remembered thinking, 'What's going on? This is my dream, what I've worked for so many years and I finally accomplished it, and it's not satisfying.' Over a period of time, God sort of showed me that I had really been living my life to glorify myself instead of to glorify God.
"I was a Christian; I accepted Christ in my heart. But Christ was not the Lord of my life. He kind of showed me I was a football player who happened to be a Christian instead of a Christian who happened to play football. Throughout this time, I prayed and said, 'God, I want you to use me to glorify your name, instead of to glorify my name.' "
Little Rock Touchdown Club – October 9th, 2017
By Jeremy Muck
This article was published today at 2:11 a.m.
Former Alabama offensive lineman Barrett Jones was asked Monday at the Little Rock Touchdown Club about Saturday's Arkansas Razorbacks' road game at No. 1 Alabama.
"It's a tall task," Jones said. "I'm not going to sugarcoat it for you."
How tall?
Dating to 2007 when Nick Saban arrived in Tuscaloosa, the University of Arkansas, Fayetteville has not defeated Alabama. Bret Bielema is 0-4 against the Crimson Tide since he's been the Razorbacks coach.
The Razorbacks also are coming off a 48-22 loss at South Carolina in which they gave up three defensive touchdowns and had quarterback Austin Allen knocked out of the game.
Arkansas (2-3, 0-2 SEC West) has lost its past five games against Power 5 opponents, including Saturday's game at South Carolina 48-22.
But Jones, who played at Alabama from 2008-2012 and now works for the SEC Network, points to the Razorbacks' offensive line and running game as the reasons for their slow start.
Arkansas was held to 106 rushing yards, with senior David Williams leading the Hogs with 32 yards and 1 touchdown on 7 carries. Sophomore Devwah Whaley was held to 28 yards on 9 carries.
In addition, the Razorbacks' offensive line allowed two sacks and seven hurries Saturday.
"I like Bret Bielema a lot," Jones said. "But I think the thing I'm disappointed in is that the whole system is built around a power running game and having an offensive line to run the football behind. I think in football, you have to be who you are. You have to do something well. You have to have something in your hat that says, 'This is what we are and what we do well.'
"They can't run the ball well right now. When your whole thing is about running the football and you can't run the football, it's trouble. They get away from that, sometimes. They try to be this team that spreads it out and throws it 30-50 times a game. I don't think that's going to work in this system. The system is designed to be this powerful, physical running team.
"If they can't run the football effectively, then they're never going to be good under this regime."
Jones, 27, won the Outland and Rimington trophies during his career. He won the Outland, given to the nation's best offensive lineman, in 2011 when he played left tackle. In his senior season (2012), Jones moved to center and earned the Rimington Trophy, awarded to the best center in the nation and named for former Nebraska center Dave Rimington.
While at Alabama, Jones was part of three national championship teams (2009, 2011, 2012). He was a fourth-round selection in the 2013 NFL Draft by the then-St. Louis Rams and played two seasons for the Rams before being released. Jones was on the practice squad for three different teams in 2015 (Pittsburgh Steelers, Chicago Bears and Philadelphia Eagles), but he was released by the Eagles in 2016.
Jones was not high on the Razorbacks this season, but he wanted to assure the crowd at the Embassy Suites in Little Rock that things could change in the future.
"I know it's a tough week," Jones said. "The SEC is very cyclical. I'm trying to be very kind and polite when Alabama is on top so that you guys hopefully will do the same for me. I understand that we'll be there someday."
Sports on 10/10/2017
Jones family pictured below:
Related posts: