The answer, of course, is that capitalist societies have produced mass prosperity. Yes, some people have become astoundingly rich, but the rest of us became much better off as well.
In other words, Walter Williams was right.
In a free market, you only get rich by serving the needs of others.

As I mentioned in the video, many of our friends on the left instinctively reject the idea of a growing pie. They genuinely seem to think that one person's success means another person's failure. And this flawed thinking seems to be a big problem with young people.
So let's revisit the data.
We'll start with this chart from Our World in Data at Oxford University. As you can see, mass poverty was the norm until capitalism appeared on the scene a couple of hundred years ago.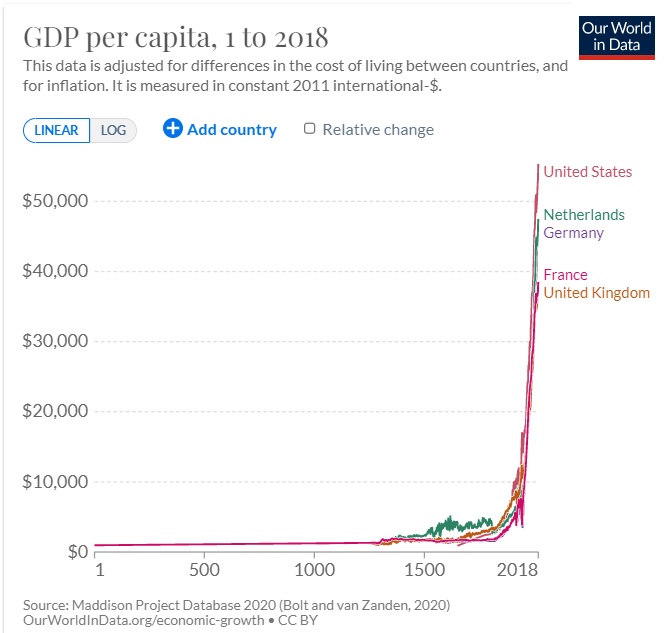 What about if we look at more recent data.
Here's another chart from the folks at Oxford, this time looking at the past 200 years. Lo and behold, we see how living standards began to skyrocket as capitalism took hold.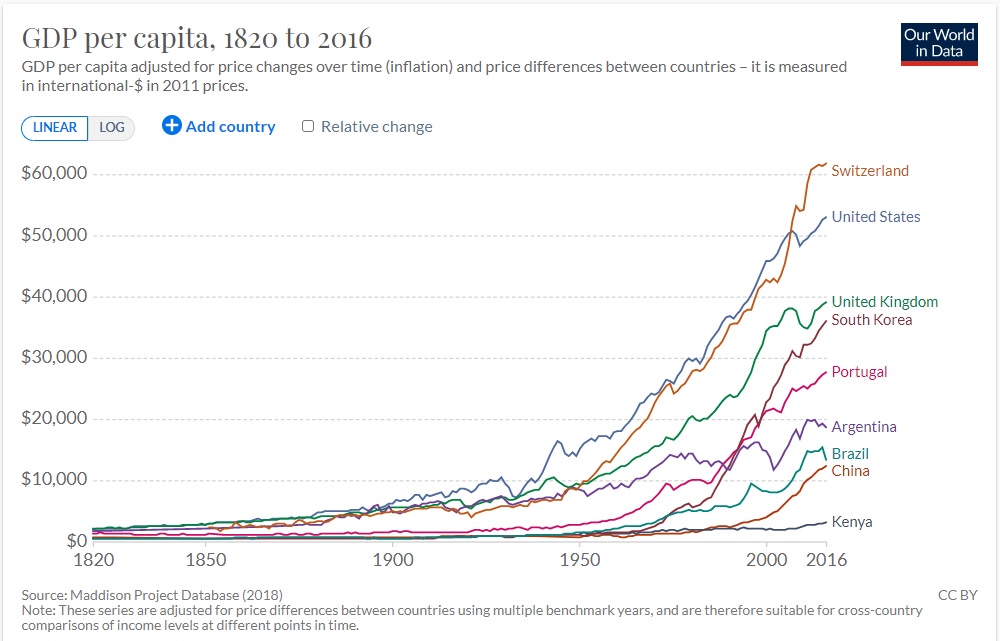 As you can see, living standard rose the most in nations with more economic freedom.
I'll close with a final chart to debunk the notion that progress has somehow ground to a halt in modern times.
And since most of my readers are in the United States, we'll look just at what's happened in post-war America.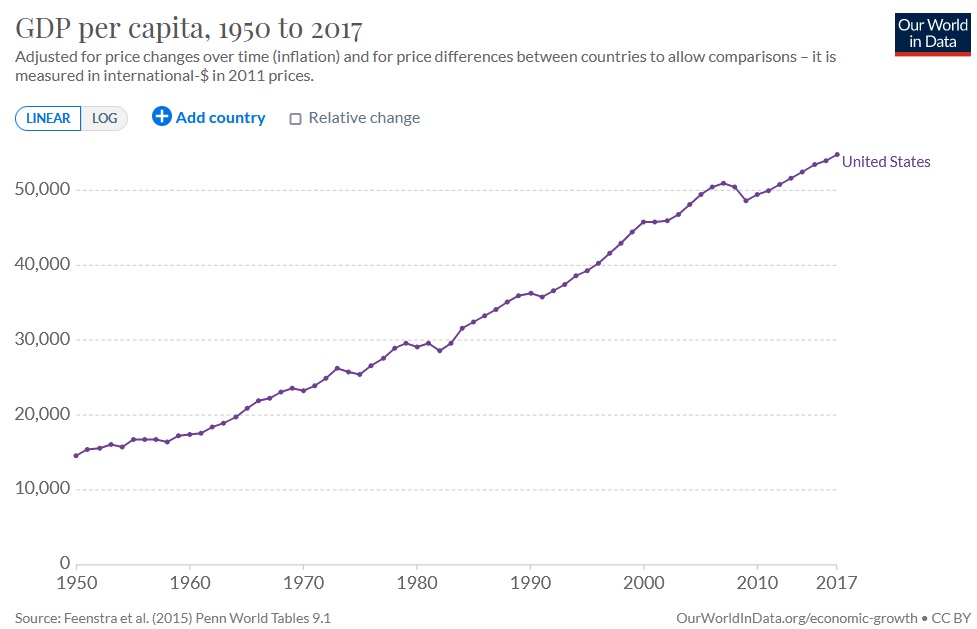 Some people point out that growth rates have declined the past two decades.
But that's not an indictment of capitalism. Every president this century has expanded the size and scope of government. So it is hardly a surprise that the economy is slowing down.
The obvious lesson is that we need a return to the recipe that generates prosperity.
P.S. There is no such thing as a laissez-faire paradise. Even Switzerland has some bad policies, as does Singapore. And the United States may be capitalist compared to the average nation, but we have many bad policies today (and we had some bad policies in the past).
And when there are bad policies such as cronyism, it is possible for people to get rich dishonorably. Those are the people who do hurt the rest of us. The right response, of course, is to get rid of the bad policies, not to condemn all rich people or to condemn the system that allows all of us to enjoy mass prosperity.
P.P.S. Just as one person's success does not mean another person's failure, the same is true for nations.
I hate being right, but it's always safe to predict that politicians and bureaucrats will embrace policies that give more power to government.
Especially when they are very anxious to stifle tax competition.
For decades, people in government have been upset that the tax cuts implemented by Ronald Reagan and Margaret Thatchertriggered a four-decade trend of lower tax rates and pro-growth tax reform.
That's the reason Biden and his Treasury Secretary proposed a 15 percent minimum tax rate for businesses.
And it's the reason they now want the rate to be even higher.
Though even I'm surprised that they're already pushing for that outcome when the original pact hasn't even been approved or implemented.
Here are some passages from a report by Reuters.
Treasury Secretary Janet Yellen will press G20 counterparts this week for a global minimum corporate tax rate above the 15% floor agreed by 130 countries last week…the global minimum tax rate…is tied to the outcome of legislation to raise the U.S. minimum tax rate, a Treasury official said.The Biden administration has proposed doubling the U.S. minimum tax on corporations overseas intangible income to 21% along with a new companion "enforcement" tax that would deny deductions to companies for tax payments to countries that fail to adopt the new global minimum rate. The officials said several countries were pushing for a rate above 15%, along with the United States.
Other kleptocratic governments naturally want the same thing.
A G7 proposal for a global minimum tax rate of 15% is too low and a rate of at least 21% is needed, Argentina's finance minister said on Monday, leading a push by some developing countries… "The 15% rate is way too low," Argentine Finance Minister Martin Guzman told an online panel hosted by the Independent Commission for the Reform of International Corporate Taxation. …"The minimum rate being proposed would not do much to countries in Africa…," Mathew Gbonjubola, Nigeria's tax policy director, told the same conference.
Needless to say, I'm not surprised that Argentina is on the wrong side.
And supporters of class warfare also are agitating for a higher minimum rate. Here are some excerpts from a column in the New York Times by Gabriel Zucman and Gus Wezerek.
In the decades after World War II, close to 50 percent of American companies' earnings went to state and federal taxes. …it was a golden period. …President Biden should be applauded for trying to end the race to the bottom on corporate tax rates. But even if Congress approves the 15 percent global minimum corporate tax, it won't be enough. …the Biden administration to give working families a real leg up, it should push Congress to enact a 25 percent minimum tax, which would bring in about $200 billion in additional revenue each year. …With a 25 percent minimum corporate tax, the Biden administration would begin to reverse decades of growing inequality. And it would encourage other countries to do the same, replacing a race to the bottom with a sprint to the top.
I can't resist making two observations about this ideological screed.
Even the IMF and OECD agree that the so-called race to the bottom has not led to a decline in corporate tax revenues, even when measured as a share of economic output.
Since companies legally avoid rather than illegally evade taxes, the headline of the column is utterly dishonest – but it's what we've learned to expect from the New York Times.
The only good thing about the Zucman-Wezerek column is that it includes this chart showing how corporate tax rates have dramatically declined since 1980.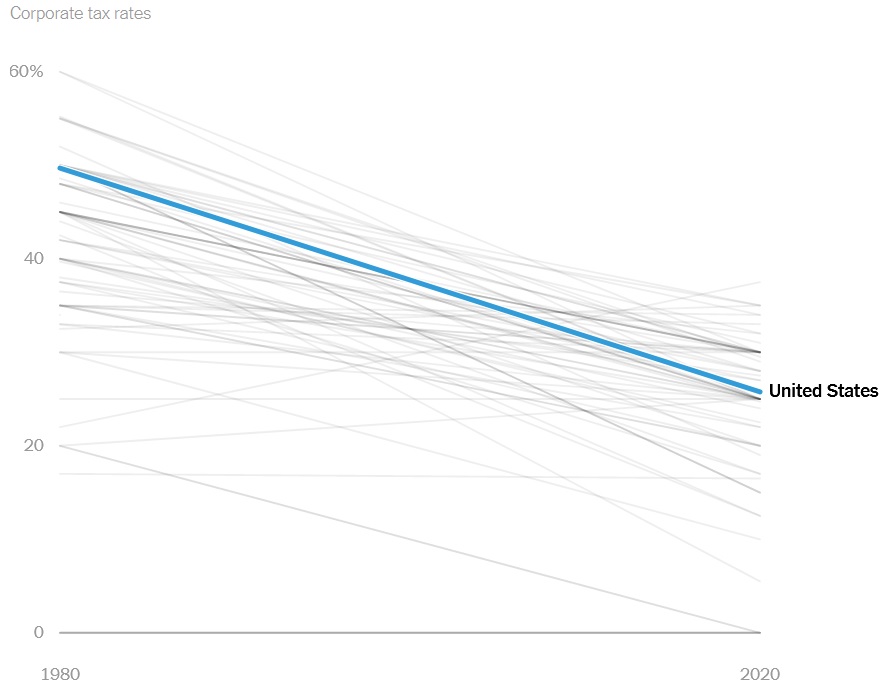 P.S. For those interested, the horizontal line at the bottom is for Bermuda, though other jurisdictions (such as Monaco and the Cayman Islands) also deserve credit for having no corporate income taxes.
P.P.S. If you want to know why high corporate tax rates are misguided, click here. And if you want to know why Biden's plan to raise the U.S. corporate tax rate is misguided, click here. Or here. Or here.
P.P.P.S. And if you want more information about why Biden's global tax cartel is bad, click here, here, and here.
I enjoyed this article below because it demonstrates that the Laffer Curve has been working for almost 100 years now when it is put to the test in the USA. I actually got to hear Arthur Laffer speak in person in 1981 and he told us in advance what was going to happen the 1980's and it all came about as he said it would when Ronald Reagan's tax cuts took place. I wish we would lower taxes now instead of looking for more revenue through raised taxes. We have to grow the economy: