_______
For a few decades, Chile was very interesting for fans of free markets.
The country became famous for its system of personal retirement accounts,
but there were many other reforms that liberalized the economy. Everything from free trade to privatization.
Unsurprisingly, Chile quickly became the richest nation in Latin America, surpassing countries such as Argentina and Venezuela that foolishly embraced bigger government.
But in recent years, Chile has become very interesting for fans of political drama.
In 2019, there were big protests by the left, initially triggered by an increase in subway fares in Santiago.
In 2020, the left enjoyed a victory as the country voted overwhelmingly in favor of writing a new constitution.
In 2021, the left enjoyed another victory when former student activist Gabriel Boric was elected president.
In 2022, the pendulum swung back to the right as voters overwhelmingly rejected a left-wing constitution.
Now, in 2023, the right enjoyed another big victory in yesterday's election for a Constitutional Council.
In a report for Bloomberg, Matthew Malinowski and Valentina Fuentes explain what just happened.
Chile's political right dealt a crushing blow to the government of President Gabriel Boric that will undermine the young leader's progressive agenda…right-wing candidates won 33 seats Sunday in a Constitutional Council in charge of drafting a new charter.This is above the three-fifths majority needed to push through articles at will… Left-wing contenders obtained 17 spots… A prior attempt to rewrite the charter was overwhelmingly rejected in a September referendum out of concern it went to far to the left, overhauling the foundations of Chile's free-market economy…and weakening political checks and balances. …The election serves as a harsh reality check for Boric's left-wing administration as it seeks to revive its progressive agenda, including plans to increase taxes on the rich.
I started today's column by noting that Chile was interesting for fans of economic freedom and then shifted to explaining why it was an interesting country for fans of political drama.
Let's close by revisiting the implications for economic policy.
The obvious good news is that there presumably no longer is any danger that Chile will be saddled with a leftist constitution (filled with "rights" to other people's money).
But I'm more interested in whether yesterday's election results indicate a rebirth in support for free enterprise.
Chile enjoyed enormous gains thanks to economic liberalization, with the poor enjoying disproportionate gains. But I worry that the nation will get caught in the "middle-income trap" without additional limits on the size and scope of government.
That won't happen with Boric still in power, so we'll have to see what happens in the next general election.
_______
I've written many times about the spectacularly positive impactof pro-market reforms in Chile.
The shift toward free markets, which began in the mid-1970s, was especially beneficial for the less fortunate (see here, here, and here).
But it's quite common for critics to assert that Chile is a bad example because many of the reforms were enacted by General Augusto Pinochet, a dictator who seized power in 1973. And some of those critics also attack Milton Friedman for urging Pinochet to liberalize the economy and reduce the burden of government.
Are these critics right?
To answer that question, I very much recommend the following cartoon strip by Peter Bagge. Published by Reason, it accurately depicts the efforts of reformers to get good reforms from a bad government.
It starts in 1973, with a group of Chilean economists, known as the "Chicago Boys," who wanted free markets.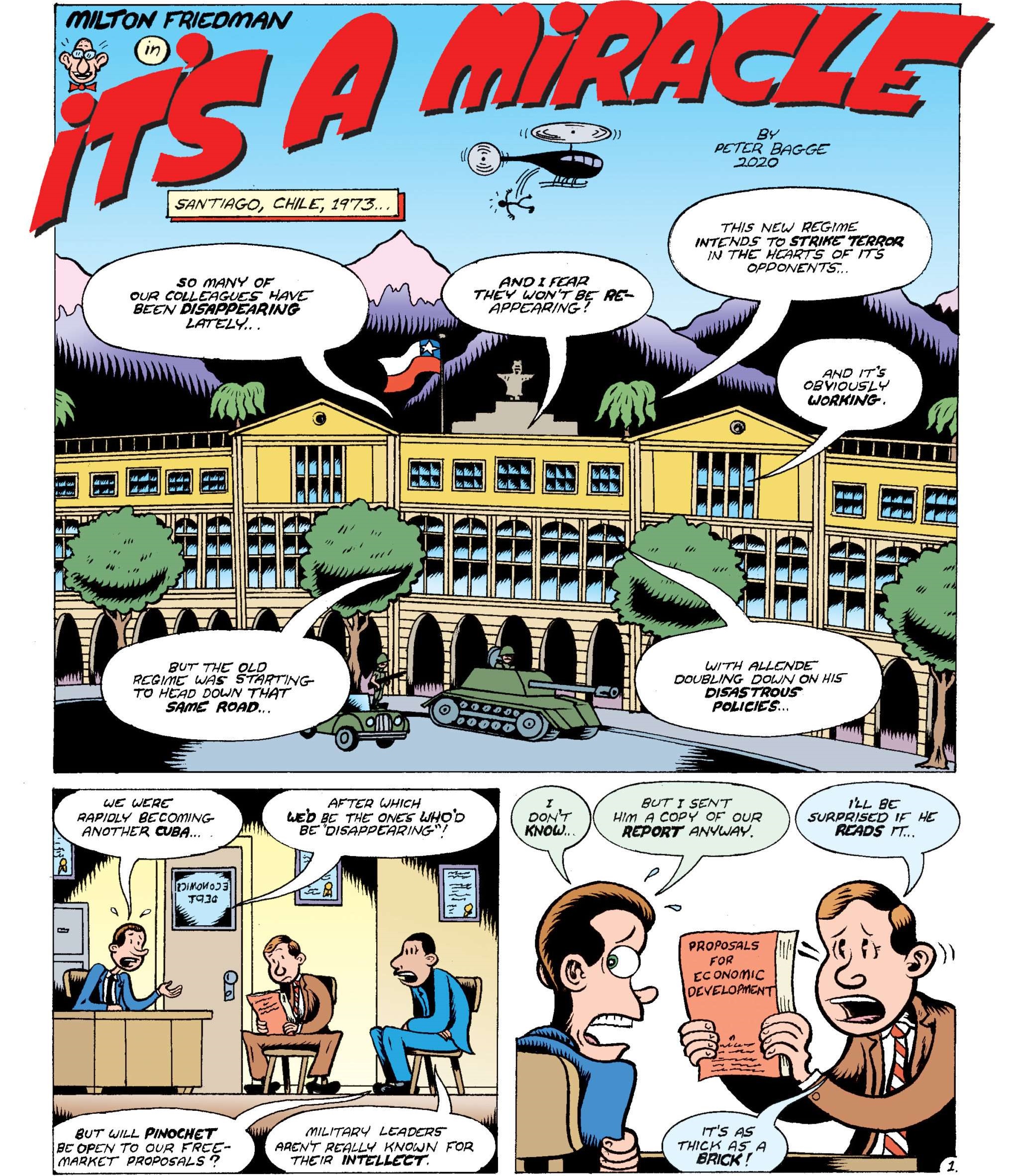 In 1975, they invited Milton Friedman to help make the case for economic reform.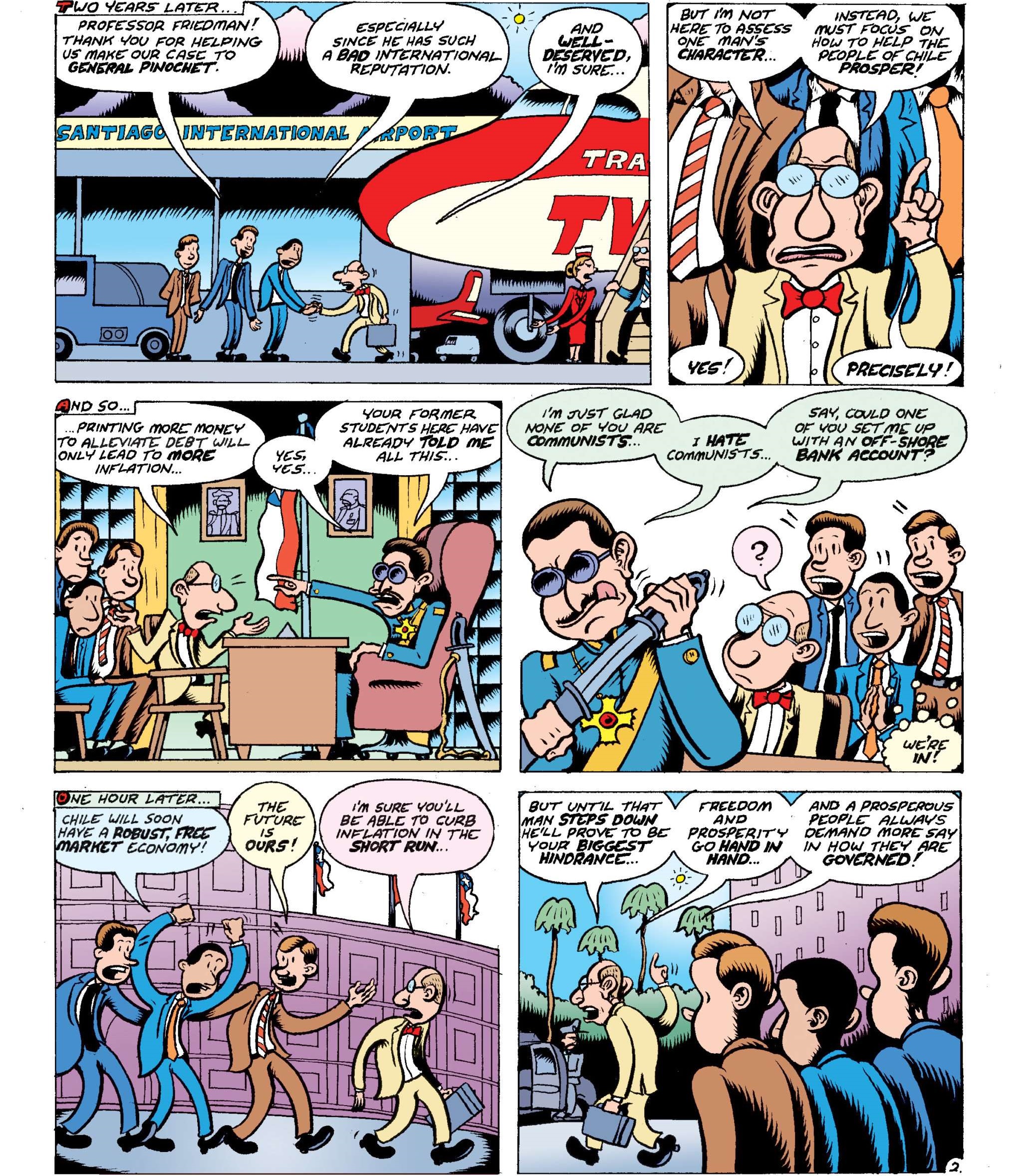 This 1982 strip shows some of the controversies that materialized.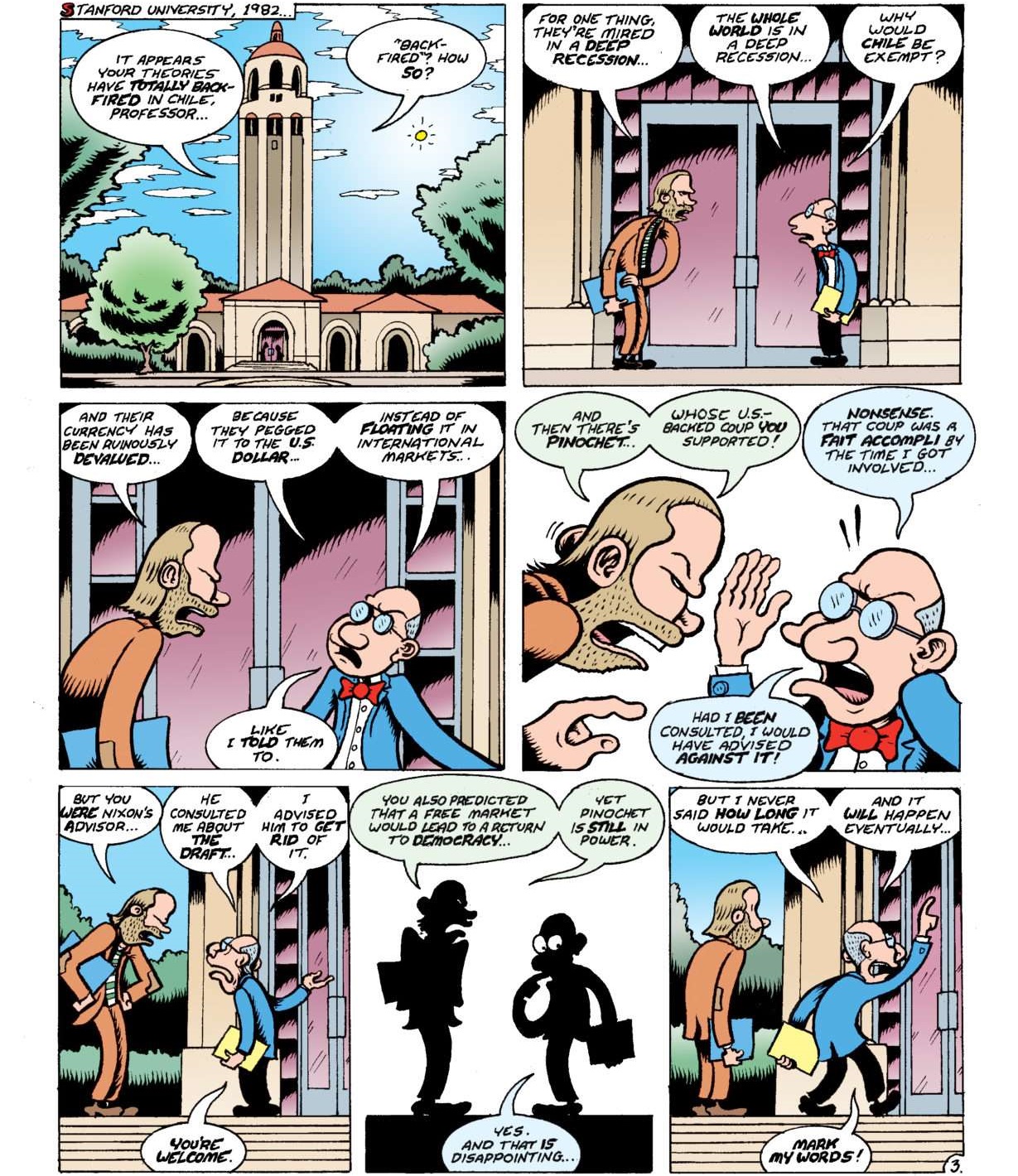 But by the time we got to the 21st century, everything Friedman said turned out to be true.
Chile had become an "improbable success."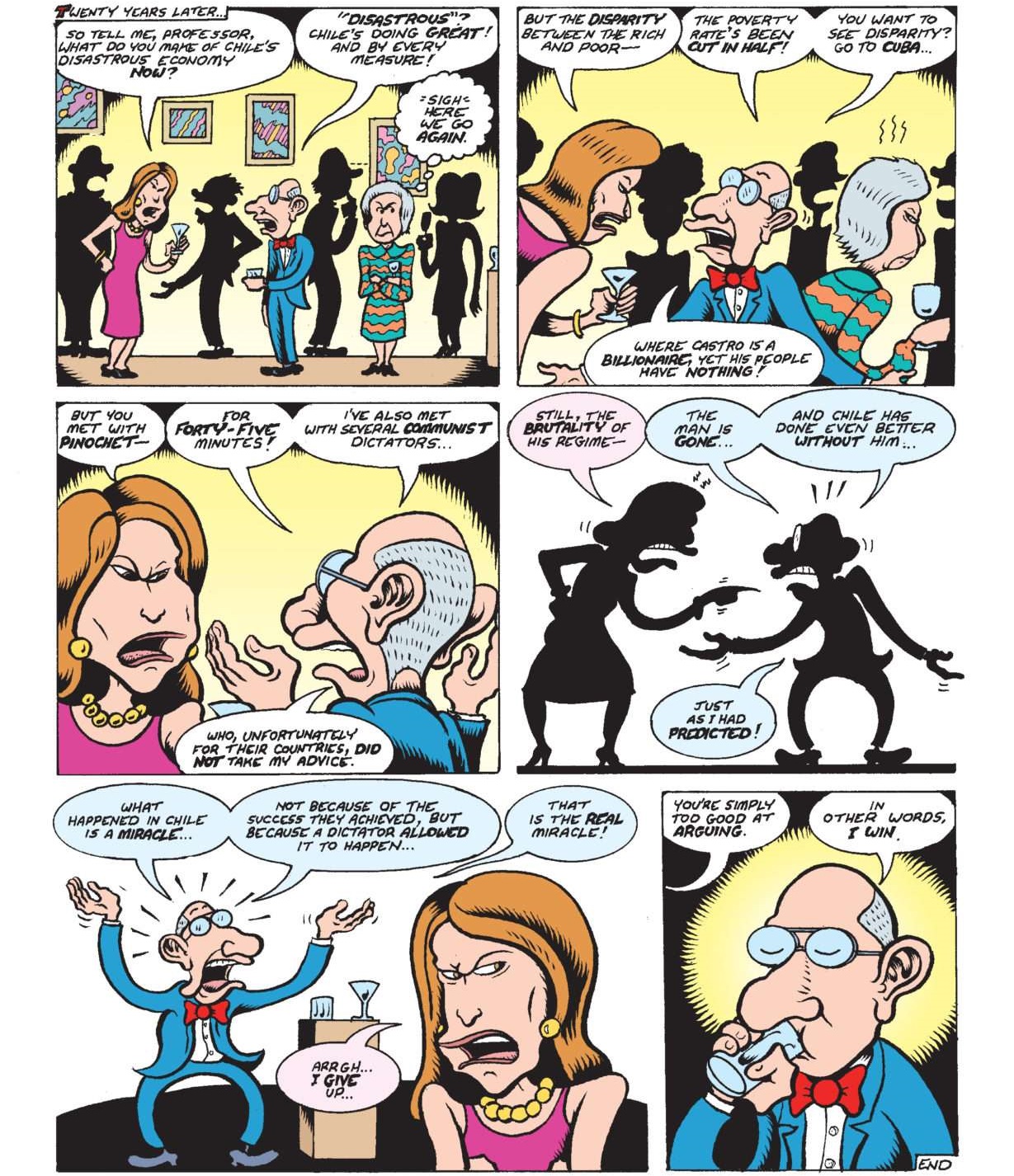 This cartoon strip is great for two reasons.
First, I'll be able to share it with people who want to delegitimize Chile's transition to a market-oriented democracy (ranked #14 according to the most-recent edition of Economic Freedom of the World). Simply stated, it was bad that Chile had a dictatorship, but it was good that the dictatorship allowed pro-market reforms (particularly when compared to the alternative of a dictatorship with no reforms). And it was great that Chile became a democracy (a process presumably aided by mass prosperity).
Second, we should encourage engagement with distasteful governments. I certainly don't endorse China's government or Russia's government, but I've advised government officials from both nations. Heck, I would even give advice to Cuba's government or North Korea's government (not that I'm expecting to be asked). My goal is to promote more liberty and it would make me very happy if I could have just a tiny fraction of Friedman's influence in pursuing that goal.
P.S. Here's Milton Friedman discussing his role in Chile.
P.P.S. While I disagree, it's easy to understand why some people try to delegitimize Chile's reforms by linking them to Pinochet. What baffles me are the folks who try to argue that the reforms were a failure. See, for instance, Prof. Dani Rodrik and the New York Times.
P.P.P.S. Critics also tried to smear Prof. James Buchanan for supporting economic liberalization in Chile.
—-
Milton Friedman is the short one!!!
Milton Friedman's Free to Choose (1980), episode 3 – Anatomy of a Crisis. part 1
___________________