—
Milton Friedman – Public Schools / Voucher System – Failures in Educatio…
—-
Jason Bedrick / @JasonBedrick / May 01, 2023
Man protesting in front of the Minnesota Department of Education to stop the masking and vaccines for the children going to school, St. Paul, Minnesota. November 3, 2021. (Photo: Michael Siluk/Universal Images Group/Getty Images)
COMMENTARY BY
Jason Bedrick is a research fellow with The Heritage Foundation's Center for Education Policy.
Education choice is on the march.
So far this year, four states have enacted education choice policies that will be available to all K-12 students. Arkansas, Florida, Iowa, and Utah have now joined Arizona and West Virginia in making every child eligible for education savings accounts (ESAs) or ESA-like policies that allow families to choose the learning environments that align with their values and work best for their children.
The education choice movement has already made more progress this year than ever before—and the year is far from over. Late last week, three state legislatures gave final approval to bills that would create new education choice policies or significantly expand existing ones.
States With Newly Passed Bills
Indiana
The final budget deal struck by the Republican majorities in both chambers of the Indiana state legislature will expand eligibility for the state's school voucher program to nearly every K-12 student.
The bill increases the income eligibility threshold from 300% of the free-and-reduced-price lunch program's income limit to 400%, which means that more than 95% of K-12 students in Indiana will now be eligible.
The budget will also expand eligibility for Indiana's two other education choice programs, a tax-credit scholarship and an education savings account policy. Gov. Eric Holcomb, a Republican, said that he would "gladly sign" the budget, which passed along party lines.
Montana
The Montana legislature sent the Students with Special Needs Equal Opportunity Act to Republican Gov. Greg Gianforte's desk. The bill would create an ESA for students with special needs worth between $5,000 and $8,000.
"Every parent knows each child is unique," said Gianforte during his State of the State address in February, "Let's ensure each child's education best meets his or her individual needs."
Gianforte is expected to sign the bill.
South Carolina
The South Carolina legislature sent Republican Gov. Henry McMaster a bill to create the Education Scholarship Trust Fund, which will make ESAs available to low- and middle-income families.
By year three, families earning up to 400% of the federal poverty line (currently $120,000 for a family of four) will be eligible for ESAs worth up to $6,000 that they can use for a wide variety of education expenses, including private school tuition, tutoring, textbooks, homeschool curriculum, online learning, and more. McMaster is expected to sign the legislation.
"It gives the parent an option," said the bill's sponsor, Republican Sen. Larry Grooms, "It lets the parent decide what is best for their child instead of the government deciding what is best for a child based on the zip code in which you happen to live."
States Where Progress Is Being Made
Several other states are also making progress toward enacting new education choice policies or significantly expanding existing ones, including:
Nebraska
Earlier this month, Nebraska's unicameral legislature passed a bill to create a tax credit scholarship policy by a vote of 33-16.
The bill will need to clear one additional legislative hurdle before heading to the desk of Gov. Jim Pillen, a Republican, who said that the Opportunity Scholarships Act would "give parents, who have kids with the greatest needs, the means to choose a school that serves them best and allows them to thrive."
New Hampshire
The New Hampshire House of Representatives passed a bill raising the income eligibility threshold for the state's Education Freedom Accounts from 300% of the federal poverty line to 350%.
The bill is expected to pass the state senate and has the support of Republican Gov. Chris Sununu, who declared in his state of the state address in February that the accounts are "finally ensuring that the system works for families and that the system meets the needs of the child — not the other way around."
North Carolina
On Wednesday, the North Carolina Senate Education Committee passed a bill that would expand the state's ESA policy to all K-12 students.
"This legislation is about kids first, about families being able to make the best decisions for their child," declared the bill's primary sponsor, Rep. Tricia Cotham, who recently switched her party registration from Democrat to Republican.
Democratic Gov. Roy Cooper has threated to veto the ESA bill, but all of the North Carolina General Assembly's Republicans have signed onto the bill—enough to override a veto.
If enacted, North Carolina would become the seventh state to make education choice available to the families of all K-12 students.
Oklahoma
After months of negotiations, amendments, and not infrequent recriminations, on Wednesday the Oklahoma House of Representatives passedRepublican Gov. Kevin Stitt's compromise education plan.
The plan includes a refundable personal-use tax credit worth $5,000 per student in the first year, with priority going to families earning less than $250,000 per year.
A total of up to $200 million in tax credits would be available. By year thee, the tax credits would be worth $6,500 per pupil and the caps on income and total tax credits available would be eliminated. As a part of the deal, the state would spend about $600 million more on public schools, including funds earmarked for teacher pay raises.
Once again, the Oklahoma Senate responded with their own plan. On Thursday, the senate passed a similar proposal that would give larger tax credits (up to $7,500) to lower-income families, which are reduced as income rises to $5,000 per pupil, with a household income cap of $250,000.
In an effort to pressure the legislature to reach a compromise, Stitt has vetoed 20 unrelated bills. In a veto message, Stitt explained his reasoning:
[U]ntil the people of Oklahoma have a tax cut, until every teacher in the state gets the pay raise they deserve, until parents get a tax credit to send their child to the school of their choice, I am vetoing this unrelated policy and will continue to veto any and all legislation authored by Senators who have not stood with the people of Oklahoma and supported this plan.
The Conservative Case Is the Way to Win
The massive wins and tremendous momentum are a vindication of a key shift in advocacy strategy.
Previously, the school choice movement almost exclusively made its case in terms that appealed to libertarians (freedom, markets, competition, etc.) or liberals (equity, expanding opportunity for the most disadvantaged, etc.), but avoided making values-based arguments that appealed to conservatives out of a fear of alienating potential allies on the left.
However, the teachers' unions' lock on the Democratic party prevented the school choice movement from garnering meaningful support from Democratic legislators. In years past, Democratic support for choice legislation has rarely been decisive. Moreover, attempting to appeal to the Democrats came at a significant policy cost as it often entailed proposing relatively small school choice programs targeted toward low-income families or other disadvantaged groups.
Meanwhile, the school choice movement was not doing enough to appeal to conservative rural Republicans who were skeptical of school choice. As my colleague Jay P. Greene and I observed recently in National Review, "the best prospects for additional universal programs this year are all in states with Republican governors and legislatures."
As we explained, the school choice movement could not afford to continue ignoring conservatives:
The main opposition to these programs in Republican-dominated states has come from rural superintendents, who remind their representatives that the local public school is often the largest employer in small towns. They threaten that anything that undermines the biggest industry in their district is politically dangerous for rural legislators.

The solution to this political challenge is to help inform and organize families in suburban and rural areas who are concerned about the kinds of values their children are being taught in public schools. Radical academic content and school practices are not confined to large urban school districts on the coasts. Even in small towns across America's heartland, public-school staffs have become emboldened to impose values on students that are strongly at odds with those preferred by parents.
Highlighting the ways in which public schools are pushing values and ideas that are anathema to the median red-state parent has increased public support for policies that allow all families to choose the learning environments that align with their values and have public education funding follow their child.
The greater GOP voter intensity in support of education choice has translated into the most massive wave of choice victories ever.
As in years past, nearly all the bills passed in any legislative chamber this year have been with strong Republican support and few if any Democrats. The difference is that there is now sufficient Republican support to pass robust education choice legislation.
Have an opinion about this article? To sound off, please email letters@DailySignal.com and we'll consider publishing your edited remarks in our regular "We Hear You" feature. Remember to include the url or headline of the article plus your name and town and/or state.
Back in 2013, I shared some research showing how school choice produced good results. Not just in terms of student achievement, but also benefits for taxpayers as well.
Since then, I've shared additional research showing how school choice generates good outcomes.
It seems that some lawmakers have learned the right lessons from these studies. Over the past three years, statewide school choice has been enacted in West Virginia, Arizona, Iowa, Utah, Arkansas, and Florida.
In his Wall Street Journal column, Bill McGurn celebrates this wave of victories.
It's been a good year for Milton Friedman. The Nobel Prize-winning economist has been dead for nearly two decades. But the moment has come for the idea that may prove his greatest legacy: Parents should decide where the public funds for educating their children go. Already this year, four states have adopted school choice for everyone—and it's only April.…Florida is the most populous state to embrace full school choice. It follows Iowa, Utah and Arkansas, which passed their own legislation this year. These were preceded by West Virginia in 2021 and Arizona in 2022. More may be coming. Four other states—Oklahoma, Ohio, Wyoming and Texas—have legislation pending. …Corey DeAngelis, a senior fellow with the American Federation for Children, says the mood has shifted. …"I wish Milton Friedman were alive today to see his ideas finally come to fruition," Mr. DeAngelis says. "The dominos are falling and there's nothing Randi Weingarten and the teachers unions can do about it."
My fingers are crossed that Texas approves school choice in the few days, but rest assured I'll celebrate if Oklahoma, Ohio, or Wyoming is the next domino.
P.S. I'm writing today about school choice in part because I'm in Europe as part of the Free Market Road Show and one of the other speakers is Admir Čavalić, who is both an academic and a member of parliament from Bosnia and Herzegovina. Along with two other scholars, Damir Bećirović, and Amela Bešlagić, he did research on support for school choice in the Balkans. Here are some of the responses from parents.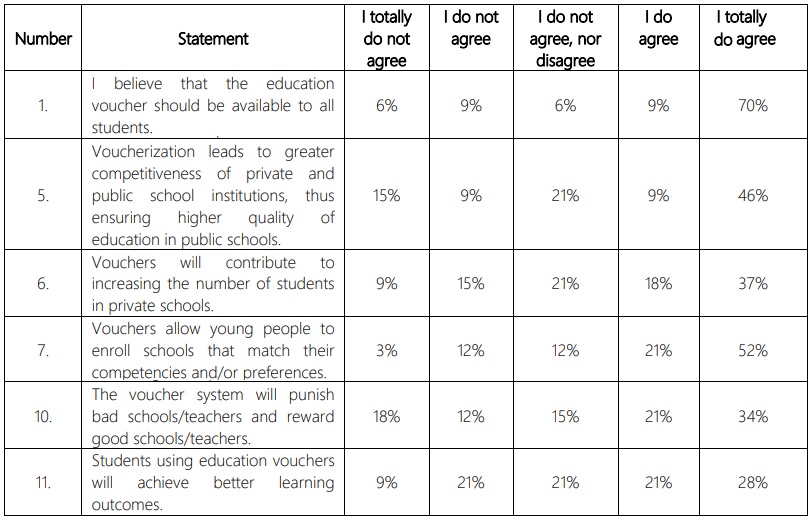 It's very encouraging to find Serbs, Croats, and Bosnians agreeing on an issue. Maybe their governments eventually will adopt school choice, thus joining Sweden, Chile, Canada, and the Netherlands.
I almost feel sorry for the union bosses at the National Education Association and the American Federation of Teachers.
They were upset when West Virginia adopted statewide school choice in 2021 and they got even angrier when Arizona did the same thing in 2022.
So you can only imagine how bitter they are about what's happened so far in 2023.
But notice I started this column by stating that "I almost felt sorry" for union bosses.
In reality, I'm actually overjoyed that they are having a very bad year. Teacher unions are the leading political force in trying to keep kids trapped in bad schools, an approach that is especially harmful to minorities.
Their bad year just got much worse.
That's because Florida just expanded its school choice program so that all children will be eligible.
Here's some of the coverage from Tampa.
A massive expansion of Florida's school-choice programs that would make all students eligible for taxpayer-backed vouchers is headed to Gov. Ron DeSantis… DeSantis already has pledged to sign the proposal, which includes removing income-eligibility requirements that are part of current voucher programs. …Under the bill, students would be eligible to receive vouchers if they are "a resident of this state" and "eligible to enroll in kindergarten through grade 12" in a public school.
And here's a report from Orlando.
The Florida Senate gave final approval Thursday to a bill creating universal school vouchers… Republican state lawmakers, who hold a supermajority in the Legislature, want to open state voucher programsthat currently provide scholarships to more than 252,000 children with disabilities or from low-income families to all of the 2.9 million school-age children in Florida… The bill would give any parent the choice to receive a voucher for their child to be used for private school tuition or homeschooling services and supplies — as long as that student was not enrolled in public school. DeSantis has been a supporter of the programs.
Let's conclude with some excerpts from a Wall Street Journal editorial.
Florida has long been a leader on K-12 choice, vying with Arizona to offer the most expansive options in the nation. On Thursday Florida caught up with Arizona's universal education savings account program by making its existing school choice offerings available to any student in the state.…The legislation…would remove income eligibility limits on the state's current school voucher programs. It would also expand the eligible uses for the roughly $7,500 accounts to include tutoring, instructional materials and other education expenses, making these true ESAs rather than simply tuition vouchers. The bill prioritizes lower-income families and provides for home-schooled students to receive funds. Gov. Ron DeSantis, who has greatly advanced school choice in his state, is expected to sign.
By the way, the WSJ notes that Georgia may fall short in the battle to give families better educational options. As a rabid Georgia Bulldog who likes nothing better than stomping on the Florida Gators, it galls me that a handful of bad Republican legislators in the Peach State are standing in the proverbial schoolhouse door.
I'll close by noting that there already are many reasons for Americans to migrate to Florida, such as no state income tax.
School choice means that there will be another big reason to move to the libertarian-friendly Sunshine State.
P.S. I can't wait to see what this map looks like next year.
Milton Friedman – Educational Vouchers
A big advantage of living in a constitutional republicis that individual rights are protected from "tyranny of the majority."
Assuming courts are doing their job, it doesn't matterif 90 percent of voters support restrictions on free speech.
Assuming courts are doing their job, it doesn't matter if 90 percent of voters support gun confiscation.
Assuming courts are doing their job, it doesn't matter if 90 percent of voters support warrantless searches.
That being said, a constitutional republic is a democratic form of government. And if government is staying within proper boundaries, political decisions should be based on majority rule, as expressed through elections.
In some cases, that will lead to decisions I don't like. For instance, the (tragic) 16th Amendment gives the federal government the authority to impose an income tax and voters repeatedly have elected politicians who have opted to exercise that authority.
Needless to say, I will continue my efforts to educate voters and lawmakers in hopes that eventually there will be majorities that choose a different approach. That's how things should work in a properly functioning democracy.
But not everyone agrees.
A report in the New York Times, authored by Elizabeth Harris and Alexandra Alter, discusses the controversy over which books should be in the libraries of government schools.
The Keller Independent School District, just outside of Dallas, passed a new rule in November: It banned books from its libraries that include the concept of gender fluidity. …recently, the issue has been supercharged by a rapidly growing and increasingly influential constellation of conservative groups.The organizations frequently describe themselves as defending parental rights. …"This is not about banning books, it's about protecting the innocence of our children," said Keith Flaugh, one of the founders of Florida Citizens Alliance, a conservative group focused on education… The restrictions, said Emerson Sykes, a First Amendment litigator for the American Civil Liberties Union, infringe on students' "right to access a broad range of material without political censorship." …In Florida, parents who oppose book banning formed the Freedom to Read Project.
As indicated by the excerpt, some people are very sloppy with language.
If a school decides not to buy a certain book for its library, that is not a "book ban." Censorship only exists when the government uses coercion to prevent people from buying books with their own money.
As I wrote earlier this year, "The fight is not over which books to ban. It's about which books to buy."
And this brings us back to the issue of democracy.
School libraries obviously don't have the space or funds to stock every book ever published, so somebody has to make choices. And voters have the ultimate power to make those choices since they elect school boards.
I'll close by noting that democracy does not please everyone. Left-leaning parents in Alabama probably don't always like the decisions of their school boards,just like right-leaning parents in Vermont presumably don't always like the decisions of their school boards.
And the same thing happens with other contentious issues, such as teaching critical race theory.
Which is why school choice is the best outcome. Then, regardless of ideology, parents can choose schools that have the curriculum (and books) that they think will be best for their children.
P.S. If you want to peruse a genuine example of censorship, click here.
Since teacher unions care more about lining their pockets and protecting their privileges rather than improving education, I'll never feel any empathy for bosses like Randi Weingarten.
That being said, the past couple of years have been bad news for Ms Weingarten and her cronies.
Not only is school choice spreading – especially in states such as Arizona and West Virginia, but we also are getting more and more evidence that competition produces better results for schoolkids.
In a study published by the National Bureau of Economic Research, Professors David N. Figlio, Cassandra M.D. Hart & Krzysztof Karbownikfound that school choice led to benefits even for kids who remained stuck in government schools.
They enjoyed better academic outcomes, which is somewhat surprising, but even I was pleasantly shocked to see improved behavioral outcomes as well.
School choice programs have been growing in the United States and worldwide over the past two decades, and thus there is considerable interest in how these policies affect students remaining in public schools. …the evidence on the effects of these programs as they scale up is virtually non-existent. Here, we investigate this question using data from the state of Florida where, over the course of our sample period, the voucher program participation increased nearly seven-fold.We find consistent evidence that as the program grows in size, students in public schools that faced higher competitive pressure levels see greater gains from the program expansion than do those in locations with less competitive pressure. Importantly, we find that these positive externalities extend to behavioral outcomes— absenteeism and suspensions—that have not been well-explored in prior literature on school choice from either voucher or charter programs. Our preferred competition measure, the Competitive Pressure Index, produces estimates implying that a 10 percent increase in the number of students participating in the voucher program increases test scores by 0.3 to 0.7 percent of a standard deviation and reduces behavioral problems by 0.6 to 0.9 percent. …Finally, we find that public school students who are most positively affected come from comparatively lower socioeconomic background, which is the set of students that schools should be most concerned about losing under the Florida Tax Credit Scholarship program.
It's good news that competition from the private sector produces better results in government schools.
But it's great news that those from disadvantaged backgrounds disproportionately benefit when there is more school choice.
Wonkier readers will enjoy Figure A2, which shows the benefits to regular kids on the right and disadvantaged kids on the left.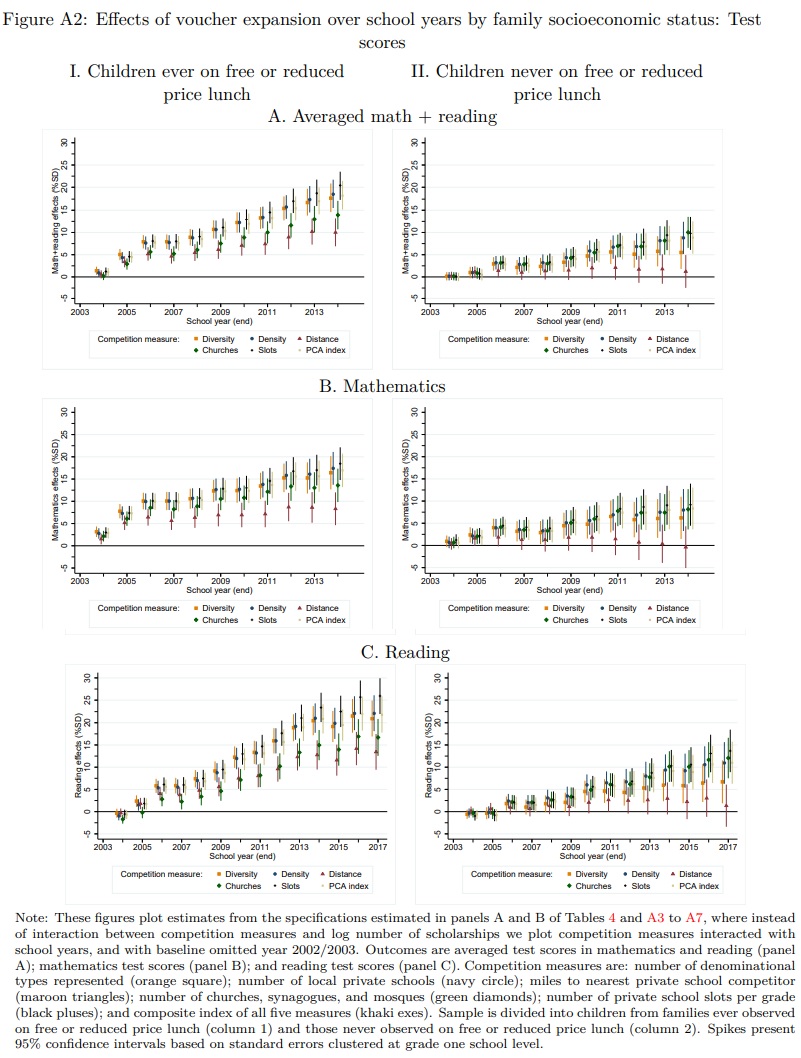 Since the study looked at results in Florida, I'll close by observing that Florida is ranked #1 for education freedom and ranked #3 for school choice.
P.S. Here's a video explaining the benefits of school choice.
P.P.S. There's international evidence from Sweden, Chile, Canada, and the Netherlands, all of which shows superior results when competition replaces government education monopolies.
———-
Milton Friedman chose the emphasis on school choice and school vouchers as his greatest legacy and hopefully the Supreme Court will help that dream see a chance!
The case for school choice is very straightforward.
The good news is that there was a lot of pro-choice reform in 2021.
West Virginia adopted a statewide system that is based on parental choice. And many other states expanded choice-based programs.
But 2022 may be a good year as well. That's because the Supreme Court is considering whether to strike down state laws that restrict choice by discriminating against religious schools.
Michael Bindas of the Institute for Justice and Walter Womack of the Southern Christian Leadership Conference make the case for a level playing field in a column for the New York Times.
In 2002, the Supreme Court held that the Constitution allows school choice programs to include schools that provide religious instruction, so long as the voucher program also offers secular options. The question now before the court is whether a state may nevertheless exclude schools that provide religious instruction. The case, Carson v. Makin, …concerns Maine's tuition assistance program. In that large and sparsely populated state, over half of the school districts have no public high schools. If a student lives in such a district, and it does not contract with another high school to educate its students, then the district must pay tuition for the student to attend the school of her or his parents' choice. …But one type of school is off limits: a school that provides religious instruction. That may seem unconstitutional, and we argue that it is. Only last year, the Supreme Court, citing the free exercise clause of the Constitution, held that states cannot bar students in a school choice program from selecting religious schools when it allows them to choose other private schools. …The outcome will be enormously consequential for families in public schools that are failing them and will go a long way toward determining whether the most disadvantaged families can exercise the same control over the education of their children as wealthier citizens.
The Wall Street Journal editorialized on this issue earlier this week.
Maine has one of the country's oldest educational choice systems, a tuition program for students who live in areas that don't run schools of their own. Instead these families get to pick a school, and public funds go toward enrollment. Religious schools are excluded, however, and on Wednesday the Supreme Court will hear from parents who have closely read the First Amendment.…Maine argues it isn't denying funds based on the religious "status" of any school… The state claims, rather, that it is merely refusing to allocate money for a "religious use," specifically, "an education designed to proselytize and inculcate children with a particular faith." In practice, this distinction between "status" and "use" falls apart. Think about it: Maine is happy to fund tuition at an evangelical school, as long as nothing evangelical is taught. Hmmm. …A state can't subsidize tuition only for private schools with government-approved values, and trying to define the product as "secular education" gives away the game. …America's Founders knew what they were doing when they wrote the First Amendment to protect religious "free exercise."
What does the other side say?
Rachel Laser, head of Americans United for Separation of Church and State, doesn't want religious schools to be treated equally under school choice programs.
Here's some of her column in the Washington Post.
…two sets of parents in Maine claim that the Constitution's promise of religious freedom actually requires the state to fund religious education at private schools with taxpayer dollars — as a substitute for public education. This interpretation flips the meaning of religious freedom on its head and threatens both true religious freedom and public education.…The problem here is even bigger than public funds paying for praying, as wrong as that is. Unlike public schools, private religious schools often do not honor civil rights protections, especially for LGBTQ people, women, students with disabilities, religious minorities and the nonreligious. …If the court were to agree with the parents, it would also be rejecting the will of three-quarters of the states, which long ago enacted clauses in their state constitutions and passed statutes specifically prohibiting public funding of religious education. …It is up to parents and religious communities to educate their children in their faith. Publicly funded schools should never serve that purpose.
These arguments are not persuasive.
The fact that many state constitutions include so-called Blaine amendments actually undermines her argument since those provisions were motivated by a desire to discriminate against parochial schools that provided education to Catholic immigrants.
And it's definitely not clear why school choice shouldn't include religious schools that follow religious teachings, unless she also wants to argue that student grants and loans shouldn't go to students at Notre Dame, Brigham Young, Liberty, and other religiously affiliated colleges.
The good news is that Ms. Laser's arguments don't seem to be winning. Based on this report from yesterday's Washington Post, authored by Robert Barnes, there are reasons to believe the Justices will make the right decision.
Conservatives on the Supreme Court seemed…critical of a Maine tuition program that does not allow public funds to go to schools that promote religious instruction. The case involves an unusual program in a small state that affects only a few thousand students. But it could have greater implications… The oral argument went on for nearly two hours and featured an array of hypotheticals. …But the session ended as most suspected it would, with the three liberal justices expressing support for Maine and the six conservatives skeptical that it protected religious parents from unconstitutional discrimination.
I can't resist sharing this additional excerpt about President Biden deciding to side with teacher unions instead of students.
The Justice Department switched its position in the case after President Biden was inaugurated and now supports Maine.
But let's not dwell on Biden's hackery (especially since that's a common affliction on the left).
Instead, let's close with some uplifting thoughts about what might happen if we get a good decision from the Supreme Court when decisions are announced next year.
Maybe I'm overly optimistic, but I think we're getting close to a tipping point. As more and more states and communities shift to choice, we will have more and more evidence that it's a win-win for both families and taxpayers.
Which will lead to more choice programs, which will produce more helpful data.
Lather, rinse, repeat. No wonder the (hypocritical) teacher unionsare so desperate to stop progress.
P.S. There's strong evidence for school choice from nations such as Sweden, Chile, and the Netherlands.
Free To Choose 1980 – Vol. 06 What's Wrong with Our Schools? – Full Video
https://youtu.be/tA9jALkw9_Q



On his birthday, let's celebrate Milton Friedman's vision of enabling parents, not government, to be in control of a child's education.
Wednesday, July 31, 2019
EducationMilton FriedmanSchool ChoiceSchooling
Libertarians and others are often torn about school choice. They may wish to see the government schooling monopoly weakened, but they may resist supporting choice mechanisms, like vouchers and education savings accounts, because they don't go far enough. Indeed, most current choice programs continue to rely on taxpayer funding of education and don't address the underlying compulsory nature of elementary and secondary schooling.
Skeptics may also have legitimate fears that taxpayer-funded education choice programs will lead to over-regulation of previously independent and parochial schooling options, making all schooling mirror compulsory mass schooling, with no substantive variation.
Friedman Challenged Compulsory Schooling Laws
Milton Friedman had these same concerns. The Nobel prize-winning economist is widely considered to be the one to popularize the idea of vouchers and school choice beginning with his 1955 paper, "The Role of Government in Education." His vision continues to be realized through the important work of EdChoice, formerly the Friedman Foundation for Education Choice, that Friedman and his economist wife, Rose, founded in 1996.
July 31 is Milton Friedman's birthday. He died in 2006 at the age of 94, but his ideas continue to have an impact, particularly in education policy.
Friedman saw vouchers and other choice programs as half-measures. He recognized the larger problems of taxpayer funding and compulsion, but saw vouchers as an important starting point in allowing parents to regain control of their children's education. In their popular book, Free To Choose, first published in 1980, the Friedmans wrote:
We regard the voucher plan as a partial solution because it affects neither the financing of schooling nor the compulsory attendance laws. We favor going much farther. (p.161)
They continued:
The compulsory attendance laws are the justification for government control over the standards of private schools. But it is far from clear that there is any justification for the compulsory attendance laws themselves. (p. 162)
The Friedmans admitted that their "own views on this have changed over time," as they realized that "compulsory attendance at schools is not necessary to achieve that minimum standard of literacy and knowledge," and that "schooling was well-nigh universal in the United States before either compulsory attendance or government financing of schooling existed. Like most laws, compulsory attendance laws have costs as well as benefits. We no longer believe the benefits justify the costs." (pp. 162-3)
Still, they felt that vouchers would be the essential starting point toward chipping away at monopoly mass schooling by putting parents back in charge. School choice, in other words, would be a necessary but not sufficient policy approach toward addressing the underlying issue of government control of education.
Vouchers as a First Step
In their book, the Friedmans presented the potential outcomes of their proposed voucher plan, which would give parents access to some or all of the average per-pupil expenditures of a child enrolled in public school. They believed that vouchers would help create a more competitive education market, encouraging education entrepreneurship. They felt that parents would be more empowered with greater control over their children's education and have a stronger desire to contribute some of their own money toward education. They asserted that in many places "the public school has fostered residential stratification, by tying the kind and cost of schooling to residential location" and suggested that voucher programs would lead to increased integration and heterogeneity. (pp. 166-7)
To the critics who said, and still say, that school choice programs would destroy the public schools, the Friedmans replied that these critics fail to
explain why, if the public school system is doing such a splendid job, it needs to fear competition from nongovernmental, competitive schools or, if it isn't, why anyone should object to its "destruction." (p. 170)
What I appreciate most about the Friedmans discussion of vouchers and the promise of school choice is their unrelenting support of parents. They believed that parents, not government bureaucrats and intellectuals, know what is best for their children's education and well-being and are fully capable of choosing wisely for their children—when they have the opportunity to do so.
They wrote:
Parents generally have both greater interest in their children's schooling and more intimate knowledge of their capacities and needs than anyone else. Social reformers, and educational reformers in particular, often self-righteously take for granted that parents, especially those who are poor and have little education themselves, have little interest in their children's education and no competence to choose for them. That is a gratuitous insult. Such parents have frequently had limited opportunity to choose. However, U.S. history has demonstrated that, given the opportunity, they have often been willing to sacrifice a great deal, and have done so wisely, for their children's welfare. (p. 160).
Sign-Up: Receive Kerry's Weekly Parenting and Education Newsletter!
Voucher Programs Today
Today, school voucher programs exist in 15 states plus the District of Columbia. These programs have consistently shown that when parents are given the choice to opt-out of an assigned district school, many will take advantage of the opportunity. In Washington, D.C., low-income parents who win a voucher lottery send their children to private schools.
The most recent three-year federal evaluationof voucher program participants found that while student academic achievement was comparable to achievement for non-voucher students remaining in public schools, there were statistically significant improvements in other important areas. For instance, voucher participants had lower rates of chronic absenteeism than the control groups, as well as higher student satisfaction scores. There were also tremendous cost-savings.
In Wisconsin, the Milwaukee Parental Choice Program has served over 28,000 low-income students attending 129 participating private schools.
According to Corey DeAngelis, Director of School Choice at the Reason Foundation and a prolific researcher on the topic, the recent analysis of the D.C. voucher program "reveals that private schools produce the same academic outcomes for only a third of the cost of the public schools. In other words, school choice is a great investment."
In Wisconsin, the Milwaukee Parental Choice Program was created in 1990 and is the nation's oldest voucher program. It currently serves over 28,000 low-income students attending 129 participating private schools. Like the D.C. voucher program, data on test scores of Milwaukee voucher students show similar results to public school students, but non-academic results are promising.
Increased Access and Decreased Crime
Recent research found voucher recipients had lower crime rates and lower incidences of unplanned pregnancies in young adulthood. On his birthday, let's celebrate Milton Friedman's vision of enabling parents, not government, to be in control of a child's education.
According to Howard Fuller, an education professor at Marquette University, founder of the Black Alliance for Educational Options, and one of the developers of the Milwaukee voucher program, the key is parent empowerment—particularly for low-income minority families.
In an interview with NPR, Fuller said: "What I'm saying to you is that there are thousands of black children whose lives are much better today because of the Milwaukee parental choice program," he says.
"They were able to access better schools than they would have without a voucher."
Putting parents back in charge of their child's education through school choice measures was Milton Friedman's goal. It was not his ultimate goal, as it would not fully address the funding and compulsion components of government schooling; but it was, and remains, an important first step. As the Friedmans wrote in Free To Choose:
The strong American tradition of voluntary action has provided many excellent examples that demonstrate what can be done when parents have greater choice. (p. 159).
On his birthday, let's celebrate Milton Friedman's vision of enabling parents, not government, to be in control of a child's education.
Related posts:
Michael Harrington: If you don't have the expertise, the knowledge technology today, you're out of the debate. And I think that we have to democratize information and government as well as the economy and society. FRIEDMAN: I am sorry to say Michael Harrington's solution is not a solution to it. He wants minority rule, I […] By Everette Hatcher III | Posted in Current Events, Milton Friedman | Edit | Comments (0)
PETERSON: Well, let me ask you how you would cope with this problem, Dr. Friedman. The people decided that they wanted cool air, and there was tremendous need, and so we built a huge industry, the air conditioning industry, hundreds of thousands of jobs, tremendous earnings opportunities and nearly all of us now have air […] By Everette Hatcher III | Posted in Current Events, Milton Friedman | Edit | Comments (0)
Part 5 Milton Friedman: I do not believe it's proper to put the situation in terms of industrialist versus government. On the contrary, one of the reasons why I am in favor of less government is because when you have more government industrialists take it over, and the two together form a coalition against the ordinary […] By Everette Hatcher III | Posted in Current Events, Milton Friedman | Edit | Comments (0)
The fundamental principal of the free society is voluntary cooperation. The economic market, buying and selling, is one example. But it's only one example. Voluntary cooperation is far broader than that. To take an example that at first sight seems about as far away as you can get __ the language we speak; the words […] By Everette Hatcher III | Posted in Current Events, Milton Friedman | Edit | Comments (0)
_________________________ Pt3 Nowadays there's a considerable amount of traffic at this border. People cross a little more freely than they use to. Many people from Hong Kong trade in China and the market has helped bring the two countries closer together, but the barriers between them are still very real. On this side […] By Everette Hatcher III | Posted in Current Events, Milton Friedman | Edit | Comments (0)
Aside from its harbor, the only other important resource of Hong Kong is people __ over 4_ million of them. Like America a century ago, Hong Kong in the past few decades has been a haven for people who sought the freedom to make the most of their own abilities. Many of them are […] By Everette Hatcher III | Posted in Current Events, Milton Friedman | Edit | Comments (0)
"FREE TO CHOOSE" 1: The Power of the Market (Milton Friedman) Free to Choose ^ | 1980 | Milton Friedman Posted on Monday, July 17, 2006 4:20:46 PM by Choose Ye This Day FREE TO CHOOSE: The Power of the Market Friedman: Once all of this was a swamp, covered with forest. The Canarce Indians […]
Milton Friedman The Power of the Market 1-5
If you would like to see the first three episodes on inflation in Milton Friedman's film series "Free to Choose" then go to a previous post I did. Ep. 9 – How to Cure Inflation [4/7]. Milton Friedman's Free to Choose (1980) Uploaded by investbligurucom on Jun 16, 2010 While many people have a fairly […]
By Everette Hatcher III | Also posted in Current Events | Tagged dr friedman, expansion history, income tax brackets, political courage, www youtube | Edit | Comments (0)
Charlie Rose interview of Milton Friedman My favorite economist: Milton Friedman : A Great Champion of Liberty by V. Sundaram Milton Friedman, the Nobel Prize-winning economist who advocated an unfettered free market and had the ear of three US Presidents – Nixon, Ford and Reagan – died last Thursday (16 November, 2006 ) in San Francisco […] By Everette Hatcher III | Posted in Milton Friedman | Edit | Comments (0)
Stearns Speaks on House Floor in Support of Balanced Budget Amendment Uploaded by RepCliffStearns on Nov 18, 2011 Speaking on House floor in support of Balanced Budget Resolution, 11/18/2011 ___________ Below are some of the main proposals of Milton Friedman. I highly respected his work. David J. Theroux said this about Milton Friedman's view concerning […] By Everette Hatcher III | Posted in Milton Friedman | Edit | Comments (0)
Milton Friedman: Free To Choose – The Failure Of Socialism With Ronald Reagan (Full) Published on Mar 19, 2012 by NoNationalityNeeded Milton Friedman's writings affected me greatly when I first discovered them and I wanted to share with you. We must not head down the path of socialism like Greece has done. Abstract: Ronald Reagan […] By Everette Hatcher III | Posted in Milton Friedman, President Obama | Edit | Comments (1)
What a great defense of Milton Friedman!!!! Defaming Milton Friedman by Johan Norberg This article appeared in Reason Online on September 26, 2008 PRINT PAGE CITE THIS Sans Serif Serif Share with your friends: ShareThis In the future, if you tell a student or a journalist that you favor free markets and limited government, there is […]