——
Joshua Arnold / April 05, 2023
In one week, thousands of left-wing protesters entered Capitol buildings in four states, disrupting legislative sessions, mostly over bills to protect women and children from the effects of transgender ideology. Pictured: Demonstrators protest the passing of SB 150 on March 29 at the Kentucky State Capitol in Frankfort, Kentucky. SB 150 guarantees student privacy in bathrooms and locker rooms and protects minors from gender transition procedures. (Photo: Jon Cherry/Getty Images)
COMMENTARY BY
Joshua Arnold is a staff writer at The Washington Stand, contributing both news and commentary from a biblical worldview.
Last week, hundreds or thousands of left-wing protesters entered Capitol buildings in four separate states, disrupting legislative chambers holding session in at least two of them.
In three out of four incidents, the protesters explicitly opposed legislation to defend children, families, and women from the harmful effects of transgender ideology; in the other incident, a protest for gun control lapsed into pro-transgender overtones. The strange, unprecedented nature of these Capitol occupations renders the media's near-silence on them only more astounding.
Let's begin by reviewing the facts, as you likely haven't seen or heard about these incidents anywhere else.
March 27: Austin, Texas
On Monday afternoon, the open-air rotunda of the Texas Capitol extension was "completely full" with pro-transgender protesters who gathered "to oppose HB 1686," which would prohibit gender transition procedures on minors "for the purpose of transitioning a child's biological sex."
A photo shows what appears to be at least hundreds of protesters filling three levels of the rotunda while one account estimated the number at "over a thousand activists." The extension of the open-air rotunda is available for public events, but the public calendar shows no scheduled events on March 27.
A committee of the Texas legislature heard testimony Monday on numerous bills to protect minors from gender transition procedures and drag shows, among other topics that angered transgender ideologues. Protesters held up paper signs representing 140 bills they opposed.
The activists remained at the open-air rotunda—which appears to be accessed via underground entrances through the Capitol complex—from mid-afternoon until sometime after nightfall, at which point hundreds of activists then entered the Capitol. The activists can be heard chanting, "Shut it down," as they exited the rotunda, and then echoing through the hallways, "Protect trans kids."
Apparently more than 2,500 people signed up to testify on HB 1686, but Chairwoman Stephanie Klick, a Republican, ended the testimony at midnight.
In response, the transgender protesters staged a "die-in" in which protesters lie on the ground and pretend to be dead—except for that one girl on her phone. The chant "Protect trans kids" could still be heard as protesters began to lie down on the ground, completely blocking the hallways in violation of the Texas Capitol's demonstration policy. Legislators and others who testified at the hearing—including detransitioners—were forced to step over the people lying on the ground as they chanted. After the "die-in," protesters went back to the open-air rotunda and continued their chant for over half an hour.
March 29: Frankfort, Kentucky
Before the Kentucky House and Senate convened at noon to consider a veto override attempt on SB 150, opponents and supporters of the legislation held dueling rallies at the Capitol. SB 150 promotes parental rights in education, guarantees student privacy in bathrooms and locker rooms, and protects minors from gender transition procedures.
Hundreds of pro-transgender activists had gathered early in the morning for a rally on the Capitol steps, including students from more than half a dozen schools.
After the pro-SB 150 rally in the Capitol rotunda concluded, pro-transgender protesters gathered in that space, although some had occupied a second-floor balcony during that rally. A bearded man, grotesquely dressed as either a "clown nun" or a demon, led the mostly teenaged crowd in an ironic chant of "Shame, shame, shame." They continued to chant for hours outside the Senate chamber as the Senate discussed the veto override.
Around 2 p.m., the Senate voted 29-8 to override the veto. The Senate then sent the bill over to the House chambers, and the House began debate. But before the House could hold an override vote, protesters filled the overhead gallery, carrying signs and chanting loudly. Shortly before 3 p.m., the chanting grew so loud that it drowned out the debate taking place in the chamber below, disrupting the legislature's proceedings.
Police removed the protesters from the gallery while they chanted, "Trans kids are under attack." The protesters linked arms in their seats, forcing police to exert considerable force to separate them one by one. The police arrested 19 people in total, charging them with criminal trespassing in the third degree.
All protesters were released from jail by 1 a.m. Thursday.
The House voted 76-23 to override the veto at around 3:30 p.m., after order was restored.
Protesters remained in the Capitol rotunda, chanting, even after both chambers had voted to override the bill—although their chant changed to "Vote them out."
March 30: Nashville, Tennessee
"Thousands, not hundreds" of protesters, according to one left-wing Twitter account, gathered early Thursday morning at the Tennessee state Capitol "demanding stronger gun laws." One reporter said the pro-gun control crowd was "flooding into the Tennessee Capitol."
"Demonstrators entered the Capitol peacefully—but loudly—and climbed to the second floor, where they deafeningly chanted 'do something' as lawmakers arrived at both chambers for the day's legislative business," said The Tennessean's Vivian Jones. "State troopers removed a handful of protesters who disrupted House and Senate proceedings."
Sometime that afternoon, reporters captured footage of half a dozen police officers holding a doorway against a large, screaming crowd pressing against them. In the video, the officers take hold of one protester, discuss among themselves—presumably whether to arrest him—and then return him to the crowd as they chant, "Give him back."
The reporter who took the video deleted her original tweet and then reposted it to Twitter, explaining: "I deleted the last tweet because I wasn't as clear. This was a peaceful protest. Students, parents and their supporters went through Capitol security to lobby for gun control in the Capitol. No one was arrested. This shoving started when THP [Tennessee Highway Patrol] needed to make way for lawmakers."
Breitbart reporter Spencer Lindquist provided additional context to the controversial footage. "Protesters in the Tennessee Capitol blocked a bathroom doorway, preventing a legislator from exiting," he explained. "That's the lead up to this widely circulated video."
The only quiet moment came when protesters held a moment of silence for the six victims of the Nashville shooting. They held up fingers to indicate the number of victims—but with a twist. "There was a disagreement over how many victims the Nashville shooting had," Lindquist reported. "Some held up six fingers—others held up seven to commemorate the trans shooter as well."
In the video, an overwhelming majority of protesters appear to be holding up seven fingers, while others can be seen switching their raised fingers from six to seven.
At around 11:50 a.m., three elected representatives joined in the protest. Democrat Reps. Justin Jones, Gloria Johnson, and Justin Pearson commandeered the House lectern with a sign reading, "Protect kids, not guns."
Jones began leading the protesters in a chant of "No action, no peace" and "Shame, shame, shame" with a bullhorn. "If we don't quit, we can't lose. We will not be quiet. We will not be silent. You are being heard. Thank you for being here," Pearson told the protesters in the gallery.
"House immediately recessed," said Vivian Jones (no relation to Justin). "Party leaders look like they're conferring to figure out what to do."
The House remained in recess until 11:42 a.m., a 52-minute disruption. During the recess, members retired to meet separately as party caucuses.
Further footage shows Minority Leader Karen Camper, a Democrat, apparently scolding the three lawmakers for disregarding the House rules.
This was not the first irregular outburst by the activist members. On Monday of last week, Pearson continued speaking after his mic was cut off when he criticized as "out of order" a House resolution offered earlier this session to defend the Second Amendment.
"These actions are a blatant disregard for house rules & toward the Sgt. At Arms," vented Tennessee House Speaker Cameron Sexton, a Republican, adding, "Their actions are and will always be unacceptable, and they break several rules of decorum and procedure on the House floor. Their actions and beliefs that they could be arrested on the House floor were an effort, unfortunately, to make themselves the victims."
The controversy may not be over for the three activist legislators. On April 3, Jones said that he and his comrades had been stripped of committee assignments and that their member ID badges had been shut off. "This is not what democracy looks like," Jones complained.
Later that day, a resolution was filed to unseat Jones from the Tennessee House, which is scheduled for consideration on April 6. The resolution contends that Jones, Johnson, and Pearson "did knowingly and intentionally bring disorder and dishonor to the House of Representatives through their individual and collective actions."
It adds that "such disorderly behavior on the part of Representative Jones reflects adversely upon the integrity and dignity of the House of Representatives of the State of Tennessee, places a cloud upon the action of this Honorable Body, and is inconsistent with the duty of a member of this Body."
It seems that Jones has found it difficult to leave behind his radical activist past. Before his election to the Tennessee House of Representatives, Jones was repeatedly arrested for his left-wing street activism.
In 2017, he (Justin Bautista-Jones) was arrested for disorderly conduct during a vigil for the Charlottesville victims. Police told him "not to jump in front of moving marked police cars," said the arrest report, and then he "jumped in front of a moving patrol car."
In 2018, he was arrested for disrupting a rally for then-Rep. Marsha Blackburn's, R-Tenn., Senate campaign.
In 2019, he allegedly threw a beverage on Tennessee House Speaker Glen Casada and another House member. He had to post a $4,150 bond and was temporarily banned from the Tennessee Capitol as a condition of his release.
In 2020, it seems Jones was actively leading Black Lives Matter protests in Nashville. He was charged with "felony aggravated rioting" for walking on a police car during a Black Lives Matter protest, although charges were soon dropped.
Again in 2020, Jones was arrested with 55 other protesters on suspicion of criminal trespassing after "the group physically removed barriers and charged the steps" of the Tennessee Capitol.
The Tennessean reported in 2021 that Jones "faced more than 15 charges ranging from trespassing to assault between June and August 2020," which were later dropped.
March 31: Tallahassee, Florida
Led by the Student Unity Coalition of South Florida, approximately 200 people (mostly college students) marched from Florida State University over to the state Capitol's rotunda (within easy walking distance) on Friday. The protesters wore rainbow flags, LGBT pins, and face paint and chanted, "This is what democracy looks like," and, "Erasers are for blackboards, not for people."
The Florida House considered a number of bills on Friday, including H.B. 1069, which would expand the Parental Rights in Education Act passed last year, which nationwide left-wingers baselessly dubbed the "Don't Say Gay" bill.
Passed by a vote of 77-35, the bill would clarify provisions on school libraries, adjudication processes, and the biological basis for its definition of sex. When the bill passed the House, the protesters let out a long, collective scream, "No!" and then broke out into a chant, "Whose schools? Our schools!"
Insurrections? Maybe Not.
Predictably, some voices on the Right invoked comparisons to the events of Jan. 6, 2021.
"Leftists storm Tennessee capitol," tweeted Human Events senior editor Jack Posobiec.
"A group of insurrectionists occupied the Kentucky State Capitol," said Libs of TikTok.
"This was the second so-called 'transsurrection' since the Monday shooting," wrote World Net Daily.
Just as predictably, these comparisons provided an easy opening to left-wing refutations.
"Right-wing media attacked the legal and pre-planned protest as 'another insurrection,' apparently referring to the Jan 6th GOP Insurrection at the nation's Capitol building that resulted in five deaths and hundreds jailed," ran a Newsbreak blurb.
A Newsweek fact-check rated the claim as "False," arguing that the protesters were peaceful and eventually left the Capitol.
As usual, the truth is more complex and nuanced. The protests were, in fact, mostly peaceful; although the shoving of law enforcement officers in Nashville entered a gray area. No injuries, fires, or even vandalism occurred at any of the demonstrations, to my knowledge. Additionally, the vast majority of protesters seem to have entered state Capitol buildings legally.
At the same time, the protesters did seek to disrupt, obstruct, or intimidate lawmakers by their presence. In Kentucky and Tennessee, protesters drowned out legislative debate, and in Tennessee and Texas, they obstructed the thruways of the state Capitol. State law enforcement did remove protesters in Nashville and arrested them in Frankfort.
In all four instances, protesters were extremely loud and disrespectful in the People's House and sought to unduly influence the people's elected representatives by their presence. Even media accounts that insist the protests were peaceful also admit that the disruptions to legislative business were "unprecedented."
Those on the Right cannot correct the media's hyperbolic narrative about Jan. 6 by committing the same mistake of irresponsibly slapping the label of "insurrection" on incidents that don't qualify. That doesn't mean we can't point out unacceptable behavior and demand accountability. It does mean that we should be accurate in how we describe and characterize it.
An Emerging Pattern
What happened last week at these four Capitols is part of an emerging pattern in left-wing direct action. Activists strategically plan rallies at state Capitols on days when legislation they oppose is scheduled to receive a hearing or a vote. They then organize, show up in force, stay all day, and make as much noise as possible.
Recently, these protests almost always target legislation that aims to protect minors from the ever-expanding agenda of the transgender ideology. And occasionally, the protesters attempt to disrupt the legislature from conducting business as scheduled—and sometimes, they even succeed.
Unfortunately, this pattern is not new, but it is now occurring more frequently. Last year, pro-abortion activists tried to force their way into legislative chambers in Arizona and Indiana. Left-wing protesters also disrupted legislative proceedings in Texas in 2013 and Wisconsin in 2011. Those are two incidents of actual or attempted disruption during the 2010s decade, two incidents in 2022, and three incidents last week alone.
These aren't the only "trans-centric" Capitol protests that have occurred this year.
On Feb. 6, 150 "trans lives matter" protesters occupied the Capitol rotunda in Oklahoma City to protest legislation to protect young people from gender transition procedures, forcing legislators to pass through the sea of protesters in order to reach the chamber where Republican Gov. Kevin Stitt was scheduled to give his "State of the State" address.
On March 9, more than 100 activists assembled in the rotunda of the Capitol in Charleston, West Virginia, to protest legislation with the same intent (later severely watered down).
When they can't assemble inside a state Capitol, these LGBT activists will assemble outside. On March 5 (the day of the domestic terrorism arrests in Atlanta), over 2,000 people assembled outside the Iowa Capitol in Des Moines to protest bills protecting children from gender transition procedures, opposite-sex bathroom intrusions, age-inappropriate sexual instruction, and a school's hiding gender identity from their parents.
On March 29, hundreds of pro-transgender protesters rallied outside the Missouri Capitol in Jefferson City, where lawmakers are also considering a range of bills to protect minors.
Activists for the transgender agenda have the same rights as every other American "peaceably to assemble, and to petition the Government for a redress of grievances." As long as their demonstrations remain (truly) peaceful, then transgender activists are within their rights and within the law.
But, likely driven by a perverse media narrative, pro-transgender demonstrations seem to turn violent abnormally often. When hundreds or thousands of angry protesters, who constantly hear that powerful interests want to erase them from existence, assemble at the site of that power, there's always a possibility that violence might erupt. So, when a demonstration day concludes peaceably, it's worth breathing a sigh of relief.
What isn't clear is how increasing numbers of activists can assemble for extended periods at state Capitols increasingly often. When social conservatives hold a rally, like the supporters of Kentucky's SB 150, they might assemble for an hour or two and then disperse because they have jobs, kids, and other responsibilities. But the pro-transgender protesters—hundreds or thousands of them—seem determined to camp out all day.
Is someone paying them to protest? Is someone at least providing a stipend to subsidize their travel, lodging, and food? They are predominantly young people who, presumably, aren't independently wealthy, so it's highly likely that someone else's deep pockets are behind the increasing organization of these protests.
What is clear, to use their phrase, is that this isn't what democracy looks like. Laws that represent the will of the people should be made by the elected representatives of the people, duly seated in the legislature. They should not be dictated by any gathering of several hundred or thousand people who show up. Such direct action to pressure or intimidate legislatures has far more in common with European revolutionary movements (fascism, communism) than with traditional American democracy.
The First Amendment rights to speech, press, assembly, and petition are a part of America's constitutional system, but they are designed to protect minority groups from the abuses of the majority—in other words, a check on democratic rule. The contradiction in the claims of these pro-transgender protesters is that they are simultaneously claiming to represent an oppressed minority and to represent the will of the people.
In reality, the pro-transgender protesters represent neither the will of the people—hence the overwhelmingly passed state laws—nor an oppressed minority. While they are a minority, they are widely celebrated, from the White House to Hollywood to the Country Music Awards.
The very same day that a transgender-identifying murderer entered a Christian school and killed three children and three adults, pro-transgender activists pretended they were the victims by staging a die-in in the Texas Capitol. This shameful charade then continued all week, as this group with outsized cultural influence shamelessly chanted "shame" because state legislatures sought to protect children from their predation.
"Whose [elementary] schools?" asked Florida college students. "Our schools."
Nope, they belong to the people of Florida, as represented by the duly elected members of their legislature.
This piece originally appeared in The Washington Stand.
The Daily Signal publishes a variety of perspectives. Nothing written here is to be construed as representing the views of The Heritage Foundation.
Have an opinion about this article? To sound off, please email letters@DailySignal.com, and we'll consider publishing your edited remarks in our regular "We Hear You" feature. Remember to include the URL or headline of the article plus your name and town and/or state.
———
• Volume 50, Number 9 • Roger Kimball
Roger Kimball
Editor and Publisher, The New Criterion
---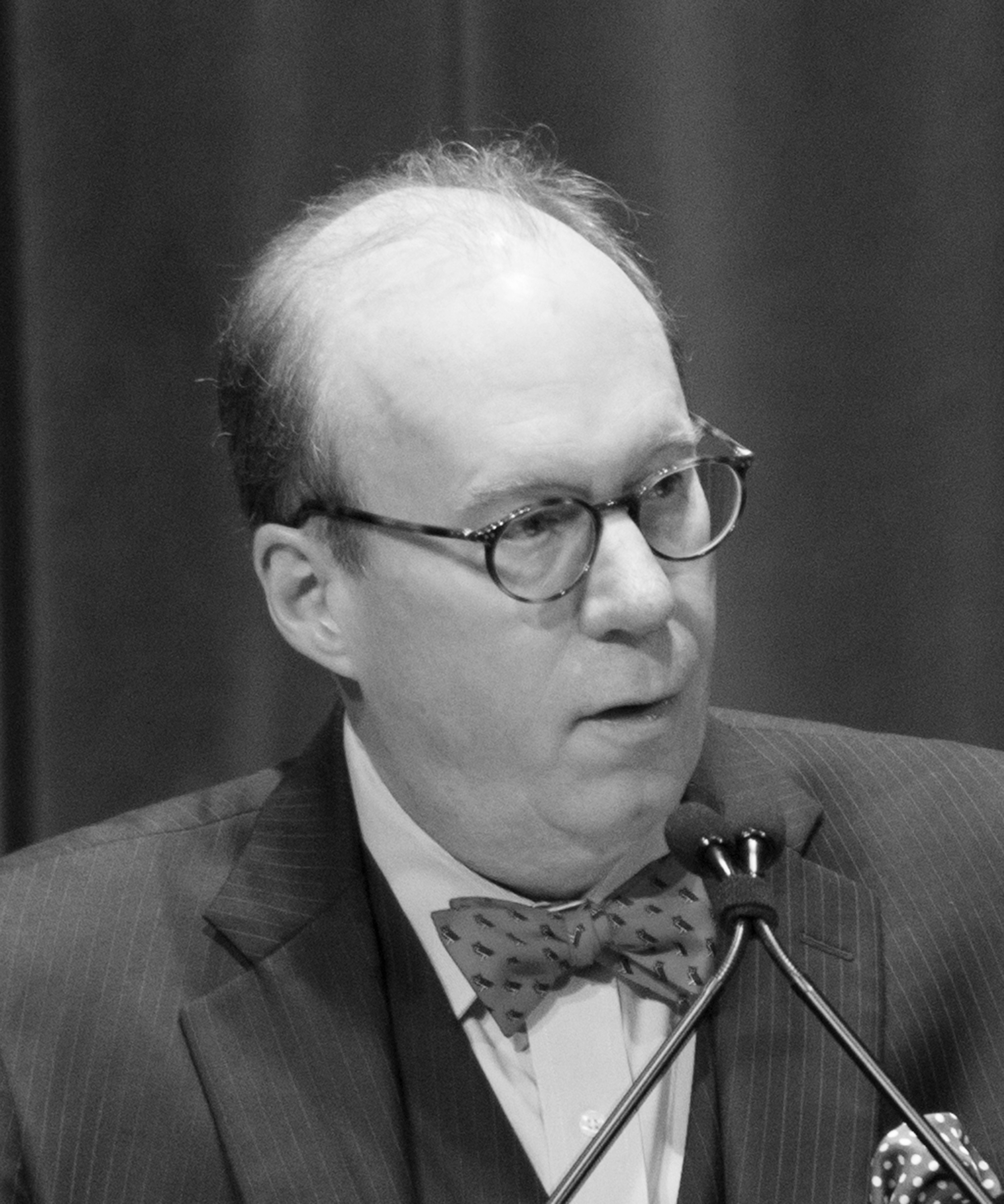 Roger Kimball is editor and publisher of The New Criterionand publisher of Encounter Books. He earned his B.A. from Bennington College and his M.A. and M.Phil. in philosophy from Yale University. He has written for numerous publications, including The Wall Street Journal and The New York Times Book Review, and is a columnist for The Spectator World, American Greatness, and The Epoch Times. He is editor or author of several books, including The Long March: How the Cultural Revolution of the 1960s Changed America, The Rape of the Masters: How Political Correctness Sabotages Art, Tenured Radicals: How Politics Has Corrupted Our Higher Education, and Vox Populi: The Perils and Promises of Populism.
The following is adapted from a lecture delivered at Hillsdale College on September 20, 2021, during a Center for Constructive Alternatives conference on "Critical American Elections."
Notwithstanding all the hysterical rhetoric surrounding the events of January 6, 2021, two critical things stand out. The first is that what happened was much more hoax than insurrection. In fact, in my judgment, it wasn't an insurrection at all.
An "insurrection," as the dictionary will tell you, is a violent uprising against a government or other established authority. Unlike the violent riots that swept the country in the summer of 2020—riots that caused some $2 billion in property damage and claimed more than 20 lives—the January 6 protest at the Capitol building in Washington, D.C. lasted a few hours, caused minimal damage, and the only person directly killed was an unarmed female Trump supporter who was shot by a Capitol Police officer. It was, as Tucker Carlson said shortly after the event, a political protest that "got out of hand."
At the rally preceding the events in question, Donald Trump had suggested that people march to the Capitol "peacefully and patriotically"—these were his exact words—in order to make their voices heard. He did not incite a riot; he stirred up a crowd. Was that, given the circumstances, imprudent? Probably. Was it an effort to overthrow the government? Hardly.
I know this is not the narrative that we have all been instructed to parrot. Indeed, to listen to the establishment media and our political masters, the January 6 protest was a dire threat to the very fabric of our nation: the worst assault on "our democracy" since 9/11, since Pearl Harbor, and even—according to Joe Biden last April—since the Civil War!
Note that phrase "our democracy": Nancy Pelosi, Joe Biden, and various talking heads have repeated it ad nauseam. But you do not need an advanced degree in hermeneutics to understand that what they mean by "our democracy" is their oligarchy. Similarly, when Pelosi talks about "the people's house," she doesn't mean a house that welcomes riff-raff like you and me.
I just alluded to Ashli Babbitt, the unarmed supporter of Donald Trump who was shot and killed on January 6. Her fate brings me to the second critical thing to understand about the January 6 insurrection hoax. Namely, that it was not a stand-alone event.
On the contrary, what happened that afternoon, and what happened afterwards, is only intelligible when seen as a chapter in the long-running effort to discredit and, ultimately, to dispose of Donald Trump—as well as what Hillary Clinton might call the "deplorable" populist sentiment that brought Trump to power.
In other words, to understand the January 6 insurrection hoax, you also have to understand that other long-running hoax, the Russia collusion hoax. The story of that hoax begins back in 2015, when the resources of the federal government were first mobilized to spy on the Trump campaign, to frame various people close to Trump, and eventually to launch a full-throated criminal investigation of the Trump administration.
From before Trump took office, the Russia collusion hoax was used as a pretext to create a parallel administration shadowing the elected administration. Remember the Steele dossier, the fantastical document confected by the "well-regarded" former British spy Christopher Steele? We know now that it was the only relevant predicate for ordering FISA warrants to spy on Carter Page and other American citizens.
But in truth, the Steele dossier was just opposition dirt covertly paid for by the Democratic National Committee and the Hillary Clinton campaign. From beginning to end, it was a tissue of lies and fabrications. Everyone involved knew all along it was garbage—rumors and fantasies fed to a gullible Steele by shady Russian sources. But it was nonetheless used to deploy, illegally, the awesome coercive power of the state against a presidential candidate of whom the ruling bureaucracy and its favored candidate disapproved.
The public learned that the Democratic National Committee paid for the manufactured evidence only because of a court order. James Comey, the disgraced former director of the FBI, publicly denied knowing who paid for it, but emails from a year earlier prove that he knew all along. And what was the penalty for lying in Comey's case? He got a huge book deal and toured the country denouncing Trump to the gleeful satisfaction of his anti-Trump audiences.
What was true of Comey was also true of the entire intelligence apparat, from former CIA Director John Brennan to Congressman Adam Schiff and other Democratic members of the House Intelligence Committee to senior members of the FBI. All these people said publicly that they had seen clear evidence of collusion with Russia. But they admitted under oath behind closed doors that they hadn't.
General Michael Flynn, Trump's original National Security Advisor, had his career ruined and was bankrupted as part of this political vendetta. Meanwhile James Comey, Andrew McCabe, Lisa Page, John Brennan, Peter Strzok, and all the rest of the crew at the FBI, the CIA, and other intelligence agencies suffered nothing. When it came to light that an FBI lawyer altered an email in order to help get a FISA warrant—in other words, that he doctored evidence to spy on a political opponent, which is a felony—he got probation.
The recent news that Special Counsel John Durham is indicting Michael Sussman, a lawyer who covertly worked for the Clinton campaign and lied to the FBI, is welcome news. But it seems like small beer given the rampant higher-level corruption that saturated the Russia collusion hoax.
At least 74 million citizens voted for Donald Trump in 2020, which is at least 11 million more than voted for him in 2016. Many of those voters are profoundly disillusioned and increasingly angry about this entire story—the years-long Robert Mueller "investigation," the two impeachments of President Trump, the cloud of unknowing that surrounds the 2020 election, and the many questions that have emerged not only from the January 6 protest at the Capitol, but even more from the government's response to that protest.
Which brings me back to Ashli Babbitt, the long-serving Air Force veteran who was shot and killed by a nervous Capitol Police officer. Babbitt was a useful prop when the media was in overdrive describing the January 6 events as an "armed insurrection" in which wild Trump supporters, supposedly at Trump's instigation, attacked the Capitol with the intention of overturning the 2020 election.
According to that narrative, five people, including Babbitt, died in the skirmish. Moreover, it was said, Capitol Police Officer Brian Sicknick was bludgeoned to death by a raging Trump supporter wielding a fire extinguisher. That gem of a story about the fire extinguisher, reported in our former paper of record, The New York Times, was instantly picked up by other media outlets and spread like a Chinese virus.
Of course, it is absolutely critical to the Democratic Party narrative that the January 6 incident be made to seem as violent and crazed as possible. Hence the comparisons to 9/11, Pearl Harbor, and the Civil War. Only thus can pro-Trump Americans be excluded from "our democracy" by being branded as "domestic extremists" if not, indeed, "domestic terrorists."
The Sixth Amendment to the Constitution accords American citizens the right to a speedy trial. But most of the political prisoners of January 6—many of whom have been kept in solitary confinement—are still waiting to be brought to trial. And although the media was full of predictions that they would be found guilty of criminal sedition, none has.
Indeed, the prosecution's cases seem to be falling apart. Most of the hundreds who have been arrested are being charged with trespassing. Another charge being leveled against them is "disrupting an official proceeding." This is a felony charge designed not for ceremonial procedures like the January 6 certification of the vote, but rather for disrupting Congressional inquiries—for example, by shredding documents relevant to a Congressional investigation. It originated during the George W. Bush administration to deal with the Enron case.
The indisputable fact about January 6 is that although five people died at or near the Capitol on that day or soon thereafter, none of these deaths was brought about by the protesters. The shot fired by Capitol Police Officer Michael Byrd that hit Ashli Babbitt in the neck and killed her was the only shot fired at the Capitol that day. No guns were recovered from the Capitol on January 6. Zero.
The liberal commentator Glenn Greenwald further diminished the "armed insurrection" narrative in an important column last February titled "The False and Exaggerated Claims Still Being Spread About the Capitol Riot." The title says it all. Kevin Greeson, Greenwald notes, was killed not by the protesters but died of a heart attack outside the Capitol. Benjamin Philips, the founder of a pro-Trump website called Trumparoo, died of a stroke that day. Rosanne Boyland, another Trump supporter, was reported by The New York Times to have been inadvertently "killed in a crush of fellow rioters during their attempt to fight through a police line." But later video shows that, far from that, the police pushed protesters on top of Boyland and would not allow other protesters to pull her out.
Four of the five who died, then, were pro-Trump protesters. And the fifth? Well, that was Officer Sicknick—also a Trump supporter, as it turned out—who, contrary to the false report gone viral of The New York Times, went home, told his family he felt fine, but died a day later from, as The Washington Post eventually and grudgingly reported, "natural causes." No fire extinguishers were involved in his demise.
***
The January 6 insurrection hoax prompts lots of questions.
Why, for example, did the government mobilize 26,000 federal troops from all across the country to surround "the people's house" following January 6? Why were those troops subjected to FBI vetting, with some of them sent packing?
Why is there some 14,000 hours of video footage of the event on January 6 that the government refuses to release? What are they afraid of letting the public see? More scenes of security guards actually opening doors and politely ushering in protesters? More pictures of FBI informants covertly salted among the crowd?
My own view is that turning Washington into an armed camp was mostly theater. There was no threat that the Washington police could not have handled. But it was also a show of force and an act of intimidation. The message was: "We're in charge now, rubes, and don't you forget it."
In truth, there is little threat of domestic terror in this country. But there is plenty of domestic conservatism. And that conservatism is the real focus of the establishment's ire.
It is important to note that while the government provides the muscle for this war on dissent, the elite culture at large is a willing accomplice. Consider, for example, the open letter, signed by more than 500 "publishing professionals" (authors, editors, designers, and so on), calling on the industry to reject books written by anyone who had anything to do with the Trump administration.
These paragons pledged to do whatever they could to stop "enriching the monsters among us." But here's their problem: over 74 million people voted for Trump. That's a lot of monsters.
Many people have been quoting Benjamin Franklin's famous response when asked what sort of government they had come up with at the Constitutional Convention of 1787. "A republic," Franklin said, "if you can keep it." Right now, it looks like we can't. It looks as if the American constitutional republic has given way, as least temporarily, to an American oligarchy.
As the years go by, historians, if the censors allow them access to the documents and give them leave to publish their findings, may well count the 2016 presidential election as the last fair and open democratic election in U.S. history. I know we are not supposed to say that. I know that the heads of Twitter and Facebook and other woke guardians of the status quo call this view "The Big Lie" and do all they can to suppress it. But every honest person knows that the 2020 election was tainted.
The forces responsible for the taint had tried before. Hitherto, their efforts had met with only limited success. But a perfect storm of forces conspired to make 2020 the first oligarchic installation of a president. It would not have happened, I think, absent the panic over the Chinese virus. But that panic, folded in a lover's embrace by the Democratic establishment, was not only a splendid pretext to clamp down on civil liberties; it also provided an inarguable excuse to alter the rules for elections in several key states.
"Inarguable" is not quite the right word. There could have been plenty of arguments, and many lawsuits, against the way the executive branches in these states usurped the constitutionally guaranteed prerogative of state legislatures to set the election rules when they intervened to allow massive mail-in voting. But the Trump administration, though foreseeing and complaining about the executive interventions, did too little too late to make a difference.
Among the many sobering realities that the 2020 election brought home is that in our current and particular form of oligarchy, the people do have a voice, but it is a voice that is everywhere pressured, cajoled, shaped, and bullied. The people also have a choice, but only among a roster of candidates approved by the elite consensus.
The central fact to appreciate about Donald Trump is that he was elected president without the permission, and over the incredulous objections, of the bipartisan oligarchy that governs us. That was his unforgivable offense. Trump was the greatest threat in history to the credentialed class and the globalist administrative state upon which they feed. Representatives of that oligarchy tried for four years to destroy Trump. Remember that the first mention of impeachment came 19 minutes after his inauguration, an event that was met not only by a widespread Democratic boycott and hysterical claims by Nancy Pelosi and others that the election had been hijacked, but also by riots in Washington, D.C. that saw at least six policemen injured, numerous cars torched, and other property destroyed.
You will search in vain for media or other ruling class denunciations of that violence, or for bulletins from corporate America advising their customers of their solidarity with the newly-installed Trump administration. As the commentator Howie Carr noted, some riots are more equal than others. Some get you the approval of people like Nancy Pelosi and at least the grudging acceptance of oligarchs of the other party. Others get the FBI sweeping the country for "domestic terrorists" and the lords of Big Tech canceling people who defend the protesters' cause.
Someday—maybe someday soon—this witches' sabbath, this festival of scapegoating, and what George Orwell called the "hideous ecstasy" of hate will be at an end. Perhaps someday people will be aghast, and some will be ashamed, of what they did to the President of the United States and people who supported him: the chairman of the House Homeland Security Committee, for instance, proposing to put Senator Ted Cruz on a "no fly" list, and Simon & Schuster canceling Senator Josh Hawley's book contract.
Donald Trump is the Emmanuel Goldstein (the designated principal enemy of the totalitarian state Oceania in Orwell's 1984) of the movement. But minor public enemies are legion. Anyone harboring "Trumpist" inclinations is suspect, hence the widespread calls for "deprogramming" Trump's supporters, who are routinely said to be "marching toward sedition."
Michael Barone, one of our most perceptive political commentators, got it right when he wrote of the rapid movement "from impeaching incitement to canceling conservatism." That is the path our oligarchs are inviting us to travel now, criminalizing political dissent and transforming policy differences into a species of heresy. You don't debate heretics, after all. You seek to destroy them.
Donald Trump's accomplishments as president were nothing less than stunning. Trump was, and is, a rude force of nature. He accomplished an immense amount. But he lacked one thing. Some say it was self-discipline or finesse. I agree with a friend of mine who suggested that Trump's critical flaw was a deficit in guile. That sounds odd, no doubt, since Trump is supposed to be the tough guy who mastered "the art of the deal." But I think my friend is probably right. Trump seems never to have discerned what a viper's nest our politics has become for anyone who is not a paid-up member of The Club.
Maybe Trump understands this now. I have no insight into that question. I am pretty confident, though, that the 74 plus million people who voted for him understand it deeply. It's another reason that The Club should be wary of celebrating its victory too expansively.
Friedrich Hayek took one of the two epigraphs for his book, The Road to Serfdom, from the philosopher David Hume. "It is seldom," Hume wrote, "that liberty of any kind is lost all at once." Much as I admire Hume, I wonder whether he got this quite right. Sometimes, I would argue, liberty is erased almost instantaneously.
I'd be willing to wager that Joseph Hackett, confronted with Hume's observation, would express similar doubts. I would be happy to ask Mr. Hackett myself, but he is inaccessible. If the ironically titled "Department of Justice" has its way, he will be inaccessible for a long, long time—perhaps as long as 20 years.
Joseph Hackett, you see, is a 51-year-old Trump supporter and member of an organization called the Oath Keepers, a group whose members have pledged to "defend the Constitution against all enemies foreign and domestic." The FBI does not like the Oath Keepers—agents arrested its leader in January and have picked up many other members in the months since. Hackett traveled to Washington from his home in Florida to join the January 6 rally. According to court documents, he entered the Capitol at 2:45 that afternoon and left some nine minutes later, at 2:54. The next day, he went home. On May 28, he was apprehended by the FBI and indicted on a long list of charges, including conspiracy, obstruction of an official proceeding, destruction of government property, and illegally entering a restricted building.
As far as I have been able to determine, no evidence of Hackett destroying property has come to light. According to his wife, it is not even clear that he entered the Capitol. But he certainly was in the environs. He was a member of the Oath Keepers. He was a supporter of Donald Trump. Therefore, he must be neutralized.
Joseph Hackett is only one of hundreds of citizens who have been branded as "domestic terrorists" trying to "overthrow the government" and who are now languishing, in appalling conditions, jailed as political prisoners of an angry state apparat.
Hayek's overriding concern in The Road to Serfdomwas to combat the forces that were pushing people further along that road to servitude. His chief concern was unchecked state power. In a new preface to the book's 1956 edition, Hayek noted that one of its "main points" was to document how "extensive government control produces a psychological change, an alteration in the character of the people."
"This means," Hayek wrote, "that even a strong tradition of political liberty is no safeguard if the danger is precisely that new institutions and policies will gradually undermine and destroy that spirit."
This dismal situation, Hayek continues, can be averted, but only if the spirit of liberty "reasserts itself in time and the people not only throw out the party which has been leading them further and further in the dangerous direction but also recognize the nature of the danger and resolutely change their course."
Note the power of that little word "if." It was not so long ago that an American could contemplate totalitarian regimes and say, "Thank God we've escaped that." It's not at all clear that we can entertain that happy conviction any longer.
That's one melancholy lesson of the January 6 insurrection hoax: that America is fast mutating from a republic, in which individual liberty is paramount, into an oligarchy, in which conformity is increasingly demanded and enforced.
Another lesson was perfectly expressed by Donald Trump when he reflected on the unremitting tsunami of hostility that he faced as President. "They're after you," he more than once told his supporters. "I'm just in the way."
Bingo.
Attorney Alan Dershowitz, in 2020 when he was a member of President Donald Trump's legal team. (Sarah Silbiger/Getty Images)By Newsmax Wires
Sunday, 14 Feb 2021 1:56 PM
---
Former Harvard law professor Alan Dershowitz on Sunday blasted the "new McCarthyism" of the Democrats' "hard left."
In an interview on Fox News' "Sunday Morning Futures," Dershowitz, a constitutional law expert, said some liberals have become radical censors of free speech.
"Common Cause, which purports to be a liberal, not a radical organization, has now demanded that Facebook keep Donald Trump off its platform," he said. "We are getting liberals… [calling for] Fox News [to be] taken off the networks. I hated communism but I defended the rights of lawyers to defend accused communists."
"If any lawyer is the subject of this kind of McCarthyism, I will represent you pro bono, in front of universities and bar associations," he added. "I will dedicate myself that the new McCarthyism of the hard left doesn't become American culture."
Dershowitz called the Senate trial acquittal of former President Donald Trump a "great day" for the Constitution and Senate Minority Leader Mitch McConnell, R-Ky., — but "not such a good day" for Trump himself.
"McConnell "taught us a civic's lesson: You don't have to support President Trump or Donald Trump, you don't have to agree with the speech, but support the First Amendment and the Constitution's limitations on the power of the Senate to put a former president on trial," he said.
"McConnell accepted the constitutional argument I've been making from the very beginning — that Congress has no power to put on trial Citizen Trump."
On the flip side, Dershowitz said, Saturday was "not such a good day for Donald Trump because McConnell and others criticized him."
Read Newsmax: Newsmax – Breaking News | News Videos | Politics, Health, Finance
Urgent: Do you approve of Pres. Trump's job performance? Vote Here Now!
Tucker Carlson Tonight 2/10/21 | Tucker Carlson Tonight February 10, 2021
—
Alan Dershowitz to Newsmax TV: Dems Making Trump's Case

By Eric Mack
Wednesday, 10 Feb 2021 5:35 PM


In laying out a long-running objection to election fraud by former President Donald Trump, House impeachment managers are effectively making the case for the defense because the speech under the microscope is protected, even if they disagree with it, according to constitutional law expert Alan Dershowitz on Newsmax TV.
"Very good theater, terrible constitutional law," Dershowitz told "The Chris Salcedo Show" of the House Democrats' opening statements Wednesday.
"The videos make good theater; they're very riveting," the noted legal scholar said. ""But they prove President Trump's constitutional defense."
House Democrats are emphasizing that Trump had long argued the election was stolen, but then they show how the president challenged it "by all lawful means and all political means," Dershowitz told host Chris Salcedo.
"The Constitution protects a person that says the Earth is flat as much as a person who says it's round," Dershowitz said. "The Constitution protects a Holocaust denier as much as it does a historian who can prove that 6 million Jews were killed.
"And the Constitution, the First Amendment, protects a president who's wrong about the election as much as a president who's right."
Instead of tying the lone article of impeachment — incitement of insurrection — solely on Trump's Jan. 6 "Stop the Steal" rally speech, which was delivered at a rally just before the Capitol siege, House Democrat impeachment managers are making a case that he'd long objected to a stolen election as a predicate to inciting the storming of the U.S. Capitol Building.
"Matters of opinion cannot be disputed or taken outside of constitutional protections," Dershowitz said. "So I think the House managers were actually helping the Trump defense by trying to prove that what he said was false."
Dershowitz did suggest that Democrats' gaffe might be part of a plan to "lay a trap" for Trump defense lawyers — getting them to argue the validity of a stolen-election claim, which could derail the president's case.
"That would be a serious mistake, because it would lose a number of senators who are now on their side," Dershowitz concluded.
Important: See Newsmax TV now carried in 70 million cable homes, on DirecTV Ch. 349, Dish Network Ch. 216, Xfinity Ch. 1115, Spectrum, U-verse Ch. 1220, FiOS Ch. 615, Optimum Ch. 102, Cox cable, Suddenlink Ch. 102, CenturyLink 1209, Mediacom Ch. 277, Frontier 615 or Find More Cable Systems – Click Here.
Related Stories:
Read Newsmax: Newsmax – Breaking News | News Videos | Politics, Health, Finance
Urgent: Do you approve of Pres. Trump's job performance? Vote Here Now!
I have read several books by Alan Dershowitz and he is a liberal but he does look at the constitution honestly and here he has made some very insightful observations that I am sure will upset Democrats but nonetheless will not slow them down from impeaching the President a second time because of their hate of all things Trump!
Dershowitz: Senate Rules Would Prevent Impeachment Trial Of Trump
An image from video of Alan Dershowitz, an attorney for President Donald Trump, walking from the podium after speaking on behalf of the president during the impeachment trial in the Senate on Jan. 27, 2020. (Senate Television via AP)By Newsmax Wires
Sunday, 10 Jan 2021 2:42 PM
---
Harvard law professor and constitutional law expert Alan Dershowitz on Sunday warned an impeachment of President Donald Trump won't go to trial — but could "lie around like a loaded weapon" for both parties in the future.
In an interview on Fox News' "Sunday Morning Futures," Dershowitz said a Senate trial of citizen Trump would be unconstitutional.
"It will not go to trial," he said. "All Democrats can do is impeach the president in House of Representatives, for that you only need a majority vote.
"The case cannot come to trial in the Senate" because of rules that do no allow it until, "according to the Majority Leader [Mitch McConnell, R-Ky.), until 1 p.m. on Jan. 20" — an hour after Trump leaves office.
Read Newsmax: Newsmax – Breaking News | News Videos | Politics, Health, Finance
Urgent: Do you approve of Pres. Trump's job performance? Vote Here Now!
"Congress has no power to impeach or try a private citizen, whether it'd be a private citizen in Donald Trump or …. Barack Obama or anyone else," he said. "The jurisdiction is limited to a sitting president and so there won't be a trial."
But Dershowitz said he worried more about is"the impact of impeachment on the First Amendment."
"For 100 years the Supreme Court and other courts have struggled to develop a juris prudence which distinguishes between advocacy and incitement."
"To impeach a president for having exercised his First Amendment rights would be so dangerous to the Constitution, it would lie around like a loaded weapon ready to be used by either party against the other party and that's not what impeachment nor the 25th amendment were intended to be," Dershowitz said.
Read Newsmax: Newsmax – Breaking News | News Videos | Politics, Health, Finance
Urgent: Do you approve of Pres. Trump's job performance? Vote Here Now!
Mark Levin Podcast * Mark's radio show | 08 January 2021
—
Levin: Media 'exploiting' Capitol riot to 'silence conservatives' as Democrats work to 'choke the system'
'The media have played a huge, huge role in what's going on in this country,' says 'Life, Liberty & Levin' host
The mainstream media is "exploiting" Wednesday's riot at the U.S. Capitol building in an effort to "silence" conservatives and Republicans, Mark Levin says on this week's episode of "Life, Liberty & Levin."
The host emphasizes that "we should be furious about what happened on Capitol Hill," but adds that "the media have played a huge, huge role in what's going on in this country."
"We need to reject all this violence, but what about the media?" asks Levin before displaying front pages of various newspapers from around the country.
"The New York Times: 'Trump Incites Mob'. This is projection," Levin contends. "This is projection. He never did that. Or The Washington Post: 'Trump mob storms Capitol'. There were hundreds and hundreds of thousands of people there … That's an awfully broad brush. Or the [New York] Daily News: 'President Incites Insurrection' … or USA Today: 'Pro-Trump Mobs Storm US [sic] Capitol'. How about 'Thugs Storm U.S. Capitol'? How about 'Lawbreakers Storm U.S. Capitol'?"
Levin then calls out politicians like Rep. Adam Kinzinger, R-Ill., and Senate Minority Leader Chuck Schumer, D-N.Y., who he says are also "exploiting the situation."
"They're talking about impeaching the president of the United States or [invoking] the 25th Amendment nine days before he leaves office," the host says. "Do they even know what's involved in the 25th Amendment?
WATCH 'LIFE, LIBERTY & LEVIN' SUNDAYS AT 8 PM ET ON FOX NEWS CHANNEL
"So they double down, they triple down, they quadruple down. They're not going to change at all. On one side of their mouth, they talk about unity. Out of the other side of their mouth, they spit on people," he goes on. "Seventy-four million [Trump-voting] people and more, they're not going away. Their concerns still exist."
Meanwhile, Levin says, House Democrats are working toward their goal to "choke the system even further" by passing a rules package for the 117th Congressthat makes it "virtually impossible for Republicans to even propose legislation or amend legislation, even though [they] only has a 10- or 11-person majority in the House."
"Nancy Pelosi … eliminated 100 years of tradition …", the host argues, "and the media are trying to intimidate conservatives and constitutionalists by projecting onto them the violence that occurred by reprobates and others who need to be tracked down and punished.
"So it seems that the lessons have not been learned," Levin concludes. "They certainly haven't been learned by the left, they certainly haven't been learned by the media, and they certainly haven't been learned by the Never Trumpers."
—-
December 13, 2020
Office of Barack and Michelle Obama
P.O. Box 91000
Washington, DC 20066
Dear President Obama,
I wrote you over 700 letters while you were President and I mailed them to the White House and also published them on my blog http://www.thedailyhatch.org .I received several letters back from your staff and I wanted to thank you for those letters.
I have been reading your autobiography A PROMISED LAND and I have been enjoying it.
Let me make a few comments on it, and here is the first quote of yours I want to comment on:
The story of how this postwar consensus broke down—starting with LBJ's signing of the Civil Rights Act of 1964 and his prediction that it would lead to the South's wholesale abandonment of the Democratic Party—has been told many times before. The realignment Johnson foresaw ended up taking longer than he had expected. But steadily, year by year—through Vietnam, RIOTS…and Nixon's southern strategy; through busing, Roe v. Wade, urban crime, and white flight; through affirmative action, the Moral Majority, union busting, and Robert Bork; through assault weapons bans and the rise of Newt Gingrich…and the Clinton impeachment—America's voters and their representatives became more and more polarized.
During 2020 I have noticed lots of riots and looting across the USA and I wanted to ask you why it is always the liberals doing that? AND WHY DIDN'T ANYONE CONDEMN THESE ACTIONS AT THE 2020 CONVENTION AND DIDN'T YOU SPEAK AT THE CONVENTION TOO?
Philadelphia Riots Another Case of Street Violence Used to Advance Radical Political Agendas
https://www.dailysignal.com/2020/10/28/philadelphia-riots-are-another-case-of-street-violence-used-to-advance-radical-political-agendas/embed/#?secret=TeMODTeKco
Philadelphia Riots Are Another Case of Street Violence Used to Advance Radical Political Agendas
James Carafano / @JJCarafano / October 28, 2020 / 4 Comments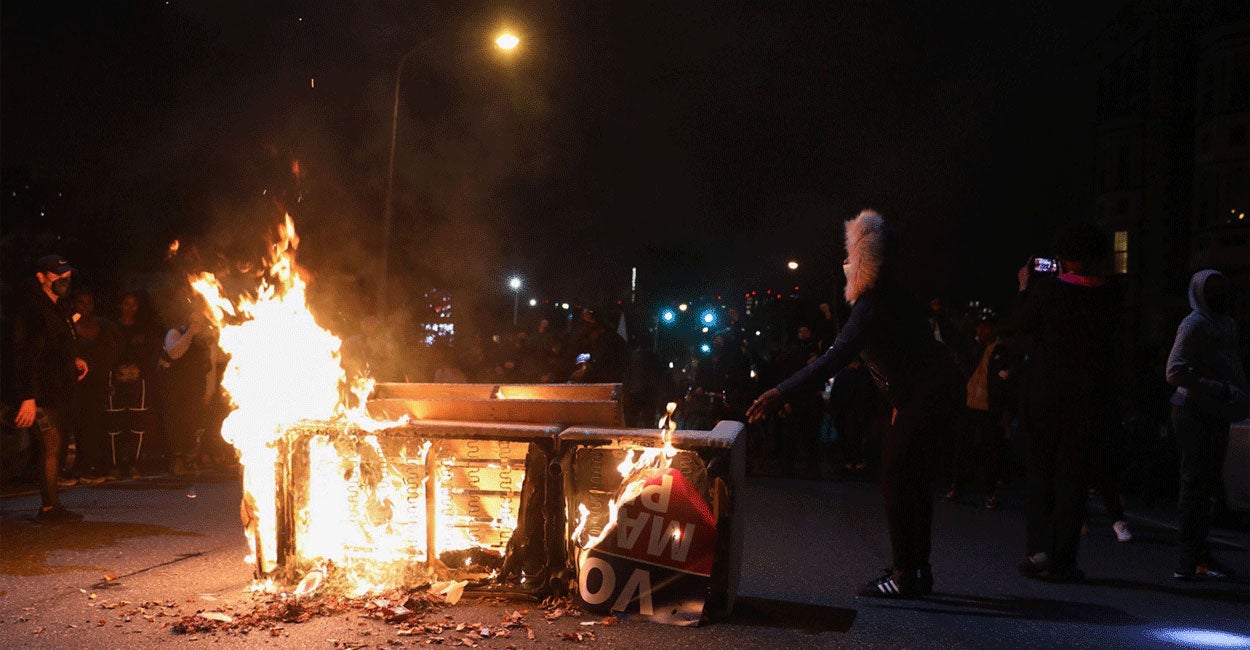 In Kenosha, Portland, Seattle, and Chicago, city officials have tolerated criminal activity performed by mobs for politically motivated reasons. Philadelphia appears to be the next hotspot for mob violence to go unchecked. Pictured: A barricade is set on fire during a night of looting and violence in Philadelphia on Oct. 27. (Photo: Gabriella Audi/AFP/Getty Images)
COMMENTARY BY
James Jay Carafano, a leading expert in national security and foreign policy challenges, is The Heritage Foundation's vice president for foreign and defense policy studies, E. W. Richardson fellow, and director of the Kathryn and Shelby Cullom Davis Institute for International Studies. Read his research.
Like the replay of a bad movie, a law enforcement incident in Philadelphia triggered an excuse for violence and looting. It remains to be seen whether the City of Brotherly Love will become the next "Kenosha," where city officials moved quickly to restore order and seek state and federal support—though sadly after 48 hours of opportunistic looting, violence, and destruction devastated the city.
Or perhaps Philadelphia will be the next Portland, Seattle, or Chicago, where systemic attacks seem to be a daily occurrence.
Police in Philadelphia are fully capable of restoring peace. The open question is whether the mayor and Larry Krasner, the former defense attorney-turned elected rogue prosecutor, will do their job and hold people accountable for their crimes.
When local, state, and federal governments work together, act quickly, and demonstrate no tolerance for organized violence to advance radical agendas, communities are kept safe and equal protection under the law is afforded for all citizens.
The left is actively working to undermine the integrity of our elections. Read the plan to stop them now. Learn more now >>
On the other hand, when local officials, the media, and politicians ignore, excuse, normalize, and enable violence, everyday Americans pay the price.
There is a plague sweeping this country that many don't want to talk about: The deliberate use of street violence to advance radical political agendas, often under a smoke screen of campaigning for civil liberties. The evidence of organized criminal activity at the root of the outbreaks in American cities is mounting.
The list of people enabling this violence sadly includes some public officials, who are principally responsible for ensuring public safety. For example, a growing threat to peaceful communities is "rogue prosecutors," former criminal defense attorneys recruited and funded by liberal billionaire backers, who—once elected—abuse their office by refusing to prosecute entire categories of crimes.
These rogue prosecutors are usurping the power of the legislature in the process, and ignoring victim's rights—all to advance their politics.
Baltimore is a perfect example. Since being sworn into office, under the watch of Baltimore City State's Attorney Marilyn J. Mosby.
Rogue prosecutors fuel street violence by refusing to prosecute rioters and looters. When confronted with the rising crimes rates, Mosby called the statistics "rhetoric."
The only way to break the cycle of violence is for local and state officials to work with each other, and if necessary, the federal government. They need to stop enabling the destruction of property and lives on their streets, and start investigating and prosecuting the individuals (and organizations) behind the riots.
It's time to start shaming and calling out the media, politicians, and advocates who excuse and normalize the violence.
There is a proven action plan for making our streets safe. It is past time for officials to start following this blueprint.
There is no time—zero time to waste. There are already fears of more violence in our streets, regardless of the outcome of the national elections.
In my hometown of Washington, D.C., downtown buildings are already boarding up in anticipation of violence on our streets after the election. If Trump wins, violence. If Biden wins, violence. This makes no sense, and it's time for it to stop.
It is time for every official and public figure, every political party, in every part of the country to publically reject violence on American streets as a legitimate form of protected speech. Violence is not protected speech, period.
The notion of deliberately destroying the lives and property of our neighbors to advance a radical political agenda is abhorrent. American leaders—of all stripes—should stand up now as one and reject these violent acts. It has gone on for too long, well before the death of George Floyd.
Leaders in Philadelphia and across America must take a principled stand to demand the end to this violence, and they need to do it before the election. In one voice, they should demand: "Leave our streets alone."
Sincerely,
Everette Hatcher III, 13900 Cottontail Lane, Alexander, AR 72002, ph 501-920-5733 everettehatcher@gmail.com
Related posts:
President Obama c/o The White House 1600 Pennsylvania Avenue NW Washington, DC 20500 Dear Mr. President, I know that you receive 20,000 letters a day and that you actually read 10 of them every day. I really do respect you for trying to get a pulse on what is going on out here. There have […]By Everette Hatcher III | Posted in David Barton, Founding Fathers, President Obama | Edit |Comments (0)
There have been many articles written by evangelicals like me who fear that our founding fathers would not recognize our country today because secular humanism has rid our nation of spiritual roots. I am deeply troubled by the secular agenda of those who are at war with religion in our public life. Lillian Kwon quoted somebody […]By Everette Hatcher III | Posted in David Barton, Founding Fathers | Edit | Comments (0)
There have been many articles written by evangelicals like me who fear that our founding fathers would not recognize our country today because secular humanism has rid our nation of spiritual roots. I am deeply troubled by the secular agenda of those who are at war with religion in our public life. Lillian Kwon quoted somebody […]By Everette Hatcher III | Posted in David Barton, Founding Fathers | Edit | Comments (0)
There have been many articles written by evangelicals like me who fear that our founding fathers would not recognize our country today because secular humanism has rid our nation of spiritual roots. I am deeply troubled by the secular agenda of those who are at war with religion in our public life. Lillian Kwon quoted somebody […]By Everette Hatcher III | Posted in David Barton, Founding Fathers | Edit | Comments (0)
There have been many articles written by evangelicals like me who fear that our founding fathers would not recognize our country today because secular humanism has rid our nation of spiritual roots. I am deeply troubled by the secular agenda of those who are at war with religion in our public life. Lillian Kwon quoted somebody […]By Everette Hatcher III | Posted in David Barton, Founding Fathers | Edit | Comments (0)
There have been many articles written by evangelicals like me who fear that our founding fathers would not recognize our country today because secular humanism has rid our nation of spiritual roots. I am deeply troubled by the secular agenda of those who are at war with religion in our public life. Lillian Kwon quoted somebody […]By Everette Hatcher III | Posted in Founding Fathers | Edit | Comments (0)
President Obama Speaks at The Ohio State University Commencement Ceremony Published on May 5, 2013 President Obama delivers the commencement address at The Ohio State University. May 5, 2013. You can learn a lot about what President Obama thinks the founding fathers were all about from his recent speech at Ohio State. May 7, 2013, […]By Everette Hatcher III | Posted in Founding Fathers, President Obama | Edit | Comments (0)
Dr. C. Everett Koop with Bill Graham. Francis Schaeffer: "Whatever Happened to the Human Race" (Episode 4) THE BASIS FOR HUMAN DIGNITY Published on Oct 7, 2012 by AdamMetropolis The 45 minute video above is from the film series created from Francis Schaeffer's book "Whatever Happened to the Human Race?" with Dr. C. Everett Koop. This […]By Everette Hatcher III | Posted in Founding Fathers, Francis Schaeffer, Prolife | Edit |Comments (1)
America's Founding Fathers Deist or Christian? – David Barton 4/6 There have been many articles written by evangelicals like me who fear that our founding fathers would not recognize our country today because secular humanism has rid our nation of spiritual roots. I am deeply troubled by the secular agenda of those who are at […]By Everette Hatcher III | Posted in David Barton, Founding Fathers | Tagged governor of connecticut, john witherspoon, jonathan trumbull | Edit | Comments (1)
3 Of 5 / The Bible's Influence In America / American Heritage Series / David Barton There were 55 gentlemen who put together the constitution and their church affliation is of public record. Greg Koukl notes: Members of the Constitutional Convention, the most influential group of men shaping the political foundations of our nation, were […]By Everette Hatcher III | Posted in Founding Fathers | Edit | Comments (0)
I do not think that John Quincy Adams was a founding father in the same sense that his father was. However, I do think he was involved in the early days of our government working with many of the founding fathers. Michele Bachmann got into another history-related tussle on ABC's "Good Morning America" today, standing […]By Everette Hatcher III | Posted in David Barton, Founding Fathers | Edit | Comments (0)
I have gone back and forth and back and forth with many liberals on the Arkansas Times Blog on many issues such as abortion, human rights, welfare, poverty, gun control and issues dealing with popular culture. Here is another exchange I had with them a while back. My username at the Ark Times Blog is Saline […]By Everette Hatcher III | Posted in Arkansas Times, Francis Schaeffer, Prolife | Edit |Comments (0)
I truly believe that many of the problems we have today in the USA are due to the advancement of humanism in the last few decades in our society. Ronald Reagan appointed the evangelical Dr. C. Everett Koop to the position of Surgeon General in his administration. He partnered with Dr. Francis Schaeffer in making the […]By Everette Hatcher III | Posted in Adrian Rogers, Francis Schaeffer | Edit | Comments (0)
Francis Schaeffer: "Whatever Happened to the Human Race" (Episode 4) THE BASIS FOR HUMAN DIGNITY Published on Oct 7, 2012 by AdamMetropolis ____________ The 45 minute video above is from the film series created from Francis Schaeffer's book "Whatever Happened to the Human Race?" with Dr. C. Everett Koop. This book really helped develop my political […]By Everette Hatcher III | Posted in Francis Schaeffer | Edit | Comments (0)
—-
—