–
If you don't want to spend two minutes to watch the video, all you need to know is that I'm worried that more redistribution will lead to more dependency and less work.
This is captured in this Wizard-of-Id parody, with the only difference being that UBI is a big handout for everything rather than a set of handouts for specific reasons (food stamps, welfare, housing subsidies, etc).
There's already academic evidence against UBI, as I wrote in 2021 and 2022.
Now we have new evidence this year. Three European academics – Timo Verlaat, Federico Todeschini, and Xavier Ramos – produced a studyon the consequences of an experiment in Barcelona.
Here are their main findings, published by the Germany-based Institute of Labor Economics, all of which confirm that a basic income would be bad news.
…we aim to advance the literature on unconditional transfer programs by describing their employment effects in the context of an advanced welfare state. Our analysis uses data from a field experiment in Barcelona (Spain), trialing a generous and unconditional municipal cash transfer program. …we find strong evidence for sizeable negative labor supply effects. After two years, households assigned to the cash transfer were 14 percent less likely to have at least one member working compared to households assigned to the control group; main recipients were 20 percent less likely to work. …Another important finding concerns the persistence of effects. Employment rates in the treatment group remain lower even six months after the last transfer, indicating that households' labor supply decisions may be hard to reverse.
I have to give credit to Matt Weidinger of the American Enterprise Institute. I did not know about this new study until I saw his article, which also merits a few excerpts.
That program is similar in many respects to universal basic income (UBI) programs proposed in Congress and being tested in multiple locations across the US. It also bears similarities to the unconditional expanded child tax credit payments temporarily made to tens of millions of households with children in 2021, which President Joe Biden's latest proposed budget seeks to revive. Those similarities suggest American policymakers should take heed of the study's findings… As Jon Baron, a longtime expert on evidence-based policy, recently described, the findings of the "high-quality" randomized control trial reflected in the study "suggest a need for caution in the design of anti-poverty programs, to avoid discouraging work effort."
Since I'm a policy wonk rather than an academic, I don't need qualifiers such as "a need for caution." I can bluntly state that redistribution programs have a very negative impact on labor supply.
The moral of the story is that a basic income would make a bad situation even worse, especially when you consider that politicians

almost surely won't get rid of the handout programs that already exist (this is the "public choice" problem I mentioned in the above video).
Instead of moving in the wrong direction, existing redistribution programs need to be scaled back. But that's just part of the solution. The federal government should get out of the way.
It's time to shift all of these programs back to the state level, building on the success of Bill Clinton's welfare reform from the mid-1990s.
P.S. Back in 2017, Joe Biden said some sensible things about work and dependency. Given what he's now pushing, he obviously was not being sincere back then. Or maybe he doesn't remember.
P.P.S. I can't claim perfect memory. Regarding the Swiss referendum on basic income, I was wrong about the margin of victory (77 percent rather than 78 percent), wrong about the year (it was in 2016 not 2015), and the proposed handouts were even bigger than I remembered.
I applauded when Joe Biden used clever tax strategies to reduce his (apparently unpatriotic) tax bill to the IRS. I also applauded when Bill and Hillary Clinton engaged in clever tax avoidance, as well as John Kerry and Gov. Pritzker of Illinois.
In the spirit of bipartisanship, I also applaud when Donald Trump does the same thing, and that part of what we're going to discuss today.
First, some background: The ongoing battle over Donald Trump's personal tax information has finally ended. If you're curious, the New York Times has a detailed report on what Trump earned (or lost) in recent years.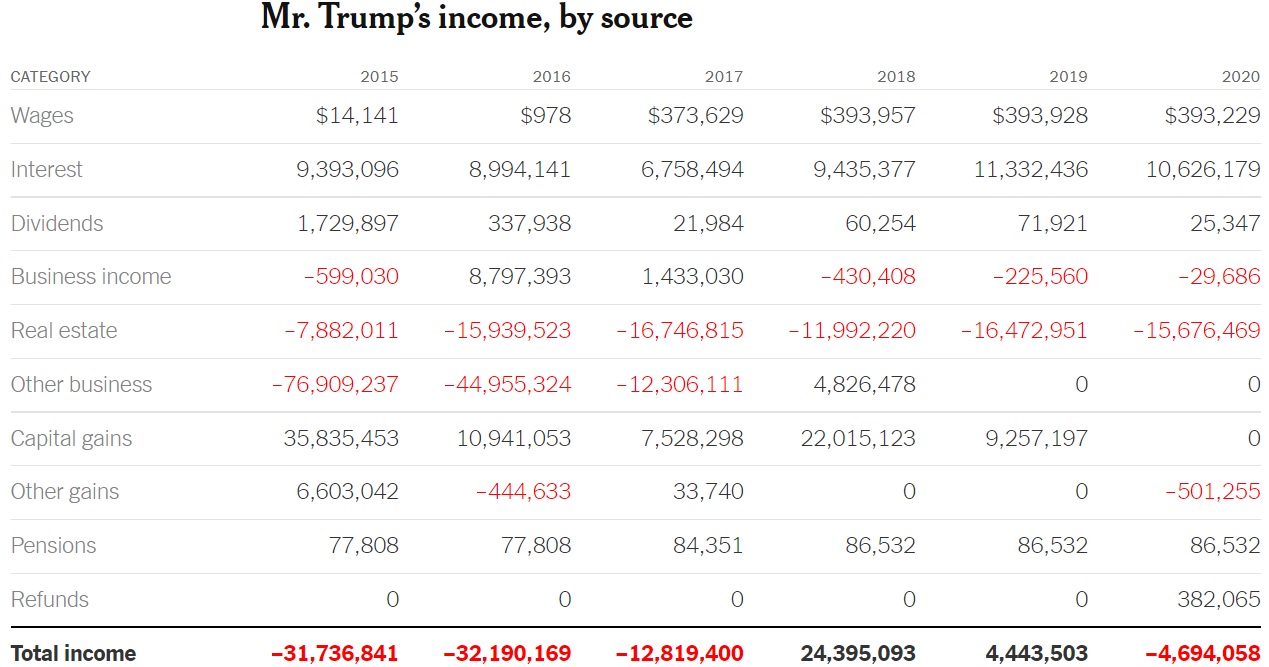 And the NYT also tells us how much tax he paid during those years.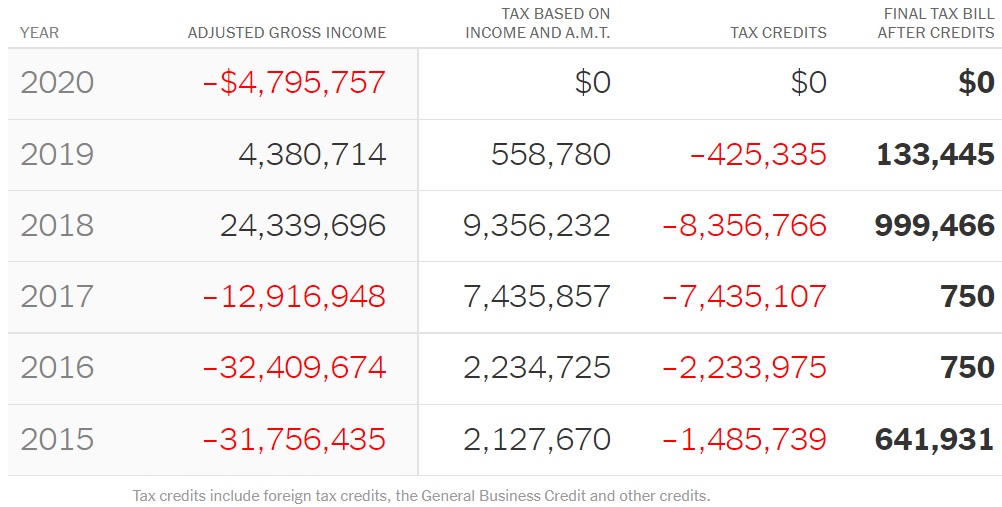 When I look at these numbers, my first thought is that Trump is not a very good businessman since he has a negative income most years.
My second thought is that I'm glad he paid a low tax rate of about 3 percent in 2018 and approximately 4 percent in 2019, the two years when his income was positive.
Why am I glad? Because money in private hands is far more likely to be utilized wisely than money that gets diverted to the IRS and then spent by the politicians in Washington.
That's the first part of today's column.
The second part of today's column is to use Trump's tax return to show why the tax system would be much better if we junked the internal revenue code and replaced it with a simple and fair flat tax.
The flat is based on the principle of equality.
All income tax taxed at the same low rate.
No income is exempt from tax, other than a family-based allowance.
No income is subject to double taxation.
A tax system based on equality also means radical simplicity. The hundreds of different tax forms in today's tax code would get dumped in the garbage.
All that would be left is a simple tax form for households.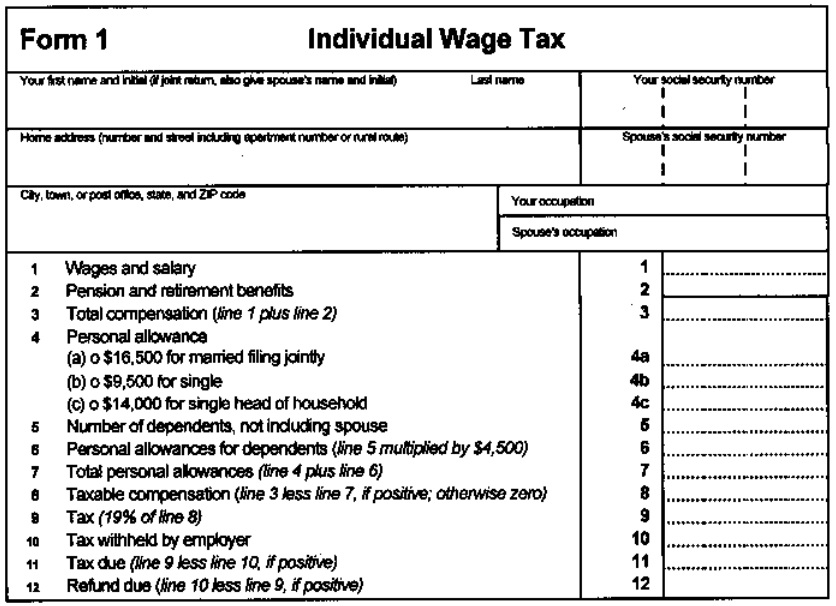 And a simple tax form for businesses.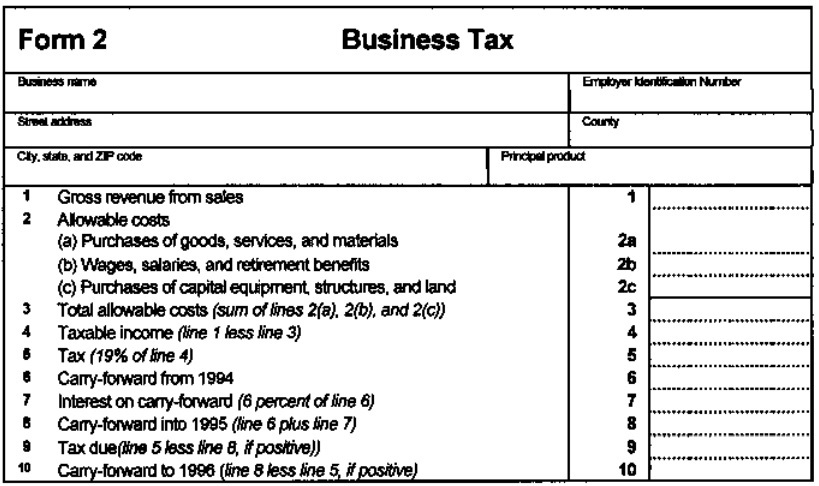 What would this mean for Trump's tax returns? I'm sure the implications would be enormous, but I want to focus on just two issues.
First, under the flat tax, business losses can not be used to lower taxes on household income (wages, salaries, and pensions). So that would probably mean a higher tax burden for Trump.
Second, the tax treatment of business changes in ways that would both help Trump and hurt Trump. The most important thing to realize is that the convoluted corporate income tax (as well as parts of the personal income tax such as Schedule C) are replaced by a very simple cash-flow system.
Here's how Professors Robert Hall and Alvin Rabushka describe the business portion of the flat tax.
The business tax is a giant, comprehensive withholding tax on all types of income other than wages, salaries, and pensions. It is carefully designed to tax every bit of income outside of wages, but to tax it only once. The business tax does not have deductions for interest payments, dividends, or any other type of payment to the owners of the business. As a result, all income that people receive from business activity has already been taxed. …The resulting simplification and improvement in the tax system is enormous. …Eliminating the deduction for interest paid by businesses is a central part of our general plan to tax business income at the source.
One very important implication of this approach is there there no longer would be a bias for debt. This would not be good news for people like Trump who usually rely on debt to finance their businesses.
On the other hand, the net result would be a tax code more favorable to investment and entrepreneurship. So if Trump is a good businessman, he will benefit.
I'm agnostic on Trump's entrepreneurial ability, but I'm an unabashed fan of having a better tax system for America. Replacing the internal revenue codewith a sensible tax system would mean a more prosperous country and a less corrupt Washington.
P.S. Under a flat tax, a business would be allowed to "carry forward" losses from previous years, just as is usually the case for the current system.
P.P.S. A flat tax also would replace depreciation with expensing, which is another policy favorable to smart entrepreneurs.
In 1980 I read the book FREE TO CHOOSE by Milton Friedman and it really enlightened me a tremendous amount.  I suggest checking out these episodes and transcripts of Milton Friedman's film series FREE TO CHOOSE: "The Failure of Socialism" and "The Anatomy of a Crisis" and "What is wrong with our schools?"  and "Created Equal"  and  From Cradle to Grave, and – Power of the Market.
In this episode "How to Stay Free" Friedman makes the statement "What we need is widespread public recognition that the central government should be limited to its basic functions: defending the nation against foreign enemies, preserving order at home, and mediating our disputes. We must come to recognize that voluntary cooperation through the market and in other ways is a far better way to solve our problems than turning them over to the government."
In this episode Milton Friedman makes the point, "There was no widespread public demand for Social Security programs… it had to be sold to the American people primarily by the group of reformers, intellectuals, new dealers, the people associated with FDR. The Social Security is one of the most misleading programs. It has been sold as an insurance program. It's not an insurance program. It's a program which combines a bad tax, a flat tax on wages up to a maximum with a very inequitable and uneven system of giving benefits under which some people get much, some people get little."
Pt 5
Lawrence E. Spivak: I know, I believe, I say I know, I think I know, but I'll say I believe that you felt, you blame the government for the Great Depression of 1929 through 1933 and of course, you had to blame FDR for all he did, but most people feel that he saved this free economy of ours.
Friedman: Given the catastrophe of the Great Depression, there is no doubt in my mind that emergency government measures were necessary. The government had made a mess. Not FDR's government, it was the government that preceded him. Although it was mainly the Federal Reserve System which really wasn't subject to election. But once FDR came in he did two very different kinds of things.
Lawrence E. Spivak: Well, had the government made a mess by what it did or but by what it didn't do.
Friedman: By what it did. By it's monetary policies which forced and produced a sharp decline in the total quantity of money. It was a mismanagement of the monetary apparatus. If there had been no federal reserve system, in my opinion, there would not have been a Great Depression at that time. But given that the depression had occurred, and it was a catastrophe of almost unimaginable kind, I do not fault at all, indeed on the contrary I commend Roosevelt for some of emergency measures he took. They obviously weren't of the best, but they were emergency measures and you had an emergency you had to deal with. And the emergency measure such as relief programs, even the WPA which was a make work program, these served a very important function. He also served a very important function by giving people confidence in themselves. His great speech about the only thing we have to fear is fear itself was certainly a very important element in restoring confidence to the public at large. But he went much beyond that, he also started to change, under public pressure, the kind of government system we had. If you go beyond the emergency measures to the, what he regarded as reform measures, things like NRA and AAA, which were declared unconstitutional, but then from there on to the Social Security system, to the …
Lawrence E. Spivak: Take the Social Security System for a minute. The people wanted that, they wanted that protection. They were frightened, they wanted welfare.
Friedman: Not at all.
Lawrence E. Spivak: When you said pressure, who, pressure from whom?
Friedman: Pressure from people who were expressing what they thought the public ought to have. There was no widespread public demand for Social Security programs. The demands…….
Lawrence E. Spivak: No demand for welfare with 13 million people …….
Friedman: There was a demand for welfare and assistance I was separating out the emergency measures from the permanent measures. Social Security in the first 10 years of its existence, helped almost no one. It only took in money. Very few people qualified for benefits. It wasn't an emergency measure. It was a long term measure. And it had to be sold to the American people primarily by the group of reformers, intellectuals, new dealers, the people associated with FDR. The Social Security is one of the most misleading programs. It has been sold as an insurance program. It's not an insurance program. It's a program which combines a bad tax, a flat tax on wages up to a maximum with a very inequitable and uneven system of giving benefits under which some people get much, some people get little. So that Social Security….
Lawrence E. Spivak: Would you now abolish Social Security?
Friedman: I would not go back on any of the commitments that the government has made. But I would certainly reform Social Security in a way that would end in its ultimate elimination.
Lawrence E. Spivak: If you're not afraid then of the free market under any circumstances, where cooperation which you find necessary which you believe all to come, fails to come, where competition becomes so fierce and becomes very frequently corrupt and where, all where it becomes stupid. Take for example what's happening in today's market, the conglomerates. Which have been seizing up all sorts of, we happen to live in a hotel that's run by a conglomerate. Why should ITT, for example, run a hotel and how are you going to stop that.
Friedman: Well in the first place, once again,
Lawrence E. Spivak: Without government, without…..
Friedman: Once again, it's government measures that have promoted the conglomerates. The only major reason we have conglomerates is because they are a very effective way to get around a whole batch of tax legislation. Let me ask a different question. Who is more effected by government regulations, by government controls?
Lawrence E Spivak: I thought I was supposed to ask the questions. But I was warned that you might turn these on me.
Friedman: Well tell me, whose more effected the big fellow who can deal with it or that have a separated department to handle the red tape, or the poor fellow?
Lawrence E. Spivak: The big fellow can always take care of himself under any system.
Friedman: Right, and therefore he'll want a system which gives the big fellow the least advantage. And the system under which he can get government to help him out, gives him the most advantage, not the least. You say am I afraid of greed, of lack of cooperation. Of course. But we always have to compare the real with the real. What are the real alternatives? And if we look at the record of history, if we go back to the 19th century which everybody always points to as the era of the robber baron who strode around the land and ground the poor under his heel, what do we find? The greatest outpouring of voluntary charitable activity in the history of the world. This University, this University of Chicago is an example. It was founded by contributions by John D. Rockefeller and other people. The colleges and universities throughout the Midwest. If you go back and ask when was the Red Cross founded, when was the Salvation Army founded, when were the Boy Scouts founded, you'll discover all of that came during the 19th century in the era of unregulated rapacious capitalism.
Lawrence E. Spivak: I'd like to go back for a minute to the question of conglomerates. Granted that what you say that the government policies concentration on central government if you will, or whatever you want to call it, are responsible for the growth of conglomerates. What would we, what should we do about them now? Government try to undue them? Or should anybody try to undue them?
Friedman: No.
Lawrence E. Spivak: Or should you just let them fail?
Friedman: You should let them fail, of course. I am strongly opposed to government bailing any of them out. You should let them fail. The best things you can do in my opinion, are first to have complete free trade so you can have conglomerates in other countries compete with conglomerates in this country. We may have only two or three automobile companies, but there's Toyota, there's Volkswagen, competition from abroad is effective. But in the second place…
Lawrence E. Spivak: When do you say complete free trade you mean all over the world?
Friedman: No sir. I mean the U.S. all by itself unilaterally should eliminate all trade barriers. We would be better off if all the countries did the same.
Lawrence E. Spivak: What do you think would happen if we just did it though?
Friedman: I think we'd be very much better off and a lot others would then follow our example. That's what happened in the 19th Century when Great Britain in 1846 completed removed, unilaterally, all trade barriers so that…..
Lawrence E. Spivak: You don't think this country would be flooded with goods of all kinds from all over the world, maybe cheaper in that we wouldn't have great unemployment in this country?
Friedman: What would the people who sold us goods do with their money? They'd get dollars, what would they do with the dollars? Eat them. If they want to send us goods and take dollars in return, we're delighted to have them. No. That's not a problem as long as you have a free exchange rate. Because we cannot export without importing, we cannot import without exporting. You would not have a reduction in employment, what you'd have would be a different pattern of employment. You'd have more employment in export industries and less employment in those industries that compete with import. But go back to conglomerates, Larry for a moment. I just want to ask a very different kind of a question. Conglomerates are not very attractive, I would much rather have a lot of small enterprises. But there's all the difference in the world between a private conglomerate and a government conglomerate. In general, the government conglomerate can get money from you without your agreeing to give it to him. You and I pay for Amtrak and for the postal deficit whether we use the services of Amtrak or the postal deficit or not. I don't pay your conglomerate unless I rent one of their apartments. I get something for my money. So bad as private conglomerates are, they're less bad than one of the alternatives.
Related posts:
________________
Worse still, America's depression was to become worldwide because of what lies behind these doors. This is the vault of the Federal Reserve Bank of New York. Inside is the largest horde of gold in the world. Because the world was on a gold standard in 1929, these vaults, where the U.S. gold was stored, […]
  George Eccles: Well, then we called all our employees together. And we told them to be at the bank at their place at 8:00 a.m. and just act as if nothing was happening, just have a smile on their face, if they could, and me too. And we have four savings windows and we […]
Milton Friedman's Free to Choose (1980), episode 3 – Anatomy of a Crisis. part 1 FREE TO CHOOSE: Anatomy of Crisis Friedman Delancy Street in New York's lower east side, hardly one of the city's best known sites, yet what happened in this street nearly 50 years ago continues to effect all of us today. […]
By Everette Hatcher III | Also posted in Current Events | Edit | Comments (0)
____________________________
_____________

________________________________________________
_____________________________________________
Friedman Friday" Free to Choose by Milton Friedman: Episode "What is wrong with our schools?" (Part 3 of transcript and video) Here is the video clip and transcript of the film series FREE TO CHOOSE episode "What is wrong with our schools?" Part 3 of 6.   Volume 6 – What's Wrong with our Schools Transcript: If it […]
Here is the video clip and transcript of the film series FREE TO CHOOSE episode "What is wrong with our schools?" Part 2 of 6.   Volume 6 – What's Wrong with our Schools Transcript: Groups of concerned parents and teachers decided to do something about it. They used private funds to take over empty stores and they […]
By Everette Hatcher III | Also posted in Vouchers | Edit | Comments (1)
Friedman Friday" Free to Choose by Milton Friedman: Episode "Created Equal" (Part 3 of transcript and video) Liberals like President Obama want to shoot for an equality of outcome. That system does not work. In fact, our free society allows for the closest gap between the wealthy and the poor. Unlike other countries where free enterprise and other […]
Free to Choose by Milton Friedman: Episode "Created Equal" (Part 2 of transcript and video) Liberals like President Obama want to shoot for an equality of outcome. That system does not work. In fact, our free society allows for the closest gap between the wealthy and the poor. Unlike other countries where free enterprise and other freedoms are […]
 Milton Friedman and Ronald Reagan Liberals like President Obama (and John Brummett) want to shoot for an equality of outcome. That system does not work. In fact, our free society allows for the closest gap between the wealthy and the poor. Unlike other countries where free enterprise and other freedoms are not present.  This is a seven part series. […]
 I am currently going through his film series "Free to Choose" which is one the most powerful film series I have ever seen. PART 3 OF 7 Worse still, America's depression was to become worldwide because of what lies behind these doors. This is the vault of the Federal Reserve Bank of New York. Inside […]
By Everette Hatcher III | Edit | Comments (0)
 I am currently going through his film series "Free to Choose" which is one the most powerful film series I have ever seen. For the past 7 years Maureen Ramsey has had to buy food and clothes for her family out of a government handout. For the whole of that time, her husband, Steve, hasn't […]
Friedman Friday:("Free to Choose" episode 4 – From Cradle to Grave, Part 1 of 7) Volume 4 – From Cradle to Grave Abstract: Since the Depression years of the 1930s, there has been almost continuous expansion of governmental efforts to provide for people's welfare. First, there was a tremendous expansion of public works. The Social Security Act […]
By Everette Hatcher III | Edit | Comments (0)
"FREE TO CHOOSE" 1: The Power of the Market (Milton Friedman) Free to Choose ^ | 1980 | Milton Friedman Posted on Monday, July 17, 2006 4:20:46 PM by Choose Ye This Day FREE TO CHOOSE: The Power of the Market Friedman: Once all of this was a swamp, covered with forest. The Canarce Indians […]
By Everette Hatcher III | Posted in Current Events, Milton Friedman | Edit | Comments (0)
Milton Friedman: Free To Choose – The Failure Of Socialism With Ronald Reagan (Full) Published on Mar 19, 2012 by NoNationalityNeeded Milton Friedman's writings affected me greatly when I first discovered them and I wanted to share with you. We must not head down the path of socialism like Greece has done. Abstract: Ronald Reagan […]