_
_
Richard Dawkins and Ricky Gervais
_
Francis Schaeffer below:
Richard Dawkins vs John Lennox | The God Delusion Debate
Ben Stein vs. Richard Dawkins Interview

XXXX Peter Singer – The Genius of Darwin: The Uncut Interviews – Richard Dawkins
XXXXXXX
__
__
Science Confirms the Bible with Ken Ham
__
Schaeffer with his wife Edith in Switzerland.
Richard Dawkins and John Lennox
_
XXXX
September 25, 2019
Richard Dawkins c/o Richard Dawkins Foundation,
Washington, DC 20005
Dear Mr. Dawkins,
i have enjoyed reading about a dozen of your books and some of the most intriguing were The God Delusion, An Appetite for Wonder: The Making of a Scientist, and Brief Candle in the Dark: My Life in Science.
I am looking forward to reading Outgrowing God which is your latest book, and I have been reading several reviews of it. The best interviewer is Krishnan Guru-Murthy in my opinion. He did a great job of asking you some very insightful questions, and I thought your answers gave the audience a good feel for what is in the book.
On September 13, 2019 you tweeted out:
Florida faces serious challenges to science education with the encroachment of religion into public policy. Learn more and get energized to fight back with hundreds of freethinkers in Orlando this November 1st – 3rd. Check out FREEFLO.org #
I responded by tweeted out:
Darwin said "The number of intermediate & transitional links,between all living and extinct species, must have been inconceivably great" In other words, if Darwin's theory is true we should find tons of transitional forms in the fossil record. But we don't thedailyhatch.org/2019/09/09/bre…
Brett Kunkle of STR quotes Niles Eldridge on Evolution
Stand to Reason Speaker
If you would like to schedule Brett Kunkle to speak to your group, please contact:
Dawnielle at dawnielle@str.org
or call Dawnielle at (800) 2-REASON.
Donate to Brett Brett's Schedule
I grew up in a Christian home. I came to Christ at five and was baptized at six. My family was very committed to the local church. I was a leader in my youth group and a ministry intern as a senior in high school. I had plans to serve God in vocational ministry.
But then I met Dr. David Lane.
It was my freshman year in college and the course was Philosophy 101. Dr. Lane systematically dismantled the Christianity I grew up with. In class. In front of everyone. And I was not ready.
Neither are most of our young people.
Now you know why I am so passionate about training the next generation. I'm preparing students so they will be equipped to face their own Dr. Lane. High schoolers, college students, and yes, even wild little junior highers. I'm not just training students but parents and leaders too, those who are responsible for teaching our youth.
So check out some of the unique work I've been doing with adults and students. And let's partner very soon.
______________________
No. The fossil record provides no evidence for macroevolution.
Scientists suggest there is evidence for macroevolution. They point to the fossil record. They argue we have transitional forms. These are intermediate fossils that demonstrate gradual change from one type of species to another. Scientists hold up examples like Archaeopteryx. Maybe you've seen this lizard-like-bird fossil in your biology book (if not, google it). Supposedly, it's a transitional form between lizards and birds. But there's a major problem with transitional forms in general.
A few potential transitional examples here and there are not enough. Evolutionists need a lot more. Darwin said so himself in Origin of the Species. "The number of intermediate and transitional links, between all living and extinct species, must have been inconceivably great (emphasis mine)." In other words, if Darwin's theory is true we should find tons of transitional forms in the fossil record. But we don't.
Take Archaeopteryx as an example. Where are the "inconceivably great" number of fossils showing the evolution from lizard to Archaeopteryx? Don't have them. And where are the "inconceivably great" number of fossils showing the evolution from Archaeopteryx to bird? Don't have them either. The fossil record should show how you get all the way from lizard to bird. Only one fossil? C'mon. In fact, many scientists today consider Archaeopteryx nothing more than an extinct species of bird. Yeah, maybe it's a weird-looking animal but so is the duck-billed platypus. And nobody considers it a transitional form between ducks and beavers.
But don't take my word for it. Ask a paleontologist, the scientists who study the fossil record. Better yet, ask one of the world's leading paleontologists, Niles Eldredge. When it comes to paleontology, Niles is a rock star. He says the fossil record has produced no evidence of transitional forms. In a moment of honesty, Niles writes that it is no surprise "paleontologists shied away from evolution for so long. It never seems to happen."
No gradual changes from one type of species to another in the fossil record. No "inconceivably great" number of transitional forms. No, the fossil record is not evidence of macroevolution
The answer to find meaning in life is found in putting your faith and trust in Jesus Christ. The Bible is true from cover to cover and can be trusted.
Thank you again for your time and I know how busy you are.
Everette Hatcher, everettehatcher@gmail.com, http://www.thedailyhatch.org, cell ph 501-920-5733, Box 23416, LittleRock, AR 72221, United States
XXXXXXX
_
Francis and Edith Schaeffer seen below:
__
_
Dawkins, Hitchens, Dennett, Harris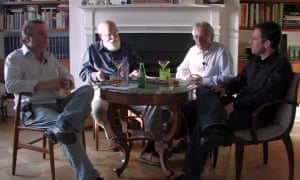 Canary Islands 2014: Harold Kroto and Richard Dawkins
__
Francis Schaeffer pictured below:
The Basis of Human Dignity by Francis Schaeffer
Richard Dawkins, founder of the Richard Dawkins Foundation for Reason and Science. Credit: Don Arnold Getty Images
—
Francis Schaeffer in 1984
Christian Manifesto by Francis Schaeffer
Francis Schaeffer in 1982
—-
Whatever Happened to the Human Race? Episode 1
—
—
–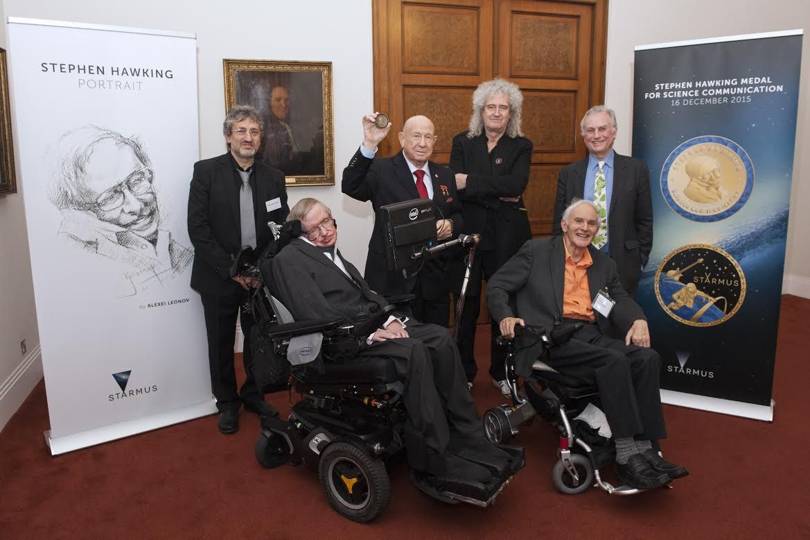 Garik Israelian, Stephen Hawking, Alexey Leonov, Brian May, Richard Dawkins and Harry Kroto
—-
—-
—-
Dark History of Evolution-Henry Morris, Ph.D.
—-
Featured artist is Walton Ford
The Artist Project: Walton Ford
Walton Ford was born in 1960 in Larchmont, New York. Ford graduated from the Rhode Island School of Design with the intention of becoming a filmmaker, but later adapted his talents as a storyteller to his unique style of large-scale watercolor. Blending depictions of natural history with political commentary, Ford's meticulous paintings satirize the history of colonialism and the continuing impact of slavery and other forms of political oppression on today's social and environmental landscape.
Each painting is as much a tutorial in flora and fauna as it is as a scathing indictment of the wrongs committed by nineteenth-century industrialists or—locating the work in the present—contemporary American consumer society. An enthusiast of the watercolors of John James Audubon, Ford celebrates the myth surrounding the renowned naturalist-painter while simultaneously repositioning him as an infamous anti-hero—who, in reality, killed more animals than he ever painted. Each of Ford's animal portraits doubles as a complex, symbolic system, which the artist layers with clues, jokes, and erudite lessons in colonial literature and folktales.
Walton Ford is the recipient of several national awards and honors, including a fellowship from the John Simon Guggenheim Memorial Foundation and the National Endowment for the Arts. Ford's work has been featured at Bowdoin College Museum of Art, Southeastern Center for Contemporary Art, Whitney Museum of American Art at Champion, and Forum for Contemporary Art in St. Louis. After living in New York City for more than a decade, Walton Ford relocated his studio to Great Barrington, Massachusetts. Ford and his family reside in upstate New York.
—-
Related posts:
On November 21, 2014 I received a letter from Nobel Laureate Harry Kroto and it said: …Please click on this URL http://vimeo.com/26991975 and you will hear what far smarter people than I have to say on this matter. I agree with them. Harry Kroto _________________ Below you have picture of 1996 Chemistry Nobel Prize Winner […]
The Beatles were "inspired by the musique concrète of German composer and early electronic music pioneer Karlheinz Stockhausen…" as SCOTT THILL has asserted. Francis Schaeffer noted that ideas of "Non-resolution" and "Fragmentation" came down German and French streams with the influence of Beethoven's last Quartets and then the influence of Debussy and later Schoenberg's non-resolution which is in total contrast […]
_______ On November 21, 2014 I received a letter from Nobel Laureate Harry Kroto and it said: …Please click on this URL http://vimeo.com/26991975 and you will hear what far smarter people than I have to say on this matter. I agree with them. Harry Kroto _________________ Below you have picture of 1996 Chemistry Nobel Prize […]
On November 21, 2014 I received a letter from Nobel Laureate Harry Kroto and it said: …Please click on this URL http://vimeo.com/26991975 and you will hear what far smarter people than I have to say on this matter. I agree with them. Harry Kroto ____________________ Below you have picture of 1996 Chemistry Nobel Prize Winner Dr. […]