—
This post takes a look at the song ADAM'S SONG which is about suicide but don't stop reading there but continue to the end of the post where there is some hope!!
I never thought I'd die alone
I laughed the loudest who'd have known?
I trace the cord back to the wall
No wonder it was never plugged in at all
I took my time, I hurried up
The choice was mine I didn't think enough
I'm too depressed to go on
You'll be sorry when I'm goneI never conquered, rarely came
Sixteen just held such better days
Days when I still felt alive
We couldn't wait to get outside
The world was wide, too late to try
The tour was over, we'd survived
I couldn't wait till I got home
To pass the time in my room aloneI never thought I'd die alone
Another six months I'll be unknown
Give all my things to all my friends
You'll never step foot in my room again
You'll close it off, board it up
Remember the time that I spilled the cup
Of apple juice in the hall
Please tell mom this is not her faultI never conquered, when you came
Sixteen just held such better days
Days when I still felt alive
We couldn't wait to get outside
The world was wide, too late to try
The tour was over, we'd survived
I couldn't wait till I got home
To pass the time in my room aloneI never conquered, when you came
Tomorrow holds such better days
Days when I can still feel alive
When I can't wait to get outside
The world is wide, the time goes by
The tour is over, I've survived
I can't wait till I get home
To pass the time in my room aloneSource: LyricFindSongwriters: Tom De Longe / Mark HoppusAdam's Song lyrics © Sony/ATV Music Publishing LLC, Kobalt Music Publishing Ltd.
——
—-
–
—-
—-
—-
Francis Schaeffer pictured below in 1971 at L Abri
_
_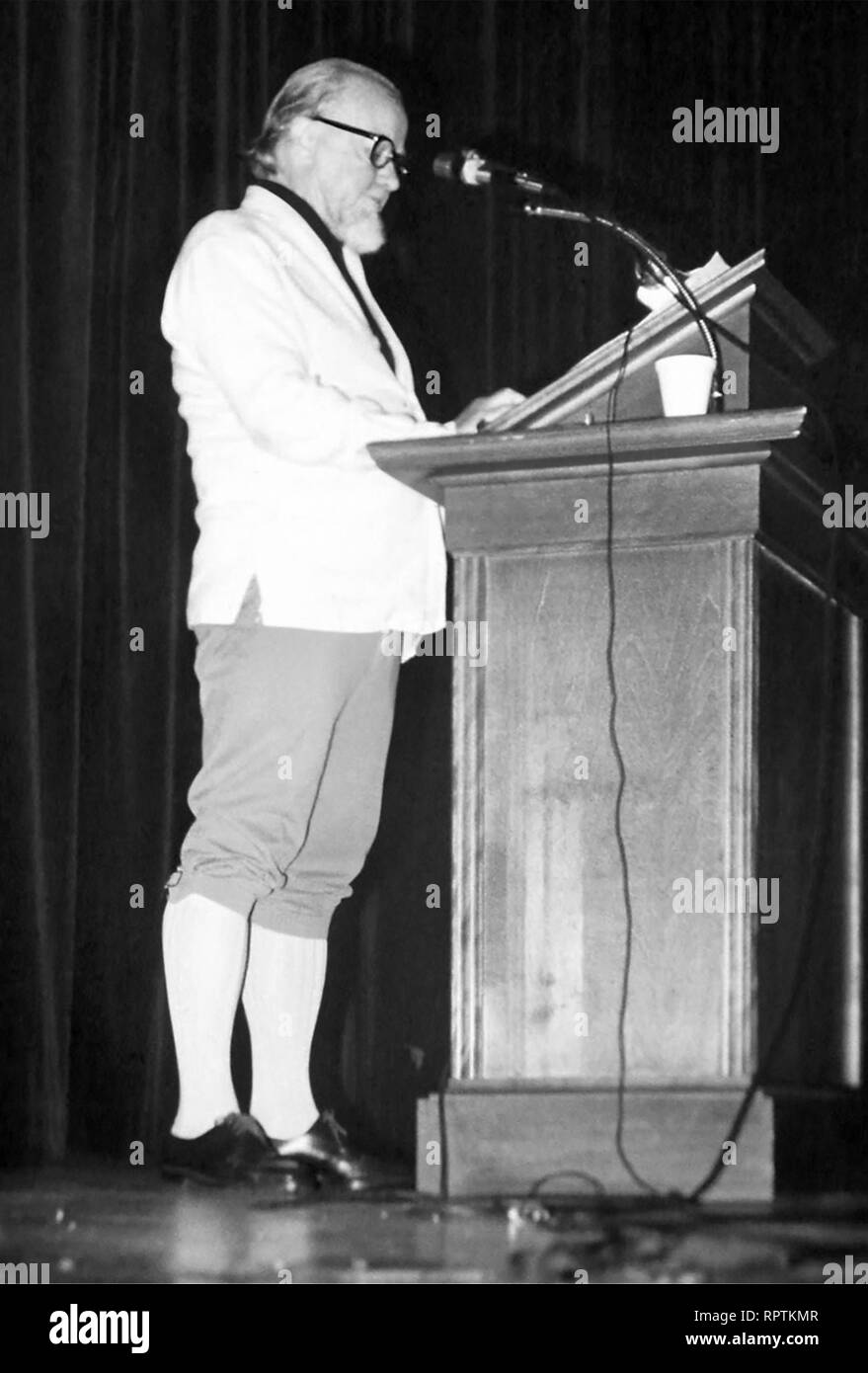 Dr. Francis Schaeffer at L'Abri Conference, Urbana, 1981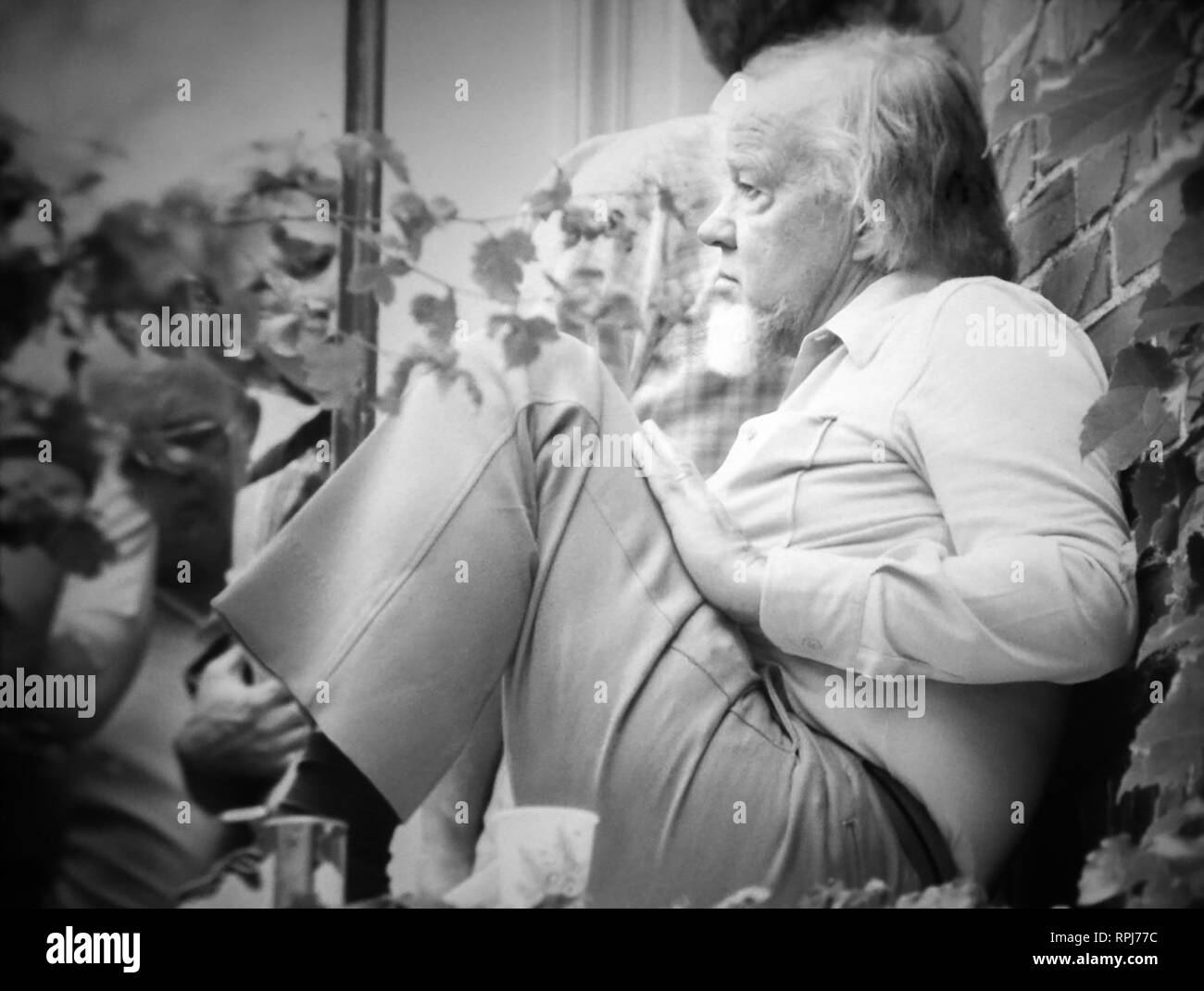 _
Reviving the Pop-Punk Innocence of Blink-182
Amanda Petrusich August 2016
Although pop-punk was not invented in the late nineteen-nineties—in the preceding decades, bands like Bad Religion, Agent Orange, Social Distortion, Hüsker Dü, Green Day, and the Descendents did the strange work of injecting either melody or jocularity, or both, into punk's staunchness—few musical genres now feel as emblematic of that era. And no era is presently being gazed upon with more pie-eyed approbation than the waning years of the twentieth century. It seems deeply bogus to call that adoration "nostalgia," as many of the folks now knotting flannel shirts around their midriffs and dipping their pigtails into jars of Manic Panic weren't even born when, say, the Offspring released "Smash"—but it is earnest, and it is widespread. The nineties, they are Cool.
Which means the melodic pop-punk of yesteryear is having an odd return, if not quite a proper renaissance. While a handful of new bands are making vital-seeming pop-punk records, the genre is not commercially ascendant; rather, it seems to have invaded young hearts and minds as an artifact. To that end, one of pop-punk's most beloved practitioners, Blink-182—a trio born, in 1992, from the skate parks of Southern California—is enjoying a renewed popularity. When the band released its seventh record, "California," in July, it débuted atop the pop charts both in the U.K. and in the U.S., where it unseated Drake. (Kelefa Sanneh reviewed the album in the July 25th issue of the magazine.) This month, the band will play a string of shows in and around New York, including Barclays Center, in Brooklyn, and the Nikon at Jones Beach Theatre, in Wantagh.
Punk purists were scandalized by Green Day's leap, in 1994, from the independent Lookout! Records to Reprise, which is owned by the Warner Music Group, one of the "Big Three" recording conglomerates. But by the time Blink-182 released its third record, "Enema of the State," in 1999, pop-punk was axiomatically understood as a sovereign entity, a subgenre that—unlike punk, which thrived on subverting notions of palatability—was deliberately engineered for mass pleasure. "Enema of the State" has since become one of the genre's most canonical documents (though it owes its predecessors everything) and also one of its most adored. It is as apolitical and un-self-serious as its title suggests. The cover features a young lady (Janine Lindemulder, then a star of pornographic videos) wearing blue eyeshadow and a red brassiere, squeezed into a nurse's costume. She is suggestively stretching a rubber glove over her right hand.
In 1999, the three members of Blink-182—the singer and guitarist Tom DeLonge, the singer and guitarist Mark Hoppus, and the drummer Travis Barker—were in their mid-twenties, and deep into the kind of extended adolescence now presumed of young, privileged American men. I'd dare suggest that the band even helped engineer (or at least further normalize) the practice of rejecting traditional beacons of manhood. Blink-182 was brazenly unconcerned with seeming churlish or wayward. Being a clown incited no shame. A year earlier, the band had titled a tour "PooPoo PeePee." The notion of embracing adulthood, even begrudgingly—of putting aside childish things, of committing to the sort of life that places a person in orbit of something other than himself, of pumping the brakes just a little on the dick jokes—simply did not register or have currency. Life was about gags, and doing whatever you felt like doing—or at least that was the performance. From the outside, it looked glorious. "Enema of the State" eventually sold more than fifteen million copies worldwide, a success by any measure. Blink-182's snickering nihilism had legs.
On "Dammit," an early single about a trying breakup, the chorus goes, "I guess this is growing up." Hoppus sounds devastated each time he sings the line. It seems he was so bummed out by it that he ultimately decided to try and circumvent the eventuality of aging altogether: by the summer of 1999, "What's My Age Again?," a single from "Enema of the State," had become a frantic anthem for anyone unwilling to go gracefully into adulthood. The song continues to function as such. "My friends say I should act my age," Hoppus sings, but he just isn't feeling it; he loses the girl. "That's about the time she walked away from me," he shrugs. "Nobody likes you when you're twenty-three." This isn't exactly true—twenty-three is, in fact, squarely within our most coveted and courted age bracket—but part of being a perpetual teen-ager is refusing accountability, enacting an endless shuck and jive around the issue of your own cowardice.
Which is not to say that the band was witless. The video for "All the Small Things," a sendup of boy bands like the Backstreet Boys and 'N Sync, is startlingly clever, positioning Blink-182 as a petulant, mischievous counterpoint to dopey, manufactured pop music—when in reality those bands share significant musical DNA. It made the band seem fun, carefree, insouciant. Elsewhere on "Enema of the State," when Blink-182 attempted seriousness—as in "Adam's Song," a track nominally about depression and suicide—it lost momentum. Its finest moments are barked in aggrieved-teen shorthand, like this verse from "All the Small Things": "Late night / Come home / Work sucks / I know."

The grievances and pleasures Blink-182's songs express—the dumbness of adults, how weird sex is, how cool jokes are, how lonesome life can be—are the kinds of things that get worried over most loudly from ages twelve to eighteen. It's tempting to think that our emotions become more complex and multitudinous when we grow up. But most of us continue following those same early tracks, the ones we gouged in adolescence; the whole spectrum of human experience, all that longing and self-doubt, is perfectly sketched out in those formative years. That's where pop-punk lives. Its rawness lies not in the music but in the heady newness of those feelings.
This is, I think, at least partially why the band has endured. But I also wonder if we're clinging to the sound—protecting it—as we would an endangered species. In 2016, a record like "Enema of the State" hits like a shot of oxygen. It's revitalizing—and comforting, somehow—to revisit the sort of playful, featherbrained temperament made possible only by a decade in which prosperity and safety seemed nearly guaranteed. Most of the kids hollering along to the band's discography at shows today never even knew a pre-9/11 world. I sometimes wonder, though, if the air has gotten too toxic for Blink-182's brand of ribald goofiness.
Of course, Blink-182 looks different these days. DeLonge, who turned forty last year, has stopped touring with the band, although it is unclear whether he remains a member. (Matt Skiba, of Alkaline Trio, has been acting as his replacement.) Instead, DeLonge has committed himself to activities involving extraterrestrial life. Lately, he's been giving loony-sounding quotes to magazines, like in April, when he told Rolling Stone, "I couldn't tell the band I was working with people in the government. . . . I have ten people that I'm working with that are at the highest levels of the Department of Defense and nasa and the military. Big shit, and no one knows this." Which is good copy—who wouldn't delight in the idea that the former guitarist of a terrifically juvenile pop-punk band is now colluding with government officials to untangle the mysteries of space?—until it begins to register that maybe something else is going on.
Or perhaps focussing one's attention on celestial affairs is a reasonable way to deal with 2016. There is a palpable hunger for balms of any type right now, and, as it gets harder and harder to invent new ones, it makes sense that we'd turn, collectively, toward preëxisting expressions—toward songs or bands or genres that don't feel marred by a vast pessimism. In that sense, pop-punk—and its ability to express foolishness and, by extension, true joy—feels eternal.
Adam's song is filled with hope in the last paragraph of lyrics. So many young people stop short of committing suicide and they think more of the hope the future can offer. Take a look at the story below of someone who gave life another chance after he had actually shot himself in a failed suicide attempt.
Last paragraph of lyrics from "Adam's song: I never conquered, rarely came
Tomorrow holds such better days
Days when I can still feel alive
When I can't wait to get outside
The world is wide, the time goes by
The tour is over, I'd survived
I can't wait till I get home
To pass the time in my room alone
by Greg Hartman
Jim Centifanto parked his motorcycle and walked into the Florida woods. He loaded the 12-gauge shotgun he had borrowed and took a deep breath. Holding the shotgun's barrel in his left hand, he pressed its muzzle into his stomach. Leaning forward, he pulled the trigger with his right hand.
The blast threw him off his feet and left a gaping, fist-sized hole on the left side of his abdomen. Dropping the gun, Jim staggered back to his motorcycle, rode to his mother's house four miles away, and passed out on her front steps.
Four days later, as he was waking up from a coma, he heard a voice speak to him. "I saved you for a reason," the voice said. Centifanto looked around, startled. The room was empty.
Centifanto's father had taught him and his brothers and sisters to respond to problems with violence. Lawrence Centifanto, a career Marine, married his wife, Ysolina, while he was serving in Panama. Soon after Jim was born, his father went to Korea for three years, then to Vietnam for another three years. Centifanto was 6 before he knew his father.
Lawrence Centifanto sent all his money home for the six long years he was at war. He asked his wife to save it up for him, and expected to return home to a sizable nest egg. Instead, she moved her family from New York to Florida and put herself through medical school.
"I'm not sure if he loved my mother," Jim said, "but I know she didn't love him. She only married him to get her American citizenship and an education."
Centifanto's excitement at meeting his father quickly turned into horror when his father discovered what had happened to his money. He made his children sit on the sofa and watch as he beat and choked their mother.
Living with his father, Centifanto said, was like living with an unpredictable volcano. Lawrence Centifanto viciously beat his wife and children at the slightest provocation or for no reason at all. One time, he tore an earring out of his daughter's ear. Another time, after being out of town for a month, he pulled up in his driveway and saw Jim pull aside the curtains to look out the front window, excited to see his father. Lawrence responded to his son's enthusiastic greeting with a savage beating. "He told me I could have gotten dirt on the curtains," Centifanto said.
Finally, when Centifanto was 9, his mother divorced her husband. Ysolina Centifanto's solution to her ex-husband's brutal discipline was to avoid disciplining her children at all. "We went from one end of the scale to the other. She said, 'This will never happen to us again,' and she let my brothers and I run totally wild. We did anything we wanted."
Within a year, Centifanto was expelled from the Catholic school he had been attending and joined a gang with his brother. He began using and dealing drugs.
One day the vice president of Centifanto's gang, Bobby Hicks, showed up at the gang's hangout with a short haircut and wearing a suit and tie. "We thought he was going to court," Centifanto said. "You know, when you have to see a judge you dress up nice and hope maybe he'll be more lenient. That's what we thought Bobby was doing."
Instead, Hicks threw his fellow gang members a curve. "I just got born again!" he announced.
"He could have said, 'I just went to the moon,' for as much as we understood him," Centifanto said. "We just laughed and said, 'You did what?'"
But when Hicks started preaching at his friends, the gang's leader stopped laughing and provoked Centifanto to fight Hicks.
"Bobby was 20 — six years older than me," Centifanto said, "and he weighed about 250 pounds. I'd seen what he did to other guys. I whipped him with a bullwhip and chased him down the street; I totally humiliated him in front of everyone. The day before, he would have killed me. But this time, he wouldn't fight. I didn't know what made him act so weird."
Centifanto soon forgot his former friend's odd behavior as he sank deeper into his world of drinking and drugs. "I stayed stoned all the time, 24 hours a day," he said. "I'd take enough drugs at night to keep me stoned until I woke up, then start over again."
In 1970, when Centifanto was 15, his girlfriend broke up with him. "She was the closest thing to love I had in my life," he said. "I hated life, just hated it. No one loved me and when she rejected me, too, I couldn't take it." He borrowed a shotgun and shot himself in the stomach. Incredibly, he lived.
"I was in a coma for four days," Centifanto said. "No one expected me to live; they couldn't believe I'd even managed to ride my bike to my mother's house."
Soon after Centifanto awoke from his coma, his mother announced she had had it with him and sent him to live with his father in Chicago. Within a year, his stepmother kicked him out, too. He was 17.
Centifanto got a job at a steel mill and lived with Terry, a co-worker, and his parents. Terry and his father worked at the steel mill with Centifanto. After work, the three of them got drunk almost every night. Then Terry's mother surprised them all one day: She announced that she had become a Christian.
"She used to try to talk with me about Christ for hours," Centifanto said, "even though I was usually drunk. I accidentally walked in on her one night and she was praying, just weeping and asking God to have mercy on me. Everyone else had rejected me, and she didn't have any benefit from trying to reach me. But here she was praying for me. I just couldn't understand it."
About two months later, Centifanto joined the Marines, and found he made a good soldier. "I went in there full of bitterness and violence, and they said, 'Here's a gun. We like it if you want to hate and kill.'" But peace of mind still eluded him. His drinking continued unabated, landing him in the hospital twice and almost destroying his kidneys.
Two years later, Centifanto was stationed in Hawaii. One night while his platoon was on maneuvers, a soldier from another unit struck up a conversation with him.
"He told me about what Jesus had done for him," Centifanto said, "and I just started weeping uncontrollably. I could see he'd been where I was and I wanted what he had." Centifanto asked the man if he could go to church with him, and the man agreed to pick Centifanto up at his barracks the next Sunday morning.
But Centifanto had neglected to get his name, and when he didn't show up, Centifanto was desperate. Finally, about two months later, Centifanto ran into him again. "I shook him and yelled at him: 'You said you'd take me to church! You better show up this time!'" Centifanto said with a chuckle. He got the man's name — Donald Taylor — and eagerly awaited the next Sunday.
Taylor showed up as promised this time, and took Centifanto to church. "I was mad at Don because I thought he told Eugene Stober, the pastor, about me," Centifanto said. "Every single word that came out of his mouth was about me and my sin.
"When I was 14 and Bobby Hicks got saved, I didn't understand what he was talking about. I heard God speak to me after I shot myself, but I didn't listen to that, either. And Terry's mom explained the gospel to me, but it still didn't stop me from sinning.
"We have to come to the end of ourselves before we realize how desperately we are in need. I was at the end of myself this time. I was so ripe for the gospel. This time it was different; this time the ring of truth was going through my heart."
Centifanto began attending church with Taylor. A month later, while supervising the armory guard, he read a magazine article about the end of the world and panicked. "I was convinced Jesus was coming back — tomorrow!" he said. He left his post — a court-martial offense — and hurried to the church. Finding Pastor Stober, he begged him to tell him how to get saved.
Eugene Stober led Centifanto in prayer. That night, Aug. 17, 1974, in Oahu, Hawaii, when he was 19 years old, Jim Centifanto asked Jesus Christ to forgive his sin and be his Lord and Savior.
When they were finished praying, Pastor Stober handed Centifanto a quarter. Confused, he took it. "That's what salvation is like: a free gift," Stober said. "And that quarter is just like your life, too: You're free to spend it any way you like, but you can only spend it once."
"That's when what had just happened really hit me," Centifanto said. "It was like scales fell from my eyes. All the hate and bitterness, the way I hated myself and everyone else and hated life so much — it left me; it was all gone, just like that."
Centifanto returned to the base, expecting to face a court-martial. To his surprise, his commander said, "Well, don't let it happen again," and dismissed him. When he awoke the next morning, he received another surprise: His desire for drugs and alcohol was gone, never to return.
Today Jim Centifanto and his wife and four children are missionaries in Guatemala. "The minute I got saved I started witnessing to everything that moved," he said. "I could never see any way to live after that but in service to God. When Pastor Stober handed me that quarter, God changed my life forever. He really did change my heart and make me a new creation."Copyright © 2006 Greg Hartman. Used with permission.
——
Francis Schaeffer taught young people at L Abri in Switzerland in the 1950's till the 1980's (pictured below)
Francis Schaeffer noted:
I have lots of young people and older ones come to us from the ends of the earth. And as they come to us, they have gone to the end of this logically and they are not living in a romantic setting. They realize what the situation is. They can't find any meaning to life. It's the meaning to the black poetry. It's the meaning of the black plays. It's the meaning of all this. It's the meaning of the words "punk rock."
Francis Schaeffer pictured
—-
—
"They are the natural outcome of a change from a Christian World View to a Humanistic one…
The result is a relativistic value system. A lack of a final meaning to life — that's first. Why does human life have any value at all, if that is all that reality is? Not only are you going to die individually, but the whole human race is going to die, someday. It may not take the falling of the atom bombs, but someday the world will grow too hot, too cold. That's what we are told on this other final reality, and someday all you people not only will be individually dead, but the whole conscious life on this world will be dead, and nobody will see the birds fly. And there's no meaning to life.
As you know, I don't speak academically, shut off in some scholastic cubicle, as it were. I have lots of young people and older ones come to us from the ends of the earth. And as they come to us, they have gone to the end of this logically and they are not living in a romantic setting. They realize what the situation is. They can't find any meaning to life. It's the meaning to the black poetry. It's the meaning of the black plays. It's the meaning of all this. It's the meaning of the words "punk rock." And I must say, that on the basis of what they are being taught in school, that the final reality is only this material thing, they are not wrong. They're right! On this other basis there is no meaning to life and not only is there no meaning to life, but there is no value system that is fixed, and we find that the law is based then only on a relativistic basis and that law becomes purely arbitrary.
—-
Francis Schaeffer also observed:
The peak of the drug culture of the hippie movement was well symbolized by the movie Woodstock. Woodstock was a rock festival held in northeastern United States in the summer of 1969. The movie about that rock festival was released in the spring of 1970. Many young people thought that Woodstock was the beginning of a newand wonderful age.
Jimi Hendrix (1942–1970) himself was soon to become a symbol of the end. Black, extremely talented, inhumanly exploited, he overdosed in September 1970 and drowned in his own vomit, soon after the claim that the culture of which he was a symbol was a new beginning. In the late sixties the ideological hopes based on drug-taking died.
After Woodstock two events "ended the age of innocence," to use the expression of Rolling Stone magazine. The first occurred at Altamont, California, where the Rolling Stones put on a festival and hired the Hell's Angels (for several barrels of beer) to police the grounds. Instead, the Hell's Angels killed people without any cause, and it was a bad scene indeed. But people thought maybe this was a fluke, maybe it was just California! It took a second event to be convincing. On the Isle of Wight, 450,000 people assembled, and it was totally ugly. A number of people from L'Abri were there, and I know a man closely associated with the rock world who knows the organizer of this festival. Everyone agrees that the situation was just plain hideous.
(How Should We Then Live, pp. 209-210)
In his book HOW SHOULD WE THEN LIVE? Francis Schaeffer noted:
This emphasis on hallucinogenic drugs brought with it many rock groups–for example, Cream, Jefferson Airplane, Grateful Dead, Incredible String Band, Pink Floyd, and Jimi Hendrix. Most of their work was from 1965-1958. The Beatles'Sergeant Pepper's Lonely Hearts Club Band (1967) also fits here. This disc is a total unity, not just an isolated series of individual songs, and for a time it became the rallying cry for young people throughout the world. As a whole, this music was the vehicle to carry the drug culture and the mentality which went with it across frontiers which were almost impassible by other means of communication.
Here is a good review of the episode 016 HSWTL The Age of Non-Reason of HOW SHOULD WE THEN LIVE?, December 23, 2007:
Together with the advent of the "drug Age" was the increased interest in the West in the religious experience of Hinduism and Buddhism. Schaeffer tells us that: "This grasping for a nonrational meaning to life and values is the central reason that these Eastern religions are so popular in the West today." Drugs and Eastern religions came like a flood into the Western world. They became the way that people chose to find meaning and values in life. By themselves or together, drugs and Eastern religion became the way that people searched inside themselves for ultimate truth.
Along with drugs and Eastern religions there has been a remarkable increase "of the occult appearing as an upper-story hope." As modern man searches for answers it "many moderns would rather have demons than be left with the idea that everything in the universe is only one big machine." For many people having the "occult in the upper story of nonreason in the hope of having meaning" is better than leaving the upper story of nonreason empty. For them horror or the macabre are more acceptable than the idea that they are just a machine.
Francis Schaeffer has correctly argued:
The universe was created by an infinite personal God and He brought it into existence by spoken word and made man in His own image. When man tries to reduce [philosophically in a materialistic point of view] himself to less than this [less than being made in the image of God] he will always fail and he will always be willing to make these impossible leaps into the area of nonreason even though they don't give an answer simply because that isn't what he is. He himself testifies that this infinite personal God, the God of the Old and New Testament is there.
Instead of making a leap into the area of nonreason the better choice would be to investigate the claims that the Bible is a historically accurate book and that God created the universe and reached out to humankind with the Bible. Below is a piece of that evidence given by Francis Schaeffer concerning the accuracy of the Bible.
TRUTH AND HISTORY (chapter 5 of WHATEVER HAPPENED TO THE HUMAN RACE?, under footnote #94)
There is also a confirmation of what the Bible says concerning the Egyptian King Tirhakah who came up to oppose the Assyrians. Confirmation of his reality is typified by a sphinx-ram in the British Museum (British Museum Ref. B.B.1779). The small figure between the legs of the ram is a representation of King Tirhakah. The Bible says that when Sennacherib heard that Tirhakah, king of Eqypt, was coming to fight against him, he sent messengers to tell Hezekiah that help from Egypt would be of no use to him.
2 Kings 19:9, 10 9 Now the king heard concerning Tirhakah king of Cush, "Behold, he has set out to fight against you." So he sent messengers again to Hezekiah, saying,10 "Thus shall you speak to Hezekiah king of Judah: 'Do not let your God in whom you trust deceive you by promising that Jerusalem will not be given into the hand of the king of Assyria. (Isaiah 37:9-10 also says about the same thing.)
The date of Sennacherib's campaign in Palestine is 701 B.C., and something which has often puzzled historians is the role of Tirhakah, who was not king of Egypt and Ethiopia until 690 B.C. But the solution to this problem is simple. In 701 B.C. Tirhakah was only a prince at the side of his military brother, the new Pharaoh Shebitku, who sent Tirhakah with an army to help Hezekiah fend off the Assyrian advance. But the story in Kings and Isaiah does not end in 701 B.C. It carries right through to the death of Sennacherib in 681 B.C., which is nine years after Tirhakah had become king of Egypt and Ethiopia. In other words, the biblical narrative, from the standpoint of 681 B.C., mentions Tirhakah by the title he bore at that time (that is, 681 B.C.), not as he was in 701 B.C. This is still done today, using a man's title as he is known at the time of writing even it one is speaking of a previous time in his personal history.
Unaware of the the importance of these facts, and falling into wrong interpretations of some of Tirhakah's inscriptions, some Old Testament scholars have stumbled over each in their eagerness to diagnose historical errors in the Books of the Kings and Isaiah. But as the archaeological confirmation shows, they were quite mistaken. What is striking about these archaeological finds is the way they often converge; there is often not just one line of evidence but several in which the biblical account is confirmed. We do not have confirmation of every single detail in the biblical account, by any means. Nor do we need such total confirmation in view of the amount of evidence there is. To insist on confirmation at every point would be to treat the Bible in a prejudiced way, simply because it is the Bible. The fact that is a religious book does not mean that it cannot also be true when it deals with history.
Not all archaeological finds have a convergence of many different interrelated lines like these around the life of Hezekiah, but they are no less striking. For example, take the "ration tablets" discovered in the ruins of Bablyon. The Bible tells us that after the Assyrians had destroyed the nothern kingdom of Samaria (around 721 B.C.), the southern kingdom, Judah, survived for almost another 150 years until approximately 586 B.C. By this time Assyria, one of the greatest military powers of the ancient world, had been defeated by Bablyon, a neighboring state to the east. That was in 609 B.C. Four years later the Babylonian general, Nebuchadnezzar–then the crown prince–came west and completely defeated Necho II, king of Egypt, at the battle of Carchemish. As a result of this victory he laid claim to Judah, which had previously been in the sphere of influence of Egypt. King Jehoiakim of Judah thus now paid tribute to the Babylonians. The Bible tells us that Jehoiakim rebelled three years later: "During Jehoiakim's reign Nebuchadnezzar king of Bablyon invaded the land, and Jehoiakim became his vassal for three years. But then he changed his mind and rebelled against Nebuchnezzar" (II Kings 24:1).
The political background for this step can be understood from the Babylonian Chronicles (British Museum, Ref. 21946, records events from 597 B.C. down to 594). These were a compressed chronological summary of the principal events from the Babylonian court. There had been a crucial battle in 601 B.C. between the Egyptians and the Babylonians. This had left both sides weakened, and Jehoiakim took this opportunity to declare his independence of the Babylonian king. His independence, or rather Judah's independence, did not last long, for Jehoiakim himself died in 598 B.C., leaving his throne and the crisis to his son, Jehoiachin. Second Kings (II Kings 24:10-12, 17) tells us what happened:
10 At that time the servants of Nebuchadnezzar king of Babylon came up to Jerusalem, and the city was besieged. 11 And Nebuchadnezzar king of Babylon came to the city while his servants were besieging it, 12 and Jehoiachin the king of Judah gave himself up to the king of Babylon, himself and his mother and his servants and his officials and his palace officials. The king of Babylon took him prisoner in the eighth year of his reign. 17 And the king of Babylon made Mattaniah, Jehoiachin's uncle, king in his place, and changed his name to Zedekiah.
The story of Jehoiachin does not end there, however. The royal family were kept at the court of Nebuchadnezzar, and the Bible says that they , like other royal captives, were provided for by the king with rations of grain and oil (II Kings 25:27-30):
27 And in the thirty-seventh year of the exile of Jehoiachin king of Judah, in the twelfth month, on the twenty-seventh day of the month, Evil-merodach king of Babylon, in the year that he began to reign, graciously freed[a] Jehoiachin king of Judah from prison.28 And he spoke kindly to him and gave him a seat above the seats of the kings who were with him in Babylon. 29 So Jehoiachin put off his prison garments. And every day of his life he dined regularly at the king's table, 30 and for his allowance, a regular allowance was given him by the king, according to his daily needs, as long as he lived.
The records of these allowances referred to in the Bible were unearthed in excavations in Babylon in basement storerooms of the royal palace (in Staat-Liches Museum, East Berlin, Vorderas Abteilung; Babylon 28122 and 28126). These are known as the "ration tablets" and they record who received such "rations." In these, Jehoiachin is mentioned by name.
We also have confirmation of the Babylonian advance towards Judah in Nebuchadezzar's first campaign. Among the ruins of Lachish were discovered a number of ostraca. Ostraca are broken pieces of earthenware called postherds, which were used for writing on in ink. (The Lachish ostraca are in the Palestinian Archaeological Museum, Jerusalem.) These brief letters reveal the increasing tensions within the growing state of Judah and tie in well with the picture given in the Bible by the Book of Jeremiah the Prophet. In Ostracon VI, the princes are accused of "weakening our hands" (that is, discouraging the writers), which is the very phraseology used in the Bible by the Judean princes against Jeremiah. Also, the use of fire beacons for signaling is found in both Ostracon IV and Jeremiah 6:1, each using the same terminology.
—
Featured artist is Keltie Ferris
Related posts
Johnny Cash a Christian?May 23, 2012 – 10:32 amI got to see Johnny Cash perform in Memphis in 1978 and I actually knew his nephew very well. He was an outspoken Christian and evangelical. Here is an article that discusses this. Johnny Cash's Complicated Faith Dave Urbanski <!– var fbShare = { google_analytics: 'true', } tweetmeme_source = 'RELEVANTMag'; –> Unwrapping the enigma of […]By Everette Hatcher III | Posted in Current Events | Edit | Comments (0)Johnny Cash (Part 3)December 23, 2011 – 12:57 amI got to hear Johnny Cash sing in person back in 1978. Here is a portion of an article about his Christian Testimony. The Man Came Around A Walking Contradiction Cash's daughter, singer-songwriter Rosanne Cash, once pointed out that "my father was raised a Baptist, but he has the soul of a mystic. He's […]By Everette Hatcher III | Posted in Current Events | Tagged christian testimony, prayer of thanksgiving, seven deadly sins, spiritual element, walking contradiction | Edit | Comments (0)Johnny Cash (Part 2)December 22, 2011 – 12:55 amI got to hear Johnny Cash sing in person back in 1978 at a Billy Graham Crusade in Memphis. Here is a portion of an article about his Christian Testimony. The Man Came Around Cash also made major headlines when he shared his faith on The Johnny Cash Show, a popular variety program on ABC […]By Everette Hatcher III | Posted in Current Events | Tagged billy graham crusade, christian testimony, evangelist billy graham, folsom prison blues, kris kristofferson | Edit | Comments (0)Johnny Cash (Part 1)December 21, 2011 – 12:51 amI got to hear Johnny Cash sing in person back in 1978. Here is a portion of an article about his Christian Testimony. The Man Came Around Johnny Cash was not ashamed of his Christian faith—though it was sometimes a messy faith—and even got some encouragement from Billy Graham along the way. Dave Urbanski | […]By Everette Hatcher III | Posted in Current Events | Tagged conservative bible, dave urbanski, jesus of nazareth, nickel and dime, true vine | Edit | Comments (0)
People in the Johnny Cash video "God's Gonna Cut You Down"May 11, 2012 – 12:10 pmWikipedia noted: Johnny Cash recorded a version of "God's Gonna Cut You Down" on American V: A Hundred Highways in 2003, with an arrangement quite different from most known gospel versions of the song. A music video, directed by Tony Kaye,[1] was made for this version in late 2006. It featured a number of celebrities, […]By Everette Hatcher III | Posted in Current Events | Tagged Amy Lee, chris martin | Edit | Comments (0)