Some American politicians, such as Joe Biden and Donald Trump, are very much opposed to dealing with Social Security, even though the current system has a massive $56 trillion cash-flow deficit.
For all intents and purposes, both the current president and his predecessor want to kick the can down the road, which surely is a recipe for massive future tax increases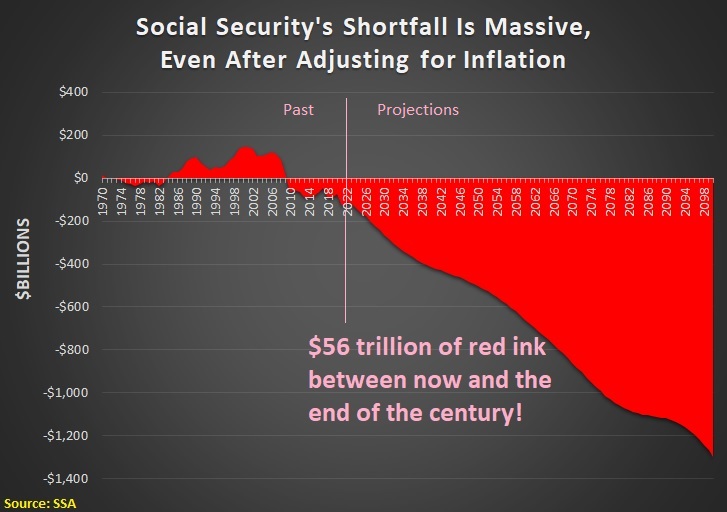 and may cause drastic changes to promised benefits.
Given their advanced ages, they probably won't be around next decade when the you-know-what hits the fan.
But the rest of us will have to deal with a terrible situation thanks to their selfish approach.
Other nations are more fortunate, with leaders who put the national interest above personal political ambition.
Johan Norberg has a new column in the Wall Street Journal about how Swedish lawmakers adopted personal retirement accounts and undertook other reforms to strengthen their pension system.
President Biden refuses to consider any reforms, and so do many Republicans. But that won't save the program; it'll doom it. …Sweden faced the same problem in the early 1990s. The old pay-as-you-go pension system had promised too much. With fewer births and longer lives, projections showed the system would be insolvent a decade later. …Its politicians chose not to deceive the voters.…In 1994 the Social Democrats agreed with the four center-right parties to create an entirely new system based on the principle that pensions should correspond to what the beneficiary pays into the system—a system in which the contribution, not the benefits, is defined. …Sweden introduced partial privatization of the kind the American left derides as a Republican plot… The Swedish government withholds roughly 2.3% of wages and puts it into individual pension accounts. Workers are allowed to choose up to five different funds in which to invest this money…the average Swede has made an impressive average return of roughly 10% a year since its inception in 1995, despite the dot-com crash, the financial crisis and the pandemic. …Sweden's pension system was recently described as the world's best by the insurance group Allianz, based on a combination of sustainability and adequacy.
Back in 2018, I wrote about Sweden's pension reforms, and I cited a study I co-authored back in 2000 for the Heritage Foundation.
Readers who want to learn more about the details of the Swedish system should read those publications.
For purposes of today's column, though, let's zoom out and see how Sweden's system compares to other nations.
We'll start by looking at a report by Mercer and the Chartered Financial Analyst Institute, which compared retirement systems in 43 developed countries. You can click here to view the full report and full rankings, but let's focus on the United States and Sweden.
As you can see, Sweden beats America in every category, including a giant lead for integrity.

It's also worth noting that Sweden is above average in every category while the United States is below average in two of the three categories.
Based on the Mercer/CFA report, we know Sweden's system is good for workers.
But what about taxpayers?
Here's a table showing the fiscal burden of old-age programs in European nations, taken from a reportby the International Monetary Fund.
As you can see for both the present and the future, Swedish taxpayers face one of the lowest burdens, with old-age spending consuming significantly less than 10 percent of economic output.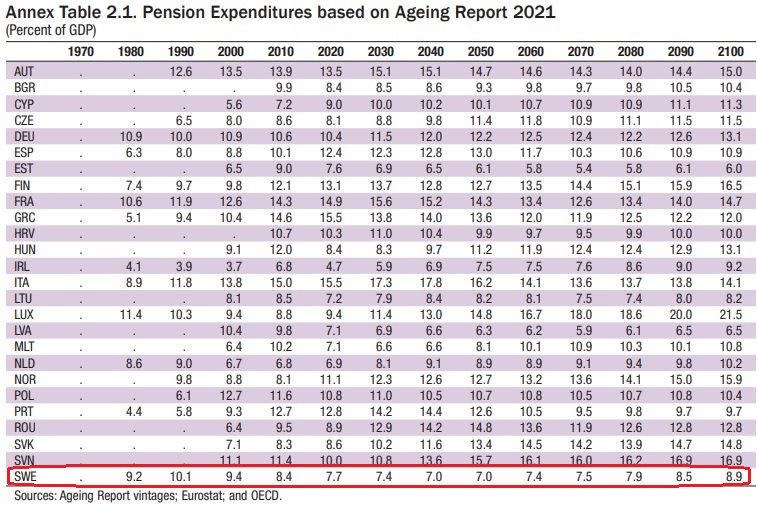 I'll close with a couple of very important observations about the international data.
Sweden is not the top nation in the Mercer/CFA report. It trails Australia, Denmark, Iceland, Israel, Netherlands, and Norway – all of which have systems that are fully or partly based on mandatory private savings.
Sweden does have the lowest spending burden in the IMF. The Baltic nations all do better – and all of those countries have systems that are partly based on mandatory private savings.
It's almost as if there's a lesson to be learned, even if Biden and Trump want to bury their heads in the sand.
P.S. Here's my short video making the case for personal retirement accounts.
Open letter to President Obama (Part 480)
(Emailed to White House on 4-9-13.)
President Obama c/o The White House 1600 Pennsylvania Avenue NW Washington, DC 20500
Dear Mr. President,
I know that you receive 20,000 letters a day and that you actually read 10 of them every day. I really do respect you for trying to get a pulse on what is going on out here. Why not consider reforming Social Security Mr. President?
___________
Social Security vs. Private Retirement
Is Social Security a good retirement plan? Economics professor Antony Davies shows that Americans stand to earn significantly less and assume more risk with Social Security than other investment options. According to Davies, taxpayers would be better off both in terms of financial security and return on investment by investing their money privately. Social security is extremely expensive, soon to be insolvent, and doesn't even offer taxpayers the most bang for their buck. For those reasons, Prof. Davies argues that it is time for the government to phase out Social Security. Davies' solution: the government should honor its obligations to current retirees while giving Americans the freedom to invest their money as they see fit.
__________-
The current Social Security system is a ponzi scheme.
A picture says a thousand words, and this Gary Varvel cartoon definitely exposes the government's Ponzi system.
________________
Thank you so much for your time. I know how valuable it is. I also appreciate the fine family that you have and your commitment as a father and a husband.
Sincerely,
Everette Hatcher III, 13900 Cottontail Lane, Alexander, AR 72002, ph 501-920-5733, lowcostsqueegees@yahoo.com