_______________
Longshot potential 2024 presidential candidate Asa Hutchinson gets help from Super PAC
New super PAC supporting former Arkansas Gov. Asa Hutchinson as he mulls Republican White House campaign
FIRST ON FOX – As he seriously considers a run for the White House, former two-term Republican Gov. of Arkansas Asa Hutchinson will get a helping hand from an outside group that's launching with some early financial backing.
The America Strong and Free Action super PAC, which will support Hutchinson if he goes ahead and launches a 2024 GOP presidential campaign, is now up and running. The super PAC, whose launch was shared first with Fox News, has been funded with an initial $1 million contribution from a single donor in Little Rock, Arkansas.
Former Hutchinson campaign manager Jon Gilmore, who served as the governor's deputy chief of staff, is chairman of the new group, which shares a name with America Strong and Free, a political advocacy group aligned with Hutchinson.
"Governor Asa Hutchinson's voice is important to the national stage. His background is second to none with experience at all levels of government and the private sector. He is a voice of reason in tumultuous times and his vision for our Party means getting back to the principles that made the Republican Party strong — principles inspired in Hutchinson from one of his mentors, President Ronald Reagan," Gilmore told Fox News in a statement.
SENDING SIGNALS: HUTCHINSON SAYS IOWA TRIPS SHOW HE'S 'SERIOUS' ABOUT POSSIBLE 2024 RUN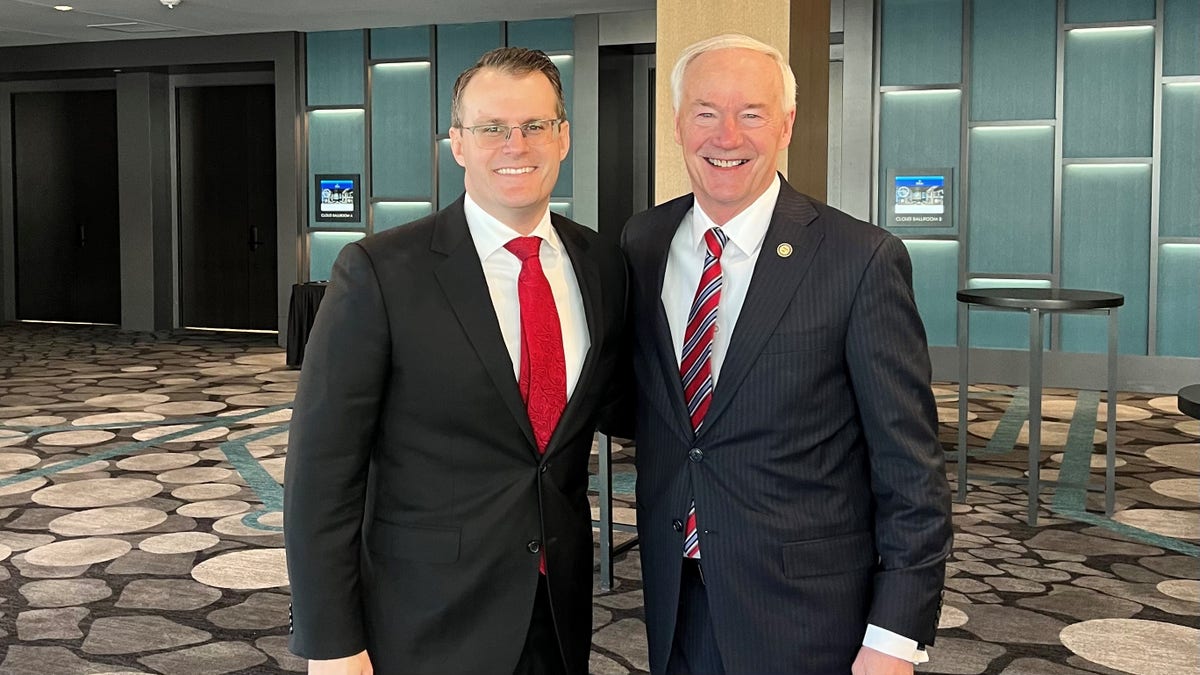 Hutchinson left office in January due to term limits, and was succeeded by Gov. Sarah Huckabee Sanders, the former White House press secretary during then-President Trump's administration and the daughter of former longtime Arkansas Gov. Mike Huckabee. As he concluded his tenure as governor, Hutchinson made back-to-back trips to Iowa, the state that for a half century has kicked off the presidential nominating calendar.
Kenneth Ryan James (mgr of Bruce Westerman's campaign), Rex Nelson, and Mike Ross at 2014 Grady Fish Fry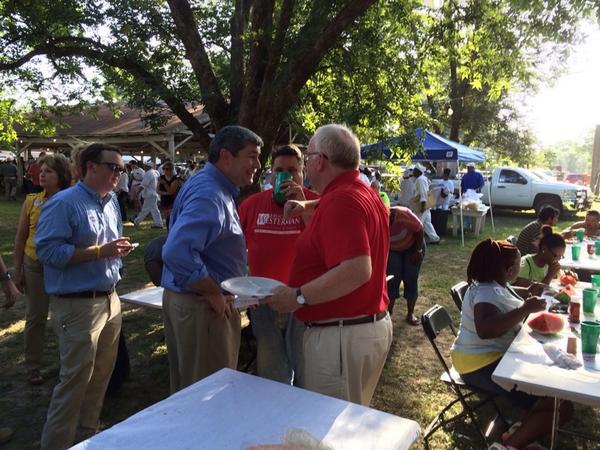 Asa Hutchinson at Grady Fish Fry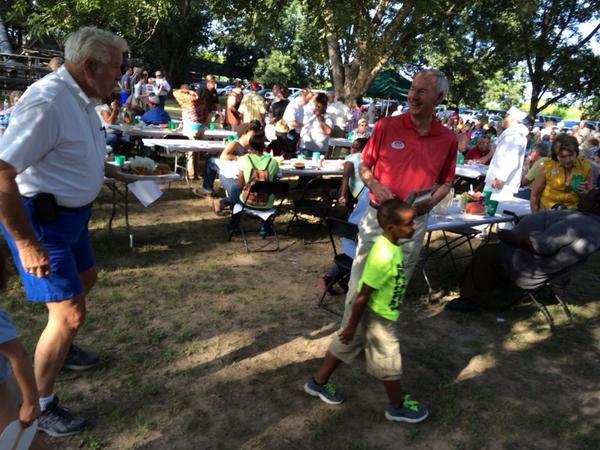 Sherwood Haisty Sr. in the straw hat and below is a story by Rex Nelson on Sherwood in the story done a couple of years ago.
I went to the Grady Fish Fry last year and got to visit with Rex Nelson, Senator Pryor and Boozman, Dennis Milligan, Andrea Lea and many others. Below is a story by Rex Nelson on a past year's fish fry:
Back to Grady (and other Arkansas favorites)
At the first of every year, I mark the annual Grady Lions Club Catfish Supper on my calendar.
It's always the third Thursday in August. Always.
It's always in the Ned Hardin pecan grove.
And it's almost always hot.
Commonly known as the Grady Fish Fry, it's among my favorite annual events. I've written about it before.
In an election year, the politicians flock to Grady. Among congressional and statewide officeholders and candidates, I saw Sen. Blanche Lincoln, Sen. Mark Pryor, Rep. John Boozman, Jim Keet, Shane Broadway, Mark Darr and Beth Anne Rankin there last night.
There likely were others who left before I arrived or maybe I just just missed seeing them. The event begins at 4 p.m. and ends at 8 p.m. As I said in a post at this time last year, the Grady Fish Fry marks the unofficial end of summer for me. Bring on football season.
I also mentioned last year (but must mention again) what is perhaps the most fascinating contraption in the state — the famed Grady hushpuppy machine, constructed decades ago from pieces of equipment found on area farms. One after another, the huspuppies come out of the machine and are put into the hot grease. If they ever stop using it, it should be donated to the Smithsonian as an example of American ingenuity.
I had a great visit last night with Sherwood Haisty, 85, a Lions Club member who has been a part of 40 of the 55 fish fries. He told me how the members of the Lions Club once worked for days in the hot sun setting up tables, bringing in the products, etc.
Then somebody had the bright idea of asking the Arkansas Department of Correction for help. For years now, it has been a mutually beneficial relationship.
For the Lions Club members, there's a captive workforce, if you will.
For those who work at the nearby state prisons, there's a carrot they can dangle in front of inmates – in exchange for good behavior, you can get out for one night and receive a great meal in the process.
Those men from around Arkansas in their white prison garb who are handing out slices of watermelon, filling glasses of iced tea and cleaning off the tables are now just as much a part of the event as the giant pecan trees in the Hardin grove. And the prison band sounded better than ever last night. The lead vocalist has true talent.
Think about it. There are politicians shaking hands. Inmates wearing white and guards wearing blue. A pecan orchard. People cooling themselves with the funeral home-style fans handed out by the politicians. Catfish. Hushpuppies. Watermelon. It just doesn't get more Southern. It's like something out of a movie.
Sadly, as the population of rural southeast Arkansas grows older and smaller, we lose members of the Lions Club each year. Rev. Clyde Venable passed away in 2009. Earlier this year, charter members Bill Blankenship and R.C. Johnson died.
Hopefully, there's some young blood in the area to keep this landmark event going.
A lot of people help out. Hardin Farms supplies the watermelons. Simmons First supplies the plates. St. Michaels Farms supplies catfish. I could go on and on.
Money raised from this annual event (it's $12 each for all you can eat) allows the Grady Lions Club to provide college scholarships, pay for eye exams and pay for glasses for those who could not otherwise afford them.
______________
Related posts:
______________