—
DEBT LIMIT – A GUIDE TO AMERICAN FEDERAL DEBT MADE EASY.
—
Back in 2016, here's what I said about the debt limitduring some congressional testimony (and I made very similar points in some 2013 testimony).
Near the end of my testimony (about 4:55) I discuss "prioritization," which is what would happen if the debt limit is not raised and the Treasury Department has to decide which payments are made (and which payments are delayed).
I then pointed out that federal tax revenues in 2017 were expected to be 11 times greater than annual interest payments.
As such, there obviously would have been plenty of cash available to make interest payments, as well as to finance other economically or politically sensitive items (I assume, for instance, that Treasury would have prioritized monthly Social Security benefits as well).
Would this have been messy? Yes. Would it have been uncharted territory not covered by the law? Yes. But would it have been better than default, which would have caused turmoil in financial markets? Another yes.
Which now brings us to the present day. We're now in another debt limit fight, so I decided to look at the most-recent data from the Congressional Budget Office to see whether the federal government will still have plenty of cash so that interest payments on the debt can be prioritized.
Lo and behold, annual tax revenue this fiscal year is going to be more than 11 times greater than annual interest payments. Just like in 2017.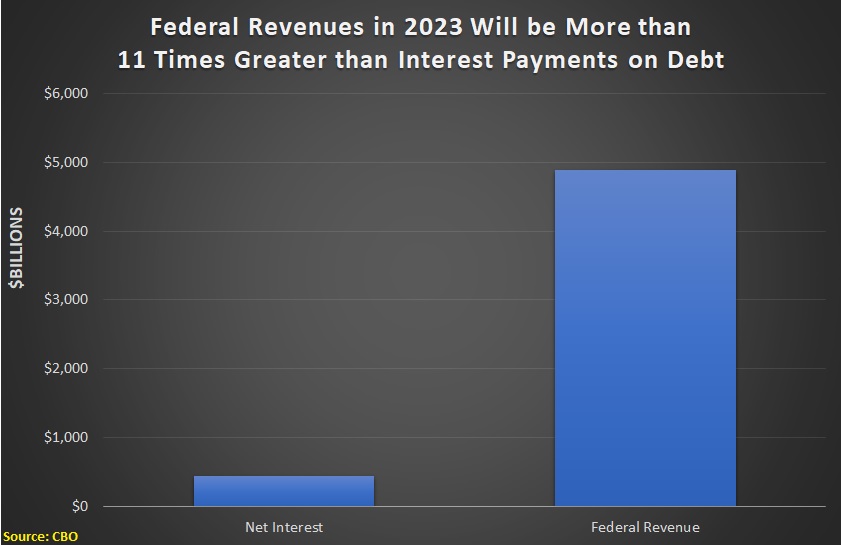 In other words, we presumably can sleep easy. There's plenty of money to pay interest on the debt.
There would only be a default if Joe Biden or Janet Yellen (the Treasury Secretary) deliberately chosenot to prioritize. And the odds of that happening presumably are way below 1 percent.
Some people may wonder why we should accept even that small risk? Why not simply increase the debt limit so that the odds of a default are 0 percent?
That's a fair point, but it must be balanced by the recognition that the United States is on a path to long-run economic and fiscal chaos. So I can also understand why some lawmaker say the debt limit should only be raised if accompanied by some much-need spending restraint.
And, for those who care about real-world evidence, that's what has happened in the past. Indeed, Brian Riedl notes that it's the only plausible vehicle for altering the nation's fiscal trajectory.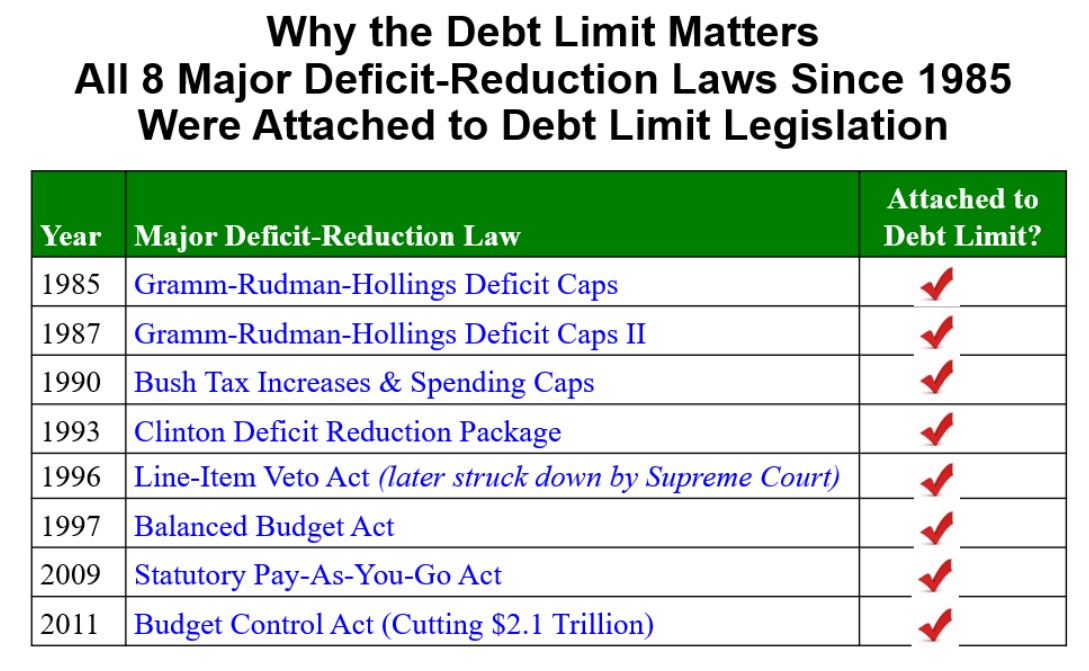 I'll close by expressing pessimism that House Republicans will achieve anything in the current fight over the debt limit.
We won't get something really good, like a spending cap. But I start with very low expectations, so I guess I'm happy that Republicans are at least pretending to care once again about excessive government spending.
A journey of a thousand miles begins with a first step!
P.S. I partially disagree with Brian Riedl's list. The 1990 Bush tax increase was not a "deficit-reduction law." And it was post-1994 spending restraint that produced a balanced budget, not Clinton's 1993 tax increase.
P.P.S. Remember that debt is bad, but it should be viewed as a symptom. The underlying disease is excessive government spending.
JANUARY 10, 2023 10:05AM
Cut Spending to Stabilize Debt: A Debt Limit Plan for the New Congress
---
Following a massive bipartisan increase in emergency spending during the COVID-19 pandemic that contributed to inflation reaching a 40‐​year high, the 118th Congress should shift fiscal gears. It's time to cut deficit spending to spur economic growth and complement the deflationary actions of the Federal Reserve.
Federal debt is at economically damaging levels and growing at an unsustainable rate. Additional deficit spending threatens to make inflation worse and burden the economy by misallocating resources from higher‐​growth projects toward politically‐​directed spending. The 118th Congress has a key opportunity to adopt responsible, pro‐​growth fiscal policy that controls spending and stabilizes the debt.
Fiscal year (FY) 2022 ended with a $1.4 trillion deficit (how much Congress spent by borrowing) that consumed 5.5 percent of U.S. GDP. To put that in perspective: The first time ever the deficit exceeded $1 trillion was in 2009, when the U.S. was in the deepest economic crisis since the Great Depression. Not that Congress can cure a global financial crisis by throwing money at it, but they did try. The next time deficitsexceeded $1 trillion we were in a 100‐​year pandemic and Congress tried to spend its way out of that, too. Now that the pandemic is over, why is it that trillion‐​dollar deficits go on for as far as the eye can see?
Members of Congress worked so well across the aisle together to increase spending, certainly they should have no problems working together again. Only this time, their charge should be to stabilize debt with a credible fiscal plan and legislation that enacts it. Such a plan should achieve a firm target, such as freezing debt as a percentage of gross domestic product (GDP) or achieving primary balance (balancing non‐​interest spending with revenues) before the end of the decade. Congress's plan should be backed up with concrete policy proposals that score sufficient savings to achieve the fiscal target.
How hard could this be? It's not like bipartisanship only works in the context of increasing spending. Or does it? Recent spending increases benefited from horse trading of "your pet project for mine," as evident by the return of earmarks—parochial spending that was banned for a decade due to frequent instances of waste and corruption. A recent Peterson Foundation poll identified that 9 out of 10 voters expect members of Congress to work together to reduce the federal debt. Constituents are about to find out if bipartisanship will also work when it comes to making tough choices.
The gross federal debt (including government trust fund debt for programs like Social Security) approached $31 trillion (120 percent of GDP), of which debt borrowed in credit markets reached $24.3 trillion (95 percent of GDP). Debt that's this high, compared to the size of the economy, and growing from there, is bad. It hurts growth and makes a fiscal crisis more likely.
The fiscal outlook is yet worse. After adjusting the most recent Congressional Budget Office (CBO) projections, federal debt held by the public is projected to grow to 138 percent of GDP by 2032. Adjustments include higher‐​than‐​expected inflation and interest rates, new deficit spending in late 2022, slower‐​than‐​expected economic growth, and the likelihood that middle class tax cuts will be extended past 2025. See figure 1 for alternative projections, compared to a scenario assuming tax cuts will expire (don't hold your breath), and CBO's original projections. And even these debt growth scenarios could be too optimistic if there's a major crisis or prolonged recession. So, let's not make things even worse.
The federal debt limit specifies the maximum amount of government bonds that Treasury may issue. Treasury is projected to run up against this limit sometime in the summer or fall of 2023. When Congress confronts the federal debt limit this year, members should pair the inevitable increase in the debt limit with reforms that reduce spending and debt growth.
Yes, I said it: Congress will eventually increase the debt limit. But before doing so, they should change the course of future spending. Whether to increase the debt limit or not is the wrong question. Lawmakers should instead grapple with "How will we slow the growth in the debt and avoid a fiscal crisis?". Effective policies will reform health care and old‐​age entitlements, the main drivers of rising debt.
Congress should also cut and cap discretionary spending for most government programs, including seizing such low‐​hanging fruit as eliminating parochial spending by restoring the earmark ban. With deficits in the trillions, just say no to that overpriced trolley extension in your downtown restoration plans that few people will ever ride. Hundreds of millions of taxpayer dollars would be wasted, except for the giggles and maybe the cute Instagram reel.
What about tax increases? They're mostly window dressing and could be more harmful than helpful. Spending reforms will be most effective in stabilizing the debt without undermining economic growth. That's not just convenient theorizing on the part of this limited‐​government libertarian, but evident when reviewing relevant data from previous deficit consolidation efforts.
A Heritage Foundation report distilling lessons from European austerity efforts, which I co‐​authored, illustrates that increasing taxes was less effective in reducing deficits than spending cuts, with tax increases further damaging the economy. The most successful fiscal adjustments, judged by their impact on deficits and economic growth, reformed social programs and reduced the size and compensation of the government workforce.
Another study by Andrew Biggs, a senior fellow at the American Enterprise Institute (AEI); and Kevin Hassett, a former scholar at AEI; and Matthew Jensen, then the founding director of the Open Source Policy Center, drew similar conclusions:
"Spending‐​based fiscal adjustment accompanied by supply‐​side reforms‐​such as liberalization of the markets for labor, goods, and services; readjustments of public‐​sector size and pay; public pension reform; and other structural changes‐​tend to be less recessionary or even lead to positive economic growth."
Here are some commonsense benchmarks Congress should adopt before increasing the debt limit in 2023:
Adopt a credible fiscal plan that will control spending and debt growth, freezing debt as a percentage of GDP at a minimum, or better yet, aiming for primary budget balance (excluding interest costs) before the end of the decade.
Establish a bipartisan commission to reform major entitlement programs, especially Social Security and Medicare, including fast‐​tracking the commissions' recommendations in Congress.
Reduce and cap discretionary spending, returning discretionary spending to pre‐​pandemic (FY 2019) levels and limiting the growth of new budget caps to no more than 2 percent annually.
Restore the earmark ban.
One more thing: in the event of a recession, Congress should avoid new stimulus spending. Fiscal stimulus in the form of new cash payments or enhanced unemployment benefits would represent the same demand‐​boosting subsidies the federal government pursued during the COVID-19 pandemic that contributed to record‐​high inflation. So, that would not be helpful.
Also, government spending today entails future costs from the likely displacement of higher‐​value private economic activity toward government‐​directed projects, a misallocation of capital, greater debt, reduced incentives to work and invest, and the prospect of higher future taxes that tamper investment. Any relief should thus focus on eliminating regulatory barriers to investing and hiring and relying on existing automatic stabilizers which will kick in without lawmakers pushing new emergency spending. This will enable the private sector to emerge from recession without additional deficit spending that would likely do more harm than it would help.
Now, let's get to work!
This commentary presents a brief summary of my recent Cato policy brief "A Fiscal Agenda for the 118th Congress." You can find the full piece here.
President Clinton Signing the Balanced Budget Bill (1997)
Newt Gingich Explains How He Balanced the Budget as Speaker of the House
Ronald Reagan Talks About Balancing the Budget on Johnny Carson's Tonigh…
President Reagan's Remarks on Balanced Budget Amendment on July 12, 1982
—-
—
February 11, 2021
Office of Barack and Michelle Obama
P.O. Box 91000
Washington, DC 20066
Dear President Obama,
I wrote you over 700 letters while you were President and I mailed them to the White House and also published them on my blog http://www.thedailyhatch.org .I received several letters back from your staff and I wanted to thank you for those letters.
I have been reading your autobiography A PROMISED LAND and I have been enjoying it.
Let me make a few comments on it, and here is the first quote of yours I want to comment on:
The realignment Johnson foresaw ended up taking longer than he had expected. But steadily, year by year—through Vietnam, riots… and Nixon's southern strategy; through busing, Roe v. Wade, urban crime, and white flight; through affirmative action, the Moral Majority, union busting, and Robert Bork; through assault weapons bans and the rise of NEWT GINGRICH …and the Clinton impeachment—America's voters and their representatives became more and more polarized.
Page 607
As it so happened, the same mid-December week we announced the deal with McConnell, Bill Clinton joined me in the Oval Office dining room for a visit. Whatever tensions had existed between us during the campaign had largely dissipated by then, and I found it useful to hear the lessons he'd learned after suffering a similar midterm shellacking at the hands of Newt Gingrich in 1994. At some point, we got into the nitty-gritty of the tax agreement I'd just made, and Clinton couldn't have been more enthusiastic.
"You need to tell that to some of our friends," I said, noting the blowback we were getting from certain Democratic circles.
"If I have the chance, I will," Clinton said.
That gave me an idea. "How about you get the chance right now?" Before he could answer, I walked over to Katie's desk and asked her to have the press team rustle up any correspondents who were in the building. Fifteen minutes later, Bill Clinton and I stepped into the White House briefing room.
Explaining to the startled reporters that they might like to get some perspective on our tax deal from the person who'd overseen just about the best U.S. economy we'd experienced in recent history, I turned the podium over to Clinton. It didn't take long for the former president to own the room, mustering all of his raspy-voiced, lip-biting Arkansas charm to make the case for our deal with McConnell. In fact, shortly after the impromptu press conference began, I realized I had another commitment to get to, but Clinton was clearly enjoying himself so much that I didn't want to cut him off. Instead, I leaned into the microphone to say that I had to leave but that President Clinton could stick around. Later, I asked Gibbs how the whole thing had played.
"The coverage was great," Gibbs said. "Though a few of the talking heads said that you diminished yourself by giving Clinton the platform."
I wasn't too worried about that. I knew that Clinton's poll numbers were a whole lot higher than mine at the time, partly because the conservative press that had once vilified him now found it useful to offer him up as a contrast to me, the kind of reasonable, centrist Democrat, they said, that Republicans could work with. His endorsement would help us sell the deal to the broader public and tamp down any potential rebellion among congressional Democrats. It was an irony that I—like many modern leaders—eventually learned to live with: You never looked as smart as the ex-president did on the sidelines.
There are two main things that Newt Gingrich and Bill Clinton teamed up on and accomplished and they were a balanced budget and welfare reform!

Kevin Williamson rightly noted:
"Reagan deficits" and "Clinton surpluses." Presidents do not write the national budget, balanced or otherwise, nor do they create deficits or surpluses. Congress does that, by passing tax bills and appropriations bills. There were no Reagan deficits, nor were there Clinton surpluses: There were Tip O'Neill deficits and Newt Gingrich surpluses.

R PLUSMAGAZINEDECEMBER 31, 2011, ISSUE
By KEVIN D. WILLIAMSONDecember 15, 2011 4:00 AM
And why President Newt would not
In the United States, our political discourse is extraordinarily democratic, and therefore extraordinarily stupid, and the immortality of certain myths — the Social Security "trust fund," the impact of foreign-aid spending on the federal budget — makes it nearly impossible to discuss the fundamental facts of American government. Here are two phrases that should be struck from our political lexicon, their use designated an occasion for corporal punishment: "Reagan deficits" and "Clinton surpluses." Presidents do not write the national budget, balanced or otherwise, nor do they create deficits or surpluses. Congress does that, by passing tax bills and appropriations bills. There were no Reagan deficits, nor were there Clinton surpluses: There were Tip O'Neill deficits and Newt Gingrich surpluses.
The governors in the Republican presidential field all can boast of having worked with legislatures to achieve balanced budgets. Rick Perry and Jon Huntsman can boast of having done so in situations that replicate in miniature the national fiscal picture — locked-in spending outpacing tax revenues reduced by recession and subsequent slow growth — but with an important difference: Unlike the federal government, states and cities do not really have much choice but to balance their budgets. It is a lucky thing that this is so, and one that bears further consideration: Most of our states and cities operate under legal prohibitions against operating deficits, but the federal example suggests that restraints on borrowing are easily set aside, and many of our states and cities have excellent credit ratings that would enable them to borrow at attractive rates. The real constraint here seems to be an informal norm against states' and cities' borrowing to finance regular operating deficits, even though they do borrow large sums for capital projects.
No such norm prevails at the federal level, where balanced budgets or surpluses require a combination of sober fiscal realism and delicate bipartisan diplomacy. Newt Gingrich has many fine qualities, but he is not the most obvious man for the job when the job calls for realism and delicate bipartisan diplomacy, virtues with which the former Speaker is associated by no sentient political being. But the facts are not to be denied: Under a fiscal course set by Newt Gingrich and his Republican congressional allies, the United States reported a budget surplus of $69.3 billion in 1998 and of $125.6 billion in 1999. Gingrich resigned from the House that year, but it was the continuation of Gingrich's policies that produced the subsequent surpluses of $236.2 billion in 2000 and $128.2 billion in 2001. But this is not a conservative success story, conventionally understood: Gingrich balanced the budget in no small part by knuckling under to Democratic demands, including relatively high taxes, and by helping to entrench the myth that our entitlement liabilities are only a kind of fiscal hypothesis, something that can be made to vanish into the fiduciary ether with a flourish of the magical wand of government accounting practices. While Speaker Gingrich does deserve some credit for the millennial budget surpluses, President Gingrich would be crucified for attempting to revisit the policies that produced them — and conservatives would drive in the nails.
The foremost contributor to the Gingrich surpluses was taxes, and the main contributor on that front was the payroll tax, receipts from which far exceeded payouts to Social Security and Medicare. Because such excess payroll-tax receipts are by law automatically spent on federal securities, they camouflage the true extent of federal indebtedness. Thus the fiscal paradox of the Gingrich surpluses: Even though the federal government reported hundreds of billions of dollars in budget surpluses, the total national debt continued to climb, by $113 billion in the surplus year of 1998, by $130 billion in 1999, by $18 billion in 2000, and by $133 billion in 2001. What happened was in fact a redistribution of federal liabilities from publicly held debt to intragovernmental debt in the form of securities held by the so-called trust funds that support the major entitlements according to the epic fiction that is the federal ledger. The debt held by the public in the form of Treasury bonds and notes went down, but intragovernmental debt went up by an amount that exceeded that reduction. This of course makes those Gingrich surpluses look less attractive in retrospect. More important, it points to the major fiscal challenge in the coming years, when the entitlement programs will be the major driver of federal deficits. Social Security already is in a permanent deficit, and, with some $100 trillion in unfunded liabilities, Social Security and Medicare will prove impossible to sustain, especially with an aging population. If deficit hawks can take heart from anything, it is that the major Republican presidential contenders have credible plans for reforming Social Security and that most of them — the notable exception is Gingrich — have credible plans for reforming Medicare.
But the Gingrich surpluses were not accounting gimmickry only. There were real reforms, too — reforms that were enacted by and large over Republican objections, Gingrich's in particular. Again, a very large role was played by taxes, specifically by the tax increases in the 1990 budget deal between Pres. George H. W. Bush and congressional Democrats, and the tax increase in the 1993 budget. The former so enraged Gingrich, who was at the time the minority whip, that he hung up on chief of staff John Sununu when Sununu called with the news. The latter helped to bring Republicans to the majority — every Republican had voted against it — and Gingrich to the speakership.
It also increased federal revenue substantially by steeply increasing the top tax rate (from 31 percent to 39.6 percent), inflicting new taxes on the middle class (raising the gasoline tax, for instance), raising the corporate-income tax, lifting the income cap on Medicare taxes, and increasing taxes on Social Security benefits, among other things. Conservatives, in thrall to something called Hauser's Law — which is a law of economics in the same sense that Lady Gaga is a lady — argue that federal revenues always stay roughly the same regardless of tax rates, but this is demonstrably untrue. Federal tax receipts neared 21 percent of GDP in 2000, about one-sixth higher than their post-war average of 17.7 percent. The difference between 18 percent and 20 percent may not seem like very much, but when you are talking about a share of an economy equal to a quarter of the world's economic output, the numbers are very large indeed. In fact, with the exception of World War II, there was not a year in American history in which federal spending broke 21 percent until 1975, when there began a long run of very high spending that ended with the Gingrich ascendancy in 1994. When Republicans won their landslide in 1994, federal spending was 21 percent of GDP; by 2000, it was down to 18.2 percent — a real reduction in federal spending relative to the size of the economy, if not in absolute terms. You may not remember 1994–2000 as a time of savage austerity measures: We had welfare reform, a reduction in military spending, and generally sensible restraint that endured until the peculiar economic ideas of Pres. George W. Bush and Rep. Tom DeLay went into effect, with the goal of reducing the putative budget surplus — to "return the surplus to the American people," as DeLay put it — as though such surpluses were a permanent victory, and as though the real debt were not mounting in spite of them. If tax receipts today were comparable to the millennial levels, then the 2013 deficit would run about $418 billion; if we are collecting taxes at the current level, that deficit will be $1.4 trillion.
Conservatives are justified in balking at the idea that one in five dollars should be consumed by the parasitic class in Washington. But the lowest level of federal spending that Republicans have brought us in recent decades was 18.2 percent in 2001. Until such a time as there is evidence to the contrary, it probably is safe to think of 18.2 percent as a practical floor on federal spending, regardless of which party is in power. Perhaps some future Republican majority will do a better job of containing costs, but there is scant reason to think that likely: The most effective statutory constraint on federal spending, the so-called Pay-As-You-Go (PAYGO) rules, were undermined by Republicans, who chafed under the rules' constraints when they desired to cut taxes without cutting spending.
This is a case, then, of picking our poison. Tax increases are undesirable for any number of reasons, some of them moral — if you go to bed with the devil, expect to wake up with a burning sensation — and some economic: Higher taxes may retard growth and certainly will cause massive amounts of capital to be reallocated from productive purposes to unproductive ones. Tax increases are a drag on growth, but so are endless substantial deficits. The best method of balancing the budget would be spending cuts, but there is no constituency in Congress, or in the country, for cuts of the requisite depth — and, in any case, those cuts would have real economic effects, too, though effects that probably would be less undesirable in the long run than entrenching the federal state at its current bloated level. The 2013 deficit will probably run right around $1 trillion; if Republicans are not prepared to cut $1 trillion in spending, then they should make their peace with tax increases — or make their peace with endless deficits, until such a time as the weight of them produces an avalanche that will destroy the economy of this country and seriously disrupt that of the rest of the world. Those are the choices.
Incidentally, except where noted, none of the deficit numbers above includes the mounting liabilities for Social Security and Medicare, which are the most significant fiscal threats as we move forward. Put simply, no balanced-budget program that fails to incorporate robust entitlement reform will prevent the eventual insolvency of the United States. But no entitlement-reform deal that neglects the rest of the deficit will prevent that outcome, either. The trick is to do both, and Newt Gingrich's experience suggests that higher taxes — and let's not use the euphemism "revenues" — probably will need to be a part of that picture.
Like higher taxes, bipartisanship is not a good on its own; given the perverse character of the contemporary Democratic party, it would be better to describe bipartisanship as a necessary evil. Faced with the master politician Bill Clinton, Gingrich had little choice but to cut relatively liberal deals, and contemporary Republicans will have little choice about doing so, either, regardless of what happens in 2012: A long-term solution, one that will stick, will require buy-in from both parties, and to proceed as though this were not the case is deeply unconservative, to the extent that wishful thinking is unconservative. The essential thing for Republicans to do is to identify and encourage the best deficit-reduction impulses that the Democrats harbor. (This may require the use of an advanced microscope.) The PAYGO rules, for example, were hated by congressional Republicans, because Democrats used them against unfunded, irresponsible tax cuts of the sort in which congressional Republicans specialize, and PAYGO finally was abandoned in 2002. Subsequently, the deficit more than doubled, from 1.5 percent of GDP in 2002 to 3.2 percent in 2008, then leaping to 10 percent of GDP in 2009. PAYGO was not perfect, but it is preferable to trillion-dollar deficits. Bipartisan compromise is not perfect, either, but it beats default and national impoverishment.
We are well past the point at which it is sufficient to achieve moral victories, ideological victories, or mere political victories. Political victories are a necessary but not a sufficient condition for achieving the business at hand, which is, to put it baldly, a matter of national survival. That fact already is beginning to sink in among Republican budget hawks: "Broad-based tax reform" is a Republican euphemism for tax increases, though it is not only a euphemism: It is important that our tax code be reformed along the most growth-oriented lines, those that minimize the distortion of economic decision-making, rather than along the class-warfare lines preferred by Pres. Barack Obama and his congressional allies. Phasing out the deductions for mortgage interest, state and local taxes, charitable giving, and the like would go a long way toward closing future deficits while removing destructive distortions from the tax code. It is even more critical that we enact similar reforms in the handout-ridden corporate tax code. A general policy of flattening and simplifying the tax regime — a model that has partisans in both parties — is greatly preferable to further politicizing the code with more brackets and more exemptions that encourage rent-seeking on a massive scale.
If Republicans find themselves in control of both chambers of Congress and the White House after 2012 — which seems to me the most likely outcome at this point — they will need to act quickly and decisively to pass a legislative program that reforms the major entitlements and brings spending and taxing into some kind of sensible alignment. But in order to balance the budget, a President Gingrich would almost certainly be obliged to accept policies that Speaker Gingrich opposed, and that most Republicans will continue to oppose — until, once again, they have no choice.
I have praised over and over and over the 66 House Republicans that voted no on raising the debt ceiling before. If they did not raise the debt ceiling then we would have a balanced budget instantly. I agree that the Tea Party has made a difference and I have personally posted 49 posts on my blog on different Tea Party heroes of mine.
I have posted articles on my blog (www.thedailyhatch.org) about the balanced budget efforts of very prudent people like Milton Friedman and Ronald Reagan.
Sincerely,
Everette Hatcher III, 13900 Cottontail Lane, Alexander, AR 72002, ph 501-920-5733 everettehatcher@gmail.com
—
President Reagan's Remarks on a Constitutional Amendment for a Balanced …
—
PAY IT BACKWARDS: The Federal Budget Surplus with Milton Friedman
How to Reduce Debt and Grow the Economy: Milton Friedman on Budget Recon…
——

Related posts:
Sixty Six who resisted "Sugar-coated Satan Sandwich" Debt Deal (Part 49) This post today is a part of a series I am doing on the 66 Republican Tea Party favorites that resisted eating the "Sugar-coated Satan Sandwich" Debt Deal. Actually that name did not originate from a representative who agrees with the Tea Party, but […]By Everette Hatcher III | Posted in President Obama, spending out of control | Tagged bipartisan compromise, budget control, compromise deal, u s constitution. | Edit | Comments (0)
Sixty Six who resisted "Sugar-coated Satan Sandwich" Debt Deal (Part 48) This post today is a part of a series I am doing on the 66 Republican Tea Party favorites that resisted eating the "Sugar-coated Satan Sandwich" Debt Deal. Actually that name did not originate from a representative who agrees with the Tea Party, but […]By Everette Hatcher III | Posted in spending out of control | Edit | Comments (0)
Sixty Six who resisted "Sugar-coated Satan Sandwich" Debt Deal (Part 47) This post today is a part of a series I am doing on the 66 Republican Tea Party favorites that resisted eating the "Sugar-coated Satan Sandwich" Debt Deal. Actually that name did not originate from a representative who agrees with the Tea Party, but […]By Everette Hatcher III | Posted in spending out of control | Edit | Comments (0)
Sixty Six who resisted "Sugar-coated Satan Sandwich" Debt Deal (Part 46) This post today is a part of a series I am doing on the 66 Republican Tea Party favorites that resisted eating the "Sugar-coated Satan Sandwich" Debt Deal. Actually that name did not originate from a representative who agrees with the Tea Party, […]By Everette Hatcher III | Posted in spending out of control | Edit | Comments (0)
Ronald Reagan with Milton Friedman Milton Friedman The Power of the Market 2-5
I am currently going through his film series "Free to Choose" which is one the most powerful film series I have ever seen. TEMIN: We don't think the big capital arose before the government did? VON HOFFMAN: Listen, what are we doing here? I mean __ defending big government is like defending death and taxes. […]By Everette Hatcher III | Edit | Comments (0)
I am currently going through his film series "Free to Choose" which is one the most powerful film series I have ever seen worked pretty well for a whole generation. Now anything that works well for a whole generation isn't entirely bad. From the fact __ from that fact, and the undeniable fact that things […]By Everette Hatcher III | Edit | Comments (0)
I am currently going through his film series "Free to Choose" which is one the most powerful film series I have ever seen. PART 5 of 7 MCKENZIE: Ah, well, that's not on our agenda actually. (Laughter) VOICE OFF SCREEN: Why not? MCKENZIE: I boldly repeat the question, though, the expectation having been __ having […]By Everette Hatcher III | Edit | Comments (0)
I am currently going through his film series "Free to Choose" which is one the most powerful film series I have ever seen. PART 4 of 7 The massive growth of central government that started after the depression has continued ever since. If anything, it has even speeded up in recent years. Each year there […]
By Everette Hatcher III | Edit | Comments (0)
I am currently going through his film series "Free to Choose" which is one the most powerful film series I have ever seen. PART 3 OF 7 Worse still, America's depression was to become worldwide because of what lies behind these doors. This is the vault of the Federal Reserve Bank of New York. Inside […]
By Everette Hatcher III | Edit | Comments (0)
I am currently going through his film series "Free to Choose" which is one the most powerful film series I have ever seen. For the past 7 years Maureen Ramsey has had to buy food and clothes for her family out of a government handout. For the whole of that time, her husband, Steve, hasn't […]By Everette Hatcher III | Edit | Comments (0)
Friedman Friday:("Free to Choose" episode 4 – From Cradle to Grave, Part 1 of 7) Volume 4 – From Cradle to Grave Abstract: Since the Depression years of the 1930s, there has been almost continuous expansion of governmental efforts to provide for people's welfare. First, there was a tremendous expansion of public works. The Social Security Act […]
By Everette Hatcher III | Edit | Comments (0)
Michael Harrington: If you don't have the expertise, the knowledge technology today, you're out of the debate. And I think that we have to democratize information and government as well as the economy and society. FRIEDMAN: I am sorry to say Michael Harrington's solution is not a solution to it. He wants minority rule, I […]By Everette Hatcher III | Posted in Current Events, Milton Friedman | Edit | Comments (0)
PETERSON: Well, let me ask you how you would cope with this problem, Dr. Friedman. The people decided that they wanted cool air, and there was tremendous need, and so we built a huge industry, the air conditioning industry, hundreds of thousands of jobs, tremendous earnings opportunities and nearly all of us now have air […]By Everette Hatcher III | Posted in Current Events, Milton Friedman | Edit | Comments (0)
Part 5 Milton Friedman: I do not believe it's proper to put the situation in terms of industrialist versus government. On the contrary, one of the reasons why I am in favor of less government is because when you have more government industrialists take it over, and the two together form a coalition against the ordinary […]By Everette Hatcher III | Posted in Current Events, Milton Friedman | Edit | Comments (0)
The fundamental principal of the free society is voluntary cooperation. The economic market, buying and selling, is one example. But it's only one example. Voluntary cooperation is far broader than that. To take an example that at first sight seems about as far away as you can get __ the language we speak; the words […]By Everette Hatcher III | Posted in Current Events, Milton Friedman | Edit | Comments (0)
_________________________ Pt3 Nowadays there's a considerable amount of traffic at this border. People cross a little more freely than they use to. Many people from Hong Kong trade in China and the market has helped bring the two countries closer together, but the barriers between them are still very real. On this side […]By Everette Hatcher III | Posted in Current Events, Milton Friedman | Edit | Comments (0)
Aside from its harbor, the only other important resource of Hong Kong is people __ over 4_ million of them. Like America a century ago, Hong Kong in the past few decades has been a haven for people who sought the freedom to make the most of their own abilities. Many of them are […]By Everette Hatcher III | Posted in Current Events, Milton Friedman | Edit | Comments (0)
"FREE TO CHOOSE" 1: The Power of the Market (Milton Friedman) Free to Choose ^ | 1980 | Milton Friedman Posted on Monday, July 17, 2006 4:20:46 PM by Choose Ye This Day FREE TO CHOOSE: The Power of the Market Friedman: Once all of this was a swamp, covered with forest. The Canarce Indians […]
Milton Friedman The Power of the Market 1-5
If you would like to see the first three episodes on inflation in Milton Friedman's film series "Free to Choose" then go to a previous post I did. Ep. 9 – How to Cure Inflation [4/7]. Milton Friedman's Free to Choose (1980) Uploaded by investbligurucom on Jun 16, 2010 While many people have a fairly […]
By Everette Hatcher III | Also posted in Current Events | Tagged dr friedman, expansion history, income tax brackets, political courage, www youtube | Edit | Comments (0)
Charlie Rose interview of Milton Friedman My favorite economist: Milton Friedman : A Great Champion of Liberty by V. Sundaram Milton Friedman, the Nobel Prize-winning economist who advocated an unfettered free market and had the ear of three US Presidents – Nixon, Ford and Reagan – died last Thursday (16 November, 2006 ) in San Francisco […]By Everette Hatcher III | Posted in Milton Friedman | Edit | Comments (0)
Stearns Speaks on House Floor in Support of Balanced Budget Amendment Uploaded by RepCliffStearns on Nov 18, 2011 Speaking on House floor in support of Balanced Budget Resolution, 11/18/2011 ___________ Below are some of the main proposals of Milton Friedman. I highly respected his work. David J. Theroux said this about Milton Friedman's view concerning […]By Everette Hatcher III | Posted in Milton Friedman | Edit | Comments (0)
Milton Friedman: Free To Choose – The Failure Of Socialism With Ronald Reagan (Full) Published on Mar 19, 2012 by NoNationalityNeeded Milton Friedman's writings affected me greatly when I first discovered them and I wanted to share with you. We must not head down the path of socialism like Greece has done. Abstract: Ronald Reagan […]By Everette Hatcher III | Posted in Milton Friedman, President Obama | Edit | Comments (1)
What a great defense of Milton Friedman!!!! Defaming Milton Friedman by Johan Norberg This article appeared in Reason Online on September 26, 2008 PRINT PAGE CITE THIS Sans Serif Serif Share with your friends: ShareThis In the future, if you tell a student or a journalist that you favor free markets and limited government, there is […]
President Obama c/o The White House 1600 Pennsylvania Avenue NW Washington, DC 20500 Dear Mr. President, I know that you receive 20,000 letters a day and that you actually read 10 of them every day. I really do respect you for trying to get a pulse on what is going on out here. There have […]By Everette Hatcher III | Posted in David Barton, Founding Fathers, President Obama | Edit |Comments (0)
There have been many articles written by evangelicals like me who fear that our founding fathers would not recognize our country today because secular humanism has rid our nation of spiritual roots. I am deeply troubled by the secular agenda of those who are at war with religion in our public life. Lillian Kwon quoted somebody […]By Everette Hatcher III | Posted in David Barton, Founding Fathers | Edit | Comments (0)
There have been many articles written by evangelicals like me who fear that our founding fathers would not recognize our country today because secular humanism has rid our nation of spiritual roots. I am deeply troubled by the secular agenda of those who are at war with religion in our public life. Lillian Kwon quoted somebody […]By Everette Hatcher III | Posted in David Barton, Founding Fathers | Edit | Comments (0)
There have been many articles written by evangelicals like me who fear that our founding fathers would not recognize our country today because secular humanism has rid our nation of spiritual roots. I am deeply troubled by the secular agenda of those who are at war with religion in our public life. Lillian Kwon quoted somebody […]By Everette Hatcher III | Posted in David Barton, Founding Fathers | Edit | Comments (0)
There have been many articles written by evangelicals like me who fear that our founding fathers would not recognize our country today because secular humanism has rid our nation of spiritual roots. I am deeply troubled by the secular agenda of those who are at war with religion in our public life. Lillian Kwon quoted somebody […]By Everette Hatcher III | Posted in David Barton, Founding Fathers | Edit | Comments (0)
There have been many articles written by evangelicals like me who fear that our founding fathers would not recognize our country today because secular humanism has rid our nation of spiritual roots. I am deeply troubled by the secular agenda of those who are at war with religion in our public life. Lillian Kwon quoted somebody […]By Everette Hatcher III | Posted in Founding Fathers | Edit | Comments (0)
President Obama Speaks at The Ohio State University Commencement Ceremony Published on May 5, 2013 President Obama delivers the commencement address at The Ohio State University. May 5, 2013. You can learn a lot about what President Obama thinks the founding fathers were all about from his recent speech at Ohio State. May 7, 2013, […]By Everette Hatcher III | Posted in Founding Fathers, President Obama | Edit | Comments (0)
Dr. C. Everett Koop with Bill Graham. Francis Schaeffer: "Whatever Happened to the Human Race" (Episode 4) THE BASIS FOR HUMAN DIGNITY Published on Oct 7, 2012 by AdamMetropolis The 45 minute video above is from the film series created from Francis Schaeffer's book "Whatever Happened to the Human Race?" with Dr. C. Everett Koop. This […]By Everette Hatcher III | Posted in Founding Fathers, Francis Schaeffer, Prolife | Edit |Comments (1)
America's Founding Fathers Deist or Christian? – David Barton 4/6 There have been many articles written by evangelicals like me who fear that our founding fathers would not recognize our country today because secular humanism has rid our nation of spiritual roots. I am deeply troubled by the secular agenda of those who are at […]By Everette Hatcher III | Posted in David Barton, Founding Fathers | Tagged governor of connecticut, john witherspoon, jonathan trumbull | Edit | Comments (1)
3 Of 5 / The Bible's Influence In America / American Heritage Series / David Barton There were 55 gentlemen who put together the constitution and their church affliation is of public record. Greg Koukl notes: Members of the Constitutional Convention, the most influential group of men shaping the political foundations of our nation, were […]By Everette Hatcher III | Posted in Founding Fathers | Edit | Comments (0)
I do not think that John Quincy Adams was a founding father in the same sense that his father was. However, I do think he was involved in the early days of our government working with many of the founding fathers. Michele Bachmann got into another history-related tussle on ABC's "Good Morning America" today, standing […]By Everette Hatcher III | Posted in David Barton, Founding Fathers | Edit | Comments (0)
I have gone back and forth and back and forth with many liberals on the Arkansas Times Blog on many issues such as abortion, human rights, welfare, poverty, gun control and issues dealing with popular culture. Here is another exchange I had with them a while back. My username at the Ark Times Blog is Saline […]By Everette Hatcher III | Posted in Arkansas Times, Francis Schaeffer, Prolife | Edit |Comments (0)
I truly believe that many of the problems we have today in the USA are due to the advancement of humanism in the last few decades in our society. Ronald Reagan appointed the evangelical Dr. C. Everett Koop to the position of Surgeon General in his administration. He partnered with Dr. Francis Schaeffer in making the […]By Everette Hatcher III | Posted in Adrian Rogers, Francis Schaeffer | Edit | Comments (0)
Francis Schaeffer: "Whatever Happened to the Human Race" (Episode 4) THE BASIS FOR HUMAN DIGNITY Published on Oct 7, 2012 by AdamMetropolis ____________ The 45 minute video above is from the film series created from Francis Schaeffer's book "Whatever Happened to the Human Race?" with Dr. C. Everett Koop. This book really helped develop my political […]By Everette Hatcher III | Posted in Francis Schaeffer | Edit | Comments (0)
—-
—