–
Copying some self-styled national conservatives, Donald Trump this week endorsed major tax increases on lower-income and middle-class Americans.
But he embraced huge tax increases in an indirect fashion.
He did not say "let's adopt money-siphoning value-added taxes" like they have in Europe.
Nor did he say "let's impose very high income tax rates on ordinary people" like they do in Europe.
And he didn't say "let's have much higher payroll tax rates" like they have in Europe.
Instead, Trump embraced huge tax increases by default. He told congressional Republicans to ignore America's slow-motion crisis of entitlement spending.
For all intents and purposes, that is the same as embracing huge tax increases.
To be more specific, if you endorse European-style government spending, you are necessarily and unavoidably endorsing European-style tax policy.
And that's what Trump did. Here are some excerpts from a report in the Hill by Brett Samuels.
Former President Trump on Friday urged Republicans in Congress not to cut "a single penny" from Medicare or Social Security…"Under no circumstances should Republicans vote to cut a single penny from Medicare or Social Security…," Trump said in a recorded video statement posted to Truth Social. …The former president's message about protecting Social Security and Medicare is consistent with his previous comments on the issue as a candidate in 2016.
For what it's worth, I'm not surprised at what Trump said.
He favored big government as a candidate in 2016and he expanded the burden of spending when he was President.
But some of us don't want to surrender and doom the United States to European-style economic stagnation.
Which is why I've decided to take a sentence I wrote last month and turn it into the 15th Theorem of Government.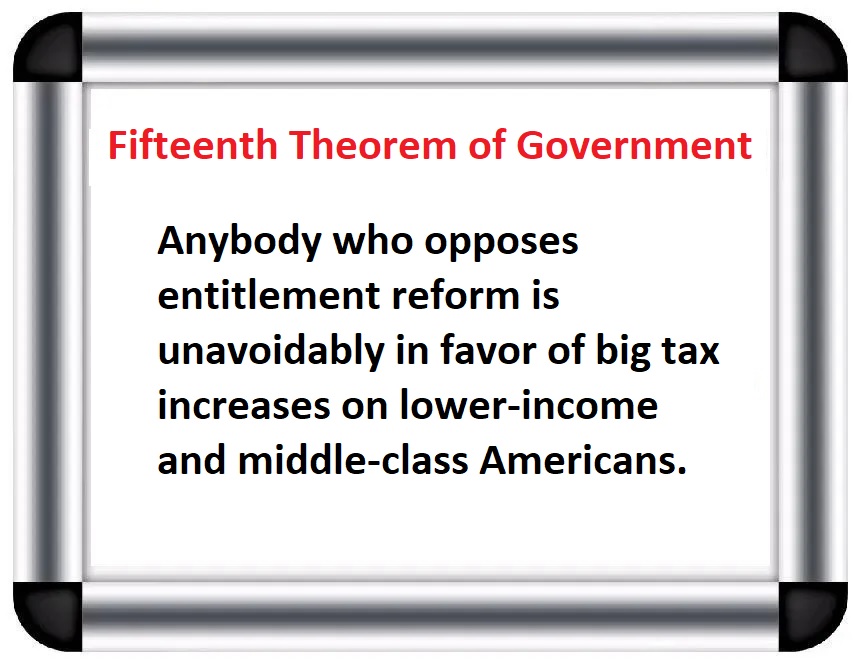 Here's the bottom line: Genuine patriots recognize America has a problem and they have the courage to advocate reforms that will actually solve the problem.
It will be interesting to see how many Republicans fit that definition.
P.S. I'm not a never-Trumper or anti-Trumper. For instance, I praised his tax policy and said nice things about his record on regulation. But I'm loyal to ideas, not to people, so I don't hesitate to criticize any politician who pushes ideas that are bad for America.
P.P.S. Here are the other 14 Theorems of Government.
Open letter to President Obama (Part 522)
(Emailed to White House on 5-3-13.)
President Obama c/o The White House 1600 Pennsylvania Avenue NW Washington, DC 20500
Dear Mr. President,
I know that you receive 20,000 letters a day and that you actually read 10 of them every day. I really do respect you for trying to get a pulse on what is going on out here.
______________________
Welfare Can And Must Be Reformed
            Uploaded on Jun 29, 2010
If America does not get welfare reform under control, it will bankrupt America. But the Heritage Foundation's Robert Rector has a five-step plan to reform welfare while protecting our most vulnerable.
__________________________
We got to get a hold on entitlement spending!!!
If America descends into Greek-style fiscal chaos, there's no doubt that entitlement programs will be the main factor. Social Security, Medicare, Medicaid, and Disability are all fiscal train wrecks today, and the long-run outlook for these programs is frightful.
Just look at these numbers from the Bank for International Settlements and OECD to see how our fiscal future is bleaker than many of Europe's welfare states.
If we don't implement the right kind of entitlement reform, our children and grandchildren at some point will curse our memory.
But that doesn't mean we shouldn't worry about other parts of the budget, including the so-called discretionary programs that also have been getting bigger and bigger budgets over time.
That's why I was a bit perturbed to read Veronique de Rugy's piece in National Review Online, which implies that these programs are "shrinking" and being subject to a "Big Squeeze."
…there is another number to look at in that budget. It's the shrinking share of the budget consumed by discretionary spending (spending on things like defense and infrastructure) to make space for mandatory spending and interest. This is the Big Squeeze. …in FY 2014 mandatory spending plus interest will eat up 67 percent of the budget, leaving discretionary spending with 33 percent of the budget (down from 36 percent in FY 2012). Now by FY 2023, mandatory and interest spending will consume 77 percent of the total budget. Discretionary spending will be left with 23 percent of the budget.
But all that's really happening here is that entitlement outlays are growing faster than discretionary spending.
Here's some data from the Historical Tables of the Budget, showing what is happening to spending for both defense discretionary and domestic discretionary. And these are inflation-adjusted numbers, so the we're looking at genuine increases in spending.
As you can see, defense outlays have climbed by about $100 billion over the past 50 years, while outlays for domestic discretionary programs have more than tripled.
If that's a "Big Squeeze," I'm hoping that my household budget experiences a similar degree of "shrinking"!
To be fair, Veronique obviously understands these numbers and is simply making the point that politicians presumably should have an incentive to restrain entitlement programs so they have more leeway to also buy votes with discretionary spending.
But I'd hate to think that an uninformed reader would jump to the wrong conclusion and decide we need more discretionary spending.
Particularly since the federal government shouldn't be spending even one penny for many of the programs and department that are part of the domestic discretionary category. Should there be a federal Department of Transportation? A federal Department of Housing and Urban Development? A federal Department of Agriculture?
No, NO, and Hell NO. I could continue, but you get the idea.
The burden of federal government spending in the United States is far too high and it should be reduced. That includes discretionary spending and entitlement spending.
P.S. Since I don't want to get on Veronique's bad side, let me take this opportunity to call attention to her good work on properly defining austerity,. And if you watch her testimony to a congressional committee, it's also quite obvious that she also understands that the real problem is bloated and wasteful government spending.
P.P.S. For those who don't have the misfortune of following the federal budget, "entitlements" are programs that are "permanently appropriated," which simply means that spending automatically changes in response to factors such as eligibility rules, demographic shifts, inflation, and program expansions. Sometimes these programs (such as Social Security, Medicare, Medicaid, etc) are referred to as "mandatory spending."
The other big part of the budget is "discretionary spending" or "appropriations." These are programs funded by annual spending bills from the Appropriations Committees, often divided into the two big categories of "defense discretionary" and "nondefense discretionary."
_____________
Thank you so much for your time. I know how valuable it is. I also appreciate the fine family that you have and your commitment as a father and a husband.
Sincerely,
Everette Hatcher III, 13900 Cottontail Lane, Alexander, AR 72002, ph 501-920-5733, lowcostsqueegees@yahoo.com
Related posts:
Some very good points by Dan Mitchell of the Cato Institute on Obamacare: Why We Should Be Optimistic about Repealing Obamacare and Fixing the Healthcare System April 10, 2013 by Dan Mitchell I'm going to make an assertion that seems utterly absurd. The enactment of Obamacare may have been good news. Before sending a team of medical […]
I have put up lots of cartoons from Dan Mitchell's blog before and they have got lots of hits before. Many of them have dealt with the economy, eternal unemployment benefits, socialism,  Greece,  welfare state or on gun control.     I've Obtained a Secret Pre-Release Copy of Obama's Budget April 9, 2013 by Dan Mitchell The President is supposed to release […]
Very well said by Dan Mitchell. A Tribute to Margaret Thatcher April 8, 2013 by Dan Mitchell The woman who saved the United Kingdom has died. A Great Woman I got to meet Margaret Thatcher a couple of times and felt lucky each time that I was in the presence of someone who put her nation's […]
I like Milton Friedman's comments on this issue of immigration   and Ron Paul and Dan Mitchell do well on the issue too. Question of the Week: What's Your Take on the Immigration Debate? April 7, 2013 by Dan Mitchell A reader from overseas wonders about my views on immigration, particularly amnesty. I confess that this is one of […]
We should lower federal taxes because jobs are going to states like Texas that have low taxes. What Can We Learn by Comparing the Employment Situation in Texas vs. California? April 3, 2013 by Dan Mitchell One of the great things about federalism, above and beyond the fact that it both constrains the power of governments […]
Third-Party Payer is the Biggest Economic Problem With America's Health Care System Published on Jul 10, 2012 This mini-documentary from the Center for Freedom and Prosperity Foundation explains that "third-party payer" is the main problem with America's health care system. This is why undoing Obamacare, while desirable, is just a small first step if we […]
I have put up lots of cartoons from Dan Mitchell's blog before and they have got lots of hits before. Many of them have dealt with the economy, eternal unemployment benefits, socialism,  Greece,  welfare state or on gun control. The funniest cartoon is the one with "Nurse Sebelius" stuffing the huge capsule down the kid's throat!!! Obamacare […]
I have put up lots of cartoons from Dan Mitchell's blog before and they have got lots of hits before. Many of them have dealt with the sequester, economy, eternal unemployment benefits, socialism,  minimum wage laws, tax increases, social security, high taxes in California, Obamacare,  Greece,  welfare state or on gun control. President Obama's favorite state must be California because […]
You want a suggestion on how to cut the government then start at HUD. I would prefer to eliminate all of it. Here are Dan Mitchell's thoughts below: Sequestration's Impact on HUD: Just 358 More Days and Mission Accomplished March 12, 2013 by Dan Mitchell As part of my "Question of the Week" series, I had […]
I read that President Obama in his meetings with the Republicans would not even say that a balanced budget was a goal. According to the budget presented by the Democratic Senate he is in agreement with their approach. Cartoonists have taken the opportunity to poke fun at that below. I  have put up lots of cartoons […]