——-
Dan Mitchell testifies on the debt ceiling in front of the Joint Economi…
REMY: RAISE THE DEBT CEILING RAP
REMY: RAISE THE DEBT CEILING RAP (AGAIN)
–
What Democrats Are Trying to Pass Before Their House Majority Ends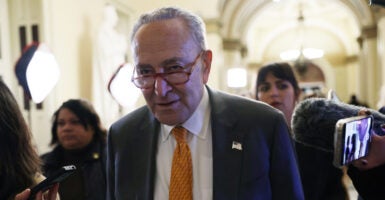 Democrats are in a mad scramble to push through unpopular legislation before the clock strikes midnight on the 117th Congress.
The lame-duck session is the period between November's congressional elections and the convening of the new 118th Congress on Jan. 3.
With some Republican help, Democrats in the Senate passed the so-called Respect for Marriage Act, which would repeal the 1996 Defense of Marriage Act and orders the federal government to recognize same-sex marriages. 
But that's not all.
The legislation has significant implications for religious freedom. It awaits passage in the House, where Democrats still have a slim majority until the new session. Republicans will hold a similarly narrow majority in the House next year.
Jamming through controversial legislation through Congress during a lame-duck session is atroubling practice to begin with. It's becoming increasingly common to bring up more hotly contested legislation that didn't have a chance of passing when vulnerable legislators had to face an election—and the voters.
Democrats are so concerned with "democracy" that they are scrambling to head off the results of last month's elections, it seems. As is often the case, the Left cares little about the proper functioning of government when its priorities are at stake.
The Washington Post editorial board called on Democrats in Congress to make this lame-duck session a "mighty one." Imagine how The Post would describe the situation if it were Republicans seeking to push a conservative agenda through.
In addition to "the Respect for Marriage Act," here are four more of the most controversial pieces of legislation being considered by the current lame-duck Congress:
'Assault Weapons' Ban
On Thanksgiving, President Joe Biden said that he wanted Congress to pass an "assault weapons" ban during the lame-duck session.
"The idea we still allow semiautomatic weapons to be purchased is sick," Biden said at a Thanksgiving Day press event in Nantucket, Mass. "Just sick. It has no socially redeeming value. Zero. None. Not a single, solitary rationale for it, except profit for the gun manufacturers."
He then said that he would try to "get rid of assault weapons."
What exactly Biden means there is a bit hard to decipher. If the aim is truly to ban "semiautomatic" weapons, that would include many rifles and handguns. As Rep. Mark Alford, R-Mo., noted on Twitter, semiautomatic weapons comprise about half of all gun sales in the U.S.
There are many, many reasons to have semiautomatic weapons. Not that Biden or hisfellow Democrats want to acknowledge that.
Despite Biden's call for an "assault weapons" ban, it seems top Democrats in the Senate aren't sure they have the votes to pass the legislation. The House of Representatives, controlled for a few more weeks by Democrats, passed gun control legislation in July, but the bill stalled in the Senate.
"I'm glad that President Biden is going to be pushing us to take a vote on an assault weapons ban," Sen. Chris Murphy, D-Conn., said on CNN. "The House has already passed it. It's sitting in front of the Senate. Does it have 60 votes in the Senate right now? Probably not, but let's see if we can try to get that number as close to 60 as possible."
Even if Democrats in the Senate all vote in favor of the legislation, they would still need at least 10 Republican votes to overcome a certain GOP filibuster.
Electoral Count Act
Democrats are looking to change the Electoral Count Act. This 1887 law laid out the procedure for counting Electoral College votes following a presidential election. It became a hotly contested issue following the 2020 presidential vote.
The law was the result of the 1876 presidential election between Rutherford B. Hayes and Samuel Tilden, in which four states sent Congress competing sets of Electoral College votes. 
Here's how my colleague Fred Lucas describedthe Electoral College Act, which was meant to clarify the process:
To give Congress a means for settling the matter, the 1887 law required a joint session of Congress to count the Electoral College votes from each state and stipulated that the vice president, as presiding officer, would certify the results.

However, if an objection to the count is declared in writing by a House member and signed by at least one senator, the joint session would temporarily adjourn, and both the House and the Senate would be required to debate the objection for two hours. The chambers would vote on the lawmakers' objection before reconvening in the joint session.
There have been bipartisan talks to remove that power from Congress. Some Democrats, however, want to see more widespread changes to the U.S. voting system to effectively federalize the process.
"The bare minimum, absolutely; but we need to go further than that," Rep. Jim Clyburn, D-S.C.,said of reforming the Electoral Count Act. "We need to look at the John R. Lewis Voting Rights Act."
The John R. Lewis Advancement Act would, among other things, increase federal veto power over state election laws through the Justice Department.
Omnibus Spending Bill
The Biden administration is looking to drastically increase federal spending through a massive omnibus bill during the lame-duck period. The administration asked for more than $47 billion to be spent on aid to Ukraine, COVID-19, and other projects.
As Matthew Dickerson, federal budget expert at The Heritage Foundation, explained in The Daily Signal, that level of spending in the lame-duck period is irresponsible at a time when the U.S. economy is experiencing the highest inflation rate in decades. (The Daily Signal is the media outlet of The Heritage Foundation.)
"This supplemental spending request for Ukraine aid and COVID-19 funding is more than an entire year's worth of regular appropriations for the departments of Agriculture and Interior combined," he wrote.
Dickerson wrote that the Ukraine spending—which already exceeds the spending on the U.S. Department of Homeland Security this year—deserves a thorough debate and examination by the new Congress.
Passing such a major piece of spending legislation in a lame-duck session preceding a shift in partisan control of the House in January would be an unprecedented move, according to Eric Teetsel, Heritage's vice president of government relations.
"Since 1994, control of the House has changed hands in four midterm election cycles (1994, 2006, 2010, and 2018). Never before has the outgoing House majority passed an omnibus appropriations bill during the lame-duck session following the election," he wrote.
Amnesty for Illegal Immigrants
Congressional Democrats are seeking to codify the Deferred Action for Childhood Arrivals program, or DACA, which would provide amnesty for illegal immigrants who came to the U.S. when they were children.
DACA was originally enacted in 2012 under President Barack Obama by executive fiat—the "pen and phone" presidency at work. It wasstruck down by a federal judge in 2021 and could be blocked by the Supreme Court, too. Democrats are now back to pursuing a more traditional path of passing a bill through Congress. (You know, that quaint process once described in "Schoolhouse Rock!")
At a Nov. 16 event on Capitol Hill with a group of Senate Democrats, Senate Majority Leader Chuck Schumer, D-N.Y., called for passing an amnesty program for illegal immigrants.
"I call on my Republican colleagues to join Democrats and help us protect our Dreamers," Schumer said. "It is cruel and inhumane to keep millions in limbo. Senate Republicans need to work with us on this widely supported policy so we can reach an agreement that will protect families and strengthen our economy."
Rep. Jerry Nadler, D-N.Y. and House Judiciary Committee chairman, has also been working on DACA legislation.
Here's how Dan Stein, the president of the Federation for American Immigration Reform,described the Nadler initiative to double down on DACA:
Nadler's plan is not only to codify DACA, which has about 600,000 enrollees, but also to extend that amnesty to an estimated 4.4 million illegal aliens. In other words, what is being sold as a small fix would actually become the largest amnesty in history—far exceeding the number of people who were legalized as a result of legislation passed in 1986.
Have an opinion about this article? To sound off, please email letters@DailySignal.com and we'll consider publishing your remarks in our regular "We Hear You" feature. Remember to include the url or headline of the article plus your name and town and/or state.
Want to keep up with the 24/7 news cycle? Want to know the most important stories of the day for conservatives? Need news you can trust? Subscribe to The Daily Signal's email newsletter. Learn more >>


TRY BORROWING AT A BANK WITH A FINANCIAL CONDITION LIKE THE USA HAS:
December 10, 2021
The Honorable Joni Ernst of Iowa
United States Senate
Washington, D.C. 20510
Dear Senator Ernst,
After reading all your views on self-professed conservative economics and cutting spending I was surprised to read your name in this article below that said you made a way for Democrats to raise the debt ceiling even though 72% of your Republican friends in the senate would have no part of it and only 1 out of 201 Republicans in the House voted to do so!!!
DON'T YOU SEE THAT MAKING THE GOVERNMENT LIVE ON WHAT IT BRINGS IN WILL MAKE IT PRIORITIZE AND THE USA WILL NOT END UP AS GREECE? WHY GIVE THE DEMOCRATS A FREE PASS NOW?
I would love to get your reaction to this rap song which was recently written about you enabled the Democrats to do:
Putting America's depressing fiscal policy to a beat since 2011!
Ten years and another $15 trillion added to the debt since his original rap, Remy is back to make it rain.
Written and performed by Remy; video produced by Meredith & Austin Bragg; mastering by Ben Karlstrom.
LYRICS:
Raise the debt ceiling!
Raise the debt ceiling!
Raise the debt ceiling!
Raise the debt ceiling again!
Thirty trillion in debt and yo we're back again
Still printing lots of money, telling all of your friends
I told you this would happen but you were a doubting Thomas
Thirty is the last trillion I'll ever need—I swear, I promise
It's like we're spending junkies just getting the itch
Can I have another trillion? I promised my district a bridge
It was a crisis before, we took the lesson to heart
By spending so much money now we're printing pressing the chart
Spending billions and billions on sweet military gear
Did any wind up with the enemy? What do you want to hear?
Raise the debt ceiling!
Raise the debt ceiling!
Raise the debt ceiling!
Raise the debt ceiling again!
Back up in the Fed and we're still super stoked
Somehow printing lots of money while we're working remote
Still dropping IOUs in every fund yes sir
Hamilton started this place—that's why it only goes "BURR!!!"
Prices are rising at every venue it's bad
And for sure that dollar menu looks especially sad
Gas prices are rising, it's getting hard for the competent
It costs an arm and a leg—where am I? The Saudi consulate?
Leaving IOUs you should give it a try son
M1 used to sink your battleship, now it's what you use to buy one
Just say the magic word, I'll set the printer abuzz
Charmin might run out of paper son, but guess who never does?
SADLY IT WAS JUST 10 YEARS AGO WHEN REMY WROTE ABOUT A 15 TRILLION DEBT:
LYRICS:
Raise da debt ceiling!Raise da debt ceiling!Raise da debt ceiling!Raise da debt ceiling!
14 trillion in debtbut yo we ain't got no qualmsdroppin $100 billsand million dollar bombs
spending money we don't havethat's the name of the gamethey call me cumulo nimbusbecause you KNOW I make it rain
bail out all kind of carsgot all kind of whipsladies ask me how I get emI tell em STIMULUS
Social Security surplus?Oh, guess what? it's goneI got my hands on everythinglike Dominique Strauss Kahn
ain't got no Medicare trust fundson, that's just absurdspending every single penny thatwe see, son, have you heard?
ain't got no moral objectionsain't got kind of complaintsain't got no quantitativestatutory budget restraints
so…[CHORUS]
Yo, we up in the Fedand we living in styleSpending lots of moneywhile we sipping crystal
still making it rainand yeah it be so pleasingwait, not making it rain–we be "Quantitative Easing!"
QE1, QE2QE4, QE3Dropping IOU'sin every fund that I see
printing the cashinflating the moniescallin up China"a-yo we straight out of 20's!"
in the clubwe be louding outwhile to the market, yeahwe be crowding out
on the beach getting tanand sipping Coronawe got a monetary plan–and it involves a lot of toner…
[CHORUS]
So if you look at the chartand examine the trendwe borrow 40 cents of everysingle dollar we spend
and non-discretionary spendingincreases every daydo you have a comment for Committee?I MAKE IT RAIN
Mr. Speaker, Mr. Speakerwould you beam me up?A Congressperson cutting spending?Couldn't dream me up
We're gonna defaultif we follow this road!I should have thought of this14 trillion dollars ago!
I'm the king of the linksI'm a menace at tennisI'm sticking spinnaz on my rimspicking winnaz in business
if you're looking for some cashit's about to get heavyI got some big ol' piles of moneyand guess what–they shovel ready
[CHORUS]
Your vote to help the Democrats jump over the debt ceiling limit hurdle reminded me of this cartoon:
HERE ARE SOME SUGGESTIONS YOU HAVE IGNORED:
Fundamental spending reform needed.
We cannot blame politicians for the spending that places our nation in peril. Politicians are doing precisely what the American people elect them to office to do — namely, use the power of their office to take the rightful property of other Americans and deliver it to them. It would be political suicide for a president or a congressman to argue as Madison did that Congress has no right to expend "on objects of benevolence" the money of its constituents and that "charity is no part of the legislative duty of the government." It's unreasonable of us to expect any politician to sabotage his career by living up to his oath of office to uphold and defend our Constitution. That means that if we are to save our nation from the economic and social chaos that awaits us, we the people must have a moral reawakening and eschew what is no less than legalized theft, the taking from one American for the benefit of another.
I know that some people will say, "Williams, I agree with most of what you say, but not when it comes to Social Security. Social Security is my money I had taken out of my pay for retirement." If you think that, you've been duped. The only way you get a Social Security check is for Congress to take the earnings of a worker. Explanation of your duping can be found on my website, in a 2010 article I wrote titled "Washington's Lies."
Walter E. Williams is a professor of economics at George Mason University.
Everette Hatcher III, 13900 Cottontail Lane, Alexander, AR 72002, everettehatcher@gmail.com,
Graham Warns Senators: 'If You're Wondering Why There's A Donald Trump,
Dan Mitchell, Cato Institute, Debt Ceiling
"Raise the Debt Ceiling" rap goes viral
Daniel J. Mitchell – USA: Drowning In Debt?
The problem in Washington is not lack of revenue but our lack of spending restraint. This video below makes that point. WASHINGTON IS A SPENDING ADDICT!!!
——-
—
I HAVE WRITTEN REPUBLICAN SENATORS AND REPRESENTATIVES ABOUT THE IMPORTANCE OF NOT RAISING THE DEBT CEILING FOR OVER AN DECADE NOW!!!! WHY DO THEY CONTINUE TO DO SO EVEN THOUGH THEY ALL SAY THEY ARE AGAINST BORROWING 40% OF WHAT THE GOVERNMENT SPENDS? Look at some of these previous letters below:
The Honorable Shelley Moore Capito
United States Senate
Washington, D.C. 20510
Dear Senator Capito,
On September 16, 2021 my post "46 REPUBLICAN SENATORS VOW NOT TO HELP DEMOCRATS RAISE THE DEBT CEILING (HERE WE GO AGAIN!!!!!)" and you were one of the 46 Senators who pledged not to raise the debt ceiling but you folded like a wet leaf just like I predicted:
I have written before about those heroes of mine that have resisted raising the debt ceiling but in the end I have always been disappointed and here we go again!
But first let me give you a taste of something I wrote about 10 years ago on this same issue!
Why don't the Republicans  just vote no on the next increase to the debt ceiling limit. I have praised over and over and overthe 66 House Republicans that voted no on that before. If they did not raise the debt ceiling then we would have a balanced budget instantly.  I agree that the Tea Party has made a difference and I have personally posted 49 posts on my blog on different Tea Party heroes of mine.
What would happen if the debt ceiling was not increased? Yes President Obama would probably cancel White House tours and he would try to stop mail service or something else to get on our nerves but that is what the Republicans need to do.
I have written and emailed Senator Pryor over, and over again with spending cut suggestions but he has ignored all of these good ideas in favor of keeping the printing presses going as we plunge our future generations further in debt. I am convinced if he does not change his liberal voting record that he will no longer be our senator in 2014.
I have written hundreds of letters and emails to President Obama and I must say that I have been impressed that he has had the White House staff answer so many of my letters. The White House answered concerning Social Security (two times), Green Technologies, welfare, small businesses, Obamacare (twice),  federal overspending, expanding unemployment benefits to 99 weeks,  gun control, national debt, abortion, jumpstarting the economy, and various other  issues.   However, his policies have not changed, and by the way the White House after answering over 50 of my letters before November of 2012 has not answered one since.   President Obama is committed to cutting nothing from the budget that I can tell.
 I have praised over and over and over the 66 House Republicans that voted no on that before. If they did not raise the debt ceiling then we would have a balanced budget instantly.  I agree that the Tea Party has made a difference and I have personally posted 49 posts on my blog on different Tea Party heroes of mine.
Sixty Six who resisted "Sugar-coated Satan Sandwich" Debt Deal (Part 37)
This post today is a part of a series I am doing on the 66 Republican Tea Party favorites that resisted eating the "Sugar-coated Satan Sandwich" Debt Deal. Actually that name did not originate from a representative who agrees with the Tea Party, but from a liberal.
Rep. Emanuel Clever (D-Mo.) called the newly agreed-upon bipartisan compromise deal to raise the  debt limit "a sugar-coated satan sandwich."
"This deal is a sugar-coated satan sandwich. If you lift the bun, you will not like what you see," Clever tweeted on August 1, 2011.
August 1, 2011
Rep. Harris Votes Against the Debt Ceiling "Deal" 
Washington, DC – Today, Rep. Andy Harris voted against the debt ceiling increase. The plan did not require passage of a balanced budget amendment, which Rep. Harris feels is essential to bringing permanent common sense accountability to Washington.
"A balanced budget amendment is the only way to make sure the federal government spends what it takes in and lives within its means," said Rep. Andy Harris.  "Over the past few weeks I have repeatedly voted for reasonable proposals to raise the debt ceiling that included passage of a balanced budget amendment. But I didn't come to Washington to continue writing blank checks. Maryland's families and job creators sent me to Congress to permanently change the way Washington does business.  I appreciate Speaker Boehner's remarkable, historic efforts to craft a proposal to solve the debt ceiling issue.  But today's debt ceiling deal just doesn't go far enough to build an environment for job creation by requiring passage of a balanced budget amendment to bring permanent common sense accountability to Washington."
Currently, the U.S. Government has a national debt of $14.3 trillion and runs an annual deficit of $1.65 trillion.
Related posts: