–
As we have seen in nations such as Greece and Argentina, voters sometimes cannot resist the temptation to support profligate politicians – a process that can lead to "goldfish government."

In effect, voters choose fiscal suicide.
There's even a quote, often mistakenly attributed to Ben Franklin, that this is the Achilles' Heel of democratic governments (for what it's worth, it appears that a Scottish historian, Alexander Fraser Tytler, was the real source).
Is the United States traveling down that path? Based on long-run fiscal projections, I'm not optimistic.
The good news is that there is still time to fix our problems.
The bad news is that the crowd in Washington is not interested in doing the right thing.
If you think I'm being unduly pessimistic, consider what House Republicans did earlier this week. As Kimberly Strassel explained in her Wall Street Journal column, they decided that the swamp is actually a hot tub.
Self-awareness isn't one of the modern GOP's strong suits, as House Republicans proved again this week. …Leader Kevin McCarthy in September unveiled to great fanfare the party's Commitment to America,which vowed that Republicans would "curb wasteful government spending"… Then came Wednesday's first test of whether this was all hot air… Rep. Tom McClintock moved to repeal the recent party rule allowing earmarks. The caucus routed his motion, voting it down 158-52. Commitment to America? More like Commitment to Spoils.
She added some historical context.
The GOP swore off earmarks in 2011, when it stood for something… But when a Democratic Congress in 2021 announced intentions to bring them back, GOP trough-feeders rushed to sign up. …And the addicts aren't interested in rehab.
Her conclusion does not pull punches.
If Republicans can't muster the backbone to get rid of earmarks that are an affront to spending discipline, good governance and federalism, voters won't muster the enthusiasm to keep them in charge.
Back during the era of the Tea Party, Republicans did the right thing.
Nowadays, motivated by various forces such as big-government Trumpism and big-government national conservatism, Republicans do the wrong thing.
And if you wonder whether earmarks are wrong, here are some excerpts from a column in National Review by Romina Boccia.
Earmarking contributes to excessive spending and is a distraction from more fundamental governing responsibilities, such as reining in deficit spending… Supporters of earmarks insist that they are central to Congress's exercising its constitutional power of the purse.…To the degree that Congress leaves too much discretion to the executive to determine federal funding allocations, it should address that issue directly… Looking at the details of where the money flows, it becomes clear that earmarks mostly authorize pork-barrel spending. …Such a misdirected focus inevitably invites fraud, waste, and abuse. …The 117th Congress included 4,963 earmarks worth a total of $9.1 billion in fiscal-year (FY) 2022 appropriations bills. From feral-swine management to aquarium subsidies to museum and theater funding to local bike paths, FY2022 earmark spending spanned the gamut of parochial interests. 
Needless to say (but I'll say it anyhow), earmarks are directly linked to corruptions.
Politicians swap earmarks for campaign cash (and sometimes they even cut out the middleman!).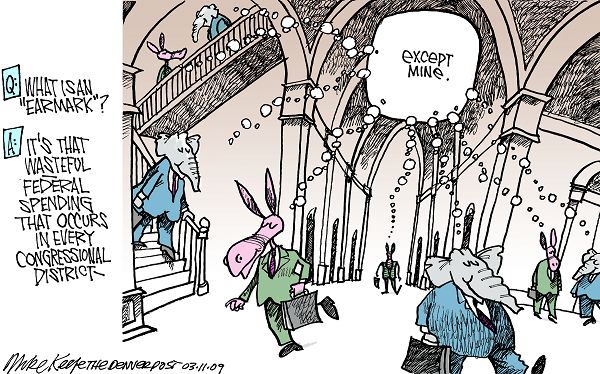 Defenders of this sleazy process sometimes claim we should not worry because earmarks represent just a small slice of a bloated federal budget.
But what they don't realize – or what they don't want the rest of us to understand – is that earmarks are a "gateway drug to big government addiction."
So ask yourself a question: Do you think politicians who get lured into this oleaginous game will have any interest in controlling the overall burden of government spending?
P.S. Just in case everything I just wrote did not convince you that earmarks are a problem, then maybe this headline from September will be more compelling.

Such a depressing headline.
Such a depressing scam.
Such a corrupt system.
Emailed to John Boozman on 12-16-13
Senator John Boozman, 320 Hart Senate Office Building Washington, DC 20510 Phone: (202) 224-4843 Fax: (202) 228-1371
Dear Senator Boozman,
I want to thank you for taking the time out of your busy day to respond to my earlier letter to you on this same subject. I have always TRIED TO CONTACT THE REPRESENTATIVES AND SENATORS ABOUT THEIR RESPONSIBILITY TO BALANCE OUR BUDGET AND CUT SPENDING WHENEVER POSSIBLE. Can you join Congressman Crawford and Cotton and vote against busting the budget????
DEC 2013 BUDGET DEAL:I am so proud of Congressmen Rick Crawford and Tom Cotton for their vote to keep the Sequester spending limits!!!! I wish all of Washington would realize that we must cut our spending and balance our budget!!!! It seems President Obama and the Democrats just want to keep spending like crazy!!!
FINAL VOTE RESULTS FOR ROLL CALL 640(Republicans in roman; Democrats in italic; Independents underlined)
H J RES 59      RECORDED VOTE      12-Dec-2013      6:25 PM
QUESTION:  On Motion to Recede and Concur in the Senate Amendment with Amendment
BILL TITLE: Making continuing appropriations for fiscal year 2014, and for other purposes
| | | | | |
| --- | --- | --- | --- | --- |
|   | Ayes | Noes | PRES | NV |
| Republican | 169 | 62 |   | 1 |
| Democratic | 163 | 32 |   | 6 |
| Independent |   |   |   |   |
| TOTALS | 332 | 94 |   | 7 |
Aderholt
Amodei
Andrews
Bachus
Barber
Barletta
Barr
Barrow (GA)
Beatty
Becerra
Benishek
Bera (CA)
Bilirakis
Bishop (NY)
Bishop (UT)
Black
Blackburn
Blumenauer
Boehner
Bonamici
Boustany
Brady (PA)
Brady (TX)
Braley (IA)
Brooks (IN)
Brownley (CA)
Buchanan
Bucshon
Bustos
Butterfield
Calvert
Camp
Campbell
Cantor
Capito
Capps
Capuano
Cárdenas
Carney
Carson (IN)
Carter
Cartwright
Cassidy
Castor (FL)
Chaffetz
Clark (MA)
Clay
Cleaver
Clyburn
Coble
Cohen
Cole
Collins (GA)
Collins (NY)
Conaway
Connolly
Cook
Cooper
Costa
Courtney
Cramer
Crenshaw
Crowley
Cuellar
Culberson
Cummings
Davis (CA)
Davis, Rodney
DeGette
Delaney
DelBene
Denham
Dent
Deutch
Diaz-Balart
Dingell
Doggett
Doyle
Duckworth
Duffy
Edwards
Ellmers
Engel
Enyart
Eshoo
Esty
Farenthold
Farr
Fattah
Fincher
Fitzpatrick
Fleischmann
Fleming
Flores
Forbes
Fortenberry
Foster
Foxx
Frelinghuysen
Gabbard
Gallego
Garamendi
Garcia
Gerlach
Gibbs
Gibson
Goodlatte
Granger
Graves (GA)
Graves (MO)
Grayson
Green, Al
Green, Gene
Griffin (AR)
Griffith (VA)
Grimm
Guthrie
Gutiérrez
Hahn
Hanna
Harper
Hartzler
Hastings (FL)
Hastings (WA)
Heck (WA)
Hensarling
Herrera Beutler
Higgins
Himes
Hinojosa
Honda
Horsford
Hudson
Huffman
Huizenga (MI)
Hultgren
Hunter
Hurt
Israel
Issa
Jackson Lee
Jeffries
Jenkins
Johnson (GA)
Johnson (OH)
Johnson, E. B.
Joyce
Kaptur
Keating
Kelly (IL)
Kelly (PA)
Kennedy
Kildee
Kilmer
Kind
King (NY)
Kinzinger (IL)
Kirkpatrick
Kline
Kuster
LaMalfa
Lamborn
Lance
Langevin
Lankford
Larsen (WA)
Larson (CT)
Latham
Latta
Lewis
Lipinski
LoBiondo
Loebsack
Lofgren
Lowenthal
Lowey
Lucas
Luetkemeyer
Lujan Grisham (NM)
Luján, Ben Ray (NM)
Lynch
Maffei
Maloney, Carolyn
Maloney, Sean
Marino
Matheson
Matsui
McAllister
McCarthy (CA)
McCaul
McCollum
McDermott
McGovern
McHenry
McKeon
McMorris Rodgers
McNerney
Meehan
Meeks
Meng
Messer
Mica
Michaud
Miller (FL)
Miller (MI)
Miller, Gary
Miller, George
Moore
Moran
Murphy (FL)
Murphy (PA)
Nadler
Napolitano
Neal
Noem
Nolan
Nunes
Nunnelee
O'Rourke
Owens
Palazzo
Pascrell
Pastor (AZ)
Paulsen
Payne
Pelosi
Perlmutter
Perry
Peters (CA)
Peters (MI)
Peterson
Petri
Pittenger
Pitts
Polis
Price (GA)
Price (NC)
Quigley
Rahall
Rangel
Reed
Reichert
Renacci
Ribble
Rice (SC)
Rigell
Roby
Roe (TN)
Rogers (AL)
Rogers (KY)
Rogers (MI)
Rokita
Rooney
Ros-Lehtinen
Roskam
Ross
Rothfus
Roybal-Allard
Royce
Ruiz
Runyan
Ruppersberger
Ryan (OH)
Ryan (WI)
Sarbanes
Schiff
Schneider
Schock
Schwartz
Scott (VA)
Scott, Austin
Scott, David
Sensenbrenner
Serrano
Sessions
Sewell (AL)
Shea-Porter
Sherman
Shimkus
Shuster
Simpson
Sinema
Sires
Smith (NJ)
Smith (TX)
Smith (WA)
Southerland
Speier
Stewart
Stivers
Stutzman
Swalwell (CA)
Takano
Terry
Thompson (CA)
Thompson (PA)
Thornberry
Tiberi
Tierney
Tipton
Titus
Tonko
Tsongas
Turner
Upton
Valadao
Van Hollen
Vargas
Veasey
Vela
Wagner
Walberg
Walden
Walorski
Walz
Wasserman Schultz
Waxman
Welch
Westmoreland
Whitfield
Williams
Wilson (FL)
Wilson (SC)
Wittman
Wolf
Womack
Woodall
Yarmuth
Yoder
Yoho
Young (AK)
Young (IN)
Amash
Bachmann
Barton
Bass
Bentivolio
Bridenstine
Brooks (AL)
Broun (GA)
Burgess
Chabot
Chu
Cicilline
Clarke (NY)
Coffman
Conyers
Cotton
Crawford
Daines
DeFazio
DeLauro
DeSantis
DesJarlais
Duncan (SC)
Duncan (TN)
Ellison
Frankel (FL)
Franks (AZ)
Fudge
Gardner
Garrett
Gingrey (GA)
Gohmert
Gosar
Gowdy
Grijalva
Hall
Hanabusa
Harris
Heck (NV)
Holding
Holt
Hoyer
Huelskamp
Johnson, Sam
Jones
Jordan
King (IA)
Kingston
Labrador
Lee (CA)
Levin
Long
Lummis
Marchant
Massie
McClintock
McIntyre
McKinley
Meadows
Mullin
Mulvaney
Negrete McLeod
Neugebauer
Nugent
Olson
Pallone
Pearce
Pingree (ME)
Pocan
Poe (TX)
Pompeo
Posey
Richmond
Rohrabacher
Salmon
Sánchez, Linda T.
Sanchez, Loretta
Sanford
Scalise
Schakowsky
Schrader
Schweikert
Slaughter
Smith (MO)
Smith (NE)
Stockman
Thompson (MS)
Velázquez
Visclosky
Waters
Watt
Weber (TX)
Webster (FL)
Wenstrup
Bishop (GA)
Brown (FL)
Castro (TX)
Davis, Danny
McCarthy (NY)
Radel
Rush
Bipartisan Budget Deal
Budget Deal Disappointment: Dr. Coburn on Morning Joe 12/11/2013
Rep. Rokita Rises in Support of Bipartisan Budget Deal
Ron Fournier: 'Asinine' Small Budget Deal 'Shows How Pitiful' D.C. Has Become
Published on Dec 9, 2013
Ron Fournier, editorial director for National Journal, heaped scorn on members of Congress from both parties on Monday in a discussion on MSNBC about a proposed budget deal. The outlines of the deal, which avoid tackling debt drivers or reforming the tax code, will raise taxes on American travelers and may cut pension benefits for millions of Americans. Fournier called the deal "absurd" and said it was "pitiful" that lawmakers would congratulate themselves and take a vacation after this punt.
MSNBC anchor Chris Jansing noted that the small budget deal, many of the details of which remain unknown, was described by the Washington Post as a "ceasefire."
POLITICO's Carrie Budoff Brown noted that, while the deal is far from a grand bargain, is significant because the congressional negotiators plan to address some of the sequester cuts that have roiled a number of constituencies in Washington D.C. She added, however, that a long-term structural budget deal is a recipe for gridlock because both Republicans and Democrats are unwilling to compromise.
Fournier noted that this is indicative of how Washington works — something that he and average Americans should not tolerate. "I think, the fact that you're even asking if this can be considered a deal or success just shows you how pitiful this city gotten right now," he declared.
__________________________
Rep. Ryan on bipartisan budget deal – It 'moves the ball in the right direction'
Published on Dec 11, 2013
12/10/2013 – On the Record with Greta Van Sustren, Fox News
_________________________
Budget deal reached and it hits air travelers for $26 billion & does nothing for debt reduction
Published on Dec 10, 2013
The budget deal reached between Patty Murray and Paul Ryan does nothing to reduce the debt or even the deficit by an significant amount. It does nothing for entitlement reform or tax reform. The deal breaks the sequester cap of $967 and increases spending to over #1 trillion for each of the next 2 years. The deal is just a steady as she goes kind of bill. In the bill there is a proposal to extract $26 billion from air travelers – air travelers are taking the hit in this bill.
P.J. O'Rourke-The Debt Ceiling & The Budget Sequester-Greater Talent Network
______________
I am so sad about the Republicans caving in and letting President Obama and the Democrats get rid of the Sequester spending cap limits!!!! I have contacted my Representatives and Senators and told them what I wanted them to do. I am happy to report that Tom Cotton and Rick Crawford voted in the House to keep the Sequester limits. I AM SO PROUD OF THEM!!!!!
Thank you for your time.
Sincerely,
Everette Hatcher, 13900 Cottontail Lane, Alexander, AR 72002, cell ph 501-920-5733, everettehatcher@gmail.com, lowcostsqueegees@yahoo.com, www.thedailyhatch.org
Related posts:
House, Senate Budget chairs reach deal to preempt another gov t shutdown Paul Ryan has been fighting for sequestration for years(1 yr ago) _____________________________ We got to cut spending increases like the Sequester was doing in order to control government spending!!! The budget deal is a huge Republican cave-in Republicans in Congress have put in […]
____ I POURED MY HEART OUT IN AN EMAIL TO SENATOR BOOZMAN THE OTHER DAY AND THEN SENT THAT EMAIL TO 30 SENATORS AND REPRESENTATIVES ALL OVER THE USA!!! HERE I GO AGAIN. This is very much the same case as raising the debt ceiling in my view. It seems that the Republicans keep allowing […]
______ If you really want to cut the growth of government spending then keep the sequester in place!!! December 9, 2013 11:01AM Budget Deal: A Dangerous Precedent By Chris Edwards Share Republican and Democratic negotiators are expected to agree to a budget deal this week setting spending levels for 2014. The Washington Post says that […]
________________________ Senator John Boozman, 320 Hart Senate Office Building Washington, DC 20510 Phone: (202) 224-4843 Fax: (202) 228-1371 Dear Senator Boozman, I want to thank you for taking the time out of your busy day to respond to my earlier letter to you on this same subject. I have always TRIED TO CONTACT THE REPRESENTATIVES AND SENATORS ABOUT THEIR RESPONSIBILITY […]
The Sequester actually did help control the growth of government and hopefully we can cut deeper this time around!!! Government Shutdown Jokes…and the Sick Joke of Obama's Shutdown Strategy October 8, 2013 by Dan Mitchell Even though it's an uphill battle, I'm glad there are some lawmakers willing to fight Obamacare. They realize a hard battle […]
What Can Washington Politicians Learn From America's Moms? Published on Apr 2, 2013 We asked folks what Washington politicians can learn from America's moms ___________________ We need deeper cuts than the Sequester!!! Below are some very funny cartoons from Dan Mitchell's blog on the Sequester. Sequestration "Meat Cleaver" Is Really a Scalpel Danny Huizinga July 26, […]
When Governments Cut Spending Uploaded on Sep 28, 2011 Do governments ever cut spending? According to Dr. Stephen Davies, there are historical examples of government spending cuts in Canada, New Zealand, Sweden, and America. In these cases, despite popular belief, the government spending cuts did not cause economic stagnation. In fact, the spending cuts often […]
If you blame the Sequester for blaming job growth then you don't have a good grasp on economics. The Overlooked Jobs Tragedy April 9, 2013 by Dan Mitchell When the monthly job numbers are released, most people focus on the unemployment rate. On many occasions, I've cited that number, usually to point out that the unemployment […]
I have put up lots of cartoons from Dan Mitchell's blog before and they have got lots of hits before. Many of them have dealt with the economy, eternal unemployment benefits, socialism,  Greece,  welfare state or on gun control. Sequester was not so bad after all. Since the Sequester Has Been in Place for More than One […]
I have put up lots of cartoons from Dan Mitchell's blog before and they have got lots of hits before. Many of them have dealt with the economy, eternal unemployment benefits, socialism,  Greece,  welfare state or on gun control. As Humorously Explained by Henry Payne, the World Amazingly Didn't End When Uncle Sam Got Put on a […]
By Everette Hatcher III | Posted in Cato Institute, Economist Dan Mitchell | Edit | Comments (0)