______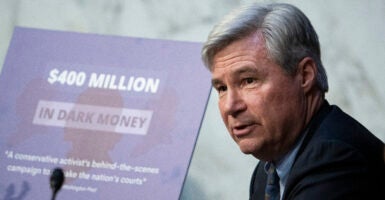 Sen. Sheldon Whitehouse, D-R.I., called for revoking a tax exemption for a conservative group for not masking up and socially distancing during the pandemic, insisted on a slew of investigations of other conservative groups, and pressed for the Internal Revenue Service to expand its reach. 
A total of 176 pages of correspondence from and to Whitehouse was obtained from the IRS by the conservative watchdog group American Accountability Foundation through the Freedom of Information Act and shared with The Daily Signal. 
"It's abundantly clear that [Whitehouse] is trying to take the 87,000 new IRS agents and put them to work investigating me and my friends because he doesn't like their politics," Tom Jones, president and founder of the American Accountability Foundation, told The Daily Signal in a phone interview Tuesday. 
The letters span from Jan. 19, 2021, the day before President Joe Biden took office, into May 2022. 
'Lois Lerner on Steroids'
Whitehouse long has been a critic of conservative, nonprofit organizations and uses an expansive definition of "dark money" groups, broadly defined as tax-exempt organizations that don't disclose donors. 
The Supreme Court, in 1958 and 2021 cases, has struck down compelled donor disclosure requirements at the state level.
The Rhode Island Democrat, first elected in 2006, has made "dark money" a central point of Senate floor speeches and often uses up his entire five-minute question period to make related speeches during hearings of the Senate's Judiciary and Finance committees. 
"It's Lois Lerner on steroids," Jones said of what's in the Whitehouse correspondence, referring to the Internal Revenue Service official in the middle of the Obama-era IRS scandal over the targeting of tea party groups. 
"The Lois Lerner stuff was a mid-level bureaucrat abusing [her] power to investigate conservative groups," he said. "This is a U.S. senator basically trying to turn the heat up on investigations by the Internal Revenue Service."
"So, if Sheldon Whitehouse had his way," Jones said, "Lois Lerner would just look like a test run of what Sheldon Whitehouse has in mind."
Jones' nonprofit American Accountability Foundation describes itself as "a government oversight and research organization that uses investigative tools to educate the public on issues related to personnel, policy, and spending."
Targeting Turning Point USA
In a letter dated Jan. 19, 2021, Whitehouse asked IRS Commissioner Charles Rettig to revoke the tax-exempt status of Turning Point USA because the conservative organization held an event at then-President Donald Trump's Mar-a-Lago club without masking and social distancing. 
Turning Point USA's mission is to train and develop young Americans to become conservative leaders.
"Tax-exempt status provides a substantial benefit to charitable organizations and reflects the federal government's endorsement of an organization's activities," Whitehouse wrote to the IRS chief. "Organizations that knowingly put in danger minors entrusted to their care should not enjoy the benefits of tax-exempt status. Accordingly, I urge the IRS to review whether it should revoke Turning Point USA's tax-exempt status."
Many of the documents provided by the IRS to meet the public records request were heavily redacted, but the Whitehouse letter referencing Turning Point USA also appears in full on Whitehouse's Senate website. 
Rettig's response to Whitehouse, dated March 28, 2021, asserts that the IRS wouldn't tell him if it were investigating or otherwise acting against the conservative youth organization. The reply was not available before the FOIA request. 
"You shared your concern about reports that the organization hosted COVID-19 super-spreader events in violation of local regulations," Rettig told Whitehouse. "You urged the IRS to review and consider whether we should revoke its tax-exempt status."
A portion of Rettig's response was redacted. The letter then goes on to say: "Section 6103 of the Internal Revenue Code protects the privacy of tax returns and tax return information of all taxpayers. Therefore, we cannot disclose any actions we may or may not take on this information."
Whitehouse's concern over "dark money" groups generally is one-sided, Jones noted. He referred to the billion-dollar Arabella Advisors network of liberal nonprofit groups. 
"What's important about these letters is it makes it very clear that a U.S. senator is attempting to essentially encourage the IRS to investigate his political opponents," Jones said. "He never mentions there is a vast group of left-wing nonprofits whose funding I envy. … You don't hear a peep from Sheldon Whitehouse about New Venture Fund, Arabella Advisors, Sixteen Thirty, a laundry list of folks on the Left." 
'Fall Between the Infielders'
The final letter the IRS made available was an inquiry from Whitehouse to Rettig, Treasury Secretary Janet Yellen, and Attorney General Merrick Garland about why his concerns had not been investigated. 
"I have described to you flagrant and persistent instances in which 501(c)(4) organizations engage in political activity—and report that political spending to the Federal Election Commission (FEC) or its state equivalents—while telling the Internal Revenue Service (IRS) that they did not engage in any political activity," Whitehouse wrote in the letter dated May 5, 2022. 
The Rhode Island Democrat referenced a 2012 report by the left-leaning investigative reporting website ProPublica, which found that 32 nonprofits reporting electioneering to the Federal Election Commission and state equivalents did not also report it to the IRS. 
He said a 2022 report by Citizens for Responsibility and Ethics in Washington, a liberal watchdog group, found about two dozen nonprofits doing the same. 
"This fact pattern, where tax-exempt organizations' submissions under oath to different government entities are plainly inconsistent, should present straightforward cases for the IRS and the Department of Justice (DOJ) to pursue," Whitehouse wrote. "Such facts present prima facie cases of noncompliance with IRS rules, and predicate 'false statement' investigations."
However, Whitehouse noted that Rettig responded at a Senate Finance Committee hearing in April that the IRS never has referred a single case of inconsistent statements to the Justice Department and it doesn't appear that the Justice Department investigated such statements.
"I request that IRS and DOJ together brief my office on this matter," Whitehouse wrote. "I request both Commissioner Rettig and Attorney General Garland to clarify the referral policy between IRS and DOJ so that well-predicated investigations do not constantly fall between the infielders."
The documents provided by the public records request to the IRS don't show a response to Whitehouse's request. 
The IRS, Treasury Department, and Justice Department did not respond to inquiries from The Daily Signal for this report. 
Whitehouse's Senate press office also did not respond Tuesday or Wednesday.
Whitehouse is "taking a spaghetti-to-the-wall approach" in going after conservative groups, hoping to see what sticks, American Accountability Foundation's Jones said.
"It's simply wrong, an abuse of his position," Jones said. "Thankfully, the IRS hasn't indulged in what Whitehouse is asking them to do, but you have to remain vigilant. He is a United States senator, close with the [Biden] White House."
"At some point, the dam could break on this and conservative nonprofits could get a knock on their door from IRS agents because a U.S. senator wants them to investigate his political opponents."
Rettig's Resistance
Whitehouse joined a letter led by Sen. Amy Klobuchar, D-Minn., along with 38 other Senate Democrats. Klobuchar's April 27, 2021, letter to Rettig and Yellen urged executive action to reinstate disclosure requirements for some tax-exempt groups. 
"We write to urge the Treasury Department and Internal Revenue Service (IRS) to reverse the Trump administration's decision to eliminate disclosure requirements for certain tax-exempt organizations that engage in political activity," the letter says. "As it stands, this policy weakens federal tax laws, campaign finance laws, and longstanding efforts to prevent foreign interference in U.S. elections."
Rettig responded to the senators in a June 8, 2021, letter explaining that the IRS can't help other agencies enforce campaign finance laws. The IRS commissioner wrote:
We determined it was not necessary to the efficient administration of the internal revenue laws for such tax-exempt organizations (those not described in Sections 501 (c)(3) or 527 of the Code) to report annually the names and addresses of substantial contributors; however, all tax-exempt organizations must continue to report the amounts of contributions from each substantial contributor, maintain the names and addresses of their substantial contributors in their own books and records, and provide such information upon request.
Rettig's response letter goes on to say that unauthorized sharing of tax information could be illegal:
Congress has not authorized the IRS to enforce campaign finance laws. In addition, Section 6103 of the Code strictly limits the IRS's ability to share tax information with other federal agencies. Accordingly, the IRS cannot disclose any names or addresses of substantial contributors to other federal agencies for non-tax investigations, including campaign finance matters, except in very narrowly prescribed circumstances. Unauthorized disclosures may lead to civil and criminal liability.
Expanding the IRS
Days after Senate passage of the so-called Inflation Reduction Act, which added 87,000 new IRS agents, Whitehouse joined Sens. Elizabeth Warren, D-Mass., and Bernie Sanders, I-Vt., to urge Rettig to take immediate action. 
The Aug. 10, 2021, letter from the three New England senators said the IRS "needs to go after wealthy tax cheats." 
Whitehouse, Warren, and Sanders wrote:
Part of the reason for the massive tax gap is that more than a decade of politically motivated budget cuts have hampered the IRS's ability to perform its core duties—especially enforcement focused on the ultra-rich and large corporations. … Without the necessary resources, audit rates for the very richest taxpayers, those with incomes over $10 million, are nearly 80% lower than they were a decade ago, and audits of the largest companies, those with over $20 billion in assets, declined by nearly 50%.
Rettig responded more positively to this letter about greater resources for his agency, providing detailed information about audits and tax collection in a response seven days later, on Aug. 27, 2021. 
"Maintaining a flat budget will continue to deprive Americans of both the nature and quality of services they deserve, producing a continuing decline in fairness and service," Rettig told the Democrat senators. "Adding substantial multi-year mandatory funding, however, provides an opportunity to greatly improve federal tax administration for all Americans. The gross revenue collected by the IRS is approximately $3.5 trillion per year, representing around 96% of the gross revenue of the United States." 
Rettig continued: 
Investing in IRS technology, data analytics, and people will improve taxpayer services, restore base enforcement functions that have declined substantially over the last decade, improve the effectiveness of our existing enforcement workforce and programs, help us tackle key compliance priorities and emerging issues, and allow us to invest in programs essential to maintaining the broad compliance framework. 
Have an opinion about this article? To sound off, please email letters@DailySignal.com and we'll consider publishing your edited remarks in our regular "We Hear You" feature. Remember to include the url or headline of the article plus your name and town and/or state. 
April 15 is usually the worst day of the year, giving Americans ample reasons to both laugh and cry.*
Because of a holiday in Washington, D.C., however, tax returns this year are due on April 18.
So let's celebrate (or commiserate) this awful day by wading into the debate about whether the Internal Revenue Service should have a bigger budget.
Proponents usually claim the IRS is under-funded by comparing today's budget to how much the bureaucracy received in 2011.
But that was a one-year spike because of all the money in Obama's failed stimulus package. If you review long-run data, you can see that the IRS's budget has increased significantly.
And these numbers are adjusted for inflation.
But perhaps proponents are right, even if they use deceptive numbers.
The Washington Post has a new editorial on this topic, arguing that the bureaucracy needs more money.
The IRS is currently limping along without enough staff or funding. Congress, especially Republicans, needs to face up to reality. …It's not a mystery how the IRS deteriorated. …the core problem is that Republicans slashed the IRS budget about 18 percent in the past decade. That's not belt-tightening, it's gutting an agency. …The Biden administration is rightly asking for a big increase for 2023 (a request of $14.1 billion). This isn't some Democratic wish list item; it's about restoring the basic functions of America's tax collection agency.
When this topic was being debated last year, Ryan Ellis explained that the IRS will target small businesses if it gets a bigger budget.
Here are some excerpts from his piece in National Review.
…the idea is that if taxpayers fund the IRS to the tune of $40 billion over the next decade, the IRS will step up audits and collect an additional $100 billion in tax revenue, penalties, and interest. This is lauded as a good because of the supposed "tax gap,"… Apparently, it doesn't occur to anyone that the IRS, which is seeking this extra $40 billion in taxpayer funding, has every incentive in the world to exaggerate this "tax gap" and to make wild promises about the new money that additional enforcement will yield for the Treasury. …Giving money to IRS bureaucrats to conduct fishing expedition audits on millions of honest self-employed people? The same IRS behind the Lois Lerner scandal a decade ago, when the IRS inappropriately targeted conservative political groups during the 2012 election season, when Obama was running for reelection?
Ryan is right to point out that the IRS is undeserving because of bad behavior.
He mentions the Lois Lerner/Tea Party scandal. I think the recent leak of taxpayer data is equally reprehensible.
Advocates of more funding will argue that the bureaucracy's malfeasance is a separate issue and that more employees and more audits are needed regardless of whether criminals at the IRS are caught and punished.
But this brings us to another important topic, which is whether it would be best to fix the underlying tax laws instead of throwing more money at the IRS.
In a column for the Louisville Courier-Times, we get this point of view from Richard Williams of George Mason University's Mercatus Center.
…money won't fix this problem. …Another approach would be drastically reducing the complexity of federal taxes. …The Tax Foundation estimates that we give up 3.24 billion hours and $37 billion to comply with federal taxes each year. Given the headaches and anxiety that come with this, Americans don't need more IRS workers. We need a leaner agency…individual filers and small businesses represent a huge proportion of the public who would gain from simplification. …There is no need to hire more people to oversee a reformed system. What's not to like?
Amen.
When proponents say the IRS needs more money, they implicitly are arguing for the current, convoluted tax system.
They want the IRS to be in the business of collecting revenue. But that's just one role.
And that's just a brief list of the things that the IRS now does in addition to generating revenue.
Get rid of these added roles, ideally as part of a total replacement of the tax code with a flat tax, and the discussion would be about how much money could be saved by reducing the IRS's budget.
But that means less power for politicians, so don't hold your breath waiting for genuine tax reform.
That being said, supporters of good policy should feel no obligation to help prop up the current system by shoveling more money to the IRS.
An underfunded corrupt IRS administering a bad tax code is better than a well-funded corrupt IRS administering a bad tax code.
*April 15 may be the worst day of the year, but there's an argument to be made that October 3 is the worst day in history.
P.S. From my archives, here are some examples of the bureaucrats who will benefit from a bigger IRS budget.
P.P.P.S. And since we're recycling some oldies but goodies, here's my collection of IRS humor, including a new Obama 1040 form, a death tax cartoon, a list of tax day tips from David Letterman, a cartoon of how GPS would work if operated by the IRS, an IRS-designed pencil sharpener, two Obamacare/IRS cartoons (here and here), a sale on 1040-form toilet paper (a real product), a song about the tax agency, the IRS's version of the quadratic formula, and (my favorite) a joke about a Rabbi and an IRS agent.
IRS not only hated Tea Party but also the Constitution!!!
SEPTEMBER 23, 2014
11:57AM
[Cross-posted from The Volokh Conspiracy]
It is now well known that the IRS targeted tea party organizations. What is less well known, but perhaps even more scandalous, is that the IRS also targeted those who would educate their fellow citizens about the United States Constitution.
According to the inspector general's report (pp. 30 & 38), this particular IRS targeting commenced on Jan. 25, 2012 — the beginning of the election year for President Obama's second campaign. On that date: "the BOLO ['be on the lookout'] criteria were again updated." The revised criteria included "political action type organizations involved in … educating on the Constitution and Bill of Rights."
Grass-roots organizations around the country, such as the Linchpins of Liberty (Tennessee), the Spirit of Freedom Institute (Wyoming), and the Constitutional Organization of Liberty (Pennsylvania), allege that they were singled out for special scrutiny at least in part for their work in constitutional education. There may have been many more.
The tea party is viewed with general suspicion in some quarters, and it is not difficult, alas, to imagine the mindset of the officials who decided to target tea party organizations for special scrutiny. But federal officers swear an oath to "support and defend the Constitution of the United States against all enemies, foreign and domestic." It is chilling to think that these same officials who are suspicious of the tea party are equally suspicious of the Constitution itself.
What is most corrosive about this IRS tripwire is that it is triggered by a particular point of view; it is not, as First Amendment scholars say, viewpoint-neutral. It does not includeobfuscating or denigrating the Constitution; only those "involved in … educating on the Constitution" are captured by this criterion. This viewpoint targeting potentially skews every national debate about politics or government. And the skew in not strictly liberal; indeed, it should trouble liberals as much as conservatives. The ultimate checks on executive power are to be found in the United States Constitution. Insidiously, then, suppressing those "involved in … educating on the Constitution" actually skews national debate in favor of unchecked executive power.
For example, this IRS tripwire would not be triggered by arguing that the NSA should collect the phone records of every American citizen. But it would be triggered by teaching that the Fourth Amendment forbids "unreasonable searches and seizures." This tripwire would not be triggered by arguing that the president should unilaterally suspend politically inconvenient provisions of federal law, like ObamaCare. But it would be triggered by teaching that, under Article II, section 3, the president "shall take care that the laws be faithfully executed." This tripwire would not be triggered by arguing that the president should appoint NLRB members unilaterally. But it would be triggered by teaching that, under Article II, section 2, such appointments require "the Advice and Consent of the Senate." This tripwire would not be triggered by arguing that the president should target and kill U.S. citizens abroad. But it would be triggered by teaching that, per the Fifth Amendment, no person shall "be deprived of life … without due process of law." This tripwire would not be triggered by arguing that the president should declare war unilaterally. But it would be triggered by teaching that, under Article I, section 8, "Congress shall have Power … To declare War." In short, the IRS was "on the lookout," not for those who preach unlimited executive power, but for those who would teach about constitutional constraints.
Even more to the point, perhaps, this IRS tripwire would not be triggered by arguing that the IRS should discriminate against the tea party. But it would be triggered by teaching that such discrimination constitutes unfaithful execution of the tax laws. And thus, alas, there is a perverse logic to targeting constitutional educators alongside tea party organizations. Political discrimination in the administration of the tax laws is not merely "outrageous," as President Obama has said; it is an assault on our constitutional structure itself. For an official who has chosen to go down this road and target the tea party, there is an Orwellian logic to targeting constitutional educators as well. After all, they are the ones who might shed light on this very point.
This is a new low for American government — targeting those who would teach others about its founding document. Forty years ago, President Richard Nixon went to great lengths to try to conceal the facts of his constitutional violations, but it never occurred to him to conceal the meaning of the Constitution itself, by targeting its teachers. Politicians have always been tempted to try to censor their political adversaries; but none has been so bold as to try to suppress constitutional education directly. Presidents have always sought to push against the constitutional limits of their power; but never have they targeted those who merely teach about such limits. In short, never before has the federal government singled out for special scrutiny those who would teach their fellow citizens about our magnificent Constitution. This is the new innovation of Obama's IRS.
"We the People" do not yet know who first decided to target "political action type organizations involved in … educating on the Constitution and Bill of Rights." But there is at least one person who does know. Ironically, though, Lois Lerner, former director of the Exempt Organizations Division of the IRS, is making full use of her own constitutional education: "I have been advised by my counsel to assert my constitutional right not to testify …. One of the basic functions of the Fifth Amendment is to protect innocent individuals, and that is the protection I'm invoking today."
Five years ago, President Obama, our constitutional law professor-in-chief, presented his first, ringing Constitution Day proclamation: "To succeed, the democracy established in our Constitution requires the active participation of its citizenry. Each of us has a responsibility to learn about our Constitution and teach younger generations about its contents and history." Quite so. Perhaps this year, Obama could explain why his IRS would target those who answered this call.
Related posts: