_______
I've written many times about terrible economic policy in Argentina, most recently two days agowhile in that benighted country for a conference on fiscal policy.
Now that I'm heading back to the United States, I'm contemplating whether it is realistic to imagine an economic turnaround for Argentina.
We'll start with some good news. Argentina has miserably low scores in Economic Freedom of the World and the Index of Economic Freedom.
So it would not be that difficult for economic policy to improve.
But the bad news is that Argentina needs to go way beyond incremental reform. The country has dropped precipitously since Peronism began after World War II. Rejuvenating the economy will require radical Chilean-style reform.
Given the current government's statist orientation(and given the timidity of the opposition), there's very little short-run hope.
But I am vaguely hopeful that things may get better. More specifically, Argentina almost surely will suffer a major collapse at some point in the future.
When that happens, the only option will be liberalization. Simply stated, politicians no longer will have any ability to pillage the private sector (sort of like the Soviet Union and Eastern Europe when communism collapsed).
Naomi Klein views this scenario as "disaster capitalism," but it's the only hope for Argentina.
But there's a catch. Politicians in Buenos Aires will only be forced to reform if they don't get another bailout from the International Monetary Fund.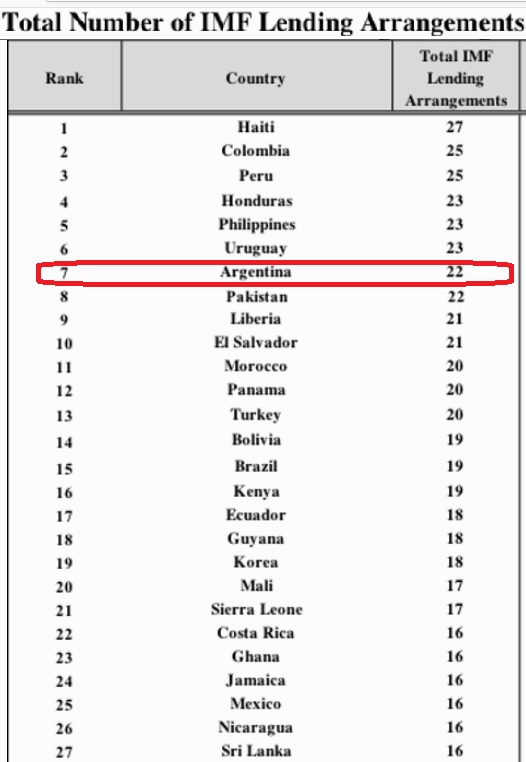 Unfortunately, there are (according to Professor Steve Hanke) 22 reasons to expect the IMF to do the wrong thing.
The bureaucrats at that international bureaucracy have a terrible track record of rewarding Argentina when it gets in fiscal trouble.
Not just Argentina, by the way.
The IMF's bureaucrats seem to think "moral hazard" is a good thing rather than a bad thing.
I wrote just last month that Italy is getting closer and closer to a fiscal crisis and I warned that the IMF may intervene to prop up that country's bad policy. And when other European countries get in trouble, IMF bureaucrats will probably try to make a bad situation even worse with further bailouts.
And don't forget what already happened in Greece (and almost surely will happen again).
The bottom line is that the IMF needs to be shut down (or at least cut off from US backing) if we want nations to do the right thing after taxing and spending themselves into a fiscal crisis.
P.S. If the US ever gets in deep trouble, at least the IMF won't have the ability to do a bailout.
I've written many times about the spectacularly positive impactof pro-market reforms in Chile.
The shift toward free markets, which began in the mid-1970s, was especially beneficial for the less fortunate (see here, here, and here).
But it's quite common for critics to assert that Chile is a bad example because many of the reforms were enacted by General Augusto Pinochet, a dictator who seized power in 1973. And some of those critics also attack Milton Friedman for urging Pinochet to liberalize the economy and reduce the burden of government.
Are these critics right?
To answer that question, I very much recommend the following cartoon strip by Peter Bagge. Published by Reason, it accurately depicts the efforts of reformers to get good reforms from a bad government.
It starts in 1973, with a group of Chilean economists, known as the "Chicago Boys," who wanted free markets.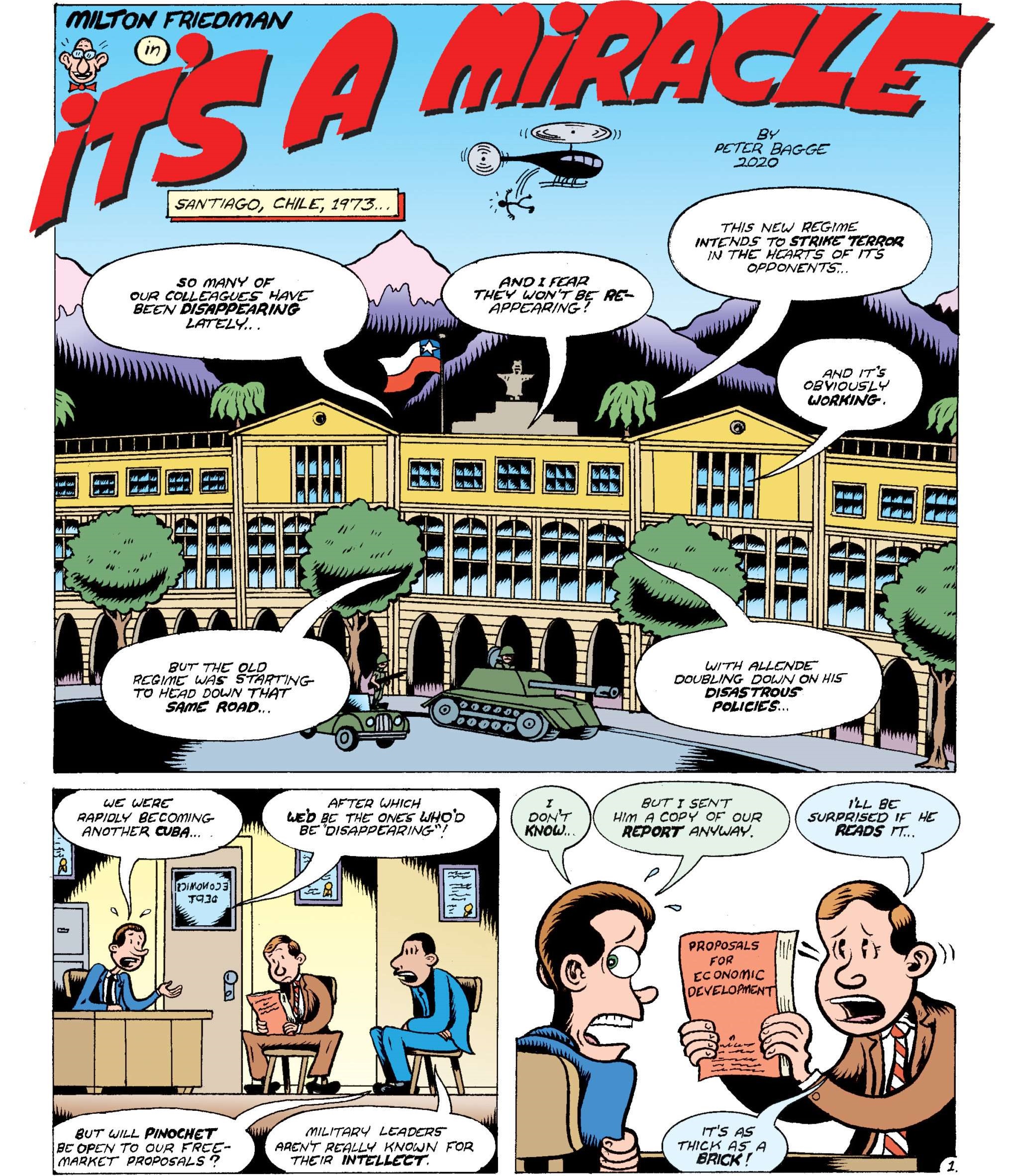 In 1975, they invited Milton Friedman to help make the case for economic reform.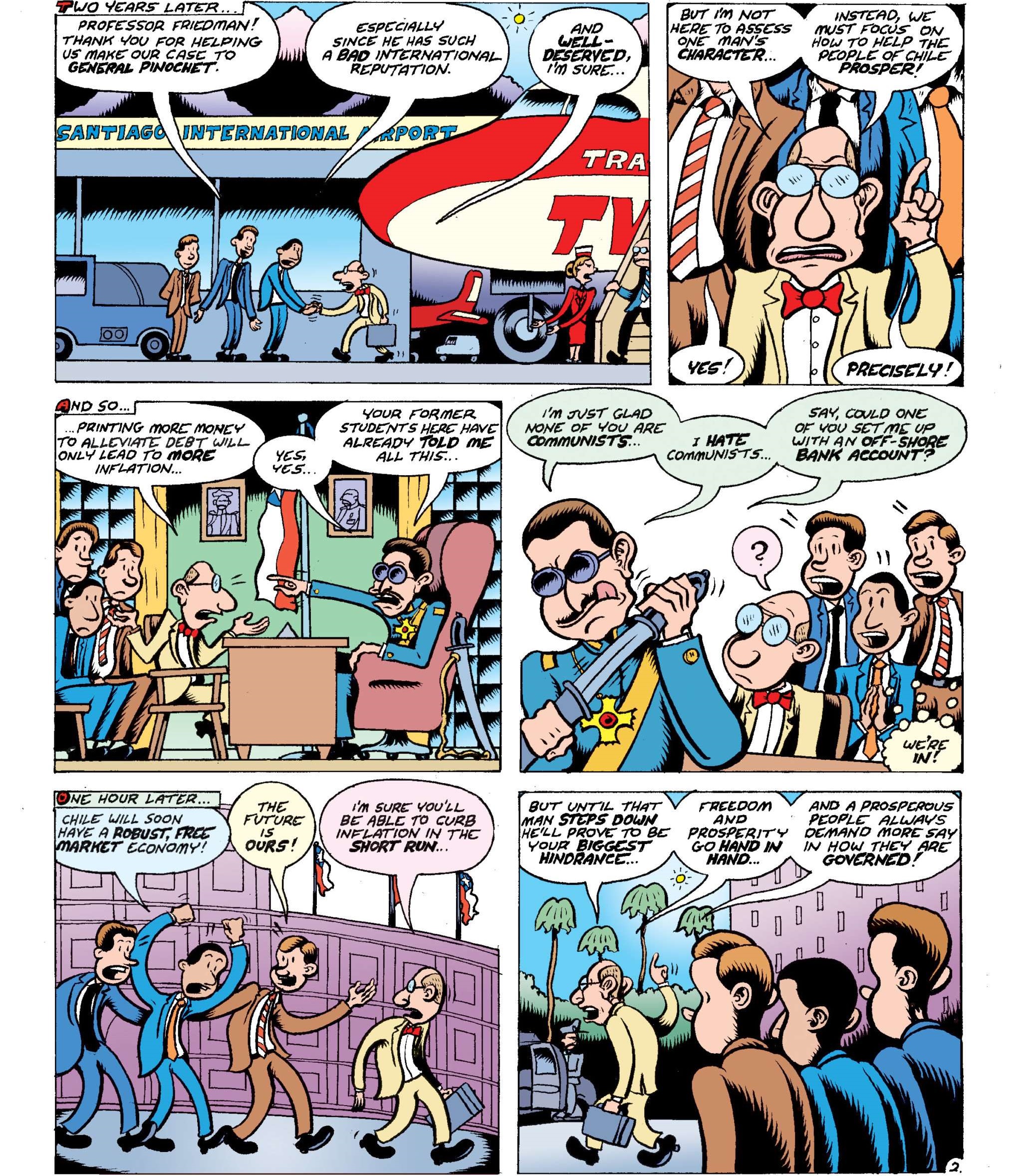 This 1982 strip shows some of the controversies that materialized.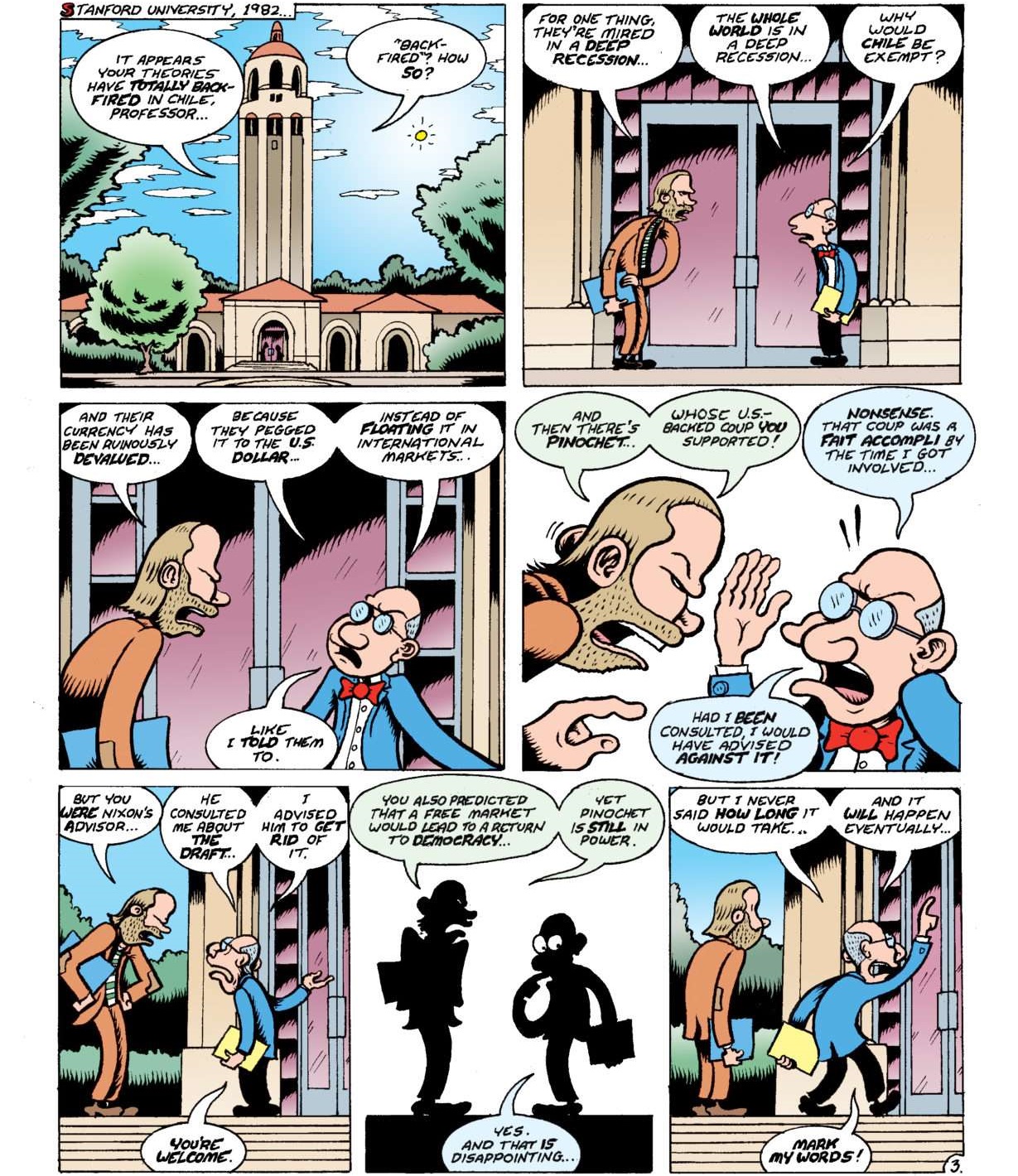 But by the time we got to the 21st century, everything Friedman said turned out to be true.
Chile had become an "improbable success."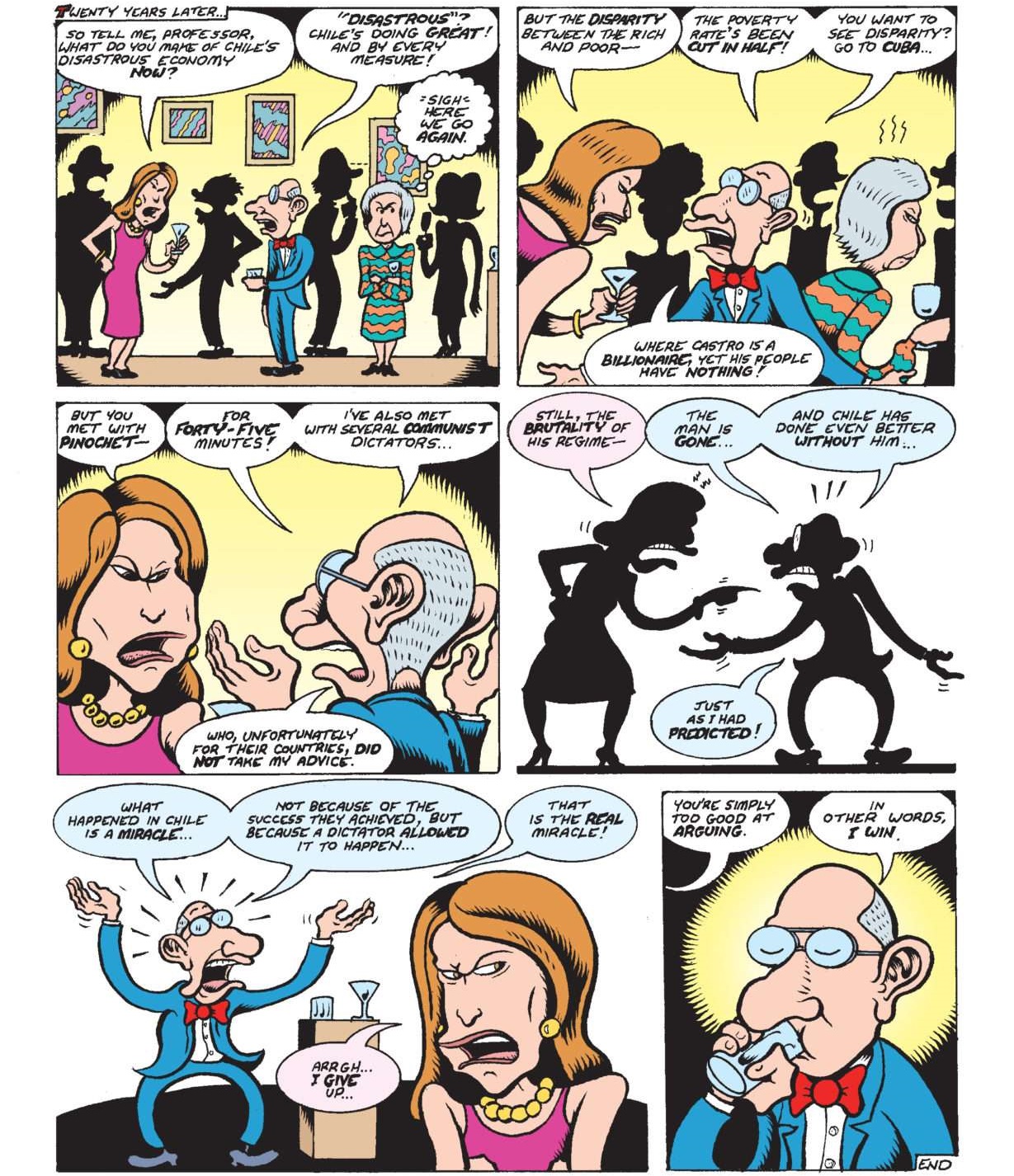 This cartoon strip is great for two reasons.
First, I'll be able to share it with people who want to delegitimize Chile's transition to a market-oriented democracy (ranked #14 according to the most-recent edition of Economic Freedom of the World). Simply stated, it was bad that Chile had a dictatorship, but it was good that the dictatorship allowed pro-market reforms (particularly when compared to the alternative of a dictatorship with no reforms). And it was great that Chile became a democracy (a process presumably aided by mass prosperity).
Second, we should encourage engagement with distasteful governments. I certainly don't endorse China's government or Russia's government, but I've advised government officials from both nations. Heck, I would even give advice to Cuba's government or North Korea's government (not that I'm expecting to be asked). My goal is to promote more liberty and it would make me very happy if I could have just a tiny fraction of Friedman's influence in pursuing that goal.
P.S. Here's Milton Friedman discussing his role in Chile.
P.P.S. While I disagree, it's easy to understand why some people try to delegitimize Chile's reforms by linking them to Pinochet. What baffles me are the folks who try to argue that the reforms were a failure. See, for instance, Prof. Dani Rodrik and the New York Times.
P.P.P.S. Critics also tried to smear Prof. James Buchanan for supporting economic liberalization in Chile.
—-
Milton Friedman is the short one!!!
Milton Friedman's Free to Choose (1980), episode 3 – Anatomy of a Crisis. part 1
___________________