https://www.foxnews.com/entertainment/jerry-lee-lewis-great-balls-of-fire-singer-dead-87
–
Jerry Lee Lewis, 'Great Balls of Fire' singer, dead at 87
Jerry Lee Lewis was known for his rock 'n' roll hits including 'Great Balls of Fire'
Jerry Lee Lewis has died, Fox News Digital can confirm
The rock 'n' roll pioneer passed away after suffering from various illnesses throughout the years, his publicist said Friday in a press release.
"He was there at the beginning, with Elvis, Johnny Cash, Chuck Berry, Little Richard, Carl Perkins, Fats Domino, Buddy Holly, and the rest, and watched them fade away one by one till it was him alone to bear witness, and sing of the birth of rock 'n' roll," the release added.
"'Who would have thought,' he said, near the end of his days, 'it would be me?'"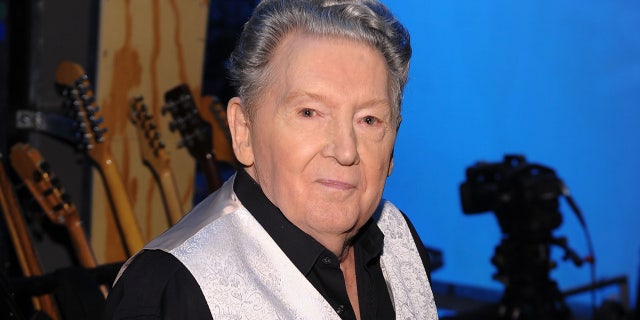 JERRY LEE LEWIS AND KEITH WHITLEY INDUCTED INTO THE COUNTRY MUSIC HALL OF FAME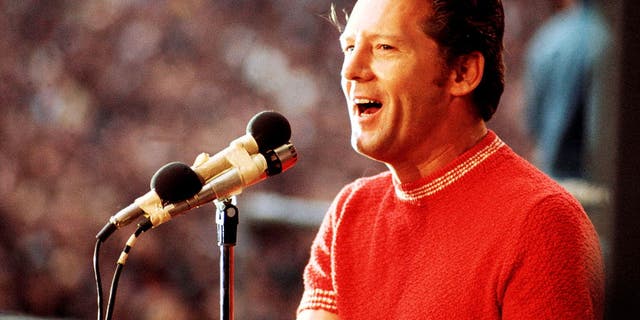 Over the years, Lewis struggled with drug and alcohol abuse, legal disputes and physical illness.
"He is ready to leave," his wife Judith said just before his death, according to the press release.
Jerry Lee's indelible mark as a rock & roller in no way obscures his impact as one of the greatest country singers of all time," Kyle Young, CEO of the Country Music Hall of Fame and Museum, said Friday in a statement. "He was the ultimate stylist, taking songs to places they could never have gone without his unique voice and soul. Known as 'The Killer,' in reality he was a reviver, resurrecting music and emotions. The country records he made with producer Jerry Kennedy will never be replicated or surpassed, and we were honored to recently welcome him into the Country Music Hall of Fame. Among the greatest of artists, he was, as his friend Kris Kristofferson put it, 'a table-thumpin' smash.'"
Lewis began as a rock 'n' roll performer in the 1950s. Other big-name artists at the time included Elvis Presley, Chuck Berry and Little Richard.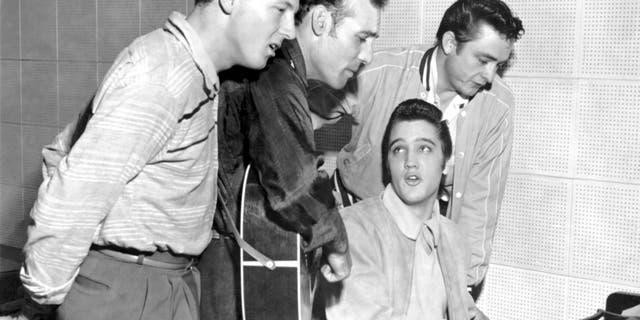 In the 1960s, the Louisiana-born musician rebranded as a country music artist. He continued to be successful, earning three Grammys.
Lewis was inducted into the Country Music Hall of Fame on Oct. 16. He had 34 Top 20 country hits between 1968 and 1981, according to the Country Music Association.
The singer was inducted into the Rock and Roll Hall of Fame in 1986.
"To be recognized by Country Music with their highest honor is a humbling experience," Lewis said in a statement when the induction was first announced.
The singer was inducted into the Rock and Roll Hall of Fame in 1986.
"To be recognized by Country Music with their highest honor is a humbling experience," Lewis said in a statement when the induction was first announced.
"The little boy from Ferriday, Louisiana, listening to Jimmie Rodgers and Hank Williams never thought he'd be in a Hall amongst them. I am appreciative of all those who have recognized that Jerry Lee Lewis music is country music and to our almighty God for his never-ending redeeming grace."
CLICK HERE TO SIGN UP FOR THE ENTERTAINMENT NEWSLETTER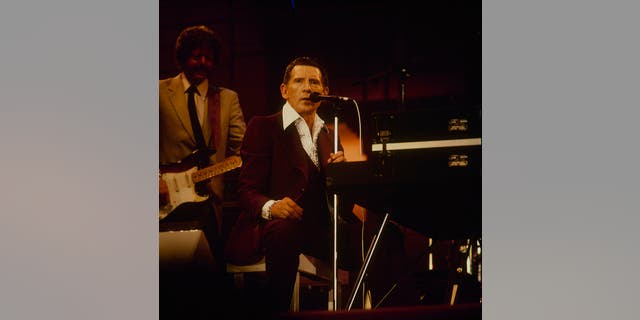 Lewis also collaborated with top artists throughout his career. In 2006, he released the song "Last Man Standing" featuring Mick Jagger, Bruce Springsteen, B.B. King and George Jones. Lewis also produced "Mean Old Man" in 2010, which included works with Jagger, Keith Richards, Sheryl Crow and Tim McGraw, among others.
Lewis was no stranger to controversy throughout his life. At one point, he was married to his cousin. Once the press learned of the marriage, at the same time he was married to his first wife, his career almost ended.
"I probably would have rearranged my life a little bit different, but I never did hide anything from people," Lewis told The Wall Street Journal in 2014 when asked about the marriage. "I just went on with my life as usual."
Lewis married seven times, and was rarely far from trouble or death. His fourth wife, Jaren Elizabeth Gunn Pate, drowned in a swimming pool in 1982 while suing for divorce. His fifth wife, Shawn Stephens, 23 years his junior, died of an apparent drug overdose in 1983. Within a year, Lewis had married Kerrie McCarver, then 21. She filed for divorce in 1986, accusing him of physical abuse and infidelity. He countersued, but both petitions eventually were dropped.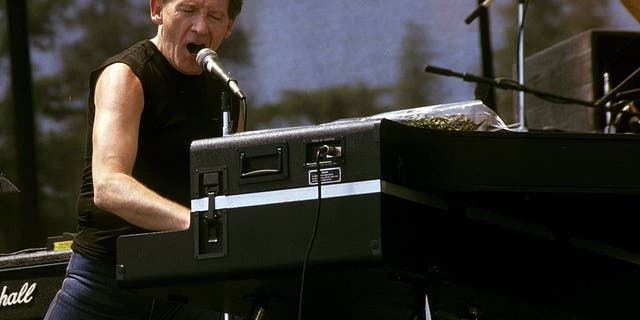 CLICK HERE TO GET THE FOX NEWS APP
The Associated Press contributed to this report.
This is from a website I found recently.
Sam PhillipsBorn:  1923Died:  2003

Sam Phillips, born Samuel Cornelius Phillips (January 5, 1923 – July 30, 2003), was a record producer and the man responsible for the emergence of rock and roll as the major form of popular music in the 1950s. A native of Florence, Alabama, and a graduate of Coffee High School, Phillips is, perhaps, most notably attributed with the discovery of music legend Elvis Presley.
On January 3, 1950, Sam Phillips opened the doors at 706 Union Avenue in Memphis, Tennessee, to what would become one of the more famous recording studios in the world, the Sun Records label studio. Originally known as "Memphis Recording Service" throughout the 1950s when the building also housed the Sun Records label, the studio was later redubbed "Sun Studio" when the building reopened to the public in 1987. The studio had previously moved to a larger facility on Madison Avenue in 1960, and the Sun Records label had been sold in 1969 to Shelby Singleton's Sun International group.
According to some, notably, music historian Peter Guralnick, the first rock and roll record was "Rocket 88," recorded by Jackie Brenston and his Delta Cats, a band led by 19-year-old Ike Turner. Turner also wrote the song, which was recorded by Sam Phillips and released on the Chess/Checker record label in Chicago, in 1951. From 1950 to 1954 Phillips recorded the music of black rhythm and blues artists such as James Cotton, Rufus Thomas, Rosco Gordon, Little Milton, Bobby Blue Bland and others. Blues legends like B.B. King and Howlin' Wolf made their first recordings at his studio.
Throughout this same period, Sam Phillips was looking for a white singer with a special "sound." Phillips soon changed the face of popular music when he brought together the diverse elements that created rock and roll. When Elvis Presley played his version of "That's All Right Mama" at his studio, a whole new era in music began.
Presley's success would be a drawing card for Sun Records as singing hopefuls soon arrived from all over the Southern USA. White singers such as Sonny Burgess ("My Bucket's Got A Hole In It"), Charlie Rich and Billy Lee Riley recorded for Sun with reasonable success while others such as Jerry Lee Lewis, Johnny Cash, Roy Orbison, and Carl Perkins would become superstars.
In late 1955, Sam Phillips studio was in need of money and he had little choice but to accept an offer for Presley's contract. Atlantic Records tendered $25,000, but the powerful RCA Records secured Presley's services with an offer of $35,000.
On December 4, 1956, Jerry Lee Lewis was playing piano for a Carl Perkins recording session at Sun Records studio. While Johnny Cash stood by watching, Elvis walked in, and the impromptu jam session was soon nicknamed the "Million Dollar Quartet".
In 1986 Sam Phillips was part of the first group inducted into the Rock and Roll Hall of Fame. In 1987, he was inducted into the Alabama Music Hall of Fame. He received a Grammy Trustees Award for his lifetime achievements in 1991. In 1998, he was inducted into the Blues Hall of Fame, and in October 2001 he was inducted into the Country Music Hall of Fame.
Phillips died of respiratory failure at Francis Hospital in Memphis, Tennessee on July 30, 2003.
Source: The Wikipedia   This content is protected under the copyleft policy.
Related posts:
Many people think of former President Bill Clinton when they think of Arkansas, and they think of Elvis when they think of Memphis. However, the great Mississippi River separates both Arkansas and Tennessee. It's history is worth looking into. CNN's David Mattingly describes how high and wide the Mississippi River is in Memphis, Tennessee. Everybody […]
Memphis has such a rich history of music and the other night I saw the David Letterman Show with Freesol. They are a new group out of Memphis. Below is an article about them from People Magazine. Justin Timberlake's Signed Band FreeSol: All About the Group By Catherine Kast Tuesday September 06, 2011 06:35 PM […]