–
I have repeatedly opined that big government enables corruption.
And I have also asserted over and over again that big government is a racket for the benefit of insiders.
So you can understand why I get upset when the rich and powerful use the coercive power of government to line their pockets at the expense of ordinary taxpayers.
Now I have a new reason to be angry.
Reporting for the New York Times, Neil MacFarquhar describes a scandal involving Mississippi bigwigs feeding at the public trough.
John Davis, who served as executive director of the Mississippi Department of Human Services under former Gov. Phil Bryant, pleaded guilty to both federal and state charges of embezzling federal welfare funds. Millions of dollars were transferred to friends and relatives, court documents say. According to a lawsuit filed by the state in May, around $5 million was diverted to Ted DiBiase, a flamboyant retired wrestler once known as "The Million Dollar Man," and two of his sons…Much of the money went to fictitious services, bogus jobs, first-class travel arrangements and even one son's stay at a luxury rehab center in Malibu, Calif., that cost $160,000, the suit claims. Similarly, the state claims that Marcus Dupree, a former high school football phenom and professional running back, who was paid to act as a celebrity endorser and motivational speaker, did not perform any contractual services toward the $371,000 he received to purchase and live in a sprawling residence with a swimming pool and adjacent horse pastures in a gated community. Mr. Favre, who earned more than $140 million in his Hall of Fame career, was paid $1.1 million for speeches he never gave, the suit said. He also orchestrated more than $2 million in government funds being channeled to a biotechnology start-up in which he had invested, according to the suit. …The case follows a state audit released in May 2020 suggesting that as much as $94 million of TANF funds might have gone astray.
Sounds like a typical story about big government and corruption, right?
That's certainly true, but some of our friends on the left argue that it is also evidence that Bill Clinton's welfare reform backfired.
Experts said the fraud was rooted in changes enacted in such programs in 1996, when cash benefits paid to poor families were replaced by block grants issued to states.
Since I have defended Clinton's welfare reform(along with some of his other good policies), the above excerpt caught my attention.
So I looked for more information.
In a piece for the American Enterprise Institute, Angela Rachidi explains the underlying issues.
A scandal involving former NFL quarterback Brett Favre and the federal welfare program Temporary Assistance for Needy Families (TANF) exploded…following new revelations that Mississippi officials, including the former governor, misdirected federal TANF money to enrich themselves, their celebrity friends, and other well-connected individuals. …the scandal draws attention to the TANF program. Critics have partly blamed the welfare reform law from 1996, which created TANF, for allowing such fraud.…Instead of an entitlement where government officials distribute money to all eligible people, TANF is a block grant provided… As awful as this scandal is, the fraud and abuse on display in Mississippi is not unique to TANF and not caused by its block grant structure. The Government Accountability Office (GAO) estimated that from 2015–2017 the annual average amount of Supplemental Nutrition Assistance Program (SNAP) benefits (or food stamps) "trafficked," meaning retailers taking a fraudulent profit, was $1.2 billion. The GAO also found that improper payments in Medicaid, including payments for services not provided, totaled $36.7 billion in 2017. Earlier this month, the Department of Justice charged a nonprofit organization in Minnesota with a $250 million scheme that took federal pandemic-relief money earmarked for a child nutrition program and instead pocketed the funds.
In other words, corruption is an inherent part of government programs, whether the money is distributed as block grants or sent directly to recipients.
But not all government spending is created equal. Some ways of spending money do more damage than other ways of spending money.
Ms. Rachidi points out that welfare reform produced good results.  I don't know if it saved money for taxpayers, but it led to progress as measured by variables such as labor force participation and child poverty.
None of this excuses what happened in Mississippi, but the context is important. Welfare reform, which created TANF, transformed a broken entitlement program—Aid to Families with Dependent Children—into a more effective system that gives states flexibility to address the underlying causes of poverty, including limited employment and unmarried parenthood. These reforms have significantly reduced dependence on cash welfare and increased employment among single mothers, which helped dramatically lower child poverty over the past two decades.
The obvious takeaway, as I pointed out back in 2015, is that we should we should be expanding on Bill Clinton's success by replacing other federal entitlements with block grants.
The federal government maintains a Byzantine maze of redistribution programs, so there are lots of opportunities for progress. Medicaid is an obvious example, along with food stamps. Especially since both programs are riddled with fraud.
P.S. Unsurprisingly, Joe Biden wants to move in the wrong direction.
P.P.S. In my libertarian fantasy world, the federal government would have neither entitlements nor block grants. That also happens to the world envisioned by America's Founders (and the reality Americans enjoyed up until the 1930s).
One of the best things about 2021 was the fact that Congress did not approve Joe Biden's economically debilitating plan to raise taxes and expand the welfare state.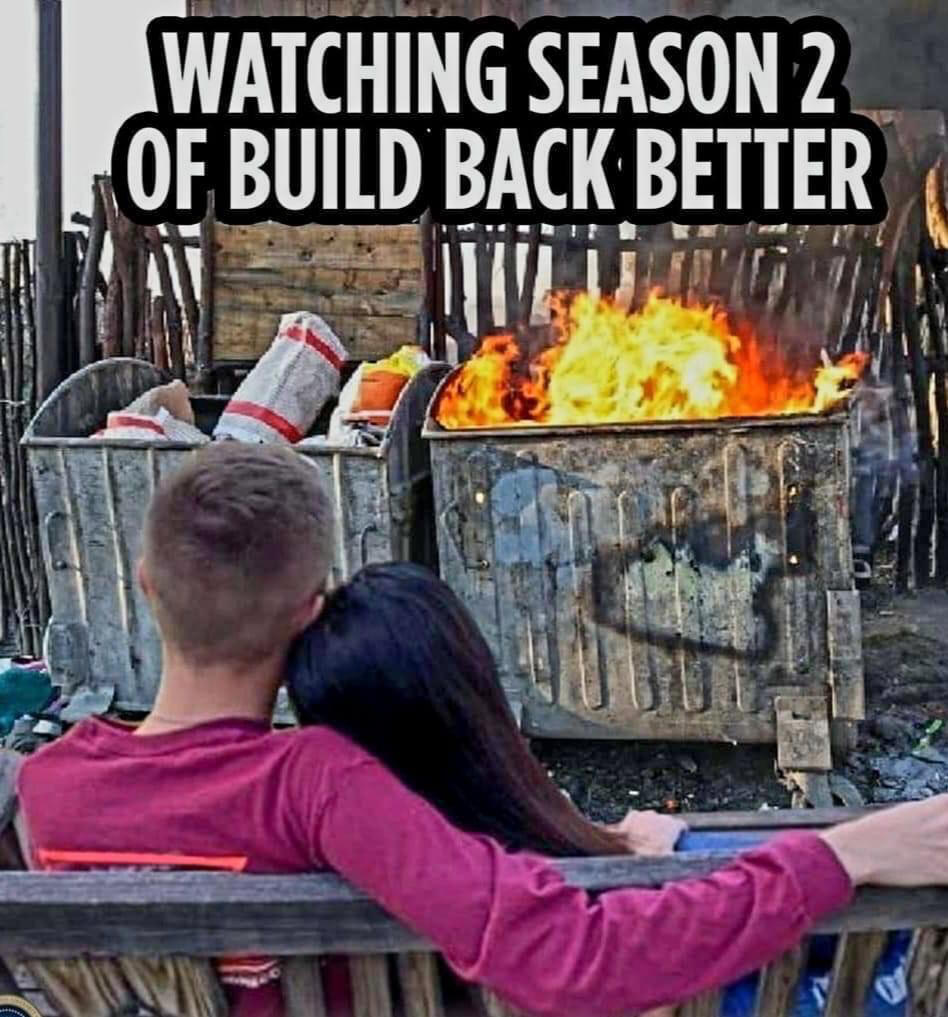 His so-called Build Back Better plan was a very bad mix of class-warfare tax policy and redistributionist spending policy.
But one of the worst things about 2022 may be the reincarnation of a slimmed-down version of Biden's plan.
Simply stated, the "slimmed-down version" of a terrible piece of legislation is bad news – even if it is possible to envision something even worse.
The Wall Street Journal's editorial on the package illustrates why it is bad news that Senator Joe Manchin is trying to rescue Biden's statist agenda.
As the economy slouches near recession, Majority Leader Chuck Schumer and West Virginia Sen. Joe Manchin…unveiled a tax-and-spending deal that they call the Inflation Reduction Act.Is their aim to reduce inflation by chilling business investment and the economy? …A more accurate name would be the Business Investment Reduction and Distortion Act since that will be the result of its $433 billion in climate and healthcare spending, and $615 billion in new taxes and drug price-control "savings."
The editorial highlights four terrible provisions.
First, there's a big tax hike on American companies, with the biggest tax hike on firms that make new investments.
…the 15% minimum tax on corporate book income…will slam businesses whose taxable income is lower than the profits on their financial statements owing to the likes of investment expensing.
For all intents and purposes, politicians would be creating a second type of corporate income tax.
Heavy compliance costs for the business community, of course, but the rest of us probably care more about the estimated loss of 218,000 jobs according to the National Association of Manufacturers.
Second, there are corrupt "green energy" provisions that will degrade America's energy efficiency and security.
…the bill's $369 billion in climate spending, most of which is corporate welfare. …All of this will steer private investment into green energy at the cost of reduced investment in fossil fuels. Wind and solar subsidies are already creating distortions in power markets that make the electric grid less reliable and energy more expensive. The expansion of subsidies will compound these problems.
If you want to know why this is bad, just remember Solyndra.
Third, the legislation imposes back-door price controls on the pharmaceutical industry.
The bill will require the Health and Human Services Secretary to "negotiate" Medicare prices—i.e., impose price controls—for dozens of drugs. But the $288 billion in putative savings are fanciful. Manufacturers will hedge potential future losses by launching drugs at higher prices. …The bill will also discourage investment in innovative treatments that could reduce future healthcare spending.
For those of us who value the development of new drugs to fight problems like cancer and Alzheimer's, this is very bad news.
Fourth, a very corrupt internal revenue service is rewarded for its bad behavior.
Speculative revenue of $124 billion will also come from an $80 billion boost for the IRS. Most of this will finance more audits. The rich can afford more tax lawyers, but middle and upper-middle class Americans will be inclined to settle IRS claims, however meritless, lest they spend even more to defend themselves.
P.S. I can't resist sharing one final bit of information.
If you peruse the Joint Committee on Taxation's analysis of the bill, you'll find that Joe Biden is breaking his promise not to raise taxes on people making less than $400,000 per year.

Not that anyone should be shocked. I have repeatedly explained that the big spenders need to pillage lower-income and middle-class household if they want to finance bigger government.
Open letter to President Obama (Part 644)
(Emailed to White House on 6-10-13.)
President Obama c/o The White House 1600 Pennsylvania Avenue NW Washington, DC 20500
Dear Mr. President,
I know that you receive 20,000 letters a day and that you actually read 10 of them every day. I really do respect you for trying to get a pulse on what is going on out here.
The federal government debt is growing so much that it is endangering us because if things keep going like they are now we will not have any money left for the national defense because we are so far in debt as a nation. We have been spending so much on our welfare state through food stamps and other programs that I am worrying that many of our citizens are becoming more dependent on government and in many cases they are losing their incentive to work hard because of the welfare trap the government has put in place. Other nations in Europe have gone down this road and we see what mess this has gotten them in. People really are losing their faith in big government and they want more liberty back. It seems to me we have to get back to the founding  principles that made our country great.  We also need to realize that a big government will encourage waste and corruption. The recent scandals in our government have proved my point. In fact, the jokes you made at Ohio State about possibly auditing them are not so funny now that reality shows how the IRS was acting more like a monster out of control. Also raising taxes on the job creators is a very bad idea too. The Laffer Curve clearly demonstrates that when the tax rates are raised many individuals will move their investments to places where they will not get taxed as much.
______________________
We can fix the IRS problem by going to the flat tax and lowering the size of government.
Did President Obama and his team of Chicago cronies deliberately target the Tea Party in hopes of thwarting free speech and political participation?
Was this part of a campaign to win the 2012 election by suppressing Republican votes?
Perhaps, but I've warned that it's never a good idea to assume top-down conspiracies when corruption, incompetence, politics, ideology, greed, and self-interest are better explanations for what happens in Washington.
Writing for the Washington Examiner, Tim Carney has a much more sober and realistic explanation of what happened at the IRS.
If you take a group of Democrats who are also unionized government employees, and put them in charge of policing political speech, it doesn't matter how professional and well-intentioned they are. The result will be much like the debacle in the Cincinnati office of the IRS. …there's no reason to even posit evil intent by the IRS officials who formulated, approved or executed the inappropriate guidelines for picking groups to scrutinize most closely. …The public servants figuring out which groups qualified for 501(c)4 "social welfare" non-profit status were mostly Democrats surrounded by mostly Democrats. …In the 2012 election, every donation traceable to this office went to President Obama or liberal Sen. Sherrod Brown. This is an environment where even those trying to be fair could develop a disproportionate distrust of the Tea Party. One IRS worker — a member of NTEU and contributor to its PAC, which gives 96 percent of its money to Democratic candidates — explained it this way: "The reason NTEU mostly supports Democratic candidates for office is because Democratic candidates are mostly more supportive of civil servants/government employees."
Tim concludes with a wise observation.
As long as we have a civil service workforce that leans Left, and as long as we have an income tax system that requires the IRS to police political speech, conservative groups can always expect special IRS scrutiny.
And my colleague Doug Bandow, in an article for the American Spectator, adds his sage analysis.
The real issue is the expansive, expensive bureaucratic state and its inherent threat to any system of limited government, rule of law, and individual liberty. …the broader the government's authority, the greater its need for revenue, the wider its enforcement power, the more expansive the bureaucracy's discretion, the increasingly important the battle for political control, and the more bitter the partisan fight, the more likely government officials will abuse their positions, violate rules, laws, and Constitution, and sacrifice people's liberties. The blame falls squarely on Congress, not the IRS.
I actually think he is letting the IRS off the hook too easily.
But Doug's overall point obviously is true.
…the denizens of Capitol Hill also have created a tax code marked by outrageous complexity, special interest electioneering, and systematic social engineering. Legislators have intentionally created avenues for tax avoidance to win votes, and then complained about widespread tax avoidance to win votes.
So what's the answer?
The most obvious response to the scandal — beyond punishing anyone who violated the law — is tax reform. Implement a flat tax and you'd still have an IRS, but the income tax would be less complex, there would be fewer "preferences" for the agency to police, and rates would be lower, leaving taxpayers with less incentive for aggressive tax avoidance. …Failing to address the broader underlying factors also would merely set the stage for a repeat performance in some form a few years hence. …More fundamentally, government, and especially the national government, should do less. Efficient social engineering may be slightly better than inefficient social engineering, but no social engineering would be far better.
Amen. Let's rip out the internal revenue code and replace it with a simple and fair flat tax.
But here's the challenge. We know the solution, but it will be almost impossible to implement good policy unless we figure out some way to restrain the spending side of the fiscal ledger.
___________________________
At the risk of over-simplifying, we will never get tax reform unless we figure out how to implement entitlement reform.
Here's another Foden cartoon, which I like because it has the same theme asthis Jerry Holbert cartoon, showing big government as a destructive and malicious force.
_____________
Thank you so much for your time. I know how valuable it is. I also appreciate the fine family that you have and your commitment as a father and a husband.
Sincerely,
Everette Hatcher III, 13900 Cottontail Lane, Alexander, AR 72002, ph 501-920-5733, lowcostsqueegees@yahoo.com
Related Posts:
We know the IRS commissioner wasn't telling the truth in March 2012, when he testified: "There's absolutely no targeting."However, Lois Lerner knew different when she misled people with those words. Two important points made by Noonan in the Wall Street Journal in the article below: First, only conservative groups were targeted in this scandal by […]
Ohio Liberty Coalition versus the I.R.S. (Tom Zawistowski) Published on May 20, 2013 The Ohio Liberty Coalition was among tea party groups that received special scrutiny from the I.R.S. Tom Zawistowski says his story is not unique. He argues the kinds of questions the I.R.S. asked his group amounts to little more than "opposition research." Video […]
Francis Schaeffer: "Whatever Happened to the Human Race?" (Episode 2) SLAUGHTER OF THE INNOCENTS Published on Oct 6, 2012 by AdamMetropolis The 45 minute video above is from the film series created from Francis Schaeffer's book "Whatever Happened to the Human Race?" with Dr. C. Everett Koop. This book  really helped develop my political views concerning […]
We got to lower the size of government so we don't have these abuses like this in the IRS. Cartoonists v. the IRS May 23, 2013 by Dan Mitchell Call me perverse, but I'm enjoying this IRS scandal. It's good to see them suffer a tiny fraction of the agony they impose on the American people. I've already […]
Dear Senator Pryor, Why not pass the Balanced  Budget Amendment? As you know that federal deficit is at all time high (1.6 trillion deficit with revenues of 2.2 trillion and spending at 3.8 trillion). On my blog http://www.HaltingArkansasLiberalswithTruth.com I took you at your word and sent you over 100 emails with specific spending cut ideas. However, […]
Is the irs out of control? Here is the link from cato: MAY 22, 2013 8:47AM Can You Vague That Up for Me? By TREVOR BURRUS SHARE As the IRS scandal thickens, targeted groups are coming out to describe their ordeals in dealing with that most-reviled of government agencies. The Ohio Liberty Coalition was one of […]
Get Ready to Be Reamed May 17, 2013 by Dan Mitchell With so many scandals percolating, there are lots of good cartoons being produced. But I think this Chip Bok gem deserves special praise. It manages to weave together both the costly Obamacare boondoggle with the reprehensible politicization of the IRS. So BOHICA, my friends. If […]
You want to talk about irony then look at President Obama's speech a few days ago when he joked about a potential audit of Ohio St by the IRS then a few days later the IRS scandal breaks!!!! The I.R.S. Abusing Americans Is Nothing New Published on May 15, 2013 The I.R.S. targeting of tea party […]
Dear Senator Pryor, Why not pass the Balanced  Budget Amendment? As you know that federal deficit is at all time high (1.6 trillion deficit with revenues of 2.2 trillion and spending at 3.8 trillion). On my blog http://www.HaltingArkansasLiberalswithTruth.com I took you at your word and sent you over 100 emails with specific spending cut ideas. However, […]
We could put in a flat tax and it would enable us to cut billions out of the IRS budget!!!! May 14, 2013 2:34PM IRS Budget Soars By Chris Edwards Share The revelations of IRS officials targeting conservative and libertarian groups suggest that now is a good time for lawmakers to review a broad range […]