__
——
Should the West Seek an Off-Ramp in Ukraine?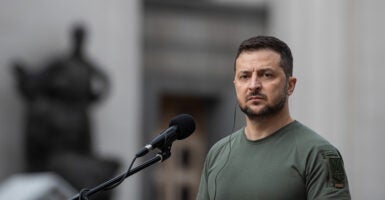 How does the war in Ukraine end?
This is precisely the question no one is supposed to ask these days. The supposition by our thought leaders seems to be that if we keep up the pressure on Vladimir Putin in Ukraine, he'll fold and go home; his threats to use tactical nuclear weapons on the battlefield are nothing more than saber-rattling. He will then retrench on the domestic front, resolidify his power and continue throwing his prospective enemies from third-story windows.
Perhaps that's actually the best-case scenario. Because if President Joe Biden gets his wish—if Putin is indeed ousted from power in Russia—what would follow could easily be even worse than Putin: the Russian public remains highly supportive of aggressive foreign action to expand the "empire"; other than the military, there are no well-organized or powerful groups in Russia, and Putin does have an inner circle of possible successors who are, if anything, more anti-West even than he is.
If none of those successors take the fore, the possibility of internecine warfare akin to Syria isn't totally out of the realm of possibility either—and that, in a country armed with a massive and aging nuclear arsenal.
Then there's the other possibility: that Putin is serious, and that if he sees his mission in Ukraine failing, he actually unleashes nuclear weapons. Most observers thought Putin was saber-rattling over his threats to invade Ukraine in the first place; underestimating Putin's aggressive radicalism now could be foolish.
And there are no real plans to deal with Putin unleashing a nuke: while former CIA director David Petraeus has suggested that America would respond by "leading a NATO, a collective effort, that would take out every Russian conventional force that we can see and identify on the battlefield in Ukraine and also in Crimea and every ship in the Black Sea," that could also lead Putin to escalate even further, perhaps even trying to directly threaten a civilian center in NATO territory with nuclear weapons.
In November 1939, the Soviet Union invaded Finland, attempting to install a puppet communist government; the West united in opposition to Soviet intervention, shipping weaponry to the Finns, who bravely stood against the forces of Stalin. The USSR lost at least 126,000 soldiers over the course of the three-and-a-half-month war but responded in the late going with a massive infusion of troops and a heavy offensive that drove the Finns back on their heels.
Faced with the prospect of open war with the Western powers, Stalin signed the Moscow Peace Treaty in March 1940, with the Finns ceding 9% of their territory to Stalin.
Was the mutual stand-down the best solution? Should the West have pressed Stalin to the brink in Finland? Perhaps. But the West was facing down Stalin and Hitler simultaneously.
Today, the threat isn't a second front from a powerful enemy, but the direct threat of nuclear weapons. Henry Kissinger has been publicly excoriated for suggesting that the off-ramp to this conflict will be territorial concessions by Ukraine to Russia—a repeat of the Moscow Peace Treaty.
But he may be correct, particularly if the West is unwilling to bear the full economic and military cost of a larger war with Russia—as historian Niall Ferguson writes, "Thus far, the West have given Zelensky and his brave people enough military and economic support to avoid losing. We are not yet giving them enough to win—and the window for victory is not infinite." In the end, it may be that the least-bad scenario is about simply preventing the worst-case scenario.
COPYRIGHT 2022 CREATORS.COM
The Daily Signal publishes a variety of perspectives. Nothing written here is to be construed as representing the views of The Heritage Foundation.
Have an opinion about this article? To sound off, please email letters@DailySignal.com and we'll consider publishing your edited remarks in our regular "We Hear You" feature. Remember to include the URL or headline of the article plus your name and town and/or state.
————
London calling to the faraway towns
Now war is declared and battle come down
London calling to the underworld
Come out of the cupboard, you boys and girls
London calling, now don't look to us
Phony Beatlemania has bitten the dust
London calling, see we ain't got no swing
Except for the ring of that truncheon thingThe ice age is coming, the sun is zooming in
Meltdown expected, the wheat is growin' thin
Engines stop running, but I have no fear
'Cause London is drowning, and I, I live by the riverLondon calling to the imitation zone
Forget it, brother, you can go it alone
London calling to the zombies of death
Quit holding out and draw another breath
London calling and I don't want to shout
But when we were talking I saw you nodding out
London calling,… Source: LyricFind
 4 minutes read
December 31, 2011
---
A lot of people confuse punk rockers to only be a green, spiky, mohawked, tattooed, nihilistic bunch of rebels, screaming nonsensically into their mikes, tearing their instruments apart and spitting on people. Well, they should actually be compared to the artsy Bohemians of the Moulin rouge days. Their music is orchestrated and their politically-charged lyrics should be compared to modern-day poetry. What mattered in punk weren't the clothes or the music, but the DIY attitude behind them.  And, one of the bands who pioneered this attitude was The Clash.
They were one of the earliest  British punk rock bands and have been a major influence for the alternative rock genre for bands such as U2, The Ramones, Green Day, The Hives and even M.I.A of 'Paper Planes' fame. Despite their rebellious attitude and their leftist ideologies, they achieved mainstream success and critical acclaim, which was an unheard phenomenon for a punk band at the time.
'London Calling' is considered the band's finest hit even though most mainstream labels received at the post-apocalyptic lyrics with apprehension. The song was the band's first overseas hit, making it to the top music charts in the US and Australia. The song is reminiscent of the good old disco days. With its swinging rhythms and powerful bass lines, it would make anyone want to dance. But after you are done doing your beer-induced jig, do pay attention to the lyrics.
The Clash manages to critique just about everything under the sun.  The title 'London Calling' is with reference to how the BBC radio identified themselves during WWII in British-occupied countries.  The band goes on to talk about how mainstream bands like The Beatles make it difficult for the Punk Movement to thrive.  Frontman Joe Strummer sings about the brutality of the police officers with their 'truncheon' (or 'batons' as they are better known), about the growing concerns of global warming, starvation, nuclear warfare and even the rising water level of the Thames. At the very end of this song, the Morse code for S-O-S can be heard, reflecting the idea of how Strummer wanted the 'boys' and girls' to come out their 'closet' and be a part of their fictional revolution.
So, why is this song so controversial? Maybe it's because it talks about British misery, injustice and the coldness of London towards the concerns of its citizens. In an interview in 2002, Joe Strummer revealed that the reason why people are terrified of 'London Calling' is because it talks about the troubles of the common man and the looming threat of censorship.  It is a song about terrorism but it's got nothing to do with the kind of terrorism we know today.  However, this did not stop the London police from detaining Harraj Mann, a mobile phone salesman who was humming 'London Calling' on the way to the airport. A paranoid taxi driver called the authorities on Harraj after he requested the cabbie to turn up the volume when the song was playing. After being detained for several hours, Harraj missed his flight because of his taste in music.
This wasn't the first time someone was harassed by the police over a Clash song. In 2004, Mike Devine was questioned by a 'special task force' after he texted the lyrics of another song called 'Tommy Gun' because they included the words 'gun' and jetliner'.  Another one of their songs 'Rock the Casbah' was banned from being played on the radio after 9/11. The British did the same during The Gulf War.
Much of The Clash's ethos can be found in the way the band treated the fans.  It was truly a 'people's band', pricing their tickets and souvenirs at a reasonable fee even at the peak of their popularity. Bono has famously commented that The Clashwrote the rulebook for U2.
What is most ironic about 'London Calling' is that, it is now set to be the anthem of the 2012 Olympic Games for their publicity campaign. This is a perfect example of how a song becomes so familiar that its original meaning is lost. The same can be said for Bruce Springsteen's 'Born in the USA' which was originally meant to be an anti-Vietnam ballad but is now misinterpreted to follow patriotic and nationalistic themes.  While the song is meant to be a cry for help for Springsteen because of his loss in national pride, the song was used extensively for Ronald Reagan's reelection campaign. Sigh. The heights of stupidity never cease to amaze me.
—-
—
__
—-
Francis Schaeffer noted:
I have lots of young people and older ones come to us from the ends of the earth. And as they come to us, they have gone to the end of this logically and they are not living in a romantic setting. They realize what the situation is. They can't find any meaning to life. It's the meaning to the black poetry. It's the meaning of the black plays. It's the meaning of all this. It's the meaning of the words "punk rock."
–
"They are the natural outcome of a change from a Christian World View to a Humanistic one…
The result is a relativistic value system. A lack of a final meaning to life — that's first. Why does human life have any value at all, if that is all that reality is? Not only are you going to die individually, but the whole human race is going to die, someday. It may not take the falling of the atom bombs, but someday the world will grow too hot, too cold. That's what we are told on this other final reality, and someday all you people not only will be individually dead, but the whole conscious life on this world will be dead, and nobody will see the birds fly. And there's no meaning to life.
As you know, I don't speak academically, shut off in some scholastic cubicle, as it were. I have lots of young people and older ones come to us from the ends of the earth. And as they come to us, they have gone to the end of this logically and they are not living in a romantic setting. They realize what the situation is. They can't find any meaning to life. It's the meaning to the black poetry. It's the meaning of the black plays. It's the meaning of all this. It's the meaning of the words "punk rock." And I must say, that on the basis of what they are being taught in school, that the final reality is only this material thing, they are not wrong. They're right! On this other basis there is no meaning to life and not only is there no meaning to life, but there is no value system that is fixed, and we find that the law is based then only on a relativistic basis and that law becomes purely arbitrary.
—
OUTLINE OF ECCLESIATES BY SCHAEFFER
_______
William Lane Craig on Man's predicament if God doesn't exist
Read Waiting for Godot by Samuel Beckett. During this entire play two men carry on trivial conversation while waiting for a third man to arrive, who never does. Our lives are like that, Beckett is saying; we just kill time waiting—for what, we don't know.
Thus, if there is no God, then life itself becomes meaningless. Man and the universe are without ultimate significance.
Francis Schaeffer looks at Nihilism of Solomon and the causes of it!!!
Notes on Ecclesiastes by Francis Schaeffer
Solomon is the author of Ecclesiastes and he is truly an universal man like Leonardo da Vinci.
Two men of the Renaissance stand above all others – Michelangelo and Leonardo da Vinci and it is in them that one can perhaps grasp a view of the ultimate conclusion of humanism for man. Michelangelo was unequaled as a sculptor in the Renaissance and arguably no one has ever matched his talents.
The other giant of the Renaissance period was Leonardo da Vinci – the perfect Renaissance Man, the man who could do almost anything and does it better than most anyone else. As an inventor, an engineer, an anatomist, an architect, an artist, a chemist, a mathematician, he was almost without equal. It was perhaps his mathematics that lead da Vinci to come to his understanding of the ultimate meaning of Humanism. Leonardo is generally accepted as the first modern mathematician. He not only knew mathematics abstractly but applied it in his Notebooks to all manner of engineering problems. He was one of the unique geniuses of history, and in his brilliance he perceived that beginning humanistically with mathematics one only had particulars. He understood that man beginning from himself would never be able to come to meaning on the basis of mathematics. And he knew that having only individual things, particulars, one never could come to universals or meaning and thus one only ends with mechanics. In this he saw ahead to where our generation has come: everything, including man, is the machine.
Leonardo da Vinci compares well to Solomon and they  both were universal men searching for the meaning in life. Solomon was searching for a meaning in the midst of the details of life. His struggle was to find the meaning of life. Not just plans in life. Anybody can find plans in life. A child can fill up his time with plans of building tomorrow's sand castle when today's has been washed away. There is  a difference between finding plans in life and purpose in life. Humanism since the Renaissance and onward has never found it and it has never found it since. Modern man has not found it and it has always got worse and darker in a very real way.
We have here the declaration of Solomon's universality:
1 Kings 4:30-34
English Standard Version (ESV)
30 so that Solomon's wisdom surpassed the wisdom of all the people of the east and all the wisdom of Egypt. 31 For he was wiser than all other men, wiser than Ethan the Ezrahite, and Heman, Calcol, and Darda, the sons of Mahol, and his fame was in all the surrounding nations. 32 He also spoke 3,000 proverbs, and his songs were 1,005. 33 He spoke of trees, from the cedar that is in Lebanon to the hyssop that grows out of the wall. He spoke also of beasts, and of birds, and of reptiles, and of fish. 34 And people of all nations came to hear the wisdom of Solomon, and from all the kings of the earth, who had heard of his wisdom.
_________________________
Here is the universal man and his genius. Solomon is the universal man with a empire at his disposal. Solomon had it all.
Ecclesiastes 1:3
English Standard Version (ESV)
3 What does man gain by all the toil
    at which he toils under the sun?
Schaeffer noted that Solomon took a look at the meaning of life on the basis of human life standing alone between birth and death "under the sun." This phrase UNDER THE SUN appears over and over in Ecclesiastes.
(Added by me:The Christian Scholar Ravi Zacharias noted, "The key to understanding the Book of Ecclesiastes is the term UNDER THE SUN — What that literally means is you lock God out of a closed system and you are left with only this world of Time plus Chance plus matter." )
Man is caught in the cycle
Ecclesiastes 1:1-7
English Standard Version (ESV)
All Is Vanity
1 The words of the Preacher, the son of David, king in Jerusalem.
2 Vanity of vanities, says the Preacher,
    vanity of vanities! All is vanity.
3 What does man gain by all the toil
    at which he toils under the sun?
4 A generation goes, and a generation comes,
    but the earth remains forever.
5 The sun rises, and the sun goes down,
    and hastens to the place where it rises.
6 The wind blows to the south
    and goes around to the north;
around and around goes the wind,
    and on its circuits the wind returns.
7 All streams run to the sea,
    but the sea is not full;
to the place where the streams flow,
    there they flow again.
8 All things are full of weariness;
    a man cannot utter it;
the eye is not satisfied with seeing,
    nor the ear filled with hearing.
9 What has been is what will be,
    and what has been done is what will be done,
    and there is nothing new under the sun.
10 Is there a thing of which it is said,
    "See, this is new"?
It has been already
    in the ages before us.
_____________
Solomon is showing a high degree of comprehension of evaporation and the results of it. Seeing also in reality nothing changes. There is change but always in a set framework and that is cycle. You can relate this to the concepts of modern man. Ecclesiastes is the only pessimistic book in the Bible and that is because of the place where Solomon limits himself. He limits himself to the question of human life, life under the sun between birth and death and the answers this would give.
Ecclesiastes 1:4
English Standard Version (ESV)
4 A generation goes, and a generation comes,
    but the earth remains forever.
___________________
Ecclesiastes 4:16
English Standard Version (ESV)
16 There was no end of all the people, all of whom he led. Yet those who come later will not rejoice in him. Surely this also is vanity and a striving after wind.
__________________________
In verses 1:4 and 4:16 Solomon places man in the cycle. He doesn't place man outside of the cycle. Man doesn't escape the cycle. Man is only cycle. Birth and death and youth and old age. With this in mind Solomon makes this statement.
Ecclesiastes 6:12
12 For who knows what is good for a man during his lifetime, during the few years of his futile life? He will spend them like a shadow. For who can tell a man what will be after him under the sun?
____________________
There is no doubt in my mind that Solomon had the same experience in his life that I had as a younger man. I remember standing by the sea and the moon arose and it was copper and beauty. Then the moon did not look like a flat dish but a globe or a sphere since it was close to the horizon. One could feel the global shape of the earth too. Then it occurred to me that I could contemplate the interplay of the spheres and I was exalted because I thought I can look upon them with all their power, might, and size, but they could contempt nothing and I felt as man as God. Then came upon me a horror of great darkness because it suddenly occurred to me that although I could contemplate them and they could contemplate nothing yet they would continue to turn in ongoing cycles when I saw no more forever and I was crushed.
THIS IS SOLOMON'S FEELING TOO. The universal man, Solomon, beyond our intelligence with an empire at his disposal with the opportunity of observation so he could recite these words here in Ecclesiastes 6:12, "For who knows what is good for a man during his lifetime, during the few years of his futile life? He will spend them like a shadow. For who can tell a man what will be after him under the sun?"
Lack of Satisfaction in life
In Ecclesiastes 1:8 he drives this home when he states, "All things are wearisome; Man is not able to tell it. The eye is not satisfied with seeing, Nor is the ear filled with hearing." Solomon is stating here the fact that there is no final satisfaction because you don't get to the end of the thing. THERE IS NO FINAL SATISFACTION. This is related to Leonardo da Vinci's similar search for universals and then meaning in life. 
In Ecclesiastes 5:11 Solomon again pursues this theme, "When good things increase, those who consume them increase. So what is the advantage to their owners except to look on?"  Doesn't that sound modern? It is as modern as this evening. Solomon here is stating the fact there is no reaching completion in anything and this is the reason there is no final satisfaction. There is simply no place to stop. It is impossible when laying up wealth for oneself when to stop. It is impossible to have the satisfaction of completion. 
Pursuing Learning
Now let us look down the details of his searching.
In Ecclesiastes 1: 13a we have the details of the universal man's procedure. "And I set my mind to seek and explore by wisdom concerning all that has been done under heaven."
So like any sensible man the instrument that is used is INTELLECT, and RAITIONALITY, and LOGIC. It is to be noted that even men who despise these in their theories begin and use them or they could not speak. There is no other way to begin except in the way they which man is and that is rational and intellectual with movements of that is logical within him. As a Christian I must say gently in passing that is the way God made him.
So we find first of all Solomon turned to WISDOM and logic. Wisdom is not to be confused with knowledge. A man may have great knowledge and no wisdom. Wisdom is the use of rationality and logic. A man can be very wise and have limited knowledge. Here he turns to wisdom in all that implies and the total rationality of man.
Works of Men done Under the Sun
After wisdom Solomon comes to the great WORKS of men. Ecclesiastes 1:14,  "I have seen all the works which have been done under the sun, and behold, all is [p]vanity and striving after wind." Solomon is the man with an empire at this disposal that speaks. This is the man who has the copper refineries in Ezion-geber. This is the man who made the stables across his empire. This is the man who built the temple in Jerusalem. This is the man who stands on the world trade routes. He is not a provincial. He knew what was happening on the Phonetician coast and he knew what was happening in Egypt. There is no doubt he already knew something of building. This is Solomon and he pursues the greatness of his own construction and his conclusion is VANITY AND VEXATION OF SPIRIT.
Ecclesiastes 2:18-20
18 Thus I hated all the fruit of my labor for which I had labored under the sun, for I must leave it to the man who will come after me. 19 And who knows whether he will be a wise man or a fool? Yet he will have control over all the fruit of my labor for which I have labored by acting wisely under the sun. This too is vanity. 20 Therefore I completely despaired of all the fruit of my labor for which I had labored under the sun.
He looked at the works of his hands, great and multiplied by his wealth and his position and he shrugged his shoulders.
Ecclesiastes 2:22-23
22 For what does a man get in all his labor and in his striving with which he labors under the sun? 23 Because all his days his task is painful and grievous; even at night his mind does not rest. This too is vanity.
Man can not rest and yet he is never done and yet the things which he builds will out live him. If one wants an ironical three phrases these are they. There is a Dutch saying, "The tailor makes many suits but one day he will make a suit that will outlast the tailor."
God has put eternity in our hearts but we can not know the beginning or the end of the thing from a vantage point of UNDER THE SUN
Ecclesiastes 1:16-18
16 I said to myself, "Behold, I have magnified and increased wisdom more than all who were over Jerusalem before me; and my mind has observed a wealth of wisdom and knowledge." 17 And I set my mind to know wisdom and to know madness and folly; I realized that this also is striving after wind.18 Because in much wisdom there is much grief, and increasing knowledge results in increasing pain.
Solomon points out that you can not know the beginnings or what follows:
Ecclesiastes 3:11
11 He has made everything  appropriate in its time. He has also set eternity in their heart, yet so that man will not find out the work which God has done from the beginning even to the end.
Ecclesiastes 1:11
11 There is no remembrance of earlier things; And also of the later things which will occur, There will be for them no remembrance among those who will come later still.
Ecclesiastes 2:16
16 For there is no lasting remembrance of the wise man as with the fool, inasmuch as in the coming days all will be forgotten. And how the wise man and the fool alike die!
You bring together here the factor of the beginning and you can't know what immediately follows after your death and of course you can't know the final ends. What do you do and the answer is to get drunk and this was not thought of in the RUBAIYAT OF OMAR KAHAYYAM:
Ecclesiastes 2:1-3
I said to myself, "Come now, I will test you with pleasure. So enjoy yourself." And behold, it too was futility. 2 I said of laughter, "It is madness," and of pleasure, "What does it accomplish?" 3 I explored with my mind how to stimulate my body with wine while my mind was guiding me wisely, and how to take hold of folly, until I could see what good there is for the sons of men to do under heaven the few years of their lives.
You know, my Friends, with what a brave Carouse
I made a Second Marriage in my house;
Divorced old barren Reason from my Bed,
And took the Daughter of the Vine to Spouse.
from the Rubaiyat of Omar Khayyam (Translation by Edward Fitzgerald)
A perfectly good philosophy coming out of Islam, but Solomon is not the first man that thought of it nor the last. In light of what has been presented by Solomon is the solution just to get intoxicated and black the think out? So many people have taken to alcohol and the dope which so often follows in our day. This approach is incomplete, temporary and immature. Papa Hemingway can find the champagne of Paris sufficient for a time, but one he left his youth he never found it sufficient again. He had a lifetime spent looking back to Paris and that champagne and never finding it enough. It is no solution and Solomon says so too.
Ecclesiastes 2:4-11
4 I enlarged my works: I built houses for myself, I planted vineyards for myself; 5 I made gardens and parks for myself and I planted in them all kinds of fruit trees; 6 I made ponds of water for myself from which to irrigate a forest of growing trees. 7 I bought male and female slaves and I had homeborn slaves. Also I possessed flocks and herds larger than all who preceded me in Jerusalem. 8 Also, I collected for myself silver and gold and the treasure of kings and provinces. I provided for myself MALE AND  FEMALE SINGERS AND THE PLEASURES OF MEN–MANY CONCUBINES.
9 Then I became great and increased more than all who preceded me in Jerusalem. My wisdom also stood by me. 10 All that my eyes desired I did not refuse them. I did not withhold my heart from any pleasure, for my heart was pleased because of all my labor and this was my reward for all my labor.11 Thus I considered all my activities which my hands had done and the labor which I had exerted, and behold all was vanity and striving after wind and there was no profit under the sun.
He doesn't mean there is no temporary profit but there is no real profit. Nothing that lasts. The walls crumble if they are as old as the Pyramids. You only see a shell of the Pyramids and not the glory that they were. This is what Solomon is saying. Look upon Solomon's wonder and consider the Cedars of Lebanon which were not in his domain but at his disposal.
Ecclesiastes 6:2
2 a man to whom God has given riches and wealth and honor so that his soul lacks nothing of all that he desires; yet God has not empowered him to eat from them, for a foreigner enjoys them. This is vanity and a severe affliction.
Can someone stuff himself with food he can't digest? Solomon came to this place of strife and confusion when he went on in his search for meaning.
 Oppressed have no comforter
Ecclesiastes 4:1
 Then I looked again at all the acts of oppression which were being done under the sun. And behold I saw the tears of the oppressed and that they had no one to comfort them; and on the side of their oppressors was power, but they had no one to comfort them.
Between birth and death power rules. Solomon looked over his kingdom and also around the world and proclaimed that right does not rule but power rules.
Ecclesiastes 7:14-15
14 In the day of prosperity be happy, but in the day of adversity consider—God has made the one as well as the other so that man will not discover anything that will be after him.
15 I have seen everything during my lifetime of futility; there is a righteous man who perishes in his righteousness and there is a wicked man who prolongs his life in his wickedness.
Ecclesiastes 8:14
14 There is futility which is done on the earth, that is, there are righteous men to whom it happens according to the deeds of the wicked. On the other hand, there are evil men to whom it happens according to the deeds of the righteous. I say that this too is futility.
We could say it in 20th century language, "The books are not balanced in this life."
Pursuing Ladies
If one would flee to alcohol, then surely one may choose sexual pursuits to flee to. Solomon looks in this area too.
Ecclesiastes 7:25-28
25 I directed my mind to know, to investigate and to seek wisdom and an explanation, and to know the evil of folly and the foolishness of madness. 26 And I discovered more bitter than death the woman whose heart is snares and nets, whose hands are chains. One who is pleasing to God will escape from her, but the sinner will be captured by her.
27 "Behold, I have discovered this," says the Preacher, "adding one thing to another to find an explanation, 28 I have looked for other answers but have found none. I found one man in a thousand that I could respect, but not one woman. (Good News Translation on verse 28)
One can understand both Solomon's expertness in this field and his bitterness.
I Kings 11:1-3 (New American Standard Bible) 
11 Now King Solomon loved many foreign women along with the daughter of Pharaoh: Moabite, Ammonite, Edomite, Sidonian, and Hittite women, 2 from the nations concerning which the Lord had said to the sons of Israel, "You shall not associate with them, nor shall they associate with you, for they will surely turn your heart away after their gods." Solomon held fast to these in love. 3 He had seven hundred wives, princesses, and three hundred concubines, and his wives turned his heart away.
An expert but also the reason for his bitterness. Certainly there have been many men over the centuries who have daydreamed of Solomon's wealth in this area [of women], but at the end it was sorry, not only sorry but nothing and less than nothing. The simple fact is that one can not know woman in the real sense by pursuing 1000 women. It is not possible. Woman is not found this way. All that is left in this setting if one were to pursue the meaning of life in this direction is this most bitter word found in Ecclesiastes 7:28, "I have looked for other answers but have found none. I found one man in a thousand that I could respect, but not one woman." (Good News Translation on verse 28) He was searching in the wrong way. He was searching for the answer to life in the limited circle of that which is beautiful in itself but not an answer finally in sexual life. More than that he finally tried to find it in variety and he didn't even touch one woman at the end.
Relative truth/ Chance and time/ death comes to fool and wiseman/ tried pagan religions
He plunged in such a scientific procedure finally into the thought of final relative truth.
Ecclesiastes 8:6-7
6 For there is a time and a way for everything, although man's trouble lies heavy on him. 7 For he does not know what is to be, for who can tell him how it will be?
In such a setting he is led into misery. Relative truth is also expressed in Ecclesiastes 3:1, "For everything there is a season, and a time for every matter under heaven…" He is not saying this in a positive sense, but it is in a negative sense here. Relative truth in light of Ecclesiastes 8:6-7. When you come to the concept of relative truth only one more step remains and that is that chance rules. Chance is king.
__
Ecclesiastes 9:11
11 Again I saw that under the sun the race is not to the swift, nor the battle to the strong, nor bread to the wise, nor riches to the intelligent, nor favor to those with knowledge, but time and chance happen to them all.
Chance rules. If a man starts out only from himself and works outward it must eventually if he is consistent seem so that only chance rules and naturally in such a setting you can not expect him to have anything else but finally a hate of life.
Ecclesiastes 2:17-18a
17 So I hated life, because what is done under the sun was grievous to me, for all is vanity and a striving after wind. 18 I hated all my toil in which I toil under the sun…
That first great cry "So I hated life." Naturally if you hate life you long for death and you find him saying this in Ecclesiastes 4:2-3:
2 And I thought the dead who are already dead more fortunate than the living who are still alive. 3 But better than both is he who has not yet been and has not seen the evil deeds that are done under the sun.
He lays down an order. It is best never have to been. It is better to be dead, and worse to be alive. But like all men and one could think of the face of Vincent Van Gogh in his final paintings as he came to hate life and you watch something die in his self portraits, the dilemma is double because as one is consistent and one sees life as a game of chance, one must come in a way to hate life. Yet at the same time men never get beyond the fear to die. Solomon didn't either. So you find him in saying this.
Ecclesiastes 2:14-15
14 The wise person has his eyes in his head, but the fool walks in darkness. And yet I perceived that the same event happens to all of them. 15 Then I said in my heart, "What happens to the fool will happen to me also. Why then have I been so very wise?" And I said in my heart that this also is vanity.
The Hebrew is stronger than this and it says "it happens EVEN TO ME," Solomon on the throne, Solomon the universal man. EVEN TO ME, even to Solomon.
Ecclesiastes 3:18-21
18 I said in my heart with regard to the children of man that God is testing them that they may see that they themselves are but beasts. 19 For what happens to the children of man and what happens to the beasts is the same; as one dies, so dies the other. They all have the same breath, and man has no advantage over the beasts, for all is vanity.[n] 20 All go to one place. All are from the dust, and to dust all return.21 Who knows whether the spirit of man goes upward and the spirit of the beast goes down into the earth?
What he is saying is as far as the eyes are concerned everything grinds to a stop at death.
Ecclesiastes 4:16
16 There was no end of all the people, all of whom he led. Yet those who come later will not rejoice in him. Surely this also is vanity and a striving after wind.
That is true. There is no place better to feel this than here in Switzerland. You can walk over these hills and men have walked over these hills for at least 4000 years and when do you know when you have passed their graves or who cares? It doesn't have to be 4000 years ago. Visit a cemetery and look at the tombstones from 40 years ago. Just feel it. IS THIS ALL THERE IS? You can almost see Solomon shrugging his shoulders.
Ecclesiastes 8:8
8 There is no man that hath power over the spirit to retain the spirit; neither hath he power in the day of death: and there is no discharge in that war; neither shall wickedness deliver those that are given to it. (King James Version)
A remarkable two phrase. THERE IS NO DISCHARGE IN THAT WAR or you can translate it "no casting of weapons in that war." Some wars they come to the end. Even the THIRTY YEARS WAR (1618-1648) finally finished, but this is a war where there is no casting of weapons and putting down the shield because all men fight this battle and one day lose. But more than this he adds, WICKEDNESS WON'T DELIVER YOU FROM THAT FIGHT. Wickedness delivers men from many things, from tedium in a strange city for example. But wickedness won't deliver you from this war. It isn't that kind of war. More than this he finally casts death in the world of chance.
Ecclesiastes 9:12
12 For man does not know his time. Like fish that are taken in an evil net, and like birds that are caught in a snare, so the children of man are snared at an evil time, when it suddenly falls upon them.
Death can come at anytime. Death seen merely by the eye of man between birth and death and UNDER THE SUN. Death too is a thing of chance. Albert Camus speeding in a car with a pretty girl at his side and then Camus dead. Lawrence of Arabia coming up over a crest of a hill 100 miles per hour on his motorcycle and some boys are standing in the road and Lawrence turns aside and dies.
 Surely between birth and death these things are chance. Modern man adds something on top of this and that is the understanding that as the individual man will dies by chance so one day the human race will die by chance!!! It is the death of the human race that lands in the hand of chance and that is why men grew sad when they read Nevil Shute's book ON THE BEACH. 
————
In 1978 I heard the song "Dust in the Wind" by Kansas when it rose to #6 on the charts. That song told me thatKerry Livgren the writer of that song and a member of Kansas had come to the same conclusion that Solomon had. I remember mentioning to my friends at church that we may soon see some members of Kansas become Christians because their search for the meaning of life had obviously come up empty even though they had risen from being an unknown band to the top of the music business and had all the wealth and fame that came with that. Furthermore, like Solomon and Coldplay, they realized death comes to everyone and "there must be something more."
Livgren wrote:
"All we do, crumbles to the ground though we refuse to see, Dust in the Wind, All we are is dust in the wind, Don't hang on, Nothing lasts forever but the Earth and Sky, It slips away, And all your money won't another minute buy."
Both Kerry Livgren and Dave Hope of Kansas became Christians eventually. Kerry Livgren first tried Eastern Religions and Dave Hope had to come out of a heavy drug addiction. I was shocked and elated to see their personal testimony on The 700 Club in 1981 and that same  interview can be seen on youtube today. Livgren lives in Topeka, Kansas today where he teaches "Diggers," a Sunday school class at Topeka Bible Church. Hope is the head of Worship, Evangelism and Outreach at Immanuel Anglican Church in Destin, Florida.
The movie maker Woody Allen has embraced the nihilistic message of the song "Dust in the Wind" by Kansas. David Segal in his article, "Things are Looking Up for the Director Woody Allen. No?" (Washington Post, July 26, 2006), wrote, "Allen is evangelically passionate about a few subjects. None more so than the chilling emptiness of life…The 70-year-old writer and director has been musing about life, sex, work, death and his generally futile search for hope…the world according to Woody is so bereft of meaning, so godless and absurd, that the only proper response is to curl up on a sofa and howl for your mommy."
The song "Dust in the Wind" recommends, "Don't hang on." Allen himself says, "It's just an awful thing and in that context you've got to find an answer to the question: 'Why go on?' "  It is ironic that Chris Martin the leader of Coldplay regards Woody Allen as his favorite director.
Lets sum up the final conclusions of these gentlemen:  Coldplay is still searching for that "something more." Woody Allen has concluded the search is futile. Livgren and Hope of Kansas have become Christians and are involved in fulltime ministry. Solomon's experiment was a search for meaning to life "under the sun." Then in last few words in the Book of Ecclesiastes he looks above the sun and brings God back into the picture: "The conclusion, when all has been heard, is: Fear God and keep His commandments, because this applies to every person. For God will bring every act to judgment, everything which is hidden, whether it is good or evil."
You can hear Kerry Livgren's story from this youtube link:
(part 1 ten minutes)
(part 2 ten minutes)
Kansas – Dust In The Wind
Ecclesiastes 1
Published on Sep 4, 2012
Calvary Chapel Spring Valley | Sunday Evening | September 2, 2012 | Pastor Derek Neider
Featured artist is Maya Lin
_____________________
Related posts
Johnny Cash a Christian?May 23, 2012 – 10:32 amI got to see Johnny Cash perform in Memphis in 1978 and I actually knew his nephew very well. He was an outspoken Christian and evangelical. Here is an article that discusses this. Johnny Cash's Complicated Faith Dave Urbanski <!– var fbShare = { google_analytics: 'true', } tweetmeme_source = 'RELEVANTMag'; –> Unwrapping the enigma of […]By Everette Hatcher III | Posted in Current Events | Edit | Comments (0)Johnny Cash (Part 3)December 23, 2011 – 12:57 amI got to hear Johnny Cash sing in person back in 1978.  Here is a portion of an article about his Christian Testimony. The Man Came Around   A Walking Contradiction Cash's daughter, singer-songwriter Rosanne Cash, once pointed out that "my father was raised a Baptist, but he has the soul of a mystic. He's […]By Everette Hatcher III | Posted in Current Events | Tagged christian testimony, prayer of thanksgiving, seven deadly sins, spiritual element, walking contradiction | Edit | Comments (0)Johnny Cash (Part 2)December 22, 2011 – 12:55 amI got to hear Johnny Cash sing in person back in 1978 at a Billy Graham Crusade in Memphis. Here is a portion of an article about his Christian Testimony. The Man Came Around Cash also made major headlines when he shared his faith on The Johnny Cash Show, a popular variety program on ABC […]By Everette Hatcher III | Posted in Current Events | Tagged billy graham crusade, christian testimony, evangelist billy graham, folsom prison blues, kris kristofferson | Edit | Comments (0)Johnny Cash (Part 1)December 21, 2011 – 12:51 amI got to hear Johnny Cash sing in person back in 1978. Here is a portion of an article about his Christian Testimony. The Man Came Around Johnny Cash was not ashamed of his Christian faith—though it was sometimes a messy faith—and even got some encouragement from Billy Graham along the way. Dave Urbanski | […]By Everette Hatcher III | Posted in Current Events | Tagged conservative bible, dave urbanski, jesus of nazareth, nickel and dime, true vine | Edit | Comments (0)
People in the Johnny Cash video "God's Gonna Cut You Down"May 11, 2012 – 12:10 pmWikipedia noted: Johnny Cash recorded a version of "God's Gonna Cut You Down" on American V: A Hundred Highways in 2003, with an arrangement quite different from most known gospel versions of the song. A music video, directed by Tony Kaye,[1] was made for this version in late 2006. It featured a number of celebrities, […]By Everette Hatcher III | Posted in Current Events | Tagged Amy Lee, chris martin | Edit | Comments (0)
_________
__