—
In Discussing Reparations, Honest History of African Slavery Makes the Left Uncomfortable
Jarrett Stepman / @JarrettStepman / September 21, 2022
CNN's Don Lemon—seen here at Harvard University's Kennedy School of Government Institute of Politics taking part in a program titled "Race, Media and Politics" on Feb. 22, 2019, in Cambridge, Massachusetts—was taken aback in a Tuesday interview when he got an answer he wasn't expecting on racial reparations. (Photo: Paul Marotta/Getty Images)
COMMENTARY BY
Jarrett Stepman@JarrettStepman
Jarrett Stepman is a columnist for The Daily Signal. He is also the author of the book "The War on History: The Conspiracy to Rewrite America's Past." Send an email to Jarrett
The Left loves to promote "reparations"—but only up until the point where history and truth run counter to its simplistic narratives about the past.
British royals expert Hilary Fordwich threw CNN host Don Lemon for a loop on Tuesday when he asked her if the British monarchy should pay reparations for colonialism and slavery.
Lemon said to Fordwich, "[Y]ou have those who are asking for reparations for colonialism, and they're wondering, you know, '$100 billion, $24 billion here and there, $500 million there.'"
To cut to the clickbait, you won't believe what happened next.
First, Fordwich acknowledged that there are people asking for reparations, but then turned the discussion on its head. She said that looking to the British monarchy for reparations is the wrong place to go.
Instead, proponents of reparations should look first to "the beginning of the supply chain"—that is, to the African kingdoms that initially enslaved Africans and sold them—rather than the British, who were a key force in eliminating slavery globally.
"Which was the first nation in the world that abolished slavery?" Fordwich asked rhetorically, then answered her own question. It was the British, she said.
"In Great Britain, they abolished slavery. Two thousand naval men died on the high seas trying to stop slavery. Why? Because the African kings were rounding up their own people," she said. "They had them [in] cages, waiting in the beaches."
She ended with this incredible finisher:
I think you're totally right. If reparations need to be paid, we need to go right back to the beginning of that supply chain and say, 'Who was rounding up their own people and having them handcuffed in cages?' Absolutely, that's where they should start.
The segment is well worth watching, if only to see Lemon's face and reaction when challenged with an "honest" discussion about slavery and history.
https://platform.twitter.com/embed/Tweet.html?creatorScreenName=dailysignal&dnt=true&embedId=twitter-widget-0&features=eyJ0ZndfdGltZWxpbmVfbGlzdCI6eyJidWNrZXQiOlsibGlua3RyLmVlIiwidHIuZWUiLCJ0ZXJyYS5jb20uYnIiLCJ3d3cubGlua3RyLmVlIiwid3d3LnRyLmVlIiwid3d3LnRlcnJhLmNvbS5iciJdLCJ2ZXJzaW9uIjpudWxsfSwidGZ3X2hvcml6b25fdGltZWxpbmVfMTIwMzQiOnsiYnVja2V0IjoidHJlYXRtZW50IiwidmVyc2lvbiI6bnVsbH0sInRmd190d2VldF9lZGl0X2JhY2tlbmQiOnsiYnVja2V0Ijoib24iLCJ2ZXJzaW9uIjpudWxsfSwidGZ3X3JlZnNyY19zZXNzaW9uIjp7ImJ1Y2tldCI6Im9uIiwidmVyc2lvbiI6bnVsbH0sInRmd19jaGluX3BpbGxzXzE0NzQxIjp7ImJ1Y2tldCI6ImNvbG9yX2ljb25zIiwidmVyc2lvbiI6bnVsbH0sInRmd190d2VldF9yZXN1bHRfbWlncmF0aW9uXzEzOTc5Ijp7ImJ1Y2tldCI6InR3ZWV0X3Jlc3VsdCIsInZlcnNpb24iOm51bGx9LCJ0Zndfc2Vuc2l0aXZlX21lZGlhX2ludGVyc3RpdGlhbF8xMzk2MyI6eyJidWNrZXQiOiJpbnRlcnN0aXRpYWwiLCJ2ZXJzaW9uIjpudWxsfSwidGZ3X2V4cGVyaW1lbnRzX2Nvb2tpZV9leHBpcmF0aW9uIjp7ImJ1Y2tldCI6MTIwOTYwMCwidmVyc2lvbiI6bnVsbH0sInRmd19kdXBsaWNhdGVfc2NyaWJlc190b19zZXR0aW5ncyI6eyJidWNrZXQiOiJvbiIsInZlcnNpb24iOm51bGx9LCJ0ZndfdHdlZXRfZWRpdF9mcm9udGVuZCI6eyJidWNrZXQiOiJvZmYiLCJ2ZXJzaW9uIjpudWxsfX0%3D&frame=false&hideCard=false&hideThread=false&id=1572145367512190978&lang=en&origin=https%3A%2F%2Fwww.dailysignal.com%2F2022%2F09%2F21%2Fin-discussing-reparations-honest-history-of-african-slavery-makes-the-left-uncomfortable%2F&sessionId=8adbd0f534379f3924df200e8170155f6aae20f6&siteScreenName=dailysignal&theme=light&widgetsVersion=1bfeb5c3714e8%3A1661975971032&width=500px
Discussions about reparations are timely, given the release of "The Woman King," a Hollywood production that tells the story of a group of 19th-century female African warriors from the kingdom of Dahomey. The movie portrays the protagonists as proto-pan-African liberators fighting imperialism and slavery, but the truth was in many ways quite the opposite.
Dahomey—located in what is now the country of Benin—and other African kingdoms were often enthusiastically pro-slavery. The port city of Anomabo, for instance—which is in present-day Ghana—became a powerful, central hub of the slave trade. Its considerable wealth—built mostly on the trans-Atlantic slave trade—dried up when the British Empire and other Western powers not only turned on the practice of slavery, but used force to bring it to an end.
The near-universal, global practice of slavery—which has dogged civilization throughout its history—mostly came to an end because of the rise and power of the West. Are Ghana and Benin now on the hook to pay reparations?
These thorny issues somehow get glossed over in the debate about historical guilt and culpability. But they suddenly matter, given that the issue has been taken seriously by left-wing policymakers.
A recent Vox article laid out how reparations are being discussed by local governments and institutions to capitalize on the "great awokening" that began in earnest in 2020.
It's apparently becoming a serious proposal in some localities. From Vox:
Advocates continue to demand action on reparations from the federal government. But local governments and institutions aren't waiting to try their hand at reparative justice.

Following the social justice uprisings of 2020, cities including Asheville, North Carolina; Providence, Rhode Island; and Burlington, Vermont, established reparations commissions and task forces. Voters in Greenbelt, Maryland, and Detroit approved commissions to study reparations through ballot measures.
California launched a Reparations Task Force in 2021 that was created to "(1) to study and develop reparation proposals for African Americans; (2) to recommend appropriate ways to educate the California public of the task force's findings; and (3) to recommend appropriate remedies in consideration of the Task Force's findings."
Its most recent findings suggested that racial disparities in society are based on institutional racism and white supremacy. Itsrecommendations for remedies range from essentially depolicing predominantly black neighborhoods to direct payments for black families in the state.
Many of its suggestions would likely create more inequality and misery for black Californians, but the underlying premise is essentially that governments need to pay up and keep paying up until equity improves.
But is that truly just or helpful?
The question of whether entire groups of people deserve "reparations" is already philosophically dicey. Sure, it might make sense that someone who was enslaved or lost their property due to enslavement would be directly compensated. But what about family members four, five, or six generations removed?
Sorting out specific history to find out who had truly been victimized can be quite problematic, too. Take for instance recent stories about the supposed mass graves of Indigenous children near a school in Canada that had been run by the Catholic Church. The story prompted vandalism and attacks on churches in Canada.
But upon further investigation, it appears the story wasn't true, or at least no evidence was found that it was.
Are reparations going to be based on a genetic test; specifically, a "one drop of blood rule" with the implications that one drop of DNA from an officially oppressed group will bring a stipend from the government for not only you, but for your posterity, too?
That seems to be the case with some of those local and federal initiatives.
For instance, in 2021, Oakland, California,launched a universal basic income program that would give money only to "black, indigenous, and other people of color."
In January, Vermont announced that an early round of its released COVID-19 vaccines would be available to "all black, indigenous residents, and other people of color who are permanent Vermont residents and 16 or older."
The Biden administration in April announced several "Equity Action Plans" that added racially conscious programs to the federal bureaucracy.
Such initiatives might be a violation of civil rights laws and the 14th Amendment, but it's not stopping some local, state, and federal government agencies from trying. The new, woke position is that legal racial favoritism and segregation are good things, and proponents are clearly happy to bend or circumvent laws that stand in the way.
Legal or not, reparation plans are deeply flawed and often create new injustices in implementation. In the end, they are based on the premise that the only way to get ahead in society is to claim victimhood and shake down your neighbors.
"This takes the U.S. along the path to ruin in many ways," wrote J.L. Reiter on the John Hulsman Substack website. "Reparations are incalculable, in that none of the necessary variables exist; impracticable, in that they could not be carried out without grave economic damage; and impolitic, in that they would derail America's steady progress toward racial equality, while exacerbating interracial animus."
Absolutely.
Most Americans outside of our most elite institutions likely already recognize this and oppose legal racial preferences and affirmative action. Poll numbers on reparations also show broad majorities against them.
Yet, the top-down woke revolution goes on, and so, we must take reparations proposals both seriously and literally. And reject them.
Have an opinion about this article? To sound off, please email letters@DailySignal.com and we'll consider publishing your edited remarks in our regular "We Hear You" feature. Remember to include the url or headline of the article plus your name and town and/or state.
Want to keep up with the 24/7 news cycle? Want to know the most important stories of the day for conservatives? Need news you can trust? Subscribe to The Daily Signal's email newsletter. Learn more >>
March 30, 2021
Office of Senator Mazie Hirono, D-Hawaii
United States Senate
Washington, D.C. 20510
Dear Senator Hirono,
I noticed that you signed a 2017 letter strongly supporting the filibuster.
Why are you thinking about abandoning that view now?
Does your change of view have anything to do with Biden now being in office?
More than half of current Senate Democrats and VP Harris signed 2017 letter supporting filibuster when GOP was in control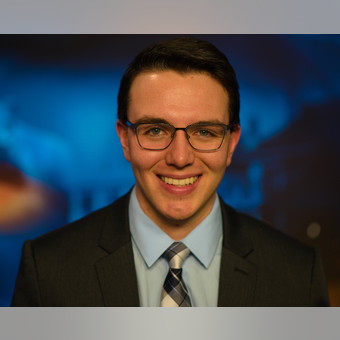 As progressives push hard for Democrats to eliminate the legislative filibuster after gaining control of the Senate, House and the presidency, many Democratic senators are distancing themselves from a letter they signed in 2017 backing the procedure.
Sens. Susan Collins, R-Maine, and Chris Coons, D-Del., led a letter in 2017 that asked Republican Leader Mitch McConnell, R-Ky., and Democratic Leader Chuck Schumer, D-N.Y., to preserve the legislative filibuster. As it's existed for decades, the filibuster requires 60 votes in order to end debate on a bill and proceed to a final vote.
"We are writing to urge you to support our efforts to preserve existing rules, practices, and traditions" on the filibuster, the letter said.
Besides Collins and Coons, 59 other senators joined on the letter. Of that group, 27 Democratic signatories still hold federal elected office. Twenty-six still hold their Senate seats, and Vice President Harris assumed her new job on Jan. 20, vacating her former California Senate seat.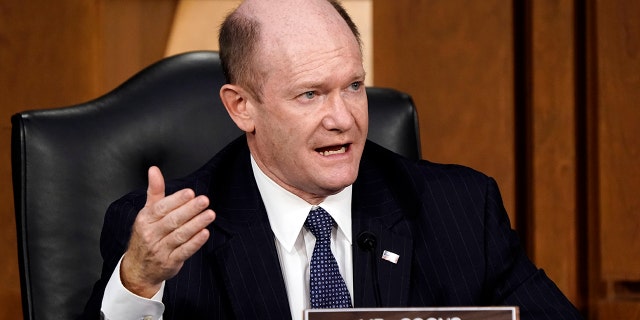 Sen. Chris Coons, D-Del., speaks as the Senate Judiciary Committee hears from legal experts on the final day of the confirmation hearing for Supreme Court nominee Amy Coney Barrett, on Capitol Hill in Washington, Thursday, Oct. 15, 2020. Coons has softened his support for the legislative filibuster in recent years after leading an effort to protect it in 2017. (AP Photo/J. Scott Applewhite)
But now, the momentum among Senate Democrats is for either full abolition of the filibuster or significantly weakening it. President Biden endorsed the latter idea Tuesday, announcing his support for a "talking filibuster."
KAMALA HARRIS SUPPORTS CHANGE TO FILIBUSTER IN SENATE TO LIMIT MINORITY PARTY POWER
"I don't think that you have to eliminate the filibuster, you have to do it what it used to be when I first got to the Senate back in the old days," Biden told ABC. "You had to stand up and command the floor, you had to keep talking."
The legislative filibuster has been a 60-vote threshold for what is called a "cloture vote" — or a vote to end debate on a bill — meaning that any 41 senators could prevent a bill from getting to a final vote. If there are not 60 votes, the bill cannot proceed.
The "talking filibuster" — as it was most recently seriously articulated by Sen. Jeff Merkley, D-Ore., in 2012 — would allow 41 senators to prevent a final vote by talking incessantly, around-the-clock, on the Senate floor. But once those senators stop talking, the threshold for a cloture vote is lowered to 51.
Harris' office confirmed to Fox News Wednesday that she is now aligned with Biden on the filibuster issue. She'd previously taken an even more hostile position to the filibuster, saying she would fully "get rid" of it "to pass a Green New Deal" at a CNN town hall in 2019.
The legislative filibuster has been a 60-vote threshold for what is called a "cloture vote" — or a vote to end debate on a bill — meaning that any 41 senators could prevent a bill from getting to a final vote. If there are not 60 votes, the bill cannot proceed.
The "talking filibuster" — as it was most recently seriously articulated by Sen. Jeff Merkley, D-Ore., in 2012 — would allow 41 senators to prevent a final vote by talking incessantly, around-the-clock, on the Senate floor. But once those senators stop talking, the threshold for a cloture vote is lowered to 51.
Harris' office confirmed to Fox News Wednesday that she is now aligned with Biden on the filibuster issue. She'd previously taken an even more hostile position to the filibuster, saying she would fully "get rid" of it "to pass a Green New Deal" at a CNN town hall in 2019.
Coons, who led the 2017 letter along with Collins, has also distanced himself from his previous stance.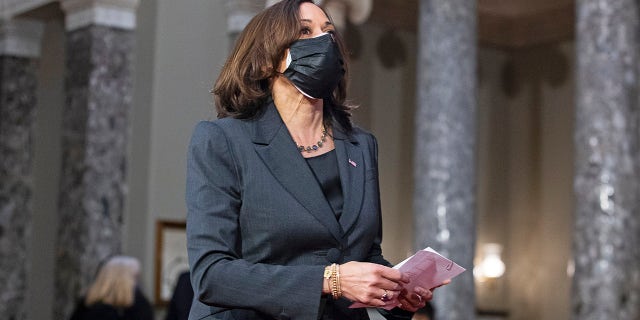 Vice President Kamala Harris attends a ceremonial swearing-in for Sen. Patrick Leahy, D-Vt., as President Pro Tempore of the Senate on Capitol Hill in Washington, Thursday, Feb. 4, 2021. Harris has changed her stance on the legislative filibuster since signing a letter in 2017 backing it. (Michael Reynolds/Pool via AP) (AP)
BIDEN SUPPORTS CHANGING SENATE FILIBUSTER
"I'm going to try my hardest, first, to work across the aisle," he said in September when asked about ending the filibuster. "Then, if, tragically, Republicans don't change the tune or their behavior at all, I would."
Fox News reached out to all of the other 26 Democratic signatories of the 2017 letter, and they all either distanced themselves from that position or did not respond to Fox News' inquiry.
"Less than four years ago, when Donald Trump was President and Mitch McConnell was the Majority Leader, 61 Senators, including more than 25 Democrats, signed their names in opposition to any efforts that would curtail the filibuster," a GOP aide told Fox News. "Other than the occupant of the White House, and the balance of power in the Senate, what's changed?"
"I'm interested in getting results for the American people, and I hope we will find common ground to advance key priorities," Sen. Tim Kaine. D-Va., said in a statement. "If Republicans try to use arcane rules to block us from getting results for the American people, then we'll have a conversation at that time."
Added Sen. Mark Warner, D-Va: "I am still hopeful that the Senate can work together in a bipartisan way to address the enormous challenges facing the country. But when it comes to fundamental issues like protecting Americans from draconian efforts attacking their constitutional right to vote, it would be a mistake to take any option off the table."
"Senator Stabenow understands the urgency of passing important legislation, including voting rights, and thinks it warrants a discussion about the filibuster if Republicans refuse to work across the aisle," Robyn Bryan, a spokesperson for Sen. Debbie Stabenow, D-Mich., said.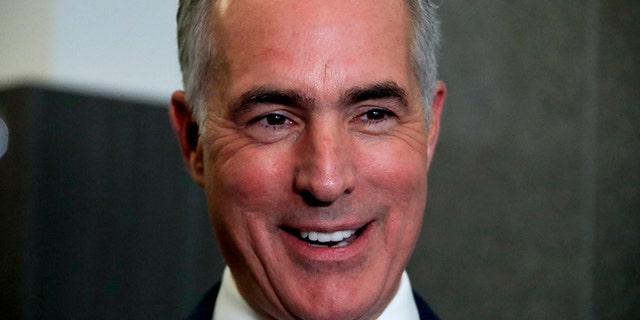 FILE – In this Oct. 26, 2018, file photo, Sen.Bob Casey, D-Pa., speaks to reporters in the studio of KDKA-TV in Pittsburgh. Casey has reversed his stance on the legislative filibuster since signing a 2017 letter in support of it. (AP Photo/Gene J. Puskar, File)
Representatives for Sen. Bob Casey, D-Pa., pointed to recent comments he made on MSNBC.
"Yes, absolutely," Casey said when asked if he would support a "talking filibuster" or something similar. "Major changes to the filibuster for someone like me would not have been on the agenda even a few years ago. But the Senate does not work like it used to."
MCCONNELL SAYS SENATE WILL BE '100-CAR PILEUP' IF DEMS NUKE FILIBUSTER
"I hope any Democratic senator who's not currently in support of changing the rules or altering them substantially, I hope they would change their minds," Casey added.
Representatives for Sen. Angus King, I-Vt., who caucuses with Democrats, meanwhile, references a Bangor Daily News editorial that said King was completely against the filibuster in 2012 but now believes it's helpful in stopping bad legislation. It said, however, that King is open to "modifications" similar to a talking filibuster.
The senators who did not respond to questions on their 2017 support of the filibuster were Sens. Joe Manchin. D-W.Va.; Patrick Leahy, D-Vt.; Amy Klobuchar, D-Minn.; Jeanne Shaheen, D-N.H.; Michael Bennet, D-Colo.; Martin Heinrich, D-N.M.; Sherrod Brown, D-Ohio; Dianne Feinstein, D-Calif.; Kirsten Gillibrand, D-N.Y.; Brian Schatz, D-Hawaii; Cory Booker, D-N.J.; Maria Cantwell, D-Wash.; Maize Hirono, D-Hawaii; John Tester, D-Mont.; Tom Carper, D-Del.; Maggie Hassan, D-N.H.; Tammy Duckworth, D-Ill.; Jack Reed, D-R-I.; Ed Markey, D-Mass.; Sheldon Whitehouse, D-R.I.; and Bob Menendez, D-N.J.
Some of these senators, however, have addressed the filibuster in other recent comments.
Sen. Dianne Feinstein, D-Calif., on Wednesday was asked if she supported changing the filibuster threshold by CNN and said she is still opposed to the idea. "Not at this time," Feinstein said.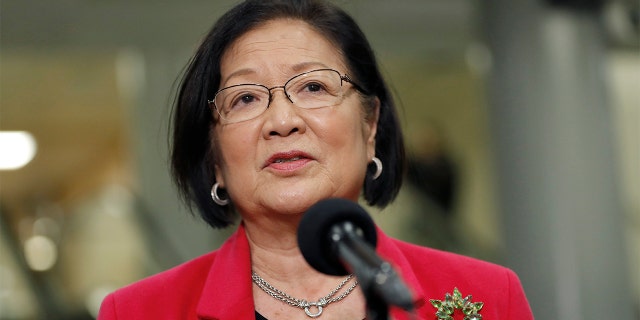 Sen. Mazie Hirono, D-Hawaii, speaks to reporters on Capitol Hill in Washington, Thursday, Jan. 30, 2020, during the impeachment trial of President Donald Trump on charges of abuse of power and obstruction of Congress. Hirono has changed her opinion on the legislative filibuster since signing a 2017 letter supporting it. (AP Photo/Julio Cortez)
Sen. Maize Hirono, D-Hawaii, meanwhile said last week she is already for getting rid of the current 60-vote threshold and thinks other Democrats will sign on soon.
"If Mitch McConnell continues to be totally an obstructionist, and he wants to use the 60 votes to stymie everything that President Biden wants to do and that we Democrats want to do that will actually help people," Hirono said, "then I think the recognition will be among the Democrats that we're gonna need to."
The most recent talk about either removing or significantly weakening the filibuster was spurred by comments from Manchin that appeared to indicate he would be open to a talking filibuster. He said filibustering a bill should be more "painful" for a minority.
Manchin appeared to walk back any talk of a talking filibuster on Wednesday, however.
"You know where my position is," he said. "There's no little bit of this and a little bit — there's no little bit here. You either protect the Senate, you protect the institution and you protect democracy or you don't."
Manchin and Sen. Kyrsten Sinema, D-Ariz., both committed to supporting the current form of the filibuster earlier this year. Sinema was not in the Senate in 2017.
Senate Minority Mitch McConnell, R-Ky., said their comments gave him the reassurance he needed to drop a demand that Senate Majority Leader Chuck Schumer, D-N.Y., put filibuster protections into the Senate's organizing resolution.
But with Manchin seeming to flake at least in the eyes of some, other Democrats are beginning to push harder for filibuster changes.
—-
I read this about your views on abortion:
Sen. Mazie Hirono (D., Hawaii) told a crowd of protesters in front of the Supreme Court on Tuesday that she informed a group of eighth graders at a public school in Hawaii that "we have to fight for abortion rights."
"I asked the girls in that group of eighth graders, 'How many of you girls think that government should be telling us women and if we should be having babies?' Not a single one of them raised their hands," Hirono said.
Hirono also said she lectured the boys present at the public school gathering.
"To the boys who were there, among the 60, I said, 'You know, it's kind of hard for a woman to get pregnant without you guys.' They got it," she said. "'How many of you boys think government should be telling girls and women when if we're going to be having babies?' And not a single one of them raised their hands."
Hirono has been a strident advocate of abortion in the Senate, advocating for religious tests on judiciary appointmentsas well as opposing a bill that would protect survivors of botched abortions from infanticide.
"I hope supporters of the bills that we're talking about today, both in the states and in Congress, turn their efforts to improving the lives of the children who are very much here already and who are so poorly served by the Trump administration and its policies," Hirono said in opposition to Sen. Ben Sasse's (R., Neb.) Born-Alive Abortion Survivors Protection Act in February.
Senator I wanted to talk about abortion.

Francis Schaeffer noted:
Abortion is not a "Roman Catholic issue." This must be emphasized. Those who oppose it by conveying the idea that only the Roman Catholic Church is against abortion. We must indeed be glad for the Roman Catholics who have spoken out, but we must not allow the position to be minimized as though it is a "religious" issue. It is not a religious issue.
This line of attack has been carried so far that some lawyers want to rule out discussion at all, on the basis that it is only a Roman Catholic issue and therefore a violation of the separation of church and state. The issue, however, is not "divided along religious lines," and it has nothing to do with the separation of church and state.
(Under footnote 36)
Harold O.J. Brown has this to say about the separation of church and state: "No American historian would seriously contend that the phrase 'regarding an establishment of religion' in the First Amendment means anything other than what it says:it forbids the establishment of state churches, as both Massachusetts and Connecticut had them at the time of the amendment's adoption and retained them for many years to come. The limitations of federal power contained in the Bill of Rights have subsequently been extended to apply to the individual states as well. Yet even when applied to the states, the First Amendment means only that no state may establish a state church, just as the federal government may not establish a national church. It certainly did not mean, in its conception, that nothing in public law or policy may reflect the convictions or insights of any church or of the Christian religion [see Harold O.J. Brown, "The Passivity of American Christians," CHRISTIANITY TODAY, January 16, 1976].
(End of footnote #36)
The issue of the humanness of the unborn child is one raised by many people across a vast spectrum of religious backgrounds, and, happily, also by thousands who have not religion at all. A picture in the INTERNATIONAL HERALD TIMES of January 25, 1978, showed a Washington protest march on the fifth anniversary of the Supreme Court decision that restricted the rights of states to regulate and thereby curtail the spread of abortion. The most outstanding sign being carried read: IF MY MOM DIDN'T CARE–I MIGHT NOT BE HERE–THANKS MOM! The young girl carrying that sign did not have to be religious to paint and carry it; all she needed was to be glad she was not aborted. And the right of that girl to express her views on life and death to those who represent here in the democratic process and to be heard in the courts depends only on her being a citizen of the United States. Abortion is not a religious issue. It is a human issue!
Nor is abortion a feminist issue, any more than slavery was only a slave owner's issue. Abortion has been tacked onto the feminist issue, with the feminist issue being used to carry abortion. But there is no intrinsic relationship between them. The fate of the unborn is a question of the fate of the human race. We are one human family. If the rights of one part of that family are denied, it is of concern to each of us. What is at stake is no less than the essence of what freedom and rights are all about.
(Under footnote 37)
More and more feminists are disgusted with the realities of the abortion situation. One such group is known as Women Exploited. Their leader, Sandra Haun, testified before the Pennsylvania legislature as follows: "The members of our organization have all had abortions and have come to realize, too late, that our decision was wrong. We were encouraged and pushed into a hasty decision that now we find impossible to live with. We were lied to and deliberately misinformed."
(End of footnote 37)
Francis Schaeffer
Sincerely,
Everette Hatcher III, 13900 Cottontail Lane, Alexander, AR 72002, ph 501-920-5733 everettehatcher@gmail.com
Related posts:
(Emailed to White House on 12-21-12.) President Obama c/o The White House 1600 Pennsylvania Avenue NW Washington, DC 20500 Dear Mr. President, I know that you receive 20,000 letters a day and that you actually read 10 of them every day. I really do respect you for trying to get a pulse on […]By Everette Hatcher III | Posted in Milton Friedman, President Obama, spending out of control, Taxes | Edit | Comments (0)
(Emailed to White House on 12-21-12.) President Obama c/o The White House 1600 Pennsylvania Avenue NW Washington, DC 20500 Dear Mr. President, I know that you receive 20,000 letters a day and that you actually read 10 of them every day. I really do respect you for trying to get a pulse on what is […]By Everette Hatcher III | Posted in Milton Friedman, President Obama, Ronald Reagan, spending out of control, Taxes | Edit | Comments (0)
(Emailed to White House on 12-21-12) President Obama c/o The White House 1600 Pennsylvania Avenue NW Washington, DC 20500 Dear Mr. President, I know that you receive 20,000 letters a day and that you actually read 10 of them every day. I really do respect you for trying to get a pulse on what is […]By Everette Hatcher III | Posted in President Obama, Ronald Reagan, spending out of control, Taxes | Edit | Comments (0)
The federal government has a spending problem and Milton Friedman came up with the negative income tax to help poor people get out of the welfare trap. It seems that the government screws up about everything. Then why is President Obama wanting more taxes? _______________ Milton Friedman – The Negative Income Tax Published on […]By Everette Hatcher III | Posted in President Obama, spending out of control, Taxes | Edit | Comments (0)
I was sad to read that the Speaker John Boehner has been involved in punishing tea party republicans. Actually I have written letters to several of these same tea party heroes telling them that I have emailed Boehner encouraging him to listen to them. Rep. David Schweikert (R-AZ),Justin Amash (R-MI), and Tim Huelskamp (R-KS). have been contacted […]By Everette Hatcher III | Posted in Current Events, Speaker of the House John Boehner, spending out of control | Edit | Comments (0)
Michael Tanner of the Cato Institute in his article, "Hitting the Ceiling," National Review Online, March 7, 2012 noted: After all, despite all the sturm und drang about spending cuts as part of last year's debt-ceiling deal, federal spending not only increased from 2011 to 2012, it rose faster than inflation and population growth combined. […]By Everette Hatcher III | Posted in spending out of control, Taxes| Edit | Comments (0)
Michael Tanner of the Cato Institute in his article, "Hitting the Ceiling," National Review Online, March 7, 2012 noted: After all, despite all the sturm und drang about spending cuts as part of last year's debt-ceiling deal, federal spending not only increased from 2011 to 2012, it rose faster than inflation and population growth combined. […]By Everette Hatcher III | Posted in spending out of control, Taxes| Edit | Comments (0)
Some of the heroes are Mo Brooks, Martha Roby, Jeff Flake, Trent Franks, Duncan Hunter, Tom Mcclintock, Devin Nunes, Scott Tipton, Bill Posey, Steve Southerland and those others below in the following posts. THEY VOTED AGAINST THE DEBT CEILING INCREASE IN 2011 AND WE NEED THAT TYPE OF LEADERSHIP NOW SINCE PRESIDENT OBAMA HAS BEEN […]By Everette Hatcher III | Posted in spending out of control, Taxes| Edit | Comments (0)
I hated to see that Allen West may be on the way out. ABC News reported: Nov 7, 2012 7:20am What Happened to the Tea Party (and the Blue Dogs?) Some of the Republican Party's most controversial House members are clinging to narrow leads in races where only a few votes are left to count. […]By Everette Hatcher III | Posted in Current Events | Edit | Comments (0)
Rep Himes and Rep Schweikert Discuss the Debt and Budget Deal Michael Tanner of the Cato Institute in his article, "Hitting the Ceiling," National Review Online, March 7, 2012 noted: After all, despite all the sturm und drang about spending cuts as part of last year's debt-ceiling deal, federal spending not only increased from 2011 […]By Everette Hatcher III | Posted in spending out of control, Taxes| Edit | Comments (0)
—