——
–
California Dream Could Become a Nightmare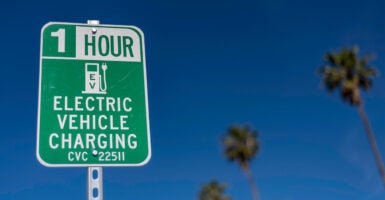 "Well, they're out there a-having fun In that warm California sun."
—1964 song by The Rivieras
California has become an example of what a state looks like when it is controlled by a single party—in this case Democrats—who are trying to impose a green energy secular religion on their people.
State officials have banned the sale of gas-powered cars by 2035, but a preview of the nightmare that could occur in the near future is happening now.
There are approximately 29 million cars, light trucks and motorcycles in the state. By some estimates it will take fifteen years to fully transition to all electric vehicles. Currently, reports the Associated Press, California has about 80,000 re-charging stations in public places, "far short of the 250,000 it wants by 2025."
CalMatters columnist Dan Walters gets to the heart of the problem for electric car enthusiasts:
Let's say someone living in San Francisco wanted to drive to Lake Tahoe for skiing? A 150-mile range would not even cover a one-way trip. The solution might be lots of recharging stations along interregional highways, but whereas a fill-up of gasoline might take 10 minutes, recharging electric cars now takes much longer.

Is California willing to build the hundreds of thousands of recharging stations a complete conversion to battery-powered cars would require? Could Californians drive their mandated ZEVs into other states without running out of juice?
There are other concerns, such as the cost of EVs, the life of batteries and the high cost of replacing them, the source of lithium from countries that are poor practitioners of human rights, as well as where all the required new electricity will come from (mainly fossil fuels now, though greenies think costly and ugly windmills, wind and solar sources can produce sufficient power, which is unlikely).
There is little consideration for increasing the availability of nuclear power, again because of the left's antipathy toward that clean energy source.
Then there is the premise on which "climate change" is based. It is more theoretical than scientific (remember "global cooling"?); more political than logical.
With China and India still producing the most CO2, will electric cars in America address the perceived problem? Not according to David Kelly, academic director of the Master of Science in Sustainable Business Program at the University of Miami: "You have to think about what is the lowest cost way to get where we want to go. So, if the goal is to reduce carbon emissions or other pollutants, then electric vehicles are unlikely to be that." Kelly drives a Tesla.
California is ordering its people to abandon choice when it comes to transportation in favor of expensive electric vehicles that are unlikely to provide the freedom they now enjoy with their gasoline-powered cars, all because of a secular faith that claims to know best what is good for us.
COPYRIGHT 2022 TRIBUNE CONTENT AGENCY
The Daily Signal publishes a variety of perspectives. Nothing written here is to be construed as representing the views of The Heritage Foundation.
Have an opinion about this article? To sound off, please email letters@DailySignal.com and we'll consider publishing your edited remarks in our regular "We Hear You" feature. Remember to include the url or headline of the article plus your name and town and/or state.
Want to keep up with the 24/7 news cycle? Want to know the most important stories of the day for conservatives? Need news you can trust? Subscribe to The Daily Signal's email newsletter. Learn more >>
—-
—
John Stossel: Through 50 years of reporting on scares, only COVID proved true
I hear that climate change will destroy much of the world.
"There will be irreversible damage to the planet!" warns a CNN anchor.
Joe Biden says he'll spend $500 billion a year to fight what his website calls an "existential threat to life."
Really?
I'm a consumer reporter. Over the years, alarmed scientists have passionately warned me about many things they thought were about to kill Americans.
Asbestos in hair dryers, coffee, computer terminals, electric power lines, microwave ovens, cellphones (brain tumors!), electric blankets, herbicides, plastic residue, etc., are causing "America's cancer epidemic"!
If those things don't get us, "West Nile Virus will!" Or SARS, Bird Flu, Ebola, flesh-eating bacteria or "killer bees."
Experts told me millions would die on Jan. 1, 2000, because computers couldn't handle the switch from 1999. Machines would fail; planes would crash.
The scientists were well-informed specialists in their fields. They were sincerely alarmed. The more knowledge you have about a threat, the more alarmed you get.
Yet, mass death didn't happen. COVID-19 has been the only time in my 50 years of reporting that a scare proved true.
Maybe you accepted the phrase I used above: "America's cancer epidemic." But there is no cancer epidemic. Cancer rates are down. We simply live long enough to get diseases like cancer. But people think there's a cancer epidemic.
The opposite is true. As we've been exposed to more plastics, pesticides, mysterious chemicals, food additives and new technologies, we live longer than ever!
Advertisement – story continues below
That's why I'm skeptical when I'm told: Climate change is a crisis!
Climate change is real. It's a problem, but I doubt that it's "an existential threat."
Saying that makes alarmists mad.
When Marc Morano says it, activists try to prevent him from speaking.
"They do not want dissent," says Morano, founder of ClimateDepot.com, a website that rebuts much of what climate activists teach in schools.
"It's an indoctrination that's so complete that by the time (kids) get to high school, they're not even aware that there's any scientific dissent."
Morano's new movie, "Climate Hustle 2," presents that dissent. My new video this week features his movie.
Morano argues that politicians use fear of global warming to gain power.
"Climate Hustle 2" features Sen. Chuck Schumer shouting: "If we would do more on climate change, we'd have fewer of these hurricanes and other types of storms! Everyone knows that!"
But everyone doesn't know that. Many scientists refute it. Congress' own hearings include testimony about how our warmer climate has not caused increases in the number of hurricanes or tornadoes. "Climate Hustle 2" includes many examples like that.
"Why should we believe you?" I ask Morano. "You're getting money from the fossil fuel industry." After all, Daily Kos calls him "Evil Personified" and says ExxonMobil funds him.
"Not at all," he replies. "I'm paid by about 90% individual contributions from around the country. Why would ExxonMobil give me money (when) they want to appear green?"
Morano's movie frustrates climate activists by pointing out how hypocritical some are.
Actor Leonardo DiCaprio says he lives a "green lifestyle … (using) energy-efficient appliances. I drive a hybrid car."
Then he flies to Europe to attend a party.
I like watching Morano point out celebrities' hypocrisy, but think one claim in his movie goes too far.
"Stopping climate change is not about saving the planet," says narrator Kevin Sorbo. "It's about climate elites trying to convince us to accept a future where they call all the shots."
I push back at Morano: "I think they are genuinely concerned, and they want to save us."
"Their vision of saving us is putting them in charge," he replies.
And if they're in charge, he says, they will destroy capitalism.
—-
State of the Union 2013
Published on Feb 13, 2013
Cato Institute scholars Michael Tanner, Alex Nowrasteh, Julian Sanchez, Simon Lester, John Samples, Pat Michaels, Jagadeesh Gokhale, Michael F. Cannon, Jim Harper, Malou Innocent, Juan Carlos Hidalgo, Ilya Shapiro, Trevor Burrus and Neal McCluskey respond to President Obama's 2013 State of the Union Address.
Video produced by Caleb O. Brown, Austin Bragg and Lester Romero.
_______________
In the past I have written the White House on several issues such as abortion, medicare, welfare,  Greece, healthcare, and what the founding fathers had to say about welfare programs,   and have got several responses from the White House concerning issues such as Obamacare, Social Security, welfare,  and excessive government spending.
Today I am taking a look at the response of the scholars of the Heritage Foundation and the Cato Institute scholars to the 2013 State of the Union Address.
February 13, 2013 at 8:22 am
State of the…Climate?
Swept into office four years ago based, in part, on promises to slow sea-level rise, President Obama initiated a radical climate agenda. It seems we are seeing a rerun in 2013. It is worth asking what is different four years after his first State of the Union Address?
There have been four more years of no global warming. In 2010, there had been no significant world temperature increase for over a decade. The streak is now 16 years long. We have four years of costly lessons on the waste and inefficiency of green-energy subsidies.
The scientific basis for catastrophic climate change gets weaker and weaker. The economic argument for green subsidies has already collapsed. It is time for the administration to quit using both arguments to justify a regulatory and fiscal power grab.
– David W. Kreutzer, PhD, research fellow in energy economics and climate change, Center for Data Analysis
Related posts:
Is President Obama gutting the welfare reform that Bill Clinton signed into law? Morning Bell: Obama Denies Gutting Welfare Reform Amy Payne August 8, 2012 at 9:15 am The Obama Administration came out swinging against its critics on welfare reform yesterday, with Press Secretary Jay Carney saying the charge that the Administration gutted the successful […]
Senator Blunt Vows to Keep Pressure on President Obama Over Contraceptive Mandate Uploaded by HeritageFoundation on Feb 13, 2012 http://blog.heritage.org/2012/02/13/sen-blunt-vows-to-keep-pressure-on-obama-… | Sen. Roy Blunt (R-MO) introduced legislation to protect religious organizations from Obamacare's overreach last summer. Now, as President Obama presses forward with his anti-conscience mandate, Blunt is prepared to keep the pressure on the […]
Max Brantley is wrong about Tom Cotton's accusation concerning the rise of welfare spending under President Obama. Actually welfare spending has been increasing for the last 12 years and Obama did nothing during his first four years to slow down the rate of increase of welfare spending. Rachel Sheffield of the Heritage Foundation has noted: […]