–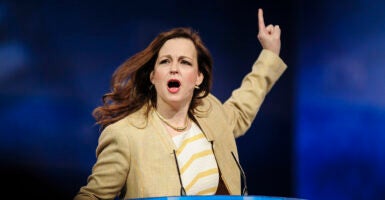 Jenny Beth Martin, a founder of Tea Party Patriots, warns that the skyrocketing number of Internal Revenue Service agents under the Biden administration could herald the return of a politicized tax agency targeting conservatives.
"I said back then, if they're not held accountable, other bureaucrats will think that they are able to abuse the law in an even more egregious manner and get away with it," Martin, a Florida resident, said in a phone interview with The Daily Signal.
"What concerns me is what we're hearing right now with these 87,000 new IRS agents, they have such enormous power, they can garnish wages, they can levy bank accounts, they can put liens on your property," Martin said.
In 2013, conservatives accused the Internal Revenue Service of unfairly targeting their organizations as they sought IRS approval for tax-exempt status.
The agency admitted it had selected specific groups applying for tax-exempt status—either 501(c)(3) or 501(c)(4)—for additional and intense scrutiny based only on their names and political affiliations.
Most of the time, the IRS targeted conservative groups, looking for words in their names such as "freedom," "liberty," and "patriots."
Conservative organizations were forced to endure years of waiting to receive information from the IRS regarding their applications.
"I believe that we applied in 2010 and then that we did not hear back until about 2012," Martin, 52, recalled. "So [it took] almost two years, which is odd because normally you get an approval very quickly."
And when conservative groups did hear back, she said, they were subjected to onerous questioning that went far beyond what was necessary to determine whether they qualified as tax-exempt organizations.
"They wanted to know what was said at our events. They wanted to have access to the back end of our website so they could read stuff on our website," Martin said of the IRS questions. "So they were asking for things that were outside of what they should have been asking for."
Eventually, the allegations that the IRS was targeting conservatives got so bad that Congress stepped in.
The House Oversight and Government Reform Committee called then-IRS Commissioner Douglas H. Shulman to testify about the allegations in 2012. Shulman testified that the IRS was not targeting conservative groups, then resigned later that year.
Also in Republican lawmakers' crosshairs: Lois Lerner, then director of the IRS' Exempt Organizations Unit, which approved or rejected applications for tax-exempt status.
Lerner appeared before the House committee May 22, 2013, and testified briefly that she had "not broken any laws" or "violated any IRS rules or regulations." She then cited her Fifth Amendment right not to incriminate herself and refused to testify further.
As the committee pursued the matter, lawmakers called Martin to testify about how her group had been targeted by the IRS.
The IRS chose that time to approve the tax-exempt status for Tea Party Patriots.
"It still took another over a year before they finally approved our status," Martin said. "[But] they called our attorneys, telling us it was approved the day before I was testifying before Congress about it."
All in all, it took her organization two and half years to get that IRS final approval.
Although her group eventually got its tax exemption and Lerner resigned from the IRS, Martin told The Daily Signal that the government employees responsible for dragging their feet in scrutinizing conservative groups never received any punishment.
"The people at the IRS who broke laws were never held accountable," she said.
To Martin, her prediction that the government would act to censor conservatives could be coming true, and it would have chilling consequences specifically for free speech.
"The aftermath initially for us when they were targeting tea party groups is that it had a chilling effect on speech and a chilling effect on the First Amendment," Martin told The Daily Signal.  "We were assembling together to exercise our grievances to our government peacefully."
She continued:
If the targeting goes on the way that we're seeing it right now, I think that people are going to be afraid to express who they support. I think they're going to be much more careful about what they say, especially what they say in public or even online.
Martin concluded the interview with a call to "repair the foundations" of faith in government by holding government agencies accountable.
"If we do not find a way to fill the cracks and to repair the foundation, which in this case will be restoring faith in the government agencies and departments and seeing a chance of true accountability happening, then the problems will get worse," she said. "So we have to find a way to hold the people accountable who are abusing their power."
Have an opinion about this article? To sound off, please email letters@DailySignal.com and we'll consider publishing your edited remarks in our regular "We Hear You" feature. Remember to include the url or headline of the article plus your name and town and/or state.
Several scholars have pointed out that Lois Lerner waived her right to invoke the 5th!!!! The Heritage Foundation, The Washington Post, and The Week, all have articles on this issue. Here is one below I found on Townhall.com:
There was no way Lois Lerner's part in the IRS saga would end quietly, even as she invoked her right to remain silent.
Rep. Darrell Issa, chairman of the House Oversight and Government Reform Committee,  boldly asserted this afternoon that Lerner "waived" her right to plead the Fifth Amendment when she made an opening statement at this morning's hearing. From POLITICO:
The California Republican said Lerner's Fifth Amendment right to avoid self-incrimination was voided when she gave an opening statement this morning denying any wrongdoing and professing pride in her government service.

"When I asked her her questions from the very beginning, I did so so she could assert her rights prior to any statement," Issa told POLITICO. "She chose not to do so — so she waived." …

"The precedents are clear that this is not something you can turn on and turn off," he told POLITICO. "She made testimony after she was sworn in, asserted her innocence in a number of areas, even answered questions asserting that a document was true … So she gave partial testimony and then tried to revoke that." …

"I understand from her counsel that there was a plan to assert her Fifth Amendment rights," he continued. "She went ahead and made a statement, so counsel let her effectively under the precedent, waive — so we now have someone who no longer has that ability."
Essentially, he argues, her opening statement, in which she proclaimed her innocence, constituted a forfeiture of Fifth Amendment protection because she spoke on her own behalf about her involvement in the matter. Issa intends to invite Lerner before the committee again in the hopes of conducting a proper grilling, and others–including Rep. Trey Gowdy–agree that she must now give testimony.
"Mr. Cummings just said we should run this hearing like a courtroom, and I agree with him," Gowdy thundered. "[Lerner] just testified. She just waived her Fifth Amendment right. You don't get to tell your side of the story and then not be subjected to cross examination — that's not the way it works. She waived her right to Fifth Amendment privilege by issuing an opening statement. She ought to stand here and answer our questions."
However, it's not so simple as that. Legal scholars say that the Fifth Amendment works differently in Congressional fact-finding hearings than in a court of law–one cannot simply conflate the two, as they exist for different purposes. Fifth Amendment expert James Duane gave the following explanation (h/t to Allahpundit for the link):
First, unlike in a trial, where she could choose to take the stand or not, Lerner had no choice but to appear before the committee. Second, in a trial there would be a justifiable concern about compromising a judge or jury by providing them with "selective, partial presentation of the facts." But Congress is merely pursuing information as part of an investigation, not making a definitive ruling on Lerner's guilt or innocence.

"When somebody is in this situation," says Duane, a Harvard Law graduate whose 2008 lecture on invoking the Fifth Amendment with police has been viewed on YouTube nearly 2.5 million times, "when they are involuntarily summoned before grand jury or before legislative body, it is well settled that they have a right to make a 'selective invocation,' as it's called, with respect to questions that they think might raise a meaningful risk of incriminating themselves."

In fact, Duane says, "even if Ms. Lerner had given answers to a few questions — five, ten, twenty questions — before she decided, 'That's where I draw the line, I'm not answering any more questions,' she would be able to do that as well." Such uses of selective invocation "happen all the time."
Unfortunately for Issa and company, it seems Lerner was within her rights to make a statement and then clam up. Of course, drawing greater attention to her silence could, ultimately, help in the investigation of the IRS; if they ask her back and she stonewalls, the public might want to know why. Hopefully, in any event, someone–anyone–will bear some legitimate responsibility for the whole affair, and lose the job they clearly never should have had in the first place.
Related posts:
We got to lower the size of government so we don't have these abuses like this in the IRS. Cartoonists v. the IRS May 23, 2013 by Dan Mitchell Call me perverse, but I'm enjoying this IRS scandal. It's good to see them suffer a tiny fraction of the agony they impose on the American people. I've already […]
Dear Senator Pryor, Why not pass the Balanced  Budget Amendment? As you know that federal deficit is at all time high (1.6 trillion deficit with revenues of 2.2 trillion and spending at 3.8 trillion). On my blog http://www.HaltingArkansasLiberalswithTruth.com I took you at your word and sent you over 100 emails with specific spending cut ideas. However, […]
Is the irs out of control? Here is the link from cato: MAY 22, 2013 8:47AM Can You Vague That Up for Me? By TREVOR BURRUS SHARE As the IRS scandal thickens, targeted groups are coming out to describe their ordeals in dealing with that most-reviled of government agencies. The Ohio Liberty Coalition was one of […]
Get Ready to Be Reamed May 17, 2013 by Dan Mitchell With so many scandals percolating, there are lots of good cartoons being produced. But I think this Chip Bok gem deserves special praise. It manages to weave together both the costly Obamacare boondoggle with the reprehensible politicization of the IRS. So BOHICA, my friends. If […]
You want to talk about irony then look at President Obama's speech a few days ago when he joked about a potential audit of Ohio St by the IRS then a few days later the IRS scandal breaks!!!! The I.R.S. Abusing Americans Is Nothing New Published on May 15, 2013 The I.R.S. targeting of tea party […]
Dear Senator Pryor, Why not pass the Balanced  Budget Amendment? As you know that federal deficit is at all time high (1.6 trillion deficit with revenues of 2.2 trillion and spending at 3.8 trillion). On my blog http://www.HaltingArkansasLiberalswithTruth.com I took you at your word and sent you over 100 emails with specific spending cut ideas. However, […]
We could put in a flat tax and it would enable us to cut billions out of the IRS budget!!!! May 14, 2013 2:34PM IRS Budget Soars By Chris Edwards Share The revelations of IRS officials targeting conservative and libertarian groups suggest that now is a good time for lawmakers to review a broad range […]
The IRS has thuggish employees and the President  was right to condemn their latest actions. Let's Thank President Obama for Reminding Americans that They Should Distrust the IRS May 14, 2013 by Dan Mitchell Last week, while writing about the latest IRS scandal, I noted that the IRS has a long record of abusive actions. It has thieving employees. […]