—
If Joe Biden's bungled economic policy is any indication, the GOP may wind up controlling Washington in the not-too-distant future.
If so, I hope Republicans rekindle their interest in the kind of genuine entitlement reform discussed in this interview.
But I'm not sure whether to be optimistic or pessimistic.
On the plus side, the GOP supported pro-growth entitlement reform
during the Obama years.
On the minus side, the party largely punted on the issue once Trump took over.
To be sure, punting is the easy route from a "public choice" perspective. Politicians like offering freebies to voters and many voters like getting handouts.
However, that approach means America's economy is weakened by an ever-growing burden of federal spending and eventually is plunged into fiscal crisis.
And that's based on the programs that already exist. Joe Biden wants to expand the welfare state with even more entitlements!
The Wall Street Journal editorialized about the downside of making America more like Europe last October.
The result of…expanded entitlements is likely to be reduced incentives to work and invest, slower economic growth, lower living standards, and less fiscal space for essential public goods like national defense. That's the lesson from Europe's cradle-to-grave welfare states… Europe's little-discussed secret is that its cradle-to-grave welfare states are financed by the middle class via value-added and payroll taxes. The combined employer-employee social security tax rate is 36% in Spain, 40% in Italy and 65% in France. Value-added taxes in most European economies are around 20%. There simply aren't enough rich to finance their entitlements.
Amen. I've repeatedly warned that a European-sized welfare state would mean European-sized taxes on lower-income and middle-class Americans.
And what's remarkable (and discouraging) is that some politicians in the U.S. want to expand entitlements even though many European governments now realize they made big mistakes and need to scale back.
The irony is that some European governments have tried to reform their tax and welfare systems to become more competitive. Germany and Sweden over two decades reformed their welfare and labor policies. …Other European governments are also pushing welfare-state reforms. French President Emmanuel Macron has passed pension reform and cut the corporate tax rate to 26.5% from 33% in 2017… Greece is pulling out of its debt trap with Prime Minister Kyriakos Mitsotakis's tax, pension and regulatory reforms.
For what it's worth, I'm happy about these reforms, but I fear many European nations are in the too-little-too-late category.
Why? Because the demographic outlook is deteriorating faster than reform is happening. In other words, most of them are probably destined to suffer Greek-style fiscal crises.
But if (or when) that happens, maybe American politicians will finally wake up
and realize we need good reforms to prevent Social Security, Medicare, and Medicaid from causing a similar collapse on this side of the Atlantic Ocean..
Hopefully that epiphany will take place before it is too late for the United States.
P.S. For those who are interested in the history of fiscal policy, John Cogan of the Hoover Institution wrote about pre-20th-century entitlements earlier this year.
Here are excerpts from his column in the Wall Street Journal.
The history of U.S. entitlements is a 230-year record of continuous expansion… The first major entitlement, Revolutionary War disability benefits, was initially restricted to members of the Continental Army and Navy who were injured in battle and survivors of those killed in wartime.Eligibility was then expanded, first to state militia soldiers, then to veterans whose disabilities were unrelated to wartime service, and eventually to virtually all people who served during the war regardless of disability. Civil War disability pensions followed the same…process, except on a far grander scale. Pensions were initially confined to U.S servicemen who suffered wartime injuries and survivors of those killed in battle. Eventually they were extended to virtually all union Civil War veterans regardless of disability. …Congress followed the same liberalizing process with 20th-century entitlements.
If this excerpt doesn't satisfy your curiosity, here's Cogan discussing the topic for 46 minutes.
P.P.S. Not all entitlement reform is created equal.
P.P.P.S. Here an informative chart if you want to know whether to blame defense spending or entitlement spending.
P.P.P.P.S. I always argue in favor of a Swiss-style spending cap, which presumably would force politicians to address America's entitlement problem.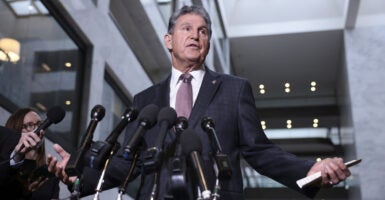 Capitol Hill staffers are working around the clock to hammer into some twisted shape a spending bill that warring factions of the Democratic Party will support in their goal to transform America.
The cradle-to-grave subsidies in the 2,448-page, $3.5 trillion spending bill that Democrats in Congress are crafting will create a welfare trap for millions more Americans, send inflation soaring, and drive our nation much deeper into debt.
Economic policy professor Chuck Blahous of the Mercatus Center at George Mason University analyzed the health benefit proposals in the spending bill. He wrote that expanding Medicare, Medicaid, and "so-called Obamacare" will "represent a major escalation of the fiscal irresponsibility lawmakers have practiced for the past several years."
Former White House chief economist Casey Mulligan, now a professor at the University of Chicago, wrote that the spending bill would "implement the single largest permanent increase in work disincentives since the income tax came into its own during World War II."
"The implicit employment and income taxes in [this legislation] would increase marginal tax rates on work by about 7 percentage points," he wrote. "I expect that such a change in the disincentive would reduce full-time equivalent employment by about 4.5%, or about 7 million jobs."
University of Chicago professor Charles Lipson wrote in "It's Not the Top-Line Number—It's the Bottom-Line Goal" that the spending bill would fundamentally transform the United States into a European social welfare state.
"Progressives know—and the whole country should understand—that piling on these vast new programs would be a major step in turning the United States into a European-style social democracy, along the lines of France, Germany, Spain, or Italy," Lipson wrote. "Voters never elected [Joe] Biden to do that."
The legislation is so huge and complex that even the Congressional Budget Office says "it is unclear" when it will be able to estimate the cost of the full spending bill, which is itself a moving target.
Congressional Budget Office Director Phillip Swagel wrote in a letter to Senate Minority Leader Mitch McConnell, R-Ky., last week, "The agency has not estimated how the entire package would affect direct spending, revenues, deficits, or spending that would be subject to appropriation. [The Congressional Budget Office] also has not completed its analysis of all of the mandates that the bill might impose on intergovernmental or private-sector entities."
He says that instead of doing their primary job of estimating costs, Congressional Budget Office experts are spending time with congressional staff drafting the complex bill.
John Goodman, president of the Goodman Institute for Public Policy Research, wrote that the proposed bill is "throwing good money after bad" instead of focusing "on rational reform of existing programs."
Because entitlements comprise so much of the new spending, Goodman wrote, "The Committee for a Responsible Federal Budget estimates that the full cost is not the $3.5 trillion that has been widely advertised, but at least $5 trillion and possibly as much as $5.5 trillion."
Apart from direct federal spending, there are other huge costs to the private economy.  It would cost about $171 billion in the first year just to provide the salaries and facility spaces to meet the demand for increased subsidized child care, according to an analysis by Tara O'Neill Hayes of American Action Forum.
Blahous' "A Pictorial Guide to Congress' Irresponsible Health and Budget Proposals," shows that the Democrats' proposed legislation "adds substantially to runaway federal spending that is already outpacing U.S. economic output."
In a dozen or so charts, Blahous shows how the spending blowout will influence the vast number of affected programs. "In practical terms, the current trend must stop," he wrote. "No population will tolerate its discretionary income perpetually shrinking to support lawmakers' addiction to promising bigger health benefits."
Halloween is the new target date for passage. We should all be scared. When even the Congressional Budget Office is daunted in figuring out how much the monstrous bill would cost, it is way past time to press "pause," as Sen. Joe Manchin, D-W.Va., pleads.
Have an opinion about this article? To sound off, please email letters@DailySignal.com and we'll consider publishing your edited remarks in our regular "We Hear You" feature. Remember to include the URL or headline of the article plus your name and town and/or state.
---
House Democrats are moving ahead with a huge bill to raise taxes on businesses and individuals, increase welfare handouts, and micromanage numerous industries. It is a complex proposal that would increase taxes $2.1 trillion over 10 years with 66 provisions and would distribute tax breaks and spending with another 79 provisions.
The following table is my summary of the bill based on the official estimates. The bill would raise $2.073 trillion in taxes, distribute $1.202 trillion to infrastructure, green, and safety net programs, and leave $871 billion in higher taxes to be used for other spending in the overall Democratic agenda. Of the $1.202 trillion, 43 percent is tax cuts and 57 percent is spending through refundable tax credits.
Here is a brief summary of the Democratic tax plan:
Subtitle F, Infrastructure. The main provisions are subsidies for infrastructure bonds, building rehabilitation, and the low‐​income housing tax credit (LIHTC). The LIHTC is an awful, fraud‐​ridden program that mainly benefits developers. That the tax bill would expand it by $29 billion illustrates the absence of evidence‐​based policymaking in Washington.
Subtitle G, Green Energy. The main provisions are subsidies for electric utilities, biofuels, energy efficiency, and electric vehicles. The subsidies are mainly in the form of tax credits, which are nearly always complex and difficult to administer.
Subtitle H, Safety Net. The main provisions would expand the child tax credit (CTC), the earned income tax credit (EITC), and the child and dependent care tax credit (CDCTC). The official scoreshows that three‐​quarters of CTC and EITC benefits are spending, not tax cuts.
Subtitle I, Tax Increases. The $2.1 trillion in tax hikes include raising the corporate tax rate ($540 billion), raising taxes on business foreign operations ($424 billion), and raising income and capital gains taxes on individuals and small businesses ($1 trillion).
The Democratic tax plan would seize $2.1 trillion from the private economy and use it to micromanage industries and buy votes with handouts to favored interests. The actions of seizing, micromanaging, and handing out benefits would each distort the economy and reduce overall national income.
There would be other costs of the plan. The 145 provisions and the follow‐​on regulations would generate large administrative and compliance costs, which would only benefit high‐​paid lawyers and accountants. Another cost would be diverting the energies of the nation's business leaders and entrepreneurs from making better products to dealing with all the new rules.
Below is a JCT table showing projected taxes by income level under present law and under the Democratic proposal in 2023. I circled the overall effective tax rates, meaning total federal income, payroll, and excise taxes as a percent of income. Under present law, the average tax rate at the top is 30 percent, which compares to 0–10 percent for groups at the bottom. If the tax plan passed, the average tax rate at the top would rise to 37 percent, while tax rates at the bottom would fall, going negative for some groups as CTC and EITC expansion wiped out all federal taxes for many additional households.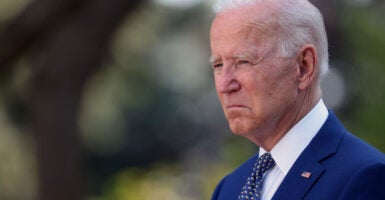 Last week, the U.N. Intergovernmental Panel on Climate Change ordered a "code red," releasing a "landmark" report warning that global warming was an existential threat to humanity, "unequivocally" blaming humans for the problem, and demanding rapid action to cut greenhouse gas emissions.
"What the IPCC told us is what President [Joe] Biden has believed all along," White House press secretary Jen Psaki noted last Tuesday. "Climate change is an urgent threat that requires bold action."
The very next day, the Biden administration released a statement imploring the OPEC cartel to increase production of oil to help lower worldwide gas prices. "Higher gasoline costs," the White House said, "if left unchecked, risk harming the ongoing global recovery." The White House wants OPEC to go above the 400,000-barrels-per-day increase it already promised to implement, which doesn't seem to jibe with the notion that we are on the precipice of the apocalypse.
As an economic matter, of course, the request makes total sense: By pressuring exporters to pump more oil, a fungible commodity, we lower costs worldwide.
Even though technology continues to create efficiencies that lower emissions, modernity relies heavily on affordable and reliable energy. Economies would collapse without it. And for emerging nations, affordable fossil fuel remains a prerequisite for lifting billions of people out of poverty.
As a political matter, it might seem odd, to say the least, that President Joe Biden is imploring foreign nations to increase supply. Firstly, such a position runs contrary to virtually every "green" plan in existence—almost all of which intentionally, through mandates or bans or taxes or contrived "markets," exist to make fossil fuels more expensive and reduce use.
Clean energy advocates, including the president, argue that, in the aggregate, going green would be an economic plus. But if slightly higher prices threaten the world's economic health, what would complete weaning from fossil fuels do to the economy? Biden has promised a "100% clean energy economy" with "net-zero emissions" in only a few decades. Without some technological miracle, this is a fantastical, not to mention suicidal, goal.
The reality is that Biden couldn't go a year in office without pleading with oilocracies to hike production. In his defense, one assumes, people will point out that COVID-19 presents a historically unique situation. As far as the economics of recovery go, not really. In fact, this manmade downturn should be easier to mend than most. And this is certainly not the last recession or downturn or pandemic or world event that is going to affect the energy market.
Though it's probably an unpopular position, I'd be content importing cheap oil, or allowing others to flood the market, while saving our own supply for a time when new drilling becomes more economically feasible. But the hypocrisy of all this is that Biden works to restrict energy trade only in North America.
Earlier this year, the president rescinded oil and gas lease sales from most of the nation's massive state-owned lands and waters, citing climate change as the reason. He then shut down the Keystone XL pipeline, revoking a permit that was needed to build a 1,200-mile project that would have carried around 830,000 barrels per day of Alberta oil sands crude into the United States—probably more than enough to avoid begging OPEC for oil—again citing climate change as the reason.
At the same time, Biden lifted United States sanctions that would have blocked completion of the Nord Stream 2 natural gas pipeline that will transport fuel from Russia to Germany, which, like us, is a signee of the Paris Agreement.
Most European nations aren't abiding by that agreement (well, without the help of an economy-paralyzing pandemic). Which is a reminder that to merely keep pace with the IPCC recommendations on carbon emissions, Americans, who use around 20 million barrels of petroleum every day, would be compelled to induce a pandemic-level shutdown of the economy every year for 30 years.
Americans, despite what they tell pollsters about climate change, demand affordable gas. You might recall that, despite his best efforts to undermine U.S. energy production, former President Barack Obama took credit for the domestic oil and gas boom. "That was me, people," he told a crowd in 2018. Political pressure is also why the White House made sure its OPEC statement on gas prices was for public consumption, rather than simply making those requests of OPEC through diplomatic channels.
The Green New Deal, whatever iteration of the plan you care to support, is unfeasible. Biden's request is just another reminder.
COPYRIGHT 2021 CREATORS.COM
—-
—
John Stossel: Through 50 years of reporting on scares, only COVID proved true
I hear that climate change will destroy much of the world.
"There will be irreversible damage to the planet!" warns a CNN anchor.
Joe Biden says he'll spend $500 billion a year to fight what his website calls an "existential threat to life."
Really?
I'm a consumer reporter. Over the years, alarmed scientists have passionately warned me about many things they thought were about to kill Americans.
Asbestos in hair dryers, coffee, computer terminals, electric power lines, microwave ovens, cellphones (brain tumors!), electric blankets, herbicides, plastic residue, etc., are causing "America's cancer epidemic"!
If those things don't get us, "West Nile Virus will!" Or SARS, Bird Flu, Ebola, flesh-eating bacteria or "killer bees."
Experts told me millions would die on Jan. 1, 2000, because computers couldn't handle the switch from 1999. Machines would fail; planes would crash.
The scientists were well-informed specialists in their fields. They were sincerely alarmed. The more knowledge you have about a threat, the more alarmed you get.
Yet, mass death didn't happen. COVID-19 has been the only time in my 50 years of reporting that a scare proved true.
Maybe you accepted the phrase I used above: "America's cancer epidemic." But there is no cancer epidemic. Cancer rates are down. We simply live long enough to get diseases like cancer. But people think there's a cancer epidemic.
The opposite is true. As we've been exposed to more plastics, pesticides, mysterious chemicals, food additives and new technologies, we live longer than ever!
Advertisement – story continues below
That's why I'm skeptical when I'm told: Climate change is a crisis!
Climate change is real. It's a problem, but I doubt that it's "an existential threat."
Saying that makes alarmists mad.
When Marc Morano says it, activists try to prevent him from speaking.
"They do not want dissent," says Morano, founder of ClimateDepot.com, a website that rebuts much of what climate activists teach in schools.
"It's an indoctrination that's so complete that by the time (kids) get to high school, they're not even aware that there's any scientific dissent."
Morano's new movie, "Climate Hustle 2," presents that dissent. My new video this week features his movie.
Morano argues that politicians use fear of global warming to gain power.
"Climate Hustle 2" features Sen. Chuck Schumer shouting: "If we would do more on climate change, we'd have fewer of these hurricanes and other types of storms! Everyone knows that!"
But everyone doesn't know that. Many scientists refute it. Congress' own hearings include testimony about how our warmer climate has not caused increases in the number of hurricanes or tornadoes. "Climate Hustle 2" includes many examples like that.
"Why should we believe you?" I ask Morano. "You're getting money from the fossil fuel industry." After all, Daily Kos calls him "Evil Personified" and says ExxonMobil funds him.
"Not at all," he replies. "I'm paid by about 90% individual contributions from around the country. Why would ExxonMobil give me money (when) they want to appear green?"
Morano's movie frustrates climate activists by pointing out how hypocritical some are.
Actor Leonardo DiCaprio says he lives a "green lifestyle … (using) energy-efficient appliances. I drive a hybrid car."
Then he flies to Europe to attend a party.
I like watching Morano point out celebrities' hypocrisy, but think one claim in his movie goes too far.
"Stopping climate change is not about saving the planet," says narrator Kevin Sorbo. "It's about climate elites trying to convince us to accept a future where they call all the shots."
I push back at Morano: "I think they are genuinely concerned, and they want to save us."
"Their vision of saving us is putting them in charge," he replies.
And if they're in charge, he says, they will destroy capitalism.
—-
State of the Union 2013
Published on Feb 13, 2013
Cato Institute scholars Michael Tanner, Alex Nowrasteh, Julian Sanchez, Simon Lester, John Samples, Pat Michaels, Jagadeesh Gokhale, Michael F. Cannon, Jim Harper, Malou Innocent, Juan Carlos Hidalgo, Ilya Shapiro, Trevor Burrus and Neal McCluskey respond to President Obama's 2013 State of the Union Address.
Video produced by Caleb O. Brown, Austin Bragg and Lester Romero.
_______________
In the past I have written the White House on several issues such as abortion, medicare, welfare,  Greece, healthcare, and what the founding fathers had to say about welfare programs,   and have got several responses from the White House concerning issues such as Obamacare, Social Security, welfare,  and excessive government spending.
Today I am taking a look at the response of the scholars of the Heritage Foundation and the Cato Institute scholars to the 2013 State of the Union Address.
February 13, 2013 at 8:22 am
State of the…Climate?
Swept into office four years ago based, in part, on promises to slow sea-level rise, President Obama initiated a radical climate agenda. It seems we are seeing a rerun in 2013. It is worth asking what is different four years after his first State of the Union Address?
There have been four more years of no global warming. In 2010, there had been no significant world temperature increase for over a decade. The streak is now 16 years long. We have four years of costly lessons on the waste and inefficiency of green-energy subsidies.
The scientific basis for catastrophic climate change gets weaker and weaker. The economic argument for green subsidies has already collapsed. It is time for the administration to quit using both arguments to justify a regulatory and fiscal power grab.
– David W. Kreutzer, PhD, research fellow in energy economics and climate change, Center for Data Analysis
Related posts:
Is President Obama gutting the welfare reform that Bill Clinton signed into law? Morning Bell: Obama Denies Gutting Welfare Reform Amy Payne August 8, 2012 at 9:15 am The Obama Administration came out swinging against its critics on welfare reform yesterday, with Press Secretary Jay Carney saying the charge that the Administration gutted the successful […]
Senator Blunt Vows to Keep Pressure on President Obama Over Contraceptive Mandate Uploaded by HeritageFoundation on Feb 13, 2012 http://blog.heritage.org/2012/02/13/sen-blunt-vows-to-keep-pressure-on-obama-… | Sen. Roy Blunt (R-MO) introduced legislation to protect religious organizations from Obamacare's overreach last summer. Now, as President Obama presses forward with his anti-conscience mandate, Blunt is prepared to keep the pressure on the […]
Max Brantley is wrong about Tom Cotton's accusation concerning the rise of welfare spending under President Obama. Actually welfare spending has been increasing for the last 12 years and Obama did nothing during his first four years to slow down the rate of increase of welfare spending. Rachel Sheffield of the Heritage Foundation has noted: […]