—
Serious budget people, regardless of their ideology, know this is true.
Almost everything Biden has done since taking office has expanded the burden of government.
For instance, he pushed through a so-called stimulus scheme, followed by a boondoggle-filled infrastructure plan.
Both of which are captured in this chart from Brian Riedl.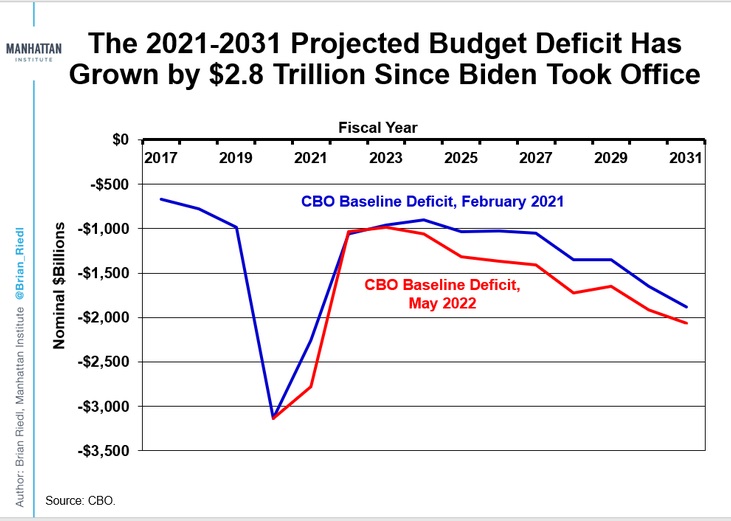 By the way, it would be better if the chart focused on how the spending burden has increased. After all, deficits should be viewed as the symptom. The real disease is excessive government.
That being said, either type of chart would look far worse if Biden had been able to convince Congress to approve $trillions of additional spending as part of his "build back better" proposal.
One final point is that Biden also has added to the fiscal burden of government with the pen-and-phone approach.
The Congressional Budget Office estimates that Biden has added $532 billion of extra spending via executive orders and other unilateral decisions.
P.S. I have no doubt Trump and many other politicians of both parties also would be taking credit for falling deficits if they were in Biden's position. After all, politicians are probably the least ethical people in the nation. And Washington brings out the worst of the worst.
P.P.S. There is a risk that a slimmed-down version of Biden's "build back better" plan is being resuscitated. That would be bad news for the economy. Not as bad as the original version, to be sure, but it's crazy to enact anti-growth proposals with the economy teetering on the edge of recession (especially since some of the specific provisions are so misguided).
Since the economy suffers when tax rates go up and the burden of government spending increases, there obviously are plenty of awful features in President Biden's newly released budget.
If I had to select a worst feature, though, I'd be tempted to pick the proposed spending hikes that Biden is seeking for some of Washington's most-wasteful bureaucracies.
Here's a chart from a story in today's Washington Post (based on Table S-8 in the budget), which summarizes how much additional "discretionary spending" Biden is seeking.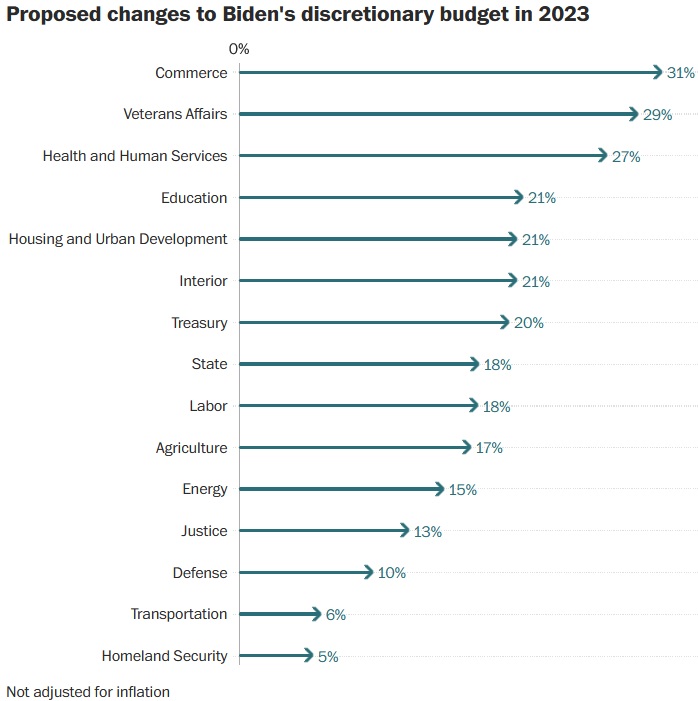 Why am I upset about these proposed spending increases?
From a big-picture economic perspective, it's bad fiscal policy to allow the burden of government spending to grow faster than the private sector.
And since Biden is projecting that real GDP will grown by 2.8 percent next year and inflation will be 2.1 percent during the same period (see Table S-9 of the budget), he obviously wants all these bureaucracies to enjoy big increases (unlike families, who are losing ground compared to inflation).
But I'm also irked from a targeted fiscal perspective. That's because Biden wants giant spending increases for bureaucracies that should not even exist.
Here's what I've written about some of them.
By the way, "worst feature" is not the same as most economically damaging feature.
There are two other parts of Biden's budget that definitely will cause more harm.
These tax increases and entitlement expansions will do considerably more damage than the discretionary spending increases excerpted above.
But it's still an outrage that Biden is shoveling more money at some of Washington's most wasteful and counterproductivebureaucracies.
Ep. 4 – From Cradle to Grave [6/7]. Milton Friedman's Free to Choose (1980)
March 1, 2021
President Biden c/o The White House
1600 Pennsylvania Avenue NW
Washington, DC 20500
Dear Mr. President,
Thank you for taking time to have your office try and get a pulse on what is going on out here in the country. I wanted to let you know what I think about the minimum wage increase you have proposed for the whole country and I wanted to quote Milton Friedman who you are familiar with and you made it clear in July that you didn't care for his views! Let me challenge you to take a closer look at what he had to say!
Democrats are just making things up to advance their job-killing cause.
_____________
Thank you so much for your time. I know how valuable it is. I also appreciate the fine family that you have and your commitment as a father and a husband.
Sincerely,
Everette Hatcher III, 13900 Cottontail Lane, Alexander, AR 72002, ph 501-920-5733
Williams with Sowell – Minimum Wage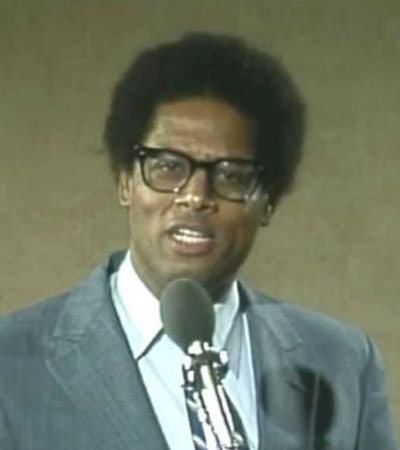 Thomas Sowell – Reducing Black Unemployment
—-
Ronald Reagan with Milton Friedman
Milton Friedman The Power of the Market 2-5