_
If people really care about helping the poor, they should focus instead on reforms that actually have a proven track record of reducing poverty.
Thomas Piketty is a big proponent of class-warfare tax policy because he views inequality as a horrible outcome.
But a soak-the-rich policy agenda, echoed by many other academics such as Emmanuel Saez and Gabriel Zucman, is fundamentally misguided.If people really care about helping the poor, they should focus instead on reforms that actually have a proven track record of reducing poverty.
The fact that they fixate on inequality makes me wonder about their motives.
And it also leads me to find their work largely irrelevant. I don't care if they produce detailed long-run data on changes in inequality.
I prefer detailed long-run data on changes in poverty.
That being said, it appears that some of Piketty's data is sloppy.
I shared some evidence about his bad numbers back in 2014. And, in a column for the Wall Street Journal, Phil Magness of the American Institute for Economic Research and Professor Vincent Geloso of George Mason University expose another glaring flaw

…the Piketty-Saez theory is less a matter of history than an accounting error caused by their misunderstanding of World War II-era tax statistics. …It's true that income inequality declined in the early part of the 20th century, but the cause had more to do with the economic devastation of the Great Depression than the New Deal tax regime. …they failed to account properly for historical changes in how the Internal Revenue Service reported income-tax statistics.As a result, their numbers systematically overstate the levels of top income concentrations by as much as a third …Between 1943 and 1944 the tax collection agency shifted from tracking "net income" to "adjusted gross income," or AGI…a truer depiction of annual earnings… Yet Messrs. Piketty and Saez didn't bring pre-1944 IRS records into line with AGI accounting standards. Instead, they applied a fixed and arbitrary adjustment to all years before the AGI accounting change that conveniently scaled upward to the highest income brackets. …They used the wrong accounting definition for personal income and neglected to adjust their data for wartime distortions on tax reporting. When we corrected these problems, something stunning happened. The overall level of top income concentration flattened, and the timing of its leveling shifted away from the World War II-era tax rates that Messrs. Piketty and Saez place at the center of their story.
Here's a chart that accompanied the column, showing how accurate data changes the story.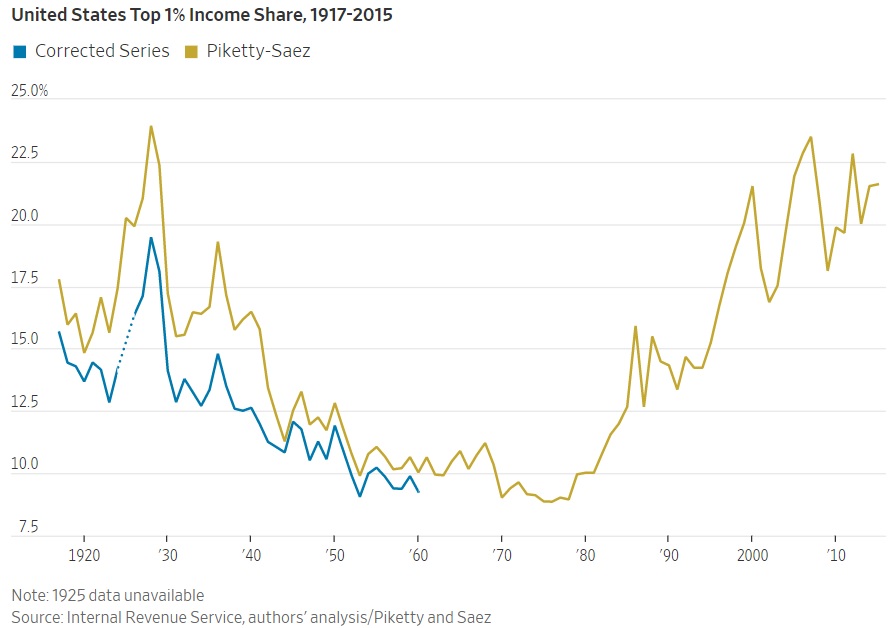 Since today's column debunks sloppy class warfare, let's travel back to 2014, when Deirdre McCloskey reviewed Pikittey's tome for the Erasmus Journal of Philosophy and Economics.
She also thought his fixation on envy was misguided.

…in Piketty's tale the rest of us fall only relatively behind the ravenous capitalists. The focus on relative wealth or income or consumption is one serious problem in the book. …What is worrying Piketty is that the rich might possibly get richer, even though the poor get richer too.His worry, in other words, is purely about difference, about the Gini coefficient, about a vague feeling of envy raised to a theoretical and ethical proposition. …Piketty and much of the left…miss the ethical point…of lifting up the poor…by the dramatic increase in the size of the pie, which has historically brought the poor to 90 or 95 percent of "enough", as against the 10 or 5 percent attainable by redistribution without enlarging the pie. …the main event of the past two centuries was…the Great Enrichment of the average individual on the planet by a factor of 10 and in rich countries by a factor of 30 or more.
But she also explained that he doesn't understand how the economy works.
The fundamental technical problem in the book…is that Piketty the economist does not understand supply responses. In keeping with his position as a man of the left, he has a vague and confused idea about how markets work, and especially about how supply responds to higher prices. …Piketty, it would seem, has not read with understanding the theory of supply and demand that he disparages, such as in Smith (one sneering remark on p. 9), Say (ditto, mentioned in a footnote with Smith as optimistic), Bastiat (no mention), Walras (no mention), Menger (no mention), Marshall (no mention), Mises (no mention), Hayek (one footnote citation on another matter), Friedman (pp. 548-549, but only on monetarism, not the price system). He is in short not qualified to sneer at self-regulated markets…, because he has no idea how they work.
And she concludes with a reminder that some of our left-wing friends seem most interested in punishing rich people rather than helping poor people.
The left clerisy such as…Paul Krugman or Thomas Piketty, who are quite sure that they themselves are taking the ethical high road against the wicked selfishness…might on such evidence be considered dubiously ethical. They are obsessed with first-act changes that cannot much help the poor, and often can be shown to damage them, and are obsessed with angry envy at the consumption of the uncharitable rich, of which they personally are often examples, and the ending of which would do very little to improve the position of the poor. They are very willing to stifle through taxing the rich the market-tested betterments which in the long run have gigantically helped the rest of us.
Amen. If you want to know what Deirdre means by "betterment," click here and watch her video.
P.S. Click here, here, here, and here for my four-part series on poverty and inequality. Though what Deirdre wrote in 2016 may be even better.
P.P.S. I also can't resist calling attention to the poll of economists at the end of this column.
Biography:
Click here to see the Hoover project showcasing the works of Milton and Rose Friedman.
Milton Friedman, recipient of the 1976 Nobel Memorial Prize for economic science, was a senior research fellow at the Hoover Institution from 1977 to 2006. He passed away on Nov. 16, 2006. (Link to obituary.) He was also the Paul Snowden Russell Distinguished Service Professor Emeritus of Economics at the University of Chicago, where he taught from 1946 to 1976, and a member of the research staff of the National Bureau of Economic Research from 1937 to 1981.
Friedman was awarded the Presidential Medal of Freedom in 1988 and received the National Medal of Science the same year.
He was widely regarded as the leader of the Chicago School of monetary economics, which stresses the importance of the quantity of money as an instrument of government policy and as a determinant of business cycles and inflation.
In addition to his scientific work, Friedman also wrote extensively on public policy, always with a primary emphasis on the preservation and extension of individual freedom. His most important books in this field are (with Rose D. Friedman) Capitalism and Freedom (University of Chicago Press, 1962); Bright Promises, Dismal Performance (Thomas Horton and Daughters, 1983), which consists mostly of reprints of columns he wrote for Newsweek from 1966 to 1983; (with Rose D. Friedman) Free to Choose (Harcourt Brace Jovanovich, 1980), which complements a ten-part television series of the same name shown over the Public Broadcasting Service (PBS) network in early 1980; and (with Rose D. Friedman) Tyranny of the Status Quo (Harcourt Brace Jovanovich, 1984), which complements a three-part television series of the same name, shown over PBS in early 1984.
He was a member of the President's Commission on an All-Volunteer Armed Force and the President's Commission on White House Fellows. He was a member of President Ronald Reagan's Economic Policy Advisory Board (a group of experts from outside the government named in 1981 by President Reagan).
Friedman was also active in public affairs, serving as an informal economic adviser to Senator Barry Goldwater in his unsuccessful campaign for the presidency in 1964, to Richard Nixon in his successful 1968 campaign, to President Nixon subsequently, and to Ronald Reagan in his 1980 campaign.
He has published many books and articles, most notably A Theory of the Consumption Function, The Optimum Quantity of Money and Other Essays, and (with A. J. Schwartz) A Monetary History of the United States, Monetary Statistics of the United States, and Monetary Trends in the United States and the United Kingdom.
He was a past president of the American Economic Association, the Western Economic Association, and the Mont Pelerin Society and was a member of the American Philosophical Society and the National Academy of Sciences.
He was awarded honorary degrees by universities in the United States, Japan, Israel, and Guatemala, as well as the Grand Cordon of the First Class Order of the Sacred Treasure by the Japanese government in 1986.
Friedman received a B.A. in 1932 from Rutgers University, an M.A. in 1933 from the University of Chicago, and a Ph.D. in 1946 from Columbia University.
Two Lucky People, his and Rose D. Friedman's memoirs, was published in 1998 by the University of Chicago Press.
_
https://www.youtube.com/watch?v=1EwaLys3Zak

Related posts:
Milton Friedman The Power of the Market 1-5 How can we have personal freedom without economic freedom? That is why I don't understand why socialists who value individual freedoms want to take away our economic freedoms. I wanted to share this info below with you from Milton Friedman who has influenced me greatly over the […] By Everette Hatcher III | Posted in Milton Friedman | Tagged arnold schwarzenegger. | Edit | Comments (0)
Milton Friedman: Free To Choose – The Failure Of Socialism With Ronald Reagan (Full) Published on Mar 19, 2012 by NoNationalityNeeded Milton Friedman's writings affected me greatly when I first discovered them and I wanted to share with you. We must not head down the path of socialism like Greece has done. Abstract: Ronald Reagan […] By Everette Hatcher III | Posted in Milton Friedman, President Obama | Edit | Comments (1)
________________
Worse still, America's depression was to become worldwide because of what lies behind these doors. This is the vault of the Federal Reserve Bank of New York. Inside is the largest horde of gold in the world. Because the world was on a gold standard in 1929, these vaults, where the U.S. gold was stored, […] By Everette Hatcher III | Also posted in Current Events | Edit | Comments (0)
George Eccles: Well, then we called all our employees together. And we told them to be at the bank at their place at 8:00 a.m. and just act as if nothing was happening, just have a smile on their face, if they could, and me too. And we have four savings windows and we […] By Everette Hatcher III | Also posted in Current Events | Edit | Comments (0)
Milton Friedman's Free to Choose (1980), episode 3 – Anatomy of a Crisis. part 1 FREE TO CHOOSE: Anatomy of Crisis Friedman Delancy Street in New York's lower east side, hardly one of the city's best known sites, yet what happened in this street nearly 50 years ago continues to effect all of us today. […]
By Everette Hatcher III | Also posted in Current Events | Edit | Comments (0)
____________________________ _____________

________________________________________________
_____________________________________________
Friedman Friday" Free to Choose by Milton Friedman: Episode "What is wrong with our schools?" (Part 3 of transcript and video) Here is the video clip and transcript of the film series FREE TO CHOOSE episode "What is wrong with our schools?" Part 3 of 6. Volume 6 – What's Wrong with our Schools Transcript: If it […] By Everette Hatcher III | Also posted in Vouchers | Tagged economic market., educational market, private universities, state colleges, value of education | Edit | Comments (0)
Here is the video clip and transcript of the film series FREE TO CHOOSE episode "What is wrong with our schools?" Part 2 of 6. Volume 6 – What's Wrong with our Schools Transcript: Groups of concerned parents and teachers decided to do something about it. They used private funds to take over empty stores and they […]
By Everette Hatcher III | Also posted in Vouchers | Edit | Comments (1)
Here is the video clip and transcript of the film series FREE TO CHOOSE episode "What is wrong with our schools?" Part 1 of 6. Volume 6 – What's Wrong with our Schools Transcript: Friedman: These youngsters are beginning another day at one of America's public schools, Hyde Park High School in Boston. What happens when […]
By Everette Hatcher III | Also posted in Vouchers | Tagged hidden weapons, hyde park high school, hyde park., state of vermont, vivid illustration | Edit | Comments (0)
Friedman Friday" Free to Choose by Milton Friedman: Episode "Created Equal" (Part 3 of transcript and video) Liberals like President Obama want to shoot for an equality of outcome. That system does not work. In fact, our free society allows for the closest gap between the wealthy and the poor. Unlike other countries where free enterprise and other […] By Everette Hatcher III | Posted in Milton Friedman | Tagged containment devices, equality of outcome, oil spill, youtube | Edit | Comments (0)
Free to Choose by Milton Friedman: Episode "Created Equal" (Part 2 of transcript and video) Liberals like President Obama want to shoot for an equality of outcome. That system does not work. In fact, our free society allows for the closest gap between the wealthy and the poor. Unlike other countries where free enterprise and other freedoms are […] By Everette Hatcher III | Posted in Milton Friedman | Tagged equality of outcome, menuhin school, new millionaires, world war ii | Edit | Comments (0)
Milton Friedman and Ronald Reagan Liberals like President Obama (and John Brummett) want to shoot for an equality of outcome. That system does not work. In fact, our free society allows for the closest gap between the wealthy and the poor. Unlike other countries where free enterprise and other freedoms are not present. This is a seven part series. […] By Everette Hatcher III | Posted in John Brummett, Milton Friedman, Ronald Reagan | Tagged dr friedman, equality of opportunity, equality of outcome, freedom advocates, personal freedom. | Edit | Comments (0)
I am currently going through his film series "Free to Choose" which is one the most powerful film series I have ever seen. PART 3 OF 7 Worse still, America's depression was to become worldwide because of what lies behind these doors. This is the vault of the Federal Reserve Bank of New York. Inside […]
By Everette Hatcher III | Edit | Comments (0)
I am currently going through his film series "Free to Choose" which is one the most powerful film series I have ever seen. For the past 7 years Maureen Ramsey has had to buy food and clothes for her family out of a government handout. For the whole of that time, her husband, Steve, hasn't […] By Everette Hatcher III | Edit | Comments (0)
Friedman Friday:("Free to Choose" episode 4 – From Cradle to Grave, Part 1 of 7) Volume 4 – From Cradle to Grave Abstract: Since the Depression years of the 1930s, there has been almost continuous expansion of governmental efforts to provide for people's welfare. First, there was a tremendous expansion of public works. The Social Security Act […]
By Everette Hatcher III | Edit | Comments (0)
_________________________ Pt3 Nowadays there's a considerable amount of traffic at this border. People cross a little more freely than they use to. Many people from Hong Kong trade in China and the market has helped bring the two countries closer together, but the barriers between them are still very real. On this side […] By Everette Hatcher III | Posted in Current Events, Milton Friedman | Edit | Comments (0)
Aside from its harbor, the only other important resource of Hong Kong is people __ over 4_ million of them. Like America a century ago, Hong Kong in the past few decades has been a haven for people who sought the freedom to make the most of their own abilities. Many of them are […] By Everette Hatcher III | Posted in Current Events, Milton Friedman | Edit | Comments (0)
"FREE TO CHOOSE" 1: The Power of the Market (Milton Friedman) Free to Choose ^ | 1980 | Milton Friedman Posted on Monday, July 17, 2006 4:20:46 PM by Choose Ye This Day FREE TO CHOOSE: The Power of the Market Friedman: Once all of this was a swamp, covered with forest. The Canarce Indians […]
By Everette Hatcher III | Posted in Current Events, Milton Friedman | Edit | Comments (0)
Milton Friedman: Free To Choose – The Failure Of Socialism With Ronald Reagan (Full) Published on Mar 19, 2012 by NoNationalityNeeded Milton Friedman's writings affected me greatly when I first discovered them and I wanted to share with you. We must not head down the path of socialism like Greece has done. Abstract: Ronald Reagan […] By Everette Hatcher III | Posted in Milton Friedman, President Obama | Edit | Comments (1)