_______
As a fan of sensible tax policy and tax competition, I could not resist the opportunity to visit Andorra on my current trip to Europe (as part of the Free Market Road Show).
Here's a chart that will tells you everything you need to know. Andorra's top tax rate is just 10 percent, while its neighbors (Spain and France) have top tax rates of more than 40 percent.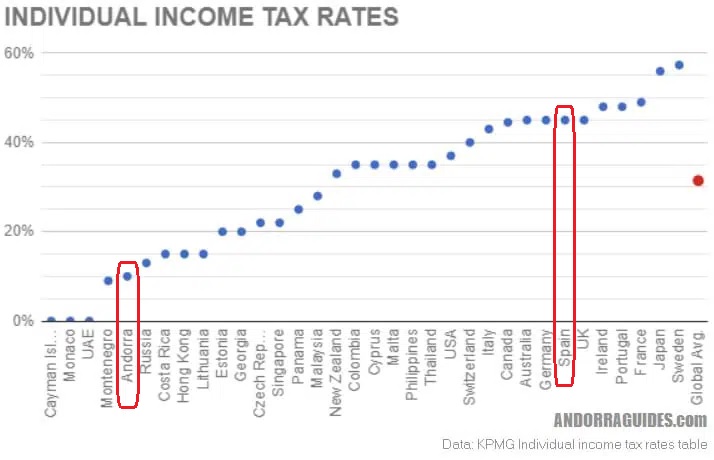 Not as good as the Cayman Islands and Monaco, to be sure, but it is obviously better to keep 90 percent of the income you earn rather than only about 50 percent in Spain or France.
Actually, you probably only get to benefit from the use of about 40 percent of your income in those two nations when you factor in the value-added tax.
Lawrence Reed of the Foundation for Economic Education recently wrote about the virtues of Andorra, including its superior tax regime.
…one of Europe's seven "micro-states," quaint and tiny nations which are political holdovers from the distant past. The other six are San Marino, Liechtenstein, Luxembourg, Monaco, Malta, and Vatican City. Andorra is landlocked and sandwiched in the eastern Pyrenees Mountains between France and Spain.…Micro-states are fascinating and among the freest enclaves in the world. …Freedom House ranks Andorra in its highest category—a "Free" country scoring an impressive 93 on a 100-point scale of political and civil liberties. …"The legal and regulatory framework," the survey reports, "is generally supportive of property rights and entrepreneurship, and there are few undue obstacles to private business activity in practice." …writes Guy Sharp, a native Andorran financial advisor…"you get many of the benefits of Europe without the high taxes." …The maximum personal income tax rate, as well as the capital gains rate, is just 10 percent. …Most goods are subject to a modest value-added tax rate of less than five percent.
I can vouch for the fact that everything is more affordable in Andorra. That nation's 4.5 percent value-added tax is akin to a modest sales tax in American states. When I'm in Spain, France, or other European countries, by contrast, you definitely feel the pain of 20 percent-plus VATs.
That being said, it's the low-rate income tax that is a magnet for jobs and investment. The nation's tax system is even attracting Spanish tax exiles.
Especially entrepreneurs who are making money online. Miodrag Pepic reports for the Valencian.
When the famous YouTube star ElRubius announced last month that he is permanently moving to Andorra, the Spanish public became aware for the first time that the most popular YouTubers are leaving the country, taking their earnings with them as well.The reason is very simple – Andorra has become a tax haven for this type of activity…many Spanish YouTubers have moved there. But ElRubius is one of the most famous. …In Spain, he would have paid up to 54% of his income in taxes, while in Andorra, the top income tax is only 10%. …The decision of ElRubius was criticised in the Spanish media as unpatriotic. …his popularity on YouTube remained undeterred, and in fact, his subscription base even grew. …There are quite a few other countries that have begun to lose their top earners, notably France and the Netherlands
Predictably, the Spanish government is not amused, as reportedby Aida Pelaez-Fernandez of Reuters.
Spain's tax agency said on Monday it would start using "big data" to track wealthy individuals who pretend to reside abroad for tax purposes. The crackdown comes after some of Spain's most popular YouTube personalities moved their residency to Andorra, a wealthy microstate perched in the Pyrenees mountains between France and Spain, with lower tax rates than its larger neighbours. …In Spain, anyone who earns above 300,000 euros per year must pay income tax of 47%, compared with a 10% flat rate charged by Andorra on earnings of more than 40,000 euros.
As you might expect, the Spanish government is not considering lower tax rates, which would be the best way of retaining successful entrepreneurs.
Instead, politicians are pushing tax policy in the wrong direction.
P.S. Here's my tourist shot from Andorra.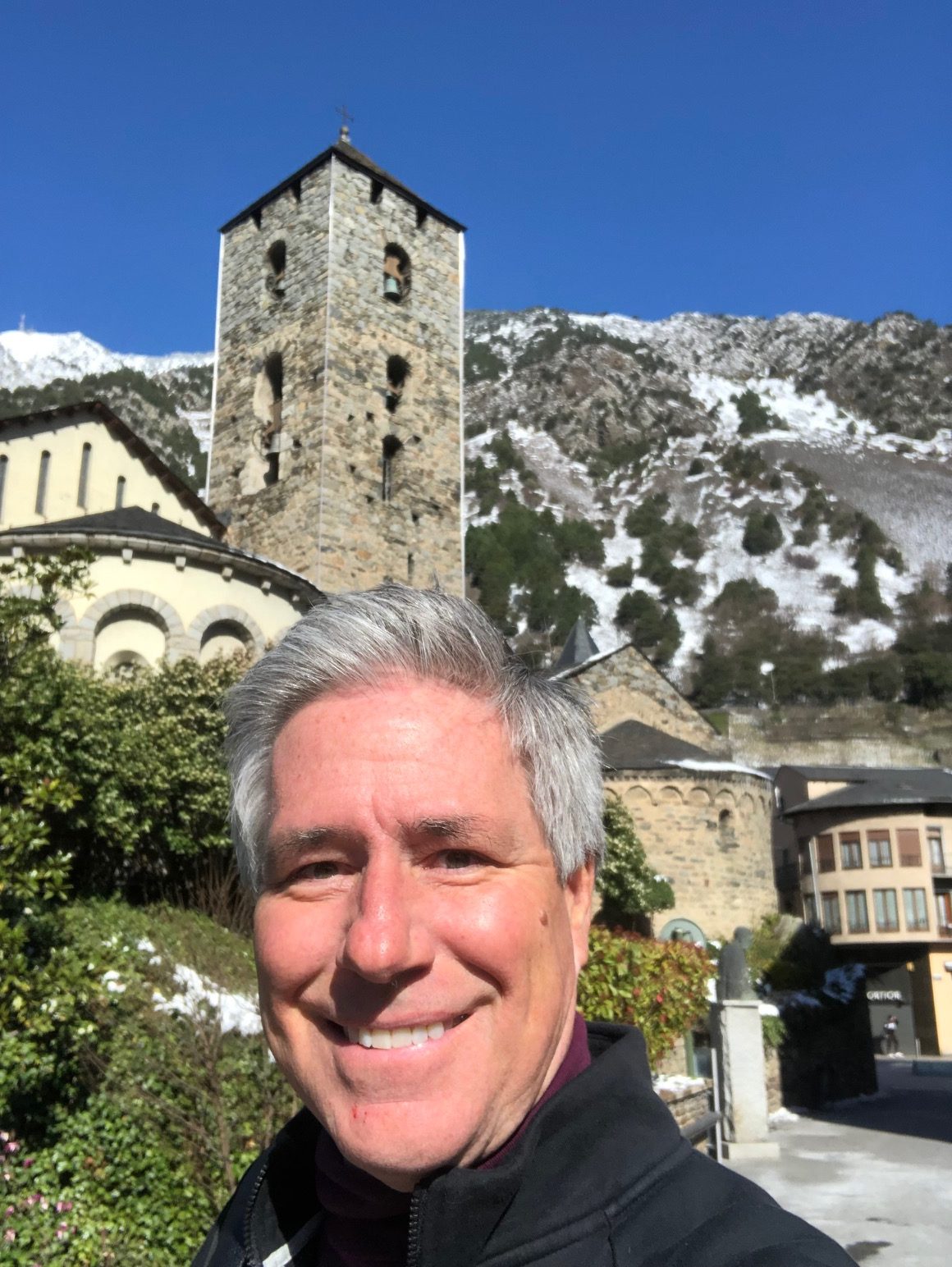 P.P.S. Of the seven European micro-states mentioned by Lawrence Reed, I've now visited San Marino, Liechtenstein, Luxembourg, Monaco, and Vatican City. I still need to get to Malta.
I've written many times about the spectacularly positive impactof pro-market reforms in Chile.
The shift toward free markets, which began in the mid-1970s, was especially beneficial for the less fortunate (see here, here, and here).
But it's quite common for critics to assert that Chile is a bad example because many of the reforms were enacted by General Augusto Pinochet, a dictator who seized power in 1973. And some of those critics also attack Milton Friedman for urging Pinochet to liberalize the economy and reduce the burden of government.
Are these critics right?
To answer that question, I very much recommend the following cartoon strip by Peter Bagge. Published by Reason, it accurately depicts the efforts of reformers to get good reforms from a bad government.
It starts in 1973, with a group of Chilean economists, known as the "Chicago Boys," who wanted free markets.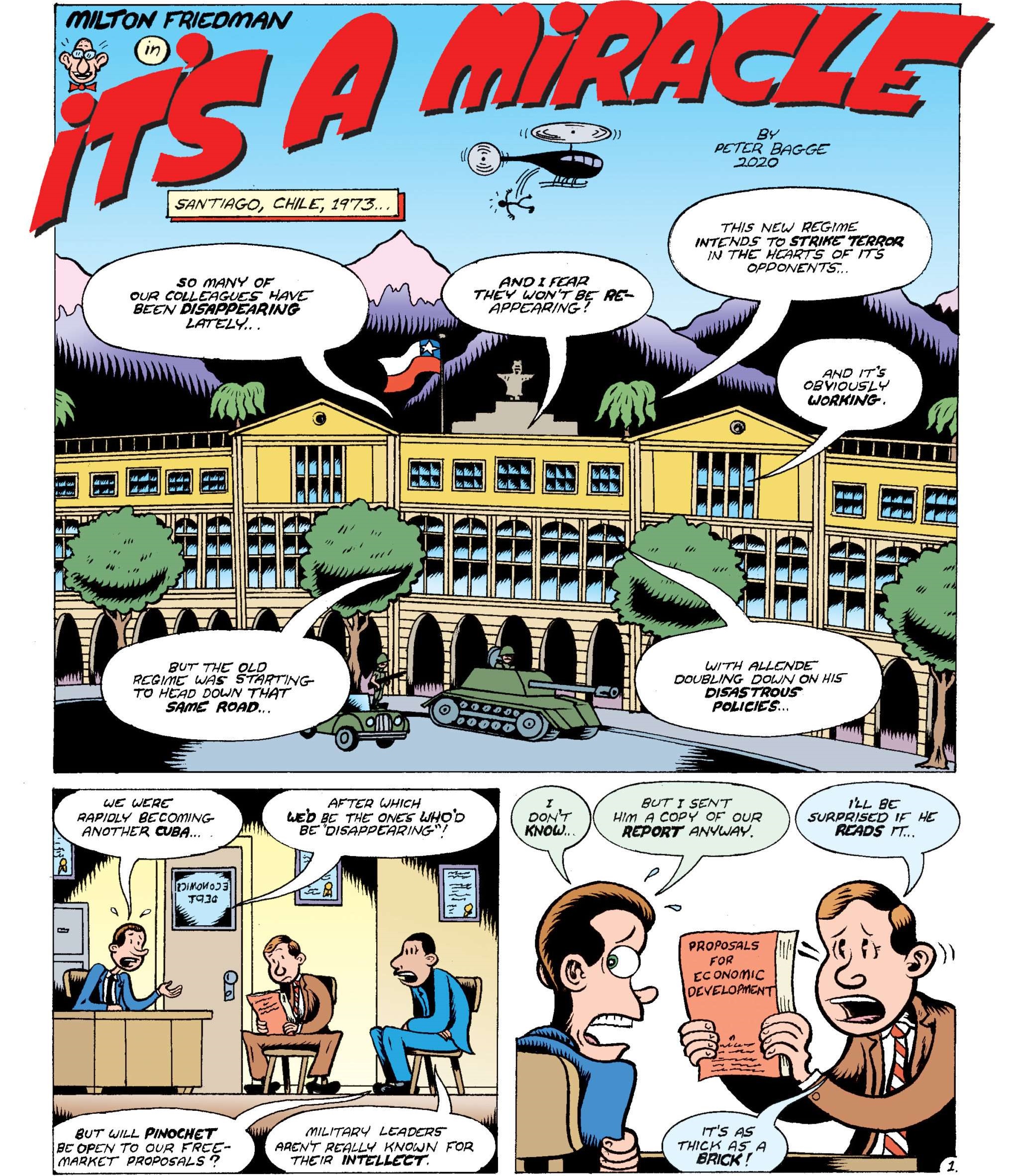 In 1975, they invited Milton Friedman to help make the case for economic reform.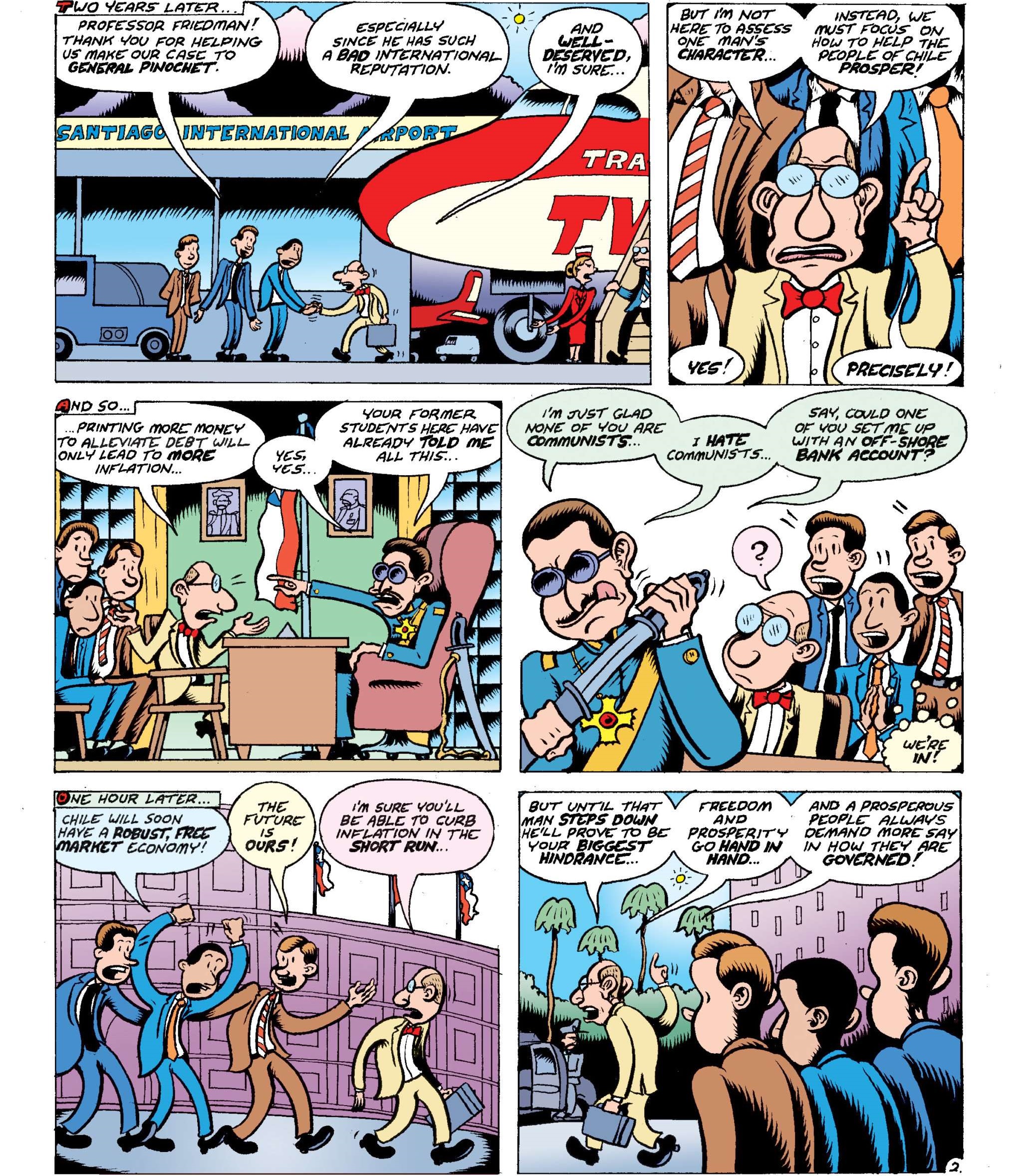 This 1982 strip shows some of the controversies that materialized.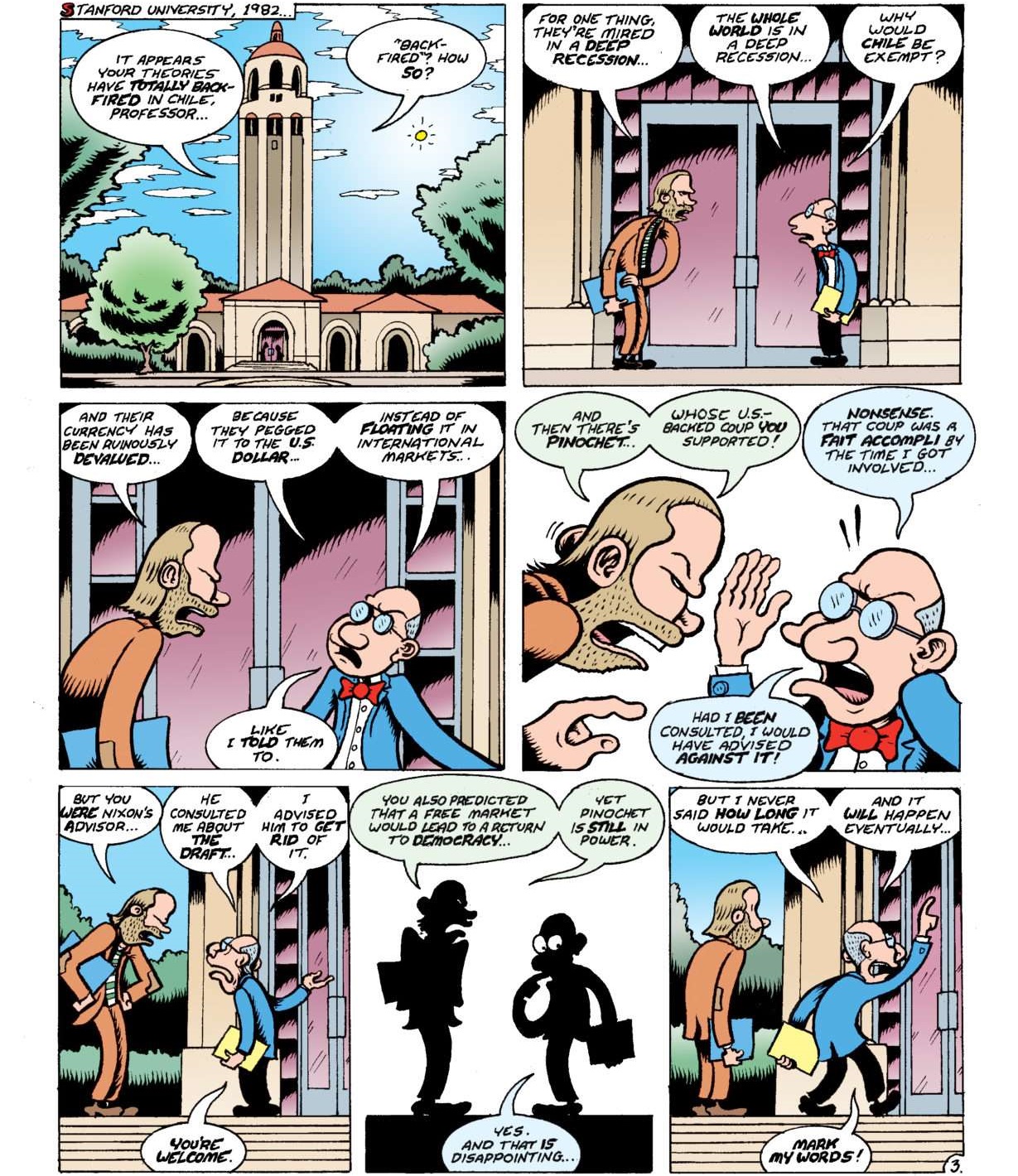 But by the time we got to the 21st century, everything Friedman said turned out to be true.
Chile had become an "improbable success."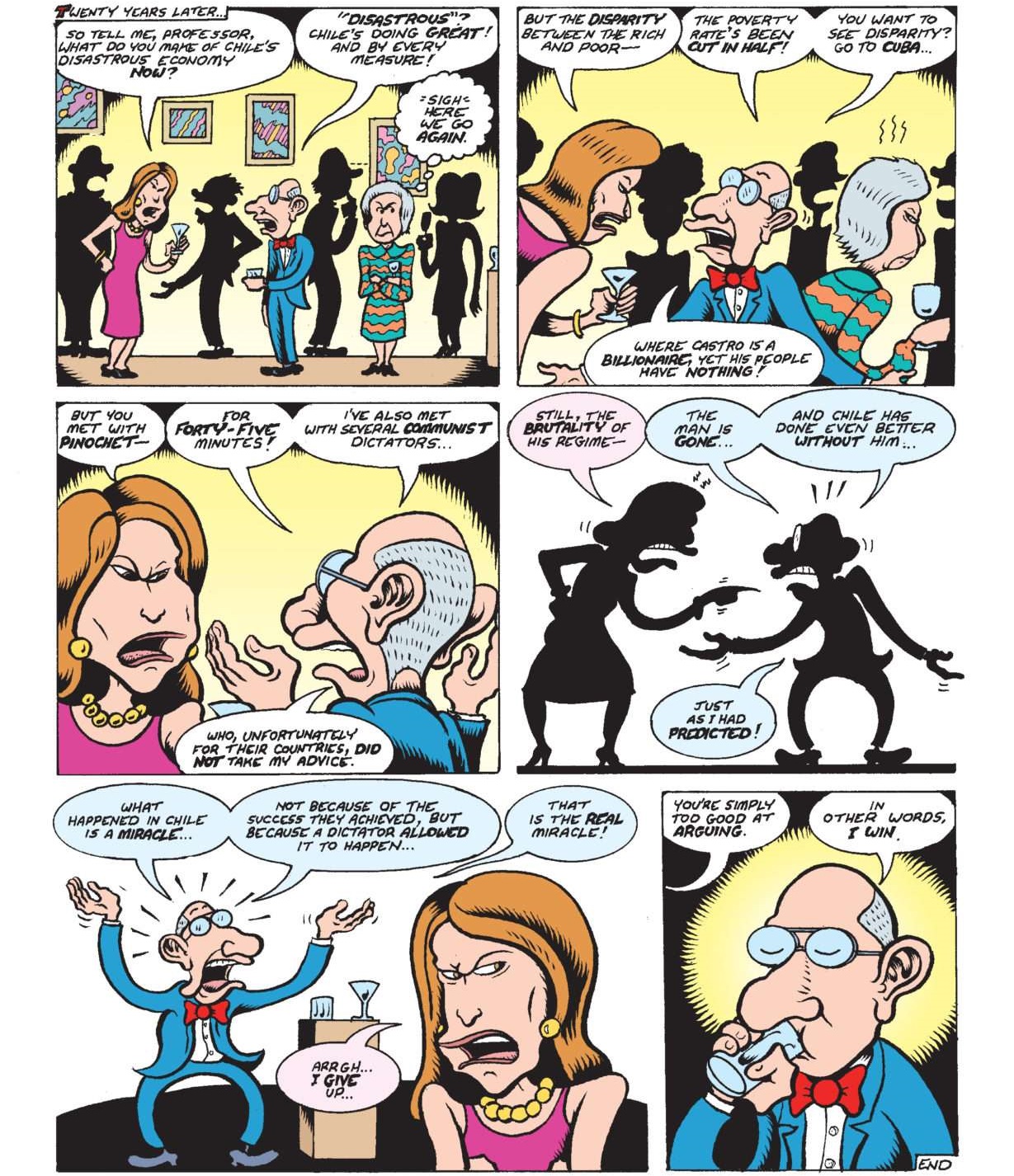 This cartoon strip is great for two reasons.
First, I'll be able to share it with people who want to delegitimize Chile's transition to a market-oriented democracy (ranked #14 according to the most-recent edition of Economic Freedom of the World). Simply stated, it was bad that Chile had a dictatorship, but it was good that the dictatorship allowed pro-market reforms (particularly when compared to the alternative of a dictatorship with no reforms). And it was great that Chile became a democracy (a process presumably aided by mass prosperity).
Second, we should encourage engagement with distasteful governments. I certainly don't endorse China's government or Russia's government, but I've advised government officials from both nations. Heck, I would even give advice to Cuba's government or North Korea's government (not that I'm expecting to be asked). My goal is to promote more liberty and it would make me very happy if I could have just a tiny fraction of Friedman's influence in pursuing that goal.
P.S. Here's Milton Friedman discussing his role in Chile.
P.P.S. While I disagree, it's easy to understand why some people try to delegitimize Chile's reforms by linking them to Pinochet. What baffles me are the folks who try to argue that the reforms were a failure. See, for instance, Prof. Dani Rodrik and the New York Times.
P.P.P.S. Critics also tried to smear Prof. James Buchanan for supporting economic liberalization in Chile.
—-
Milton Friedman is the short one!!!
Milton Friedman's Free to Choose (1980), episode 3 – Anatomy of a Crisis. part 1
___________________