<img srcset="https://s-libertaddigital-com.cdn.ampproject.org/i/s/s.libertaddigital.com/2022/01/04/300/0/miltonfriedman.jpg.webp 300w, https://s-libertaddigital-com.cdn.ampproject.org/i/s/s.libertaddigital.com/2022/01/04/600/0/miltonfriedman.jpg.webp 600w, https://s-libertaddigital-com.cdn.ampproject.org/i/s/s.libertaddigital.com/2022/01/04/1200/0/miltonfriedman.jpg.webp 1200w" alt="El economista, Milton Friedman (1912-2006) | <span>Alamy
—
In Part I of this series, Professor Don Boudreaux explained the folly of price controls, and Professor Antony Davies was featured in Part II.
Now let's see some commentary from the late, great, Milton Friedman.
As Professor Friedman explained, the economics of price controls are very clear.
When politicians and bureaucrats suppress prices, you get shortages (as all students should learn in their introductory economics classes).
Sometimes that happens with price controls on specific sectors, such as rental housing in poorly governed cities.
Sometimes it happens because of economy-wide price controls, as we saw during Richard Nixon's disastrous presidency.
In all cases, price controls are imposed by politicians who are stupid or evil. That's blunt language, but it's the only explanation.
Sadly, there will never be a shortage of those kinds of politicians, as can be seen from this column in the Wall Street Journal by Andy Kessler.
Here are some excerpts.
On the 2020 campaign trail, Joe Biden declared, " Milton Friedman isn't running the show anymore." Wrong! …Lo and behold, inflation is running at 7.9%, supply chains are tight, and many store shelves are empty. Friedman's adage "Inflation is always and everywhere a monetary phenomenon" has stood the test of time. But what scares me most is the likely policy responses by the Biden administration that would pour salt into this self-inflicted wound.It feels as if price controls are coming. …Prices set by producers are signals, and consumers whisper feedback billions of times a day by buying or not buying products. Mess with prices and the economy has no guide. The Soviets instituted price controls on everything from subsidized "red bread" to meat, often resulting in empty shelves. President Franklin D. Roosevelt's National Recovery Agency fixed prices, prolonging the Depression, all in the name of "fair competition." …Price controls don't work. Never have, never will. But we keep instituting them. Try finding a cheap apartment in rent-controlled New York City. …Sen. Elizabeth Warren, a leader among our economic illiterate, noted in February that high prices are caused in part by "giant corporations…"
He closes with a very succinct and sensible observation.
Want to whip inflation now? Forget all the Band-Aids and government controls. Instead, as Friedman suggests, stop printing money.
In other words, Mr. Kessler is suggesting that politicians do the opposite of Mitchell's Law.
Instead of using one bad policy (inflation) as an excuse to impose a second bad policy (price controls), he wants them to undo the original mistake.
Will Joe Biden and Elizabeth Warren take his advice?
That's doubtful, but I'm hoping there are more rational people in the rooms where these decisions get made.
Maybe some of them will have read this column from Professor Boudreaux.
Prices are among the visible results of the invisible hand's successful operation, as well as the single most important source of this success. Each price objectively summarizes an inconceivably large number of details that must be taken account of if the economy is to perform even moderately well. Consider the price of a loaf of a particular kind and brand of bread.…The price at the supermarket of a loaf of bread, a straightforward $4.99, is the distillation of the economic results of the interaction of an unfathomably large number of details from around the globe about opportunities, trade-offs, and preferences. The invisible hand of the market causes these details to be visibly summarized not only in the price of bread, but in the prices of all other consumer goods and services, as well as in the prices of each of the inputs used in production. …These market prices also give investors and entrepreneurs guidance on how to deploy scarce resources in ways that produce that particular mix of goods and services that will today be of greatest benefit for consumers.
I have two comments.
First, Don obviously buys fancier bread than my $1.29-a-loaf store brand (used to be 99 cents, so thanks for nothing to the Federal Reserve).
Second, and far more important, he's pointing out that market-based prices play an absolutely critical role in coordinating the desires of consumers and producers.
When politicians interfere with prices, it's akin to throwing sand in the gears of a machine.
For more information on the role of prices, I strongly recommend these videos from Professors Russ Roberts, Howard Baetjer, and Alex Tabarrok.
---
Anti‐​price gouging laws prolonged shortages of certain goods that were in high demand early in the pandemic. Some analysis suggests these laws even worsened public health outcomes, because ongoing shortages of, say, hand sanitizer and toilet paper, led to consumers in states with these regulations searching for them more at physical retailers, actually increasing transmission of the virus.
But there's an interesting question that's often underexplored in regard to these laws: how does the expectation that these price controls will be triggered shape people's beliefs about products' availability and so customer search behavior?
That's the topic of another fascinating new paper by economists Rik Chakraborti and Gavin Roberts. Using data for online searches for hand sanitizer and toilet paper across states, they harness the variation in when laws were introduced to research the question: is consumer search behaviour different in states with new anti‐​price gouging legislation introduced during the pandemic from states with pre‐​existing anti‐​price gouging laws?
Economic theory would suggest that any anti‐​price gouging legislation, whenever introduced, would lead to more consumer search for goods, due to the induced shortages. And, sure enough, after controlling for the effects of lockdowns, rising infections, and declines in travel which plagued the early stages of the pandemic, consumers in states with anti‐​price gouging laws were significantly more likely to search online for toilet paper and hand sanitizer than those in states without such laws.
More searching presumably reflects higher levels of hoarding and panic‐​buying creating the shortages—after all, having to resort to online shopping for goods that are commonly bought in stores means the local grocery or drug store has probably been emptied already.
But theory would also suggest that customers in states with past experience of anti‐​price gouging laws might search even more intensely, because people come to expect shortages again when crises hit. In other words, those who have experienced shortages before might be more likely to hoard and panic buy this time around, leading to even higher online search than in situations where new laws are introduced for the first time.
Again, Chakraborti and Roberts' paper suggests economic theory is correct. States with anti‐​price gouging regulations on the books before the pandemic saw Google Shopping searches for hand sanitizer jump by 153 percent and toilet paper searches nearly double (a 99 percent increase) relative to states without anti‐​price gouging laws. This uplift was much larger than in states where the laws were introduced during the pandemic (100 percent and 46 percent, respectively).
The long and short is that consumers in states with pre‐​existing price controls searched most intensely online for hand sanitizer and toilet paper. This suggests customers learned from previous experience of these price regulations' effects, with the higher search levels reflecting greater hoarding and panic buying in anticipation of shortages to come. As the authors state, this implies that longstanding anti‐​price gouging legislation is even worse for economic welfare than we might think. The anticipation of shortages actually compounds shortages as consumers become more "experienced," with excessive and fruitless searching for products the wasteful result.
For more on the basics of anti‐​price gouging legislation in the pandemic, see my book Economics In One Virus. Other Cato pieces can be found here, here, and here.
Way back in 2009, I shared a meme that succinctly summarizes how Washington operates.
It's basically a version of Mitchell's Law.
To elaborate, governments cause problems and politicians then use those problems as an excuse to make government even bigger.
I worry the same thing may be about to happen because of the current concern about "supply chain" issues, perhaps best illustrated by the backlog of ships at key ports, leading to shortages of key goods.
Some of this mess is fallout from the coronavirus pandemic, but it's being exacerbated by bad policy.
In a column for Reason, J.D. Tuccille points out that government is the problem, not the solution.
…supply-chain issues…create shortages and push prices up around the world. …Lockdowns also changed people's lives, closing offices and factories and confining people at home. That resulted in massive and unpredictable shifts in demand and unreliable supply. …"Market economies tend to be pretty good at getting food on the supermarket shelves and fuel in petrol stations, if left to themselves," agrees Pilkington. "That last part is key: if left to themselves. Heavy-handed interference in market economies tends to produce the same pathologies we see in socialist economies, including shortages and inflation. That has been the unintended consequence of lockdown." …The danger is that people see economic problems caused by earlier fiddling and then demand even more government intervention. …if the government were to further meddle in the market to allocate products made scarce by earlier actions, it's hard to see how the result wouldn't be anything other than increased supply chain chaos.
Allysia Finley opines for the Wall Street Journal about California's role in the supply-chain mess.
The backup of container ships at the Long Beach and Los Angeles ports has grown in recent weeks… The two Southern California ports handle only about 40% of containers entering the U.S., mostly from Asia. Yet ports in other states seem to be handling the surge better. Gov. Ron DeSantis said last month that Florida's seaports had open capacity.So what's the matter with California? State labor and environmental policies. …business groups recently asked Gov. Gavin Newsom to declare a state of emergency and suspend labor and environmental laws that are interfering with the movement of goods. …One barrier is a law known as AB5. …Trucking companies warned that the law could put small carriers out of business and cause drivers to leave the state. …there's little doubt the law hinders efficiency and productivity. …State officials have also pressed localities to attach green mandates to permits for new warehouses, which can be poison pills. …This boatload of regulations is making it more expensive and difficult to store goods arriving at California ports.
Needless to say, I'm not surprised California is making things worse.
The state seems to have some of the nation's worst politicians.
But let's set that aside and close with some discussion about one of the differences between government and the private sector.
This may surprise some readers, but people and businesses in the private sector make mistakes all the time.
So part of the supply-chain mess presumably is a result of companies and entrepreneurs making bad guesses.
That being said, there's a big feedback mechanism in the private sector. It's called profit and loss.
So when mistakes are made, there's a big incentive to quickly change.
With government, by contrast, there's very little flexibility (as we saw during the pandemic). And when politicians and bureaucrats do act, they often respond to political incentives that lead them to make things worse.
I get asked why I frequently criticize Republicans.
My response is easy. I care about results rather than rhetoric. And while GOP politicians often pay lip service to the principles of limited government,
they usually increase spending even faster than Democrats.
Indeed, Republicans are even worse than Democrats when measuring the growth of domestic spending!
This is bad news because it means the burden of government expands when Republicans are in charge.
And, as Gary Abernathy points out in a column for the Washington Post, Republicans then don't have the moral authority to complain when Democrats engage in spending binges.
President Biden is proposing another $3 trillion in spending… There are objections, but none that can be taken seriously. …Republicans had lost their standing as the party of fiscal responsibility when most of them succumbed to the political virus of covid fever and rubber-stamped around $4 trillion in "covid relief,"… With Trump out and Biden in, Republicans suddenly pretended that their 2020 spending spree happened in some alternate universe.But the GOP's united opposition to Biden's $1.9 trillion package won't wash off the stench of the hypocrisy. …I noted a year ago that we had crossed the Rubicon, that our longtime flirtation with socialism had become a permanent relationship. Congratulations, Bernie Sanders. The GOP won't become irrelevant because of its association with Trump, as some predict. It will diminish because it is bizarrely opposing now that which it helped make palatable just last year. Fiscal responsibility is dead, and Republicans helped bury it. Put the shovels away, there's no digging it up now.
For what it's worth, I hope genuine fiscal responsibility isn't dead.
Maybe it's been hibernating ever since Reagan left office (like Pepperidge Farm, I'm old enough to remember those wonderful years).
Subsequent Republican presidents liked to copy Reagan's rhetoric, but they definitely didn't copy his policies.
Spending restraint was hibernating during the presidency of George H.W. Bush.
Spending restraint also was hibernating during the presidency of George W. Bush.
And spending restraint was hibernating during the presidency of Donald Trump.
I'm not the only one to notice GOP hypocrisy.
Here are some excerpts from a 2019 column in the Washington Post by Fareed Zakaria.
In what Republicans used to call the core of their agenda — limited government — Trump has been profoundly unconservative. …Trump has now added more than $88 billion in taxes in the form of tariffs, according to the right-leaning Tax Foundation. (Despite what the president says, tariffs are taxes on foreign goods paid by U.S. consumers.) This has had the effect of reducing gross domestic product and denting the wages of Americans.…For decades, conservatives including Margaret Thatcher and Ronald Reagan preached to the world the virtues of free trade. But perhaps even more, they believed in the idea that governments should not pick winners and losers in the economy… Yet the Trump administration…behaved like a Central Planning Agency, granting exemptions on tariffs to favored companies and industries, while refusing them to others. …In true Soviet style, lobbyists, lawyers and corporate executives now line up to petition government officials for these treasured waivers, which are granted in an opaque process… On the core issue that used to define the GOP — economics — the party's agenda today is state planning and crony capitalism.
Zakaria is right about Republicans going along with most of Trump's bad policies (as illustrated by this cartoon strip).*
The bottom line is that Republicans would be much more effective arguing against Biden's spending orgy had they also argued for spending restraint when Trump was in the White House.
P.S. It will be interesting to see what happens in the near future. Will the GOP be a small-government Reagan party or a big-government Trump party?
Or maybe it will go back to being a Nixon-type party, which would mean bigger government but without mean tweets. And there are plenty of options.
If they make the wrong choice (anything other than Reaganism), Margaret Thatcher has already warned us about the consequences.
*To be fair, Republicans also went along with Trump's good policies. It's just unfortunate that spending restraint wasn't one of them.
—-
March 31, 2021
President Biden  c/o The White House
1600 Pennsylvania Avenue NW
Washington, DC 20500
Dear Mr. President,
Please explain to me if you ever do plan to balance the budget while you are President? I have written these things below about you and I really do think that you don't want to cut spending in order to balance the budget. It seems you ever are daring the Congress to stop you from spending more.
"The credit of the United States 'is not a bargaining chip,' Obama said on 1-14-13. However, President Obama keeps getting our country's credit rating downgraded as he raises the debt ceiling higher and higher!!!!
Washington Could Learn a Lot from a Drug Addict
Just spend more, don't know how to cut!!! Really!!! That is not living in the real world is it?
Making more dependent on government is not the way to go!!
Why is our government in over 16 trillion dollars in debt? There are many reasons for this but the biggest reason is people say "Let's spend someone else's money to solve our problems." Liberals like Max Brantley have talked this way for years. Brantley will say that conservatives are being harsh when they don't want the government out encouraging people to be dependent on the government. The Obama adminstration has even promoted a plan for young people to follow like Julia the Moocher.  
David Ramsey demonstrates in his Arkansas Times Blog post of 1-14-13 that very point:
Arkansas Politics / Health Care Arkansas's share of Medicaid expansion and the national debt
Posted by David Ramsey on Mon, Jan 14, 2013 at 1:02 PM
Imagine standing a baby carrot up next to the 25-story Stephens building in Little Rock. That gives you a picture of the impact on the national debt that federal spending in Arkansas on Medicaid expansion would have, while here at home expansion would give coverage to more than 200,000 of our neediest citizens, create jobs, and save money for the state.
Here's the thing: while more than a billion dollars a year in federal spending would represent a big-time stimulus for Arkansas, it's not even a drop in the bucket when it comes to the national debt.
Currently, the national debt is around $16.4 trillion. In fiscal year 2015, the federal government would spend somewhere in the neighborhood of $1.2 billion to fund Medicaid expansion in Arkansas if we say yes. That's about 1/13,700th of the debt.
It's hard to get a handle on numbers that big, so to put that in perspective, let's get back to the baby carrot. Imagine that the height of the Stephens building (365 feet) is the $16 trillion national debt. That $1.2 billion would be the length of a ladybug. Of course, we're not just talking about one year if we expand. Between now and 2021, the federal government projects to contribute around $10 billion. The federal debt is projected to be around $25 trillion by then, so we're talking about 1/2,500th of the debt. Compared to the Stephens building? That's a baby carrot.
______________
Here is how it will all end if everyone feels they should be allowed to have their "baby carrot."
How sad it is that liberals just don't get this reality.
Here is what the Founding Fathers had to say about welfare. David Weinberger noted:
While living in Europe in the 1760s, Franklin observed: "in different countries … the more public provisions were made for the poor, the less they provided for themselves, and of course became poorer. And, on the contrary, the less was done for them, the more they did for themselves, and became richer."
Alexander Fraser Tytler, Lord Woodhouselee (15 October 1747 – 5 January 1813) was a Scottish lawyer, writer, and professor. Tytler was also a historian, and he noted, "A democracy cannot exist as a permanent form of government. It can only exist until the majority discovers it can vote itself largess out of the public treasury. After that, the majority always votes for the candidate promising the most benefits with the result the democracy collapses because of the loose fiscal policy ensuing, always to be followed by a dictatorship, then a monarchy."
Thomas Jefferson to Joseph Milligan

April 6, 1816

[Jefferson affirms that the main purpose of society is to enable human beings to keep the fruits of their labor. — TGW]
To take from one, because it is thought that his own industry and that of his fathers has acquired too much, in order to spare to others, who, or whose fathers have not exercised equal industry and skill, is to violate arbitrarily the first principle of association, "the guarantee to every one of a free exercise of his industry, and the fruits acquired by it." If the overgrown wealth of an individual be deemed dangerous to the State, the best corrective is the law of equal inheritance to all in equal degree; and the better, as this enforces a law of nature, while extra taxation violates it.
[From Writings of Thomas Jefferson, ed. Albert E. Bergh (Washington: Thomas Jefferson Memorial Association, 1904), 14:466.]
_______
Jefferson pointed out that to take from the rich and give to the poor through government is just wrong. Franklin knew the poor would have a better path upward without government welfare coming their way. Milton Friedman's negative income tax is the best method for doing that and by taking away all welfare programs and letting them go to the churches for charity.
_____________
_________
Thank you so much for your time. I know how valuable it is. I also appreciate the fine family that you have and your commitment as a father and a husband.
Sincerely,
Everette Hatcher III, 13900 Cottontail Lane, Alexander, AR 72002, ph 501-920-5733
Williams with Sowell – Minimum Wage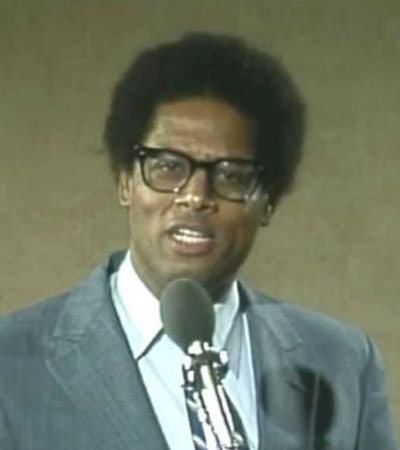 Thomas Sowell – Reducing Black Unemployment
—-
Ronald Reagan with Milton Friedman
Milton Friedman The Power of the Market 2-5
Related posts:
  We got to act fast and get off this path of socialism. Morning Bell: Welfare Spending Shattering All-Time Highs Robert Rector and Amy Payne October 18, 2012 at 9:03 am It's been a pretty big year for welfare—and a new report shows welfare is bigger than ever. The Obama Administration turned a giant spotlight […]
We need to cut Food Stamp program and not extend it. However, it seems that people tell the taxpayers back home they are going to Washington and cut government spending but once they get up there they just fall in line with  everyone else that keeps spending our money. I am glad that at least […]
Government Must Cut Spending Uploaded by HeritageFoundation on Dec 2, 2010 The government can cut roughly $343 billion from the federal budget and they can do so immediately. __________ Liberals argue that the poor need more welfare programs, but I have always argued that these programs enslave the poor to the government. Food Stamps Growth […]
Milton Friedman – The Negative Income Tax Published on May 11, 2012 by LibertyPen In this 1968 interview, Milton Friedman explained the negative income tax, a proposal that at minimum would save taxpayers the 72 percent of our current welfare budget spent on administration. http://www.LibertyPen.com Source: Firing Line with William F Buckley Jr. ________________ Milton […]
Dan Mitchell Commenting on Obama's Failure to Propose a Fiscal Plan Published on Aug 16, 2012 by danmitchellcato No description available. ___________ After the Welfare State Posted by David Boaz Cato senior fellow Tom G. Palmer, who is lecturing about freedom in Slovenia and Tbilisi this week, asked me to post this announcement of his […]
Is President Obama gutting the welfare reform that Bill Clinton signed into law? Morning Bell: Obama Denies Gutting Welfare Reform Amy Payne August 8, 2012 at 9:15 am The Obama Administration came out swinging against its critics on welfare reform yesterday, with Press Secretary Jay Carney saying the charge that the Administration gutted the successful […]
Thomas Sowell – Welfare Welfare reform was working so good. Why did we have to abandon it? Look at this article from 2003. The Continuing Good News About Welfare Reform By Robert Rector and Patrick Fagan, Ph.D. February 6, 2003 Six years ago, President Bill Clinton signed legislation overhauling part of the nation's welfare system. […]
Uploaded by ForaTv on May 29, 2009 Complete video at: http://fora.tv/2009/05/18/James_Bartholomew_The_Welfare_State_Were_In Author James Bartholomew argues that welfare benefits actually increase government handouts by 'ruining' ambition. He compares welfare to a humane mousetrap. —– Welfare reform was working so good. Why did we have to abandon it? Look at this article from 2003. In the controversial […]
Thomas Sowell If the welfare reform law was successful then why change it? Wasn't Bill Clinton the president that signed into law? Obama Guts Welfare Reform Robert Rector and Kiki Bradley July 12, 2012 at 4:10 pm Today, the Obama Department of Health and Human Services (HHS) released an official policy directive rewriting the welfare […]
I have been writing President Obama letters and have not received a personal response yet.  (He reads 10 letters a day personally and responds to each of them.) However, I did receive a form letter in the form of an email on July 10, 2012. I don't know which letter of mine generated this response so I have […]