_
Bill Maher and Richard Dawkins
__
__
__
Francis and Edith Schaeffer at their home in Switzerland with some visiting friends
__
Schaeffer with his wife Edith in Switzerland.
Richard Dawkins and John Lennox
_
_
_
Dawkins, Hitchens, Dennett, Harris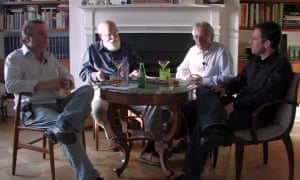 February 10, 2018
Richard Dawkins c/o Richard Dawkins Foundation,
Washington, DC 20005
Dear Mr. Dawkins,
This is the time of your life that you reflect back and make summary type statements. I especially enjoyed your autobiographies The God Delusion, An Appetite for Wonder: The Making of a Scientist, and Brief Candle in the Dark: My Life in Science. I am glad that you have tried to sum up some of your arguments against God's existence so we as believers can examine them. In fact, the last time I wrote you I mentioned that I recently read the article Can Dawkins Disprove God in 5 Steps? by Ken Ham which was originally published on December 16, 2015. This article started off by stating, "Can the idea of a Creator God be easily dismissed in just five steps? Well, atheist and anti-theist Richard Dawkins certainly thinks so!" Then the article goes through the five assertions and here below we will examine one of them:
People Hallucinate or Are Fooled?
Dawkins next dismisses personal testimony by saying that people hallucinate or are fooled with relative ease. Now, subjective personal experience does need to be weighed carefully (see 1 Thessalonians 5:21), but what I would like to ask Dawkins is the same question Bill Nye was asked during our 2014 debate: where did consciousness (which is needed for our experiences) come from? Nye was at a loss to explain this "great mystery" as he called it and Dawkins likely would be too.
Of course, God's Word tells us exactly where consciousness (and everything else!) came from—God Himself (Genesis 1:27, 2:7). And, furthermore, in a godless world, how do you even know what truth really is when you have no objective standard for determining truth? Who is to say who is right and who is wrong? As Pilate asked Jesus, without God and His Word, "What is truth?" (John 18:38). And if we are just random chemical accidents, why should we trust anything that comes from our brain anyway? If Dawkins' worldview is true, then he can't trust anything that comes from his brain either! It's ultimately a self-defeating argument. We can only know what truth is because there is a God and He has ordered this world and has given us His Word.
Atheists are always asserting that Christians do not have any evidence for what they believe. Below is a piece of that evidence given by Francis Schaeffer concerning the accuracy of the Bible:
A much more dramatic story surrounds the discovery of the Dead Sea Scrolls in the present century. The Dead Sea Scrolls, some of which relate to the text of the Bible, were found at Qumran, about fifteen miles from Jerusalem.
Most of the Old Testament was originally written in Hebrew, and the New Testament in Greek. Many people have been troubled by the length of time that has elapsed between the original writing of the documents and the present translations. How could the originals be copied from generation to generation and not be grossly distorted in the process? There is, however, much to reassure confidence in the text we have.
In the case of the New Testament, there are codes of the whole New Testament (that is, manuscripts in book form, like the Codes Sinaiticus and Codex Alexandrinus, dated around the fourth and fifth centuries respectively) and also thousands of fragments, some of them dating back to the second century. The earliest known so far is kept in the John Rylands Library in Manchester, England. It is only a small fragment, containing on one side John 18:31-33 and on the reverse, verses 37 and 38. It is important, however, both for its early date (about A.D.125) and for the place where it was discovered, namely Egypt. This shows that John's Gospel was known and read in Egypt at that early time. There are thousands of such New Testament texts in Greek from the early centuries after Christ's death and resurrection.
In the case of the Old Testament, however, there was once a problem. There were no copies of the Hebrew Old Testament in existence which dated from before the ninth century after Christ. This did not mean that there was no way to check the Old Testament, for there were other translations in existence, such as the Syriac and the Septuagint (a translation into Greek from several centuries before Christ). However, there was no Hebrew version of the Old Testament from earlier than the ninth century after Christ–because to the Jews the Scripture was so holy it was the common practice to destroy the copies of the Old Testament when they wore out, so that they would not fall into disrespectful use.
Then in 1947, a Bedouin Arab made a discovery not far from Qumran, which changed everything. While looking for sheep, he came across a cave in which he discovered some earthenware jars containing a number of scrolls. (There jars are now in the Israeli Shrine of the Book in Jerusalem.) Since that time at least ten other caves in the same vicinity have yielded up other scrolls and fragments. Copies of all the Old Testament books except Esther have been discovered (in part or complete) among these remains. One of the most dramatic single pieces was a copy of the Book of Isaiah dated approximately a hundred years before Christ. What was particularly striking about this is the great closeness of the discovered text tothe Hebrew text, which we previously had, a text written about a thousand years later!
On the issue of text, the Bible is unique as ancient documents go. No other book from that long ago exists in even a small percentage of the copies we have of the Greek and Hebrew texts which make up the Bible. We can be satisfied that we have a copy in our hands which closely approximates the original. Of course, there have been some mistakes in copying, and all translation lose something of the original language. That is inevitable. But the fact that most of us use translations into French, German, Chinise, English, and so on does not mean that we have an inadequate idea of what was written originally. We lose some of the nuances of the language, even when the translation is good, but we do not lose the essential content and communication.
The answer to find meaning in life is found in putting your faith and trust in Jesus Christ. The Bible is true from cover to cover and can be trusted.
Thank you again for your time and I know how busy you are.
Everette Hatcher, everettehatcher@gmail.com, http://www.thedailyhatch.org, cell ph 501-920-5733, Box 23416, LittleRock, AR 72221, United States
Canary Islands 2014: Harold Kroto and Richard Dawkins
__
Francis Schaeffer pictured below:
—
The Basis of Human Dignity by Francis Schaeffer
Richard Dawkins, founder of the Richard Dawkins Foundation for Reason and Science. Credit: Don Arnold Getty Images
—
Francis Schaeffer in 1984
Christian Manifesto by Francis Schaeffer
Francis Schaeffer in 1982
—-
Whatever Happened to the Human Race? Episode 1
—
—
–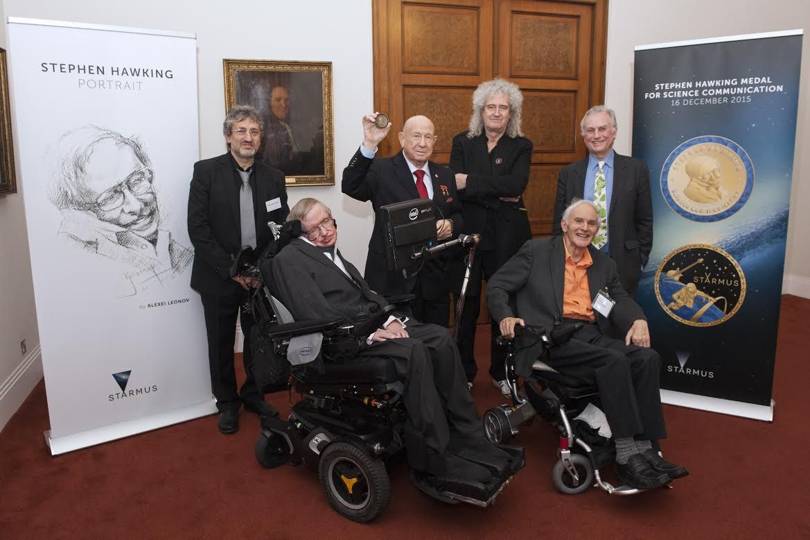 Garik Israelian, Stephen Hawking, Alexey Leonov, Brian May, Richard Dawkins and Harry Kroto
—-
—-
—-
—-
Featured artist is John Currin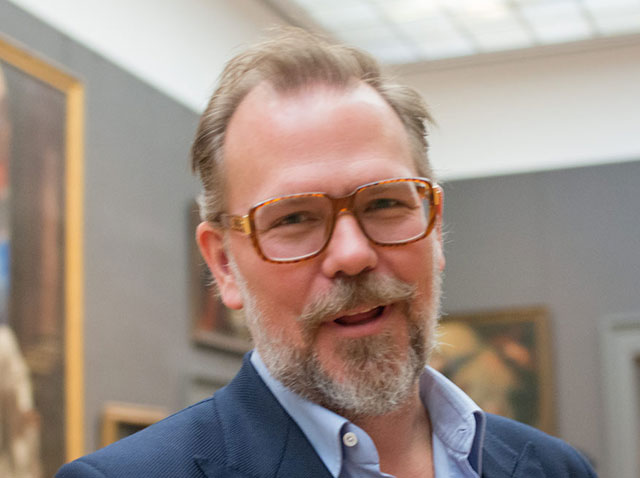 John Currin was born in 1962 in Boulder, CO. He grew up and studied in Connecticut. After receiving his BFA from Carnegie Mellon University in 1984, John Currin went to study at the Yale School of Art. He has participated in shows at Sadie Coles HQ in London and Gagosian Gallery in New York. John Currin lives and works in New York, NY. His wife sometimes serves as a model for his paintings.

John Currin is considered among the most influential painters working today. He is combining the techniques of Northern Renaissance painters. He reflects a satirical attitude towards his subject matter. The artist produces works steeped in both art history and kitsch, as seen in his 2003 painting Thanksgiving.

Today, the artist's works are held in the collections of the Tate Gallery in London, The Museum of Modern Art in New York, and the Walker Art Center in Minneapolis.

—-
Related posts:
On November 21, 2014 I received a letter from Nobel Laureate Harry Kroto and it said: …Please click on this URL http://vimeo.com/26991975 and you will hear what far smarter people than I have to say on this matter. I agree with them. Harry Kroto _________________ Below you have picture of 1996 Chemistry Nobel Prize Winner […]
The Beatles were "inspired by the musique concrète of German composer and early electronic music pioneer Karlheinz Stockhausen…" as SCOTT THILL has asserted. Francis Schaeffer noted that ideas of "Non-resolution" and "Fragmentation" came down German and French streams with the influence of Beethoven's last Quartets and then the influence of Debussy and later Schoenberg's non-resolution which is in total contrast […]
_______ On November 21, 2014 I received a letter from Nobel Laureate Harry Kroto and it said: …Please click on this URL http://vimeo.com/26991975 and you will hear what far smarter people than I have to say on this matter. I agree with them. Harry Kroto _________________ Below you have picture of 1996 Chemistry Nobel Prize […]
On November 21, 2014 I received a letter from Nobel Laureate Harry Kroto and it said: …Please click on this URL http://vimeo.com/26991975 and you will hear what far smarter people than I have to say on this matter. I agree with them. Harry Kroto ____________________ Below you have picture of 1996 Chemistry Nobel Prize Winner Dr. […]