—
by Bill Bowden | Today at 7:20 p.m.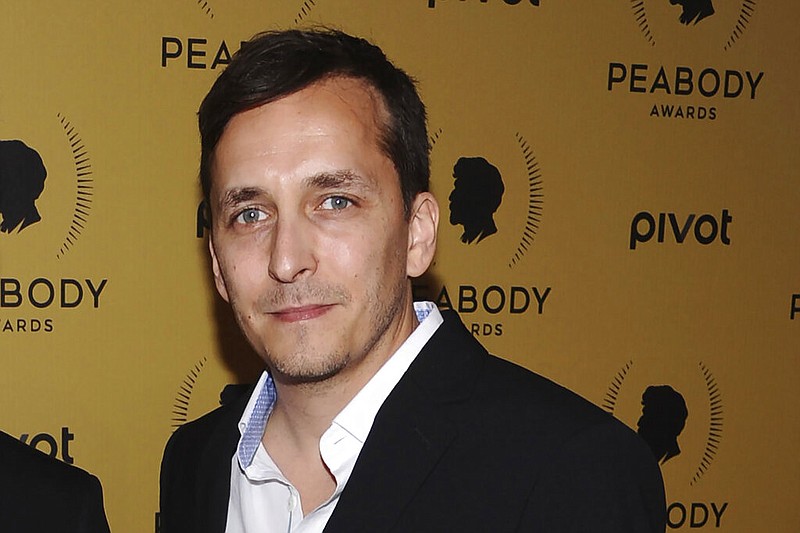 Brent Renaud attends the 74th annual Peabody Awards at Cipriani Wall Street in New York in this May 31, 2015, file photo. Renaud, a Little Rock filmmaker and journalist, was killed in a suburb of Kyiv, Ukraine, on Sunday, March 13, 2022, while gathering material for a report about refugees. Ukrainian authorities said he died when Russian forces shelled the vehicle he was traveling in. (Photo by Charles Sykes/Invision/AP, File)
Condolences poured in Sunday for Brent Renaud, an Arkansas filmmaker shot and killed by Russian troops in Ukraine.
"Today, a US journalist was killed in Ukraine," French President Emmanuel Macron said on Twitter. "Before him, others have been targeted, murdered, injured or kidnapped. Our thoughts are with all those journalists driven by courage and an ideal: the freedom to inform. This freedom is fundamental to our democracies."
A joint statement was issued from Edward Felsenthal, editor-in-chief and CEO of Time magazine, and Ian Orefice, president and chief operating officer of Time and Time Studios: "We are devastated by the loss of Brent Renaud. As an award-winning filmmaker and journalist, Brent tackled the toughest stories around the world often alongside his brother Craig Renaud. In recent weeks, Brent was in the region working on a TIME Studios project focused on the global refugee crisis. Our hearts are with all of Brent's loved ones. It is essential that journalists are able to safely cover this ongoing invasion and humanitarian crisis in Ukraine."
Arkansans also expressed condolences.
"Arkansans are saddened today at the death of Brent Renaud in Ukraine," said U.S. Sen. Tom Cotton, R-Ark. "I join them in expressing deepest condolences to the Renaud family. And I reiterate to Vladimir Putin and his military leaders that the intentional targeting of innocent civilians, including reporters, is a war crime."
"Arkansas PBS deeply mourns the loss of our friend and colleague, Brent Renaud," said Courtney Pledger, CEO of Arkansas PBS. "Brent was driven to tell the most intimate of human stories from across our country and the globe, often in partnership with his brother Craig. The Renaud Brothers dedicated themselves to the growth of film culture in their home state of Arkansas, and we are so much richer as a result. We will never forget Brent, his talent, his intelligence, his bravery and his unfailing integrity."
"Brent Renaud will be remembered not only as a talented filmmaker but as an Arkansan who continuously gave back to our state to create a new generation of artists," said Matthew J. Shepherd, speaker of the Arkansas House of Representatives. "His life's work stands as a testament of a free and open society, which is in stark contrast to the totalitarian forces whose unprovoked invasion he was documenting when his life was taken."
5:56 p.m.: Russian troops gun down Arkansas filmmaker Brent Renaud in Ukraine, wound two others
Arkansas filmmaker Brent Renaud was shot and killed by Russian troops in Ukraine on Sunday. Two other journalists were injured in the shooting, the police chief for the Kyiv region wrote on Facebook.
"Of course, the profession of a journalist is a risk, but US citizen Brent Renaud paid his life for trying to highlight the aggressor's ingenuity, cruelty and ruthlessness," Andriy Nebytov wrote.
A Ukrainian news agency reported Sunday that Renaud, 50, of Little Rock, was shot and killed by Russian troops outside Kyiv.
"I'm devastated by the loss of my close friend and long time producer, Brent Renaud," Christof Putzel, a documentary filmmaker and television correspondent, posted on Twitter. "The world and our profession has lost one of our greatest legends. Hug your family, your colleagues, and watch the news. People are dying to bring it to you."
Putzel expanded on that in an interview with CNN: "I woke up this morning to the news that Brent — longtime best friend, incredible colleage, the best war journalist I think ever existed — finding out about his passing. Brent had this ability to go anywhere, get any story, listen and communicate what was happening to people who wouldn't otherwise see it. It is a devastating loss to journalism today. … When the crisis in Ukraine happened, Brent was on an airplne the very next day."
5:02 p.m.: Friends remember life, work of Arkansas filmmaker gunned down by Russian troops
An Arkansas filmmaker who was shot and killed by Russian troops on Sunday outside Kyiv had gone there to shed light on the atrocities being committed, a correspondent for PBS NewsHour said on Twitter.
"Brent Renaud was killed while filming civilians escaping a Russian military onslaught on their small town near Kiev," Jane Ferguson tweeted on Sunday. "The Russian military has not spared civilians or journalists throughout this war, something Renaud himself came here to make the world all the more aware of."
In a tweet earlier Sunday, Ferguson said she had seen Renaud's body under a blanket.
"Just left roadside spot near Irpin where body of American journalist Brent Renaud lay under a blanket," she wrote. "Ukrainian medics could do nothing to help him by that stage. Outraged Ukrainian police officer: 'Tell America, tell the world, what they did to a journalist.'"
Brent Anthony Renaud, 50, was born in Memphis and grew up in Little Rock, where he graduated from Hall High School.
His father, Louis, was a salesman, and his mother, Georgann Freasier, was a social worker, according to The New York Times.
Brent Renaud and his brother, Craig, were a Peabody Award-winning documentary film team that drew attention to human suffering, often working with major news organizations like The New York Times, according to that newspaper.
Craig Renaud told The New York Times that his brother was in Ukraine working for MSNBC and for the television and film division of Time magazine. He was working on one segment of "Tipping Point," a multipart series about refugees around the world.
"Migration under desperate circumstances was a recurring subject for Brent, who with Craig also made documentaries about Haitians deported from the United States and children fleeing poverty and danger in Central America," according to The New York Times.
The Renaud brothers won their Peabody Award for "Last Chance High," which tells the story of Chicago's Moses Montefiore Academy, whose students suffer from emotional disorders and have been expelled from other public schools in the city.
Brent Renaud earned a master of arts degree from Columbia University and was a 2019 Nieman Journalism Fellow at Harvard University.
3 p.m.: U.S. journalist, founder of Little Rock Film Festival, killed by attack near Kyiv
Arkansas filmmaker Brent Renaud was shot and killed Sunday when Russian forces fired on the car in which he was traveling outside Kyiv, Ukraine, Kyiv Region police reported.
Juan Arredondo, a filmmaker who was shot in the same car, gave a brief interview at Okhmatdyt, the largest children's hospital in Kyiv, just before being wheeled in to the operating room for surgery.
"We crossed one, the first bridge in Irpin," Arredondo said in the hospital's post on Instagram. "We were going to film other refugees leaving. And we got into a car. Somebody offered to take us to the other bridge. And we crossed a checkpoint, and they start shooting at us. So the driver turned around, and they kept shooting. Two of us. My friend, Brent Renaud, and he's been shot and left behind."
Arredondo said he didn't know what had happened to Renaud.
"I saw his being shot in the neck. And we got split," Arredondo said.
Journalists have been forbidden from entering Irpin since Renaud's death, according to The Kyiv Independent.
A New York Times spokesperson said Renaud, 50, was a "talented filmmaker who had contributed to The New York Times over the years." It said he was not working for the publication at the time of his death. Renaud was wearing a New York Times badge, according to reports.
Renaud and his brother Craig founded the Little Rock Film Festival, which concluded in 2015 after a nine-year run.
Kyiv Region police said: "Of course, the profession of journalism carries risks. Nonetheless, U.S. citizen Brent Renaud paid with his life trying to highlight the deceit, cruelty and ruthlessness of the aggressor."
Asked about the reports, White House national security adviser Jake Sullivan told CBS News that the U.S. government would be consulting with the Ukrainians to determine how this happened and would then "execute appropriate consequences."
"This is part and parcel of what has been a brazen aggression on the part of the Russians, where they have targeted civilians, they have targeted hospitals, they have targeted places of worship, and they have targeted journalists," Sullivan said.
XXXX
President Reagan, Nancy Reagan, Bill Clinton and Hillary Clinton attending the Dinner Honoring the Nation's Governors. 2/22/87.
ronald reagan debates walter mondale in 1984 Presidential race second clip
Lee Edwards of the Heritage Foundation wrote an excellent article on Ronald Reagan and the events that transpired during the Reagan administration,  and I wanted to share it with you. Here is the fifth portion:
Though Reagan promised deep cuts in domestic spending, that did not turn out to be the case. Indeed, overall welfare spending increased during the Reagan presidency — primarily because Reagan could not overcome, even with vetoes and the bully pulpit of the White House, the spending impulses of Congress, which, after all, signed the checks. Throughout his two terms, he was confronted by Democrats still enthralled by the New Deal as well as Republicans (particularly in the Senate) still mesmerized by its political appeal.
When the administration proposed to abolish the Department of Education in 1981, Howard Baker, the first Republican Senate majority leader since 1954, actively opposed abolition.[x] Baker wanted to remain majority leader and was worried that getting rid of the department would alienate too many voters.
Reagan was not discouraged. He understood he had to proceed prudently with cuts, one billion dollars at a time — he could not just pull the plug on the federal government. Over the past fifty years, millions of people had grown dependent upon it.
Many people remember Reagan saying in his inaugural address that "government is not the solution to our problems; government is the problem." But the new president also said:
It is not my intention to do away with government. It is rather to make it work — work with us, not over us; to stand by our side, not ride on our back. Government can and must provide opportunity, not smother it; foster productivity, not stifle it.[xi]
Here was no radical libertarian with a copy of Atlas Shrugged in his back pocket but a traditional conservative guided by the prudential arguments of The Federalist. Reagan was a modern federalist, echoing James Madison's call for a balance between the authority of the national and state governments. He also shared Madison's concern about "the abridgement of the freedom of the people" by the "gradual and silent encroachment of those in power." As he later said in his 1990 autobiography, "We had strayed a great distance from our founding fathers' vision of America."[xii]
He was determined to recapture that lost vision. As he stated in his inaugural, he would begin by seeking to "curb the size and influence of the federal establishment." Revealing his pragmatism, his immediate target was the welfare excesses of Lyndon B. Johnson, not the long-established social programs of Franklin D. Roosevelt. As he wrote in his diary in January 1982, "The press is trying to paint me as trying to undo the New Deal. I'm trying to undo the Great Society."[xiii]
It was a slow uneven process, always made more difficult by a Democratic House of Representatives. He was obliged to allow federal spending for welfare — work programs, education and training, social services, medicine, food and housing — to rise sharply; expenditures almost doubled from $106.1 billion (in real or nominal dollars) in 1980 to $173 billion in 1988.[xiv] Nor did Reagan's own cabinet secretaries protest when the increases benefited their agency or department.
Conservative critics like the Heritage Foundation's Stuart Butler did not try to hide their disappointment and frustration. Six years into the Reagan presidency, Butler wrote that "the basic structure of the Great Society is still firmly intact …. virtually no program has been eliminated."[xv]
But Reagan reduced federal outlays in some welfare areas — such as regional development, commerce and housing credit — from $63 billion in 1980 to just over $49 billion in 1987, a decrease of about 22 percent. And the size of the federal civilian work force declined by about five percent, much of it traceable to conservatives like Gerald Carmen at GSA, Raymond Donovan at Labor and the OPM's Donald Devine, described by the Washington Post as "Reagan's terrible swift sword of the civil service."[xvi] The agencies that led the personnel downsizing were Education, down twenty-four percent; Housing and Urban Development, down twenty-two percent; Office of Personnel Management, down nineteen percent; and Government Services Administration and Labor, both down fifteen percent.