Having addressed Biden's track record on subsidies, inflation, protectionism, household income, and fiscal policy, let's finish our series by reviewing the president's record on regulatory issues.
The first place to start is the Federal Register, which is Uncle Sam's official site for new rules.
Though it gives us conflicting information. The number of pages (a crude measure of regulatory zeal, as I noted a few years ago) actually decreased during Biden's first year. But only compared to Trump's last year.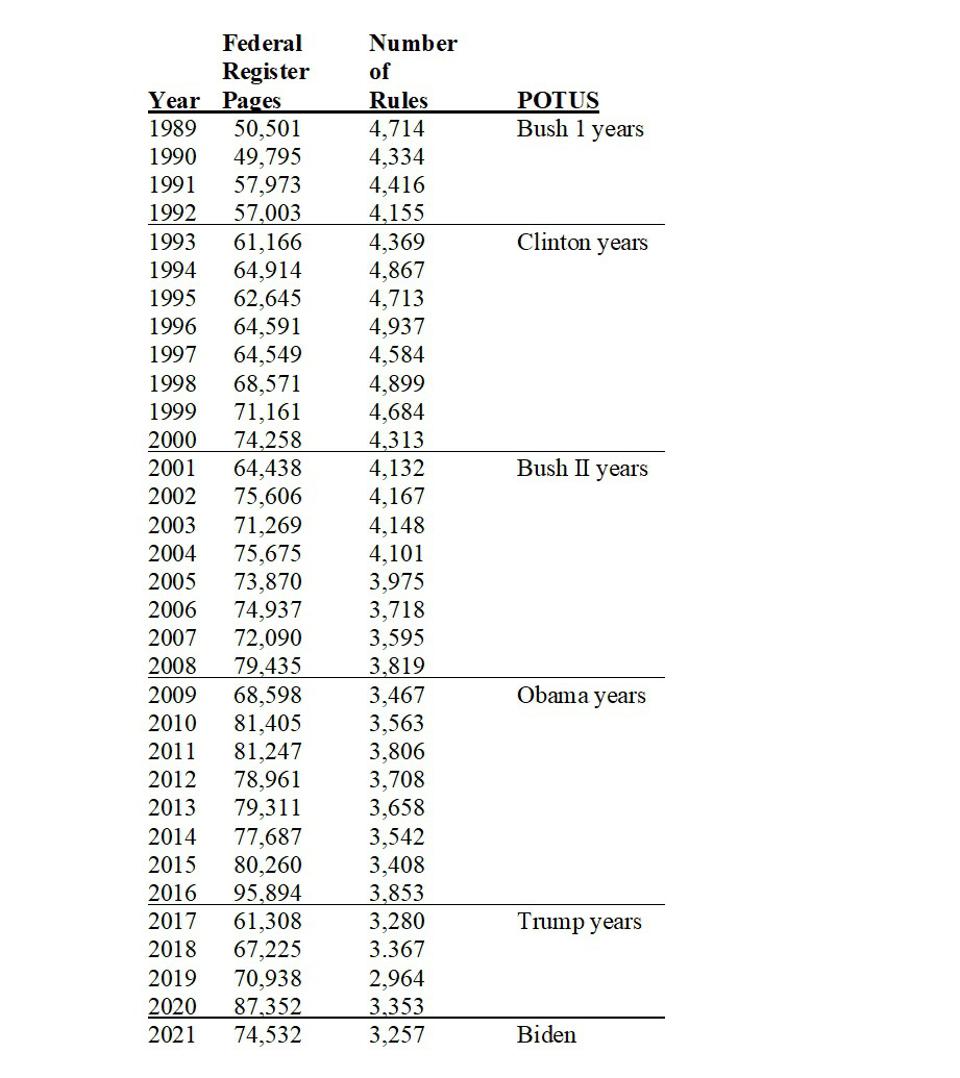 To understand what's really going on, let's look at the Forbesarticle from which the above table was taken.
Clyde Wayne Crews of the Competitive Enterprise Institute sifts through the data and concludes that Biden is a fan of expanded red tape.
The Federal Register is the daily depository of rules and regulations produced by hundreds of federal departments and agencies. …Under Biden, the regulatory establishment has its Hall Pass back, and it shows. The Federal Register page count ended the year with 74,532 pages. …The 2020 count under Trump was far higher, at 86,356. There had been "only" 61,308 pages back in Trump's first year of 2017,which had been the lowest count in a quarter-century… Trump's first year represented a 35 percent drop… But Trump's final year made him number two… How come? Well, …removing rules that ought not have been written in the first place still requires writing new rules to do it. …So, paradoxically, any concerted Trump moves on "one-in, two-out" in service of deregulating and removing that which came decades before required fattening the Register to some extent. …Despite Biden's lower Federal Register page count, we're nonetheless back in the mode of not just unapologetically but combatively fattening the Federal Register. …several hundred of Trumps rules had been deemed "deregulatory" for purposes of his one-in, two-out program… Biden's revivalist counts are embedded with no such purpose… Trump definitely left a mark. Biden is working on erasing it.
Incidentally, I don't think regulatory experts from the left would disagree with the above assessment.
For instance, Brookings has a regulatory tracker that monitors what's been happening since Biden took office and you will not find any evidence that the current administration is interested in limiting or reducing red tape.
Let's wrap up by looking at a specific example of Biden's regulatory excess. It's about domestic energy production, which is a very timely issue given what is happening in Ukraine.
Ben Cahill of the Center for Strategic and International Studies summarized some of what Biden did to hinder America's ability to produce energy.
President Joe Biden has followed through on a campaign pledge by introducing a moratorium on new oil and gas leasing on federal lands and waters. With nearly 25 percent of U.S. oil and gas production coming from federal lands,the policy shift may have significant implications for future investment and production. …This pause will not affect existing operations or permits for existing leases, and private lands will not be affected. …A more permanent leasing ban would have a significant impact, although visible offshore production declines may not materialize for up to 10 years, given the typical timeframe for planning, exploration, appraisal, and development. Onshore production declines could conceivably show up faster.
As you can see, the main damage is to future energy production rather than current energy production.
Needless to say, the same is true about the Biden Administration's limitations on energy exploration and development in Alaska.
And don't forget about pipelines (and geopolitics!), as mentioned in this column by Kevin Williamson for National Review.
The Biden administration already is reaching out to Caracas, where officials describe the initial conversation as "cordial" and "respectful." I'll bet it is. And Maduro's isn't the only tyrannical tuchus that requires kissing: President Joe Biden is said to be planning a personal trip to Riyadh to beg Crown Prince Mohammed bin Salman to ramp up Saudi production.…Right about now, President Biden must be wishing he had an extra pipeline to Canada. The thought has occurred to Alberta premier Jason Kenney, who observes about Keystone XL: "If President Biden had not vetoed that project, it would be done later this year — 840,000 barrels of democratic energy that could have displaced the 600,000 plus barrels of Russian conflict oil that's filled with the blood of Ukrainians." …We could spare ourselves some of these calculations by maximizing our own output — not only of crude oil and natural gas but also of refined-petroleum products. That would also mean building the necessary pipeline infrastructure and reforming our antiquated maritime regulations to enable the transportation of those fuels.
The bottom line is that the Biden Administration wants more regulation and red tape.
That has adverse consequences for economic dynamism and growth.
Especially when bureaucrats at the regulatory agencies ignore cost-benefit analysis (or put their thumbs on the scale to get a result that matches their ideological preferences).
And, in the case of energy, regulatory policy can have significant geopolitical implications as well.
P.S. You can click here to learn something about Obama's record on the issue, and click here to learn a bit about Trump's track record as well.
In Part I of this series, I pointed out that Biden's plethora of proposed handouts and subsidies would lead to higher prices and more inefficiency. And in Part II, I explained that his discussion of inflation was embarrassingly inaccurate.
In today's column, we're going to analyze his strident support for protectionist "Buy America" provisions, which drive up costs for taxpayers by making it harder for foreign firms to compete for government contracts and thus give American firms the ability to charge higher prices.
How much of a burden are these policies? How much more are taxpayers having to pay because governments can't opt for the lowest qualified bidder?
According to research shared by the Peterson Institute for International Economics (PIIE), American taxpayers lose $94 billion per year.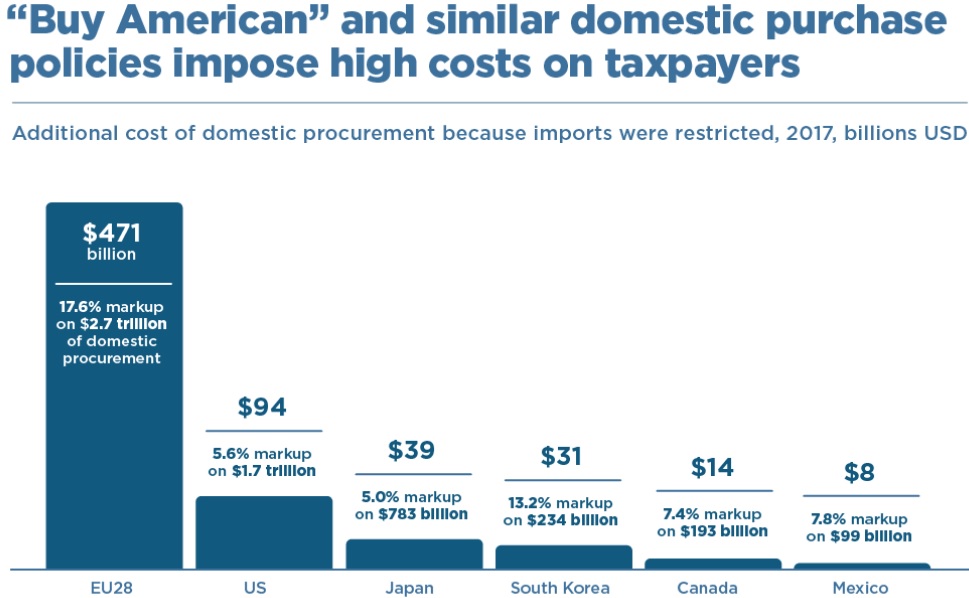 The good news (if we have a very generous definition of "good") is that procurement protectionism "only" pushes up costs in the United States by 5.6 percent.
Our dirigiste friends in the European Union suffer much more. Their procurement protectionism results in average markups of 17.6 percent, costing European taxpayers a staggering $471 billion.
But taxpayers are not the only losers.
In a 2017 study for PIIE, Gary Hufbauer and Euijin Jung explain that nations also lose exports because of procurement protectionism.
Buy American provisions are often enacted because politicians associate the patriotic slogan with the creation of domestic jobs. In fact, these laws are counterproductive: They are costly for taxpayers, they curtail exports, and they lose more jobs than they create. "Buy American" was bad policy in 1930 and does even more harm today. …Buy American dulls competition for everything that federal, state, and local governments purchase.Consequently, taxpayers pay inflated prices for new infrastructure, the latest information technology, and routine maintenance of subways, bridges, and airports. …Quantification is difficult, but the major federal Buy American laws probably equate to tariff equivalent barriers of at least 25 percent on federal purchases. State laws vary in scope and protective degree, but on average they probably entail at least 10 percent tariff equivalent barriers. …When Buy American policies are championed at home they are emulated abroad—in the form of Buy European, Buy Mexican, Buy Japanese, and other local content laws and policies. Consequently, US goods and services face severe barriers in foreign procurement markets. …US exports could expand by $189 billion annually if OECD countries all repealed their existing local content laws.
The Heritage Foundation's Tori Smith authored a report when Trump was pushing his version of procurement protectionism. Here's some of what she wrote.
Domestic content requirements, like those found in the Buy American Act, the Berry Amendment, and various other laws, result in additional regulatory burdens for producers, and increase costs for American taxpayers. All for little or no gain: The policies are unlikely to stimulate job growth in target industries. …Existing laws and provisions regarding domestic content requirements…are extremely onerous and complicated burdens. They have three main effects: (1) creating additional regulatory hurdles for producers; (2) costing American taxpayers more than they would otherwise pay for government projects; and (3) they are unlikely to yield job growth in target industries like the steel sector.
Here are the most important passages from her report.
…to eliminate all existing domestic content requirements….would create hundreds of thousands of American jobs across the country and contribute billions of dollars to U.S. gross domestic product.
And this chart shows how various states would benefit if there was open competition for government procurement.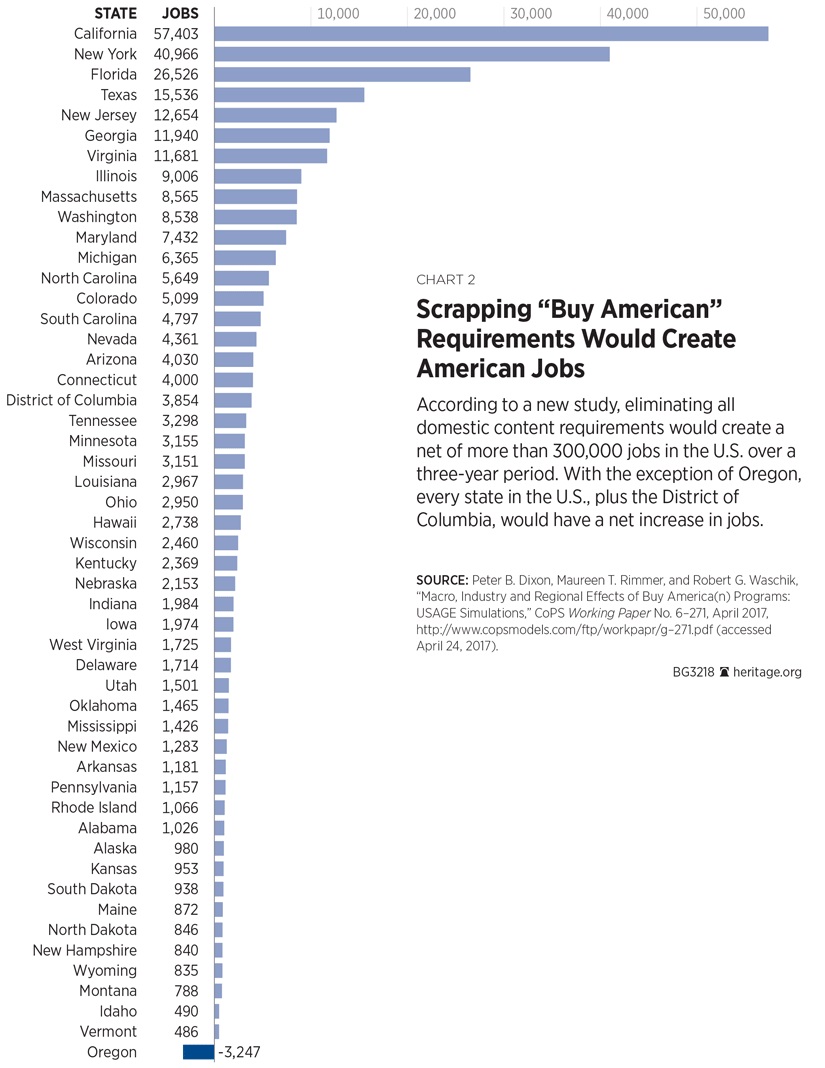 I'll close with three additional points.
First, it's disappointing that Biden is continuing Trump's protectionist policies. It's even more disappointing that he wants to expand upon them. This is one area where people thought Biden might move policy in the right direction.
For some historical perspective on the failure of the Trump-Biden approach, the National Taxpayers Union helpfully shared the views of Harry Truman and Dwight Eisenhower.

Second, some national security experts make a very reasonable argument that the Pentagon should not make itself dependent on purchases from nations such as China.
But this is at most an argument for "Buy from Allied Nations," not an argument for "Buy America."
Third, Biden is perversely consistent. Everything he is doing will increase costs for taxpayers and consumers in order to bestow undeserved benefits on special-interest groups.
P.S. The argument for competition in the market for government procurement is the same as the general argument for free trade. And since we're on the topic of trade, remember that dollars sent overseas as part of a procurement contract will come back to the United States, either to purchase American exports or as part of investment in the U.S. economy.
P.P.S. None of this changes the fact that the public sector should be much smaller. In a libertarian society, there would be far lower levels of government procurement.

Larry Elder wrote in 2016: "As economist Milton Friedman says, protectionism discriminates against low prices!"
---
The pandemic has shocked every sector of the economy. Trade restrictions enacted by the Trump administration and maintained by President Biden have rippled through the U.S. economy but have particularly impacted U.S. ports. The pandemic highlighted that American ports have broader efficiency problems and could use some serious policy and management reforms.
On the west coast in particular, ship congestion has caused severe delays, wreaking havoc on the supply chain. While factories and ports in Asia are working 24/7 to supply American consumers with valuable goods, U.S. ports have been open for far fewer hours because labor union contractsdictate the hourly terms. However, after months of backlog, the ports of Los Angeles (LA) and Long Beach (LB) are finally switching to 24/7 shifts to move goods more quickly.
As a result of these union contracts, government offices are also not open 24/7. The ports of LA and LB account for almost half of all U.S. imports. The Customs and Border Protection (CBP) officials who must clear and admit goods do not work nights or weekends. These limits create additional pressure to have goods shipped to the United States during a prohibitive time frame, or leave ships idling around the ports until they can get in. The latter is the most common response. Recently, ships have been waiting an average of 12.5 days to enter the LA port. Ship idling has caused other problems too. Orange County, CA was affected by an oil spill that is suspected to have been caused by a pipeline hit with idling ship anchors. These differences in operating hours have caused huge ports efficiency losses that are felt across the country.
While it is positive that retailers, couriers, and the International Longshore and Warehouse Union (ILWU) are making changes to run ports more efficiently, permanent trade policy changes would help ease America's coastal shipping problems.
The best policy would be to unilaterally remove tariffs by the United States. Simply eliminating tariffs would reduce an administrative burden both for traders and CBP officials. Duty‐​free trade would increase imports and exports but all other things equal, the freed‐​up CBP resources would help to move goods more swiftly through the ports.
However, a few smaller reforms could be implemented now that would considerably help the efficiency of U.S. ports. Removing Section 232 tariffs on steel and aluminum imports could temper the current domestic scarcity of some transportation‐​related goods, including chassis (the frame of a vehicle that holds containers). Thesematerials are vital inputs for such products and the Section 232 tariffs are affecting American manufacturers' ability to meet domestic demand. Eliminating duties and tariffs on transportation‐​related goods, including the 221 percent antidumping and countervailing (AD/CVD) duties and 25 percent Section 301 tariffs on Chinese chassis, could help increase the U.S. supply of chassis. While some freighters are paying the higher prices for Chinese chassis, the supply of transportation is still constrained, which has resulted in higher sticker prices on consumer goods.
As LA and LB move to 24/7 shifts, CBP offices should also be open 24/7. Given the sheer volume of trade these two ports process, it would seem sensible to make staffing 24/7 a permanent change at these ports, and at others depending on trade volumes.
Reforming the Jones Act could also help. All freight moved between U.S. ports must useU.S.-built, -crewed, and -flagged ships. As a result, traders circumvent these regulations by using alternative modes like trucks and trains. It would be prudent to reform the Jones Act to allow ships not in compliance with the Jones Act to pick up shipments in one U.S. port and unload at another. This would reduce pressure on inland transit that is currently being impacted by the aforementioned tariffs.
These bottlenecks have provided insight into the problems that exist at U.S. ports and with coastal shipping more broadly. Improvements in trade policy have a role to play and policymakers would be remiss not to consider permanent changes that would be beneficial now and could preempt pressures during future economic shocks.
Milton Friedman – Free Trade vs. Protectionism
Free to Choose Part 2: The Tyranny of Control (Featuring Milton Friedman
Larry Elder rebuts candidate's 'they're taking our jobs' claim
Published: 02/03/2016 at 6:39 PM
One of Donald Trump's talking points and biggest applause lines is how "they" – Japan, China and Mexico – are "beating us in trade" and are "taking our jobs." He proposes tariffs, for example, on Chinese goods in retaliation for that country's alleged "cheating."
To someone who is out of work in an industry where foreign workers do what he or she once did, Trump-like protectionism sounds appealing. But Trump actually proposes punishing the American consumer. As economist Milton Friedman says, protectionism discriminates against low prices.
It is certainly true that many countries prop up or subsidize companies or even whole industries by providing capital or special privileges. This allows them to produce goods and services "below cost" – or at prices below what a competitor could charge and still make a profit. But doing so also means that taxes in that country, which could have gone to a more productive use, are squandered to keep a company in business that otherwise wouldn't exist or would have gone out of business. This means consumers in other countries with which the "cheater" country trades can buy those imported goods at a cheaper price.
Trump proposes to retaliate by placing tariffs on those imported goods. But this prevents American consumers from benefiting from the "cheater" country's folly of propping up companies that would not survive but for the taxes spent to keep it alive. Why compound the stupidity?
Another justification for this kind of protectionism is that a foreign country "exploits" America through the use of "slave labor" which, as to wages, causes a "race to the bottom." Certainly forced labor, as when "blood diamonds" are mined by workers with guns pointed to their heads, is criminal and immoral. But free laborers offering to work for less money than others is how poor countries become wealthier – by allowing other countries to buy goods more cheaply.
NAFTA, the North American Free Trade Agreement, established in 1994, has become exhibit A on how "we lose" on trade. After all, many American jobs have been "outsourced" to Mexico. But that looks at but one side of the ledger. That an American pays less for certain things frees up capital to spend on something or on someone else. A machinist sees his job "shipped to Mexico," but the planner or analyst hired by a company with the "savings" might not see the direct relationship between free trade and the fact that he or she has this new job. When NAFTA was debated, businessman and presidential candidate Ross Perot predicted "a giant sucking sound" as jobs and incomes would be lost to Mexico.
The American Enterprise Institute writes: "It is an article of faith among protectionists that NAFTA harmed American workers. … The justification may be that NAFTA went into force at the beginning of 1994 and the U.S. trade balance with Canada and Mexico, two of our top partners, then deteriorated.
"But the American job market improved as these trade deficits grew. Unemployment fell more than two points from the beginning of 1994 through the middle of 2000. Already high labor force participation edged higher to its all-time record by early 2000. Manufacturing employment rose until mid-1998 and was above its pre-NAFTA level until April 2001. Manufacturing wages rose. The strength in the American job market from 1994 to 1999 is not due primarily to NAFTA, but it is plain that the job market, including manufacturing, strengthened after NAFTA."
Trump is also schizophrenic on this issue. On the one hand, he opposes illegal immigration, which most often is an economic decision where, for example, a poor, unskilled worker from Mexico sneaks into America to make money. On the other hand, Trump deems it unfair and a form of "cheating" if an American company relocates to or builds a factory in Mexico to take advantage of that unskilled Mexican worker's willingness to work for less.
If Trump were talking about the excessive taxes or regulations that induce American companies to leave the U.S. or to put factories in foreign countries, that would be one thing. The U.S. general top marginal corporate income tax rate is the highest in the industrialized world – and, worldwide, is only exceeded by Chad and the United Arab Emirates. Unnecessary regulations also increase the cost of doing business stateside. But this is not Trump's argument.
About free trade, the father of modern economics, Adam Smith, in 1776 wrote in "The Wealth of Nations": "In every country it always is and must be in the interest of the great body of the people to buy whatever they want of those who sell it cheapest. The proposition is so very manifest that it seems ridiculous to take any pains to prove it; nor could it ever have been called in question had not the interested sophistry of merchants and manufacturers confounded the common sense of mankind. Their interest is, in this respect, directly opposite to that of the great body of the people."
Trump means well. But so what?
Trump vs Friedman – Trade Policy Debate
Related posts:
__________