_____________
Back in 2014, I shared a video explaining why the "rule of law" is important for a just and free society.
Here's another video on the same point.
When I discuss rule of law (generally when explaining the various components that are used to calculate rankings of economic freedom), I often use a shortcut definition – namely that rule of law exists when government officials don't have arbitrary power.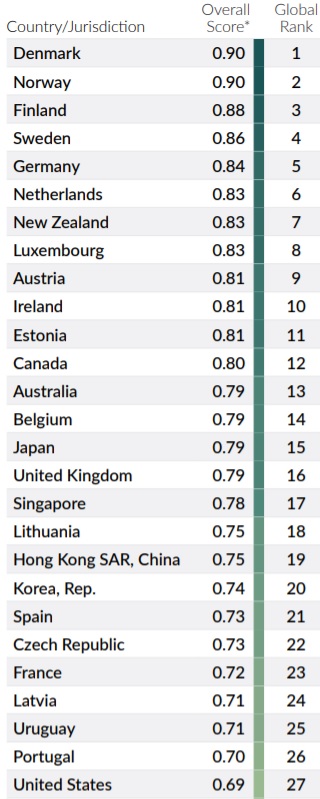 In other words, rule of law is present when even politicians and bureaucrats have to adhere to laws and rules.
Where is the rule of law strongest?
According to the World Justice Project, Scandinavian nations are at the top, led by Denmark.
Other European nations – and European offshoot nations – dominate the rankings (there is a benefit to Western Civilization).
A handful of East Asian jurisdictions also get good scores.
And you'll notice I had to include 27 nations in order to see where the United States ranks.
That's depressing, especially considering that the U.S. ranked #19 when I first wrote about this report back in 2014.
But at least we're not Venezuela (gee, what a surprise), which is in last place of the 139 nations included in the rankings.
Readers also should note that the dismal rankings of some other major nations, most notably China (#98) and Russia (#101).
Now let's consider the economic implications.
In a new working paper from the University of Rome, Esther Acquah, Lorenzo Carbonari, Alessio Farcomeni, and Giovanni Trovato estimate the impact of rule of law on economic outcomes.
We estimate the impact that our measures of institutional quality have on the level and the growth rate of per capita GDP, using a large sample of countries over the period 1980-2015.…Institutions matter especially in low and middle-income countries, and not all institutions are alike for economic development. For this group of countries, we find: i) a positive correlation between our main institutional index and the GDP growth and ii) that improvement in the reliability and fairness of the legal system leads to a higher long-run per capita GDP level. We also document non-linearities in the causal effects that different institutions have on growth, and the presence of threshold effects.
For what it's worth, I sometimes state in my speeches that rule of law is akin to the foundation of a building.
It needs to be solid in order for the rest of the building (fiscal policy, trade policy, regulatory policy, and monetary policy) to be livable.
One final point is that you don't necessarily get more rule of law by enacting additional laws. Indeed, that may actually reduce the rule of law because politicians and bureaucrats then can engage in capricious enforcement.
As pointed out back in the 1800s by the great Frederic Bastiat.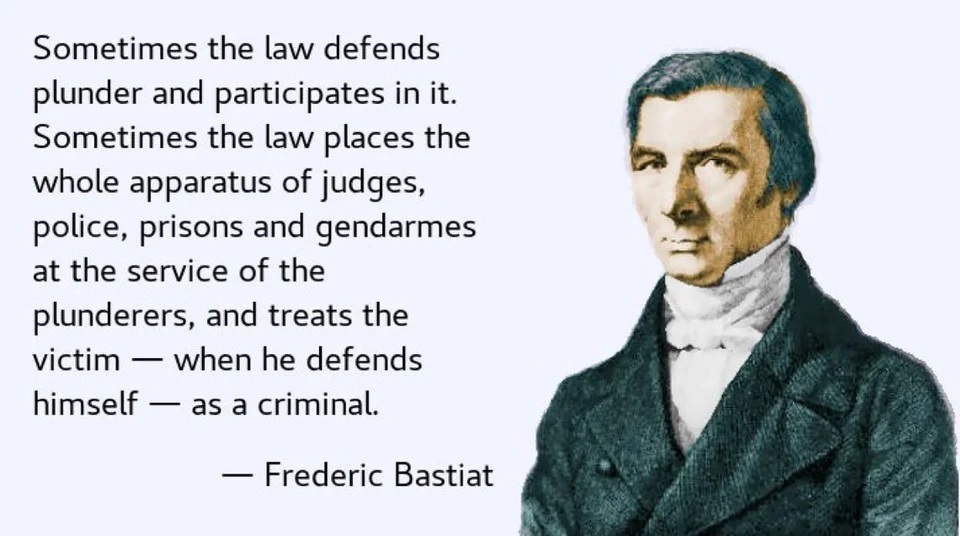 Simply stated, over-criminalization is not a good thing.
P.S. In the are of economic development, there's a big discussion over whether there needs to be more "state capacity" if we want more growth.
I've criticized some advocates because they use "state capacity" as an excuse to push for bigger government.
But it is true that very weak and incompetent governments do a poor job of providing rule of law, so it's also true that there are instances where it would be good to boost state capacity. Assuming the term is properly defined.
In the French Revolution, human reason was made supreme and christianity was pushed aside. In 1789, with the French Revolution at its height, the members of the National Assembly swore to establish a constitution: The Declaration of the Rights of Man. To make their outlook clear, the French changed the calendar and called 1792 the "year one," and destroyed many of the things of the past, even suggesting the destruction of the cathedral at Chartres. They proclaimed the goddess of Reason in Notre-Dame Cathedral in Paris and in other churches in France, including Chartres. In Paris, the goddess was personified by an actress, Demoiselle Candeille, carried shoulder high into the cathedral by men dressed in Roman costumes.

Like the humanists of the Renaissance, the men of the Enlightenment pushed aside the Christian base and heritage and looked back to the old pre-Christian times. When the French Revolution tried to reproduce the English conditions without the Reformation base, but rather on Voltaire's humanistic base, the result was a bloodbath and a rapid breakdown into the authoritarian rule of Napoleon Bonaparte (1769-1821).
In Sept. 1792 began the massacre in which some 1,300 prisoners were killed. Before it was all over, the government and its agents killed 40,000 people, many of them peasants. Maximilien Robespierre (1758-1794), the revolutionary leader, was himself executed in July 1794. This destruction came not from outside the system; it was produced by the system.

The influence of the Declaration of the Rights of Man, as seen within the context of the French Revolution, can hardly be overestimated. Within a period of two years, an extreme form of democracy had been established and all titles of privilege abolished. In subsequent decades, based on the achievements of the revolution, political theorists began suggesting even more dramatic changes in government–changes that in the 20th century are called socialism, Communism, and anarchism. It is no exaggeration to say that subsequent revolutions in Europe, especially the Russian Revolution of 1917, had their antecedent in the ideas and practices that were spawned by the French Revolution.
________________
__________________________________________
December 09, 2007
___________________
Janine Antoni: Milagros | "Exclusive" | Art21
Janine Antoni was born in Freeport, Bahamas, in 1964. She received her BA from Sarah Lawrence College in New York, and earned her MFA from the Rhode Island School of Design in 1989. Antoni's work blurs the distinction between performance art and sculpture. Transforming everyday activities such as eating, bathing, and sleeping into ways of making art, Antoni's primary tool for making sculpture has always been her own body. She has chiseled cubes of lard and chocolate with her teeth, washed away the faces of soap busts made in her own likeness, and used the brainwave signals recorded while she dreamed at night as a pattern for weaving a blanket the following morning.
In the video, Touch, Antoni appears to perform the impossible act of walking on the surface of water. She accomplished this magician's trick, however, not through divine intervention, but only after months of training to balance on a tightrope that she then strung at the exact height of the horizon line. Balance is a key component in the related piece, Moor, where the artist taught herself how to make a rope out of unusual and often personal materials donated by friends and relatives. By learning to twist the materials together so that they formed a rope that was neither too loose nor too tight, Antoni created an enduring life-line that united a disparate group of people into a unified whole.
Antoni has had major exhibitions of her work at the Whitney Museum of American Art, New York; Solomon R. Guggenheim Museum, New York; S.I.T.E. Santa Fe; and Irish Museum of Modern Art, Dublin. The recipient of several prestigious awards, including a John D. and Catherine T. MacArthur Fellowship in 1998 and the Larry Aldrich Foundation Award in 1999, Janine Antoni currently resides in New York.
________________
________________