–
Motivated in part by an excellent graphic that I shared in 2016, I put together a five-column ranking of state personal income tax systems in 2018.
Given some changes that have since occurred, it's time for a new version. The first two columns are self explanatory and columns 3 and 5 are based on whether the top tax rate on households is less than 5 percent ("Low Rate") or more than 8 percent ("Class Warfare").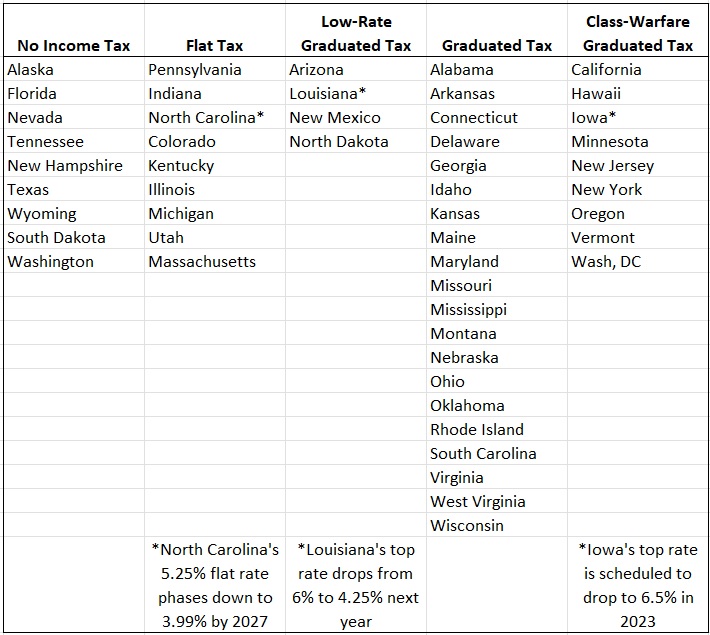 Column 4, needless to say, is for states where the top tax rate in between 5-8 percent.
The good news is that the above table is better than the one I created in 2018. Thanks to tax competition between states, there have been some improvements in tax policy.
I recently wrote about Louisiana's shift in the right direction.
Now we have some good news from the Tarheel state. The Wall Street Journal opined today about a new tax reform in North Carolina.
The deal phases out the state's 2.5% corporate income tax between 2025 and 2031. …The deal also cuts the state's flat 5.25% personal income tax rate in stages to 3.99% by July 1, 2027. …North Carolina ranks tenth on the Tax Foundation's 2021 state business tax climate index, and these reforms will make it even more competitive. …North Carolina has an unreserved cash balance of $8.55 billion, and legislators are wisely returning some of it to taxpayers.
What's especially noteworthy is that North Carolina has been moving in the right direction for almost 10 years.
P.S. Arizona almost moved from column 3 to column 5, but that big decline was averted.
P.P.S. There are efforts in Mississippi and Nebraska to get rid of state income taxes.
P.P.P.S. Kansas tried for a big improvement a few years ago, but ultimately settled for a modest improvement.
Ten days ago, I shared some data and evidence illustrating how redistribution programs result in high implicit tax rates and thus discourage low-income people from climbing the economic ladder.
Simply stated, why work harder or work more when an additional dollar of income only leads to a net benefit of 10 cents or 20 cents? Or why work harder or work more when you can actually wind up being worse off?
Or why work at all if the governments provides enough goodies?
But don't ask such questions if you're in the same room as Helaine Olen of the Washington Post. She is very upset that some people think welfare payments discourage work.
It's a dangerous myth, this idea that government help causes some people to just loaf off. It's also untrue. Reminder: Before the pandemic, most working-age people receiving benefits like food stamps worked. They just didn't earn enough money.…the temporary child tax credit signed into law this year by President Biden demonstrates the opposite. It is an extraordinary success. Almost 90 percent of families with children under age 18 are eligible to receive a monthly check from the federal government through the end of the year. …Many other developed nations offer almost all residents a child allowance of some sort.
If you read the entire column, you'll notice that she provides very little evidence, particularly considering her very bold assertion that a negative link between redistribution and labor supply is "a dangerous myth."
Yet we know from the experience of welfare reform in the 1990s that work requirements did boost labor supply.
And don't forget about the very recent evidence that turbo-charged unemployment benefits encouraged more joblessness.
We also have evidence from overseas showing that there's a negative relationship between handouts and idleness.
Including research from the Netherlands and the Nordic nationssuch as Denmark. And the same is true in Canada. And the United Kingdom.
Ms. Olen seems primarily motivated by her support for permanent per-child handouts, as President Biden has proposed.
And she wants us to believe that everyone will continue to work, even if they can get $3000-plus for each kid, along with all the other goodies that are provided by Uncle Sam (often topped upby state governments).
For what it's worth, I think she admits her real agenda toward the end of her column.
…an argument can be made that the children of the irresponsible deserve more support from us, not less. Children can't push their parents to get with the work-and-education program. As a result, you're not "helping" children if you insist on financially punishing their parents for not making an "effort." …human infrastructure matters too.
In other words, Ms. Olen seems to share Rep. Ocasio-Cortez's view that money should be given to people "unwilling to work."
Which is how some of our friends actually view the world. They think there is a right to other people's money.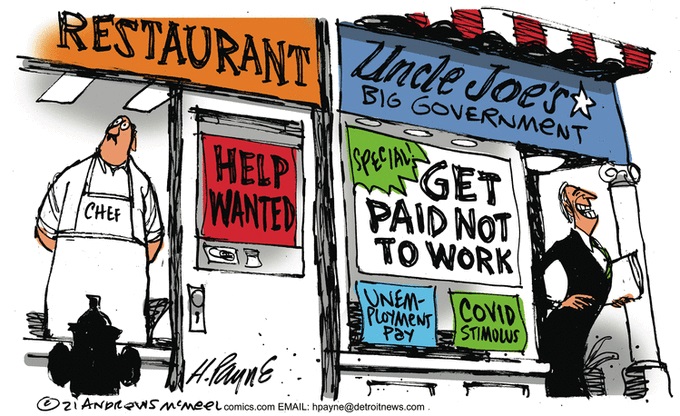 Which is why they support big handouts, including so-called basic income.
The bottom line is that Biden's per-child handouts and other expansions of the welfare state clearly would make work less attractive for some people.
Not all people, of course, because it takes time to erode societal capital.
But why would we want a society where a growing number of people think it's okay to live off of others?
P.S. There is scholarly research that redistribution programs lure older people out of the workforce.
P.P.S. There is also scholarly research showing redistribution programs discourage households from building wealth.
March 27, 2021
President Biden c/o The White House
1600 Pennsylvania Avenue NW
Washington, DC 20500
Dear Mr. President,
The federal government debt is growing so much that it is endangering us because if things keep going like they are now we will not have any money left for the national defense because we are so far in debt as a nation. We have been spending so much on our welfare state through food stamps and other programs that I am worrying that many of our citizens are becoming more dependent on government and in many cases they are losing their incentive to work hard because of the welfare trap the government has put in place. Other nations in Europe have gone down this road and we see what mess this has gotten them in. People really are losing their faith in big government and they want more liberty back. It seems to me we have to get back to the founding principles that made our country great. We also need to realize that a big government will encourage waste and corruption. The recent scandals in our government have proved my point. In fact, the jokes you made at Ohio State about possibly auditing them are not so funny now that reality shows how the IRS was acting more like a monster out of control. Also raising taxes on the job creators is a very bad idea too. The Laffer Curve clearly demonstrates that when the tax rates are raised many individuals will move their investments to places where they will not get taxed as much.
______________________________
Milton Friedman On Charlie Rose (Part One)
The late Milton Friedman discusses economics and otherwise with Charlie Rose.
_________________________________________
Milton Friedman: Life and ideas – Part 01
Milton Friedman: Life and ideas
A brief biography of Milton Friedman
_____________________________________
Stossel – "Free to Choose" (Milton Friedman) 1/6
6-10-10. pt.1 of 6. Stossel discusses Milton Friedman's 1980 book, "Free to Choose", which was smuggled in and read widely in Eastern Europe during the Cold War by many countries under Soviet rule. Read and admired the world over by the likes of Margaret Thatcher and Ronald Reagan, this book served as the inspiration for many of the Soviet sattellite countries' economies once they achieved freedom after the fall of the Soviet Union.
_________________________________________
I first saw Thomas Sowell on the show FREE TO CHOOSE on the debate team that Milton Friedman chose. I suggest checking out these episodes of Milton Friedman's film series FREE TO CHOOSE: "The Failure of Socialism" and "What is wrong with our schools?" and "Created Equal" and From Cradle to Grave, and – Power of the Market. Below he is the subject of a fine article that shows how our government is wasting so much money on the welfare trap. We should stop trapping people in welfare and let the free market offer them a chance to do better. Obviously what we are doing now is not working. The best way to destroy the welfare trap is to put in Milton Friedman's negative income tax. Of course, all welfare programs should be eliminated at the same time.
July 3, 2013 by Dan Mitchell
Political cartoonists like Michael Ramirez and Chuck Asay are effective because they convey so much with images.
But we need more than clever cartoons if we're going to educate the general population about how government harms the economy and undermines freedom.
He just turned 83, and let's hope he has another 20 years of columns to write
And that's why Thomas Sowell is so invaluable. He's one of the nation's top economic thinkers, but he also writes for mass audiences and his columns are masterful combinations of logic and persuasion.
His latest column about poverty is a good example. In this first excerpt, he succinctly explains that official poverty is not the same as destitution.
"Poverty" once had some concrete meaning — not enough food to eat or not enough clothing or shelter to protect you from the elements, for example. Today it means whatever the government bureaucrats, who set up the statistical criteria, choose to make it mean. And they have every incentive to define poverty in a way that includes enough people to justify welfare state spending. Most Americans with incomes below the official poverty level have air-conditioning, television, own a motor vehicle and, far from being hungry, are more likely than other Americans to be overweight. But an arbitrary definition of words and numbers gives them access to the taxpayers' money.
He then makes a very important point about economic incentives.
Even when they have the potential to become productive members of society, the loss of welfare state benefits if they try to do so is an implicit "tax" on what they would earn that often exceeds the explicit tax on a millionaire. If increasing your income by $10,000 would cause you to lose $15,000 in government benefits, would you do it? In short, the political left's welfare state makes poverty more comfortable, while penalizing attempts to rise out of poverty.
Since columnists are limited to about 800 words, Sowell doesn't have leeway to give details, but his explanation of how the government traps people in poverty is the rhetorical version of this amazing chart.
He concludes with some powerful observation about who really benefits from the welfare state.
…the left's agenda is a disservice to [the poor], as well as to society. …The agenda of the left — promoting envy and a sense of grievance, while making loud demands for "rights" to what other people have produced — is a pattern that has been widespread in countries around the world. This agenda has seldom lifted the poor out of poverty. But it has lifted the left to positions of power and self-aggrandizement, while they promote policies with socially counterproductive results.
But his main message (similar to this video and illustrated by this chart) is that the welfare state hurts the poor even more than it hurts taxpayers.
P.S. As a big fan of Professor Sowell, I've cited his columns more than 20 times. My favorite examples of his writing can be viewed here, here, here, here, here,here, here, here,here, here, here, here, here, here, here, here, here, here, here, and here. And you can see him in action here.
Related posts:Milton Friedman's "Free to Choose" film transcripts and videos here on http://www.thedailyhatch.org
I have many posts on my blog that include both the transcript and videos of Milton Friedman's film series "Free to Choose" and here are the episodes that I have posted.
_____________
__________________________
Thank you so much for your time. I know how valuable it is. I also appreciate the fine family that you have and your commitment as a father and a husband.
Sincerely,
Everette Hatcher III, 13900 Cottontail Lane, Alexander, AR 72002, ph 501-920-5733,
Williams with Sowell – Minimum Wage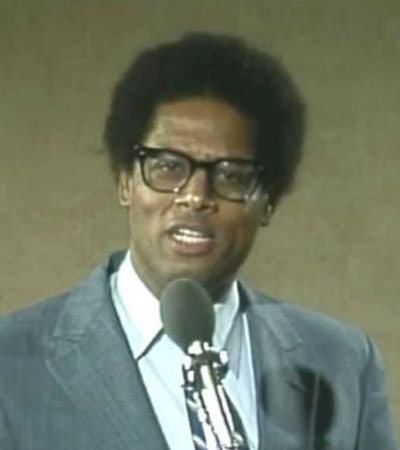 Thomas Sowell – Reducing Black Unemployment
—-
Ronald Reagan with Milton Friedman
Milton Friedman The Power of the Market 2-5
Here are the posts and you can find the links in order below this.
The Power of the Market from 1990
The Failure of Socialism from 1990
The Anatomy of a Crisis from 1980
What is wrong with our schools? from 1980
Created Equal from 1980
From Cradle to Grave from 1980
The Power of the Market 1980
Debate on Inflation from 1980
Milton Friedman is the short one!!!
Milton Friedman's Free to Choose (1980), episode 3 – Anatomy of a Crisis. part 1
Milton Friedman The Power of the Market 5-5 How can we have personal freedom without economic freedom? That is why I don't understand why socialists who value individual freedoms want to take away our economic freedoms. I wanted to share this info below with you from Milton Friedman who has influenced me greatly over the […]
Milton Friedman The Power of the Market 4-5 How can we have personal freedom without economic freedom? That is why I don't understand why socialists who value individual freedoms want to take away our economic freedoms. I wanted to share this info below with you from Milton Friedman who has influenced me greatly over the […]
Milton Friedman The Power of the Market 3-5 How can we have personal freedom without economic freedom? That is why I don't understand why socialists who value individual freedoms want to take away our economic freedoms. I wanted to share this info below with you from Milton Friedman who has influenced me greatly over the […]
Milton Friedman The Power of the Market 2-5 How can we have personal freedom without economic freedom? That is why I don't understand why socialists who value individual freedoms want to take away our economic freedoms. I wanted to share this info below with you from Milton Friedman who has influenced me greatly over the […]
Milton Friedman The Power of the Market 1-5 How can we have personal freedom without economic freedom? That is why I don't understand why socialists who value individual freedoms want to take away our economic freedoms. I wanted to share this info below with you from Milton Friedman who has influenced me greatly over the […]
Milton Friedman's Free to Choose (1980), episode 3 – Anatomy of a Crisis. part 1
Milton Friedman: Free To Choose – The Failure Of Socialism With Ronald Reagan (Full) Published on Mar 19, 2012 by NoNationalityNeeded Milton Friedman's writings affected me greatly when I first discovered them and I wanted to share with you. Abstract: Ronald Reagan introduces this program, and traces a line from Adam Smith's "The Wealth of […]
Milton Friedman: Free To Choose – The Failure Of Socialism With Ronald Reagan (Full) Published on Mar 19, 2012 by NoNationalityNeeded Milton Friedman's writings affected me greatly when I first discovered them and I wanted to share with you. Abstract: Ronald Reagan introduces this program, and traces a line from Adam Smith's "The Wealth of […]
Milton Friedman: Free To Choose – The Failure Of Socialism With Ronald Reagan (Full) Published on Mar 19, 2012 by NoNationalityNeeded Milton Friedman's writings affected me greatly when I first discovered them and I wanted to share with you. Abstract: Ronald Reagan introduces this program, and traces a line from Adam Smith's "The Wealth of […]
Milton Friedman: Free To Choose – The Failure Of Socialism With Ronald Reagan (Full) Published on Mar 19, 2012 by NoNationalityNeeded Milton Friedman's writings affected me greatly when I first discovered them and I wanted to share with you. Abstract: Ronald Reagan introduces this program, and traces a line from Adam Smith's "The Wealth of […]
Milton Friedman: Free To Choose – The Failure Of Socialism With Ronald Reagan (Full) Published on Mar 19, 2012 by NoNationalityNeeded Milton Friedman's writings affected me greatly when I first discovered them and I wanted to share with you. We must not head down the path of socialism like Greece has done. Abstract: Ronald Reagan […]
________________
TEMIN: We don't think the big capital arose before the government did? VON HOFFMAN: Listen, what are we doing here? I mean __ defending big government is like defending death and taxes. When was the last time you met anybody that was in favor of big government? FRIEDMAN: Today, today I met Bob Lekachman, I […]
By Everette Hatcher III | Also posted in Current Events | Edit | Comments (0)
_