_
By Gene Healy
---
The "Path out of the Pandemic" will be paved with employer mandates, President Biden announced in September. But this week, a key part of the Biden plan hit a major speed bump in federal court. The Fifth Circuit Court of Appeals stayedimplementation of the administration's vax‐​or‐​test mandate for private‐​sector companies with 100 or more employees, citing "grave statutory and constitutional issues" with the edict.
As my colleagues have explained, there's ample reason to question the legal basis for the president's latest power grab. I want to focus on a different question here: is the juice worth the squeeze? "Vaccination requirements should not be another issue that divides us," Biden implored in a recent speech. But it's been obvious from the start that his private‐​sector mandate would further fan the flames of our already rage‐​addled COVID politics. The question is whether it will accomplish much of anything else.
Color me skeptical: even if it survives its legal challenges, the scheme looks like something designed by a mad social scientist hellbent on further politicizing public health: loose enough to fail at achieving its aims, but just coercive enough to infuriate broad swathes of the public.
For years, the theory was that vaccine hesitancy was mainly a problem of information: give people the good news and they'll queue up for the jab. But as Sabrina Tavernise explains in the New York Times, recent research suggests it's more complicated. When epidemiologists joined with social psychologists to study the issue, "what they discovered was a clear set of psychological traits offering a new lens through which to understand skepticism." Among those traits is one dubbed reactance, a deep‐​seated aversion to loss of threatened freedom. "According to this model," the APA Dictionary explains, "when people feel coerced into a certain behavior, they will react against the coercion, often by demonstrating an increased preference for the behavior that is restrained, and may perform the behavior opposite to that desired." It's a healthy impulse in general—though emphatically not in this particular case.
Like it or not, though, mandates can backfirebecause people don't want to be told what to do, particularly by someone they hate—and a good many in the target group hate the president more than they hate their boss. Add to that the fact that what the press has been calling a "vaccine mandate" is actually a "test or vax mandate." Under the proposed emergency temporary standard, workers determined to avoid the needle will have an out that allows them to keep their jobs. For many high‐​reactance, Biden‐​hating vaccine skeptics, that's going to look like the most attractive option.
True, opting out won't be free: the ETS requires workers who forgo vaccination to mask up in the workplace for as long as the rule's in effect. Moreover, the rule allows management to make vax‐​resistant employees pay for the cost of weekly testing. If rapid tests were cheap and ubiquitous, as they are in much of Europe, that wouldn't be much of a disincentive. As it stands, though, tests currently run anywhere from $7 to $15 a week, if you can get them. The FDA has so thoroughly botched rapid‐​test development that this may be the rare case where bureaucratic incompetence at one end of the administrative state accidentally improves performance of a separate, ill‐​considered regulatory scheme.
If the mandate manages to survive legal challenge and if the costs of testing and masking prove high enough, then it will have some positive effects in terms of vaccine uptake. A Goldman Sachs analysis published in September estimates that all of the Biden mandates—including those for health care workers and federal contractors, where there's no testing opt-out—might raise vaccine uptake by as much as 3.6 percent.
At this point, however, over 80 percent of American adults have had at least one COVID shot, the Delta wave has crested, and extraordinarily effective therapeutics, cutting the risk of serious illness by 89 percent, are coming online. Are the marginal public health benefits from the employer mandate enough to make it worth tolerating a massive new presidential power grab guaranteed to make our increasingly toxic politics still crazier?
The extent to which tribal signaling has infected the COVID debate is enough to make even a hardened cynic despair. Red state vaccine hesitancy needlessly and tragically exacerbated the pandemic's toll through 2021; meanwhile, much of Blue America seems bent on embracing a permanent state of emergency: the Rest of Your Life to Slow the Spread. The technological miracle of the vaccines has finally reduced COVID to "just the flu," making a return to normalcy possible. Yet as Richard Hanania sums it up, "we're split between those who reject the solution and those who accept it but want to ruin life forever anyway."
I've been thinking lately about a smartass comment I saw on Twitter, to the effect that we should have called one vaccine the Trump jab and the other one the Biden shot, and thereby made our moronic tribalism work for us for a change. Just picture the ad campaigns:
"Don't be a soyboy: level up with #MAGAVax—it's got what yer T‑cells crave!"
and
"Get the Bidenjab: builds your #Resistance—and it's gluten‐​free!"
I can't help thinking that would have been a smarter policy than what the allegedly serious people came up with.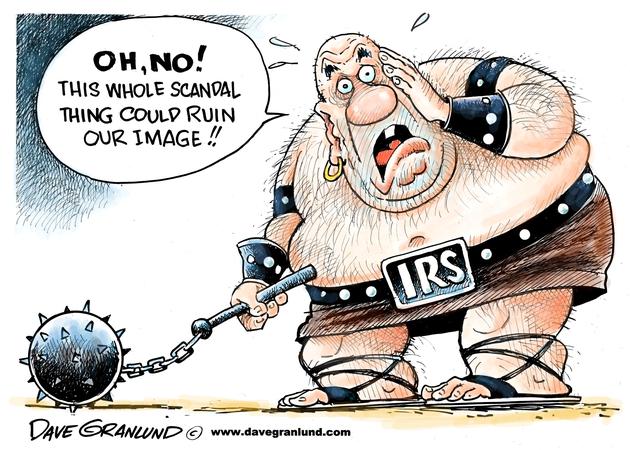 The IRS played partisan politics during the Obama years by targeting taxpayer organizations such "Tea Party" groups. Now the IRS is at it again, this time leaking the tax returns of selected rich people to advance Biden's class-warfare agenda.
There are two logical responses.
Cut the IRS budget so the bureaucrats learn a very important lesson that corruption is bad.
Reform the tax code with a simple and fair flat tax so the IRS can be dramatically downsized.
I suspect most Americans would select both options.
But the crowd in Washington has a different perspective. Most of them like the IRS because it's the bureaucracy that generates the money that they use to buy votes.
Many of them want to reward the IRS with more money(including plenty of brain-dead Republicans), which is bad enough, but what's really troubling is that some of them even want to turn the IRS budget into an entitlement.
In an article for Reason, Eric Boehm explains that Elizabeth Warren is leading the charge for this reckless proposal.

Sen. Elizabeth Warren (D–Mass.) says her plan to more than double the annual IRS budget would allow the federal government to collect an extra $1.75 trillion over the next 10 years. …her plan seems based on little more than a hunch and some bad math.…Warren's "Restoring the IRS Act of 2021" would hike the agency's budget from $11.9 billion to $31.5 billion. …It would also…move the IRS from the…federal budget's discretionary side…to the mandatory portion of the budget, alongside Social Security and other programs that run on autopilot. …In practice, that means giving the IRS a big budgetary boost and giving the agency the authority to dig through bank accounts and transaction records.
The Wall Street Journal also is not impressed with the idea of rewarding a corrupt tax bureaucracy.
Here are some excerpts from its recent editorial, which notes that the Biden Administration also wants to turn IRS funding into an entitlement .

The Internal Revenue Service leak of taxpayer returns to left-leaning media outlet ProPublica is a prime example of why Congress should refuse to give the tax agency more money and power. That includes President Biden's little-noticed but politically consequential plan to put IRS funding on autopilot. …Like so much else in the Biden Presidency, this follows the Elizabeth Warren model.…The IRS would essentially become another mandatory budget program like Social Security and Medicare. …without the risk of having to answer to Congressional appropriators for its budget, the tax agency would have little to worry about. …Their plan would make sure the IRS doesn't have to pay a price in the future for politically targeting taxpayers or leaking returns. The potential for abuse would grow since Mr. Biden's plan would also give the IRS access to bank account inflows and outflows. …a tax collection agency shielded from Congressional budget supervision is one definition of tyranny.
All of this is true.
But let's also remember that the case for more IRS funding (whether as appropriations or as an entitlement) is based on nonsensical and self-serving estimates of the supposed tax gap.
P.S. For those who want to understand the technical differences between entitlement spending and appropriated spending, click here.
P.P.S. Entitlement spending is America's top long-run fiscal challenge, so it's incomprehensibly foolish to expand such programs.
P.P.P.S. The bad news is that Senator Warren is an unreconstructed statist (see here, here, here, here, here, here, here, and here).
P.P.P.P.S. The good news is that she is the impetus for some clever humor (see here, here, here, and here).
P.P.P.P.P.S. And she's a hypocrite who doesn't abide by her own policies.
Why do folks on the left support punitive policies such as high tax rates and a bigger burden of government?
Some of them are motivated by resentment against those who have achieved success. These are the people who support the hate-and-envy message of politicians such as Bernie Sanders and Elizabeth Warren.
Others folks on the left, by contrast, are motivated by sympathy for the less fortunate.
That's a noble sentiment. Where they go wrong is in thinking that the economy is a fixed pie. This leads them to the mistaken conclusion that some people are poor because other people are rich.
Maybe I'm overly optimistic, but I think these people can be convinced to support good policy if they learn the facts about how free markets and limited government are a proven recipe for prosperity.
This is why I shared data earlier this year showing how per-capita economic output jumped dramatically once capitalism was allowed starting a couple of hundred years ago.
Today, let's look at how poor people have been the biggest winners. Professor Max Roser of Oxford University recently shared a profoundly important tweet about the dramatic reduction in global poverty. We see not only that poverty rates have plummeted, but also that falling poverty rates are correlated with increases in per-capita GDP.
In other words, everyone is getting richer. There's no fixed pie.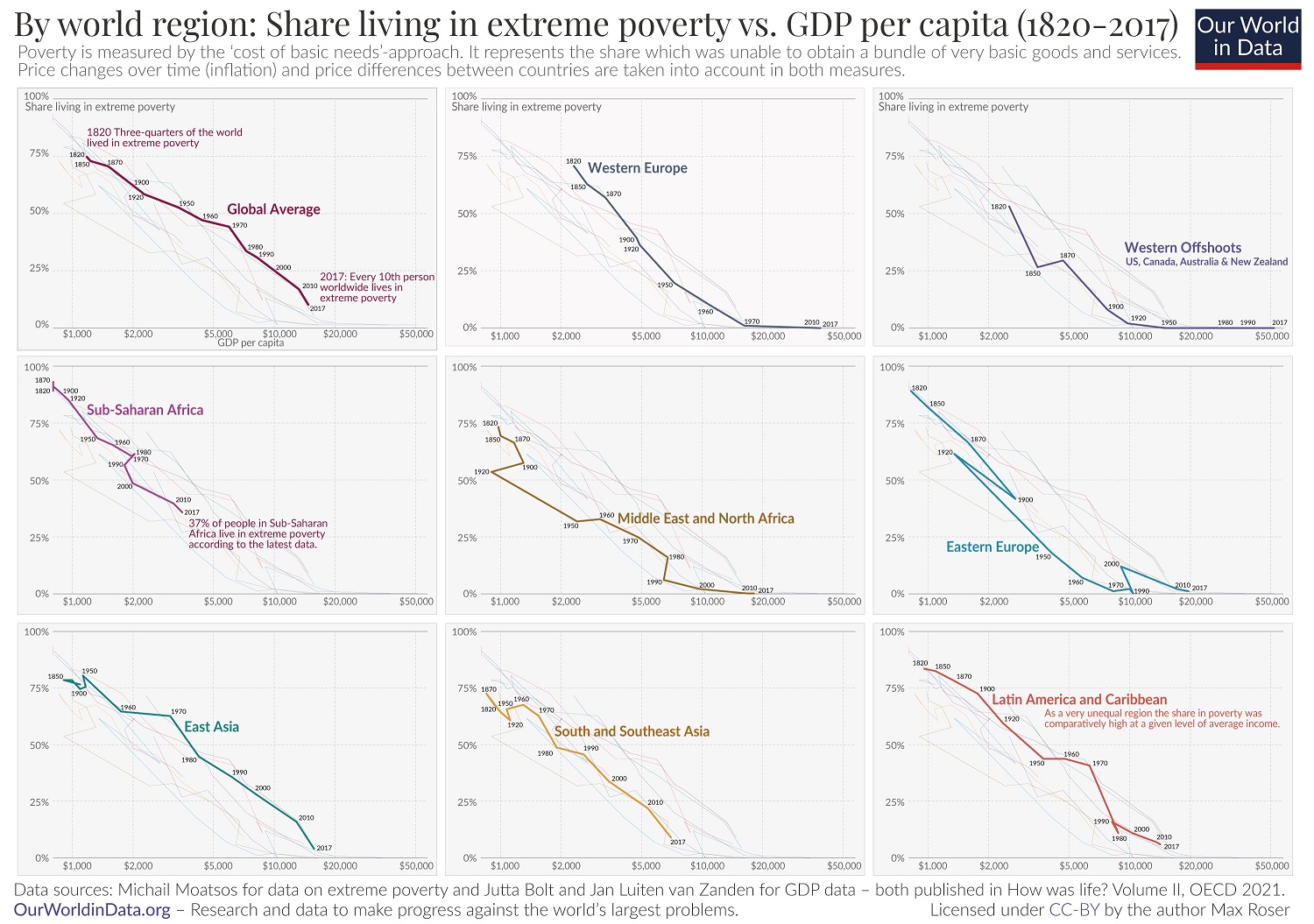 As you might expect, regions that are friendlier to capitalismhave enjoyed bigger increases in prosperity and bigger reductions in poverty.
The bottom line is that people who care about the poor should be the biggest advocates of free enterprise.
P.S. It's worth noting that, according to both U.S. data and global data, the big reduction in poverty occurred before welfare states were created.
Biography:
Click here to see the Hoover project showcasing the works of Milton and Rose Friedman.
Milton Friedman, recipient of the 1976 Nobel Memorial Prize for economic science, was a senior research fellow at the Hoover Institution from 1977 to 2006. He passed away on Nov. 16, 2006. (Link to obituary.) He was also the Paul Snowden Russell Distinguished Service Professor Emeritus of Economics at the University of Chicago, where he taught from 1946 to 1976, and a member of the research staff of the National Bureau of Economic Research from 1937 to 1981.
Friedman was awarded the Presidential Medal of Freedom in 1988 and received the National Medal of Science the same year.
He was widely regarded as the leader of the Chicago School of monetary economics, which stresses the importance of the quantity of money as an instrument of government policy and as a determinant of business cycles and inflation.
In addition to his scientific work, Friedman also wrote extensively on public policy, always with a primary emphasis on the preservation and extension of individual freedom. His most important books in this field are (with Rose D. Friedman) Capitalism and Freedom (University of Chicago Press, 1962); Bright Promises, Dismal Performance (Thomas Horton and Daughters, 1983), which consists mostly of reprints of columns he wrote for Newsweek from 1966 to 1983; (with Rose D. Friedman) Free to Choose (Harcourt Brace Jovanovich, 1980), which complements a ten-part television series of the same name shown over the Public Broadcasting Service (PBS) network in early 1980; and (with Rose D. Friedman) Tyranny of the Status Quo (Harcourt Brace Jovanovich, 1984), which complements a three-part television series of the same name, shown over PBS in early 1984.
He was a member of the President's Commission on an All-Volunteer Armed Force and the President's Commission on White House Fellows. He was a member of President Ronald Reagan's Economic Policy Advisory Board (a group of experts from outside the government named in 1981 by President Reagan).
Friedman was also active in public affairs, serving as an informal economic adviser to Senator Barry Goldwater in his unsuccessful campaign for the presidency in 1964, to Richard Nixon in his successful 1968 campaign, to President Nixon subsequently, and to Ronald Reagan in his 1980 campaign.
He has published many books and articles, most notably A Theory of the Consumption Function, The Optimum Quantity of Money and Other Essays, and (with A. J. Schwartz) A Monetary History of the United States, Monetary Statistics of the United States, and Monetary Trends in the United States and the United Kingdom.
He was a past president of the American Economic Association, the Western Economic Association, and the Mont Pelerin Society and was a member of the American Philosophical Society and the National Academy of Sciences.
He was awarded honorary degrees by universities in the United States, Japan, Israel, and Guatemala, as well as the Grand Cordon of the First Class Order of the Sacred Treasure by the Japanese government in 1986.
Friedman received a B.A. in 1932 from Rutgers University, an M.A. in 1933 from the University of Chicago, and a Ph.D. in 1946 from Columbia University.
Two Lucky People, his and Rose D. Friedman's memoirs, was published in 1998 by the University of Chicago Press.
_
https://www.youtube.com/watch?v=1EwaLys3Zak

Related posts:
Milton Friedman The Power of the Market 1-5 How can we have personal freedom without economic freedom? That is why I don't understand why socialists who value individual freedoms want to take away our economic freedoms. I wanted to share this info below with you from Milton Friedman who has influenced me greatly over the […] By Everette Hatcher III | Posted in Milton Friedman | Tagged arnold schwarzenegger. | Edit | Comments (0)
Milton Friedman: Free To Choose – The Failure Of Socialism With Ronald Reagan (Full) Published on Mar 19, 2012 by NoNationalityNeeded Milton Friedman's writings affected me greatly when I first discovered them and I wanted to share with you. We must not head down the path of socialism like Greece has done. Abstract: Ronald Reagan […] By Everette Hatcher III | Posted in Milton Friedman, President Obama | Edit | Comments (1)
________________
Worse still, America's depression was to become worldwide because of what lies behind these doors. This is the vault of the Federal Reserve Bank of New York. Inside is the largest horde of gold in the world. Because the world was on a gold standard in 1929, these vaults, where the U.S. gold was stored, […] By Everette Hatcher III | Also posted in Current Events | Edit | Comments (0)
George Eccles: Well, then we called all our employees together. And we told them to be at the bank at their place at 8:00 a.m. and just act as if nothing was happening, just have a smile on their face, if they could, and me too. And we have four savings windows and we […] By Everette Hatcher III | Also posted in Current Events | Edit | Comments (0)
Milton Friedman's Free to Choose (1980), episode 3 – Anatomy of a Crisis. part 1 FREE TO CHOOSE: Anatomy of Crisis Friedman Delancy Street in New York's lower east side, hardly one of the city's best known sites, yet what happened in this street nearly 50 years ago continues to effect all of us today. […]
By Everette Hatcher III | Also posted in Current Events | Edit | Comments (0)
____________________________ _____________

________________________________________________
_____________________________________________
Friedman Friday" Free to Choose by Milton Friedman: Episode "What is wrong with our schools?" (Part 3 of transcript and video) Here is the video clip and transcript of the film series FREE TO CHOOSE episode "What is wrong with our schools?" Part 3 of 6. Volume 6 – What's Wrong with our Schools Transcript: If it […] By Everette Hatcher III | Also posted in Vouchers | Tagged economic market., educational market, private universities, state colleges, value of education | Edit | Comments (0)
Here is the video clip and transcript of the film series FREE TO CHOOSE episode "What is wrong with our schools?" Part 2 of 6. Volume 6 – What's Wrong with our Schools Transcript: Groups of concerned parents and teachers decided to do something about it. They used private funds to take over empty stores and they […]
By Everette Hatcher III | Also posted in Vouchers | Edit | Comments (1)
Here is the video clip and transcript of the film series FREE TO CHOOSE episode "What is wrong with our schools?" Part 1 of 6. Volume 6 – What's Wrong with our Schools Transcript: Friedman: These youngsters are beginning another day at one of America's public schools, Hyde Park High School in Boston. What happens when […]
By Everette Hatcher III | Also posted in Vouchers | Tagged hidden weapons, hyde park high school, hyde park., state of vermont, vivid illustration | Edit | Comments (0)
Friedman Friday" Free to Choose by Milton Friedman: Episode "Created Equal" (Part 3 of transcript and video) Liberals like President Obama want to shoot for an equality of outcome. That system does not work. In fact, our free society allows for the closest gap between the wealthy and the poor. Unlike other countries where free enterprise and other […] By Everette Hatcher III | Posted in Milton Friedman | Tagged containment devices, equality of outcome, oil spill, youtube | Edit | Comments (0)
Free to Choose by Milton Friedman: Episode "Created Equal" (Part 2 of transcript and video) Liberals like President Obama want to shoot for an equality of outcome. That system does not work. In fact, our free society allows for the closest gap between the wealthy and the poor. Unlike other countries where free enterprise and other freedoms are […] By Everette Hatcher III | Posted in Milton Friedman | Tagged equality of outcome, menuhin school, new millionaires, world war ii | Edit | Comments (0)
Milton Friedman and Ronald Reagan Liberals like President Obama (and John Brummett) want to shoot for an equality of outcome. That system does not work. In fact, our free society allows for the closest gap between the wealthy and the poor. Unlike other countries where free enterprise and other freedoms are not present. This is a seven part series. […] By Everette Hatcher III | Posted in John Brummett, Milton Friedman, Ronald Reagan | Tagged dr friedman, equality of opportunity, equality of outcome, freedom advocates, personal freedom. | Edit | Comments (0)
I am currently going through his film series "Free to Choose" which is one the most powerful film series I have ever seen. PART 3 OF 7 Worse still, America's depression was to become worldwide because of what lies behind these doors. This is the vault of the Federal Reserve Bank of New York. Inside […]
By Everette Hatcher III | Edit | Comments (0)
I am currently going through his film series "Free to Choose" which is one the most powerful film series I have ever seen. For the past 7 years Maureen Ramsey has had to buy food and clothes for her family out of a government handout. For the whole of that time, her husband, Steve, hasn't […] By Everette Hatcher III | Edit | Comments (0)
Friedman Friday:("Free to Choose" episode 4 – From Cradle to Grave, Part 1 of 7) Volume 4 – From Cradle to Grave Abstract: Since the Depression years of the 1930s, there has been almost continuous expansion of governmental efforts to provide for people's welfare. First, there was a tremendous expansion of public works. The Social Security Act […]
By Everette Hatcher III | Edit | Comments (0)
_________________________ Pt3 Nowadays there's a considerable amount of traffic at this border. People cross a little more freely than they use to. Many people from Hong Kong trade in China and the market has helped bring the two countries closer together, but the barriers between them are still very real. On this side […] By Everette Hatcher III | Posted in Current Events, Milton Friedman | Edit | Comments (0)
Aside from its harbor, the only other important resource of Hong Kong is people __ over 4_ million of them. Like America a century ago, Hong Kong in the past few decades has been a haven for people who sought the freedom to make the most of their own abilities. Many of them are […] By Everette Hatcher III | Posted in Current Events, Milton Friedman | Edit | Comments (0)
"FREE TO CHOOSE" 1: The Power of the Market (Milton Friedman) Free to Choose ^ | 1980 | Milton Friedman Posted on Monday, July 17, 2006 4:20:46 PM by Choose Ye This Day FREE TO CHOOSE: The Power of the Market Friedman: Once all of this was a swamp, covered with forest. The Canarce Indians […]
By Everette Hatcher III | Posted in Current Events, Milton Friedman | Edit | Comments (0)
Milton Friedman: Free To Choose – The Failure Of Socialism With Ronald Reagan (Full) Published on Mar 19, 2012 by NoNationalityNeeded Milton Friedman's writings affected me greatly when I first discovered them and I wanted to share with you. We must not head down the path of socialism like Greece has done. Abstract: Ronald Reagan […] By Everette Hatcher III | Posted in Milton Friedman, President Obama | Edit | Comments (1)