—
Remember back when Joe Biden said paying more tax is patriotic?
He was being a hypocrite, of course, since he aggressively sought to lower his own tax burden.

But he was also behaving exactly as "public choice" theory predicts.
Politicians naturally want more of our money, and they'll use any excuse to justify reaching into our pockets.
Some journalists have embraced this viewpoint, waving the flag of taxes-über-alles with gusto and enthusiasm.
Here are some excerpts from Catherine Rampell's recent columnin the Washington Post.
There are some types of income, however, for which little or no third-party reporting exists. These income categories — including partnership, proprietorship and rental income — accrue disproportionately to high earners. The government has much less ability to tell when these filers are misreporting; as a result, they can more easily get away with cheating.…Tax cheating is not a victimless crime. …everyone else must pay more to fill the shortfall. One solution is to have the IRS conduct more audits. …tax enforcement has plummeted as the IRS has been starved of resources. …More reporting would also deter would-be tax cheats… This solution is exactly what Democrats have proposed as part of their big budget bill. …banks would — once a year — also report the sums of all deposits and withdrawals for certain accounts. …The GOP seeks to exploit the confusion of honest, rank-and-file taxpayers.
And, a few days ago, Binyamin Appelbaum of the New York Times wrote that it was "rotten" to oppose higher taxes.
Resistance to taxation is the rotten core of the modern Republican Party. Republicans in recent decades have sharply reduced the federal income tax rates imposed on wealthy people and big companies, but their opposition to taxation goes beyond that. They are aiding and abetting tax evasion. Republicans have hacked away at funding for the Internal Revenue Service over the past decade, enfeebling the agency.…they valorize Americans who find ways to pay less, a normalization of antisocial behavior that may be even more damaging… The Republican Party was reborn in the 1970s under the banner of resistance to taxation, led by anti-tax men like Jack Kemp and Ronald Reagan. …Republicans like to talk about liberty, by which they mean a narrow and negative kind of freedom from civic duty and mutual obligation. …the rise of anti-tax activism was inextricably intertwined with the decline of a white electoral majority. …Progressive taxation is…a small price to pay for prosperity. …We create and maintain our society through our contributions.
Both of these columns are filled with factual mistakes, most notably the discredited claim that the IRS is being starved of money (it's budget, adjusted for inflation, has doubled since the early 1980s).
They also seem willing to accept the self-serving numbers from the IRS, whereas the world's top academic experts estimate the United States is near the top for tax compliance.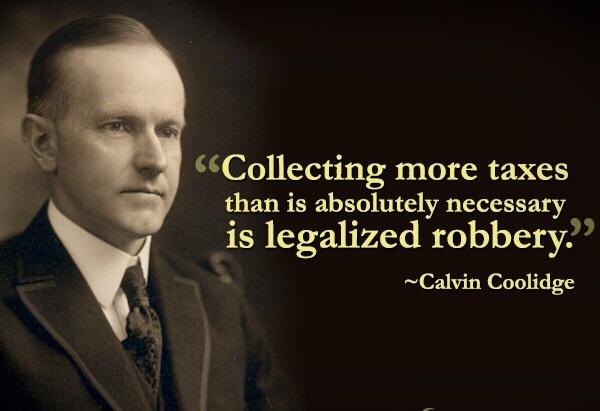 With this in mind, Biden's aggressive proposal for automatic snooping on bank accounts is like using a sledgehammer to kill a fly.
And it's also worth noting that neither Rampell nor Appelbaum address the topic of IRS leaks and bureaucratic corruption. Shouldn't those problems be fixed before giving the IRS more power, more money, and more of our private data?
I'll close by wondering whether either Rampell or Appelbaum have voluntarily paid extra tax to demonstrate their own "patriotism"?
Or, if that's asking for too much flag waving, maybe they can tell us whether they take advantage of rules (everything from IRAs and 401(k)s to itemized deductions) that allow households to protect some of their income from government.
For what it's worth, I suspect that they are both hypocrites, just like other folks on the left (John Kerry, Hillary Clinton, Gov. Pritzker, Tim Geithner, etc) who embrace higher taxes for you and me while making sure they pay as little as possible.
 Sadly last night the Democrats won control of Senate!
2021 Democrats should remember Walter Williams' words, "Suppose I saw a homeless, hungry elderly woman huddled on a heating grate in the dead of winter. To help the woman, I ask somebody for a $200 donation to help her out. If the person refuses, I then use intimidation, threats and coercion to take the person's money. I then purchase food and shelter for the needy woman. My question to you: Have I committed a crime? I hope that most people would answer yes. It's theft to take the property of one person to give to another"
Back in 2012, I shared a sadly amusing image about how the modern political process has degenerated into two wolves and a sheep voting what to have for lunch.
I was making an argument in that column against majoritarianism (and that is a critical issue, as explained in this video), but there's also a very important moral component to this debate.
Walter Williams addresses this issue in his latest column. He starts by asking a hypothetical question.
Suppose I saw a homeless, hungry elderly woman huddled on a heating grate in the dead of winter. To help the woman, I ask somebody for a $200 donation to help her out. If the person refuses, I then use intimidation, threats and coercion to take the person's money. I then purchase food and shelter for the needy woman. My question to you: Have I committed a crime? I hope that most people would answer yes. It's theft to take the property of one person to give to another.
In other words, it doesn't matter how Person A wants to spend money, it's wrong for Person A to steal from Person B.
Walter than asks some critical follow-up questions, all of which are designed to make readers realize that theft doesn't magically become acceptable simply because several people want to take Person B's money.
Would it be theft if I managed to get three people to agree that I should take the person's money to help the woman? What if I got 100, 1 million or 300 million people to agree to take the person's $200? Would it be theft then? What if instead of personally taking the person's $200, I got together with other Americans and asked Congress to use Internal Revenue Service agents to take the person's $200? The bottom-line question is: Does an act that's clearly immoral when done privately become moral when it is done collectively and under the color of law? Put another way, does legality establish morality?
Amen. Walter is exactly right.
And this is a point I need to internalize.
I'm often writing about the economic evidence for smaller government, but I suspect advocates of economic liberty and smaller government won't win the debate unless we augment our arguments by also making the moral case against government-sanctioned theft.
And perhaps one way of getting this point across is to educate people about the fact that we used to have a very small federal government with little or no redistribution. Walter elaborates.
For most of our history, Congress did a far better job of limiting its activities to what was both moral and constitutional. As a result, federal spending was only 3 to 5 percent of the gross domestic product from our founding until the 1920s… James Madison, the acknowledged father of our Constitution, said, "Charity is no part of the legislative duty of the government." In 1794, when Congress appropriated $15,000 to assist some French refugees, Madison stood on the floor of the House of Representatives to object, saying, "I cannot undertake to lay my finger on that article of the Constitution which granted a right to Congress of expending, on objects of benevolence, the money of their constituents."
Here's the bottom line according to Professor Williams.
We've become an immoral people demanding that Congress forcibly use one American to serve the purposes of another. Deficits and runaway national debt are merely symptoms of that larger problem.
Though I would slightly disagree with the way Walter phrased it.
I would argue that a bloated government is the symptom of growing immorality. Deficits and debt are then symptoms of that problem.
P.S. I want to quickly address another issue.
When I quote Art Laffer, I'm almost always going to be in agreement with what he says.
But, as I wrote last year, we're in disagreement on the issue of whether states should be allowed to tax sales that take place outside their borders.
And now Art has a short video that rubbed me the wrong way.
He endorses legislation that would create a sales tax cartel and says – right at the start of this video – that this is because "states should have the right to be able to tax whatever they want to within their state."
I agree, but this is why I'm against the so-called Marketplace Fairness Act. That legislation would allow state governments to tax outside their borders.
Simply stated, a merchant in one state should not be forced to collect taxes for a government in another state.
P.P.S. This also explains why FATCA is such horrible legislation. It is an effort by the U.S. government to coerce banks in other nations to enforce bad IRS law.
If we care about liberty, we should make sure the power of government is constrained by borders.

Milton Friedman – A Conversation On Minimum Wage
Published on Oct 4, 2013
A debate on whether the minimum wage hurts or helps the working class. http://www.LibertyPen.com
Friedman would say, "IF A DOLLAR MORE RAISE IN THE MINIMUM WAGE WOULD HELP THEN WHY NOT RAISE EVERYONE UP TO $100 AN HOUR?" Of course, that exposes that fallacy of liberals' argument and that is by raising up the minimum wage at some point will further limit access to the market to the most needy of our citizens would like to gain employment and cause massive layoffs!!!!!!
While economists are famous for their disagreements (and their incompetent forecasts), there is universal consensus in the profession that demand curves slope downward. That may be meaningless jargon to non-economists,
but it simply means that people buy less of something when it becomes more expensive.
And this is why it makes no senseto impose minimum wage requirements, or to increase mandated wages where such laws already exist.
If you don't understand this, just do a thought experiment and imagine what would happen if the minimum wage was $100 per hour. The answer is terrible unemployment, of course, which means it's a very bad idea.
So why, then, is it okay to throw a "modest" number of people into the unemployment line with a "small" increase in the minimum wage?
Yet some politicians can't resist pushing such policies because it makes them seem like Santa Claus to low-information voters. Vote for me, they assert, because I'll get you a pay raise!
All of this sounds good, and it may even be the final result for some workers. But there's overwhelming evidence that you get more unemployment when politicians boost the minimum wage.
There are no "magic boats." In the real world, businesses only hire workers when they expect that additional employees will generate more than enough revenue to offset their costs. So when politicians artificially increase the cost of hiring workers, there will be some workers (particularly those with low skills) who become redundant.
And that's exactly what we're seeing in cities that have chosen to mandate higher minimum wages.
The Wall Street Journal opines on Seattle's numbers.
Seattle's increase last year seems to be reducing employment. That's the finding of a new report by researchers at the University of Washington. The study compared nine months of 2015 in Seattle, where the wage is ticking up gradually and hit $13 an hour in January, with similar areas elsewhere in Washington. …The researchers found that the ordinance decreased the low-wage employment rate by about one-percentage point. …The ordinance "modestly held back" employment of low-wage earners, and hours worked "lagged behind" regional trends, on average four hours each quarter (or 19 minutes a week). Many such individuals moved to take jobs outside the city at "an elevated rate compared to historical patterns," says the report. …None of this will surprise anyone who understands that increasing the cost of something will reduce the demand for it. Then again, that concept seems to elude both major presidential candidates, who have floated national minimum-wage increases.
By the way, it's not just Trump and Clinton supporting this destructive policy.
Mitt Romney also was on the wrong side back in 2012.
And it goes without saying that Obama has been a demagogue on the issue.
Sigh.
Let's examine evidence from another city. Mark Perry of the American Enterprise Institute looks at what has been happening in Washington, DC.
Since the DC minimum wage increased in July 2015 to $10.50 an hour, restaurant employment in the city has increased less than 1% (and by 500 jobs), while restaurant jobs in the surrounding suburbs increased 4.2% (and by 7,300 jobs). An even more dramatic effect has taken place since the start of this year – DC restaurant jobs fell by 1,400 jobs (and by 2.7%) in the first six months of 2016 between January and July – that's the largest loss of District food jobs during a 6-month period in 15 years. Perhaps some of those job losses were related to the $1 an hour minimum wage hike on July 1, bringing the city's new minimum wage to $11.50 an hour. In contrast, restaurant employment outside the city grew at a 1.6% rate in the suburbs (and by 2,900 jobs) during the January to July period. …While it might take several more years to assess the full impact, the preliminary evidence so far suggests that DC's minimum wage law is having a negative effect on staffing levels at the city's restaurants. At the same time that suburban restaurants have increased employment levels by nearly 3,000 new positions since January, restaurants in the District have shed jobs in five out of the last six months, with a total loss of 1,400 jobs during that period (an average of nearly 8 jobs lost every day). The last time DC experienced restaurant job losses in five out of six consecutive months was 25 years ago in 1991, and the last time 1,400 jobs were lost over any six-month period was 15 years ago during the 2001 recession.
Here's a chart looking at how restaurant employment in DC and the suburbs used to be closely correlated, but how there's been a divergence since the city hiked the minimum wage.
As Mark noted, we'll know even more as time passes, but the net result so far is predictably negative.
For additional background info, this video is a succinct explanation of why minimum-wage mandates are such a bad idea.
Let's close with something rather amusing. It turns out that the State Department, during Hillary Clinton's tenure, actually understood that higher minimum wages destroy jobs. Indeed, her people were even willing to fight against such job-killing measures.
But in Haiti rather than America, as Politifact reports.
Memos from 2008 and 2009 obtained by Wikileaks strongly suggest…that the State Department helped block the proposed minimum wage increase. The memos show that U.S. Embassy officials in Haiti clearly opposed the wage hike and met multiple times with factory owners who directly lobbied against it to the Haitian president. …media outlets assessed the cables and found, among many other revelations, that the "U.S. Embassy in Haiti worked closely with factory owners contracted by Levi's, Hanes, and Fruit of the Loom to aggressively block a paltry minimum wage increase" for workers in apparel factories. …Deputy Chief of Mission David Lindwall put it most bluntly, when he said the minimum wage law "did not take economic reality into account but that appealed to the unemployed and underpaid masses." …The U.S. Embassy, meanwhile, continued to lament the hike… USAID studies found that a 200 gourdes minimum wage "would make the sector economically unviable and consequently force factories to shut down."
Hmmm…., I wonder if some of those textile companies made contributions to theClinton Foundation?
P.S. People in Switzerland obviously understand this issue, overwhelmingly voting against a minimum-wage mandate in 2014.
P.P.S. As Walter Williams has explained, minimum wage laws are especially harmful for blacks.
Related posts: