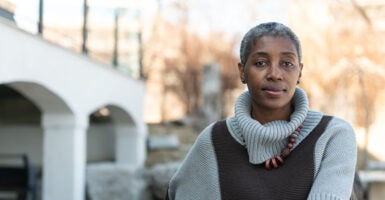 A lot of transformative health care policy is embedded in Democrats' $3.5 trillion social spending bill, including continuation of the Biden administration's campaign to strip away state flexibility and consolidate greater federal control over Medicaid.
Medicaid, the joint federal-state program to provide health care services to certain low-income Americans, has seen an explosion in enrollment and spending.
The Centers for Medicare and Medicaid Services announced over the summer that a record 80 million Americans are enrolled in Medicaid, and federal spending on it has increased by an estimated 19%.
At the same time, the Biden administration has taken unprecedented steps to curb states' ability to manage and stabilize Medicaid.
The "Build Back Better" plan, making its way through Congress under a "budget reconciliation" process that will allow Democrats to pass it without any Republican votes, would accelerate these troubling trends and further expand the welfare state.
Most notable in the $3.5 trillion spending bill is creation of a Medicaid-like program. Under the proposal, the federal government would set up and run a new program to provide medical services to individuals in states that elected not to expand their own Medicaid programs.
This proposal not only would increase the number of Americans on government-run health care, but also expand the federal government's role in delivering that care. Moreover, while the program seems narrowly focused, it is certainly reasonable to assume that it could be expanded and pave the way for a full-blown government takeover.
Rather than expand the broken welfare state, President Joe Biden and Congress should focus on addressing the root causes of the country's health care woes, such as costly regulations that drive up health care premiums and drive down affordable coverage options.
The Build Back Better plan also would expand Medicaid's role in delivering long-term care services. If passed, the bill would create a grant program for states to expand access to home and community-based services through Medicaid. It would boost the federal share of costs for states that adopt this expansion, and the federal government also would assume a greater share of related administrative costs.
The COVID-19 relief bills passed by Congress already provided significant federal resources to the states, including an increase in Medicaid assistance for the duration of the public health emergency as well as for home and community-based services.
The spending bill would mean a significant and permanent increase in taxpayer spending on the Medicaid program and exacerbate a growing shift toward the federal government's assuming a greater share of the cost of Medicaid.
Using Medicaid to solve the long-term care challenges is shortsighted and poorly targeted. Expanding government's role in delivery of long-term care services drives out private options and stretches an already overstretched safety net aimed at the poor.
Rather than expand Medicaid's role in long-term care, Congress should promote private alternatives, preserve the safety net for those who already depend on it, and reduce long-term dependence on Medicaid.
The Build Back Better plan also would undermine state flexibility by imposing new federal requirements on the states.
Under Medicaid, the federal government sets out basic rules and the states have significant authority to design their own programs within those parameters. The spending bill would change the status of some populations and services from optional to mandatory. Rather than giving states the ability to tailor programs to meet their unique demands and needs, this proposal would chip away at state flexibility in favor of federal eligibility and benefit mandates.
Finally, Democrats' bill also would make policy changes that weaken oversight and accountability over these programs. Specifically, the bill would require that certain enrollees remain on Medicaid for an entire year regardless of changes to their eligibility status.
The bill also would make the process of enrolling in Medicaid easier by making "express" eligibility determinations. And the bill would permanently extend the Children's Health Insurance Program and its funding, removing the need for regular congressional review of the program and essentially putting it on autopilot.
These actions would strip states of flexibility, remove accountability for these programs, and enlarge government's control over Medicaid and health care in general. Rather than expand the government's role in health care and put more federal mandates and requirements on the states, Congress should give states greater flexibility to manage the needs of their citizens without adding to the cost.
This health care fight is about control over dollars and decisions. It is a choice between a federal, one-size-fits-all solution that puts Washington first or a flexible solution that puts Americans in need and those closest to them first.
Have an opinion about this article? To sound off, please email letters@DailySignal.com and we'll consider publishing your edited remarks in our regular "We Hear You" feature. Remember to include the url or headline of the article plus your name and town and/or state.
Arkansas' own Nick Horton featured on Dan Mitchell's blog!!! Below is the best video I have ever seen on Obamacare's lies about Medicaid!!!!
An Under-Appreciated Victory over Obamacare
July 14, 2014 by Dan Mitchell
Let's enjoy some semi-good news today.
We've discussed many times why Obamacare is bad news, whether we're looking at it from the perspective of the healthcare system, taxpayers, or workers.
But it could be worse. Writing in the Washington Post, Robert Samuelson explains that two-dozen states have refused the lure of expanding Medicaid (the means-tested health care program) in exchange for "free" federal money.
From 1989 to 2013, the share of states' general funds devoted to Medicaid has risen from 9 percent to 19 percent, reports the National Association of State Budget Officers. Under present law, the squeeze will worsen. The White House report doesn't discuss this. …To the White House, the right-wing anti-Obamacare crusade is mean-spirited partisanship at its worst. The 24 non- participating states are sacrificing huge amounts of almost-free money… Under the ACA, the federal government pays all the cost of the Medicaid expansion through 2016 and, after that, the reimbursement rate drops gradually to a still-generous 90 percent in 2020.
But that "almost-free money" isn't free, of course. It's simply money that the federal government (rather than state governments) is diverting from the productive sector of the economy.
So the 24 states that have rejected Medicaid expansion have done a huge favor for America's taxpayers. To be more specific, Nic Horton of Watchdog.org explains that these states have lowered the burden of federal spending (compared to what it would have been) by almost $90 billion over the next three years.
By not expanding Medicaid, 24 states are saving taxpayers $88 billion over the next three years. That is $88 billion that will not be added to the national debt — debt that will not be passed on to future generations of taxpayers. On the other hand, states that have expanded Medicaid through Obamacare are adding roughly $84 billion to the national debt through 2016.
Returning to Samuelson's column, he would like a grand bargain between states and the federal government, with Washington agreeing to pay for all of Medicaid (currently, states pay a portion of the bill) in exchange for states taking over all spending for things such as roads and education.
We could minimize this process for states and localities by transferring all Medicaid costs to Washington (or at least the costs of the elderly and disabled). To pay for it, Washington would reduce transportation and education grants to states. Let Washington mediate among generations. Let states and localities concentrate on their traditional roles of education, public safety and roads. Spare them the swamp of escalating health costs. This is the bargain we need — and probably won't get.
I like half of that deal. I want to transfer education, law enforcement, and roads back to the state level (or even the local level).
But I don't want Washington taking full responsibility for Medicaid. Instead, that program also should be sent down to the states as well. This video explains why that reform is so desirable.
Promote Federalism and Replicate the Success of Welfare Reform with Medicaid Block Grants

Uploaded on Jun 26, 2011
The Medicaid program imposes high costs while generating poor results. This Center for Freedom and Prosperity Foundation video explains how block grants, such as the one proposed by Congressman Paul Ryan, will save money and improve healthcare by giving states the freedom to innovate and compete.
________________________
P.S. Since we're on the topic of Obamacare, this Chip Bok cartoon perfectly captures the essence of the Hobby Lobby decision. The left wants the mandate that contraception and abortifacients be part of health insurance packages.
Rather than exacerbate the damage of using insurance to cover routine costs, wouldn't it make more sense to have employers simply give their workers more cash compensation and then allow the workers to use their money as they see fit?
That way there's no role for those evil, patriarchal, oppressive, and misogynistic bosses!
I realize this might upset Sandra Fluke, but at least she has the comfort of knowing that her narcissistic statism generated some good jokes (here, here, and here).
________________
Related posts: