---
Senate Majority Leader Chuck Schumer (D-NY) announced on Monday that he now seeks to pass the infrastructure bill before the end of October. This development is positive given that there are many harmful provisions that Congress should fix. Yet, despite the longer timeline, Congress has shown little interest in amending either the broker provision or the digital asset surveillance provision. As Congress moves toward the October 31 deadline, they should reverse course on these provisions before they radically alter this nascent industry.
The first item, commonly referred to as the "broker provision," amends Section 6045(c)(1) of the Internal Revenue Code (IRC). In Section 80603 of the infrastructure bill, the term "broker" is redefined as including "any person who (for consideration) is responsible for regularly providing any service effectuating transfers of digital assets on behalf of another person" (see page 2,419). It then requires said brokers to report gross proceeds and personal information of any and all parties involved in transfers. Yet, such a task is impossible for many of the people who use blockchain technologies, and it does so all for the sake of what is largely already publicly available.
By mandating, for example, miners to collect information that they can't possibly collect, Congress is setting a de facto ban on cryptocurrency mining in the United States. Worse yet, the information they do have is all publicly available on the blockchain. It would be far more efficient for the government to look at the blockchain themselves––like many law enforcement agencies already have––than require countless individuals to report transaction after transaction. One may make the case that miners should pay taxes on their income, but that case is wholly different from the case to uphold them to an impossible standard of surveillance.
Numerous amendments, some better and some worse, were offered to fix the broker provision, but the bill was ultimately unchanged when the Senate sent it to the House.
Unfortunately, the second item did not receive the same initial attention. It was not until Abe Sutherland, of the Proof of Stake Alliance, published a research report that it became clear that the digital asset surveillance provision (amending Section 6050I(d) of the IRC) within Section 80603 of the infrastructure bill was just as bad, if not worse, for cryptocurrencies.
As it stands, Section 6050I(d) of the IRC requires business transactions of $10,000 or more in cash to be reported to the government. These reports must include the name, address, and taxpayer identification number (i.e., social security number) of the payer. However, the infrastructure bill expands that requirement to include not just cash, but digital assets. This requirement is something that should be challenged and repealed, not "legitimized" through modernization. More so, it makes little sense to apply rules for cash on cryptocurrencies when one stops to observe that the record of their transfer is publicly available on the blockchain.
In his letter announcing the new timeline for the infrastructure bill, Senator Schumer wrote, "[At] the end of the day, we will pass legislation that will dramatically improve the lives of the American people." If Congress wishes to keep these words true, they should amend the provisions affecting sections 6045 and 6050I of the IRC before they dramatically worsen the lives of the American people in the cryptocurrency industry.
To hear most politicians tell it, you would think there are no downsides to federal‐​budget expansion. But that is not the case.
Democratic leaders in Congress are moving ahead with a $1 trillion infrastructure bill and a $3.5 trillion reconciliation bill to expand entitlements. Both bills are fiscally reckless and fund activities that are the proper responsibility of the states and private sector. To hear most politicians tell it, though, you would think there are no downsides — and only tremendous benefits — attendant to federal‐​budget expansion. But that is not the case.
Here are ten reasons to oppose the infrastructure and entitlement bills.
Federal Overload
With more than 2,300 programs, the federal government is already far too large for policy‐​makers to oversee. As economist Milton Friedman once observed, "Because government is doing so many things it ought not to be doing, it performs the functions it ought to be performing badly." The White House's focus on expanding the welfare state in recent months may, for instance, have distracted it from properly planning the Afghanistan pullout.
Tax Hikes
The infrastructure and entitlement bills would be funded partly by damaging tax hikes. Proposed corporate‐​tax increases would undermine business investment, thus reducing job opportunities and wages. Proposed capital‐​gains‐​tax increases would undermine investment in start‐​ups, particularly in technology hubs such as Silicon Valley.
Rising Debt
Both bills would be funded partly by incurring more debt, which would result in higher taxes down the road. If both bills pass, federal debt per U.S. household would rise from $179,000 today to $288,000 by 2031. As debt rises, a larger share of worker pay will be taxed to pay interest costs, which will be very hard on tomorrow's workers, who will have their own costs and crises to deal with.
Economic Crisis
Rising debt could trigger an economic crisis marked by soaring interest rates and falling output. Greece's debt crisis a decade ago created long‐​lasting damage — its real income per capita is still down one‐​quarterfrom its pre‐​crisis level. Our combined federal‐ and state‐​government debt is already about the same size relative to the economy as was Greece's before its crisis.
States Can Fund It
Most of the proposed spending is for activities that states can fund themselves. With infrastructure, more than half the states have raised their gas taxes to fund their own highways and transit since 2015. With entitlements, some states are already funding activities that the Democrats want to impose nationally, such as paid family leave. Expanding entitlements is a bad idea, but it is far more damaging when in the form of a top‐​down scheme imposed by Congress. Besides, the federal government is running huge deficits while the states are enjoying budget surpluses with tax revenues up 11 percent over pre‐​pandemic levels.
Democracy
One casualty of rising federal spending is democracy. When the feds hand out subsidies for state and local activities, decision‐​making authority is moved from elected state and local officials to unelected and unknown officials in far‐​away Washington. The infrastructure and entitlement bills would move control over activities such as preschool, child care, paid leave, housing and zoning, and the electric grid to federal bureaucrats. That is why former Senator James Buckley argued that "citizens are effectively disenfranchised" by federal subsidy programs. In his April address to Congress, President Joe Biden expressed his support for "democracy" 16 times, but his plans to expand federal power would do the opposite.
Diversity
Residents of each state have varying preferences for social programs and taxes. In our federal system, the states can maximize value by tailoring policies to the needs of their residents. But the proposed bills would undermine such beneficial diversity by imposing one‐​size‐​fits‐​all programs for paid leave, preschool, energy, and other activities. In his April address, the president promised that he would bring the nation together, but trying to force conformity on Americans with top‐​down programs would increase anger and division.
Corporate Welfare
Democratic leaders, such as Senators Elizabeth Warren and Bernie Sanders, often rail against corporate subsidies. Yet both bills include hundreds of billions in corporate subsidies for broadband, utilities, electric vehicles, manufacturing, research, renewable energy, and other items. If passed, the subsidies would be a boost to the corporate lobbyists in Washington, encouraging them to ask for even more, more, more …
Regulations
Federal subsidies come hand in hand with costly regulations imposed on the states, cities, and private groups administering the programs. The current federal education disabilities law, for example, is 94 pages long but has generated 1,700 pages of regulations and masses of litigation. Meanwhile, federal infrastructure subsidies come tied to labor and environmental rules that raise costs and delay projects. The proposed legislation would likely be accompanied by a mass of costly federal rules on education, energy, housing, college, child care, and other subsidized activities.
Fraud and Waste
Federal subsidy programs suffer from high levels of waste and fraud because state and local administrators have little incentive to restrain costs when the funds come "free" from Washington. Programs such as Medicaid and national school lunches have long had high fraud rates; we have seen massive fraud in the recent pandemic aid to the states, too. Meanwhile, federally funded local projects, such as light‐​rail systems, often suffer from large cost overruns. The new hand‐​out programs would suffer these same problems.
In sum, new infrastructure and entitlement spending would overload federal policy‐​makers, who are already doing a lousy job of managing the vast array of current spending programs. All the proposed spending is for activities that should be instead handled by states, businesses, charities, and individuals. When it imposes national programs, Congress needlessly crushes diversity and local democratic choices. Americans would benefit more from a smaller, leaner federal government that balanced its budget and focused on its core missions.
As a matter of sensible public policy (and well as fealty to the Constitution), the federal government should not be involved in transportation.
But since I don't expect the current crowd in Washington has any interest in getting rid of the Department of Transportation, perhaps we should have a more modest goal of eliminating subsidies for mass transit.
After all, there's no reason why taxpayers across the nation should be subsidizing the cost of railway, bus, and subway travel in a handful of cities.
Getting rid of these handouts would save a decent chunk of money. Here's a chart from Downsizing Government, which shows the history of pre-pandemic spending by the Federal Transit Administration.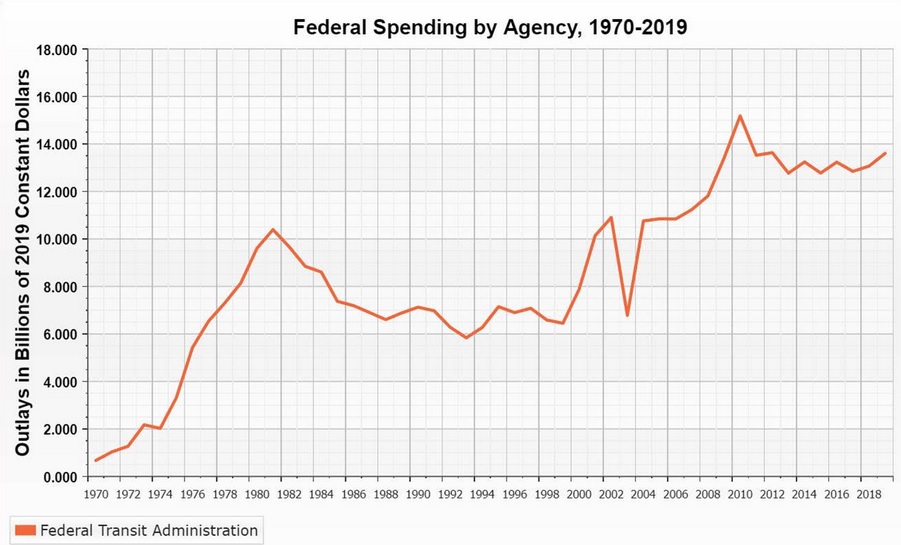 But that chart is now out of date since politicians have used the pandemic as an excuse to dramatically increase the burden of federal spending. Including big handouts for mass transit.
And now they want to raid taxpayers for more transit money as part of a spending spree on infrastructure.
The Wall Street Journal editorialized about this topic a couple of days ago.
Democrats are accusing Republicans of holding up the Senate infrastructure deal over funding for mass transit. Here's what's really going on: Republicans have bowed to most Democratic demands. But now Democrats are also insisting that they acquiesce to spending ever more to rescue broken rail and bus systems in big liberal cities. Mass transit typically receives $13 billion in federal funds each year, and Congress provided an additional $70 billion for urban transit last year in the myriad pandemic spending bills. That's more than six times the normal transit budget and more than the annual operating and capital spending of every transit agency in the U.S. combined. …But most mass transit systems face a larger structural budget problem that pre-dated the pandemic: Ballooning operating costs from generous labor contracts and pension payments, which are siphoning off money from system improvements and repairs. Many systems have also been losing riders due to lousy service… So Democrats want Republicans to bail out those cities and their public unions. Republicans have agreed to a $48.5 billion supplemental appropriation for mass transit in the deal. But in addition Democrats are demanding that 20% of transportation spending from the highway trust fund—financed by gas tax revenues—go toward transit.
This is throwing good money after bad.
In a column for the Foundation for Economic Education back in 2019, Hans Bader explained that mass transit in an inefficient money pit.
Mass transit is largely a failure and continues to decline despite growing subsidies to many mass transit systems. Light rail systems are white elephants. …South Korea is abolishing its celebrated high-speed rail line from its capital, Seoul, to a nearby major city because it can't cover even the marginal costs of keeping the trains running. Most people who ride trains don't need maximum possible speed,and most of those who do will still take the plane to reach distant destinations. …most Japanese don't take the bullet train either; they take buses because the bullet train is too expensive. Bullet trains do interfere with freight lines, so Japanese freight lines carry much less cargo than in the United States, where railroads—rather than trucks—carry most freight, thereby reducing pollution… California's so-called bullet train is vastly behind schedule and over budget, and will likely never come close to covering its operating costs once it is built. …Just the first leg of this $77 billion project will cost billions more than budgeted. And the project is already at least 11 years behind schedule.
Government is a big reason why transit is so inefficient and expensive.
Industry expert Randal O'Toole wrote about the harmful impact of socialized systems back in 2018.
Public ownership of transit has significantly increased the cost of transit, creating another disadvantage for the transit industry relative to other modes of travel. Before 1964, transit systems in most American cities were private and profitable, albeit declining. In 1964, Congress gave cities and states incentives to take over transit systems, and within a decade nearly all had been municipalized …followed by a staggering decline in transit productivity. In the decade before 1964, transit systems carried an average of about 59,000 riders per operating employee. This plunged after 1964 and today averages fewer than 27,000 riders per employee… It is doubtful that any American industry has suffered a 54 percent decline in worker productivity over 30 years unless it was another industry taken over by the government and inflicted with all the inefficiencies associated with government control and management.
We'll close with this chart from O'Toole's study, which shows total taxpayer subsidies over time.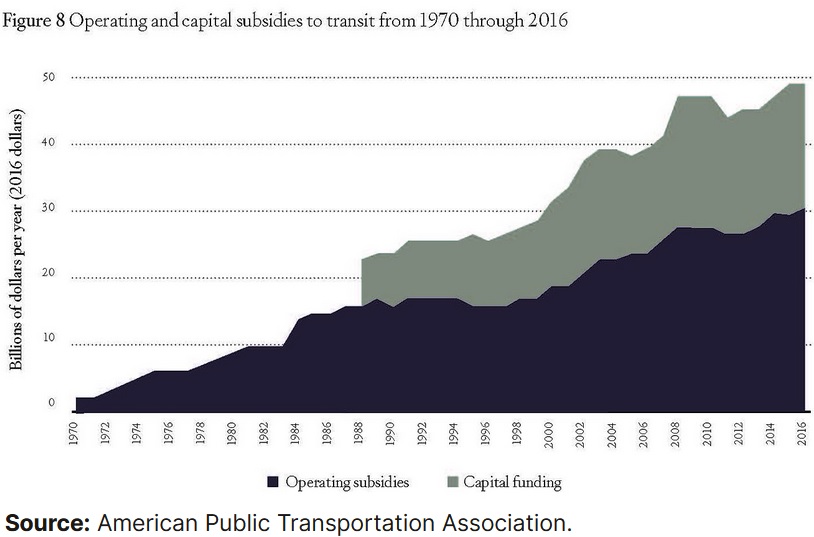 The bottom line is that government transit systems are a lot like government schools. More and more money gets spent over time with worse and worse results.
Except maybe mass transit is even worse because of absurd cost overruns.
P.S. Click here and here to learn more about the boondoggle of government-funded rail.
P.P.S. Click here to learn more about the boondoggle of government-funded subways.
TRY BORROWING AT A BANK WITH A FINANCIAL CONDITION LIKE THE USA HAS:
The problem in Washington is not lack of revenue but our lack of spending restraint. This video below makes that point. WASHINGTON IS A SPENDING ADDICT!!!
I love reading this blog by Dan Mitchell. No two people agree on everything but I sure do agree with most everything Dan writes on this blog of his. However, I disagree silently with something he has written today. I think it is encouraging that the Republicans in the House have been able to accomplish some things in slowing down the growth in spending by Obama. I know Dan would agree that more needs to be done. For instance, why don't they just vote no on the next increase to the debt ceiling limit. I have praised over and over and over the 66 House Republicans that voted no on that before. If they did not raise the debt ceiling then we would have a balanced budget instantly.  I agree that the Tea Party has made a difference and I have personally posted 49 posts on my blog on different Tea Party heroes of mine.
What would happen if the debt ceiling was not increased? Yes President Obama would probably cancel White House tours and he would try to stop mail service or something else to get on our nerves but that is what the Republicans need to do.
I have written hundreds of letters and emails to President Obama and I must say that I have been impressed that he has had the White House staff answer so many of my letters. However, his policies have not changed, and by the way the White House after answering over 50 of my letters before November of 2012 has not answered one since.  President Obama committed to cutting nothing from the budget that I can tell. Republicans must take the next step now and vote no on the debt ceiling increase!!!
In recent months, people have asked me why I'm acting all giddy and optimistic. Am I hooked on cocaine? Have I fallen in love? Did I inherit several million dollars?
These questions started after I said the fiscal cliff was a smaller loss than I expected. Then people wondered what was going on when I wrote that we should celebrate the sequester victory. The questions got more intense when I opined that the Tea Party had made a positive difference. And people were even more nonplussed when I wrote that we should enjoy a win over the IMF.
But I'm not the only person thinking that things may be heading in the right direction.
Conn Carroll explains his optimism in the Washington Examiner. He starts by noting how bad Congress was back in 2009 and 2010.
…its liberal predecessor passed a trillion-dollar stimulus, enacted a government takeover of health care and institutionalized the power of Wall Street's Too Big To Fail banks by passing the Dodd-Frank financial regulation law.
Then he explains that the new Tea Party Congress has changed the fiscal outlook.
…if you look at the hard numbers — if you look at the tax-and-spending trajectory that the United States was on before the 112th Congress was sworn into office, and then look at the path the U.S. is on now — you'd see that Republicans in Congress have made tremendous progress in shrinking the size and scope of the federal government.
But is there any proof?
Conn points out that the CBO "baselines" from early 2011 showed government growing very rapidly.
…the nonpartisan Congressional Budget Office released its annual Budget and Economic Outlook for fiscal years 2011 through 2021. That document showed the federal government was on track to spend…a total of almost $50 trillion ($49.8 trillion to be exact) through 2021. At the same time, tax revenues were set to rise from just 14.8 percent of GDP in 2011 to 20.8 percent in 2021.
The same estimates from early this year, by contrast, show government growing at a slower pace.
The CBO's Budget and Economic Outlook for fiscal years 2013 through 2023 shows just how much House Republicans have actually accomplished. The federal government is now on track to spend just $46.2 trillion through 2021. That is a $3.6 trillion spending cut. And instead of taxes eating up 21 percent of the U.S. economy in 2021, now the government is set to take in just 18.9 percent.
Here are the respective baselines from those CBO publications. Let's start by looking at how spending is projected to grow at a slower pace for the rest of the decade.
That's $3.5 trillion of savings. Not genuine spending cuts, of course, but it's real progress if government doesn't grow as fast.
Here are the revenue numbers.
This data basically shows that the tax burden will be much smaller than projected because about 98 percent of the Bush tax cuts were made permanent as part of the fiscal cliff deal.
And if you believe in the Starve-the-Beast theory (and you should), this will make it harder for politicians to increase the burden of government spending in the future.
Conn also notes that the unemployment rate has fallen.
Despite all of this supposedly economy-killing "austerity," unemployment has steadily fallen, too. When Republicans took control of the House in 2011, the nation's unemployment rate was 9 percent. Today, it has fallen to 7.7 percent.
If this seems like a familiar point, it's because I share his assessment. I wrote back in February of last year that gridlock was a positive thing for the economy since it reduced the likelihood of new bad policies.
What's remarkable about these developments, as Conn notes, is that folks were expecting Obama to have momentum as his second term began.
Just three months ago, many in Washington were predicting Obama would steamroll Republicans into accepting higher taxes for millions of earners, undoing the sequester and maybe even passing new stimulus spending. Instead, Republicans have stayed unified, outfoxed Obama, preserved and made permanent most of last decade's tax cuts (including permanent indexing of the Alternative Minimum Tax) and let the sequester cuts occur on schedule. As a result, Obama's approval ratings have tumbled, and his entire second-term agenda is in jeopardy.
The final sentence in that excerpt explains why I'm feeling semi-optimistic. Obama's agenda of more taxes and more spending is being thwarted.
To be sure, that doesn't mean we're seeing good policies of tax reform and fiscal restraint. And we still face a very dour fiscal future unless entitlements are reformed.
But we're going in the wrong direction at a slower pace, and that beats the alternative.
__________
Related posts: