__________________
Adrian Rogers (1931-2005) was my pastor at Bellevue Baptist in Memphis when I grew up and he loved football.  (Little known fact, Rogers was the starting quarterback his senior year of the Palm Beach High School football team that won the state title and a hero to a 7th grader at the same school named Burt Reynolds.)
Adrian Rogers tells a story in one of his sermons about a player for Coach Bear Bryant who got into the doghouse with the coach and in a game at Arkansas he threw an interception after playing a pitiful game and then was able to run down the Arkansas player even though the Razorback had a clear path to the end-zone. Bryant's team hung on for the win and after the game when the coaches shook hands this exchange occurred. The Arkansas coach asked, "Coach Bryant I don't understand something. Our player who intercepted the ball was our fastest player  and according to our scouting report your player was one of the slowest players on your team. So how did he catch him?"
Bryant responded, "Your player was running for 6 points and my player was running for his life!!!!"
Kerry Osborne tells a story about his father the Texas A&M quarterback and the 1957 game at Arkansas!
December 31, 2009, 10:49 am
My dad (Roddy Osborne) got inducted into the Texas A&M Sports Hall of Fame a couple of months ago. My dad played for Bear Bryant back in the late 50's. I knew he was a quarterback, but I didn't realize that he played fullback his sophmore year. Turns out he was also the punter and the punt return guy (who knew). Oh yeah, and did I mention, in Bear Bryant's system, the quarterback played middle linebacker too! He got drafted by the Cleveland Browns and played a couple of seasons there. (I think there was a guy by the name of Jim Brown playing there then).
The first one occurred during a game between Texas A&M and Arkansas in 1957. The story has been repeated many times over the years (often incorrectly). I once heard a preacher tell the story in a sermon and he had it completely messed up. I had to straighten him out after the service. Anyway, here's how I remember it:
The Aggies were ahead by one point with a couple of minutes to go in the game. They were driving and close to scoring. Back in those days, the coach didn't call the plays. The quarterback was responsible for calling the plays. So coach Bryant sends in a substitute with a message to not throw the ball, just to run out the clock. My dad calls a roll out, expecting to burn some clock with a long, slow developing play, but not intending to throw the ball. So he rolls out and lo and behold, a receiver (I think he said it was Gene Stallings) is wide open in the end zone. He told me that the guy was so open he just couldn't help himself and so he throws the ball. Well one of the Arkansas defensive backs (Donny Horton) is a sprinter on the track team and he breaks on the ball along the sidelines and intercepts it. And there is nobody between him and the end zone 90+ yards away. Well somehow, my dad catches this guy from behind, and my dad is reportedly one of the slowest guys on the Aggies team. That tackle saves their undefeated season (they were 7-0 at the time and #1 in the nation). Later Bear Bryant was asked about the play and he says, "The difference was that Horton was running for a touchdown. Osborne was running for his life."
___________________
I got this below off the internet:
This is a family friend, the late Dr. Adrian Rogers –-former pastor of Bellevue Baptist Church in Memphis– with Coach Bryant either before or after Coach Byrant's last game at the Liberty Bowl. Thought some of you would enjoy it.

They both hold special memories to me for different reasons.
"We just gotta stop that lil' inside trap." – Joe Kines
________________
Posted: Saturday, September 28, 2013 12:00 am | Updated: 1:00 am, Sun Oct 13, 2013.
It's not easy actually getting into the town of Fayetteville, Ark. on a game day, whether you're traveling from Fort Smith or Bentonville.
With two-lane roads surrounding the home of the Arkansas Razorbacks, it can be virtually impossible.
Looking back at Texas A&M's history, it's been even harder for the Aggies to get out of town with a victory.
A&M has won only six times in 20 tries in Fayetteville. And prior to 1990, the Aggies had won only once since Paul "Bear" Bryant roamed the sidelines.
"It's a great football setting," said former coach R.C. Slocum. "They have a very vocal crowd and you were always incredibly happy to get out of there with a win."
Slocum would know. He was the last A&M coach to bring a team to Arkansas, winning its 1990 matchup. At the time, the Razorbacks had already announced they would be joining the Southeastern Conference in 1992, ending historic rivalries with both the Aggies and Longhorns.
The Aggies wouldn't play the Razorbacks again until the two schools began a nonconference series at Cowboys Stadium, now AT&T Stadium, in 2009, which became a conference game with the Aggies joining the SEC for the 2012 season.
Longtime Arkansas beat writer Wally Hall of the Arkansas Democrat-Gazette said that the Razorbacks used to always look at the Aggies as their second-biggest rival behind the Longhorns and that they're excited to have them back in Fayetteville.
"This is the only game of the year that's sold out, so that should tell you something," he said.
Saturday marks the final time the Aggies will travel to Fayetteville for at least a decade, as the two programs will continue their series at AT&T Satidum in Arlington in 2014.
Slocum said he wishes the programs would just stick with a home-and-home series. He said he always looked forward to the trip up north.
"We always played them in the fall and there was a hint of the fall weather with the colors changing," Slocum said. "It really was beautiful. I loved that trip."
Slocum also enjoyed leaving Fayetteville with a win against the defending Southwest Conference champions in 1990 after a tough loss the previous season.
The year prior, Slocum's first as head coach, the battle between the ranked teams at Kyle Field ended with a controversial call. With Arkansas down 20-17 with 8:14 left in the fourth quarter, the Razorbacks faced a fourth-and-3 inside the A&M 20-yard line. Arkansas quarterback Quinn Grovey threw to tight end Billy Winston, but the pass was broken up by A&M's Larry Horton. However, line judge Ron Underwood, who played at Arkansas in the mid-1950s, threw a flag on Horton for pass interference. Five plays later, Barry Foster scored from 2 yards and Arkansas escaped Kyle Field with a 23-22 win and a second straight SWC title and Cotton Bowl berth.
"I still feel like that is one championship we didn't get that we should have," Slocum said. "The way that game turned out meant a lot more motivation for us [going into the 1990 game]."
Though the two teams were pegged as the favorites to win the SWC going into the 1990 season, Arkansas had fallen on hard times. The Razorbacks were 2-7 and had yet to win a conference game. A&M cornerback Kevin Smith didn't feel sorry for the Aggies' rival, though.
"They're dying and we have a chance to go in there and jump on them," he told The Eagle.
Slocum remembers how scrappy Arkansas was that game.
"They weren't going to give up," he said. "That was a hard fought game."
A&M got the Razorbacks' best shot, but came out victorious, winning 20-16. Wide receiver Gary Oliver caught eight passes for 101 yards as part of an efficient A&M offense that compiled 429 yards and held the ball for 32 minutes.
"A&M hadn't won [in Fayetteville] in a long time, and that makes this a little sweeter," Slocum said after the game.
Slocum had been a part of one of the Aggies' losing efforts as defensive coordinator in a 1984 blowout.
The Aggies were 4-4 that year heading into the Arkansas game, having lost four out of five games following a 3-0 start.
The Razorbacks shut the Aggies down, 28-0, in a game played in a sleet storm, but head coach Jackie Sherrill faced just as tough a challenge just getting the team to the stadium.
In hindsight, Sherrill said one of his biggest faults that game was with the team's travel arrangements.
He got the team rooms at a resort near Bentonville, when he now thinks they should have stayed in Fort Smith the night before the 11 a.m. kickoff. He said the players were spread out all over the hotel and it wasn't ideal for a night before a game.
More problems arose getting the team fed on the way to the stadium.
Sherrill said they stopped on the way in Springdale for the pregame breakfast at "some pancake house" — one problem, though.
"They didn't have enough people to serve us and they didn't have enough cooks," Sherrill said. "So instead of going in and eating your pregame meal, it took us almost an hour to get our players fed."
The day got even worse due to the freezing temperatures.
"I think half of their stadium had left by halftime," Sherrill said.
He would say after the game that those were probably the worst conditions one of his teams has ever played in.
But something positive did come out of the thumping in Fayetteville.
"That was probably the turning point of our season," Sherrill said. "There were an awful lot of the players [who] were embarrassed by the way they played."
The Aggies would rally from the Arkansas loss to close their season with wins over two ranked teams — TCU and Texas — and claim their third straight SWC title.
Nearly 30 years earlier, another freezing showdown in Fayetteville would decide another SWC championship. In November 1957, the No. 1 Aggies took on the No. 11 Razorbacks in a game that was thought to decide the conference title and a trip to the Cotton Bowl. It was there that John David Crow said he had his "favorite Heisman moment."
The Razorbacks trailed 7-6 late in the fourth, when defensive back Donnie Horton intercepted Roddy Osborne and took it all the way down to the A&M 27-yard-line. Arkansas moved the ball to the 17-yard-line and was in field-goal range, but opted to pass, which surprised Crow.
Crow, who had scored the Aggies' lone touchdown earlier in the game, picked off George Walker's pass in the end zone to seal the victory and keep A&M undefeated.
"I just remember that game being exhausting," Crow said.
Following the game, Arkansas coach Jack Mitchell called Crow "a great one."
That season, Crow would become the first Aggie to win the Heisman Trophy.
Much has changed since the last time the Aggies traveled to Fayetteville more than two decades ago. Hall said the mobile-home brigade surrounding Reynolds Razorback Stadium has been replaced by top-notch tailgating, and while he said, "it's not as hostile an environment as LSU or Alabama," Hall still believes it's a top-five atmosphere.
"It's a really loyal crowd," Hall said.
"Once the stadium expanded, it gets full and loud. And with this being a night game, they'll be in good form."
For those making the trip for Saturday's game, Sherrill offered some advice.
"Get ready to hear a lot of 'Wooo Pig Sooie,'" he said.
_____________
___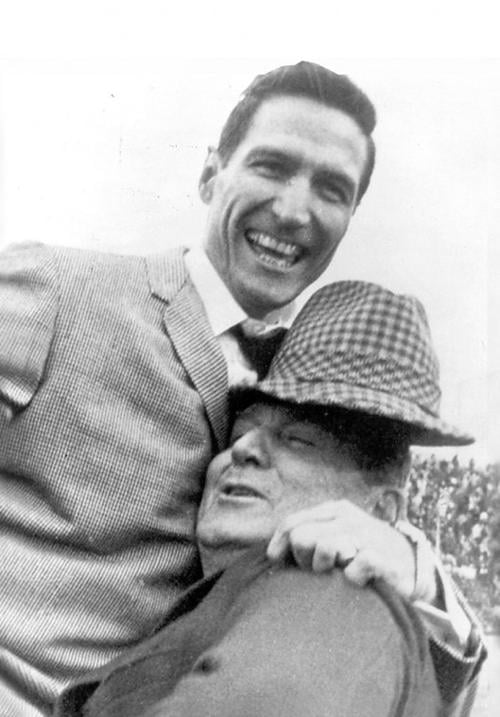 Special to The Eagle Former Alabama coach Paul "Bear" Bryant lifts Texas A&M coach Gene Stallings after the Aggies beat the Crimson Tide in the 1968 Cotton Bowl.
Priceless.
___

U.S. President John F. Kennedy, center, poses with, from left, University of Alabama football coach Paul "Bear" Bryant, White House Army Signal Agency John J. Cochran, All-American UA quarterback Pat Trammell, UA President Frank Rose, sportscaster Mel Allen, UA sports Hall of Famer Young Boozer Jr., Birmingham News sports writer Benny Marshall and Alabama businessman Tom Russell at the Waldorf Astoria Hotel in New York City in December 1961. (From Encyclopedia of Alabama, courtesy of the John F. Kennedy Presidential Library and Museum)
January 26, 1983
Paul W. "Bear" Bryant was born in 1913 in rural Cleveland County, Arkansas. He played football at nearby Fordyce High School and got his nickname for taking on a sideshow challenge to earn a dollar a minute for wrestling a bear. When the animal's muzzle popped off during the struggle, the story goes, the hulking teenager jumped out of the ring and never collected his winnings. But there would be plenty of wins later. During his playing time at the University of Alabama, the team racked up 23 victories, three losses and two ties, and was named national champion in 1934. His college coaching career included stints at Union College, Alabama, Maryland, Vanderbilt, Kentucky and Texas A&M before he became head coach of the then-struggling Crimson Tide in 1958. Over 25 years in Tuscaloosa, he compiled a record of 232-46-9, with six national titles and 15 conference championships. Bryant was named College Football Coach of the Year three times. He retired in December 1982, his last game a 21-15 victory over the University of Illinois in the Liberty Bowl. He was then the winningest college football coach in history, with a record 323 victories. Just 28 days later on Jan. 26, 1983, Bryant, who had suffered from heart problems for years, was admitted to Tuscaloosa's Druid City Hospital with chest pains. He died that afternoon after suffering a heart attack. The Navy veteran of World War II was 69. A month later, then-President Ronald Reagan posthumously awarded Bryant the Presidential Medal of Freedom. Bryant is buried at Birmingham's Elmwood Cemetery.
Official program of the game:
1957 Game Program between Arkansas vs. Texas A&M on 11/2/57
_____________________
_________________
___________________
Related posts: