—
National | Steven Ertelt | Sep 9, 2021 | 4:27PM | Washington, DChttps://www.facebook.com/v2.5/plugins/share_button.php?app_id=&channel=https%3A%2F%2Fstaticxx.facebook.com%2Fx%2Fconnect%2Fxd_arbiter%2F%3Fversion%3D46%23cb%3Df146d55e8d73944%26domain%3Dwww.lifenews.com%26is_canvas%3Dfalse%26origin%3Dhttps%253A%252F%252Fwww.lifenews.com%252Ff3bbbd5a950a5d6%26relation%3Dparent.parent&container_width=0&href=https%3A%2F%2Fwww.lifenews.com%2F2021%2F09%2F09%2Fjoe-biden-files-lawsuit-to-overturn-texas-abortion-ban-falsely-claims-abortion-is-a-constitutional-right%2F&locale=en_US&sdk=joey&type=box_count37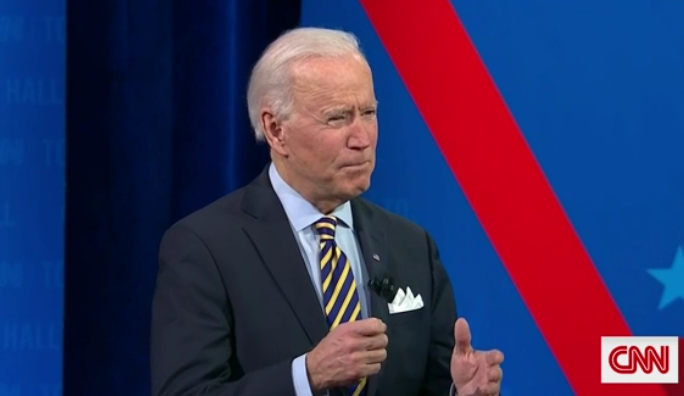 Joe Biden made it official today, by filing a lawsuit seeking to overturn the Texas abortion ban that has saved hundreds of babies from abortions. In announcing the lawsuit, Attorney General Merrick Garland falsely claimed the Constitution has a right to abortion.
"The Department of Justice has a duty to defend the constitution of the United States and to uphold the rule of law," he said.
"The act is clearly unconstitutional under longstanding Supreme Court precedent," he said. "Those precedents hold, in the words of Planned Parenthood v. Casey that 'regardless of whether exceptions are made for particular circumstances, a state may not prohibit any woman from making the ultimate decision to terminate her pregnancy before viability.'"
The Justice Department is seeking a permanent injunction against the law.
Garland complained that the law has been working so far to protect unborn children.
"Because this statute makes it too risky for an abortion clinic to stay open, abortion providers have ceased providing services," he said. "This leaves women in Texas unable to exercise their constitutional rights and unable to obtain judicial review at the very moment they need it."
The national pro-life group Susan B. Anthony List (SBA List) blasted Biden after the announcement.
SBA List President Marjorie Dannenfelser told LifeNews: "The Texas Heartbeat Act is a response to fifty years of Supreme Court interference in states' legitimate interest in protecting life and their right to debate and pass laws reflecting their people's values. Biden, Pelosi and their radical allies want to permanently stifle that debate and impose abortion on demand up until the moment of birth, paid for by taxpayers."
"The Heartbeat Act reflects clear science showing the humanity of unborn children, including a beating heart by six weeks. This law saves lives every day it is in effect. Texas is further leading in compassion for women and families with its $100 million Alternatives to Abortion state program and ten times as many pro-life pregnancy centers as abortion facilities. We are proud to stand with them. Washington Democrats should not mess with Texas when it comes to protecting innocent life," she added.
LifeNews depends on the support of readers like you to combat the pro-abortion media. Please donate now.
Today is the 9th day the Texas abortion ban is protecting babies from abortion, but the "devout Catholic" Biden has been a radical abortion activist as president and the Justice Department is putting together legal documents to try to get the courts to overturn the law.
The Texas heartbeat law went into effect Sept. 1, prohibiting abortions once an unborn baby's heartbeat is detectable, about six weeks of pregnancy. The U.S. Supreme Court refused Planned Parenthood's and other pro-abortion groups' request to temporarily block enforcement of the law. However, the court battle is not over.
The Biden administration also appeared to be making the convoluted argument that the Texas abortion ban is somehow a violation of a federal law passed during the Clinton administration that prohibits violent activities outside abortion centers. But the Texas law and its allowance of private citizens to enforce the law via lawsuits against abortionists and those who assist them in killing babies in no way engages in any violent actions, as the violence takes place inside the abortion center.
Garland said, "While the Justice Department urgently explores all options to challenge Texas SB8 in order to protect the constitutional rights of women and other persons, including access to an abortion, we will continue to protect those seeking to obtain or provide reproductive health services pursuant to our criminal and civil enforcement of the FACE Act, 18 U.S.C. § 248."
"The FACE Act prohibits the use or threat of force and physical obstruction that injures, intimidates, or interferes with a person seeking to obtain or provide reproductive health services," the statement continued. "It also prohibits intentional property damage of a facility providing reproductive health services. The department has consistently obtained criminal and civil remedies for violations of the FACE Act since it was signed into law in 1994, and it will continue to do so now."
Even a law professor told The Hill that the Biden administration has no solid argument to overturn the law.
"The ability of the Justice Department is really quite limited here. All of the possible actions I can think of, and there may be some I can't, would require an actual case to happen first," said Barbara McQuade, a University of Michigan law professor and former U.S. attorney during the Obama administration.
"By crowd sourcing the enforcement, you've created this kind of vague class of defendants to be sued," McQuade added, noting that there can't be a defendant until a lawsuit is filed.
The Texas pro-life law is already saving babies from abortion. San Antonio, Texas has four abortion facilities, but only one has been in operation since the new heartbeat law went into effect last week. The fourth abortion facility, Alamo Women's Clinic, appears to still be aborting unborn babies up to about six weeks of pregnancy when the baby's heartbeat is detectable, according to its website. Before the law went into effect, however, it used to abort unborn babies all the way up to 22 weeks of pregnancy.
Through the Texas heartbeat law and other measures, the state is working to protect and empower mothers and babies. In 2020, about 54,000 unborn babies were aborted in Texas, and about 85 percent happened after six weeks of pregnancy, according to state health statistics. With the heartbeat law in effect, tens of thousands of babies could be spared from abortion every year in Texas.
Meanwhile, pro-life advocates are reaching out to pregnant women across Texas with compassion and understanding, offering resources and emotional support to help them and their babies. Earlier this year, state lawmakers increased support for pregnant and parenting mothers and babies, ensuring that they have resources to choose life for their babies.
Unique from other state heartbeat laws, the Texas law includes a private enforcement mechanism that allows people to file lawsuits against abortionists who violate the law and those who help them.
It is these lawsuits and the risk of financial loss that are deterring the abortion industry from breaking the law.
Chelsey Youman, the Texas state director of Human Coalition, told News 4 that the goal of the pro-life movement is to support mothers and babies, not just to ban abortions.
"Our organizations will continue to advocate for a society where women and their children thrive without abortion," Youman said.
Whether the Texas law will remain in effect or ultimately be upheld as constitutional in court remains uncertain, but pro-life leaders are hopeful now that the Supreme Court has a conservative majority.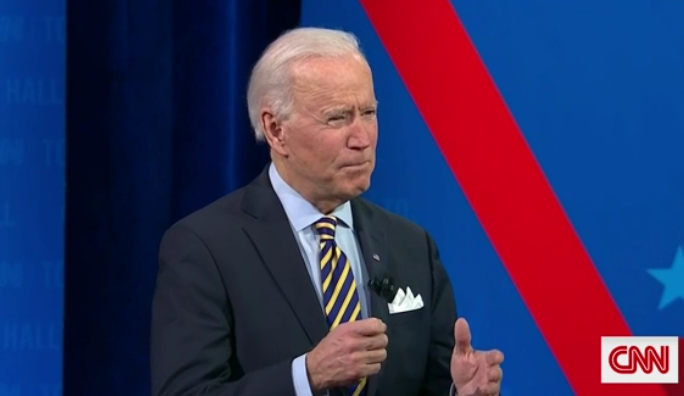 Michael Foust
Bernard Nathanson is a smart, young doctor with a drive to be successful and a desire to make money in 1970s America.
Bernard could take any path in the medical realm, but he opts to be an abortion doctor in the state of New York, which recently legalized the controversial procedure. The pay is good, the business is great, and the career trajectory is promising.
As he says, "there's a fortune in abortion."
There's so much money to be made as an abortion doctor that Bernard flies to the United Kingdom to learn of a new procedure that will allow him to conduct an abortion in less than five minutes.
More than likely, he'll need the new skill. That's because the U.S. Supreme Court is set to hear oral arguments in a case that could legalize abortion nationwide.
A pro-abortion rights decision would allow Bernard to take in even more patients and make even more money. It won't, though, help him find the one thing he knows he lacks: peace.
The new movie Roe v. Wade, now on home video platforms, tells the Story of the famous Supreme Court decision through the eyes of Bernard Nathanson, an abortion doctor who was one of the co-founders of the pro-choice group NARAL, but who eventually turned pro-life.
Here are four things you should know about the film:
Photo courtesy: ©BCL Finance
1. It Has a Few Well-Known Names
The movie's strongest moments occur and around the courtroom, partially because of the actors who play the justices but also because of the intriguing drama. It stars Oscar winner Jon Voight (Ali, Runaway Train) as Warren Burger, Golden Globe nominee Corbin Bernsen (Major League series, Psych) as Harry Blackmun, Robert Davi (Die Hard) as William Brennan, Steve Guttenberg (Three Men and a Baby) as Lewis Powell, Wade Williams (Mercy Street, Ali) as William Rehnquist and John Schneider (Smallville) as Byron White. When the Roe decision was handed down in 1973, Justices White (nominated by President Kennedy) and Rehnquist (nominated by President Nixon) were the only two dissenting votes.
The film also stars Stacey Dash (Clueless) as pro-life doctor Mildred Jefferson, Joey Lawrence (Melissa & Joey, Blossom) as pro-life professor Robert Byrn, and Greer Grammer (The Middle, Awkward) as pro-choice attorney Sarah Weddington.
Photo courtesy: ©BCL Finance
2. It's the Story You've Never Heard
Narrated by Nathanson's character, Roe v. Wade is part biopic, part historical drama, and part conspiracy drama. At least half the movie takes place outside the courtroom, giving the viewer the background for the most famous Supreme Court case of the past 50 years. It shows how supporters of abortion rights developed their legal case and how the pro-life community tried to counter it.
The film delivers multiple twists and turns that likely will surprise viewers. Some shocking moments revealed in the movie include Justice Potter Stewart's wife, who voted with the majority in Roe, was a volunteer at Planned Parenthood, Planned Parenthood founder Margaret Sanger once spoke at a KKK meeting, clergy and rabbi rallied support for legalized abortion and Norma McCorvey, who was "Jane Roe" in the case, was lied to by her attorneys.
The movie's website includes a "fact check" section pointing to documents backing up the claims.
Photo courtesy: ©BCL Finance
3. It Includes Arguments from Both Sides
The plot of Roe v. Wade leans heavily to the pro-life side, but the movie also is fair to pro-choice arguments, especially in the courtroom setting. In fact, the legal arguments from the pro-choice attorneys sound similar to what a Planned Parenthood or ACLU attorney would say today.
"Life is an ongoing process," a pro-choice attorney says. "It is almost impossible to define at which point life begins or perhaps even when life ends."
The movie's purpose, co-director and star Nick Loeb told Crosswalk, "is not to preach to the choir.
"The purpose of the movie is to show what happened. … These are the facts. Now, you decide," he said.
Still, the film's most powerful moments are when the pro-life side speaks. In a line taken verbatim from Supreme Court oral arguments, the attorney representing the pro-life position and the state of Texas tells the justices, "This court has been diligent in protecting the rights of minorities. And, gentlemen, we say this is a minority – a silent minority. … Who is speaking for these children? Who is counsel for these children?"
Photo courtesy: ©BCL Finance
4. It Works Best as a Docudrama
Roe v. Wade includes several gripping moments that educate and even inspire, but it also has too many melodramatic scenes to make it a great movie.
Yet if you want to take a trip back in time to the 1960s and 1970s to learn how the Supreme Court legalized abortion nationwide – and subsequently ignited a culture war – then you'll probably be pleased. If you view Roe v. Wade as an educational docudrama, it works.
And after the credits roll, conduct your own research. You'll probably discover – as I did – that the movie's most controversial moments are, in fact, true.
Visit RoevWadeMovie.com.
Rated PG-13 for mature thematic content and some bloody/disturbing images. Content details: sexuality/sensuality (men at the beach talk to women in bikinis; a fundraiser is held at the Playboy mansion, although everyone is clothed); language (h-ll 2; d–n 2), violence (Nathanson performs abortions, and we see the bloody, post-abortion remnants).

Entertainment rating: 2.5 out of 5 stars.
Family-friendly rating: 3.5 out of 5 stars.
Photo courtesy: ©BCL Finance
---
Michael Foust has covered the intersection of faith and news for 20 years. His stories have appeared in Baptist Press, Christianity Today, The Christian Post, theLeaf-Chronicle, the Toronto Star andthe Knoxville News-Sentinel.
April 3, 2021
Office of Senator Cory Booker New Jersey
United States Senate
Washington, D.C. 20510
Dear Senator Booker,
I noticed that you signed a 2017 letter strongly supporting the filibuster.
Why are you thinking about abandoning that view now?
Does your change of view have anything to do with Biden now being in office?
More than half of current Senate Democrats and VP Harris signed 2017 letter supporting filibuster when GOP was in control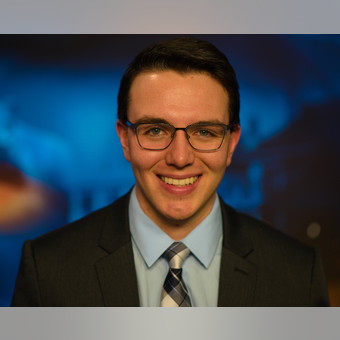 As progressives push hard for Democrats to eliminate the legislative filibuster after gaining control of the Senate, House and the presidency, many Democratic senators are distancing themselves from a letter they signed in 2017 backing the procedure.
Sens. Susan Collins, R-Maine, and Chris Coons, D-Del., led a letter in 2017 that asked Republican Leader Mitch McConnell, R-Ky., and Democratic Leader Chuck Schumer, D-N.Y., to preserve the legislative filibuster. As it's existed for decades, the filibuster requires 60 votes in order to end debate on a bill and proceed to a final vote.
"We are writing to urge you to support our efforts to preserve existing rules, practices, and traditions" on the filibuster, the letter said.
Besides Collins and Coons, 59 other senators joined on the letter. Of that group, 27 Democratic signatories still hold federal elected office. Twenty-six still hold their Senate seats, and Vice President Harris assumed her new job on Jan. 20, vacating her former California Senate seat.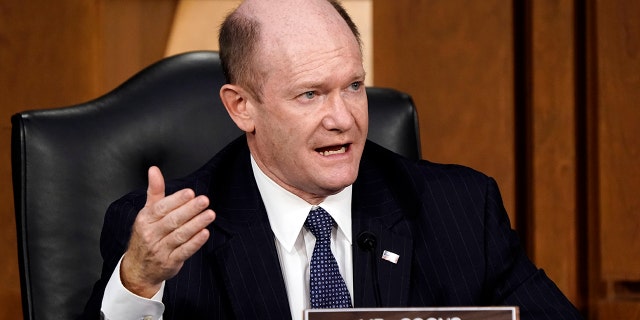 Sen. Chris Coons, D-Del., speaks as the Senate Judiciary Committee hears from legal experts on the final day of the confirmation hearing for Supreme Court nominee Amy Coney Barrett, on Capitol Hill in Washington, Thursday, Oct. 15, 2020. Coons has softened his support for the legislative filibuster in recent years after leading an effort to protect it in 2017. (AP Photo/J. Scott Applewhite)
But now, the momentum among Senate Democrats is for either full abolition of the filibuster or significantly weakening it. President Biden endorsed the latter idea Tuesday, announcing his support for a "talking filibuster."
KAMALA HARRIS SUPPORTS CHANGE TO FILIBUSTER IN SENATE TO LIMIT MINORITY PARTY POWER
"I don't think that you have to eliminate the filibuster, you have to do it what it used to be when I first got to the Senate back in the old days," Biden told ABC. "You had to stand up and command the floor, you had to keep talking."
The legislative filibuster has been a 60-vote threshold for what is called a "cloture vote" — or a vote to end debate on a bill — meaning that any 41 senators could prevent a bill from getting to a final vote. If there are not 60 votes, the bill cannot proceed.
The "talking filibuster" — as it was most recently seriously articulated by Sen. Jeff Merkley, D-Ore., in 2012 — would allow 41 senators to prevent a final vote by talking incessantly, around-the-clock, on the Senate floor. But once those senators stop talking, the threshold for a cloture vote is lowered to 51.
Harris' office confirmed to Fox News Wednesday that she is now aligned with Biden on the filibuster issue. She'd previously taken an even more hostile position to the filibuster, saying she would fully "get rid" of it "to pass a Green New Deal" at a CNN town hall in 2019.
The legislative filibuster has been a 60-vote threshold for what is called a "cloture vote" — or a vote to end debate on a bill — meaning that any 41 senators could prevent a bill from getting to a final vote. If there are not 60 votes, the bill cannot proceed.
The "talking filibuster" — as it was most recently seriously articulated by Sen. Jeff Merkley, D-Ore., in 2012 — would allow 41 senators to prevent a final vote by talking incessantly, around-the-clock, on the Senate floor. But once those senators stop talking, the threshold for a cloture vote is lowered to 51.
Harris' office confirmed to Fox News Wednesday that she is now aligned with Biden on the filibuster issue. She'd previously taken an even more hostile position to the filibuster, saying she would fully "get rid" of it "to pass a Green New Deal" at a CNN town hall in 2019.
Coons, who led the 2017 letter along with Collins, has also distanced himself from his previous stance.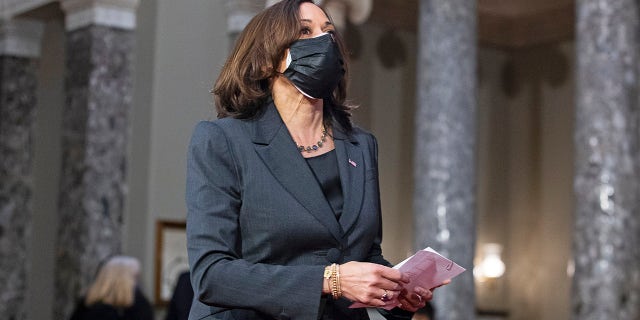 Vice President Kamala Harris attends a ceremonial swearing-in for Sen. Patrick Leahy, D-Vt., as President Pro Tempore of the Senate on Capitol Hill in Washington, Thursday, Feb. 4, 2021. Harris has changed her stance on the legislative filibuster since signing a letter in 2017 backing it. (Michael Reynolds/Pool via AP) (AP)
BIDEN SUPPORTS CHANGING SENATE FILIBUSTER
"I'm going to try my hardest, first, to work across the aisle," he said in September when asked about ending the filibuster. "Then, if, tragically, Republicans don't change the tune or their behavior at all, I would."
Fox News reached out to all of the other 26 Democratic signatories of the 2017 letter, and they all either distanced themselves from that position or did not respond to Fox News' inquiry.
"Less than four years ago, when Donald Trump was President and Mitch McConnell was the Majority Leader, 61 Senators, including more than 25 Democrats, signed their names in opposition to any efforts that would curtail the filibuster," a GOP aide told Fox News. "Other than the occupant of the White House, and the balance of power in the Senate, what's changed?"
"I'm interested in getting results for the American people, and I hope we will find common ground to advance key priorities," Sen. Tim Kaine. D-Va., said in a statement. "If Republicans try to use arcane rules to block us from getting results for the American people, then we'll have a conversation at that time."
Added Sen. Mark Warner, D-Va: "I am still hopeful that the Senate can work together in a bipartisan way to address the enormous challenges facing the country. But when it comes to fundamental issues like protecting Americans from draconian efforts attacking their constitutional right to vote, it would be a mistake to take any option off the table."
"Senator Stabenow understands the urgency of passing important legislation, including voting rights, and thinks it warrants a discussion about the filibuster if Republicans refuse to work across the aisle," Robyn Bryan, a spokesperson for Sen. Debbie Stabenow, D-Mich., said.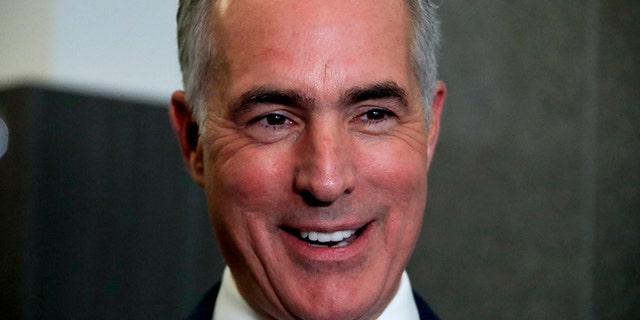 FILE – In this Oct. 26, 2018, file photo, Sen.Bob Casey, D-Pa., speaks to reporters in the studio of KDKA-TV in Pittsburgh. Casey has reversed his stance on the legislative filibuster since signing a 2017 letter in support of it. (AP Photo/Gene J. Puskar, File)
Representatives for Sen. Bob Casey, D-Pa., pointed to recent comments he made on MSNBC.
"Yes, absolutely," Casey said when asked if he would support a "talking filibuster" or something similar. "Major changes to the filibuster for someone like me would not have been on the agenda even a few years ago. But the Senate does not work like it used to."
MCCONNELL SAYS SENATE WILL BE '100-CAR PILEUP' IF DEMS NUKE FILIBUSTER
"I hope any Democratic senator who's not currently in support of changing the rules or altering them substantially, I hope they would change their minds," Casey added.
Representatives for Sen. Angus King, I-Vt., who caucuses with Democrats, meanwhile, references a Bangor Daily News editorial that said King was completely against the filibuster in 2012 but now believes it's helpful in stopping bad legislation. It said, however, that King is open to "modifications" similar to a talking filibuster.
The senators who did not respond to questions on their 2017 support of the filibuster were Sens. Joe Manchin. D-W.Va.; Patrick Leahy, D-Vt.; Amy Klobuchar, D-Minn.; Jeanne Shaheen, D-N.H.; Michael Bennet, D-Colo.; Martin Heinrich, D-N.M.; Sherrod Brown, D-Ohio; Dianne Feinstein, D-Calif.; Kirsten Gillibrand, D-N.Y.; Brian Schatz, D-Hawaii; Cory Booker, D-N.J.; Maria Cantwell, D-Wash.; Maize Hirono, D-Hawaii; John Tester, D-Mont.; Tom Carper, D-Del.; Maggie Hassan, D-N.H.; Tammy Duckworth, D-Ill.; Jack Reed, D-R-I.; Ed Markey, D-Mass.; Sheldon Whitehouse, D-R.I.; and Bob Menendez, D-N.J.
Some of these senators, however, have addressed the filibuster in other recent comments.
Sen. Dianne Feinstein, D-Calif., on Wednesday was asked if she supported changing the filibuster threshold by CNN and said she is still opposed to the idea. "Not at this time," Feinstein said.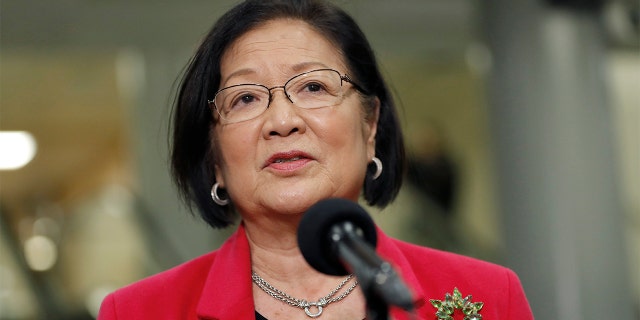 Sen. Mazie Hirono, D-Hawaii, speaks to reporters on Capitol Hill in Washington, Thursday, Jan. 30, 2020, during the impeachment trial of President Donald Trump on charges of abuse of power and obstruction of Congress. Hirono has changed her opinion on the legislative filibuster since signing a 2017 letter supporting it. (AP Photo/Julio Cortez)
Sen. Maize Hirono, D-Hawaii, meanwhile said last week she is already for getting rid of the current 60-vote threshold and thinks other Democrats will sign on soon.
"If Mitch McConnell continues to be totally an obstructionist, and he wants to use the 60 votes to stymie everything that President Biden wants to do and that we Democrats want to do that will actually help people," Hirono said, "then I think the recognition will be among the Democrats that we're gonna need to."
The most recent talk about either removing or significantly weakening the filibuster was spurred by comments from Manchin that appeared to indicate he would be open to a talking filibuster. He said filibustering a bill should be more "painful" for a minority.
Manchin appeared to walk back any talk of a talking filibuster on Wednesday, however.
"You know where my position is," he said. "There's no little bit of this and a little bit — there's no little bit here. You either protect the Senate, you protect the institution and you protect democracy or you don't."
Manchin and Sen. Kyrsten Sinema, D-Ariz., both committed to supporting the current form of the filibuster earlier this year. Sinema was not in the Senate in 2017.
Senate Minority Mitch McConnell, R-Ky., said their comments gave him the reassurance he needed to drop a demand that Senate Majority Leader Chuck Schumer, D-N.Y., put filibuster protections into the Senate's organizing resolution.
But with Manchin seeming to flake at least in the eyes of some, other Democrats are beginning to push harder for filibuster changes.
—
I read this about your views on abortion:
BROKEN PROMISE: : While running for Senate, an opposition ad claimed that Booker condoned abortion at any stage of pregnancy and without restrictions. Booker's campaign responded that Booker does support restrictions: "Mayor Booker does not oppose restrictions on post-viability abortions if exceptions are made for the health and the life of the mother." Booker attempted to appear more moderate on abortion by parsing meaningless differences in policy: we call that "legalism."
ANALYSIS: Booker was pressed for specifics during the campaign and said he accepted "post-viability exceptions." But then he co-sponsored a bill that banned post-viability exceptions. Booker might say, "Well, SOME post-viability exceptions are ok, but not THOSE post-viability exceptions." But THOSE post-viability exceptions are the currently controversial ones, which come up on pro-life bills for votes in the Senate.
Senator, I wanted to talk to you about why I am pro-life.

Carl Sagan stated, "So if a sperm and egg are as human as the fertilized egg produced by their union, and if it is murder to destroy a fertilized egg–despite the fact that it's only potentially a baby–why isn't it murder to destroy a sperm or an egg?"
Newsweek answered the question life begins long ago (see below).
Carl Sagan was the Humanist of the year in 1981.
A Christian Manifesto
by Dr. Francis A. Schaeffer
This address was delivered by the late Dr. Schaeffer in 1982 at the Coral Ridge Presbyterian Church, Fort Lauderdale, Florida. It is based on one of his books, which bears the same title.
Dr. C. Everett Koop, in our seminars for Whatever Happened to the Human Race, often said that (speaking for himself), "When I graduated from medical school, the idea was 'how can I save this life?' But for a great number of the medical students now, it's not, 'How can I save this life?', but 'Should I save this life?'"
Believe me, it's everywhere. It isn't just abortion. It's infanticide. It's allowing the babies to starve to death after they are born. If they do not come up to some doctor's concept of a quality of life worth living. I'll just say in passing — and never forget it – it takes about 15 days, often, for these babies to starve to death. And I'd say something else that we haven't stressed enough. In abortion itself, there is no abortion method that is not painful to the child — just as painful that month before birth as the baby you see a month after birth in one of these cribs down here that I passed — just as painful…
The January 11 Newsweek has an article about the baby in the womb. The first 5 or 6 pages are marvelous. If you haven't seen it, you should see if you can get that issue. It's January 11 and about the first 5 or 6 pages show conclusively what every biologist has known all along, and that is that human life begins at conception. There is no other time for human life to begin, except at conception. Monkey life begins at conception. Donkey life begins at conception. And human life begins at conception. Biologically, there is no discussion — never should have been — from a scientific viewpoint. I am not speaking of religion now. And this 5 or 6 pages very carefully goes into the fact that human life begins at conception. But you flip the page and there is this big black headline, "But is it a person?" And I'll read the last sentence, "The problem is not determining when actual human life begins, but when the value of that life begins to out weigh other considerations, such as the health or even the happiness of the mother."
We are not just talking about the health of the mother (it's a propaganda line), or even the happiness of the mother. Listen! Spell that out! It means that the mother, FOR HER OWN HENDONISTIC HAPPINESS — selfish happiness — can take human life by her choice, by law. Do you understand what I have said? By law, on the basis of her individual choice of what makes her happy. She can take what has been declared to be, in the first five pages [of the article], without any question, human life. In other words, they acknowledge that human life is there, but it is an open question as to whether it is not right to kill that human life if it makes the mother happy.
And basically that is no different than Stalin, Mao, or Hitler, killing who they killed for what they conceived to be the good of society. There is absolutely no line between the two statements — no absolute line, whatsoever. One follows along: Once that it is acknowledged that it is human life that is involved (and as I said, this issue of Newsweek shows conclusively that it is) the acceptance of death of human life in babies born or unborn, opens the door to the arbitrary taking of any human life. From then on, it's purely arbitrary.
I understand many humanists support financially NARAL. Did you know that the founder of NARAL left the abortion business because as technology advanced he discovered that the unborn baby experienced pain? Here is a little more about Dr. Bernard Nathanson:
Bernard Nathanson: A Life Transformed by Truth
In 1985, Nathanson employed the new fetal imaging technology to produce a documentary film, "The Silent Scream," which energized the pro-life movement and threw the pro-choice side onto the defensive by showing in graphic detail the killing of a twelve-week-old fetus in a suction abortion. Nathanson used the footage to describe the facts of fetal development and to make the case for the humanity and dignity of the child in the womb. At one point, viewers see the child draw back from the surgical instrument and open his mouth: "This," Nathanson says in the narration, "is the silent scream of a child threatened imminently with extinction."
Publicity for "The Silent Scream" was provided by no less a figure than President Ronald Reagan, who showed the film in the White House and touted it in speeches. Like Nathanson, Reagan, who had signed one of the first abortion-legalization bills when he was Governor of California, was a zealous convert to the pro-life cause. During his term as president, Reagan wrote and published a powerful pro-life book entitled Abortion and the Conscience of the Nation—a book that Nathanson praised for telling the truth about the life of the child in the womb and the injustice of abortion.
My last question to you today is WHAT ABOUT UNBORN WOMAN'S RIGHTS? Don't little baby girls who are just months away from being born have the right to life? This letter has been about politics but the spiritual answers your heart is seeking can be found in putting your faith and trust in Jesus Christ. The Bible is true from cover to cover and can be trusted. Without the Bible then we are left with Schaeffer's final conclusion,"If there are no absolutes by which to judge society, then society is absolute."
Sincerely,
Everette Hatcher III, 13900 Cottontail Lane, Alexander, AR 72002, ph 501-920-5733 everettehatcher@gmail.com
Related posts:
(Emailed to White House on 12-21-12.) President Obama c/o The White House 1600 Pennsylvania Avenue NW Washington, DC 20500 Dear Mr. President, I know that you receive 20,000 letters a day and that you actually read 10 of them every day. I really do respect you for trying to get a pulse on […]By Everette Hatcher III | Posted in Milton Friedman, President Obama, spending out of control, Taxes | Edit | Comments (0)
(Emailed to White House on 12-21-12.) President Obama c/o The White House 1600 Pennsylvania Avenue NW Washington, DC 20500 Dear Mr. President, I know that you receive 20,000 letters a day and that you actually read 10 of them every day. I really do respect you for trying to get a pulse on what is […]By Everette Hatcher III | Posted in Milton Friedman, President Obama, Ronald Reagan, spending out of control, Taxes | Edit | Comments (0)
(Emailed to White House on 12-21-12) President Obama c/o The White House 1600 Pennsylvania Avenue NW Washington, DC 20500 Dear Mr. President, I know that you receive 20,000 letters a day and that you actually read 10 of them every day. I really do respect you for trying to get a pulse on what is […]By Everette Hatcher III | Posted in President Obama, Ronald Reagan, spending out of control, Taxes | Edit | Comments (0)
The federal government has a spending problem and Milton Friedman came up with the negative income tax to help poor people get out of the welfare trap. It seems that the government screws up about everything. Then why is President Obama wanting more taxes? _______________ Milton Friedman – The Negative Income Tax Published on […]By Everette Hatcher III | Posted in President Obama, spending out of control, Taxes | Edit | Comments (0)
I was sad to read that the Speaker John Boehner has been involved in punishing tea party republicans. Actually I have written letters to several of these same tea party heroes telling them that I have emailed Boehner encouraging him to listen to them. Rep. David Schweikert (R-AZ),Justin Amash (R-MI), and Tim Huelskamp (R-KS). have been contacted […]By Everette Hatcher III | Posted in Current Events, Speaker of the House John Boehner, spending out of control | Edit | Comments (0)
Michael Tanner of the Cato Institute in his article, "Hitting the Ceiling," National Review Online, March 7, 2012 noted: After all, despite all the sturm und drang about spending cuts as part of last year's debt-ceiling deal, federal spending not only increased from 2011 to 2012, it rose faster than inflation and population growth combined. […]By Everette Hatcher III | Posted in spending out of control, Taxes| Edit | Comments (0)
Michael Tanner of the Cato Institute in his article, "Hitting the Ceiling," National Review Online, March 7, 2012 noted: After all, despite all the sturm und drang about spending cuts as part of last year's debt-ceiling deal, federal spending not only increased from 2011 to 2012, it rose faster than inflation and population growth combined. […]By Everette Hatcher III | Posted in spending out of control, Taxes| Edit | Comments (0)
Some of the heroes are Mo Brooks, Martha Roby, Jeff Flake, Trent Franks, Duncan Hunter, Tom Mcclintock, Devin Nunes, Scott Tipton, Bill Posey, Steve Southerland and those others below in the following posts. THEY VOTED AGAINST THE DEBT CEILING INCREASE IN 2011 AND WE NEED THAT TYPE OF LEADERSHIP NOW SINCE PRESIDENT OBAMA HAS BEEN […]By Everette Hatcher III | Posted in spending out of control, Taxes| Edit | Comments (0)
I hated to see that Allen West may be on the way out. ABC News reported: Nov 7, 2012 7:20am What Happened to the Tea Party (and the Blue Dogs?) Some of the Republican Party's most controversial House members are clinging to narrow leads in races where only a few votes are left to count. […]By Everette Hatcher III | Posted in Current Events | Edit | Comments (0)
Rep Himes and Rep Schweikert Discuss the Debt and Budget Deal Michael Tanner of the Cato Institute in his article, "Hitting the Ceiling," National Review Online, March 7, 2012 noted: After all, despite all the sturm und drang about spending cuts as part of last year's debt-ceiling deal, federal spending not only increased from 2011 […]By Everette Hatcher III | Posted in spending out of control, Taxes| Edit | Comments (0)
—