—
Trump had stopped enforcing the immigration policy at the start of the pandemic
A U.S. Border Patrol agent instructed teenagers Friday as they prepared to go to a processing center after crossing the U.S.-Mexico border in La Joya, Texas.
PHOTO: JOHN MOORE/GETTY IMAGES
By
Michelle HackmanUpdated Aug. 14, 2021 3:11 pm ET
A federal judge in Texas has ordered the Biden administration to reinstate the Remain in Mexico program, a Trump-era immigration policy that required migrants seeking asylum to wait in Mexican border cities for the duration of their immigration cases.
The program, which the Department of Homeland Security under former President Donald Trumpintroduced in 2019 at the height of a surge in Central American families coming to the U.S. border, was wound down by President Biden soon after he took office.
In a ruling late Friday, U.S. Judge Matthew J. Kacsmaryk of the Northern District of Texas said the elimination of the policy was arbitrary and violated federal law because the administration didn't properly consider the benefits of the program. He also wrote that ending it has contributed to the current border surge.
"Since [its] termination, the number of enforcement encounters on the southwest border has skyrocketed," he wrote.
The judge, who was appointed by Mr. Trump in 2019, ordered the Biden administration to restart the program but stayed his decision for seven days to allow the government to appeal.
Representatives for the White House and DHS didn't respond to a request for comment. The Justice Department declined to comment.
The suit was brought by the states of Texas and Missouri in April. Missouri Attorney General Eric Schmitt, who is running for the state's open Senate seat in 2022, called the ruling "a massive win…that will help secure the border."
Though the program was still in place when Mr. Biden took office, the Trump administration had stopped relying on it nearly a year earlier at the start of the pandemic. It had adopted a new policy known as Title 42, which Mr. Biden is still using, that allows border agents to send migrants back to Mexico without allowing them a chance to ask for asylum.
"The reality is that no one had been put into [the program] for months before Biden had terminated the policy, and yet this judge falsely claims that ending it somehow contributed to the current border surge," said Aaron Reichlin-Melnick, policy counsel at the American Immigration Council.
Mr. Biden announced he would halt the Remain in Mexico program on his first day in office, and a month later, DHS began allowing migrants in the program with pending court cases to enter the U.S. to pursue their claims, a process that can take months or years.
The Biden team cited multiple court rulings during the Trump administration, including one by a federal appeals court in California, finding the program unlawful under current immigration law.
Immigration advocates oppose the program in part because the Mexican cities where the U.S. government would send back migrants are particularly dangerous—with human-rights groups reporting hundreds of instances of kidnappings, rape and other violent crimes against the migrants.
The policy was set to go before the Supreme Court last term, though the high court dropped the case once Mr. Biden indicated he would no longer defend it in court.
It is not clear whether it is possible to restart the program as it would require the cooperation of the Mexican government. The Biden administration has already placed significant pressure on Mexican counterparts to step up immigration enforcement at their border with Guatemala.
As the Biden administration grapples with a surge in migrants crossing the southern border illegally, it faces a strategic choice in how it will approach broader immigration reform. WSJ's Gerald F. Seib explains. Photo illustration: Ang LiTHE WALL STREET JOURNAL INTERACTIVE EDITION
Write to Michelle Hackman at michelle.hackman+1@wsj.com
Milton Friedman in 2004
Power of the Market – Immigration
MILTON FRIEDMAN ON IMMIGRATION
MILTON FRIEDMAN ON IMMIGRATION PART 2
May 13, 2021
Office of Barack and Michelle Obama
P.O. Box 91000
Washington, DC 20066
Dear President Obama,
I wrote you over 700 letters while you were President and I mailed them to the White House and also published them on my blog http://www.thedailyhatch.org .I received several letters back from your staff and I wanted to thank you for those letters.

There are several issues raised in your book that I would like to discuss with you such as the minimum wage law, the liberal press, the cause of 2007 financial meltdown, and especially your pro-choice (what I call pro-abortion) view which I strongly object to on both religious and scientific grounds, Two of the most impressive things in your book were your dedication to both the National Prayer Breakfast (which spoke at 8 times and your many visits to the sides of wounded warriors!!
I have been reading your autobiography A PROMISED LAND and I have been enjoying it.
Let me make a few comments on it, and here is the first quote of yours I want to comment on:
WHEN IT CAME to immigration, everyone agreed that the system was broken. The process of immigrating legally to the United States could take a decade or longer, often depending on what country you were coming from and how much money you had.Meanwhile, the economic gulf between us and our southern neighbors drove hundreds of thousands of people to illegally cross the 1,933-mile U.S.-Mexico border each year, searching for work and a better life. Congress had spent billions to harden the border, with fencing, cameras, drones, and an expanded and increasingly militarized border patrol. But rather than stop the flow of immigrants, these steps had spurred an industry of smugglers—coyotes—who made big money transporting human cargo in barbaric and sometimes deadly fashion. And although border crossings by poor Mexican and Central American migrants received most of the attention from politicians and the press, about 40 percent of America's unauthorized immigrants arrived through airports or other legal ports of entry and then overstayed their visas.
By 2010, an estimated eleven million undocumented persons were living in the United States, in large part thoroughly woven into the fabric of American life.Many were longtime residents, with children who either were U.S. citizens by virtue of having been born on American soil or had been brought to the United States at such an early age that they were American in every respect except for a piece of paper. Entire sectors of the U.S. economy relied on their labor, as undocumented immigrants were often willing to do the toughest, dirtiest work for meager pay—picking the fruits and vegetables that stocked our grocery stores, mopping the floors of offices, washing dishes at restaurants, and providing care to the elderly. But although American consumers benefited from this invisible workforce, many feared that immigrants were taking jobs from citizens, burdening social services programs, and changing the nation's racial and cultural makeup, which led to demands for the government to crack down on illegal immigration. This sentiment was strongest among Republican constituencies, egged on by an increasingly nativist right-wing press. However, the politics didn't fall neatly along partisan lines: The traditionally Democratic trade union rank and file, for example, saw the growing presence of undocumented workers on co
nstruction sites as threatening their livelihoods, while Republican-leaning business groups interested in maintaining a steady supply of cheap labor (or, in the case of Silicon Valley, foreign-born computer programmers and engineers) often took pro-immigration positions.
Back in 2007, the maverick version of John McCain, along with his sidekick Lindsey Graham, had actually joined Ted Kennedy to put together a comprehensive reform bill that offered citizenship to millions of undocumented immigrants while more tightly securing our borders. Despite strong support from President Bush, it had failed to clear the Senate. The bill did, however, receive twelve Republican votes, indicating the real possibility of a future bipartisan accord. I'd pledged during the campaign to resurrect similar legislation once elected, and I'd appointed former Arizona governor Janet Napolitano as head of the Department of Homeland Security—the agency that oversaw U.S. Immigration and Customs Enforcement (ICE) and U.S. Customs and Border Protection—partly because of her knowledge of border issues and her reputation for having previously managed immigration in a way that was both compassionate and tough.
My hopes for a bill had thus far been dashed. With the economy in crisis and Americans losing jobs,few in Congress had any appetite to take on a hot-button issue like immigration. Kennedy was gone. McCain, having been criticized by the right flank for his relatively moderate immigration stance, showed little interest in taking up the banner again. Worse yet, my administration was deporting undocumented workers at an accelerating rate. This wasn't a result of any directive from me, but rather it stemmed from a 2008 congressional mandate that both expanded ICE's budget and increased collaboration between ICE and local law enforcement departments in an effort to deport more undocumented immigrants with criminal records. My team and I had made a strategic choice not to immediately try to reverse the policies we'd inherited in large part because we didn't want to provide ammunition to critics who claimed that Democrats weren't willing to enforce existing immigration laws—a perception that we thought could torpedo our chances of passing a future reform bill. But by 2010, immigrant-rights and Latino advocacy groups were criticizing our lack of progress..And although I continued to urge Congress to pass immigration reform, I had no realistic path for delivering a new comprehensive law before the midterms.
Milton Friedman wisely noted, "It's just obvious you can't have free immigration and a welfare state,"
Is it prudent to allow illegal immigrants (60 percent of whom are high-school dropouts) access to Social Security, Medicare, and, over time, to 60 federal means-tested welfare programs? I don't think so either!
Jun 21st, 2007 3 min read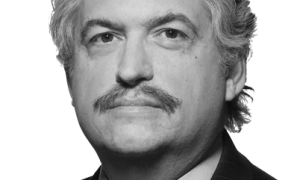 Senior Research Fellow Robert is a leading authority on poverty, welfare programs and immigration in America. Copied
A decade ago, Nobel prize-winning economist Milton Friedman admonished the Wall Street Journal for its idée fixe on open-border immigration policy. "It's just obvious you can't have free immigration and a welfare state," he warned. This remark adds insight to the current debate over immigration in the U.S. Senate.
To be fully understood, Friedman's comment should be viewed as applying not merely to means-tested welfare programs such as food stamps, Medicaid, and public housing, but to the entire redistributive transfer state. In the "transfer state," government taxes the upper middle class and shifts some $1.5 trillion in economic resources to lower-income groups through a vast variety benefits and subsidies. Across the globe, this sort of economic redistribution is the largest, if not the predominant, function of government in advanced societies.
The transfer state redistributes funds from those with high-skill and high-income levels to those with lower skill levels. Low-skill immigrants become natural recipients in this process. On average, low-skill immigrant families receive $30,160 per year in government benefits and services while paying $10,573 in taxes, creating a net fiscal deficit of $19,587 that has to be paid by higher-income taxpayers.
Get exclusive insider information from Heritage experts delivered straight to your inbox each week. Subscribe to The Agenda >>
There is a rough one-to-one fiscal balance between low-skill immigrant families and upper-middle-class families. It takes the entire net tax payments (taxes paid minus benefits received) of one college-educated family to pay for the net benefits received by one low-skill immigrant family. Even Julian Simon, the godfather of open-border advocates, acknowledged that imposing such a burden on taxpayers was unreasonable, stating, "immigrants who would be a direct economic burden upon citizens through the public coffers should have no claim to be admitted" into the nation.
There is also a political dimension to the transfer state. Elections in modern societies are, to a considerable degree, referenda on the magnitude of future income redistribution. An immigration policy which grants citizenship to vast numbers of low-skill, low-income immigrants not only creates new beneficiaries for government transfers, but new voters likely to support even greater transfers in the future.
The grant of citizenship is a transfer of political power. Access to the U.S. ballot box also provides access to the American taxpayer's bank account. This is particularly problematic with regard to low-skill immigrants. Within an active redistributionist state, as Friedman understood, unlimited immigration can threaten limited government.
Many libertarians respond to this dilemma by asserting that the real problem is not open borders but the welfare state itself. The answer: dismantle the welfare state. The libertarian Cato Institute pursues a variant of this policy under the slogan, "build a wall around the welfare state, not around the nation." Borders should be open, but immigrants should be barred from accessing welfare and other benefits.
But in practice, pursuit of these dual libertarian goals of opening borders and ending the redistributionist welfare state often leads to contradictions. The current Senate "comprehensive" immigration-reform bill, supported by the Cato Institute, actively demolishes existing walls between illegal immigrants and government benefits, granting some 12 million illegal immigrants (60 percent of whom are high-school dropouts) access to Social Security, Medicare, and, over time, to 60 federal means-tested welfare programs.
It also substantially increases the future flow of low-skill immigrants and gives them access to welfare and transfer programs. Far from building a "wall around welfare," this legislation levels existing walls, builds a highway to Fort Knox, and shovels billions in taxpayer funds into the pockets of immigrants who entered this country illegally.
In a recent debate with Dan Griswold of the Cato Institute, I pointed out this paradox. Griswold replied that the key was to grant amnesty and open borders now and work on "building a wall around welfare" at some point in the future. The weakness of this response should concern all those interested in limiting the size of government.
While most open-border libertarians proclaim a desire to dismantle both borders and the welfare state, in practice what they offer is open borders today and a vague (and almost certainly illusory) promise to end the welfare state in the indefinite future. As Milton Friedman understood, open-border enthusiasts have the sequence wrong: Opening borders with the redistributionist state still intact will result in a larger and more confiscatory government. In response to libertarians who propose to open borders and dismantle the welfare state, practical conservatives should answer: "Go ahead. Dismantle the welfare state. As soon as you've got that finished, let us know, and then we'll talk about open borders."
Open-border enthusiasts sometimes claim that the 1996 welfare reform defanged the welfare system, eliminating the costs that low-skill immigrants impose on taxpayers. As one of the architects of that reform, I would warn that this view shows a serious lack of understanding of the limited scope of the 1996 welfare law, and, more importantly, a lack of appreciation of the magnitude of the redistributionist state.
Sen. Ted Kennedy understands that a steady stream of low-skill immigrants will help him build a much larger, tax-fueled government. It is a pity that so many foes of big government fail to appreciate this point.
Robert Rector is a senior research fellow at The Heritage Foundation.
First appeared in the National Review Online
Sincerely,
Everette Hatcher III, 13900 Cottontail Lane, Alexander, AR 72002, ph 501-920-5733 everettehatcher@gmail.com
Related posts:
President Obama c/o The White House 1600 Pennsylvania Avenue NW Washington, DC 20500 Dear Mr. President, I know that you receive 20,000 letters a day and that you actually read 10 of them every day. I really do respect you for trying to get a pulse on what is going on out here. There have […]By Everette Hatcher III | Posted in David Barton, Founding Fathers, President Obama | Edit |Comments (0)
There have been many articles written by evangelicals like me who fear that our founding fathers would not recognize our country today because secular humanism has rid our nation of spiritual roots. I am deeply troubled by the secular agenda of those who are at war with religion in our public life. Lillian Kwon quoted somebody […]By Everette Hatcher III | Posted in David Barton, Founding Fathers | Edit | Comments (0)
There have been many articles written by evangelicals like me who fear that our founding fathers would not recognize our country today because secular humanism has rid our nation of spiritual roots. I am deeply troubled by the secular agenda of those who are at war with religion in our public life. Lillian Kwon quoted somebody […]By Everette Hatcher III | Posted in David Barton, Founding Fathers | Edit | Comments (0)
There have been many articles written by evangelicals like me who fear that our founding fathers would not recognize our country today because secular humanism has rid our nation of spiritual roots. I am deeply troubled by the secular agenda of those who are at war with religion in our public life. Lillian Kwon quoted somebody […]By Everette Hatcher III | Posted in David Barton, Founding Fathers | Edit | Comments (0)
There have been many articles written by evangelicals like me who fear that our founding fathers would not recognize our country today because secular humanism has rid our nation of spiritual roots. I am deeply troubled by the secular agenda of those who are at war with religion in our public life. Lillian Kwon quoted somebody […]By Everette Hatcher III | Posted in David Barton, Founding Fathers | Edit | Comments (0)
There have been many articles written by evangelicals like me who fear that our founding fathers would not recognize our country today because secular humanism has rid our nation of spiritual roots. I am deeply troubled by the secular agenda of those who are at war with religion in our public life. Lillian Kwon quoted somebody […]By Everette Hatcher III | Posted in Founding Fathers | Edit | Comments (0)
President Obama Speaks at The Ohio State University Commencement Ceremony Published on May 5, 2013 President Obama delivers the commencement address at The Ohio State University. May 5, 2013. You can learn a lot about what President Obama thinks the founding fathers were all about from his recent speech at Ohio State. May 7, 2013, […]By Everette Hatcher III | Posted in Founding Fathers, President Obama | Edit | Comments (0)
Dr. C. Everett Koop with Bill Graham. Francis Schaeffer: "Whatever Happened to the Human Race" (Episode 4) THE BASIS FOR HUMAN DIGNITY Published on Oct 7, 2012 by AdamMetropolis The 45 minute video above is from the film series created from Francis Schaeffer's book "Whatever Happened to the Human Race?" with Dr. C. Everett Koop. This […]By Everette Hatcher III | Posted in Founding Fathers, Francis Schaeffer, Prolife | Edit |Comments (1)
America's Founding Fathers Deist or Christian? – David Barton 4/6 There have been many articles written by evangelicals like me who fear that our founding fathers would not recognize our country today because secular humanism has rid our nation of spiritual roots. I am deeply troubled by the secular agenda of those who are at […]By Everette Hatcher III | Posted in David Barton, Founding Fathers | Tagged governor of connecticut, john witherspoon, jonathan trumbull | Edit | Comments (1)
3 Of 5 / The Bible's Influence In America / American Heritage Series / David Barton There were 55 gentlemen who put together the constitution and their church affliation is of public record. Greg Koukl notes: Members of the Constitutional Convention, the most influential group of men shaping the political foundations of our nation, were […]By Everette Hatcher III | Posted in Founding Fathers | Edit | Comments (0)
I do not think that John Quincy Adams was a founding father in the same sense that his father was. However, I do think he was involved in the early days of our government working with many of the founding fathers. Michele Bachmann got into another history-related tussle on ABC's "Good Morning America" today, standing […]By Everette Hatcher III | Posted in David Barton, Founding Fathers | Edit | Comments (0)
I have gone back and forth and back and forth with many liberals on the Arkansas Times Blog on many issues such as abortion, human rights, welfare, poverty, gun control and issues dealing with popular culture. Here is another exchange I had with them a while back. My username at the Ark Times Blog is Saline […]By Everette Hatcher III | Posted in Arkansas Times, Francis Schaeffer, Prolife | Edit |Comments (0)
I truly believe that many of the problems we have today in the USA are due to the advancement of humanism in the last few decades in our society. Ronald Reagan appointed the evangelical Dr. C. Everett Koop to the position of Surgeon General in his administration. He partnered with Dr. Francis Schaeffer in making the […]By Everette Hatcher III | Posted in Adrian Rogers, Francis Schaeffer | Edit | Comments (0)
Francis Schaeffer: "Whatever Happened to the Human Race" (Episode 4) THE BASIS FOR HUMAN DIGNITY Published on Oct 7, 2012 by AdamMetropolis ____________ The 45 minute video above is from the film series created from Francis Schaeffer's book "Whatever Happened to the Human Race?" with Dr. C. Everett Koop. This book really helped develop my political […]By Everette Hatcher III | Posted in Francis Schaeffer | Edit | Comments (0)
—-
—