I provide eight examples to illustrate how and why government spending can hinder economic growth.
The last item is what I called the "stagnation cost," which is the tendency of politicians and bureaucrats to throw good money after bad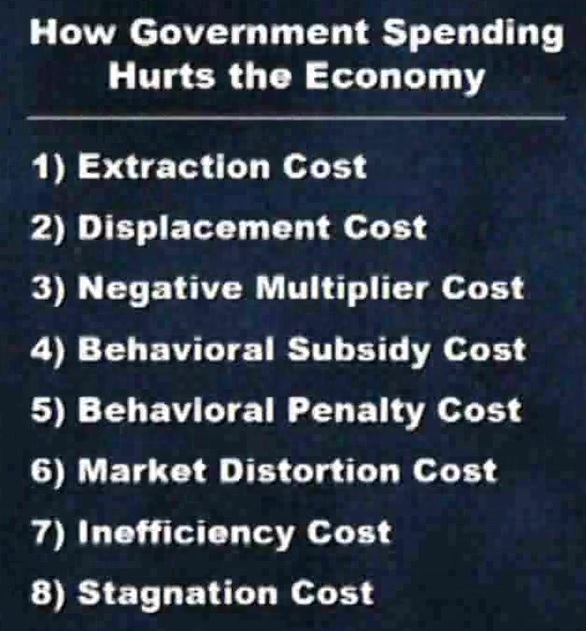 because there is no incentive to adapt.
When giving speeches, I usually refer to this as the "inertia cost."
But, regardless of what I call it, I explain that every government program has a group of beneficiaries that are strongly motivated to keep their gravy train moving even if money is being wasted.
And since politicians like getting votes from those beneficiaries, it's very difficult to derail programs.
In an article for National Review, Sean-Michael Pigeon offers one very plausible explanation for why this happens.
He says politicians fall victim to the fallacy of sunk costs.
…we need an understanding of government inefficiency… One reason government spending is so needlessly costly is somewhat paradoxical: The state is wasteful precisely because people are so concerned about wasting money. …This is a classic sunk-cost fallacy: Costs that can't be recovered are "sunk," and therefore irrelevant for future decision-making.But while this fallacy is well known in economics, sunk costs are a big deal in the practical world of politics. Nobody wants to waste money, and politicians don't want to cause waste directly. No member of Congress wants to be publicly responsible for a half-built bridge, especially when they have to tell taxpayers they still have to foot the bill for it. …Congress's unwillingness to cut the funding of poorly run projects is a significant reason government projects always spend too much. …Politicians are nervous about cutting ongoing projects because they don't want to leave taxpayers empty-handed, but stomaching sunk costs is worth it. Not only is it economically sound to stop government agencies from bleeding money, but it also sets the precedent that shoddy work will be held accountable. …to save money, sometimes you have to lose money.
In other words, it would be good to stop the bleeding.
But that's not politically easy. Mr. Pigeon has examples in his column, but he should have included California's (supposed) high-speed rail project.
That boondoggle has been draining money from state and federal coffers for about a decade. Cost estimates have exploded (something that almost always happens with government projects), yet construction has barely started.
Yet now Biden wants to increase federal subsidies for that money pit, along with other long-distance rail schemes.
And you won't be surprised that a big argument from supporters is that we've already wasted billions and billions of dollars on the project, so therefore we should continue to waste even more money
(sort of like hitting yourself on the head with a hammer because it feels good when you stop).
The big-picture bottom line is that the burden of federal spending should be reduced so that politicians have less ability to waste money.
And that also means that Americans will be able to enjoy more growth and more prosperity.
The targeted bottom line is that we should get Washington out of infrastructure.
____