—
I like cross-country comparisons – such as North Korea vs South Korea and East Germany vs. West Germany – because they can be very informative when comparing the results of socialism vs. markets.
One of the most dramatic examples is Cuba vs. Hong Kong.
More than 60 years ago, back when Castro took power, the two jurisdictions had similar living standards.
But as Cuba tried socialism and Hong Kong chose free enterprise, there was a stunning divergence. Cuba is a basket case and Hong Kong is rich.*
In a column for Human Progress, Neil Monnery compares the two jurisdictions.
As the world entered the turbulent 1960s, two men, half a world apart, one a doctor and the other a classicist, both foreigners far from home, were charged with bringing human progress to their adopted countries. …One, Che Guevara, the well-known Argentinean revolutionary, was the architect of Cuba's communist economic system.The other, Sir John Cowperthwaite, was born in Britain and is largely unknown today. He was central to Hong Kong's post-war recovery and to its unique laissez-faire, free-market economic policy. …Hong Kong and Cuba had similar GDP per capita in 1960. Since then, Hong Kong's has grown 14-fold, Cuba's just twice, leaving Hong Kong seven times more prosperous than Cuba. In 1960, Hong Kong's GDP per capita was a third of its old mother country, Britain. Now, it is 40 percent higher, matching the United States and Switzerland. …Cuba and Hong Kong demonstrate the compound effect over six decades of state planning versus market forces.
Some folks on the left, when presented with this data, will admit that Cuba has fallen behind in terms of economic development.
But cranks like Bernie Sanders claim that's okay because Castro and his cronies instead focused on human development.
But that's a very weak argument. In an article for the Foundation for Economic Education, Hans Bader analyzes Cuba's track record on education and health.
Castro did not give Cubans literacy. Cuba already had one of the highest literacy rates in Latin America by 1950, nearly a decade before Castro took power, according to United Nations data… Cuba has made less educational progress than most Latin American countries over the last 60 years. …Cuba led virtually all countries in Latin America in life expectancy in 1959, before Castro's communists seized power. But by 2012, right after Castro stepped down as Communist Party leader, Chileans and Costa Ricans lived slightly longer than Cubans. Back in 1960, Chileans had a life span seven years shorter than Cubans, and Costa Ricans lived more than two years less than Cubans on average. …Today, life spans are virtually the same in Cuba as more prosperous Chile and Costa Rica—if you accept the rosy official statistics put out by Cuba's communist government, which many people do not.
There are good reasons to doubt official numbers from Cuba.
People who visit the island have sad stories to tell.
For instance, in a column last year for the Wall Street Journal, Andy Laperriere explains what he saw on his church-sponsored trips to Cuba.
It's astonishing some people still cling to a romanticized version of Cuban life under communism. It bears no resemblance to reality. …people who don't have children's Tylenol and cheap reading glasses probably aren't getting world-class medical care. Another striking feature of Cuba is the pervasive idleness. Everywhere you look, people are standing around.They aren't working, because they get paid almost nothing. …Even the buildings a few blocks from the seat of government in Havana are crumbling. It's obvious to a visitor that Cubans live in abject poverty. …there are three classes of people in Cuba. The governmental elite live in gated communities and enjoy what Americans would regard as middle-class living standards. The average person who relies on his own income lives in desperate Third World conditions. In between are people with generous relatives in the U.S. They have more disposable income, but their living conditions are comparable to those of the poorest Americans.
What a depressing analysis.
I wrote a few days ago that Cuba may have done a good job of eliminating inequality, but only because everyone was poor.
But that wasn't right. Like in many socialist regimes, there's a tiny sliver of the population that enjoys decent living standards.
Or, if you're the dictator, you live like a king. Here are some excerpts from a 2014 report in the U.K.-based Guardian.
Fidel Castro lived like a king with his own private yacht, a luxury Caribbean island getaway complete with dolphins and a turtle farm, and travelled with two personal blood donors, a new book claims. In La Vie Cachée de Fidel Castro (Fidel Castro's Hidden Life), former bodyguard Juan Reinaldo Sánchez,a member of Castro's elite inner circle, says the Cuban leader ran the country as his personal fiefdom like a cross between a medieval overlord and Louis XV. …the vast majority of Cubans were unaware their leader enjoyed a lifestyle beyond the dreams of many Cubans and at odds with the sacrifices he demanded of them. …In 2006 Forbes magazine listed the Cuban leader in its top 10 richest "Kings, Queens and Dictators", citing unnamed officials who claimed Castro had amassed a fortune.
Let's close by addressing the argument that Cuba is only poor because of the U.S. trade embargo.
Professor Art Carden addressed that argument in a column for the American Institute for Economic Research.
I think the embargo…should be lifted immediately, as it has given Cuban communists a convenient scapegoat for their country's problems. The embargo, however, is not what causes Cuba's woes, and people blaming the embargo overlook the fact that Cuba trades pretty extensively with the rest of the world–how else do you think Canadian and Mexican merchants get the Cuban cigars they hawk to American tourists? It's not because a Cuban Rhett Butler is smuggling them past a blockade. It's because Cuba trades freely with the entire world.
You may be thinking that's just one economist's opinion.
But it turns out that Art's view is widely shared by other economists, as you can see from this tweet from Professor Jeremy Horpedahl.https://platform.twitter.com/embed/Tweet.html?dnt=true&embedId=twitter-widget-0&features=eyJ0ZndfZXhwZXJpbWVudHNfY29va2llX2V4cGlyYXRpb24iOnsiYnVja2V0IjoxMjA5NjAwLCJ2ZXJzaW9uIjpudWxsfSwidGZ3X2hvcml6b25fdHdlZXRfZW1iZWRfOTU1NSI6eyJidWNrZXQiOiJodGUiLCJ2ZXJzaW9uIjpudWxsfSwidGZ3X3NwYWNlX2NhcmQiOnsiYnVja2V0Ijoib2ZmIiwidmVyc2lvbiI6bnVsbH19&frame=false&hideCard=false&hideThread=false&id=1232697997235867648&lang=en&origin=https%3A%2F%2Fdanieljmitchell.wordpress.com%2F2021%2F07%2F24%2Fcubas-socialism-has-been-a-total-failure%2F&sessionId=9d9963cd6c8051cfac9d9ad02b331bd92f61b8bf&siteScreenName=wordpressdotcom&theme=light&widgetsVersion=82e1070%3A1619632193066&width=550px
Wow, these results are even stronger than the survey showing that economists disagreed with Thomas Piketty's class-warfare hypothesis.
P.S. Let's enjoy some Cuba-themed humor. First, our friends on the left sometimes claim free trade exploits developing nations. But, it that's true, why do they claim Cuba is hurt be an absence of trade with the United States?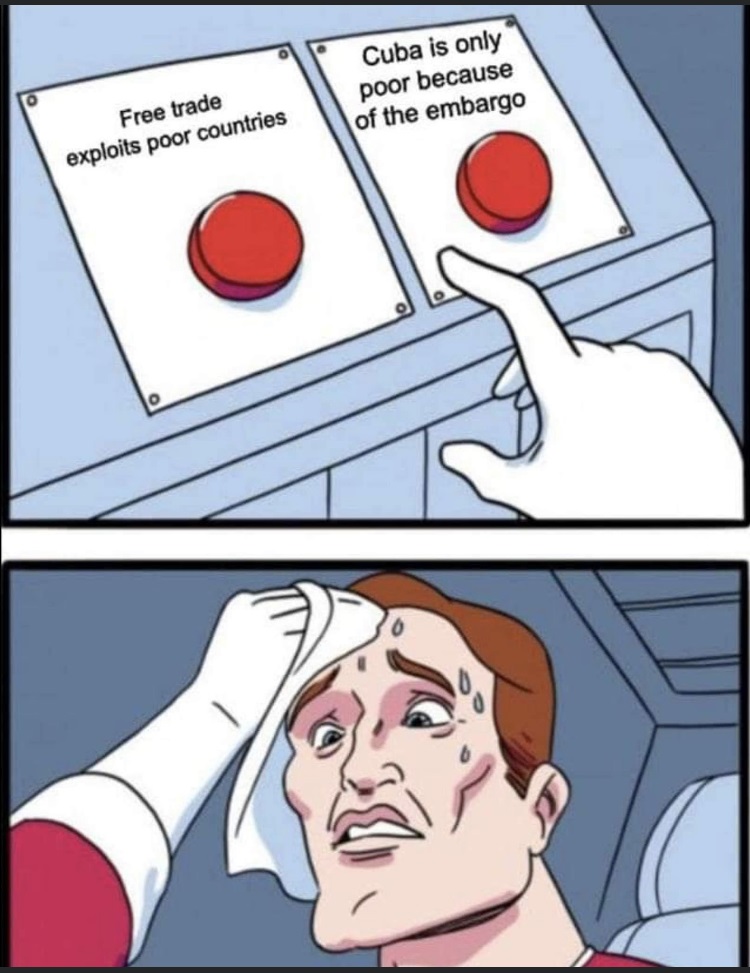 Next, here's a t-shirt suggesting we swap freedom-seeking Cubans for statism-seeking Americans.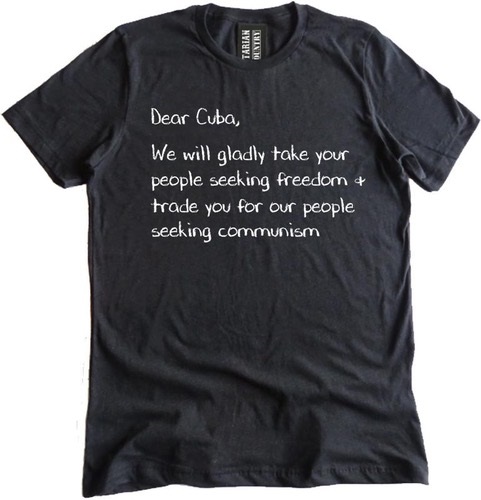 I'm in favor of that trade, though I suspect American leftists wouldn't actually want to live in a socialist country.
P.P.S. I have great disdain for the "useful idiots" who concoct arguments to make Cuba's repressive regime look good.
*Let's hope China doesn't ruin Hong Kong's economy.
Rate this:
I mostly mock socialism, but its authoritarian cousin also is a good target for satire.
So here are some additions to our collection of communism humor.
I'm among the small minority of people who have never watched Game of Thrones, so I don't know the backstory on these characters, but this meme has a very appropriate message about the nuclear-level naivete needed to believe Marx's nonsense.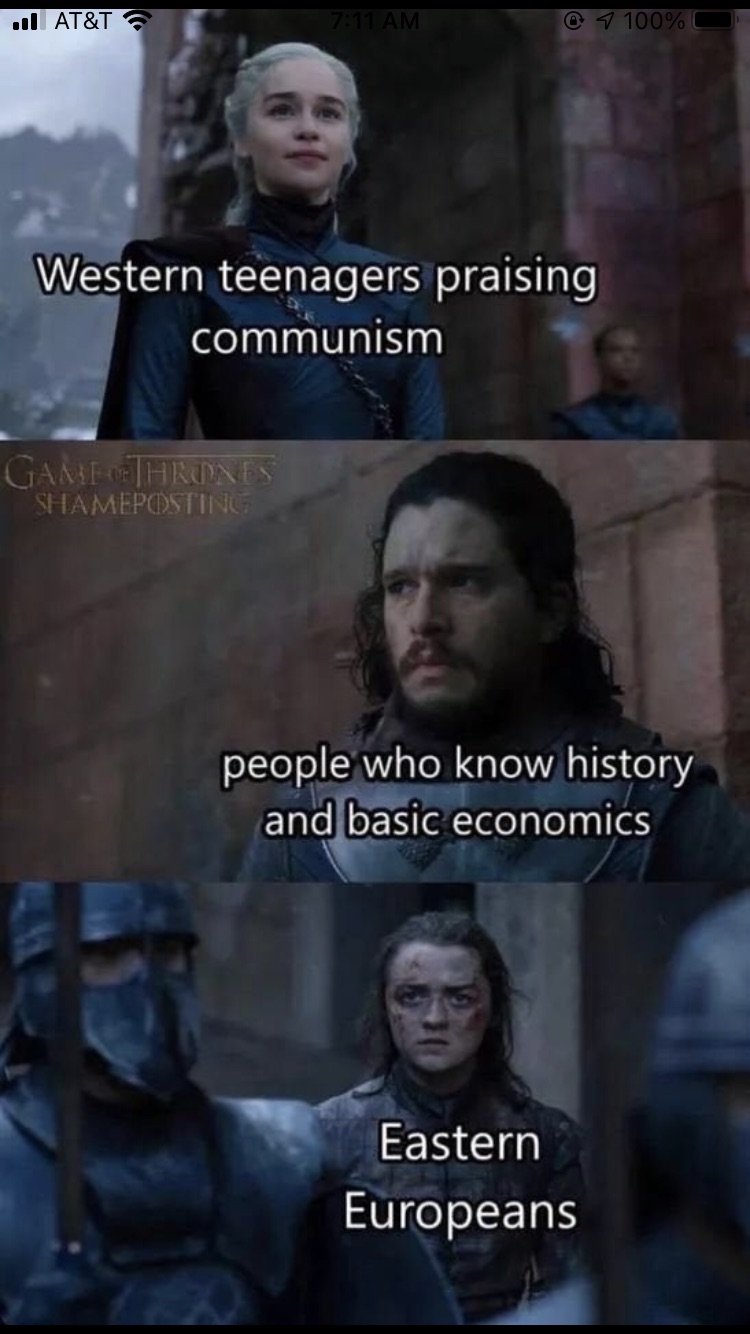 Though maybe the first frame should say "Readers of Teen Vogue."
Next, we have a contribution from Babylon Bee.
It's bad news that we're suffering from a coronavirus that has killed several million people globally, but there's another virus that has butchered 100 million people.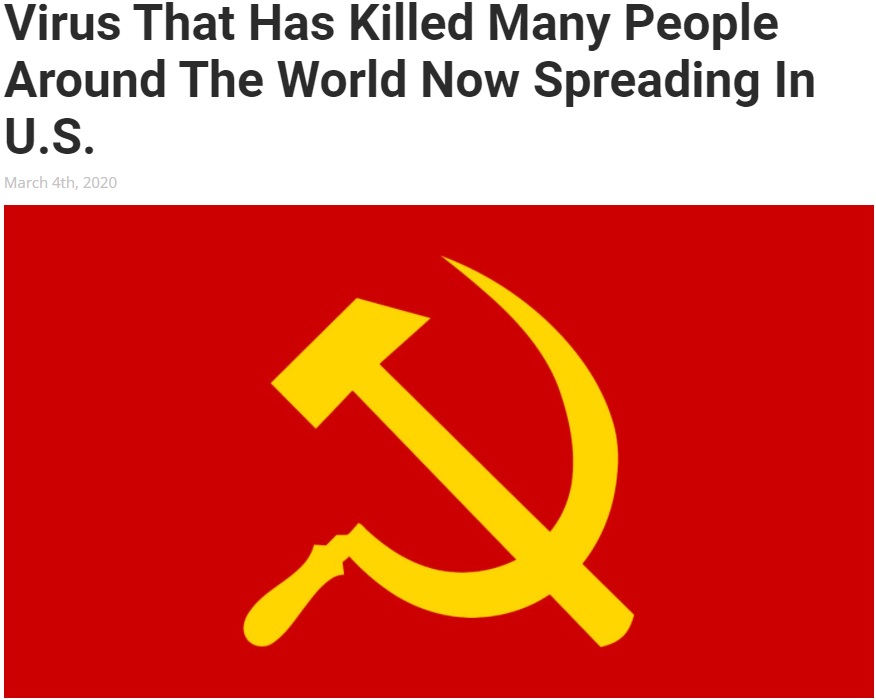 This next image reminds me of the joke about communism and electricity.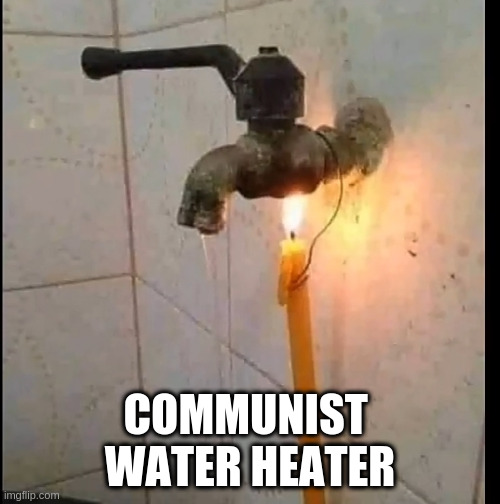 Per my tradition, here's my favorite item from today's collection.
I'm always very impressed by the people who are clever enough to create these Venn diagrams, and this one is better than most.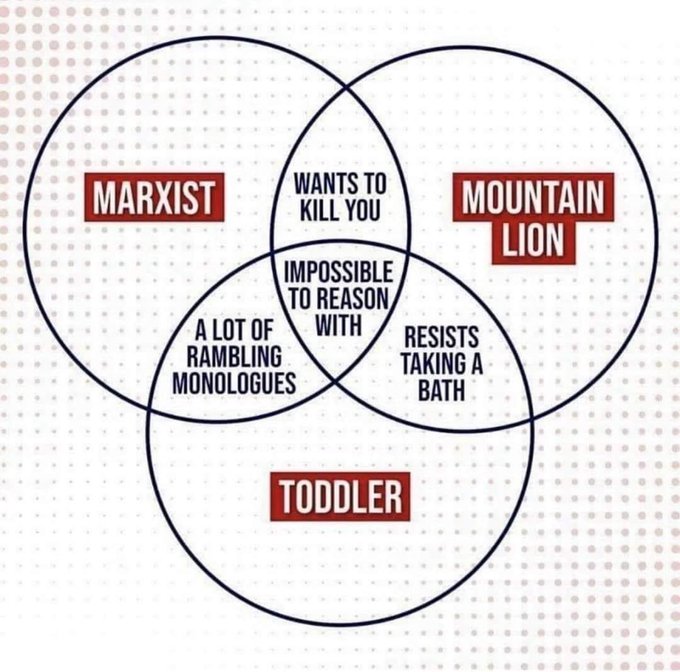 Though I'm tempted to ask who is worse, the soulless Marxist who rambles and can't be reasoned with, or the people who rationalize, glorify, and justify Marxism?
—-
November 24, 2020
Office of Barack and Michelle Obama
P.O. Box 91000
Washington, DC 20066
Dear President Obama,
I wrote you over 700 letters while you were President and I mailed them to the White House and also published them on my blog http://www.thedailyhatch.org .I received several letters back from your staff and I wanted to thank you for those letters.
I have been reading your autobiography A PROMISED LAND and I have been enjoying it.
Let me make a few comments on it, and here is the first quote of yours I want to comment on: Looking back, it's embarrassing to recognize the degree to which my intellectual curiosity those first two years of college paralleled the interests of various women I was attempting to get to know: Marx and Marcuse so I had something to say to the long-legged socialist who lived in my dorm,"
I noticed you mentioned Herbert Marcuse, and I have read of his influence in Francis Schaeffer's book How should we then live?:
At Berkeley the Free Speech Movement arose simultaneously with the hippie world of drugs. … but rather a call for the freedom to express any political views on Sproul Plaza. … followed the teaching of Herbert Marcuse (1898-). Marcuse was a German professor of philosophy related to the neo-Marxist.
Bettina Aptheker and Herbert Marcuse pictured below:
Moral Support: "One Dimensional Man" author Herbert Marcuse accompanies Bettina Aptheker, center, and Angela Davis' mother, Sallye Davis, to Angela Davis' 1972 trial in San Jose. Associated Press
_
______________Francis Schaeffer is a hero of mine and I have posted many times in the past using his material. This post below is a result of his material..Communism catches the attention of the young at heart but it has always brought repression wherever it is tried. TrueCommunism has never been tried is something I was told just a few months ago by a well meaning young person who was impressed with the ideas of Karl Marx. I responded that there are only 5 communist countries in the world today and they lack political, economic and religious freedom.WHY DOES COMMUNISM FAIL?Communism has always failed because of its materialist base. Francis Schaeffer does a great job of showing that in this clip below. Also Schaeffer shows that there were lots of similar things about the basis for both the French and Russia revolutions and he exposes the materialist and humanist basis of both revolutions.
Schaeffer compares communism with French Revolution and Napoleon.
1. Lenin took charge in Russia much as Napoleon took charge in France – when people get desperate enough, they'll take a dictator.
Other examples: Hitler, Julius Caesar. It could happen again.
2. Communism is very repressive, stifling political and artistic freedom. Even allies have to be coerced. (Poland).
Communists say repression is temporary until utopia can be reached – yet there is no evidence of progress in that direction. Dictatorship appears to be permanent.
3. No ultimate basis for morality (right and wrong) – materialist base of communism is just as humanistic as French. Only have "arbitrary absolutes" no final basis for right and wrong.
How is Christianity different from both French Revolution and Communism?
Contrast N.T. Christianity – very positive government reform and great strides against injustice. (especially under Wesleyan revival).
Bible gives absolutes – standards of right and wrong. It shows the problems and why they exist (man's fall and rebellion against God).
WHY DOES THE IDEA OF COMMUNISM CATCH THE ATTENTION OF SO MANY IDEALISTIC YOUNG PEOPLE? The reason is very simple.
In HOW SHOULD WE THEN LIVE? The Rise and Decline of Western Thought and Culture, the late Francis A. Schaeffer wrote:
Materialism, the philosophic base for Marxist-Leninism, gives no basis for the dignity or rights of man. Where Marxist-Leninism is not in power it attracts and converts by talking much of dignity and rights, but its materialistic base gives no basis for the dignity or rights of man. Yet is attracts by its constant talk of idealism.
To understand this phenomenon we must understand that Marx reached over to that for which Christianity does give a base–the dignity of man–and took the words as words of his own. The only understanding of idealistic sounding Marxist-Leninism is that it is (in this sense) a Christian heresy. Not having the Christian base, until it comes to power it uses the words for which Christianity does give a base. But wherever Marxist-Leninism has had power, it has at no place in history shown where it has not brought forth oppression. As soon as they have had the power, the desire of the majority has become a concept without meaning.
Let me share with you the story of Paul Robeson and it demonstrates that he had to lie about how cruel communism was and the killing of his friend Itzik Feffer.
Paul Leroy Robeson (/ˈroʊbsən/ROHB-sən;[2][3] April 9, 1898 – January 23, 1976) was an American bass baritone concert artist and stage and film actor who became famous both for his cultural accomplishments and for his political activism
Robeson traveled to Moscow in June, and tried to find Itzik Feffer. He let Soviet authorities know that he wanted to see him.[207] Reluctant to lose Robeson as a propagandist for the Soviet Union,[208] the Soviets brought Feffer from prison to him. Feffer told him that Mikhoels had been murdered, and he would be summarily executed.[209] To protect the Soviet Union's reputation,[210] and to keep the right wing of the United States from gaining the moral high ground, Robeson denied that any persecution existed in the Soviet Union,[211] and kept the meeting secret for the rest of his life, except from his son.[210]
Itzik Feffer (10 September 1900 – 12 August 1952), also Fefer (Yiddish איציק פֿעפֿער, Russian Ицик Фефер, Исаàк Соломòнович Фèфер) was a SovietYiddish poet executed on the Night of the Murdered Poets during Joseph Stalin's purges.
The American concert singer and actor Paul Robeson met Feffer on 8 July 1943, in New York during a Jewish Anti-Fascist Committee event chaired by Albert Einstein, one of the largest pro-Soviet rallies ever held in the United States. After the rally, Paul Robeson and his wife Eslanda Robeson, befriended Feffer and Mikhoels.
Itzik Feffer (left), Albert Einstein and Solomon Mikhoels in the United States in 1943.
https://spectator.org/espn-paul-robeson-stalinist-monday-night-football/
DANIEL J. FLYNN tells a few details in this sad story:
Why Did ESPN Showcase a Stalinist on Monday NightFootball?Stalin Peace Prize laureate Paul Robeson lauded on America's No. 1 sports network.
In 1949, Robeson again traveled to the Soviet Union, where he had sent his namesake to school during the 1930s. Robeson had met poet Itzik Feffer and actor Solomon Mikhoels at a Polo Grounds rally of 50,000 people — the largest pro-Soviet event in the history of the United States — that welcomed their Jewish Anti-Fascist Committee in 1943. But by 1949 Stalin wished to kill Jews rather than use them for propaganda purposes. He murdered Mikhoels and later Feffer — but not before Robeson could visit his old friend the poet one last time.
David Horowitz describes this meeting in Radical Son:
In America, the question "What happened to Itzik Feffer?" entered the currency of political debate. There was talk in intellectual circles that Jews were being killed in a new Soviet purge and that Feffer was one of them. It was to quell such rumors that Robeson asked to see his old friend, but he was told by Soviet officials that he would have to wait. Eventually, he was informed that the poet was vacationing in the Crimea and would see him as soon as he returned. The reality was that Feffer had already been in prison for three years, and his Soviet captors did not want to bring him to Robeson immediately because he had become emaciated from lack of food. While Robeson waited in Moscow, Stalin's police brought Feffer out of prison, put him the care of doctors, and began fattening him up for the interview. When he looked sufficiently healthy, he was brought to Moscow. The two men met in a room that was under secret surveillance. Feffer knew he could not speak freely. When Robeson asked how he was, he drew his finger nervously across his throat and motioned with his eyes and lips to his American comrade. "They're going to kill us," he said. "When you return to America you must speak out and save us."
Instead, Robeson, who later confessed what happened to his son, spoke out in praise of his friends' murderer.
"Yes, through his deep humanity, by his wise understanding, he leaves us a rich and monumental heritage," Robeson recalled of Stalin. "Most importantly — he has charted the direction of our present and future struggles. He has pointed the way to peace — to friendly co-existence — to the exchange of mutual scientific and cultural contributions — to the end of war and destruction. How consistently, how patiently, he labored for peace and ever increasing abundance, with what deep kindliness and wisdom. He leaves tens of millions all over the earth bowed in heart-aching grief."
Sincerely,
Everette Hatcher III, 13900 Cottontail Lane, Alexander, AR 72002, ph 501-920-5733 everettehatcher@gmail.com
Related posts:
President Obama c/o The White House 1600 Pennsylvania Avenue NW Washington, DC 20500 Dear Mr. President, I know that you receive 20,000 letters a day and that you actually read 10 of them every day. I really do respect you for trying to get a pulse on what is going on out here. There have […]By Everette Hatcher III | Posted in David Barton, Founding Fathers, President Obama | Edit |Comments (0)
There have been many articles written by evangelicals like me who fear that our founding fathers would not recognize our country today because secular humanism has rid our nation of spiritual roots. I am deeply troubled by the secular agenda of those who are at war with religion in our public life. Lillian Kwon quoted somebody […]By Everette Hatcher III | Posted in David Barton, Founding Fathers | Edit | Comments (0)
There have been many articles written by evangelicals like me who fear that our founding fathers would not recognize our country today because secular humanism has rid our nation of spiritual roots. I am deeply troubled by the secular agenda of those who are at war with religion in our public life. Lillian Kwon quoted somebody […]By Everette Hatcher III | Posted in David Barton, Founding Fathers | Edit | Comments (0)
There have been many articles written by evangelicals like me who fear that our founding fathers would not recognize our country today because secular humanism has rid our nation of spiritual roots. I am deeply troubled by the secular agenda of those who are at war with religion in our public life. Lillian Kwon quoted somebody […]By Everette Hatcher III | Posted in David Barton, Founding Fathers | Edit | Comments (0)
There have been many articles written by evangelicals like me who fear that our founding fathers would not recognize our country today because secular humanism has rid our nation of spiritual roots. I am deeply troubled by the secular agenda of those who are at war with religion in our public life. Lillian Kwon quoted somebody […]By Everette Hatcher III | Posted in David Barton, Founding Fathers | Edit | Comments (0)
There have been many articles written by evangelicals like me who fear that our founding fathers would not recognize our country today because secular humanism has rid our nation of spiritual roots. I am deeply troubled by the secular agenda of those who are at war with religion in our public life. Lillian Kwon quoted somebody […]By Everette Hatcher III | Posted in Founding Fathers | Edit | Comments (0)
President Obama Speaks at The Ohio State University Commencement Ceremony Published on May 5, 2013 President Obama delivers the commencement address at The Ohio State University. May 5, 2013. You can learn a lot about what President Obama thinks the founding fathers were all about from his recent speech at Ohio State. May 7, 2013, […]By Everette Hatcher III | Posted in Founding Fathers, President Obama | Edit | Comments (0)
Dr. C. Everett Koop with Bill Graham. Francis Schaeffer: "Whatever Happened to the Human Race" (Episode 4) THE BASIS FOR HUMAN DIGNITY Published on Oct 7, 2012 by AdamMetropolis The 45 minute video above is from the film series created from Francis Schaeffer's book "Whatever Happened to the Human Race?" with Dr. C. Everett Koop. This […]By Everette Hatcher III | Posted in Founding Fathers, Francis Schaeffer, Prolife | Edit |Comments (1)
America's Founding Fathers Deist or Christian? – David Barton 4/6 There have been many articles written by evangelicals like me who fear that our founding fathers would not recognize our country today because secular humanism has rid our nation of spiritual roots. I am deeply troubled by the secular agenda of those who are at […]By Everette Hatcher III | Posted in David Barton, Founding Fathers | Tagged governor of connecticut, john witherspoon, jonathan trumbull | Edit | Comments (1)
3 Of 5 / The Bible's Influence In America / American Heritage Series / David Barton There were 55 gentlemen who put together the constitution and their church affliation is of public record. Greg Koukl notes: Members of the Constitutional Convention, the most influential group of men shaping the political foundations of our nation, were […]By Everette Hatcher III | Posted in Founding Fathers | Edit | Comments (0)
I do not think that John Quincy Adams was a founding father in the same sense that his father was. However, I do think he was involved in the early days of our government working with many of the founding fathers. Michele Bachmann got into another history-related tussle on ABC's "Good Morning America" today, standing […]By Everette Hatcher III | Posted in David Barton, Founding Fathers | Edit | Comments (0)
I have gone back and forth and back and forth with many liberals on the Arkansas Times Blog on many issues such as abortion, human rights, welfare, poverty, gun control and issues dealing with popular culture. Here is another exchange I had with them a while back. My username at the Ark Times Blog is Saline […]By Everette Hatcher III | Posted in Arkansas Times, Francis Schaeffer, Prolife | Edit |Comments (0)
I truly believe that many of the problems we have today in the USA are due to the advancement of humanism in the last few decades in our society. Ronald Reagan appointed the evangelical Dr. C. Everett Koop to the position of Surgeon General in his administration. He partnered with Dr. Francis Schaeffer in making the […]By Everette Hatcher III | Posted in Adrian Rogers, Francis Schaeffer | Edit | Comments (0)
Francis Schaeffer: "Whatever Happened to the Human Race" (Episode 4) THE BASIS FOR HUMAN DIGNITY Published on Oct 7, 2012 by AdamMetropolis ____________ The 45 minute video above is from the film series created from Francis Schaeffer's book "Whatever Happened to the Human Race?" with Dr. C. Everett Koop. This book really helped develop my political […]By Everette Hatcher III | Posted in Francis Schaeffer | Edit | Comments (0)
—-
—